One of the first things families want to do when they visit San Diego is head to that beautiful Pacific Ocean! There are miles and miles of oceanfront, but where are the best beaches near San Diego?
Trekaroo has done the hard research of sunbathing, exploring, and splashing to come up with our guide to the best beaches near San Diego for families! We share the scoop on everything you need to know- are there restrooms, is there parking, what is nearby, and so much more!
Best Beaches Near San Diego
1. La Jolla Shores Beach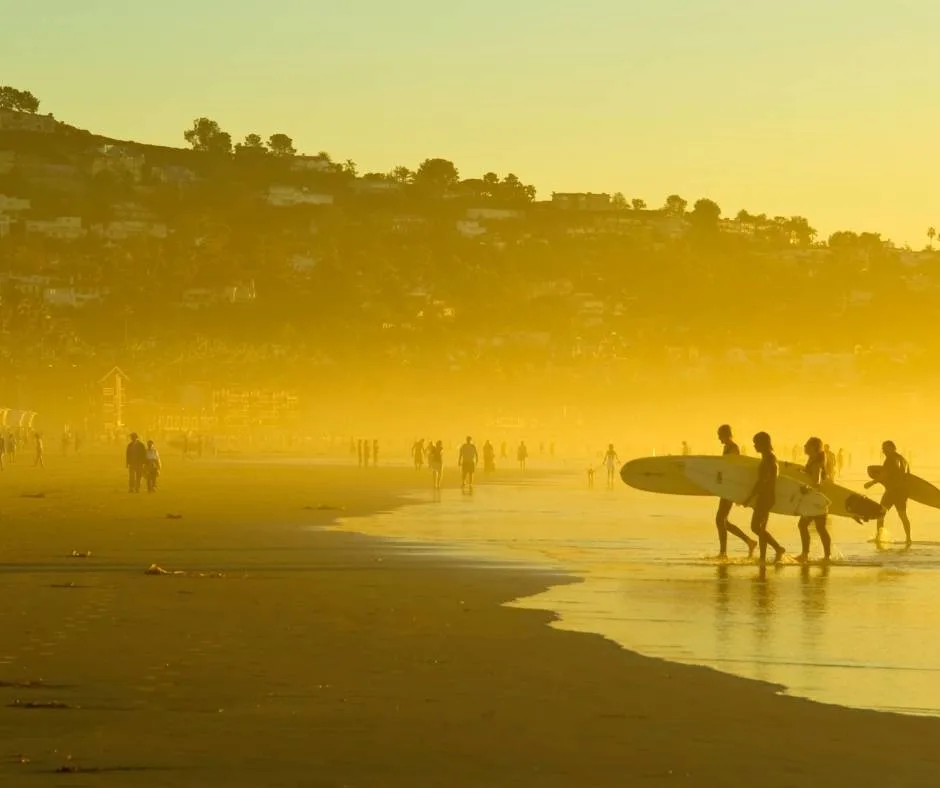 La Jolla Shores Beach offers a long stretch of open sand with a variety of activities! This beach is a mile of sand and gentle surf.
This a great place for wading, swimming, and boogie boarding. It is an ideal place if you have first time or new beach swimmers. Nearby La Jolla tide pools offers a great experience for your family to spot sea stars, crabs, and a variety of other tiny marine creatures. Check out all the great tide pools in San Diego.
Amenities: La Jolla Shores offers updated restrooms, showers, and fire pits. The beach has free parking in a large lot and local street parking is available. Be sure to read all the signs in the neighborhoods to avoid tickets.
There is a large grassy park next to the beach where you can find many people picnicking and playing games. This is also where you will find many local excursion and water tour groups meeting.
Companies like Everyday California will meet here to take you out on kayaks or snorkel with harmless leopard sharks! La Jolla Shores is a great place for families to fall in love with the Pacific Ocean.
Recommended Nearby Hotels for Families: La Valencia Hotel, often referred to as "The Pink Lady", is an excellent area choice for a luxurious escape.
2. Torrey Pines State Beach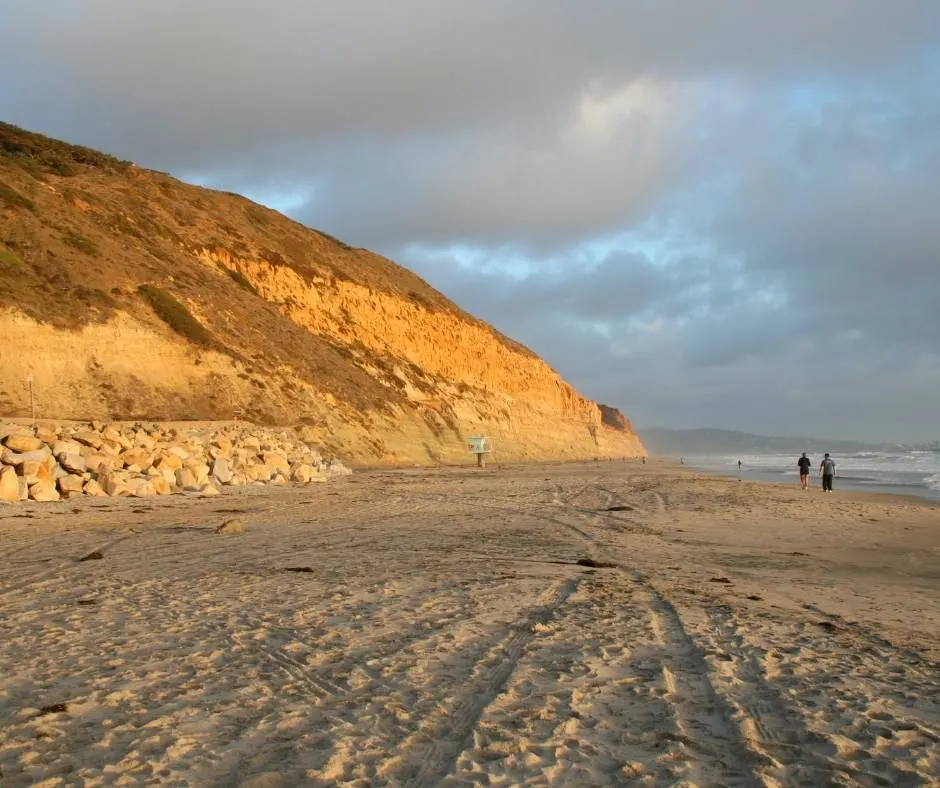 Torrey Pines State Beach and the adjoining natural reserve has a lot to offer families. The northern section is a popular beach with a safe spot for kids to play by the lagoon.
The southern section leads to a coastal wilderness of pine forests, sandstone canyons, and a network of dirt hiking trails on the bluffs overlooking the sea.
From the upper lot you can start with a hike and loop back to the museum and gift shop. The path will take you to some gorgeous views of the coastline and give you a chance to see the rarest pine trees on the planet. After your hike, drive back to the lower lots to enjoy the rest of your day at the beach!
Amenities: The north beach has restrooms, showers, lifeguards, and paid parking close to the beach. Parking is also available at the Torrey Pines Reserve Center if you want to head up the road. Street parking along coast highway is free but limited.
Recommended Nearby Hotels for Families: Nestled among the Torrey Pines your family will enjoy the peace offered at the Lodge at Torrey Pines. The world-famous Torrey Pines golf course is next door.
3. Pacific Beach City Beach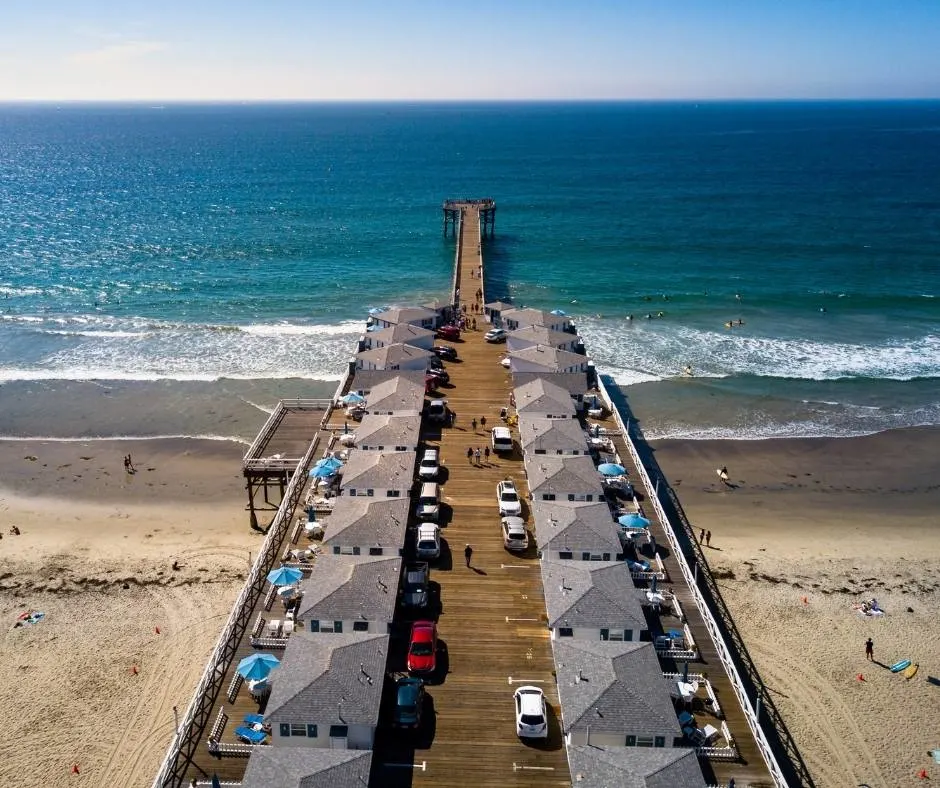 Pacific Beach a great option because of the wide variety of activities in the area. It is a wonderful beach for families because of the beautiful sand and gentle waves for swimming.
Nearby, Crystal Pier and the boardwalk offers a fun place for walking and jogging as well as great shops and restaurants. Pacific Beach is one of the more popular beach cities, many spend the day exploring the town before watching sunsets together over the Pacific Ocean.
Amenities: Public restrooms and showers are located at the foot of Grand Avenue at the lifeguard station and in the median of Pacific Beach Drive between the boardwalk and Mission Blvd. Parking is scattered around the area.
Recommended Nearby Hotels for Families: The Catamaran Resort Hotel and Spa is a great retreat for families, complete with family friendly activities, bay front play, and an onsite arcade!
Check out our picks for the best things to do in San Diego with kids.
4. Ocean Beach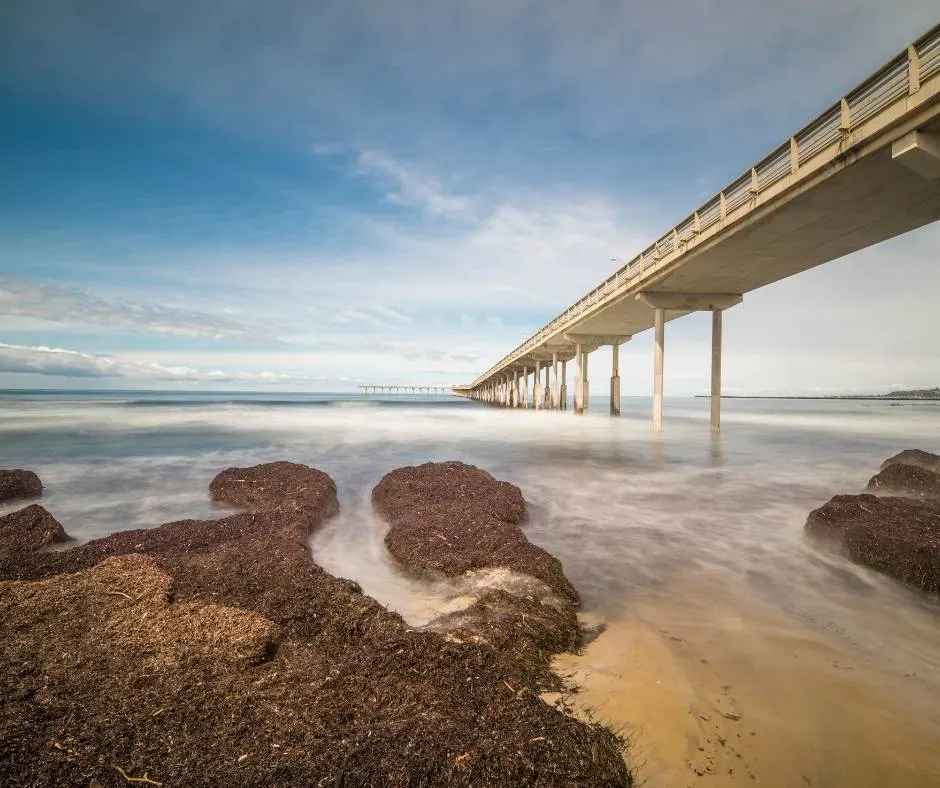 Ocean Beach is a laid back beach with one of the longest piers in SoCal. This beach is perfect for lazy days of sun worshiping and relaxation!
Families will enjoy the long stretch of sand and gentle waves perfect for expansive sand castles. Bring your furry friend to enjoy the dog beach is at the north end of the beach. If you need a java fix there is a coffee shop is on the pier making this one of my favorite beaches near San Diego.
Amenities: Restrooms and public parking are available but tend to fill up, so plan to get her early and spend a long relaxing day!
Recommended Nearby Hotels for Families: Near Ocean Beach a little resort is nestled away with some great amenities. Humphrey's Half Moon Bay Resort is home to many wonderful evening concerts, great pools, and even resident tropical birds!
5. Mission Beach
Mission Beach, often referred to as The Strand, is a popular destination for swimming, surfing, and sun bathing. The long boardwalk that winds through the beach connects South Mission Beach and North Mission Beach.
Measuring at 3 1/2 miles long the boardwalk is a very popular place for bike rides, skating, and leisurely walks.
Another feature of this beach that families will love is how far the shallow water goes out into the ocean. This will give you a lot space to splash and explore safely. Be sure to check out the tide schedule, this will help you make the most out of low tide .
Amenities: Public restrooms and showers are located at the foot of Ventura Street at the lifeguard station, at the south side of Belmont Park, and at the commercial mall adjacent to the Mission Beach lifeguard station.
Recommended Nearby Hotels for Families: A hidden oasis for families exist at Paradise Point Resort and Spa, the property hosts everything from a luxurious spa to bay action activities!
6. Coronado City Beach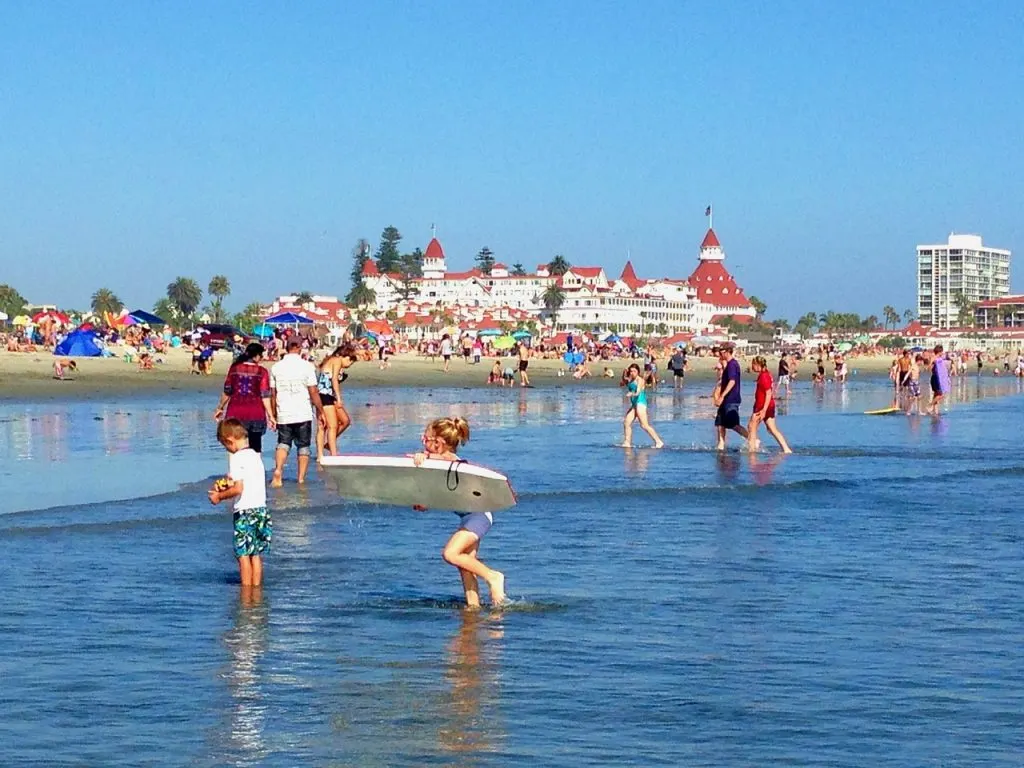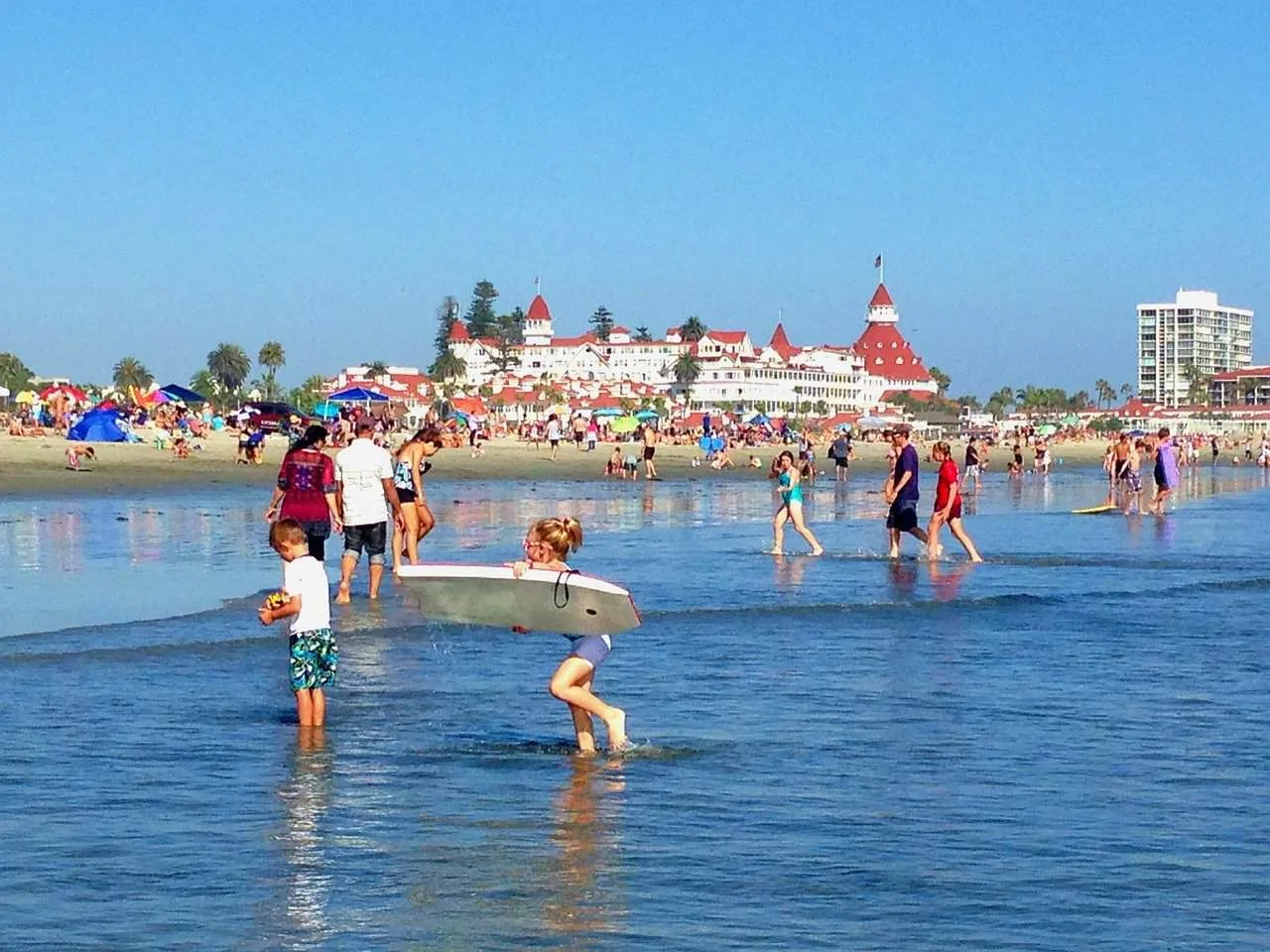 Coronado Beach has been voted one of the TOP BEACHES IN THE US because of it's gorgeous white sand and pristine beaches! Families love it because it is clean and beautiful.
It is also a great location for family photos; the beautiful tufts of sand grass and white sands are always amazing to photograph. Nearby is the Hotel Del Coronado and it's iconic silhouette is picture perfect in the background of family photos.
Amenities: Families will appreciate the public restrooms and showers available. Parking is available along the beach, there is two-hour free parking and day-rate paid parking in the area.
Recommended Nearby Hotels for Families: The Hotel Del Coronado is the premier resort location in Coronado, this property has been featured in many classic films and is well known for its excellent service.
7. Del Mar Beach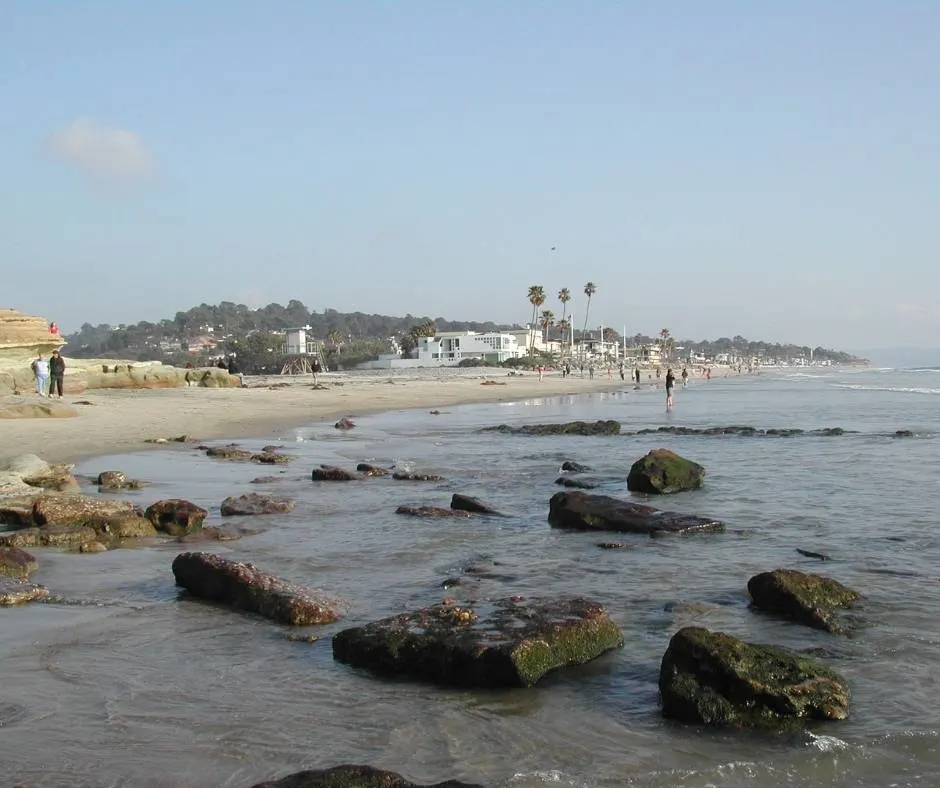 Del Mar Beach has several different attractions and destinations within itself. It is accessed from local side streets. A popular swimming spot is near 17th street. Tide Pools are between 9th and 10th street during low tide.
This beach is also close to the popular summer attraction the San Diego County Fair – making this a well known beach for families in San Diego.
Amenities: Public restrooms are located under the stage area at the Del Mar Community Powerhouse building and at the 17th Street Lifeguard Station.
Recommended Nearby Hotels for Families: For a location great for families and easy on the budget, stay at the Hilton Garden Inn in Del Mar located just east of Del Mar Beach.
8. Swami's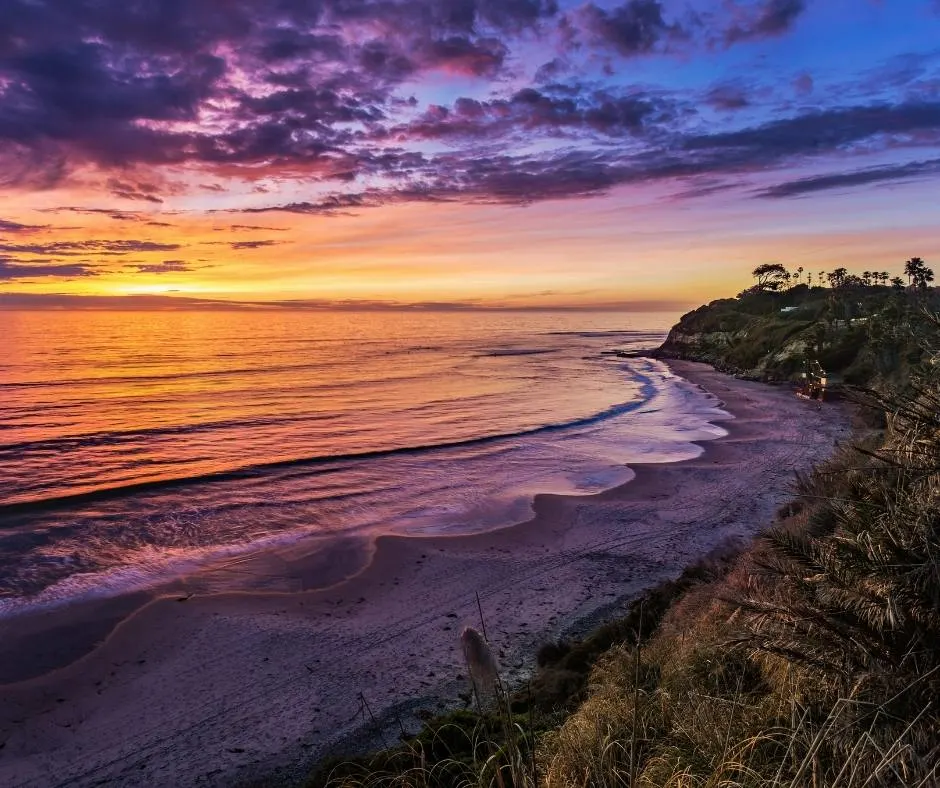 Swami's Beach in Encinitas is a popular beach for surfers but it is also great for families. If you are looking to hit up some celebrated surf spots this is definitely not one to miss.
There is more than surfing here! Kids will enjoy the small park on the top level. Walk down a wooden stairway from the park to the beach below to enjoy the tide pools!
Amenities: A small, free parking lot is available. Nearby restaurants and local surf shops are not to be missed.
Recommended Nearby Hotels for Families: Consider Camping near Swami's Beach at the San Elijo State Beach Campground for an on the beach experience!
9. Moonlight Beach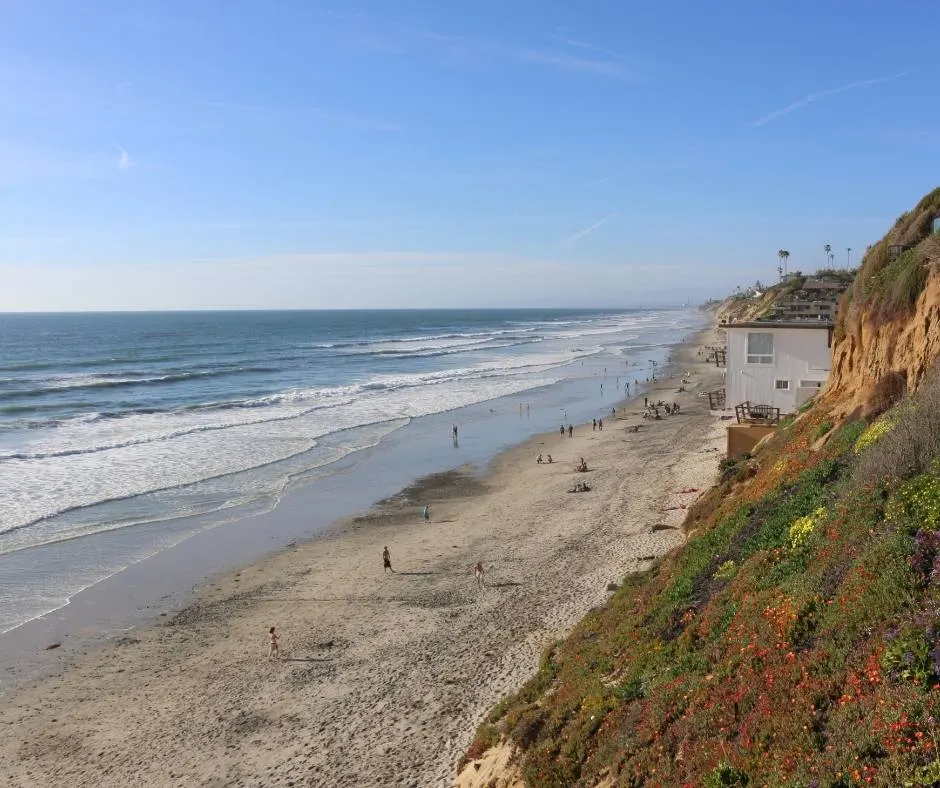 Moonlight Beach is another top beach is San Diego. The beach was named after it's ideal location for moonlight picnics.
It is a great family beach with volleyball courts, a children's playground, a grassy park with picnic tables, a snack bar, and several fire pits. The snack bar is a nice nostalgic touch!
Amenities: Parking is available above the bluff. Additional parking is available on adjacent side streets. The beach has a permanent year-round life guard station.
Recommended Nearby Hotels for Families: Just northeast of Moonlight Beach your family will love the Omni La Costa Resort and Spa, the resort offers spacious accommodations and onsite activities for the entire family.
10. Carlsbad State Beach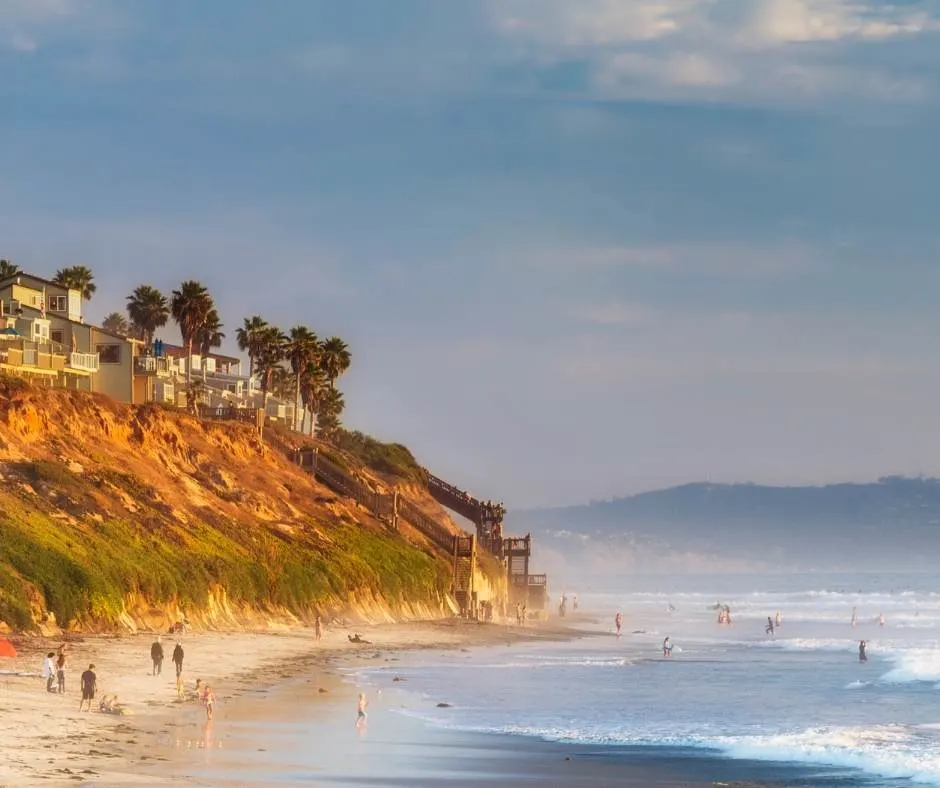 Carlsbad State Beach is a very long stretch of beach in Carlsbad. The city often brings up new sand to keep the beach clean and soft to walk on.
This beach offers great surfing, body surfing, and boogie boarding. Long walks up and down Carlsbad are ideal here. This is also a great place to stop and visit after spending the day at Legoland.
Amenities: It offers many parking lots, street access, lifeguard towers, and several places to enjoy the water. A campground is available for reservation. If you are traveling with an RV, this a great spot to book. Be sure to book your stay in advance as it is a very popular location.
Recommended Nearby Hotels for Families: Carlsbad and Legoland go hand in hand, we recommend making the most of your Carlsbad stay and treating the family to a Lego filled escape at the Legoland California Hotel.
Check out our complete guide filled with LEGOland tips before you go!
11. Oceanside Beach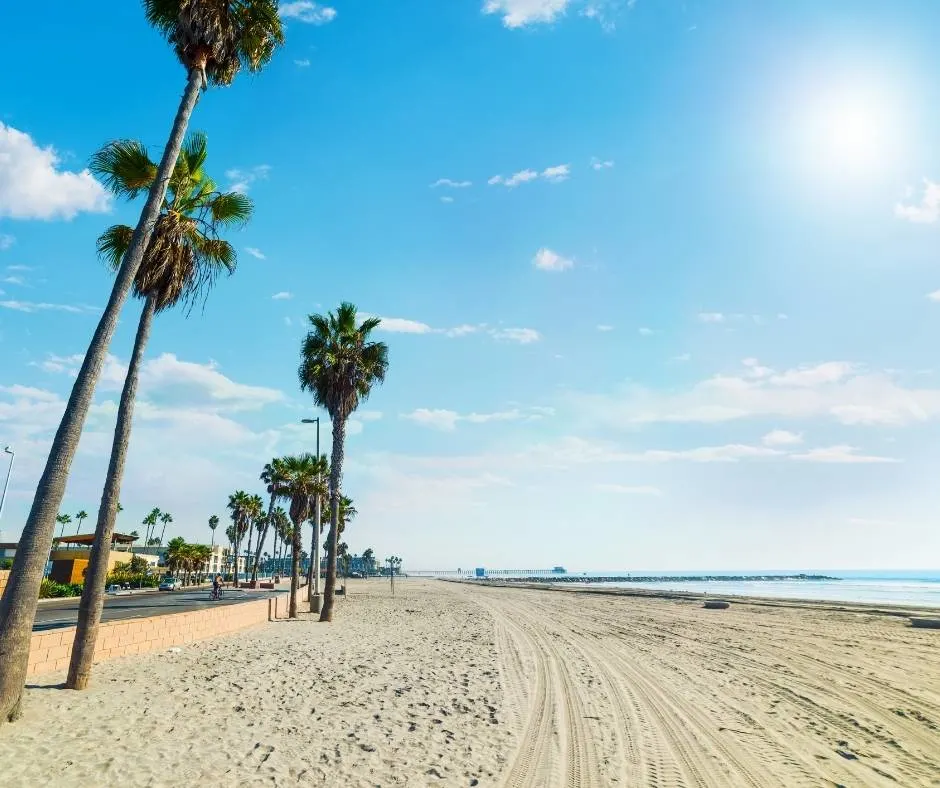 Oceanside Beach is home to many surf competitions and offers plenty of space for a variety of ocean interests! Additionally, the short sidewalk strand along the beach is great for a walk or bike ride. Many use the strand to drop off and pick up family directly at the beach.
Smaller children will enjoy the nearby playground and grassy areas. The Oceanside Pier is a great place to walk and see the dolphins and sea lions that frequent the area.
The pier is also a very popular fishing spot, you might even see an interesting catch of the day! Don't forget to say "hello" to Charlie the pelican, a local resident of the pier, he hangs out near the bait shop!
Amenities: This popular beach hosts plenty of nearby amenities including newly renovated restrooms and several beachside vendors. There are two small pay lots off of the beach and metered parking on the street. Within reasonable walking distance there are also two large parking structures.
Recommended Nearby Hotels for Families: Just south of Oceanside Beach consider staying at the Tamarack Beach Hotel, it offers a great location near the ocean and the freeway!
12. Oceanside Harbor Beach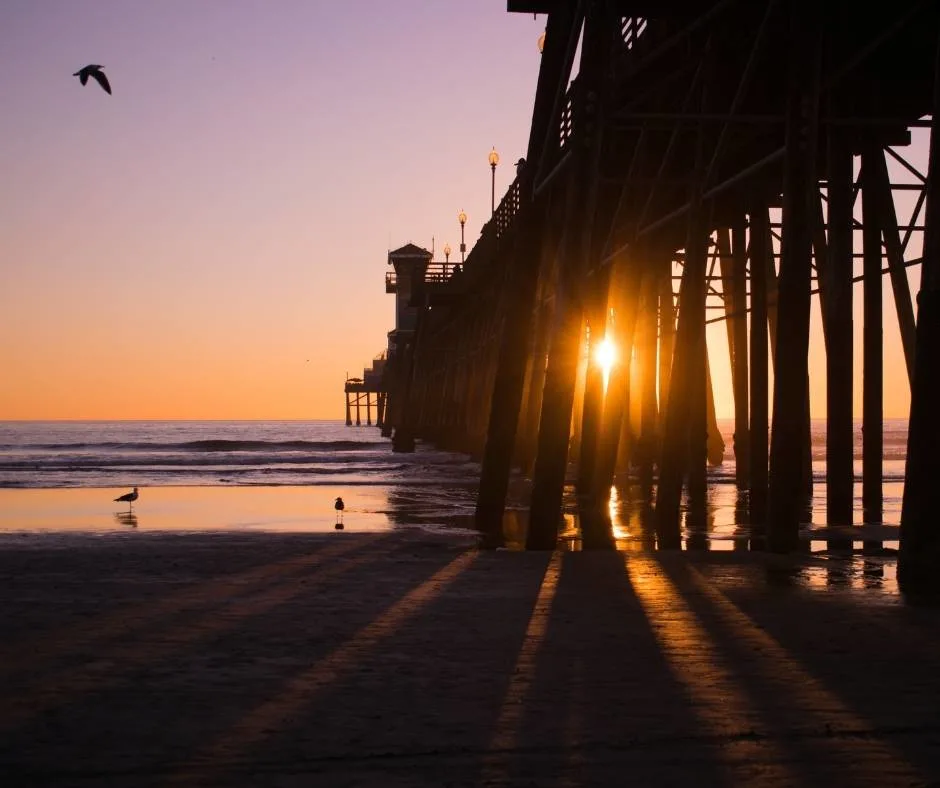 Oceanside Harbor Beach offers a nice mix of surfing, swimming, and sight seeing. Many locals frequent this area due to the vast sand available for parties, picnicking, and sand sports.
Nearby you will find some adorable beach shops and great places to eat! This is also a fun location for sightseeing because it is the last public beach before Camp Pendleton, you will often see large ships, aquatic vehicles, and water maneuvers being practiced just off the coast.
Amenities: Located next to Oceanside Harbor, this wide stretch of sand has ample parking, a playground, restrooms, and showers. This is also the starting point for several water excursions like whale watching and sunset cruises.
Recommended Nearby Hotels for Families: The Oceanside Marina Suites – Waterfront Hotel is a small secluded property at the tip of the harbor. It makes a wonderful home base for San Diego and Orange County activities!
San Diego is lucky to be home to so many gorgeous beaches with family friendly amenities. With so many options you don't need to stay at one place, explore the coast and see what San Diego County has to offer, check out one of the many other Southern California beaches waiting to welcome you!