Have you experienced Monterey County's wild side? Most are familiar with the region's world-class aquarium, famed Cannery Row, and top-notch golf but Monterey's true gift is its natural beauty. From sun-scorched and untamed hillsides in the east to the fog-shrouded, ever-dramatic coastline, Monterey is home to a diverse bounty of scenery and wildlife. If you want to experience the joys of paddling alongside a floatilla of otters, watching the sun slip below the Pacific from a forested cliff, or witness a California condor's impressive wingspan, you have to head outside.
Up Close and Personal with Wildlife at Elkhorn Slough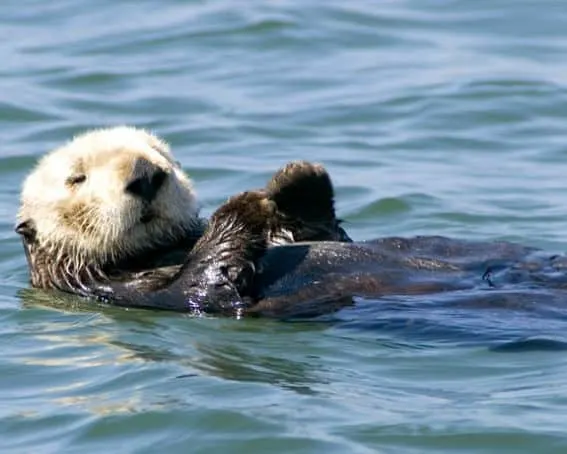 Photo by: Bigstock/Abbott
It is impossible to take one look at Luna and not instantly fall in love. The irresistible ball of fluff was rescued from the waters near Monterey Bay Aquarium after a big storm separated the tiny sea otter pup from her mother. Luna is one of over 700 rescued sea otters that have come through Monterey Bay Aquarium's Sea Otter Program since 1984. A film shown inside the Aquarium tells the story of her rehabilitation and ultimate release in the protected, sea-otter-filled waters of the Elkhorn Slough 20 miles north.
Morning is the best time to paddle the tidal waters of the Elkhorn Slough. The winds are typically calm, making it much easier to paddle back to the harbor after heading up into the slough. While kayakers are welcome to venture out on their own, I recommend families opt for a guided tour with Monterey Bay Kayaks. Passionate and friendly guides educate tourgoers about the animals that call the slough home as well as the history and ecology of this very special place. We didn't have to paddle out more than a few yards before we were greeted by a furry face bobbing alongside us. Could it be Luna? There was no way to tell but my kids were absolutely thrilled about the prospects. Furry Face was soon joined by Mr. Whiskers and a couple of his friends. We were officially in otter territory.
Otters aren't the only sea mammals that call the Elkhorn Slough home. The ever-noisy and always entertaining California sea lions are hard to ignore. Whether they are swimming alongside your kayak or barking at each other as they fight for space amongst the pinniped crowds on a floating dock, these boisterous animals certainly demand attention. Further up the slough, harbor seals can be found lounging on sandy beaches. If you love baby animals spring is the best time of year to visit Elkhorn Slough. We spotted plenty of baby sea lions, seals, and those irresistible otter pups floating alongside their moms. Could one of those mommies be Luna? My children were certainly convinced!
Tip: If your family worked up a big appetite after all the kayaking, consider heading to the Haute Enchilada Cafe and Gallery, located just down the road in Moss Landing. This eclectic cafe serves up Latin American dishes, many of which feature sustainable seafood and local organic produce. Make time to visit the onsite galleries which feature local artists' work.
Point Lobos State Marine Reserve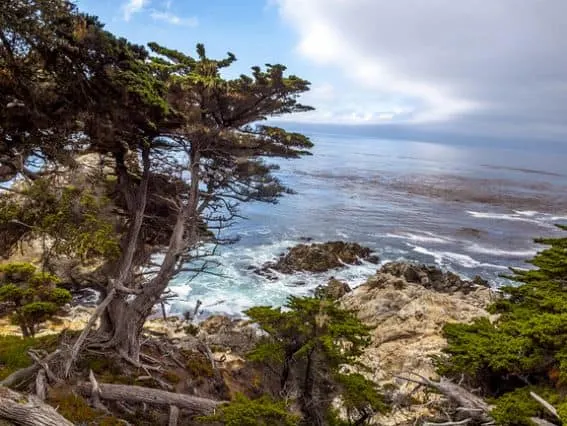 Photo by: Bigstock/Jorg Hackemann
Deemed "the greatest meeting of land and water in the world" by Australian landscape artist Francis McComas, Point Lobos State Marine Reserve is a meeting of turquoise waters, craggy cliffs, and sculptural cypress trees. The park is located just south of Carmel-by-the-Sea, a charming village known for its upscale and dog-friendly atmosphere. Considered by many to be the "crown jewel" of California's State Park system, Point Lobos is a wonderful place for hiking, wildlife viewing, and enjoying the stop-you-in-your-tracks-scenery of the Central California coastline.
Spring is an ideal time to visit Point Lobos. The days are more likely to be fog free than during the often socked in summer months and there are plenty of baby animals to "ooh" and "aah" over. Bring binoculars to help you spy baby sea otters floating in the kelp beds offshore. The North Shore trail leads hikers thought the forest to ocean cliffs with panoramic views. Bluefin Cove and Whalers Cove are prime spots for viewing baby seals laying on the tiny beaches below. A hike south to China Cove is a wonderful option for beachfront rock scrambling and admiration of the aquamarine waters.
Pinnacles National Park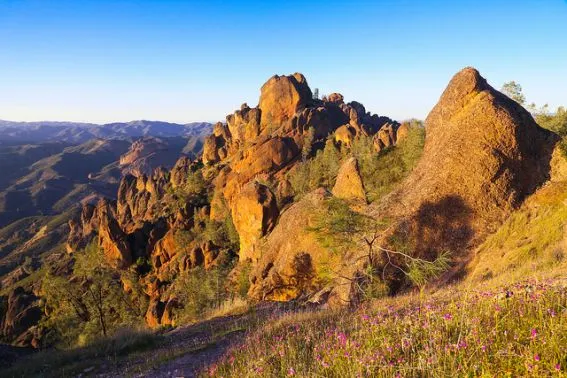 Photo by: Flickr/Joe Parks
Popular with hikers, rock climbers, and bird watchers, Pinnacles National Park in southeastern Monterey County is our nation's newest national park. If the rugged spires of Pinnacles seem alien when compared to the surrounding landscape, it is because they aren't natives of the region. The pinnacles are the eroded remains of an extinct volcano. There were carried 200 miles from their original location by the notorious San Andreas Fault. Massive fallen boulders have formed talus caves which are home to 13 different bat species and are a blast to explore. Pack headlamps or flashlights in your daypacks and head on up the scenic Bear Gulch Trail, taking time to enjoy scrambling through the cave.
The remote location and limited services have kept this park under the radar of many travelers but raptor enthusiasts know that Pinnacles' High Peaks Trail is a great place to spot the California condor, the largest bird in North America. These critically endangered raptors have impressive, 9-foot wingspans and catching a glimpse one gliding on a thermal air current will leave a life-lasting impression on your mind.
Read more about exploring Pinnacles National Park with kids.
Disclosure: The author's trip to Monterey County was arranged by Visit California for the purposes of researching family-friendly offerings in the region. All opinions are her own.
Featured photo by: Shutterstock