Universal Studios is a great theme park destination, but where is the best food at Universal Studios Hollywood?
The park offers cuisine from around the world and treats from lands of fantasy! Have you ever wanted to dine on crepes for breakfast, enjoy lunch at the Three Broomsticks, or share a donut with Homer Simpson? Our Universal Studios food guide has you covered!
Don't miss are guide to the best things to do in LA with kids.
Best Universal Studios Food on the Lower Lot
Jurassic Cafe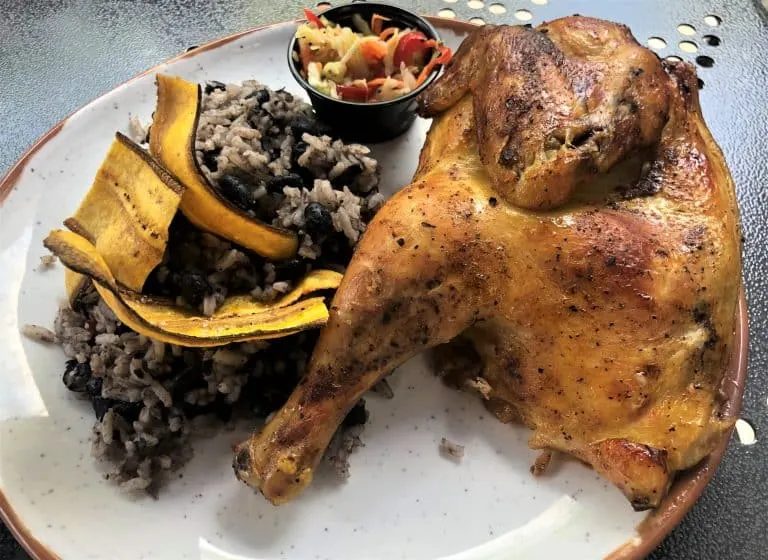 The newest restaurant in Universal Studios Hollywood is the Jurassic Cafe. It is located on the lower lot near the revamped Jurassic World ride. The restaurant embraces Costa Rican flavors and has some of the more healthy options to choose from inside of the park.
Menu highlights include the Citrus Glazed Chicken (it's huge!), Mahi Mahi with Melon Pico, Isla Chicken Sandwich, Roasted Chicken Salad, and Isla Burger.
Most of the entrees are served with Gallo Pinto (a Costa Rican black bean and rice dish) and tasty Plantain Chips. If you are looking for a snack, the Spring Rolls and Pomegranate Guacamole with Plantain Chips are both great, healthy options.
If you need a refreshing drink to compliment your meal stop off at the Isla Nu-bar for a tropical themed treat!
The Toadstool Cafe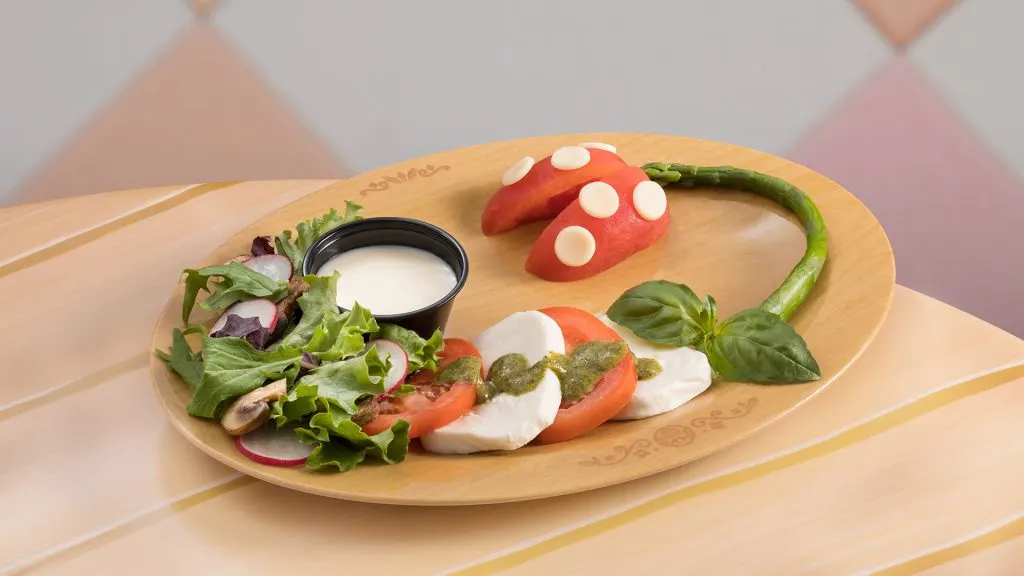 Photo provided by Universal Studios Hollywood
One of the most talked about part of Super Nintendo World has been the Toadstool Cafe! The food reviews have been excellent. The Piranha Plant Caprese has been suggested for a delicious and photo worthy option. This dish is both vegetarian and gluten free! The Toadstool Cheese garlic knots are also a great snack to grab.
Find lodging near Universal Studios Hollywood. As a Booking.com affiliate Trekaroo is thrilled to offer its readers the lowest rates.
Studio Cafe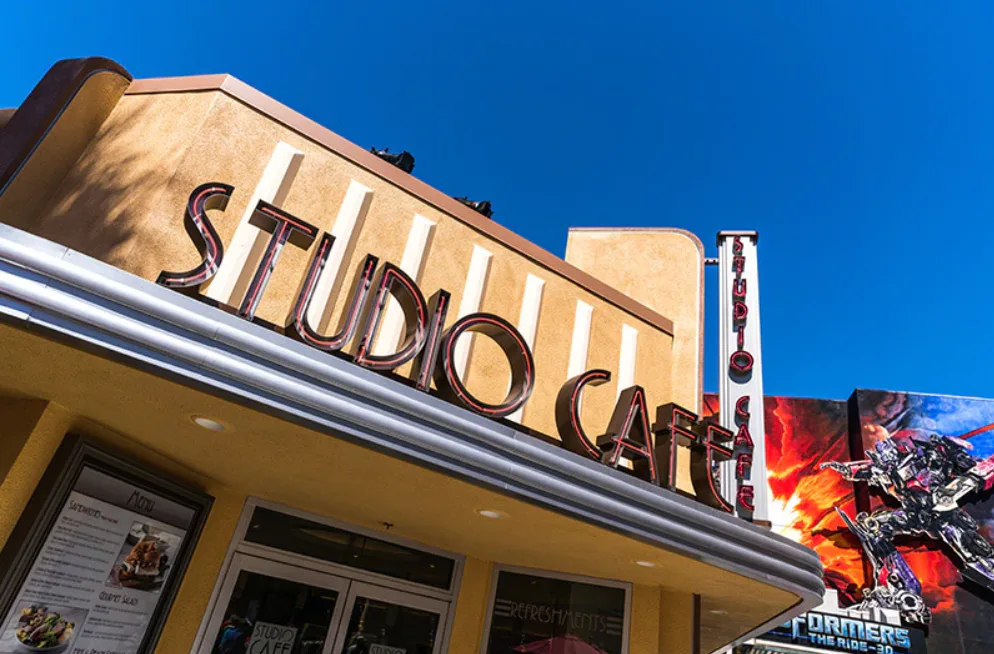 Studio Cafe is modeled after the cafeterias you might find on a movie studio lot. They serve up sandwiches, salads, and a couple hot entree options.
The food is nothing to write home about, but if you are looking for something more basic than Costa Rican food on the Lower Lot, it's a decent option.
Menu highlights include the Turkey and Swiss on a Croissant, Vegan Banh Mi, California Cobb Salad, Smoked Turkey Leg, and Mac and Cheese. They also have personal pizzas ands a variety of ice cream treats to keep the kids happy.
Best Food at Universal Studios Hollywood on the Upper Lot
Gru's Lab Cafe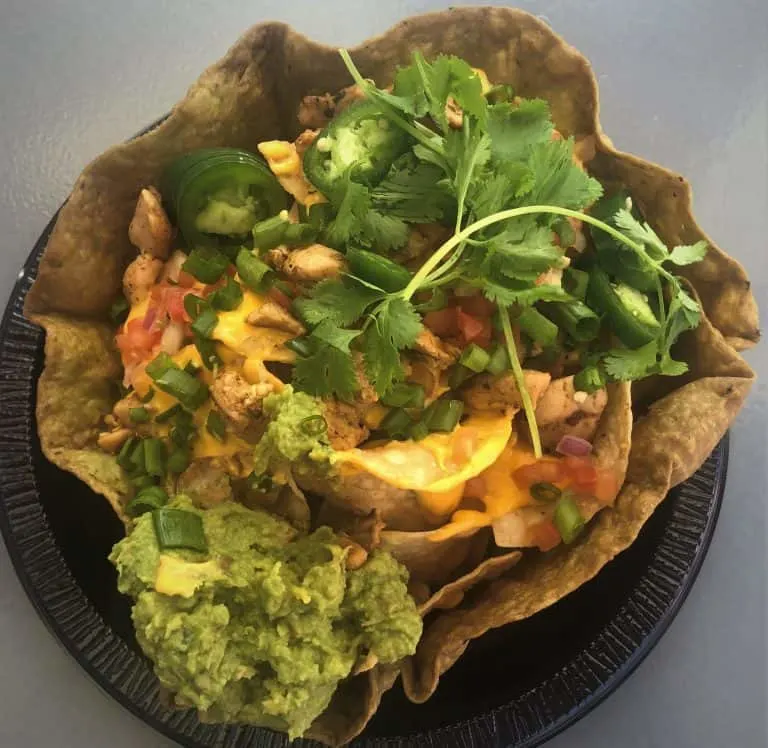 If you are traveling with your little Minions, make your way to Super Silly Funland and partake in El Macho's Nachos at Gru's Lab Cafe. The chicken nachos are big enough to share and actually quite tasty!
Or grab a tasty Asian Salad topped with crispy Udon noodles. Be sure to finish the meal with a Minion's Favorites—a Freeze Ray Banana Slushy or a Banana Chocolate Shake.
Explore more of the Golden State. Here are the best things to do in California with kids.
Three Broomsticks & Hog's Head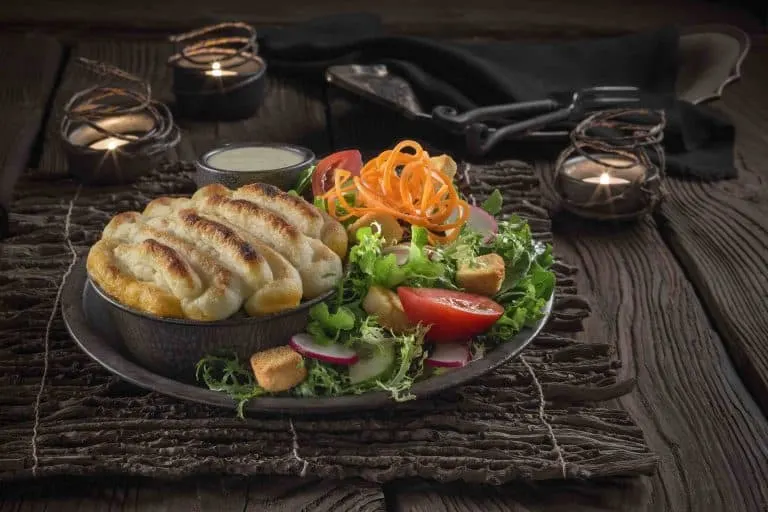 All Muggle-born and Pure-bloods alike will take delight in a meal at the Three Broomsticks in the Wizarding World of Harry Potter.
The attention to detail in the dining room is not be missed. Do not let the queue dissuade you—it moves very quickly. Take a glance at the adorable menus, which look like The Daily Prophet.
If you are dining as a family try The Great Feast to share between 3-4 people. It is a good assortment including roasted chicken, BBQ spareribs, potatoes, corn on the cob, and a salad. The Shepherd's Pie, Fish and Chips, and Spareribs Platter are some other menu highlights.
Tip: Don't love waiting in line? Eat at the Three Broomsticks for breakfast for less people and an AMAZING English Breakfast
Don't Forget the Butterbeer!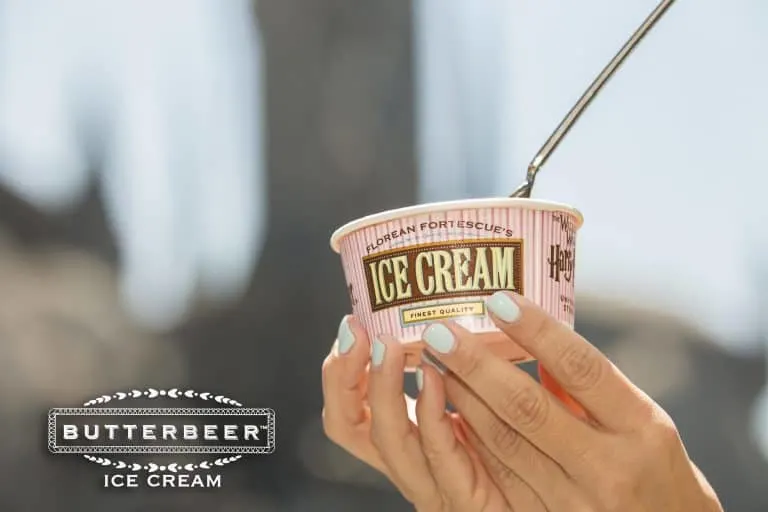 Do not forget you can add your Butterbeer to your order at Three Broomsticks, or a nice cold glass of Pumpkin Juice from Hog's Head. Parents can add beer, wine, or mixed drinks as well!.
I highly recommend the Sticky Toffee Pudding for dessert—an English staple in sweet treats!
If you are in search of butterbeer, the Wizarding World of Harry Potter is the place to be! Now you can enjoy Butterbeer Ice Cream! Butterbeer is the true go-to item for all Potterheads. Ice cream is the new addition to an already amazing line up (butterbeer fudge, frozen butterbeer, and hot butterbeer).
Read our Guide to the Wizarding World of Harry Potter to see tips on how to avoid lines and get your Butterbeer ASAP!
Krusty Burger & Moe's Tavern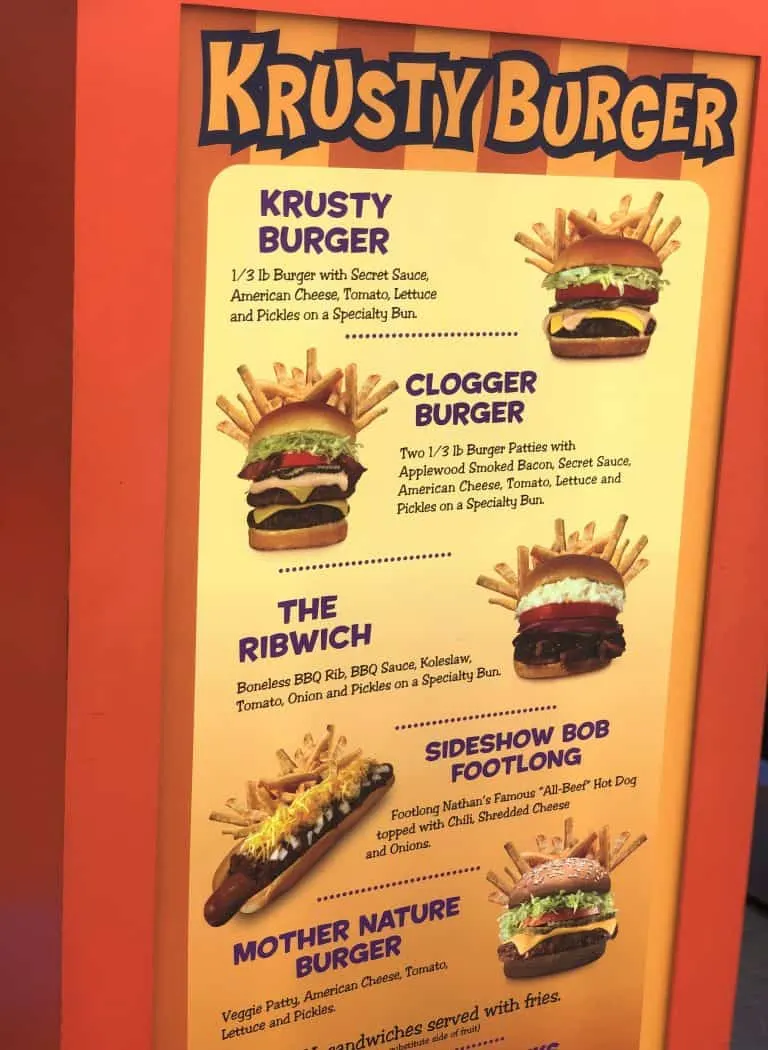 Krusty Burger is another popular place to grab a meal for the family. It is located in Springfield, home of the Simpsons.
Here you will find a selection of burgers, sandwiches, and hot dogs including the Krusty Burger, Clogger Burger, and the iconic Ribwich. Be sure to wash it all down with a tasty Buzz Cola.
There is plenty of seating in the restaurant and in the Moe's Pub next door. Take a moment to pop into Moe's Tavern to try a real Duff's Beer or a Flaming Moe; these fizzy orange drinks make a delicious photo opportunity!
Bumblebee Man's Taco Truck at Duff Gardens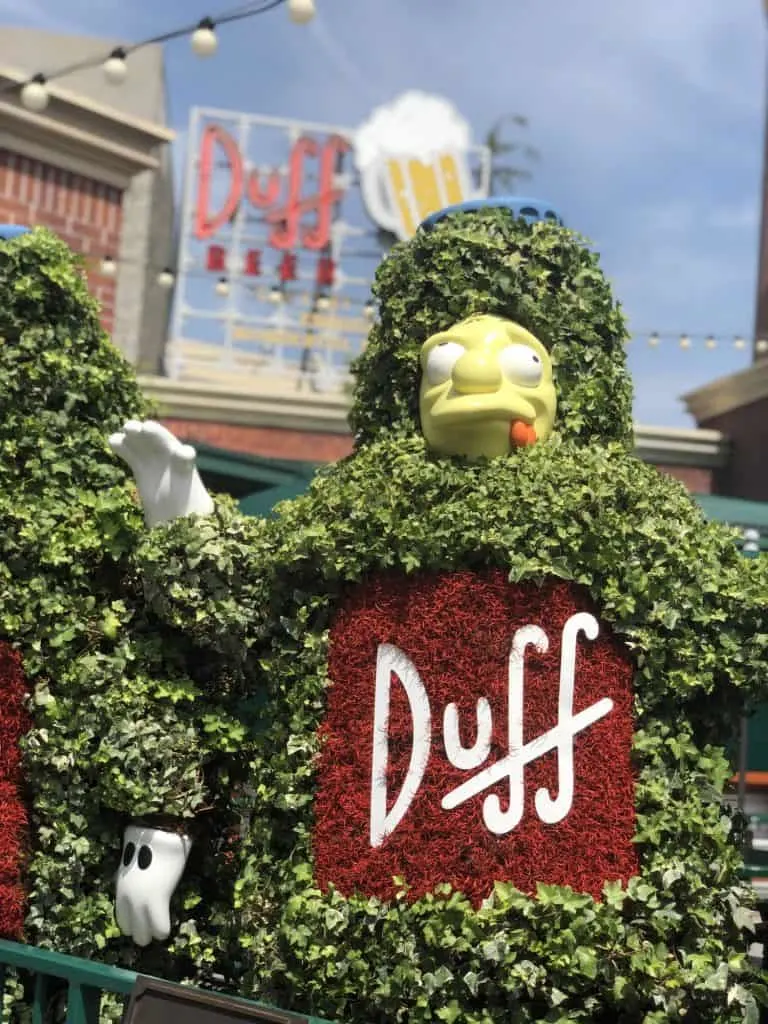 Who doesn't love tacos and beer? At Bumbleman's Taco Truck in Springfield, you can have both!
Choose from Carne Asada, Chicken, or Carnitas Tacos at this fun, outdoor eatery. They also serve up delicious Bumblee Man's Mucho Macho Nachos (which taste just like the nachos you can get at Gru's Lab). Wash it all down with some Duff Beer; you are in Springfield after all!
Cletus' Chicken Shack & Luigi's Pizza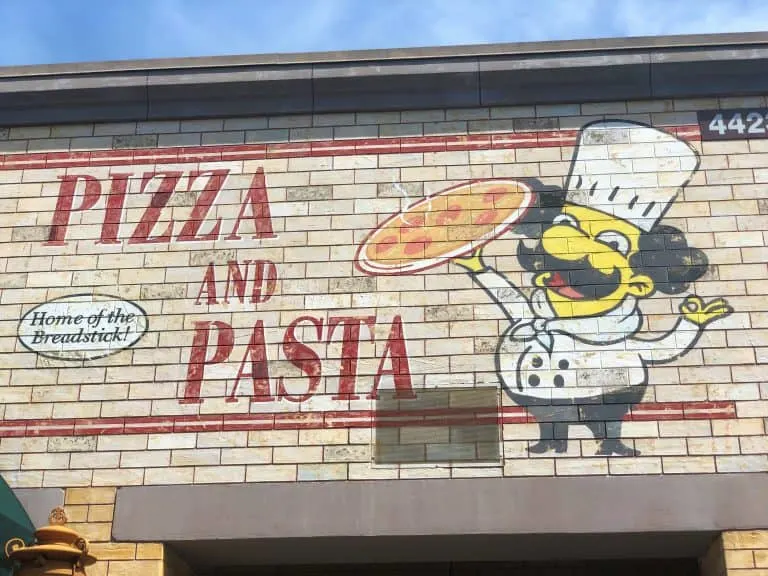 At Cletus' Chicken Shack, you'll find lots of fried chicken goodness including the Chicken and Waffle Sandwich. Take a risk and try the Chicken Thumbs!
Another Springfield favorite, Luigi's Pizza, is next door. They serve up personal pizzas that are perfect to grab and go. Gluten-free pizza options are available.
French Street Bistro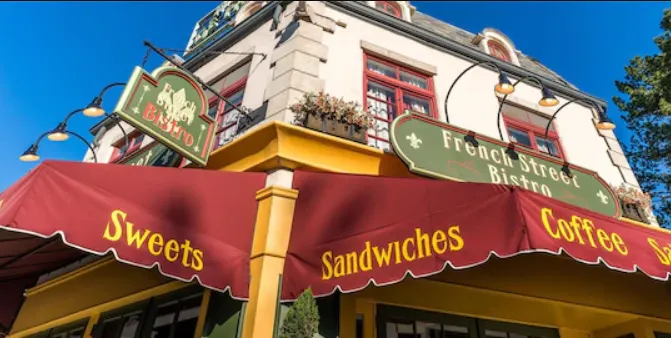 No need to travel around the world to enjoy a taste of France. Head over to the French Quarter where just below the Moulin Rouge Wind Mill you can find the French Street Bistro.
Grab a delicious meal and a comfortable spot to enjoy gourmet sandwiches, fresh pastries, and Starbucks specialty drinks. Several of the sandwiches are the same that you will find at Studio Cafe on the Lower Lot.
Best Spots to Grab a Snack in Universal Studios Hollywood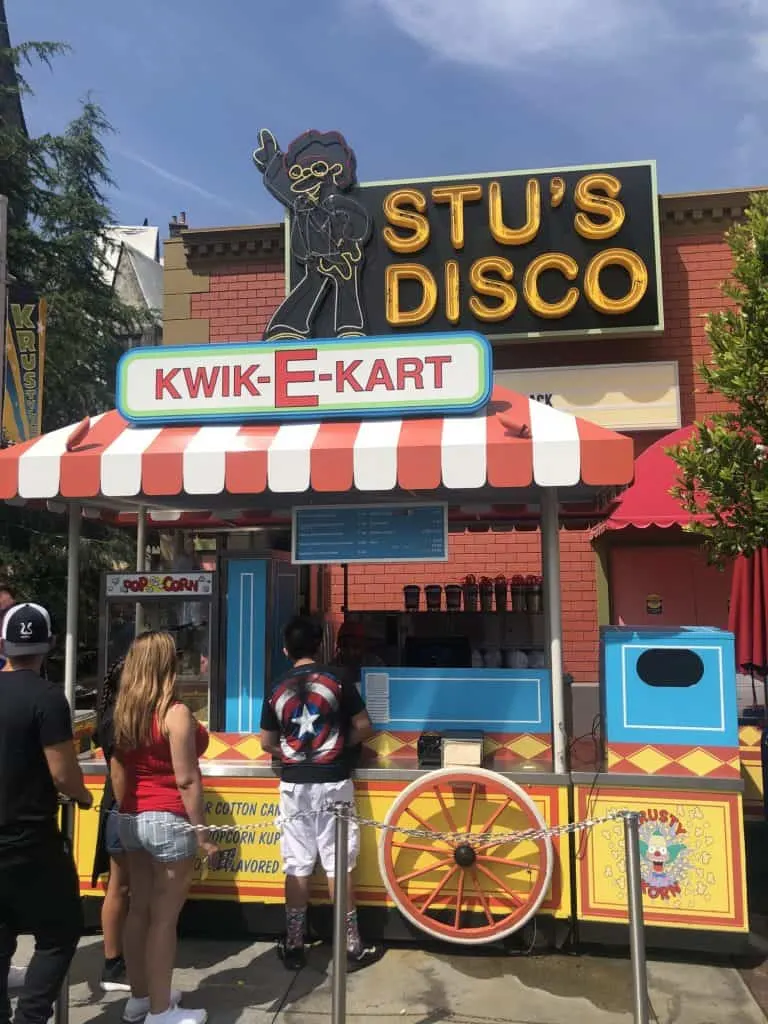 Kwik-E-Cart
If you have a hankering for Popcorn, Cotton Candy, or Frozen Lemonades head to the Kwik-E-Cart which is located on the edge of Springfield near the escalator down to the Studio Tour.
Universal Tower Snack Bar
Something very unique at Universal Studios Hollywood is its Universal Tower Snack Bar. Here you can pick up snacks to bring throughout the property. In addition to cold drinks and bags of snacks, you can pick up some hot options like a Jumbo Turkey Leg!
Despicable Delights
Snacks, sweets, and drinks are readily available at the Despicable Delights snack shop. Chocolate Dipped Banana, Churros, and Minion Cotton Candy are just a few of the delights waiting in Super Silly Funland!
Starbucks
Starbucks is also a great option when looking for coffee or a quick snack. Here you can find pastries, protein packs, or hot snacks.
The Starbucks on the upper lever is also a great place to have a seat. Bring your charger because electrical plugs are in great supply!
If you find yourself on the lower level and not up for the fast paced rides, Starbucks is always the perfect way to pass the time.
Universal Studios Sweet Treats
Studio Scoop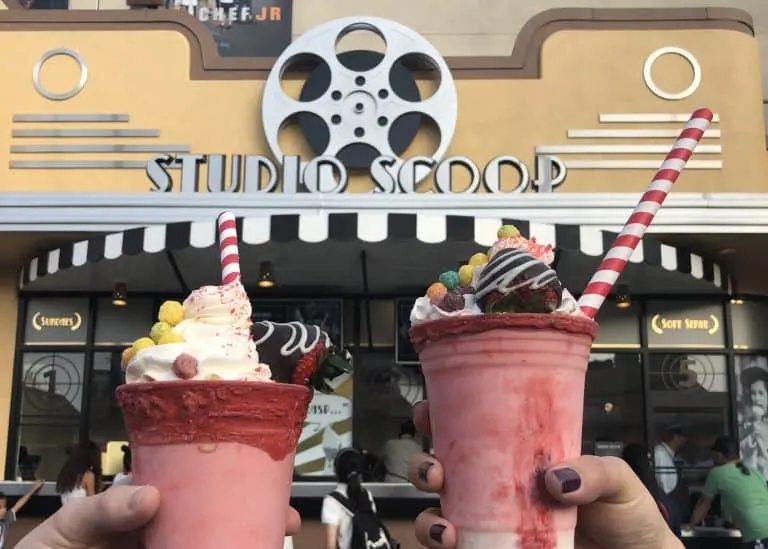 I recently came across a new and truly artistic treat on the lower lot. This tasty ice cream masterpiece is called the Red Carpet and can be found at the Studio Scoop!
It is topped with whipped cream, fruity cereal, and chocolate covered strawberries. I'd make the escalator trip to the lower lot just for this dessert!
Lard Lad Donuts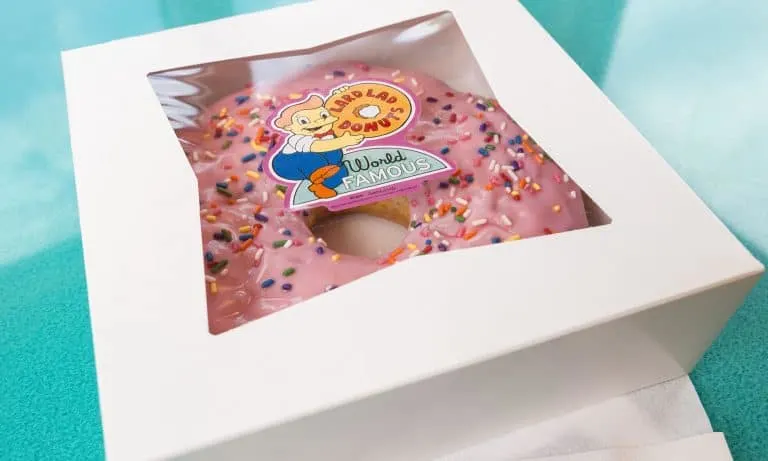 Lard Lad Donuts offers some of the largest donuts I have ever seen! Grab one of Homer's favorite donuts. Okay, any donut is his favorite, but these giant options are large enough for the entire family to enjoy!
You can also find delicious D'oh-Nut Sundaes. These hot fudge sundae are stuffed between two slices of sprinkled donuts and topped with whipped cream!
Phineas Q. Butterfat's Ice Cream Parlor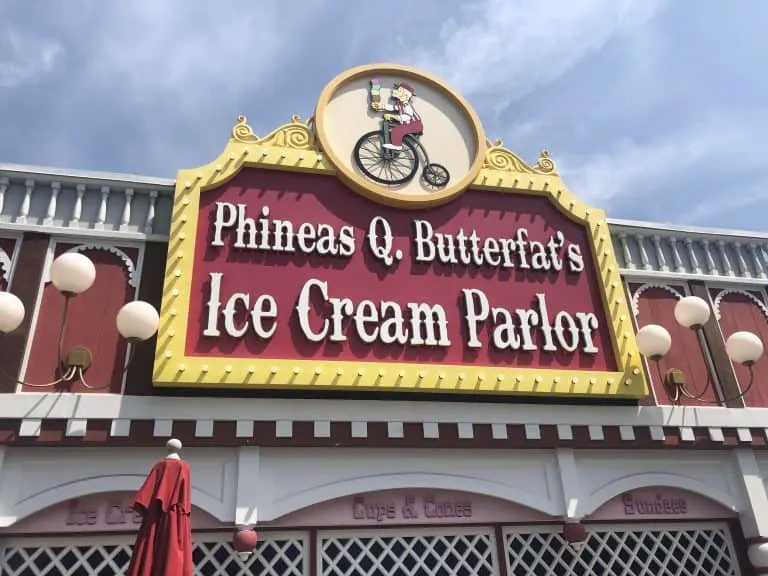 You want ice cream? Springfield's got ice cream! At Phineas Q. Butterfat's choose vanilla ice cream cones with flavor swirls such as strawberry, banana ripple, cotton candy, root beer, and chocolate swirl.
Or go for one of the stand's specialty sundaes such as Cookies 'n Cream 'n Things or Mr. Teeny's Banana Delight.
Hello Kitty
The Hello Kitty counter has some delicious treats served up in the cutest way. Stop into the Animation Studio Store near the Main Entrance for a Sanrio surprise. While you are there checkout all the adorable Hello Kitty merch!
Universal Studios Food to Bring Home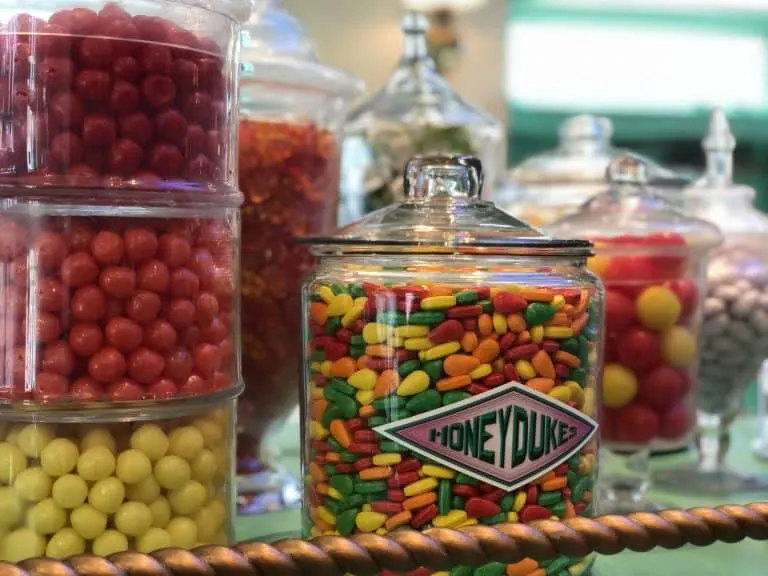 A favorite stop just before leaving is Honeyduke's in The Wizarding World of Harry Potter. Here you will find a delicious assortment of candies and sweets including a Chocolate Frogs and Bertie Bott's Every Flavored Beans! Check out the cold case for holiday-themed confections.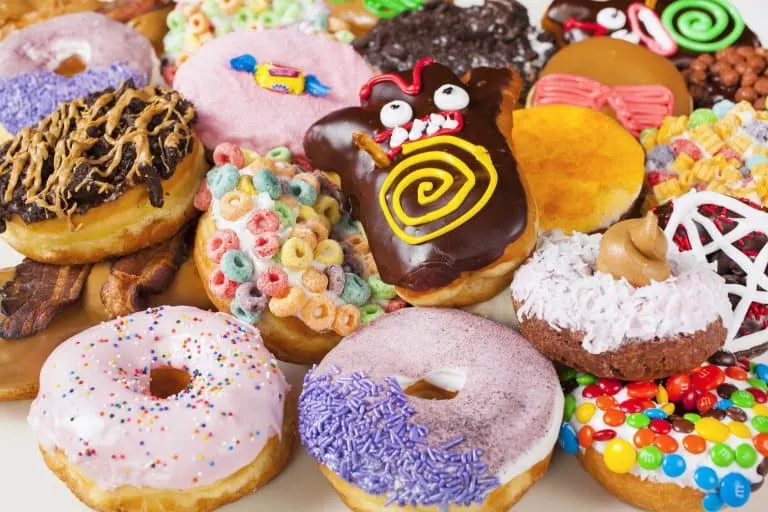 Universal City Walk is another great place to grab a treat on your way home. Voodoo Doughnuts makes a delicious souvenir for your friends waiting at home. If you stick to the candy covered doughnuts I have found them to last 2 days…I am not ashamed that I know this first hand!
Also, located in City Walk, It'Sugar! – full of unique candies that are great for travel and can give you a reminder of your great trip to Universal. We love the bon bons and uniquely flavored fudge.
Wondering where to find all these fantastic eateries? Take a look at our Guide to Universal Studios Hollywood for a break down of the park. Heading to Universal Hollywood with kids? Don't go without checking out these 12 tips For Universal Hollywood with Kids of All Ages.