It is finally here! The Avengers Campus Disneyland Resort was supposed to open in 2020 but that pesky virus got in the way. Thankfully, Disneyland is now back open. And we all know things are beginning to return to normal when Disney opens a new land!
If you have a Marvel fan in your family, you will definitely want to head to the Disneyland Resort as soon as possible because truth be told, this new land is pretty awesome.
There is a new ride, lots of great merchandise, plenty of new food items to get excited about, and lots of face time with the Avengers themselves. Here is everything you need to know before you go.
Where is Avengers Campus Disneyland Resort?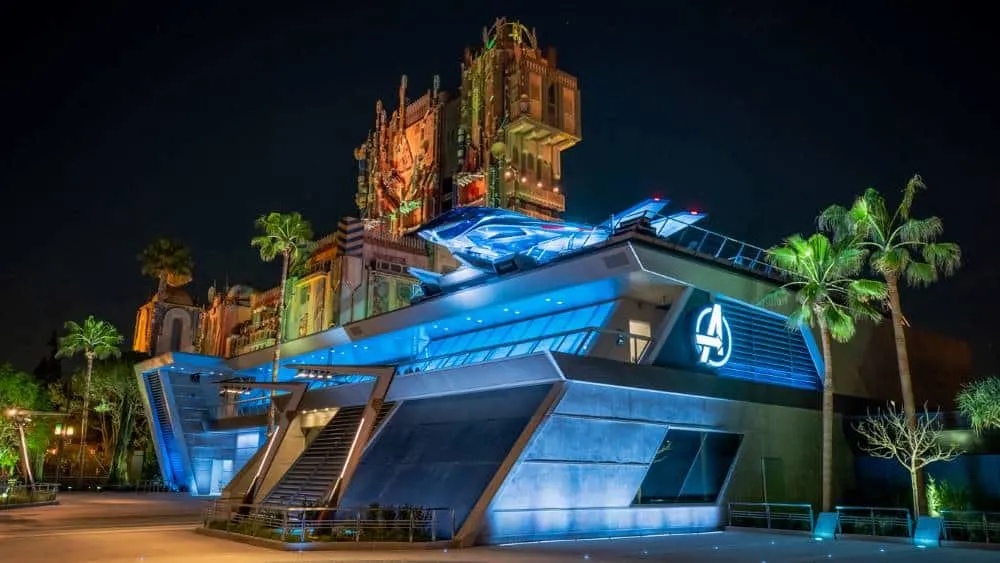 Avengers Campus is located in Disney California Adventure (DCA) at the site of the former "It's a Bugs Land". You will find it past Carthay Circle and just before you reach Cars Land. It can also be accessed behind the Hollywood Backlot because the Avengers Campus stretches all the way back to Guardians of the Galaxy- Mission Breakout!
Super Hero-Themed Entertainment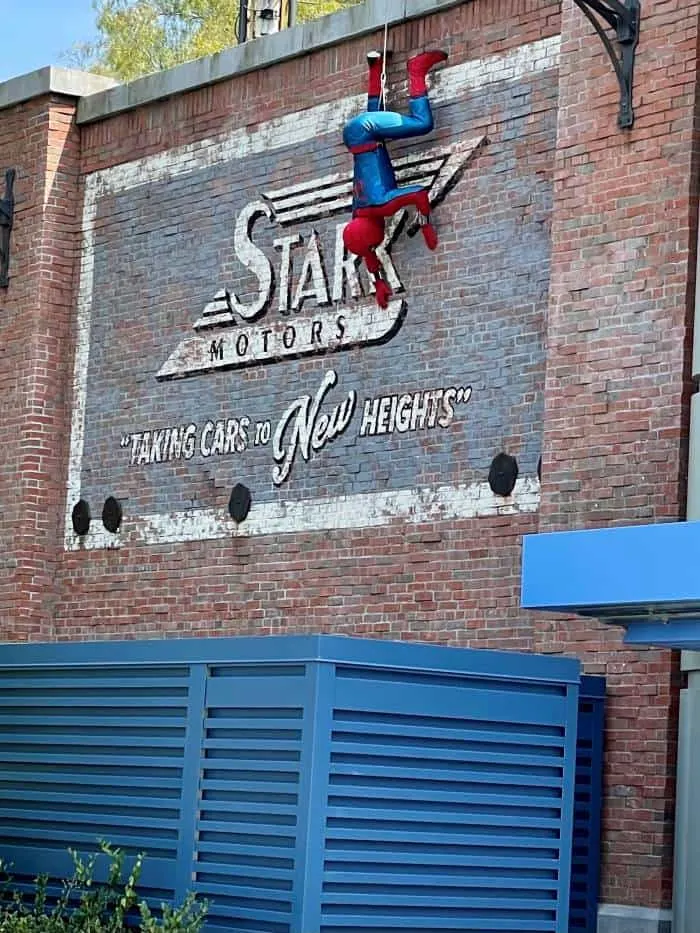 I am always impressed by the level of detail and complex storytelling the Disney puts in to each of its new attractions.
CAMPUS stands for Centralized Assembly Mobilized to Prepare, Unite, and Safeguard. In other words, this is the training rounds for existing Avengers and new recruits (you!). The complex was once part of the Stark Industries empire (as in Tony Stark, aka: Ironman).
Spider-Man is one of the big stars of the Avengers Campus. The new ride, WEB SLINGERS, is themed around him. He also puts on a show on the roof above the ride multiple times a day.
It is fun to watch him climb down walls, and fly 60 feet above the WEB Building on the Avengers Campus. He is wearing a new suit that you will only see at Disney California Adventure.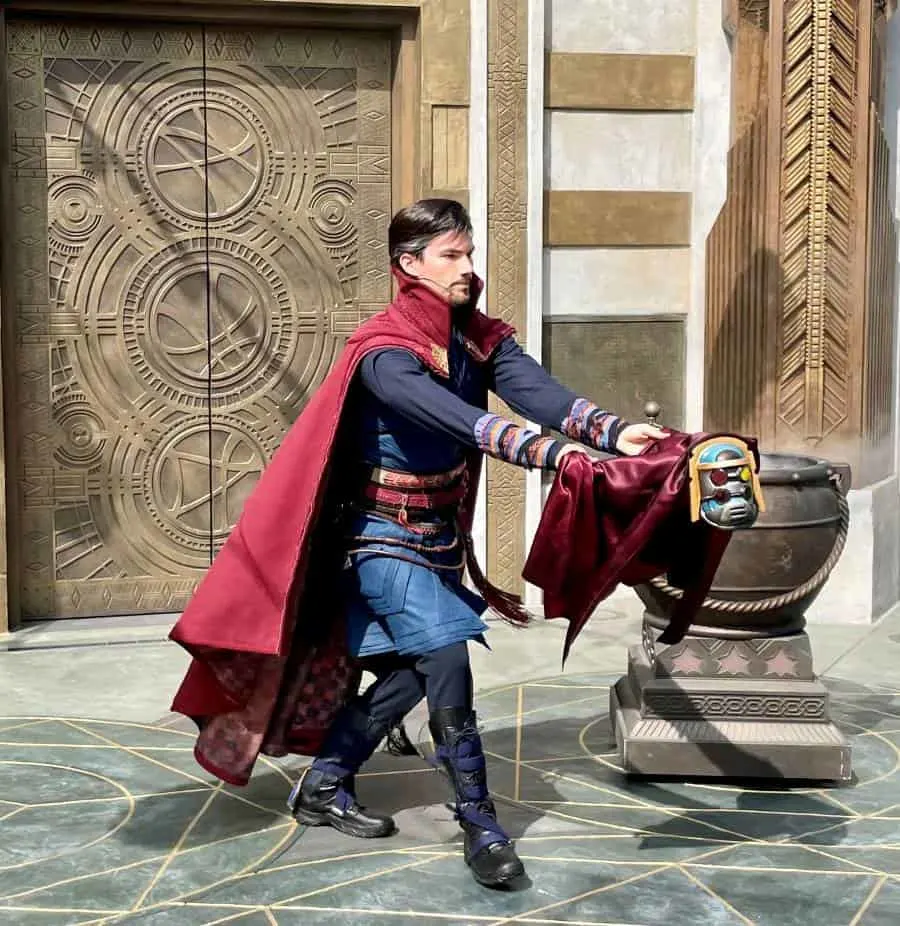 Doctor Strange has his own show at the site of the Ancient Sanctum. He appears via an inter-dimensional portal and performs illusions and sorcery while trying to protect important relics from evil villains trying to steal them away.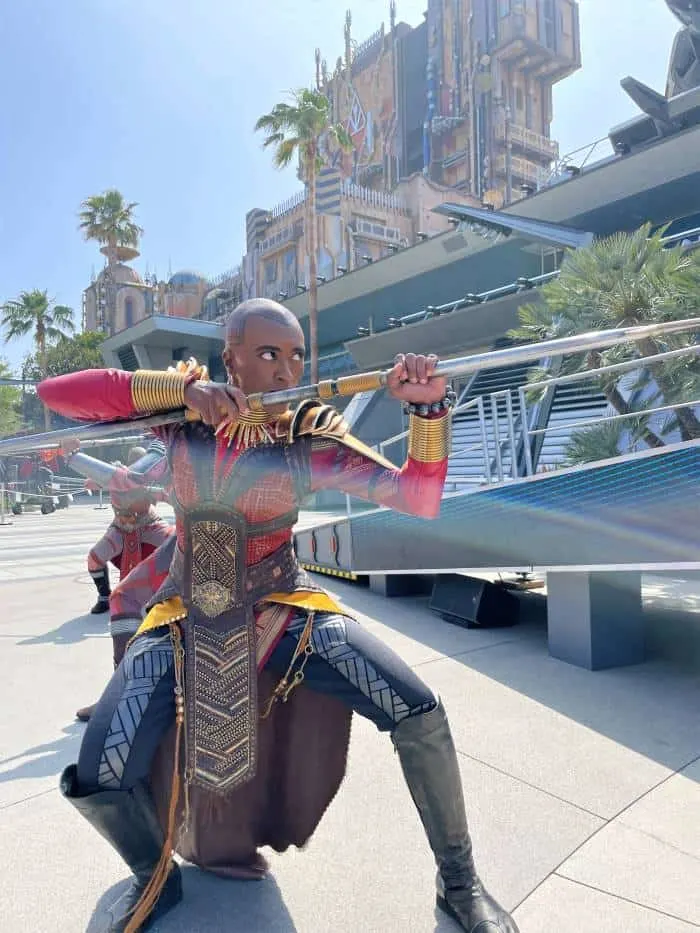 Wakanda Forever! Fans of Black Panther won't want to miss the Dora Milaje, Black Panther's bodyguards, who put on a show of strength and skills.
But wait, there is so much more! Several beloved characters from the Marvel world can be found throughout the Avenger Campus at different points during the day. You never know who you might run into but here are some more characters you may encounter:
Ant-Man
Black Panther
Black Widow
Captain America
Captain Marvel
The Guardians of the Galaxy
Ironman (in new armor called the Mark 80)
Loki
Taskmaster
Thor
The Wasp
Avengers Campus Rides
There are two rides at the new Avengers Campus Disney California Adventure. One is a DCA mainstay and the other is brand new and fun for the entire family. There is also rumor that a third ride will eventually open in the new land at a date yet to be determined.
WEB SLINGERS: A Spider-Man Adventure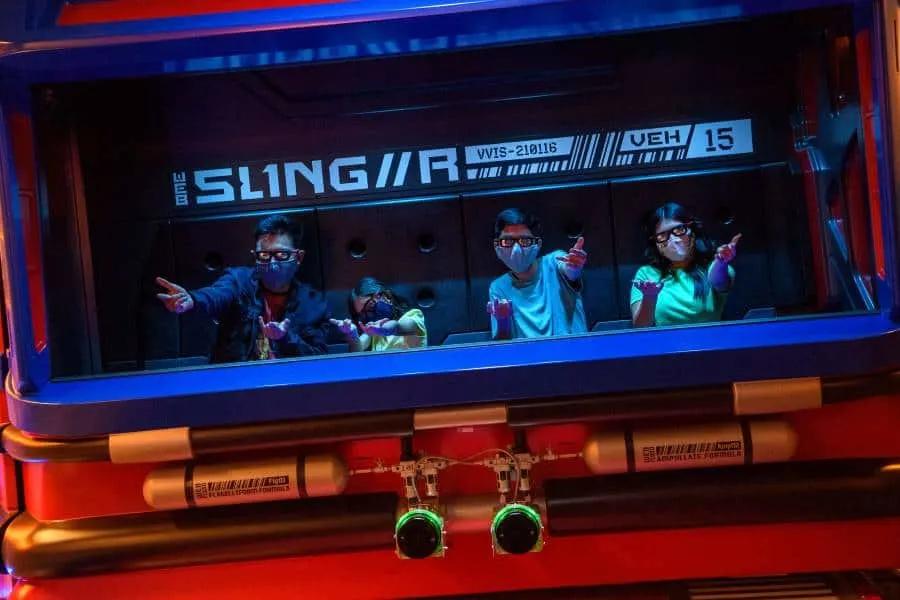 The newest ride to open at the Disneyland Resort is WEB SLINGERS. This ride is filled with technology, completely immersive, and appropriate for all ages.
The attraction begins in a former Stark Industries site that is now being used to train new super heroes. Once inside, you will meet Peter Parker (played by an amazingly realistic hologram of Tom Holland himself) who has designed new Spider-Bots to be robotic super hero helpers.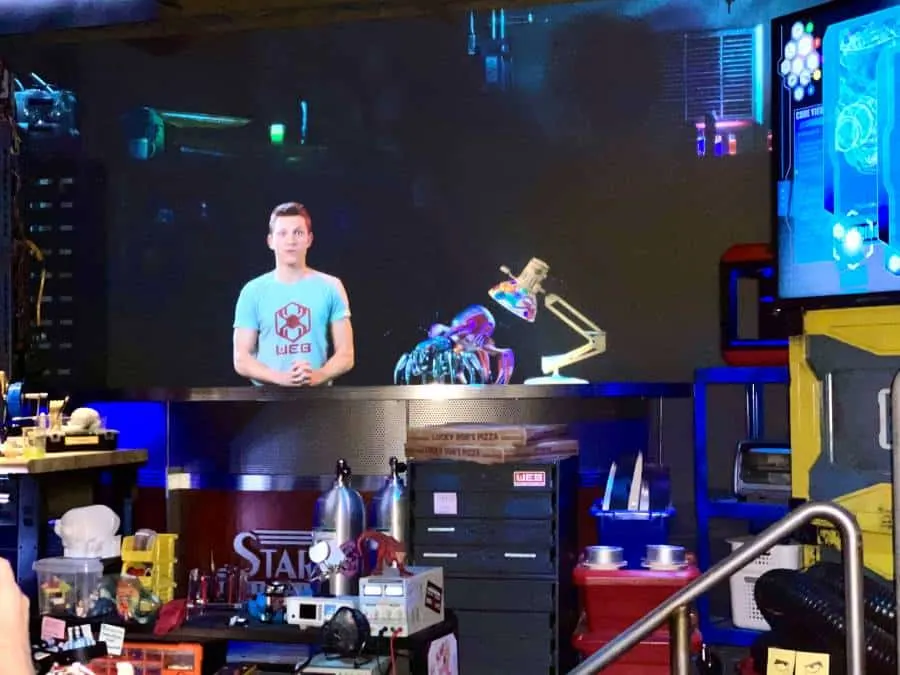 Unfortunately, Parker's demonstration goes awry and the Spider-Bots get stuck in replication mode running amok and causing complete chaos. This is where you and your family begin your mission.
You are taken into another room where you are handed 3D glasses, placed in a WEB Slinger vehicle, and sent on a mission to help Spider Man trap the Spider-Bots with a flick of your wrist.
This ride reminds me in many ways of Toy Story Midway Mania. Like Toy Story Mania, you sit in a slow moving cart that is suitable for all ages and wear 3D glasses while you try to outscore your friends and family by targeting 3D virtual objects. Unlike Toy Story Mania, you don't use a shooter to score points, you extend you arms like Spider Man.
That's right, you are going to be using your own arms to fling webs and trap Spider Bots! And it is so much fun!
The technology behind this new ride is mind-boggling. According to Disney, "Imagineers leveraged infrared cameras on the WEB Slinger vehicles to asses and analyze the actions of guests 60 times per second, tracking eye position, shoulders, elbows, and wrists."
There is a virtual queue for WEB SLINGERS. This queue is accessible via the Disneyland app. You should definitely have the app downloaded before you visit the parks because you will be using it all day long. Also bring portable phone chargers to make sure your phone doesn't die.
You can join the queue twice a day- at 7am and 12pm. You do not have to be inside the park to join the queue, but you do need Disneyland tickets to be uploaded and linked to the app already in order to join the queue.
Since this is a new and popular ride, I highly suggest you log in exactly at the specified times because spots will surely go quick.
It is also worth noting that there is some merchandise you can purchase in the Avengers Campus to enhance your ride experience. WEB Power Bands and WEB Shooter accessories are sold on the Avengers Campus. These give you a bunch of advanced functions to score more points like a multi-firing web option.
Guardians of the Galaxy- Mission Breakout!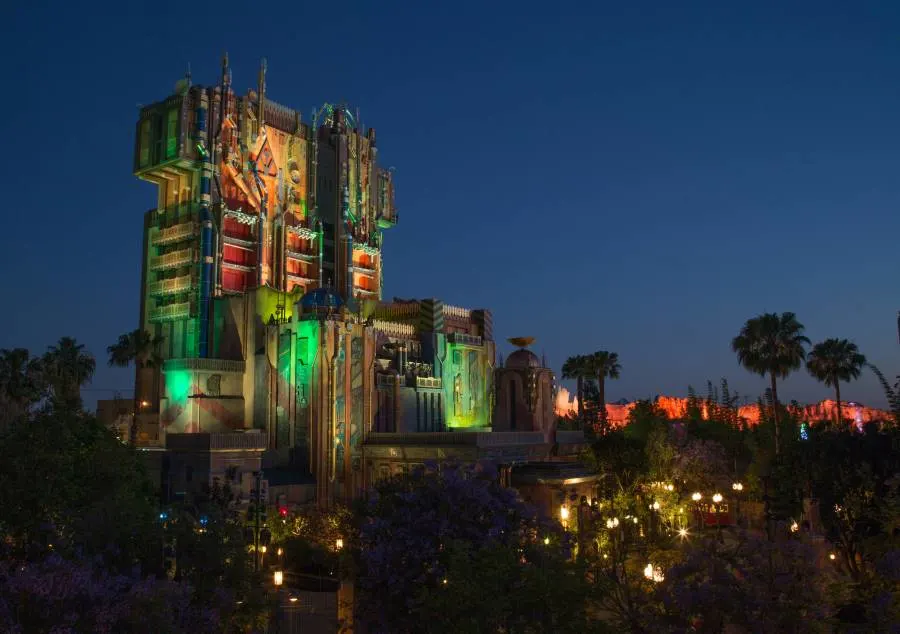 Guardians of the Galaxy is part of the Marvel Universe, so it is a natural fit to join the Avengers Campus. This ride has been at DCA since it opened in 2017 at the site of the former Tower of Terror ride. The top of the tower soars at 183 feet above the park and has truly become a DCA icon.
If you haven't been on it yet and love a great thrill, now is the time try it. Guardians of the Galaxy- Mission Breakout made our list of the best rides at Disneyland Resort. See what else made the cut!
Beloved characters from Guardians of the Galaxy such as Rocket Raccoon, Groot, Gamora, and Star-Lord make appearances, as do tracks from Star-Lord's beloved 80's mix tapes. Screams are interspersed with laughter as this ride sends guests up and down the tower at stomach-fluttering speed.
Avengers Campus Disneyland Resort Food
One of my most favorite things about a new land opening at a Disney park is that it also means there will be new food to try. The new offerings at the restaurant and food carts do not disappoint!
Pym Test Kitchen
The backstory for the primary restaurant on the Avengers Campus, Pym Test Kitchen, is that Ant-Man and The Wasp are leading a team of food scientists to make food in huge and tiny sizes. They say the researchers are "shrinking problems and growing solutions". Here are some of the tasty highlights:
Pym-ini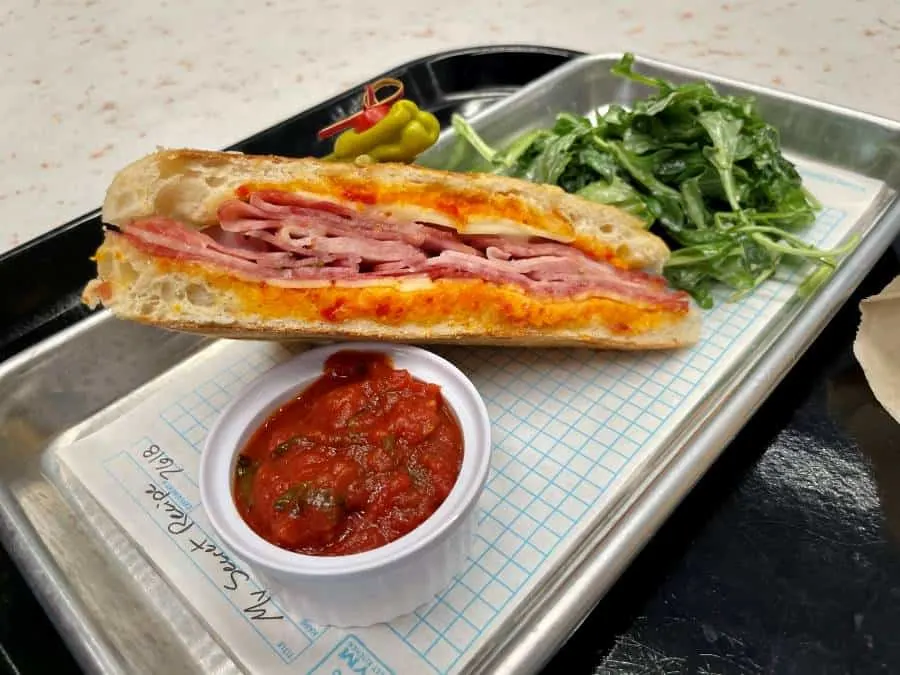 The Pym-ini is the $100 sandwich you might have heard about. That version serves eight people. Thankfully, you can also purchase a single serving for the much more reasonable price of $14.49.
Toasted focaccia features a sun-dried tomato spread and is filled with salami, rosemary ham, and provolone. It is especially good when dipped in the accompanying marina sauce. It also comes with a delicious arugula salad on the side.
Not So Little Chicken Sandwich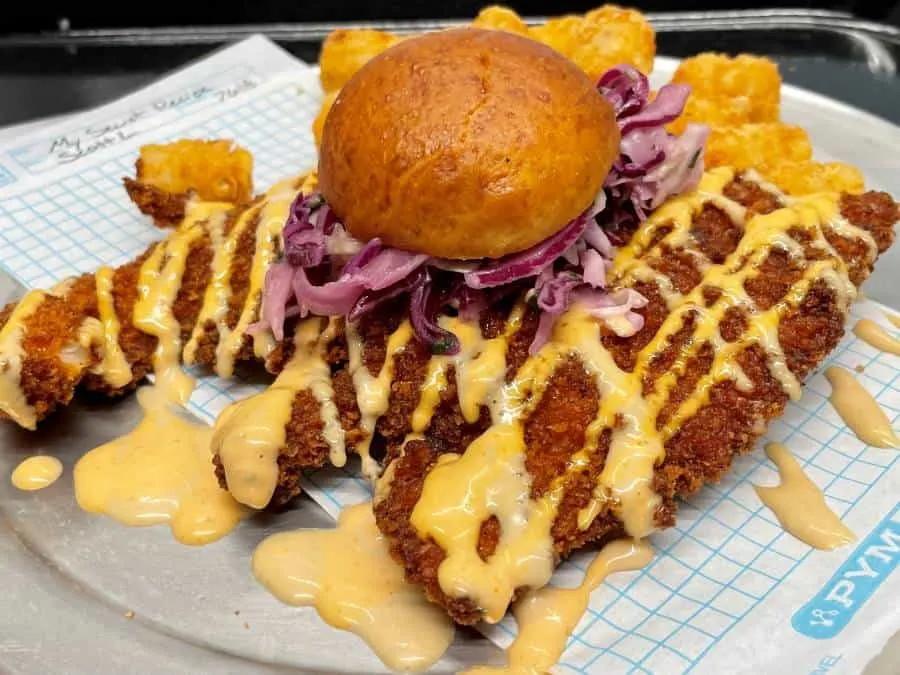 This is a yummy fried chicken sandwich with a big chicken breast patty and a tiny bun to help enhance the big chicken illusion. It comes topped with teriyaki and red chili sauce, as well as pickled cabbage slaw. It comes with tater tots.
Quantum Pretzel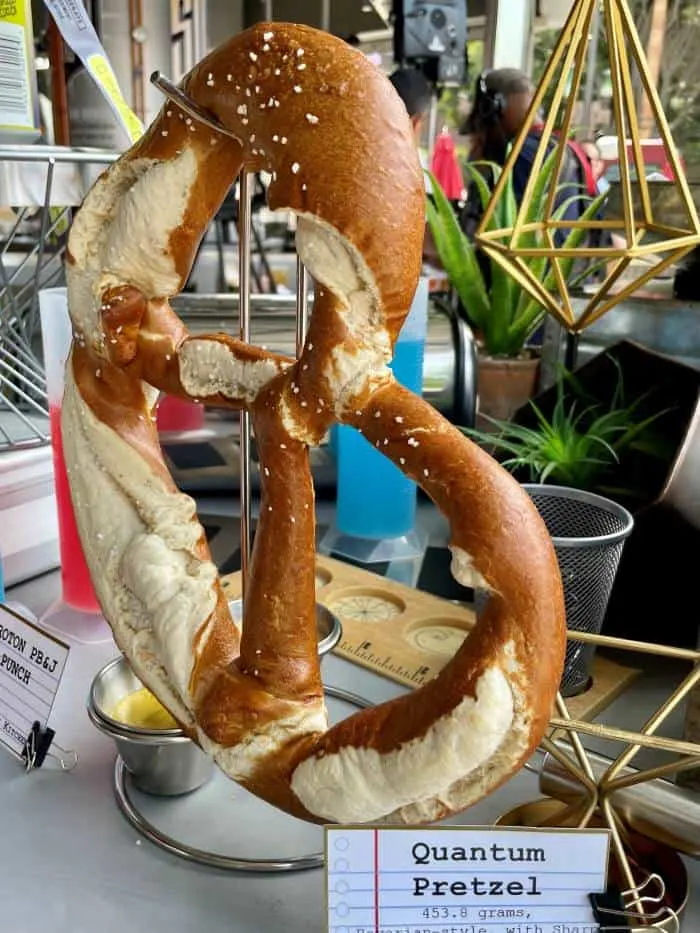 Like a regular pretzel, only much, much bigger. It is perfect for sharing and comes with a sharp cheddar-beer sauce.
Impossible Spoonful Pasta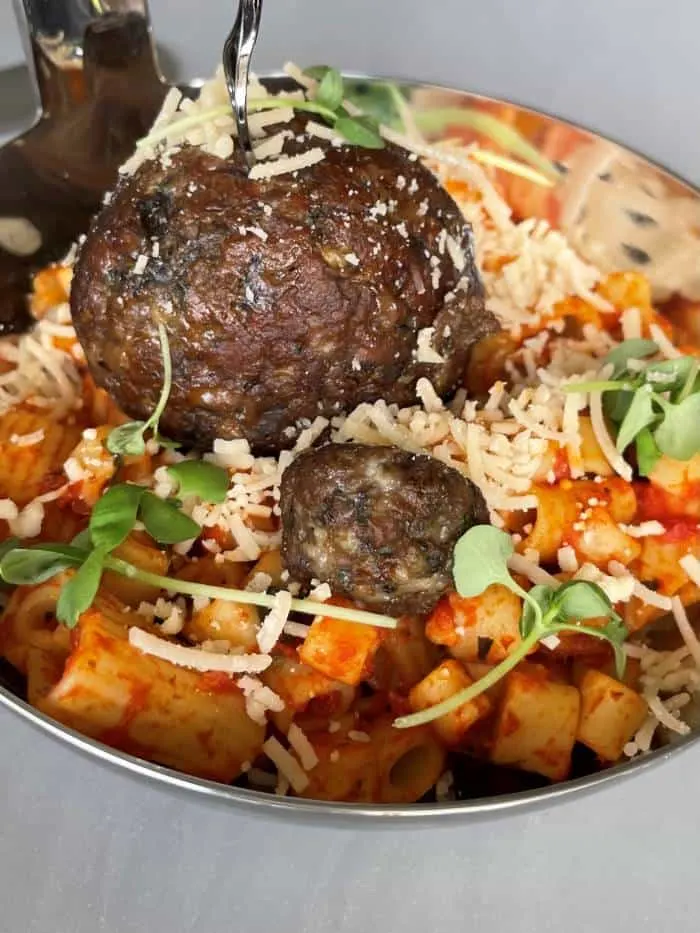 This is the pasta with meatballs we all know and love but instead of meat, they use Impossible plant-based meatballs. I honestly think it tastes like a regular meatball.
Caeser Salad with a Colossal Crouton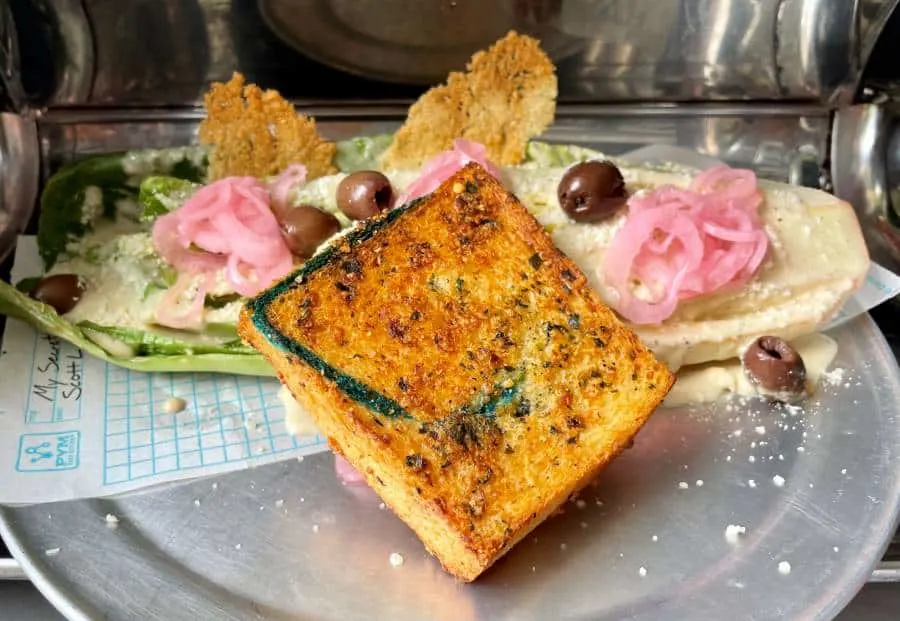 You know how when you get a Caesar Salad and you eat the couple of small croutons in the salad and always want more? Well this is what you have always been dreaming about. A giant crouton to savor and enjoy.
Kids Meals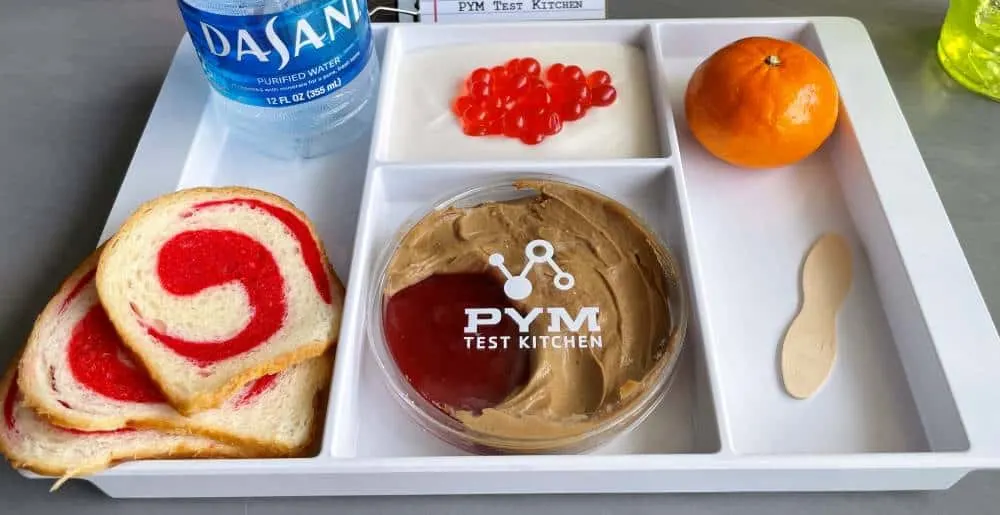 Kids will love the PB&J Flavor Lab where they can make their own sandwich which comes with a petri dish filled with peanut butter and jelly. There is also a mini version of the pasta with Impossible meatballs and a Teeny Pym-ini which is a smaller version of the adult portion.
Choco Smash Candy Bar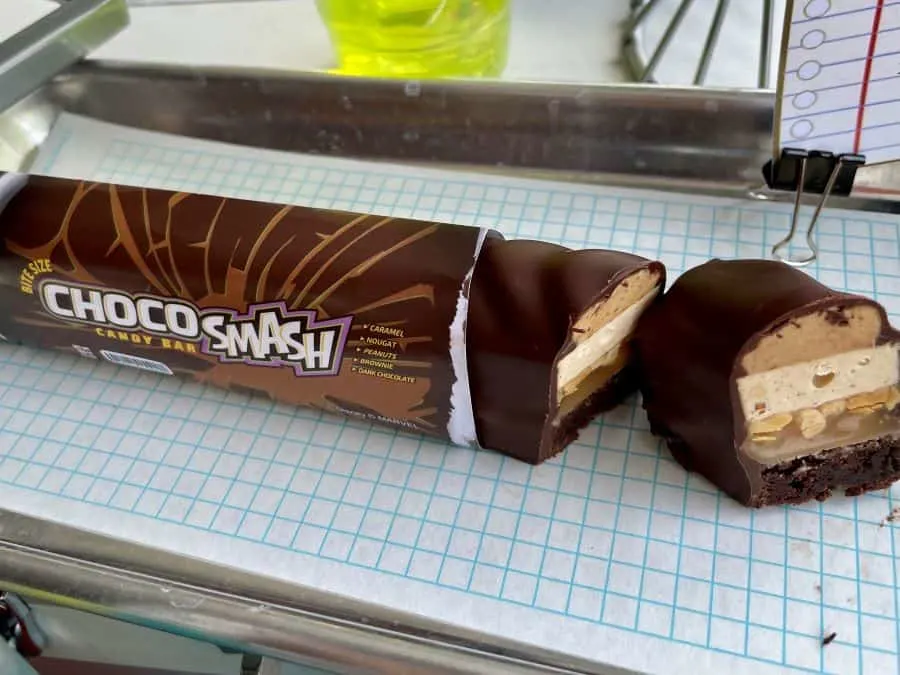 One of the most exciting new dessert options is the new candy bar designed specifically for the Pym Test Kitchen. It has dark chocolate on the outside and peanuts, nougat, caramel, and a chocolate brownie on the inside. Who can resist?
Pingo Doce Drink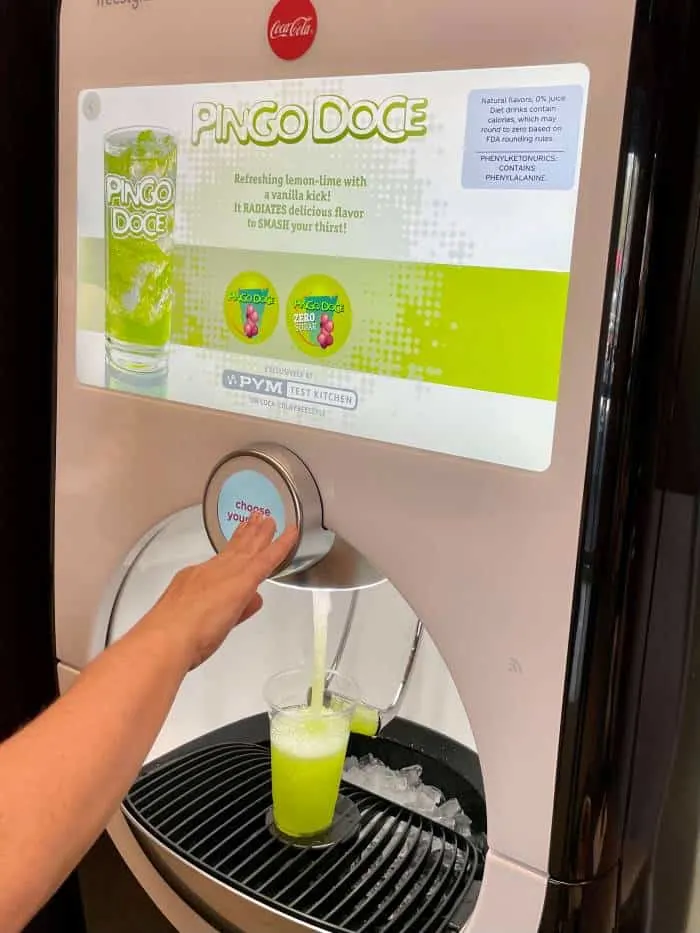 The stuff of Avengers lore is now a soda that you can try for yourself. Pingo Doce is a vibrant lime green in color and is a lemon-lime flavor with vanilla. It is quite sweet and tastes a bit like a cream soda to me. You can get it out of the restaurant's drink dispenser or buy a super-sized can of it to take home.
Breakfast
There are several breakfast options on the menu including Calculated Breakfast (eggs two ways with bacon, crispy potato bites, and focaccia toast), Impossible Quantum Garden Breakfast (an omelet with Impossible breakfast sausage, crispy potato bites, and focaccia toast), and Ever-Expanding Cinna-Pym Toast (French toast with a fried egg and bacon).
Pym Testing Lab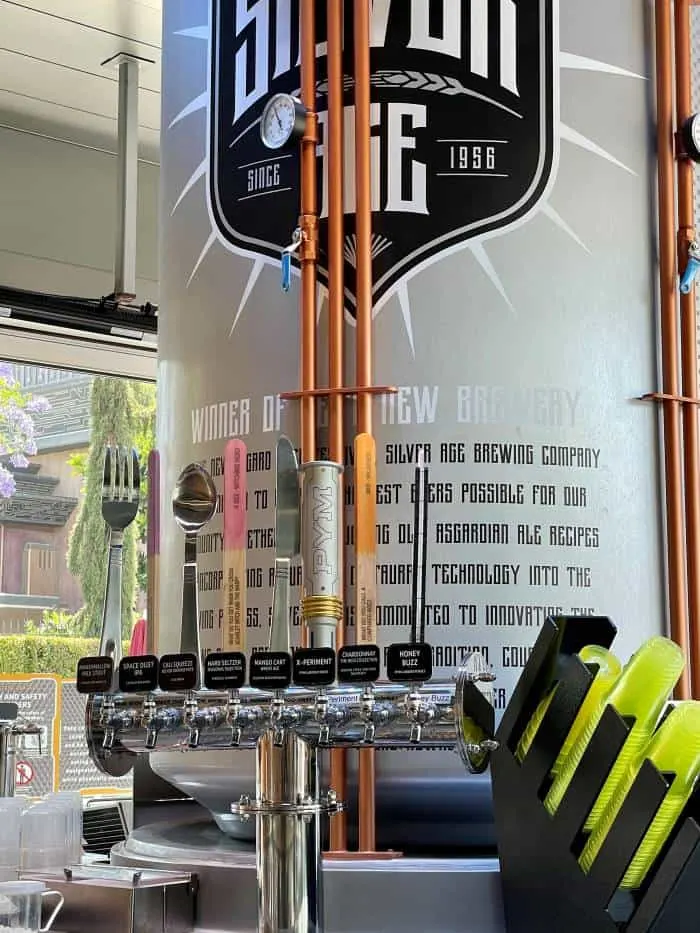 Ant-Man decided that alcoholic beverages should be experimented on as well, so Pym Tasting Lab was invented. This outdoor bar has eight beers on tap and the cups fill from the bottom up (which is so cool!). There are tasting flights available.
If you want to amp things up a notch, check out their innovative craft beer cocktails. The Regulator is a wheat ale with mango flavor and a spicy finish while the Molecular Meltdown is a marshmallow milk stout with vanilla ice cream and marshmallows!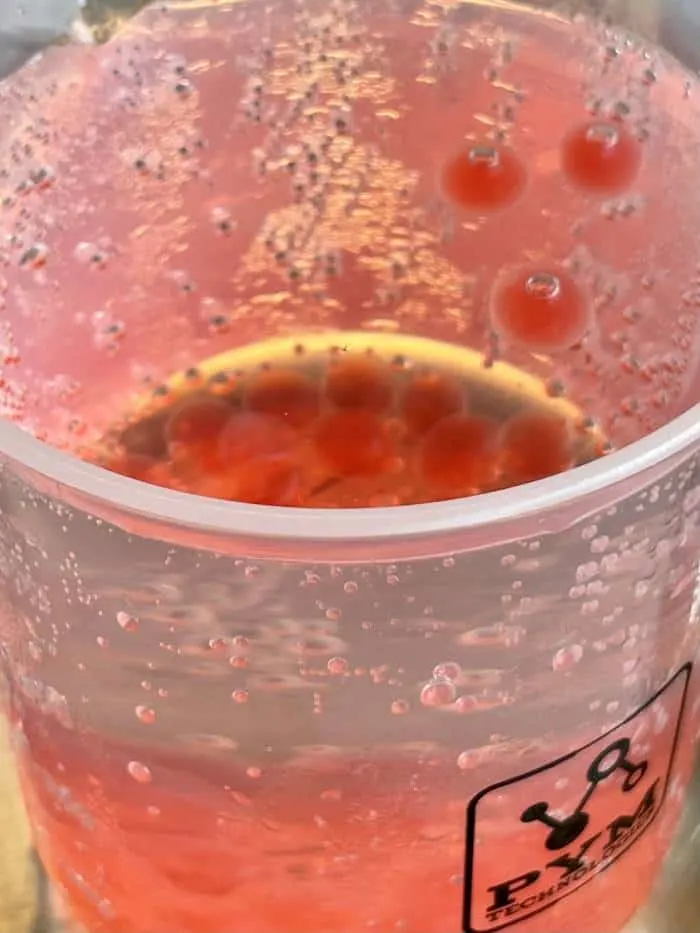 They also have seasonal hard seltzers which are perfect for us gluten-free folks. The Particle Fizz is a seltzer topped with cherry flavor bubbles.
Shawarma Palace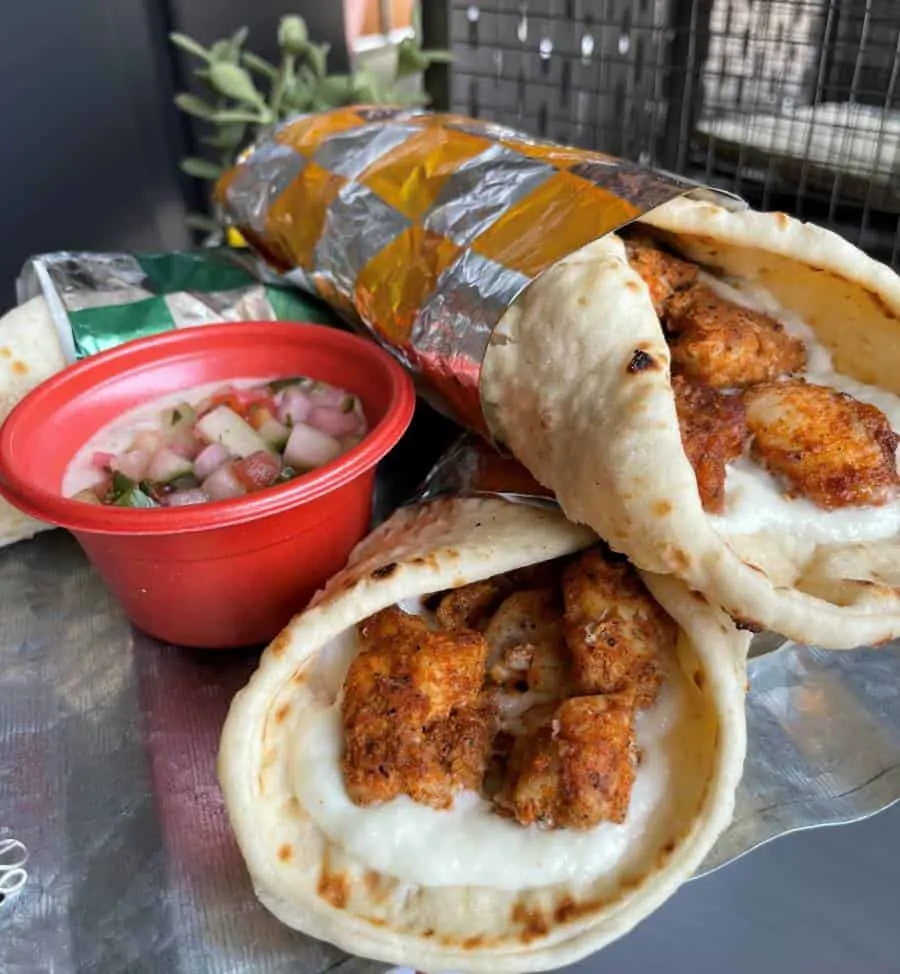 After the Battle of New York, the Avengers headed headed to the Shawarma Palace food cart to refuel. So it is no surprise that the cart has found a home on the Avengers Campus.
It serves up the New York's Tastiest which is a chicken shawarma with a garlic spread and coconut yogurt-tahini sauce. There is also a falafel wrap called the Impossible Victory Falafel. It is a plant-based falafel that is served on a pita with pickled vegetables and the same tahini sauce as the chicken shawarma. It is really good!
Terran Treats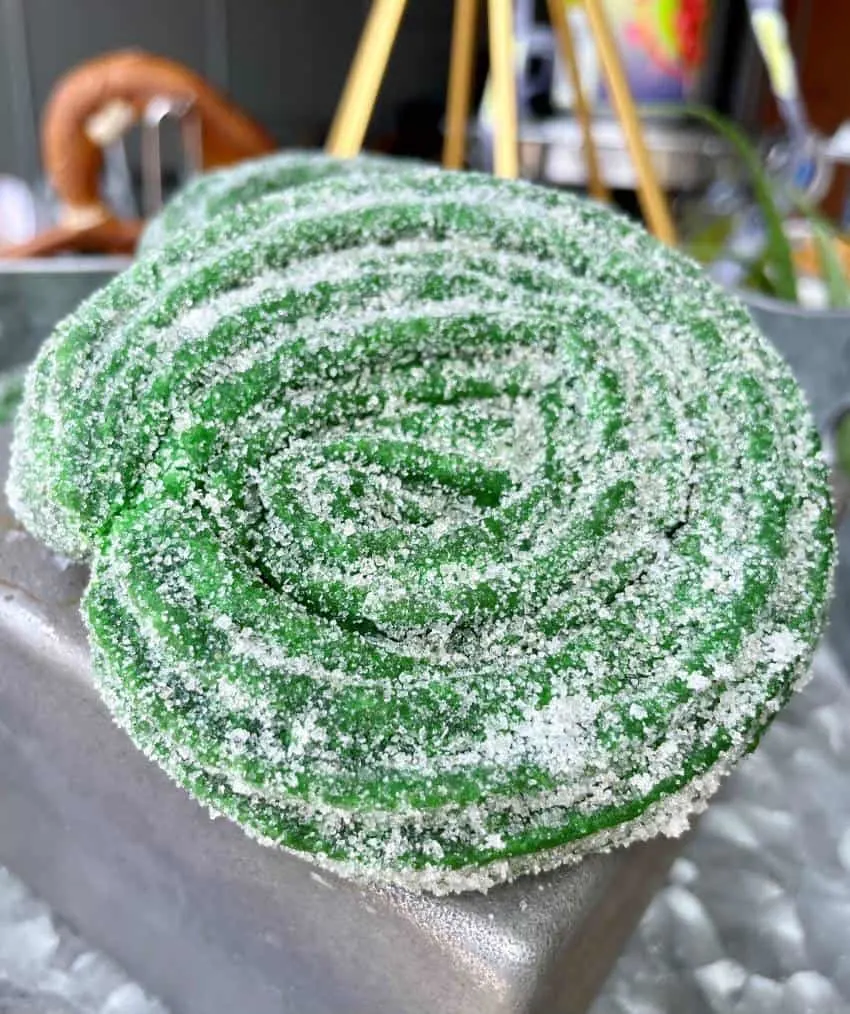 Located across from Guardians of the Galaxy- Mission: BREAKOUT is the Terran Treats food cart. It is the perfect place to stop if you are craving something sweet.
There are Sweet Spiral Rations which are basically colorful churros in unique flavors and colors. There is also the Cosmic Cream Orb which is a cream puff with a brightly-colored, whipped raspberry cheesecake mousse. Truth be told, it isn't much to look at but it tastes delicious.
Avengers Campus Merchandise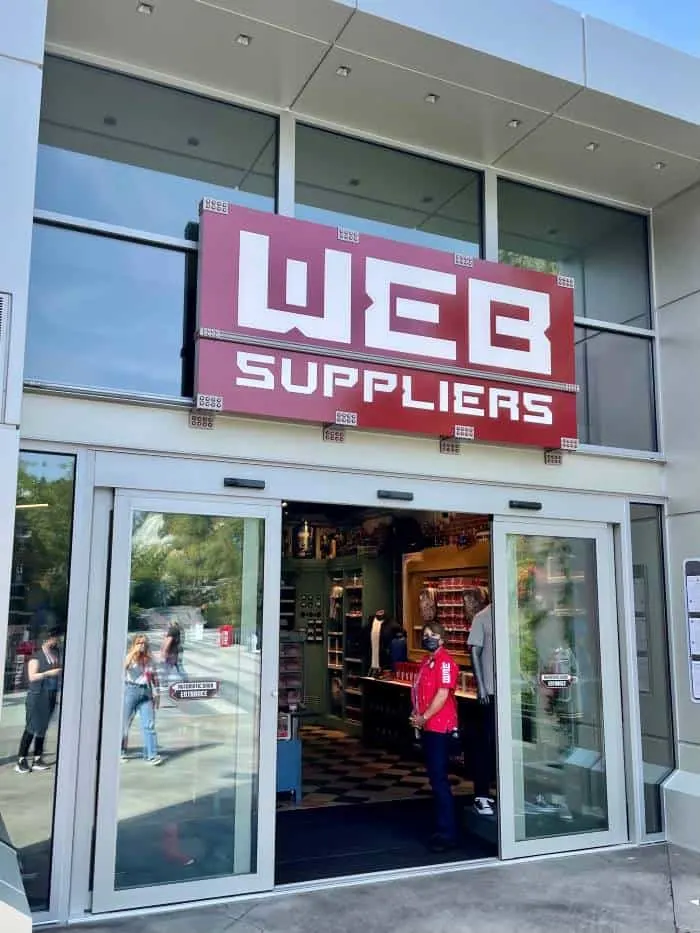 The new merchandise found at Avengers Campus is sure to be a hit with Marvel fans young and old.
WEB Suppliers is the spot to buy remote-controlled Spider-Bots that are just like the ones featured in the WEB SLINGERS ride. They can fight each other and even have a hilarious self destruct mode. Carry them in the super cool new backpack which has a web on the back to catch the spiders.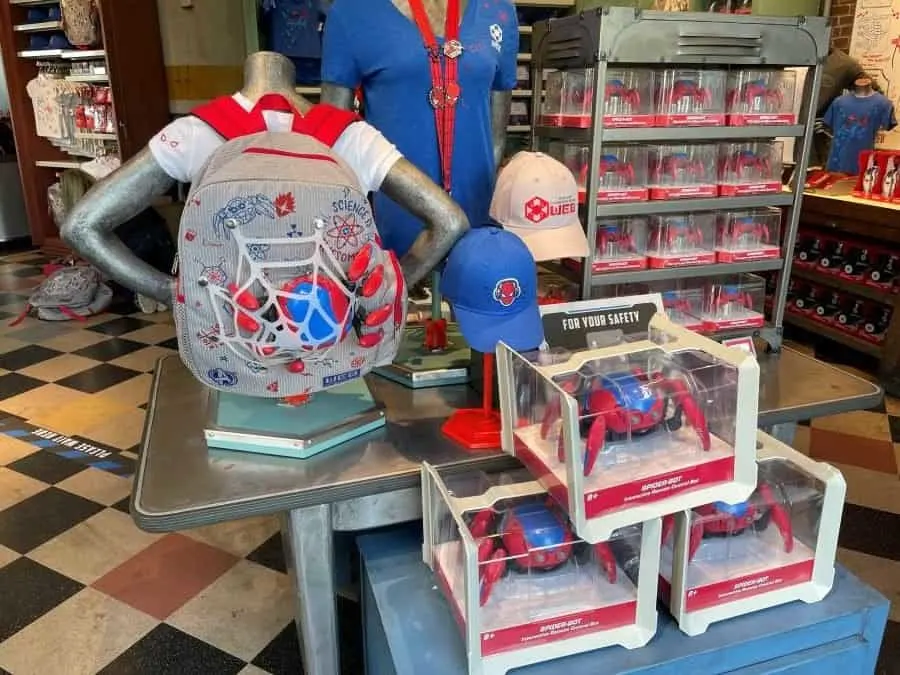 This is where you can purchase a WEB Power Band which interacts with the ride. There is also an Iron Man version. Kids will also love the Web-shooters and Spider-Man Goggles that light up and interact with their surroundings within the Avengers Campus.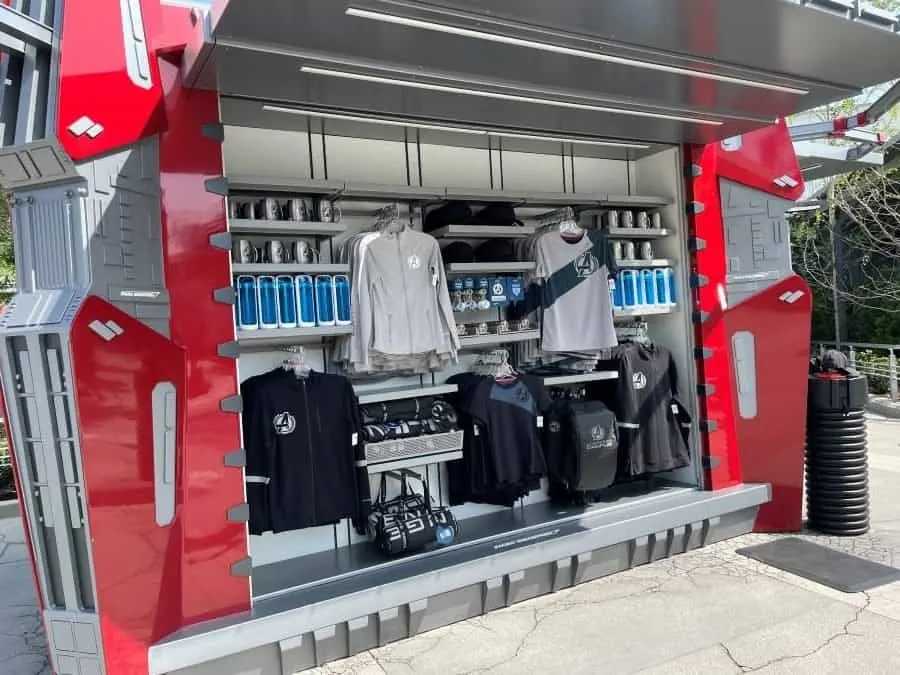 There is also a merchandise stand near the Pym Test Kitchen that sells some really nice hooded sweatshirts and a few Avengers-themed toys, figurines, and pins.