From the rolling Blue Ridge Mountains to the manicured gardens of Durham, there are so manyamazing places to enjoy fall in North Carolina. The North Carolina fall foliage season is one of the longest in the country, thanks to a variety of elevations and a plethora of deciduous trees.
Here are some of our favorite places and ways to see North Carolina fall colors. Whether you are soaring in a hot air ballloon, hiking on a trail in the mountains, or riding in a train car through the forest, you are sure to enjoy the reds, golds, ambers, and umbers of autumn.
Fall in North Carolina- Where to See Fall Foliage in North Carolina in 2023
1. Grandfather Mountain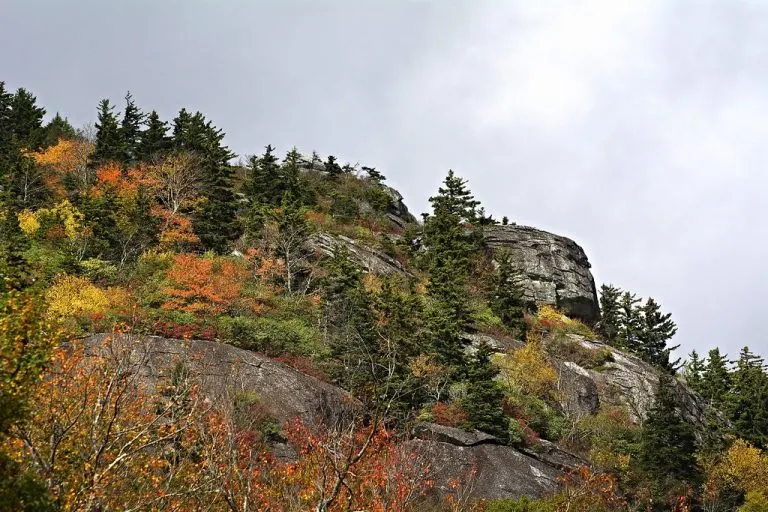 The hunt for fall colors in North Carolina begins in late September at Grandfather Mountain. This mountain peak sits at nearly 6,000 feet in elevation and is a UN Biosphere Reserve.
It is home to the Mile High Swinging Bridge, a 228-foot-long bridge that spans a 80-foot chasm, and is a wonderful spot to view the incredible North Carolina fall foliage from above.
This beautiful park has several hiking trails, from easy walks to trails that use ladders and cables to climb the rocky cliff faces. During the peak fall color season, Grandfather Mountain does offer 20-minute guided walks to help you identify the foliage.
While there is certainly a chance that you may encounter wildlfie while hiking on the park's trails, you can guarantee a sighting if you visit the park's wildlife habitats where they house bears, mountain lions, otters, bald eagles, and more.
Explore more of the state. Here are the 10 best things to do in North Carolina with kids.
2. Mount Mitchell State Park
The highest point in the United States east of the Mississippi River is Mount Mitchell, about 30 miles from Asheville. Mount Mitchell's peak sits at 6,684 feet in elevation which means that fall comes early here as well.
Enjoy the view from Mount Mitchell's observation deck in late September and early October when the autumn foliage begins to show off its many colors as they pop next to the spruce and fir trees.
If you want to stretch your legs check out the Commissary Trail, an easy 2-mile trail that follows an old logging railroad bed and is a nice place to walk with the crunch of leaves underfoot.
Here are our favorite things to do in Asheville with kids.
3. The Gorge Zip Line Canopy Tour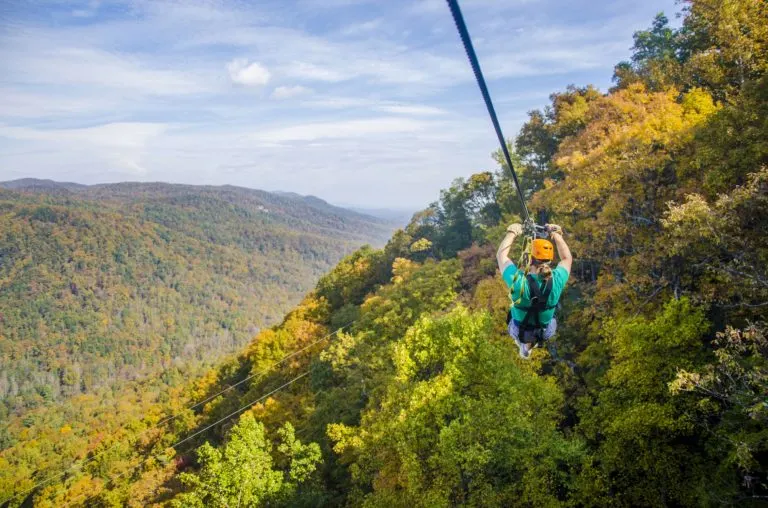 Why not enjoy a little fall foliage with some adventure mixed in? The Gorge Zip Line Canopy Tour is America' steepest and fastest zip line with 11 zips on the Green River Gorge near Saluda, right near the state's border with South Carolina.
The zip lines pass over old-growth forests in the foothills of the Blue Ridge Mountains. There are also three rappels and a sky bridge to enjoy. Given its foothill location, fall color tends to peak in mid to late October.
Note: You must be at least 10 years old and 70 – 250lbs in order to zip line.
4. Chimney Rock State Park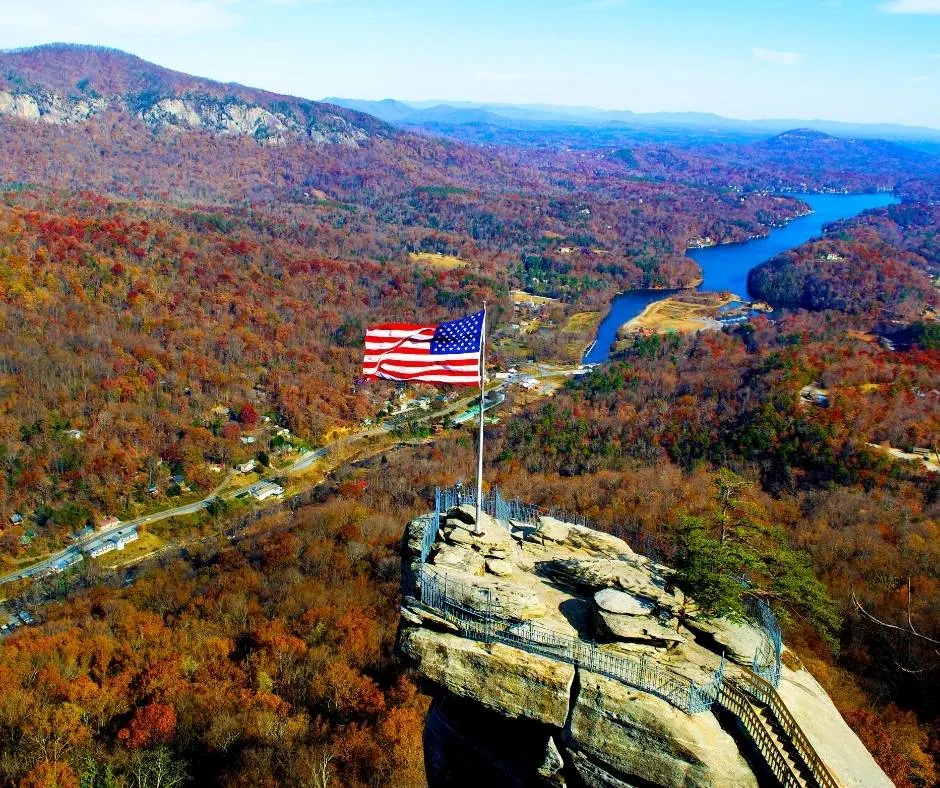 Vibrant orange wings flutter en masse during the monarch butterfly migration. Starting in mid-September, their flight path crosses the North Carolina mountains. The best odds of seeing monarch butterflies are on the Blue Ridge Parkway at Cherry Cove (milepost 415.7) and Wagon Road Gap (milepost 412.2) and at Chimney Rock.
Conviently, this is also a nice place to see North Carolina fall foliage. Head to Hickory Nut Gorge in mid-October to see maroon dogwoods, red sourwood leaves, and yellow poplars. Or, stand atop Chimney Rock and view the North Carolina fall colors painting the nearby ridge lines.
Continue your exploration of the beautiful Blue Ridge Parkway. Here are 14 Great Spots to Stop on the Blue Ridge Parkway.
5. Great Smoky Mountains Railroad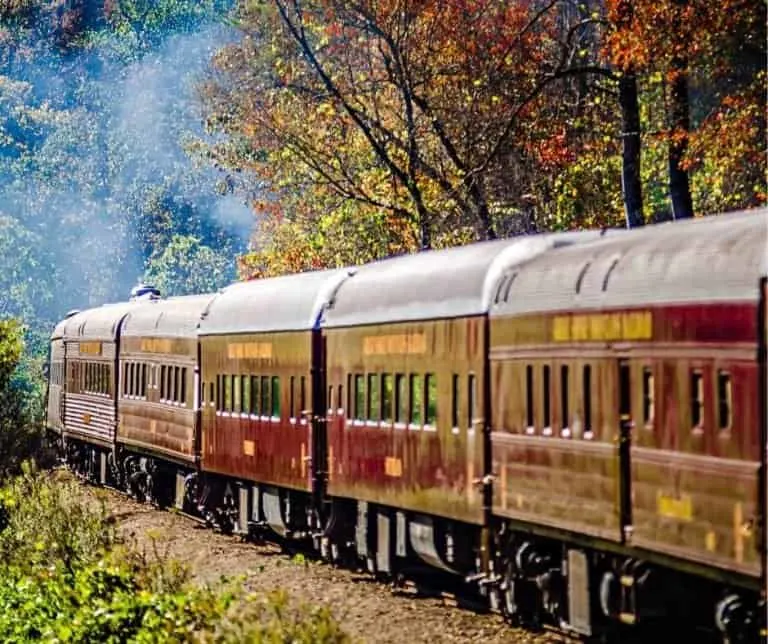 The Great Smoky Mountains Railroad's fall foliage ride follows a historic rail line into river gorges, across valleys, and through tunnels carved out of majestic mountains.
There are a couple different train rides you can choose from during the month of October to take full advantage of all those North Carolina fall colors.
The Nantahala Gorge trip is a 4.5 hour journey through the Nantahala Gorge. There is a one hour layover along the river in Nanthala Gorge so you will have great opportunities for photos.
The Tuckasegee River trip is four hours long and goes from Bryson City to Dillsboro. There is a 90 minute layover in Dillsboro and a chance to go through the Cowee Tunnel of The Fugitive fame.
6. See the Shadow of the Bear near Whiteside Mountain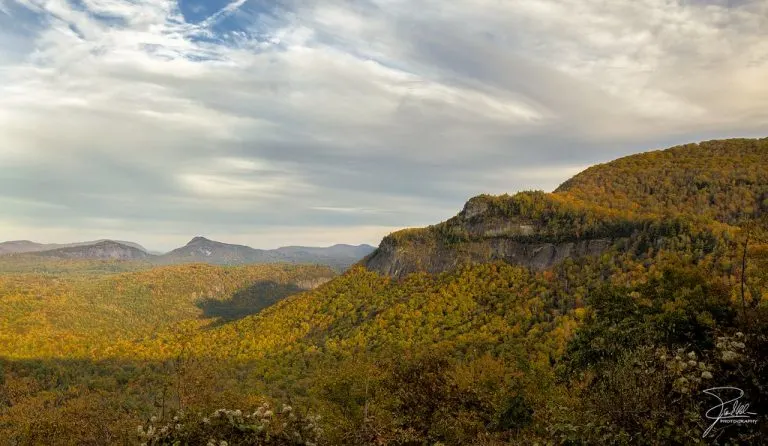 As the harvest sun sets behind Whiteside Mountain, a bear-like shadow emerges from the canopy for 30 minutes every evening from mid-October to early November.
Catch the "Shadow of the Bear" from Rhodes Big View Overlook on Highway 64 near Cashiers. This natural phenomenon is quite popular, so expect to join several others parked along the highway to catch this unique, shadowy spectacle.
As a bonus, you will be able to enoy plenty of North Carolina fall foliage in the area while waiting for the bear to emerge.
7. Enjoy Great Smoky Mountains National Park on a Horse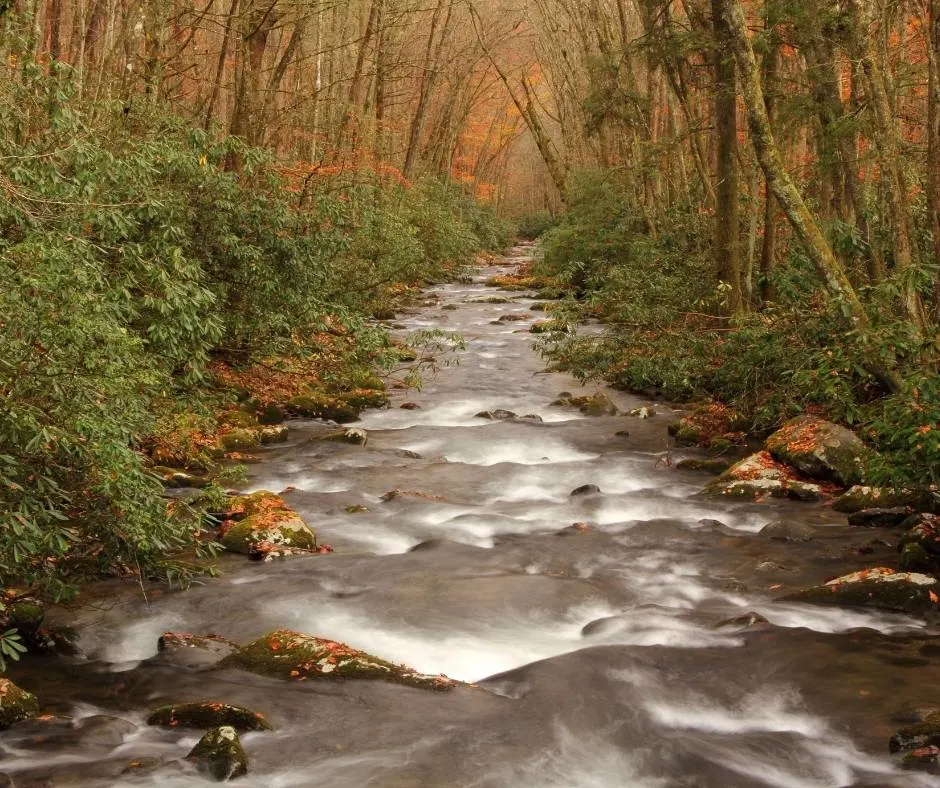 The Great Smoky Mountains are well-known for their fall folor, but they are also known for having especially busy park roads durin the leaf-peeping seaosn. Skip the roads and head out on horseback!
Take a guided horseback ride at Great Smoky Mountains National Park, where woodlands, streams, and waterfalls create stunning scenery. This is definitely one of the best places to enjoy North Carolina fall colors.
Smokemont Riding Stables in Cherokee are the only national park concessionaire in North Carolina. They have rides that include fjording the Oconaluftee River or following a stream to the Chasteen Creek Waterfall. Horseback rides are open to those ages five and up.
They also have wagon rides which are open to all ages and allow families to enjoy wonderful scenery without a potential bout of saddle soreness. October is the best time to enjoy your equine autumnal adventure.
Spend more time in the park! Here are the 10 best things to do in Great Smoky Mountains National Park.
8. Wander Duke Gardens in Durham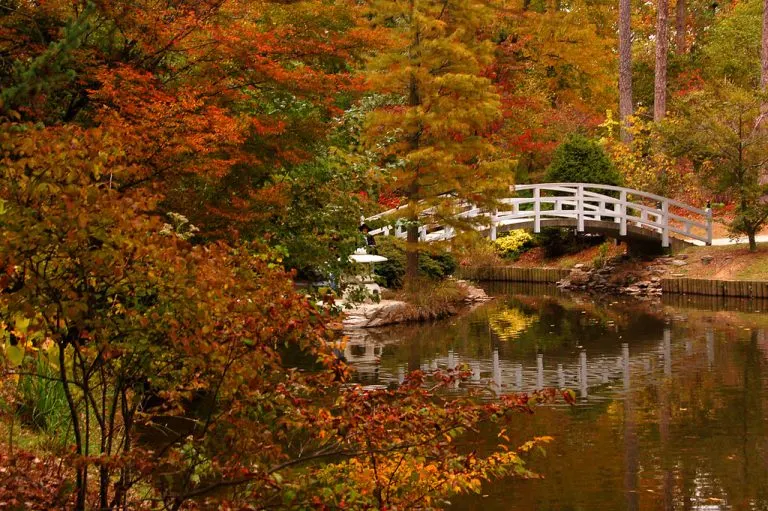 You don't have to head out of the Research Triangle to enjoy North Carolina fall colors. There is plenty of autumn color to see at Duke Gardens in Durham.
At Sarah P. Duke Gardens, the red footbridge in the Asiatic arboretum harmonizes with the crimson of Japanese maple and the ginkgos turn brilliant shades of gold. There are also several other local deciduous trees which put on a colorful show.
Floral colors at public gardens add beauty to the season. There are a wide variety of mums in all different sizes and colors throughout the Asiatic arboretum. The camelia flowers are also in bloom.
Duke Gardens also hosts special events to help locals learn what to plant in their garden to get enjoy autumn color as well as which perrenials to plant for fall.
9. Carolina BalloonFest in Statesville
See North Carolina fall colors from above! Drink in the autumnal view from a hot air balloon with operators such as Carolina Balloon Adventures, Balloons Over Charlotte or Asheville Hot Air Balloons.
Or join the crowd at the colorful Carolina BalloonFest in Statesville in mid October. There is always tons of balloons, lots of food options, and even a kids zone. Be sure to check out the Statesville Greenway Trail id you want to enjoy a wall among the leaves.
The 2022 Carolina BalloonFest is October 14-16, 2022.
10. Beech Mountain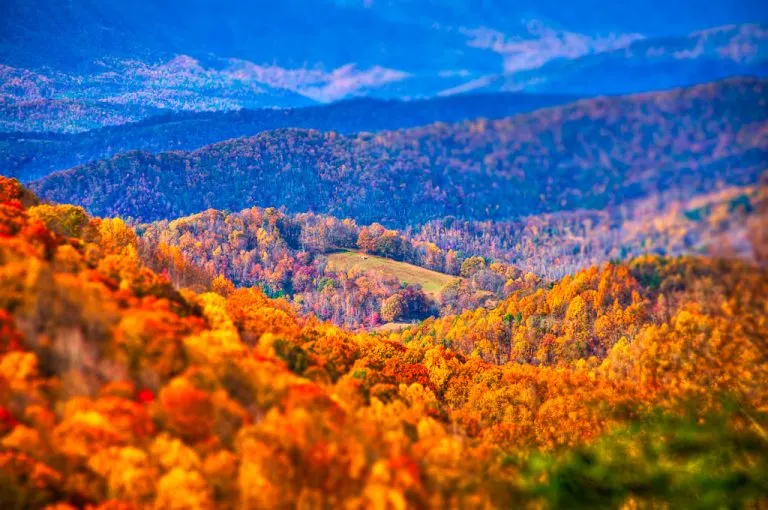 Beech Mountain is a wonderful location for the family to see the changing colors of a North Carolina Fall. It is known as "the highest town in Eastern America", and the fall colors in this mountain town are ideal for a weekend getaway.
Most Southerners know this area of North Carolina as a skiing destination, but what some travelers don't realize is that this mountain town is also a great destination in the fall.
Get out on the trails such as the one-mile Upper Pond Creek Trail which follows the creek and is a known habitat for wild turkeys and deer. Lower Pond Creek is also nice and a bit more of a challenge without being too difficult.
The Hi-Lo Adventure Trail offers a few different scenic drives for leaf peeping. Choose from the Tasters Loop, Lakeside Loop, or Mountain to Mountain Loop
Pinnacle Inn Resort is an ideal place to serve as home base as you enjoy autumn. They have a variety of condos that are great for famileis and amenities like a two-story indoor pool and rec center and access to the private Beech Mountain Club where you can play golf or tennis.
11. Uwharrie National Forest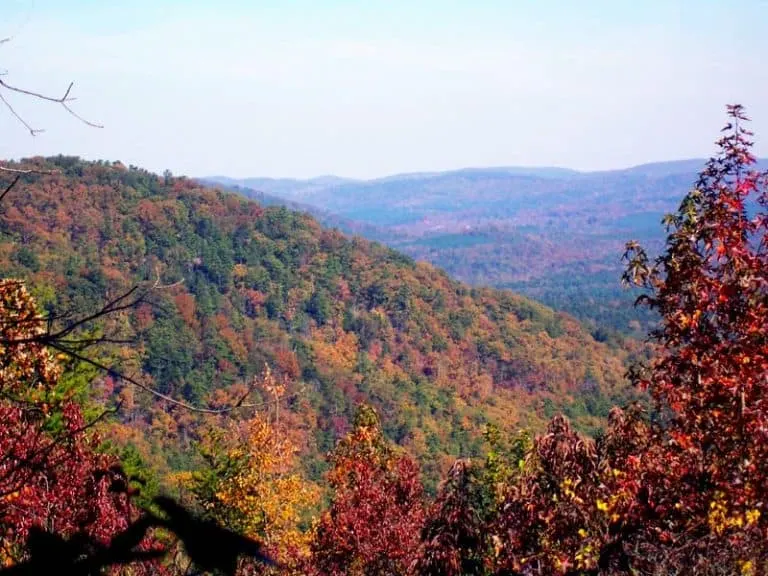 Located in central North Carolina, Uwharrie National Forest is a lovely place to enjoy fall color. While it may not have the dramatic mountain vistas found in the western part of the state, it showcases the more subtle but equally charming colors of rolling hills, hardwood forests, and peaceful lakes.
Morrow Mountain has several overlooks and trails such as the Morrow Mountain Loop Trail and Sugarloaf Mountain Trail which are nice routes to enjoy the splendor of autumn. If you are up for a big adventure, the Uwharrie National Recreation Trail is a 20-mile-long trail traverses the forest.
Paddling on Badin Lake allows you to enjoy the reflection of the autumn colors on the water's surface. If you would rather just enjoy the colors from your car, try the Uwharrie Scenic Road or the North Carolina Pottery Highway. Both are filled with wonderful scenery.
12. Pisgah National Forest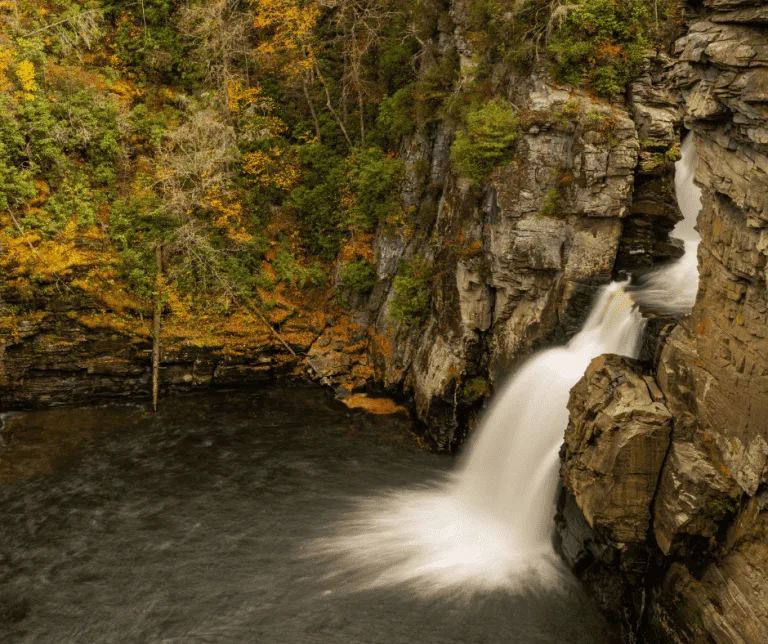 The Pisgah National Forest is known for its waterfalls and Appalachian spendor. Black Balsam Knob offers panoramic views of the surrounding mountains and valleys and can be reached via the Art Loeb Trail or the Black Balsam Knob Trail. Looking Glass Rock Trail, Graveyard Fields Loop Trail, and Linville Falls Trail are some more hiking trails to enjoy in this forest.
Linville Gorge is often referred to as the "Grand Canyon of the East". You can hike along the time or head into the gorge and enjoy the scenery.
Looking Glass Falls is located near the town of Brevard and surrounded by hardwood forests that turn vibrant shades of red, orange, and yellow in the fall. Linville Falls, Crabtree Falls, and Bridal Veil Falls are some other waterfalls that make for great focal points for fall foliage photography.
Find More Amazing Fall Color Near You!