Fall is coming and you won't want to the season go by without visiting these Indiana pumpkin patches. With a variety of activities going on, in addition to the traditional pumpkin picking, these Indiana pumpkin patches are ready for your family to come strolling through the gates.
If pumpkin is your thing, enjoy pumpkins from the field, pumpkin pie, pumpkin cake, and even pumpkin spices. The season traditionally runs from mid-September through the end of October, weather permitting. Dress appropriately, as boots may be needed if you are headed to the field to choose your pumpkin.
I have visited several Indiana pumpkin patches and these are some of my favorites.
Best Indiana Pumpkin Patches for 2023
Beasley's Orchard in Danville, Indiana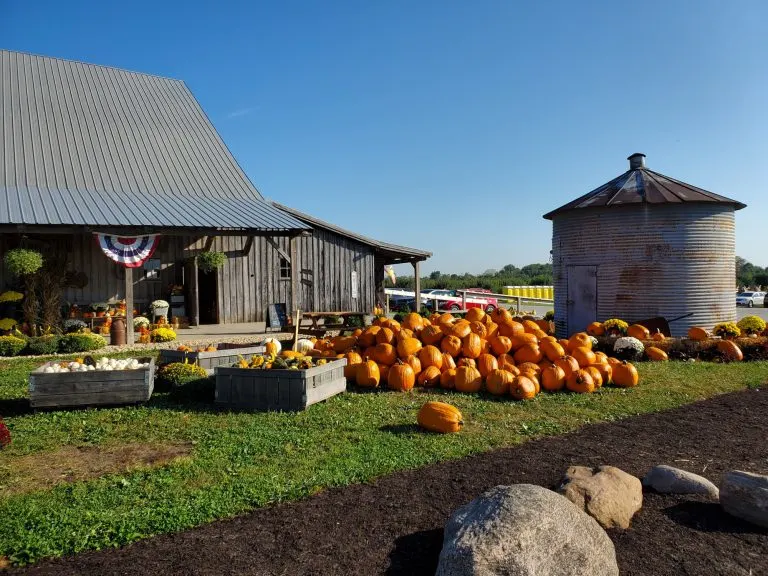 A highlight of my visit to Beasley's Orchard is always shooting the apple cannon. With fall harvest in full swing, Beasley's Orchard offers fresh, fall produce, along with family fun. Shooting an apple cannon is memorable and something you will find yourself talking about for a long time.
The country store at Beasley's Orchard offers jams, jellies, pickles, and more. Fall season brings the aroma of fall, so step in and enjoy the pumpkin patch and all the entertainment at Beasley's Orchard.
In addition to u-pick apples and pumpkins, Beasley's also offeres a corn maze, hayrides to the pumpkin patch, and attractions at the Barnyard Bonanza (including a giant bounce pillow). General admission tickets can be purchased in advance.
The 2022 season runs Setptember 17 through Halloween.
Here are our favorite things to do in Indiana with kids.
Dougherty Orchards in Cambridge City, Indiana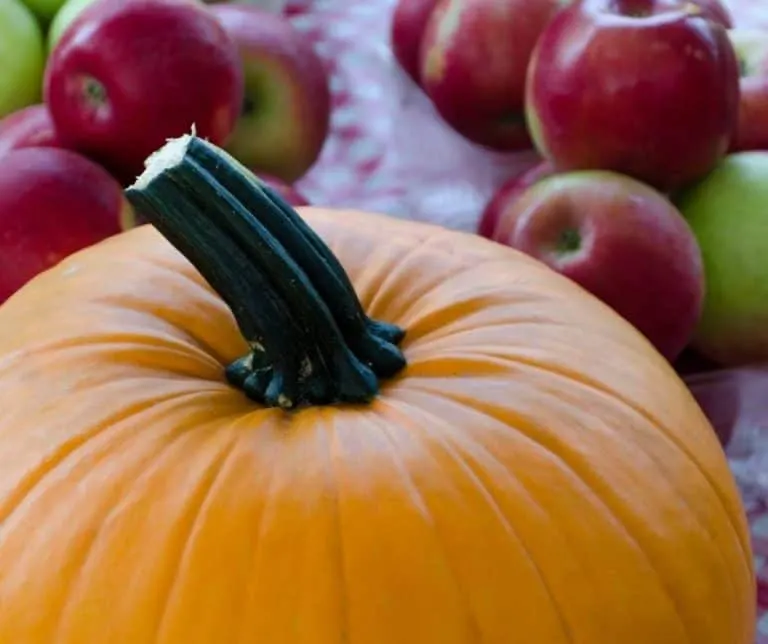 Dougherty Orchards is in a rural setting in eastern Indiana. When you drive up, you will know you are in a paradise of fall flavors. They are known for their apple slushies and apple donuts.
This orchard has been open for more than 130 years and still going strong. You can pick your pumpkin for the season and walk out with a haul of apples. They grow 33 different varieties of apples in their orchards.
The petting zoo is a family favorite, which includes farm and exotic animals. Fall comes alive at Dougherty Orchards when fall rolls around. After you have chosen your pumpkins for the season, grab a bottle of wine for your fall gatherings with friends.
Anderson Orchards in Mooresville, Indiana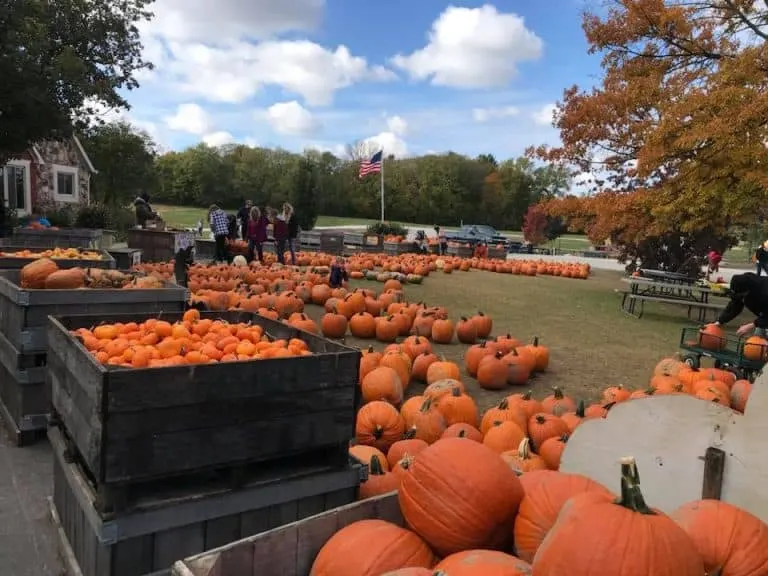 Anderson Orchards is south of the Indianapolis Metro area in Mooresville, Indiana. This is another apple orchard that hosts a seasonal pumpkin patch, but there is no general admission fee for this fun orchard. This pumpkin patch opens the last week of September.
You can walk through the large pumpkin patch and pick your own orange pumpkin for the fall season. The weekends in October are filled with hayrides and other activities that your family may want to partake in. Plus, there is a playground for the little ones.
Enjoy a hot cup of apple cider and embrace the fall season on your visit to Anderson Orchards. Mooresville is an area of Indiana that offers beautiful fall foliage, embrace all the vibrant color that it has to offer.
Russell Farms in Noblesville, Indiana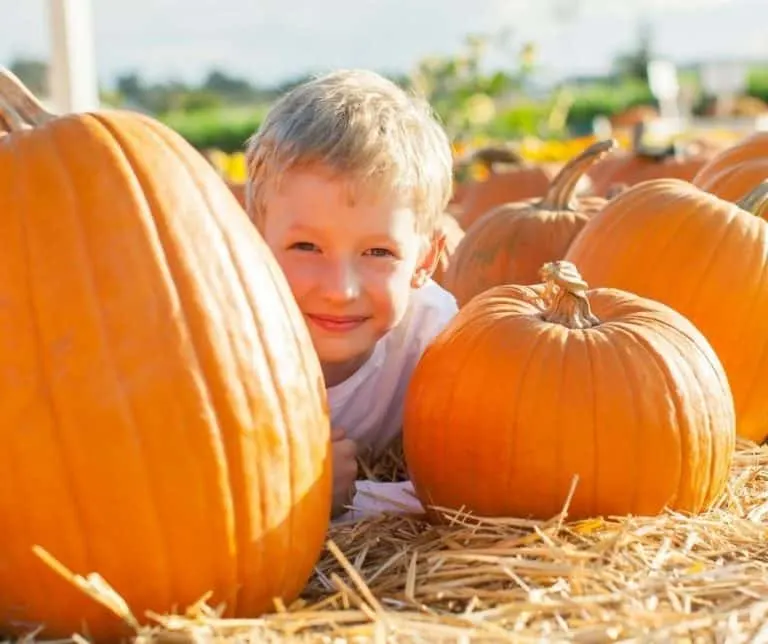 Russell Farms, located in Central Indiana in the Indianapolis area, is sure to win your family over this fall. Hop on a hayride to take you to the pumpkin patch. You can pick your own pumpkin and take it home with you.
The huge jumping pillow and human hamster wheels are sure to be a hit with everyone. Mini golf is also available, as is a 10-acre corn maze. Plus, there is an ever-popular petting zoo to keep the kiddos entertained.
If you get hungry, stop by the Red Food Barn where they are serving up pork loins sandwiches, hot dogs, apple cider slushies, caramel apples, and much more. Once you visit Russell Farms and have your pumpkin in hand, you will be ready to embrace fall. Pumpkin Patch season runs September 24th through October 31st.
These are the best things to do in Indianapolis with kids.
Harvest Tyme Family Farm in Lowell, Indiana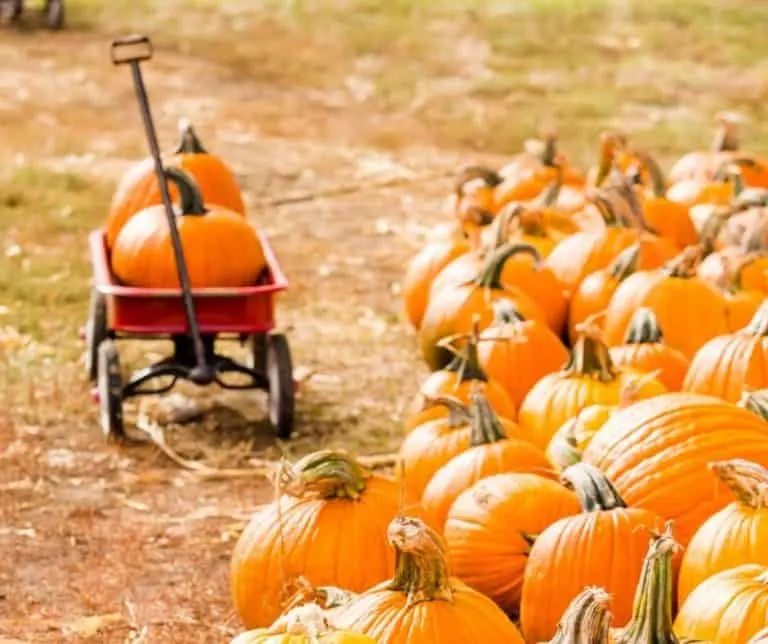 Northwest Indiana is home to Harvest Tyme Family Farm. Pick your own pumpkin and join in the fall festival fun.
The giant corn maze and hayrides are hits with everyone that visits. If a larger corn maze is overwhelming for your kiddos, Harvest Tyme has a smaller one designed with kids in mind. This pumpkin patch is sure to start your fall season off in a good way. If you want to try your arm at shooting a corn cannon, you can give it a try at Harvest Tyme Family Farm.
The fall season runs September 24 through October 30 when the farm is open on weekends only. Admission includes unlimited access to 10 different rides, petting zoo, corn mazes, entrance to the pumpkin patch and sunflower field, rubber duck races, giant swing, and a candy cannon.
Trekaroo Tip: Purchase your admission tickets in advance online to save $3 per person.
Kercher's in Goshen, Indiana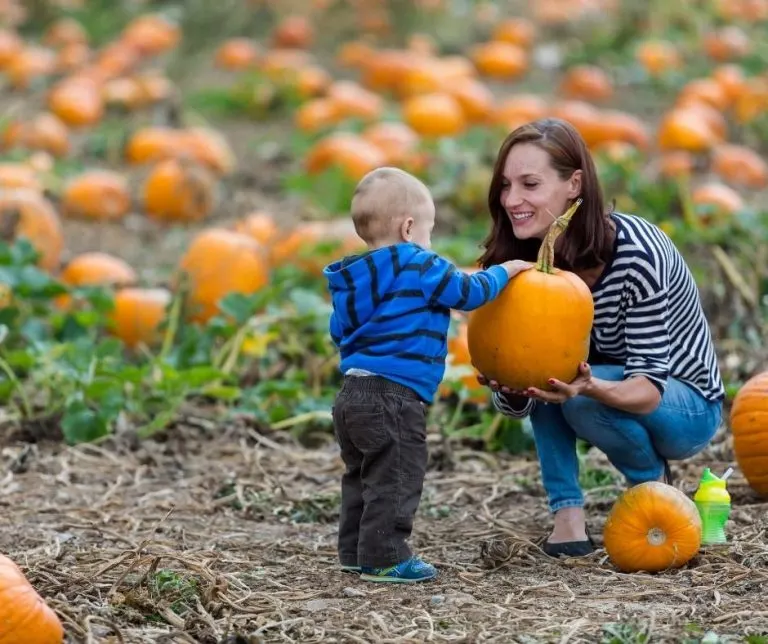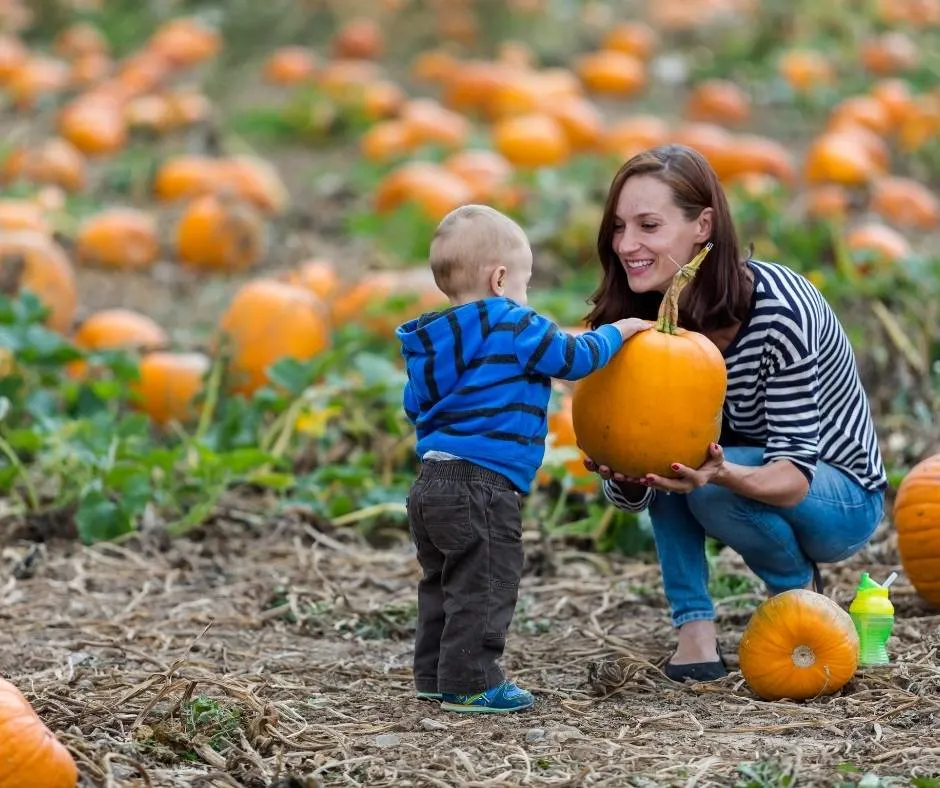 Kercher's in Elkhart County offers an Indiana pumpkin patch that you will want to visit year after year. In fact, this family-owned business has been around for 100 years!
Hop on a hayrack with your family and ride out to the pumpkin patch to find your perfect pumpkin for the season. Educational field trips are available during the week and must be scheduled ahead of time. Donuts and cider are available for purchase.
When you are in Elkhart County, be sure to slow down and enjoy the beautiful Amish countryside. Also be sure to stop in the farm's market to pick up fresh produce and cider.
The pumpkin patch season at Kercher's runs September 17th through Halloween.
Stanton Road Pumpkin Patch in Walkerton, Indiana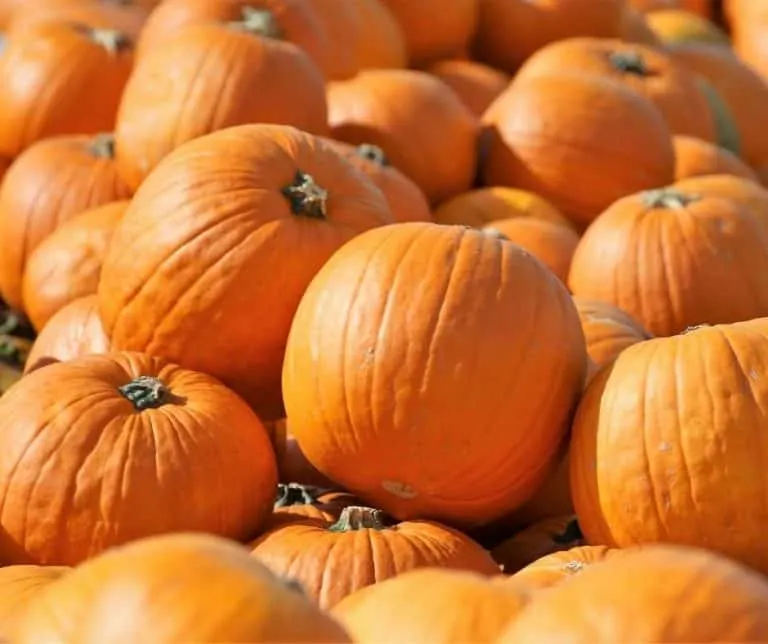 Stanton Road Pumpkin Patch in Northcentral Indiana is one of Indiana's premiere pumpkin patches. The ¼ mile long pumpkin patch is open for your picking. If you choose not to head out into the patch to pick your own, you can choose from a selection of pumpkins that are pre-picked.
This is a great place to go for pumpkins and an opportunity to focus on fall and pumpkins. If you want a little bit more, test your directional skills in the corn maze designed for the season.
Hogan Farms Pumpkin Patch & Corn Maze in Brownsburg, Indiana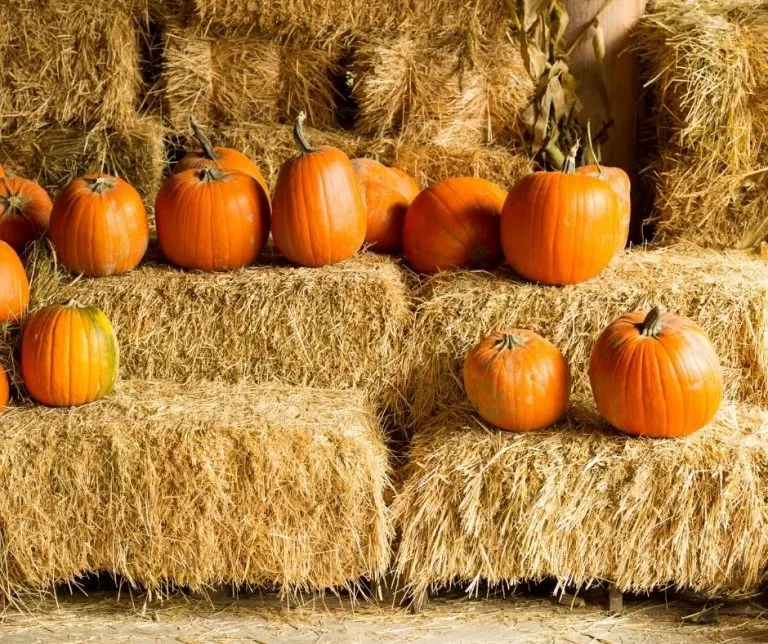 Hogan Farms Pumpkin Patch & Corn Maze is located outside of Indianapolis in Brownsburg. Locally grown pumpkins, gourds, mini pumpkins, and specialty pumpkins can all be found here.
Have a perfect day by picking your favorite pumpkin, strolling the corn maze, hopping on a hayride, and pet a furry friend at the petting zoo. Hogan Farms Pumpkin Patch & Corn Maze can keep you and your family occupied the whole day, so plan accordingly.
This patch opens on September 24th and is closed on Mondays.
Indiana's pumpkin patches are family friendly, and the owners try to change things up year after year, so be sure to visit at least a couple each season. Remember, the season is short, so plan your visit today.
Sara Broers is an Midwest-based writer and the woman behind TravelwithSara.com where she shares her passion for her neck of the woods and anywhere a plane, car, train, or boat will take her.