Iowa is home to several pumpkin patches, but where are the best pumpkin patches in Iowa? Thankfully, we have the answer to that most important question to those of us who love to celebrate the harvest season!
If you are wanting to visit a pumpkin patch, we suggest you plan your visit before fall officially sets in. The majority of Iowa pumpkin patches are open from Mid-September through the end of October, weather dependent.
Here are eight fantastic Iowa pumpkin patches worth visiting with your family. Visit the websites of each of these pumpkin patches to see the special events that are held throughout the season. Updated for 2023!
Explore more of the state! Here are our favorite things to do in Iowa with kids.
Best Pumpkin Patches in Iowa for 2023
Enchanted Acres Pumpkin Patch in Sheffield, Iowa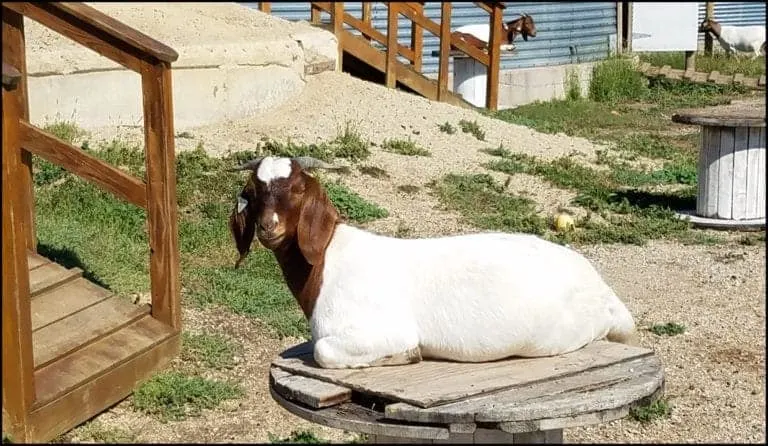 Enchanted Acres is passionate about educating others about agriculture and sharing their love of pumpkins with everyone. When you visit Enchanted Acres you can pick your own pumpkin, feed the goats, play in the corn pile, and have great fun in the outdoors.
The red barn stands out as a shop with fall decorations and treats to enjoy. Roast a marshmallow over the fire pit and enjoy a s'more or two. A ride on the hay rack is sure to be memorable, as you ride through the pumpkin patch. I have watched this pumpkin patch evolve over the years and it's one that every family needs to experience.
Plain Ol' Pumpkins in Clear Lake, Iowa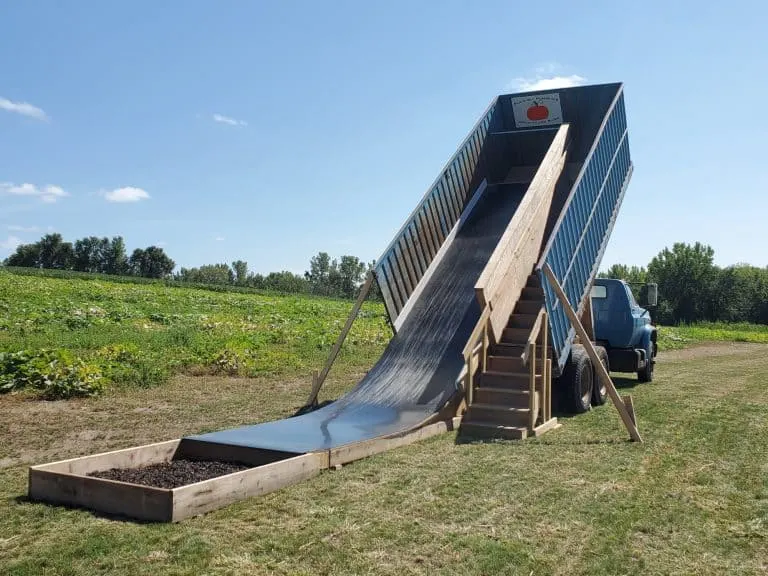 Plain Ol' Pumpkins is where the locals go to have fun in the fall. The basketball wagon has been a smashing hit since day one, as well as the truck slide.
Other highlights include the hay pyramid, hay rack rides, the corn pool, mini tractor course, slingshot, and human hamster wheel. Be sure to bring a fishing pole and toss a line in one of Iowa's best fishing lakes, Clear Lake.
Choose your perfect pumpkin and enjoy all the fun that Plain Ol' Pumpkins has to offer. No matter when you visit, you will be sure to walk away with a smile and know that you slowed down in an Iowa pumpkin patch.
This pumpkin patch is open weekends beginning September 23rd. Admission is just $8 per person and includes all activities except for the sling shot.
Pinter's Gardens and Pumpkins in Decorah, Iowa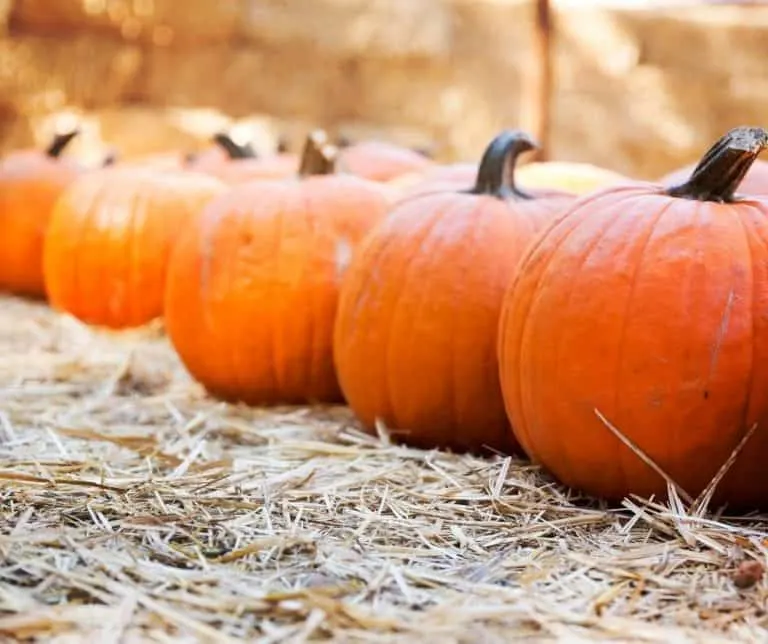 Pinter's is more than a pumpkin patch, as they consider themselves to be "agri-tainment."
You can enjoy the ever-popular corn maze and jump on the inflatable jumping pillow. There are slides, mini golf, go-karts, life-size chess, rubber duck races, farm animals, and so much more! With many acres to run on, Pinter's will not disappoint.
You can enjoy the concessions inside, which include freshly, baked goods and hot drinks for a cool, fall day. If you wish to choose your own pumpkin, hop on one of the tractor rides and pick your own pumpkin in the patch.
Look to enjoy Skee Ball and Connect 4 Golf. Pinter's is a highlight for many that visit NE Iowa and the Driftless Area. The farm is open weekends in October starting October 7, 2023.
Harvestville Farm in Donnellson, Iowa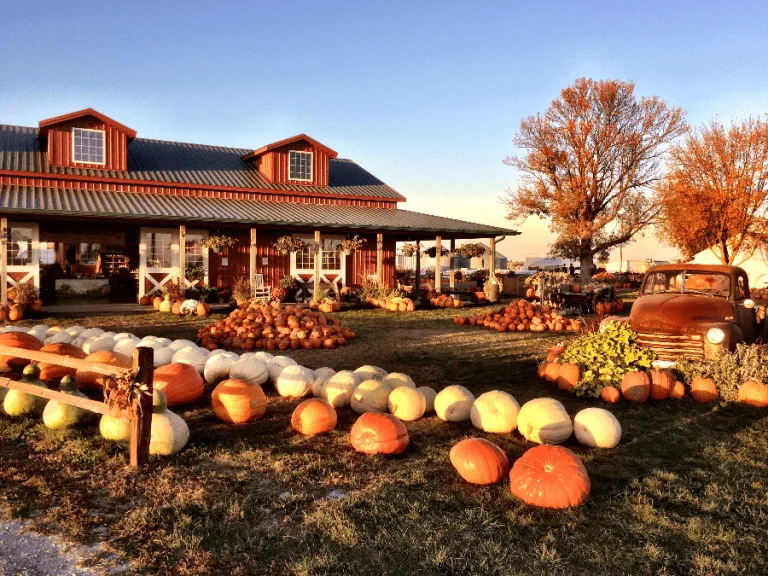 Harvestville Farm is in SE Iowa and offers more than 30 acres of pumpkins and fall décor. They even sell giant pumpkins that weigh 100-200 pounds! You can stroll the 12-acre corn maze (there is a mini-maze for the littles) and then the kids can play in the giant pool of corn.
Fall traditions, such as sipping hot, apple cider and donut balls are also popular at Harvestville Farm. Drive the Historic Hills Iowa Scenic Byway on your visit to this popular pumpkin patch open September 24th – October 29th, 2023.
Farm to table dinners are also held at Harvestville Farm, which is a fun way to experience fresh, Iowa foods. There are even horse-drawn wagon and tractor wagon rides to enjoy. They also have a Zinnia Festival and a Sunflower Festival in July.
The Grove in Okoboji, Iowa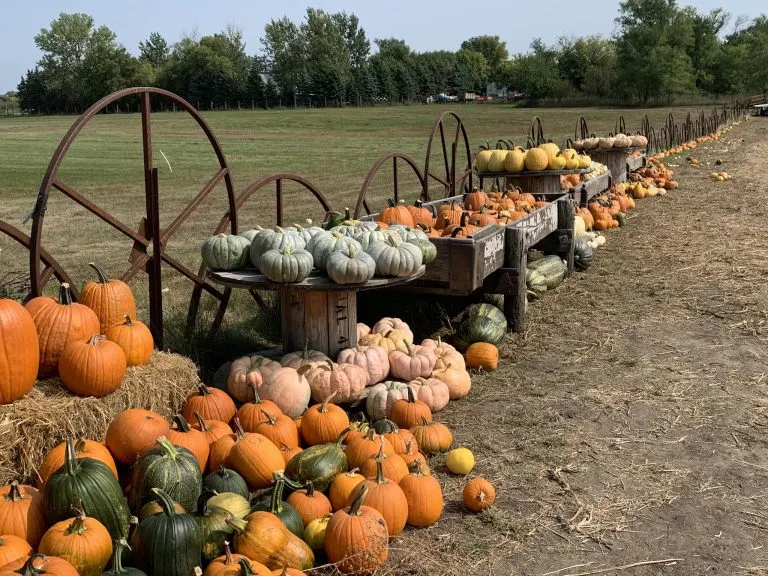 The Grove is new to the pumpkin patch scene near Okoboji, Iowa. Train rides for kids are sure to be a hit, as well as the pumpkin patch. Enjoy the Iowa corn maze and games that your whole family can enjoy. There will be pumpkin launchers and a corn pit as well.
Plan to make it a full day by spending a few hours at this new pumpkin patch in NW Iowa, and then take in the fall colors at one of the nearby Iowa State Parks. Here are our places to enjoy Iowa fall foliage.
The 2023 pumpkin patch season runs September 23rd to October 29th.
Bloomsbury Farm in Atkins, Iowa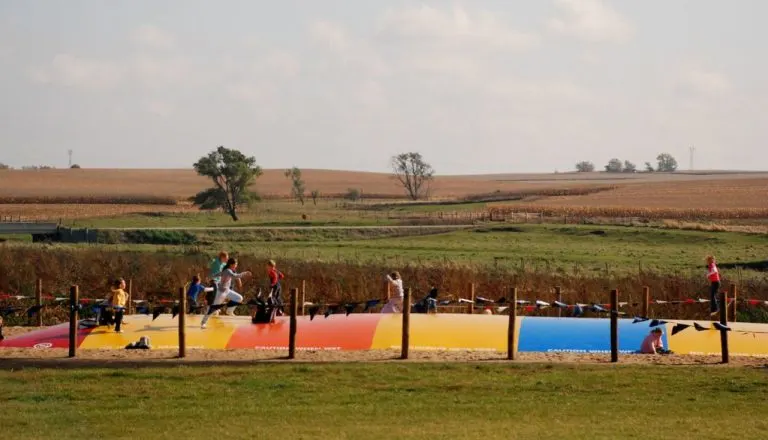 Bloomsbury Farm has taken agritourism to a whole new level in Iowa. The Harvest Festival is popular with families and anyone looking to experience fall on the farm. It takes place Friday-Sunday beginning September 22nd and running through Halloween.
In addition to an 18-acre u-pick pumpkin patch, there are several activities to enjoy. The jumping pillow and super slide are popular with the kiddos. The corn palace, pig races, duck races, barrel train rides, Straw Mountain, Western Town, and Farmer's Wife Chicken Show are all ways to experience agriculture in new light.
The farm is located 10 minutes west of Cedar Rapids and 40 minutes north of Iowa City. You can purchase admission tickets in advance. If you visit in September you can enjoy the Sunflower Festival.
Uncle Bill's Farm in Grinnell, Iowa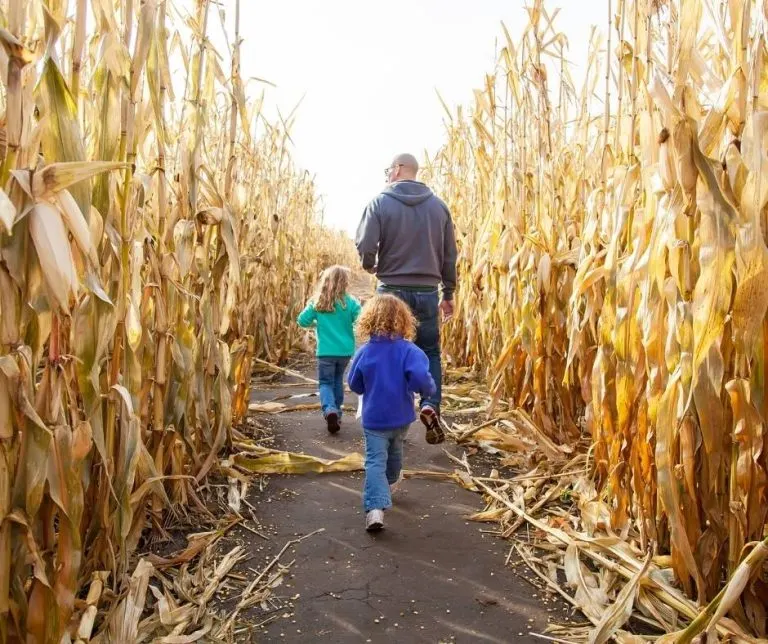 Uncle Bill's Farm is open for family fun when October rolls around. This special spot was named one of the best pumpkin patches in the country by Travel + Leisure because of all the wholesome family fun to be had.
Take a hayrack ride to the pumpkin patch and choose your magical pumpkin for the season. Your kids will want to jump on the jumping pillow and your whole family will want to tackle the Iowa corn maze. Of course, there is also a petting zoo and ever-popular corn pool.
Enjoy a meal at Uncle Bill's Feed Bag Restaurant before you leave for the day. There are also candy apples and delectable donuts to be had. Uncle Bill's Farm is open Friday through Sunday starting October 6th – October 29th, 2023.
Colony Acres in North Liberty, Iowa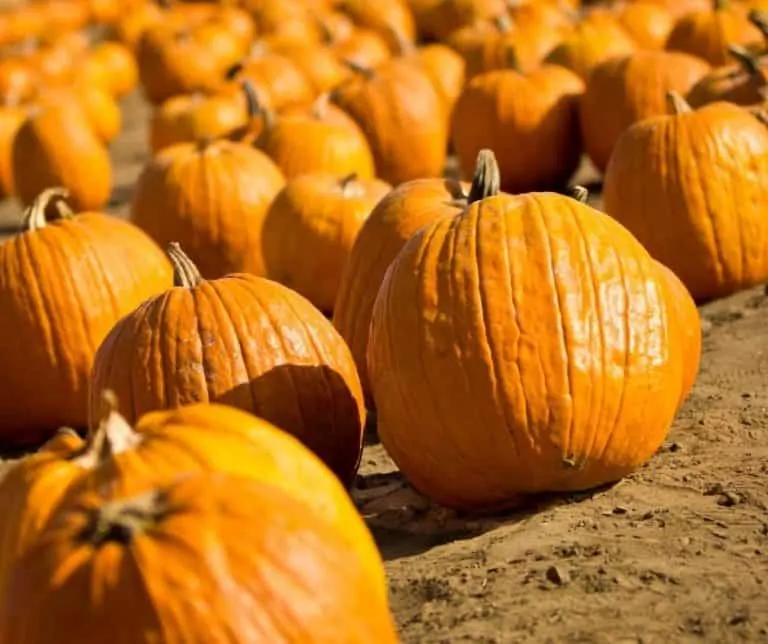 Colony Acres is rich in family tradition. Located near Cedar Rapids and Iowa City, this pumpkin patch is very popular with families that live in Southeast Iowa.
A new 100' double tube slide is sure to win families over this season. Grain bin basketball, a low zipline, corn maze, and a corn cannon will keep you and your family occupied for hours. You will also want to pick your favorite pumpkin to take home with you. The 2023 season runs September 16th – October 31st on Wednesdays through Sundays.
Purchase your tickets ahead of time to save time at the gate. For nine nights only, you can participate in a flashlight maze. Stroll through the corn maze in the dark with a flashlight for a memorable night on the farm.
As you can tell, Iowa pumpkin patches are all destinations in themselves. They offer more than pumpkins, making them a memorable place to explore this fall.
Sara Broers is an Iowa-based writer and the woman behind TravelwithSara.com where she shares her passion for her home state and anywhere a plane, car, train, or boat will take her.
Find More Pumpkin Patches Near You!