From the shoreline of Lake Champlain, Vermont, the Adirondack Mountains seem to rise from the water. It's the perfect background for a relaxing vacation with the family. But, there's so many more things to do in Burlington, VT with kids than sit and enjoy the view.
Burlington has several farm-to-table restaurants with unbelievably flavorful (and healthy) locally grown food. Sampling this farm fresh food is an essential aspect of any Burlington, Vermont family vacation.
Vermont's largest city also claims some of the most scenic, family-friendly bike paths in the United States. Outside the city in the Lake Champlain Valley there are kid-friendly museums, state parks, and family-friendly resorts to discover.
12 Fun Things to do in Burlington, VT with kids!
1. Take a Ride on the Burlington Greenway Bike Path by Beautiful Lake Champlain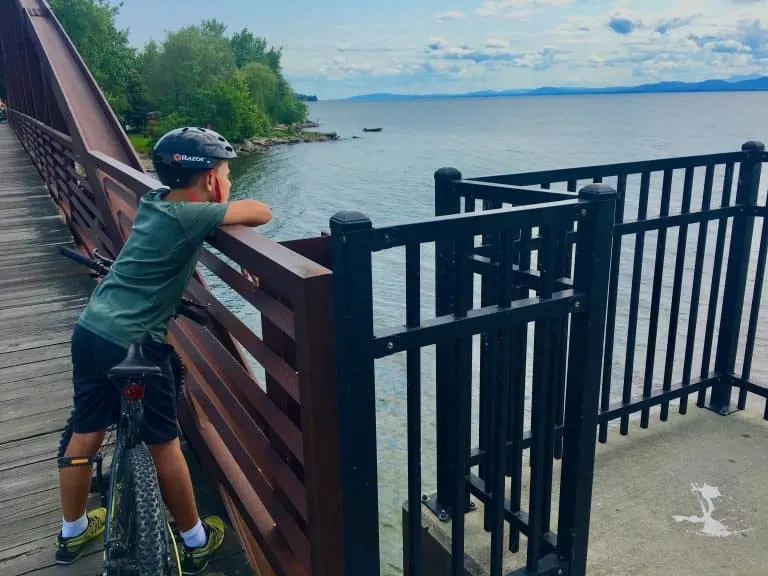 Heading to Vermont on a family vacation? Don't forget to bring your bikes! From the quiet Basin Harbor Resort to the streets of Burlington, the way to get around Vermont's Lake Champlain Valley is by bike.
When visiting Vermont, my son and I hopped on the Island Line Trail (Burlington Greenway) just outside of the ECHO Leahy Center for Lake Champlain. We biked past the Waterfront Park, the modern Andy A_Dog Williams Skatepark, and North Beach within a half hour.
On a hot summer day, I wish we had packed our bathing suits and towels for a trip to the beach at either North Beach or Leahy Beach, also easily accessible from the bike path.
If you're prepared for a few hours of biking, families can make it all the way to the scenic causeway about seven miles from the downtown waterfront.
Forgot your bike? There are plenty of places to rent bikes, and Hotel Vermont even has some adult-sized bikes available for their guests to use free of charge.
Planning your Vermont Vacation with Kids? Check out Trekaroo's Top 10 Things to Do in Vermont.
2. Play at ECHO Leahy Center for Lake Champlain Aquarium and Science Center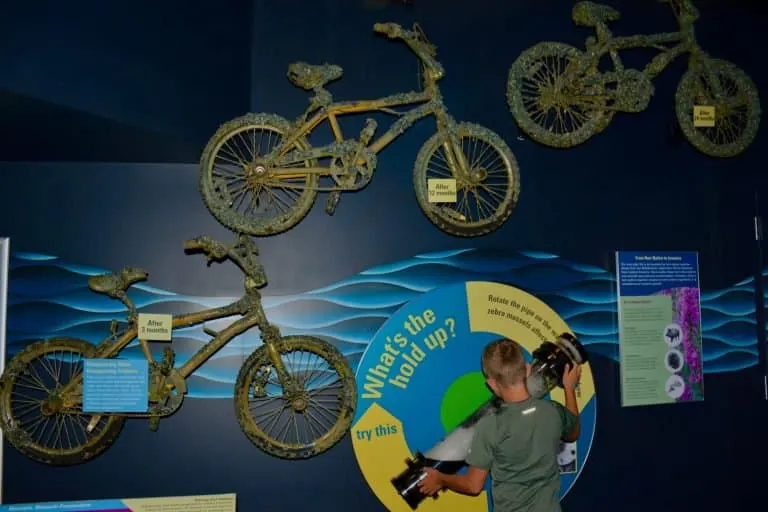 Looking for things to do in Burlington, VT when the weather is rainy? The ECHO Leahy Center for Lake Champlain is an aquarium and science center sure to keep the children busy for a few hours.
At the center, children can learn about the invasive zebra mussel that were first discovered in Lake Champlain in 1993. There is an exhibit showing how quickly a bicycle left in the lake can become covered by these mussels.
Kids will also love the touch tanks with small invertebrates and the tanks of endangered turtle babies waiting to be released into the wild.
3. Explore the Shelburne Museum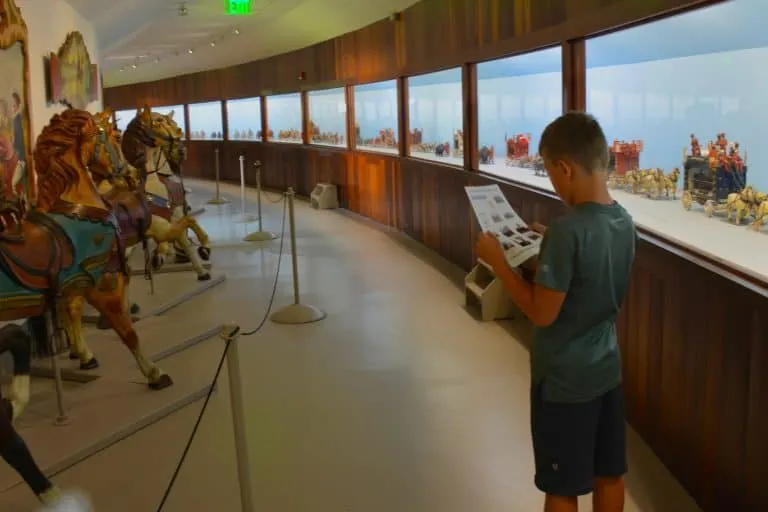 From the round barn to the covered bridge to the schoolhouse, it's almost guaranteed that at least a few of the 39 historic buildings at the open-air Shelburne Museum will spark an interest for your children.
Often there is a blacksmith out in the shop making tools. Or, your family can stop by the jail for a photo op behind bars. There's also a playroom for tots available.
A family favorite at the Shelburne Museum is the Circus Building. The detail of the fanciful, hand-carved circus train on exhibit promises to delight the entire family. Animals from snakes to elephants appear as if they are marching out of the Disney movie, "Dumbo."
The impressive collection took over 30 years to create; it is over 500 feet long. Outside the Circus Building, tots can ride a carousel for a small fee.
Another highlight for families is the Steamboat Ticonderoga that once operated on Lake Champlain. This beautifully-restored, 220-foot passenger steamer is open for self-guided and guided tours throughout the day.
4. Appreciate the Beauty of the Champlain Valley from the Water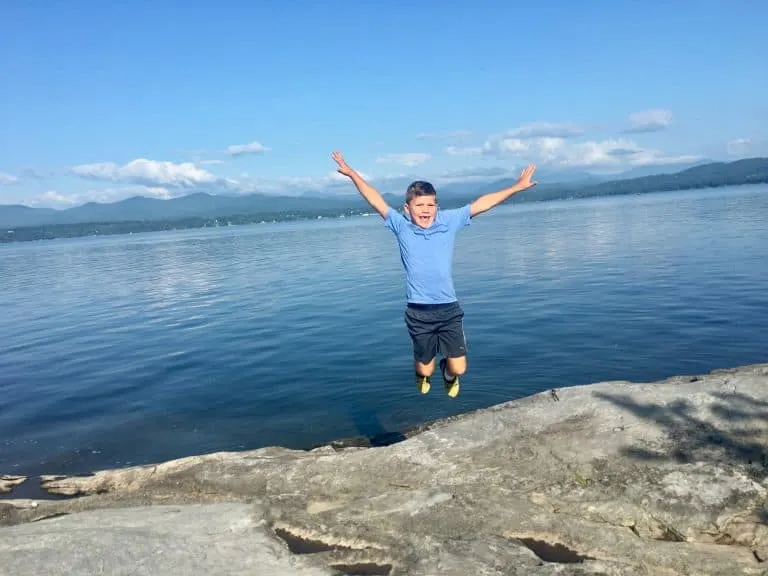 The best way to enjoy Lake Champlain is to take a swim in the lake, paddle on the lake, or take a ferry across the lake to appreciate the views.
There are a few beaches just outside of Burlington, VT where families can cool off and take a swim in Lake Champlain. At Sand Bar State Park just north of Burlington, there are long stretches of sandy beach on where kids can splash in the cool, clear waters of Lake Champlain.
Or, choose to camp at a nearby state park for a weekend right along the lake. Grand Isle State Park located on an island accessible by road offers campsites, cabins, and a beach for families to enjoy.
To the south of Burlington, families can camp, hike, bike, or rent boats to explore Lake Champlain at Button Bay State Park. The short, half-mile hike out to Button Bay Point is a favorite for families. At the point, kids can take a swim to cool off before walking back to camp.
Looking for things to do in Burlington, VT on a chillier day? Families love to take the one-hour car ferry across Lake Champlain from Burlington to New York State. Once in New York State, there are plenty of options for hiking in the Adirondacks or taking a scenic drive to Lake Placid.
Here are our favorite things to do in New York with kids.
5. Enjoy a Getaway at the Family-Friendly Basin Harbor Club Resort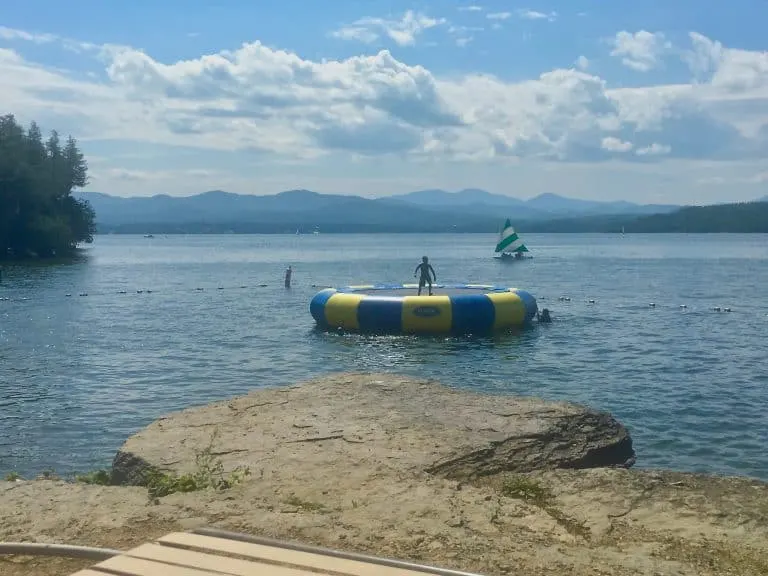 Summer in Vermont seems like it is made for relaxing family vacations. The Lake Champlain Valley is perfectly situated for families looking to get away from the business of life and spend time together.
Whether it is cooling off in the lake or taking a day trip to the mountains, Lake Champlain is a great home base for a Vermont vacation.
There are all sorts of choices for families looking for a Vermont vacation from ski resorts to bed and breakfasts. However, our family found Basin Harbor Club, located about an hour south of Burlington on Lake Champlain, to be just about the perfect family vacation destination.
With cottages on Lake Champlain big enough for families to spread out and relax, and meal plans with fresh local food, everyone in the family can have a Vermont vacation at Basin Harbor Resort.
Kids can go to camp in the morning to play with friends while parents enjoy their cup of coffee. In the afternoon, the entire family can play together in the lake with trampolines and boats to add to the fun. At night parents can send the kids off to camp again. Or, the family can enjoy a meal together. Basin Harbor is a great place for biking too.
6. Take a Walk Around the Church Street Marketplace in Burlington, VT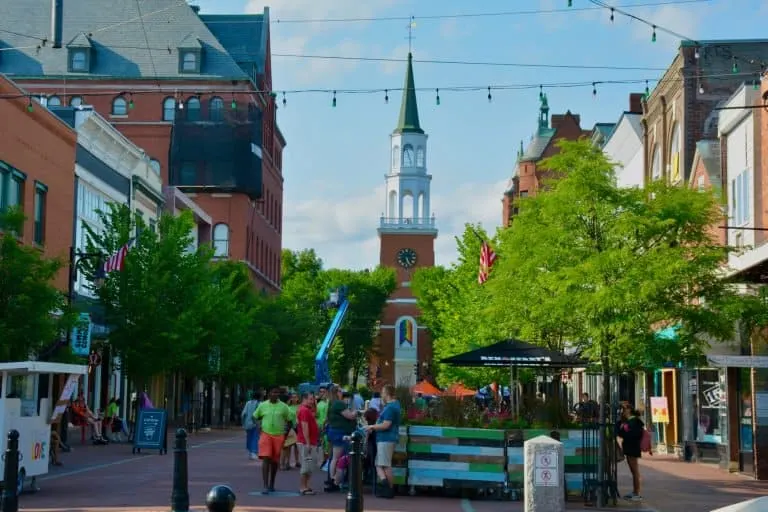 From the local Ben and Jerry's ice cream shop to food trucks and boutique stores, no visit to Burlington, VT is complete without browsing Church Street Marketplace for your next sweet snack or farm-to-table meal.
We spotted a gelato cart that we wanted to try, but ultimately, we chose to eat a burger at Farmhouse Tap and Grill before stopping to pick out some candies at Lake Champlain Chocolates. I highly recommend one of the daily specials at Farmhouse Tap and Grill; all the vegetables tasted so fresh!
7. Visit the Stowe, Vermont Ski Area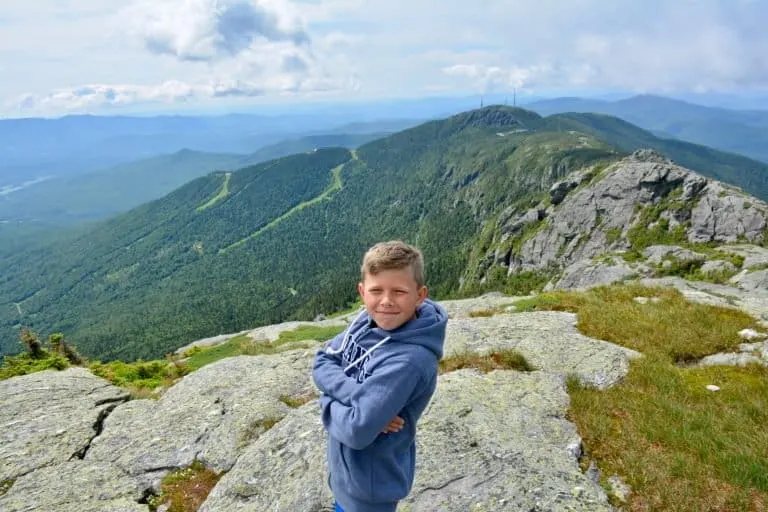 It would be a shame to take a Vermont vacation and not go to the top of one of the state's mountains for a 360-degree view of the state's lakes, forests, small towns, and mountains. Stowe, Vermont is less than an hour away from Lake Champlain and certainly worth the day trip.
While Stowe and Smuggler's Notch are some of the best New England family vacation destinations in their own right, they are an easy day trip from the Burlington area.
Stop at the Ben and Jerry's Factory for a guided tour. Or, eat lunch at the Cold Hollow Cider Mill's sandwich shop for a panini featuring local Cabot cheese and apples with cold Vermont apple cider on the side.
Possibly, the best summer day trip destination is the top of Mount Mansfield. It takes 20-30 minutes to drive the auto toll road to the ridge line, then another hour to hike to Mount Mansfield, the tallest peak in Vermont.
While there's some elevation gain and a few bits of rock scrambling, most older children will have no problem making the hike – especially if motivated by a stop at Ben and Jerry's on the way back to Burlington.
After about 10 minutes of hiking, the remainder of the hike goes along the ridgeline, so there are views of Lake Champlain to the west and Smugglers Notch to the east.
Want to stay in the mountains on your Vermont vacation? Check out Trekaroo's Top 10 Family Activities for a Stellar Smuggler's Notch Summer.
8. Appreciate the Trails & Fall Foliage at Ethan Allen Homestead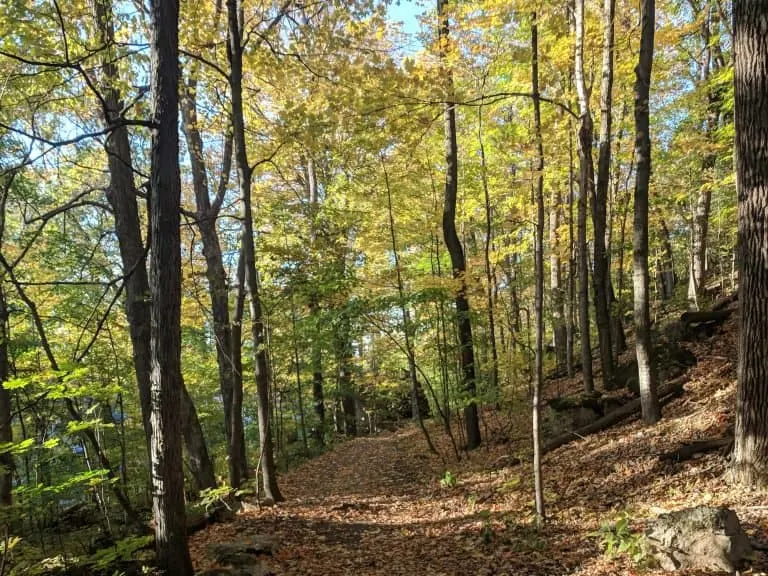 Ethan Allen is the statesman who originally petitioned to for Vermont to become the 14thstate in the United States after the Revolutionary War. While his petition was ultimately unsuccessful, his story is one of the most well known in Vermont history.
At the Ethan Allen Homestead just north of Burlington, families can learn a bit about Ethan Allen's story and his early life. There are also several miles of hiking and nature trails in this beautiful area on the Winooski River. Families especially love hiking the 2.6 mile Peninsula Trail in the fall.
9. Enjoy Treats from Lake Champlain Chocolates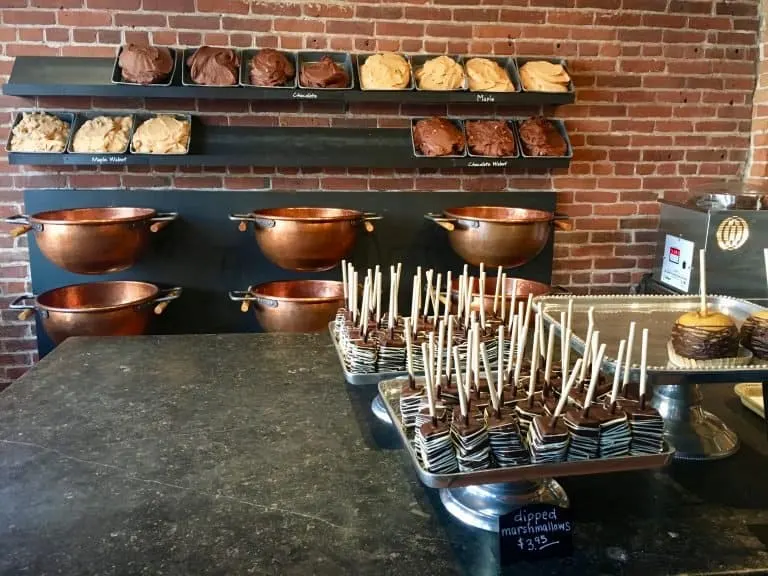 From cheese to maple syrup, lots of food is simply better tasting and fresher in Vermont. Across the state of Vermont, factories open their doors to visitors to show them how products are made. If you have a sweet tooth (or there's one in your family), you'll want to make a stop at Lake Champlain Chocolates.
While there's a convenient location on Church Street in downtown Burlington, they also have a factory store in the city as well. At the factory store, they offer guided tours during the week and chocolate tastings on the weekends.
10. Go Mountain Biking in the Green Mountains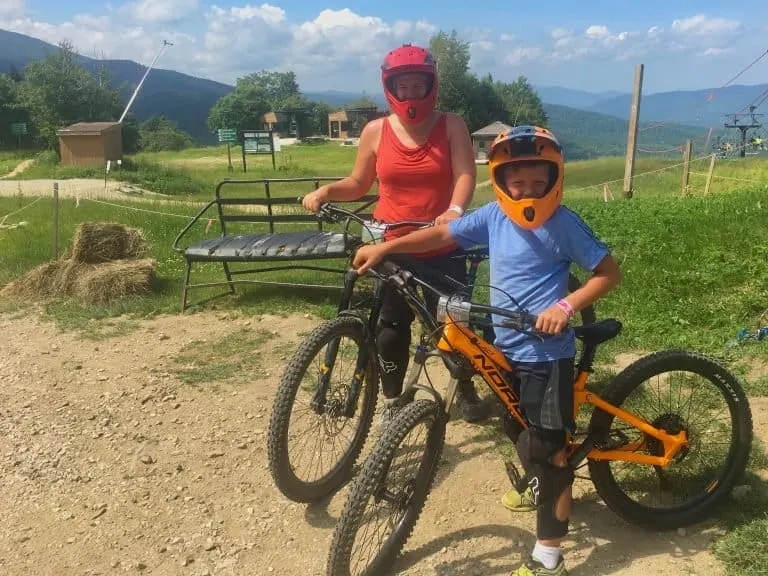 Do your kids crave adventure? The great thing about the state of Vermont is that no matter where you spend the night, almost every adventure destination is a possible day trip.
It's totally doable to stay in Burlington enjoying the farm-to-table restaurant scenic by Lake Champlain and take a day trip to satisfy the even the most adventurous teens in your family.
"The Beast of the East", Killington Resort, is less than two hours by car from Burlington, VT. That may seem like a bit of a drive, but in the summer months, most of the activities at Killington's Adventure Center don't get started until around 10AM.
Families can enjoy an early breakfast in Burlington and be on the mountain coaster or aerial adventure course at Killington in just about two hours.
If your family loves riding bikes, maybe it's time to try mountain biking. Killington Resort has one of the best introductory Learn-to-Ride programs in the United States; a 2-hour lesson, rental bike with full suspension, beginner lift ticket, and safety gear are all included.
11. Enjoy a Classic Vermont Breakfast at Hotel Vermont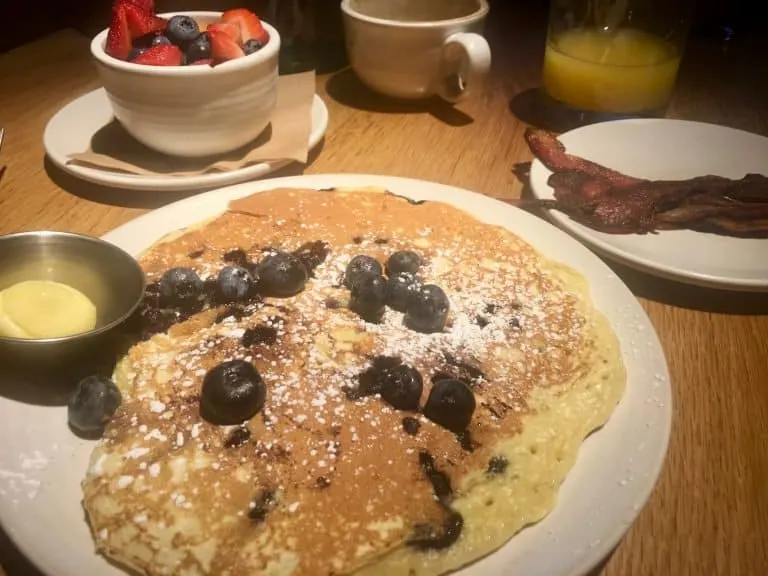 Looking for a place to stay in Burlington when visiting Lake Champlain with your family? The Hotel Vermont is a boutique hotel with a definitively Vermont style. It's prime location is about a 10-minute walk from the waterfront in one direction and a 10-minute walk from Church Street in the opposite direction.
This is one of those hotels where every little detail has been considered. The space in each room is maximized using an innovative design that allows for windows stretching the full length of the room to maximize the light and view. The window bench underneath the window is the perfect place to sit and sip a coffee.
There is a communal Keurig next to the elevator on each floor so that guests can prepare themselves a warm drink whenever they'd like. There is also a filtered water dispenser so families who travel with water bottles can fill up each morning before setting out for the day.
When traveling with my kids, I love having a good restaurant nearby so that I can eat healthy food whether or not the kids are in the mood to walk to dinner or breakfast.
Juniper Restaurant at Hotel Vermont is a farm-to-table restaurant that serves up fresh food for brunch and dinner. We're not adventurous eaters, especially in the morning, so we ordered the blueberry pancakes with a side of fruit and bacon to share. Even with a simple pancake, it's possible to taste the difference of fresh ingredients cooked just right.
12. Cool Off with a Maple Creemee or a Scoop of Ben and Jerry's Ice Cream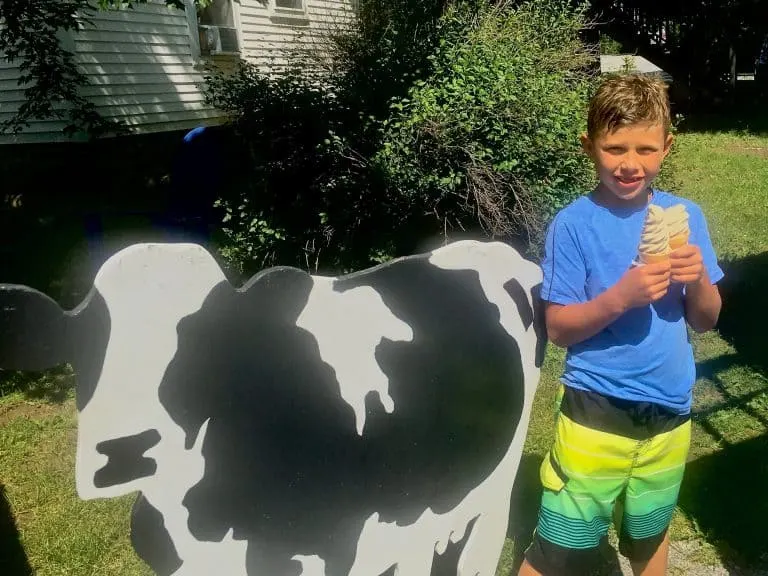 The one thing that you must do when traveling in Vermont in the summertime is to enjoy a maple creemee. There are no shortage of places to stop to purchase these special Vermont treats. Just look along the side of the road for a picture of a soft-serve ice cream cone. Or, better yet, ask a local for their favorite spot to get a maple creemee.
If you've had your fill of soft serve ice cream. Don't forget, Vermont is also the home of Ben and Jerry's. You really haven't had a Vermont vacation if you haven't stopped at a Ben and Jerry's for a local Vermont treat!
Disclosure: The author received media rates at some of the locations in this article for the purposes of unbiased reviews. All opinions are her own.