Vermont may be the Green Mountain State, but it's the white stuff usually has folks planning a Vermont family vacation.
No matter the season, there are lots of great things to do in Vermont with kids. Surprisingly, Vermont really is a year-round destination from maple syrup production in the spring to beautiful foliage in the fall.
Whether it's an idyllic summer vacation on Lake Champlain or a winter ski getaway, we know the best places to visit in Vermont for those looking to relax, eat good food, and enjoy being outdoors together.
Things to do in Vermont with Kids on a Vermont Family Vacation
1. Discover Bennington's Charm and History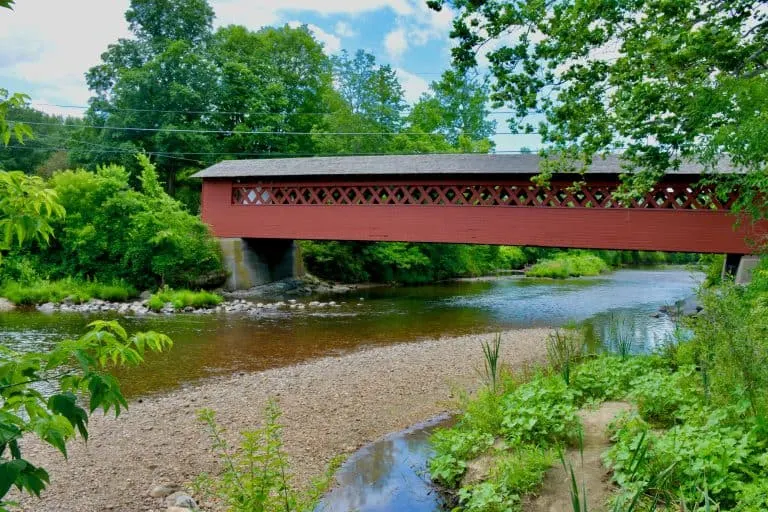 Driving through Vermont's Green Mountains as they turn brilliant shades of orange, red, and yellow and stopping to admire historic buildings is a classic experience. Families will appreciate Vermont's scenic landscapes and covered bridges.
On a hot summer day in Bennington, splash in the stream beneath Henry Covered Bridge. Or, bring a picnic lunch from a local general store to eat at the nearby park.
Can't get enough covered bridges? There are two more beautifully-maintained covered bridges also crossing the Walloomsac River in this part of Southern Vermont.
While you're in Southern Vermont, be sure to make a stop at the Bennington Battle Monument. From the top of the monument, over 200 feet up, families can see into three states: Massachusetts, Vermont, and New York.
The base of the monument has a small museum detailing the Revolutionary War Battle of Bennington with a diorama showing part of the battle.
History lovers will also want to make a stop at Robert Frost Stone House Museum at Bennington College and his grave site at the Old First Church just down the hill from the Bennington Battle Monument.
Planning a New England Road Trip? Check out Trekaroo's Top 10 Things to Do in New England with your Family.
2. Have a Summertime Adventure at a Ski Resort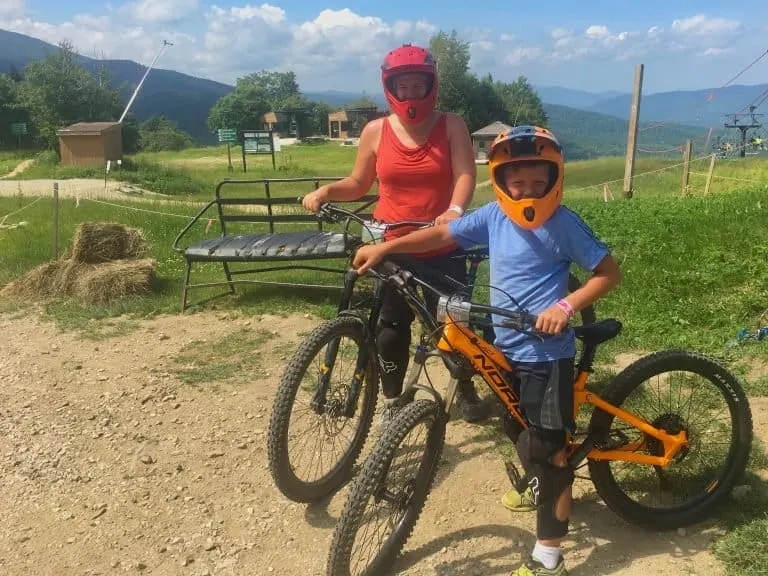 During the summer months, Vermont's ski resorts turn into mountain playgrounds with mountain biking, zip lining, aerial adventure courses, climbing walls, and mountain coasters.
When the temperatures heat up in New England's cities along the coast, these mountain resorts offer spectacular views of the mountains with a cool breeze.
In the summer months, ski trails turn into a massive bike park. Killington offers more than 30 miles of trails and a 2-hour "Learn to Mountain Bike" lesson that includes a bike rental and lift tickets. These lessons are family-friendly.
Parents and kids are paired with an experienced instructor. Instructors begin with the basics of how to properly apply the brakes on a mountain bike with full suspension then move on to teaching proper positioning and turning.
In just a couple hours, you'll be riding down the easiest green trails. Believe me, I gave it a try, I survived, and I'm looking forward to hitting the trails again soon with my 9 year old.
3. Check out Vermont's Food Scene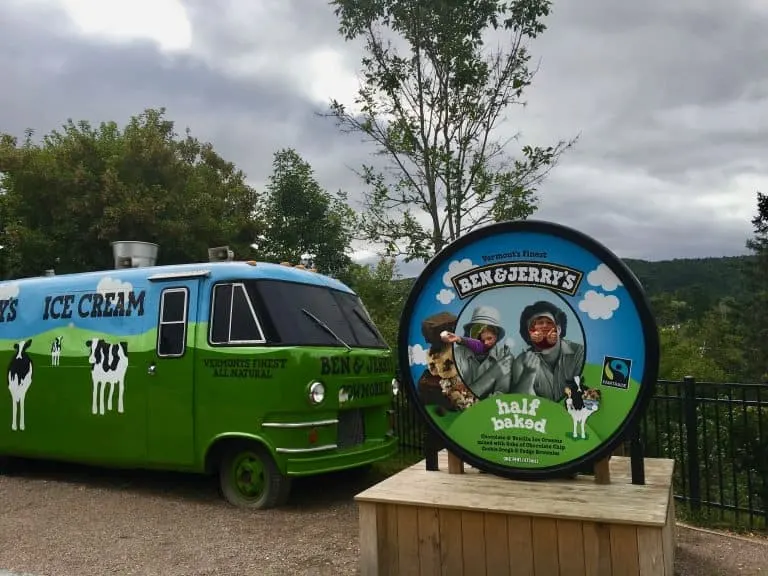 If it's not fun, why do it? This question was posed by one of the founders of Ben and Jerry's Ice Cream when the duo started their deliciously iconic company. Stop by the factory for a guided tour to get a firsthand account of how all that sweet fun is created.
From the video overview to the look out over the factory floor, your family will get an orientation to how your favorite flavors are created on this factory tour. While you're there, visit the Flavor Graveyard so you can stop mourning for Wavy Gravy, Rainforest Crunch, and other flavors that have gone to the great beyond.
Vermont is also known for its apple cider. Observe the production of hot apple cider donuts and the pressing of fresh apple cider itself at the Cold Hollow Cider Mill. You may even get to see crews fire up the evaporator in the jelly room! Established in 1974 in a historic, old Vermont barn, Cold Hollow has become New England's most famous cider mill. Can you smell the donuts now?
There's a lot more to eat in Vermont than just ice cream, apple cider donuts, and maple syrup. From cheese to berries to fresh greens, the food in Vermont is fresh, local, and healthy.
The restaurant choices in Burlington,VT can be a bit overwhelming but it is hard to go wrong with so many farm-to-table restaurants right in downtown by the Church Street Marketplace. So, get a burger at Farmhouse Tap & Grill. Or, try out Hotel Vermont's Juniper Restaurant for brunch. Wherever you go, you won't leave hungry!
4. Go Biking along Burlington's Greenway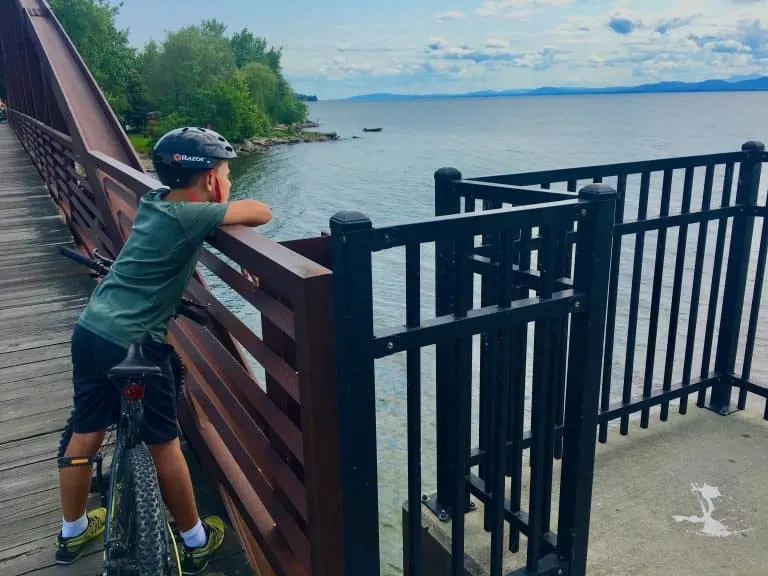 One of the best ways to see Vermont is by bike. Riding alongside Lake Champlain, families can enjoy the views New York's Adirondacks on the opposite side of the lake as a refreshing breeze blows off the lake.
The Burlington Greenway (also called the Island Line Trail) is a relatively flat bike path that runs for more than eight miles from the center of Burlington to the Colchester Causeway. There are places along the way to stop at the beach and splash in the chilly waters of Lake Champlain.
When you're back in Burlington, make sure to reward your family with a stop for a maple creemee at the Burlington Bay Market. Or, walk up to the Church Street Marketplace to pick out some chocolates and fudge at Lake Champlain Chocolates.
Didn't bring your bikes to Vermont? There are still many places in the Green Mountain State to explore on foot. Quechee Gorge is a favorite hike for families. There is even a series of swimming holes at the bottom of the trail on the Ottauquechee River.
5. Visit the Shelburne Museum for Hands-on Family Fun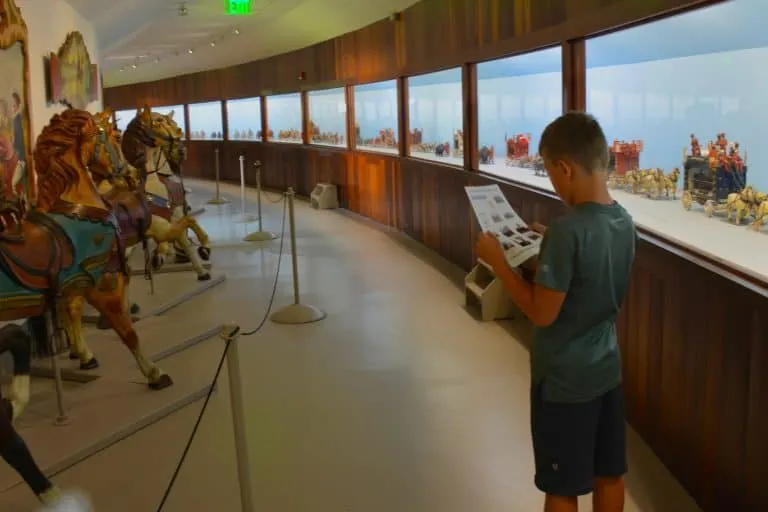 Many of the best places to visit in Vermont are outdoors. However, the state does have a few hands-on, family-friendly museums. Just outside of Burlington, the Shelburne Museum is set up like a small town with more than 30 buildings on 45 acres near Lake Champlain. It is a unique tourist attraction that is primarily dedicated to displaying American art and historic artifacts. But, it is surprisingly kid-friendly.
Children love running from building to building through the gardens, watching the blacksmith, and walking through the circus menagerie of carved animals big and small. Scavenger hunts and kid-friendly activities are available.
Nearby in Burlington on the shores of Lake Champlain children can learn about the ecology of the lake hands-on at ECHO, Leahy Center for Lake Champlain. By observing turtles, digitally navigating the lake, and playing with kinetic sand to model erosion, kids learn through play.
Montshire Museum also offers hands-on experiences with natural and physical sciences, astronomy, ecology and technology through more than 125 exhibits. Located near the Connecticut River, the museum has both indoor and outdoor exhibits for budding young scientific minds.
Kids can conduct activities with air, weather, math and mechanics while interacting with the museum's indoor attractions. Outdoors families can walk through an impressive scale model of the solar system.
6. Go for a Swim or Paddle on a Vermont Lake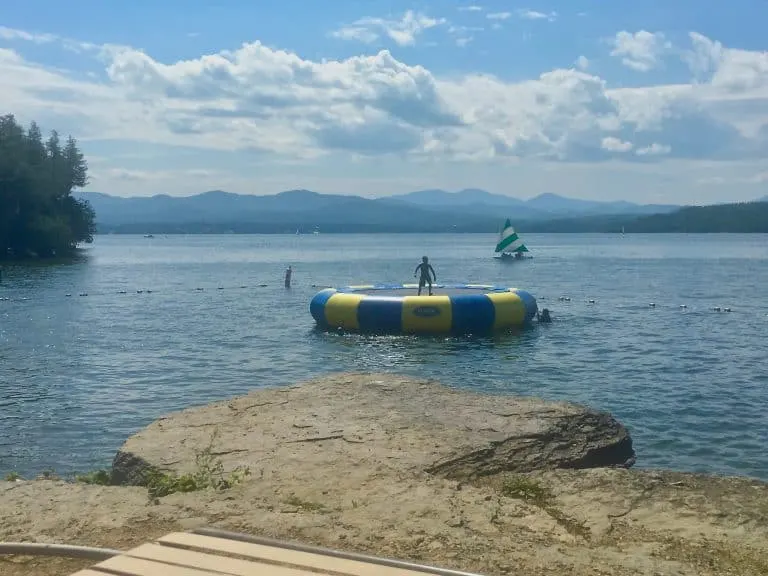 The only thing more refreshing than sitting beside a lake in Vermont is actually jumping in and splashing around!
Many Vermont resorts including Basin Harbor Resort and the Rum Runner's Hideaway at Smuggler's Notch offer trampolines on the water to liven up your teen's afternoon at the lake. Flipping around and jumping back into the refreshing lake is sure to tire out those active children.
For the most adventurous, Vermont is a great place to try out tubing, wakeboarding, or water skiing on a lake.
Looking for something calmer? Kayaking and paddle boarding are great activities for those that want to get at little bit wet, but also want to savor the view. Most Vermont resorts have a lake on property and offer opportunities to paddle while enjoying a view of the mountains.
Of course, there are ways to get out on the lake without getting wet at all. Many families visiting Burlington, Vermont like to take a day trip over to Port Kent in New York state to enjoy the Adirondacks. The car ferry takes about one hour each way to cross Lake Champlain.
If waterfalls are more your thing you will definitely want to see these 11 Vermont waterfalls.
Looking for more things to do in Vermont at Smuggler's Notch? Check out Trekaroo's Top 10 Family Activities for a Stellar Smuggler's Notch Summer.
7. Sample Authentic Vermont Maple Syrup and Savor a Maple Creemee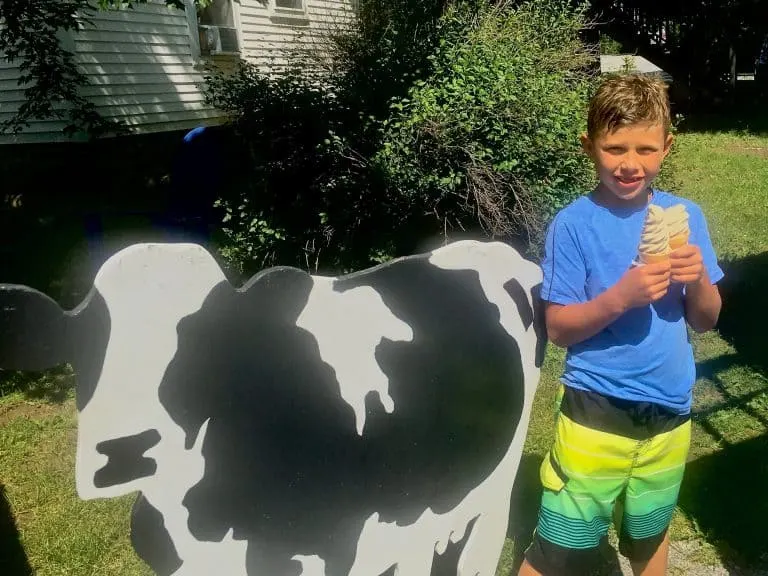 There is no better place in the United States to sample tasty maple treats than Vermont. Visiting Vermont in the summer on a family vacation? You simply must enjoy a maple creemee. The maple soft-serve ice cream sold at general stores and ice cream shops across the state is unique to Vermont.
Across the state of Vermont, there are many maple sugar houses that offer a walk-through of the traditional method for making maple syrup. Some of these farms are open for families to visit year-round, but the maple sugaring process typically takes place in the spring.
Often visitors can watch a video, go in the sugar house to see the evaporator fed by a few sap lines, and stroll through the maple forest. Of course, many of the maple sugar houses have shops where visitors can sample different types of Vermont maple syrup. Be sure to purchase some maple candies typically shaped like tiny maple leaves!
Want to learn more about places to visit in Vermont with kids to experience maple syrup production? Check out Trekaroo's Experiencing Maple Sugar Production in the Northeast.
8. Relax at One of Vermont's Resorts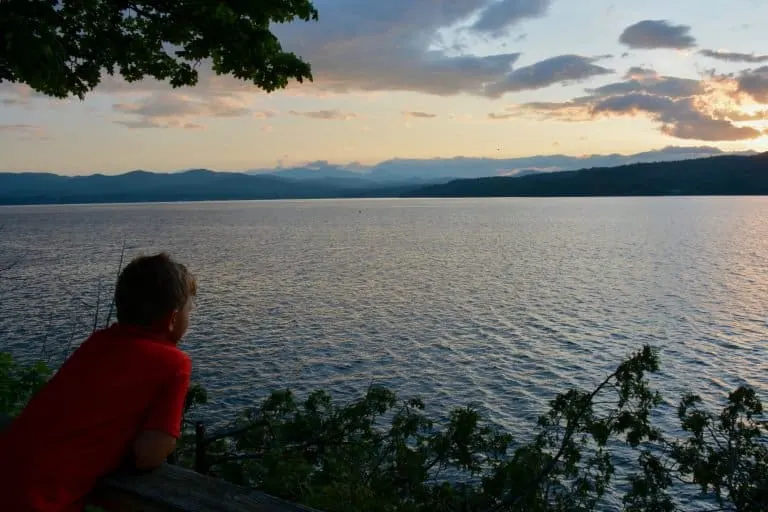 Whether you're headed to the Green Mountains or the shores of Lake Champlain, one of the best things to do in Vermont is simply relax and enjoy the outdoors with your family at a resort.
Basin Harbor Resort, located about an hour south of Burlington on Lake Champlain, provides families with the perfect Vermont setting for their family vacation.
Families will find fun games like croquet and corn hole, placed at some of the resorts most scenic viewpoints so that parents can enjoy the view while the kids play. Meal plans and day camps are available on property, making the experience feel more all-inclusive.
Would you prefer to be in the mountains? Vermont's mountaintops are scenic and remain cool even on the hottest summer days.
Ski resorts like Killington and Smuggler's Notch in the Green Mountains turn into vacation destinations for summer adventure with activities like ninja warrior courses, mountain coasters, zip lines, and mountain biking.
9. Go to the Top of Mount Mansfield at Smuggler's Notch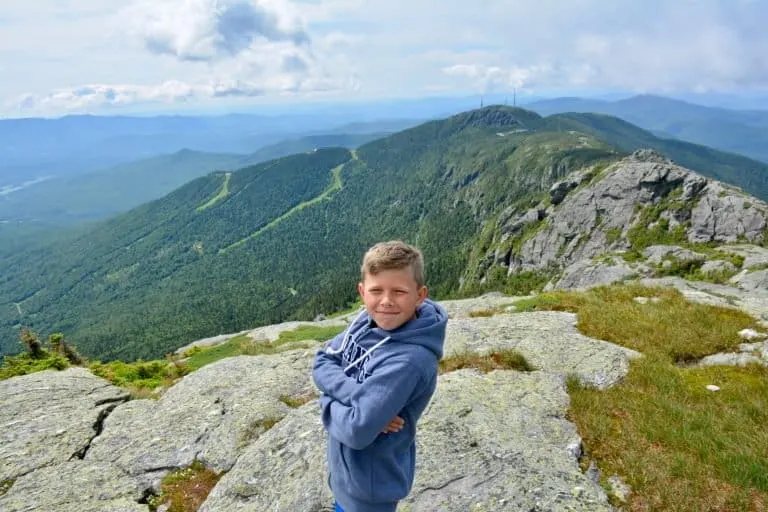 While the views around Lake Champlain are beautiful, nothing can top the views from Vermont's mountain peaks! The best part is that these views are relatively accessible. From Stowe, families can drive the auto toll road up to the top of the ridge line about a mile from the peak of Mount Mansfield at 4391 feet.
On a sunny day without too much wind, kids can make the hike to the top with frequent snack and water breaks. I've learned that a chocolate bar from Lake Champlain Chocolates is a good motivator.
There's some rock scrambling along the ridge line and great views all around. Since the views down into Smuggler's Notch are spectacular the entire way, it doesn't matter if you don't quite make it to the top.
Smuggler's Notch is a beautiful place to hike in it's own right. It has a history as breathtaking and colorful as its landscape.
It's 1,000-foot cliffs and boulders the size of homes have witnessed clandestine activities such as 19th-century runners smuggling goods back and forth to Canadian trade markets, and later saw fugitive slaves risking their lives as they journeyed through the notch to freedom.
It's a fantastic place for your kids to unleash their boundless energy exploring the amazing caves and climbing the enormous boulders on the hiking trails.
Another easily accessible mountain peak is Killington Peak further south in the Green Mountains. At 4,241 feet, it is not quite as tall as Mount Mansfield to the north. Families can take the K-1 gondola up from Killington to the Peak Lodge. From there, the climb up to the top is only .2 miles.
10. Hit the Slopes in Vermont with Kids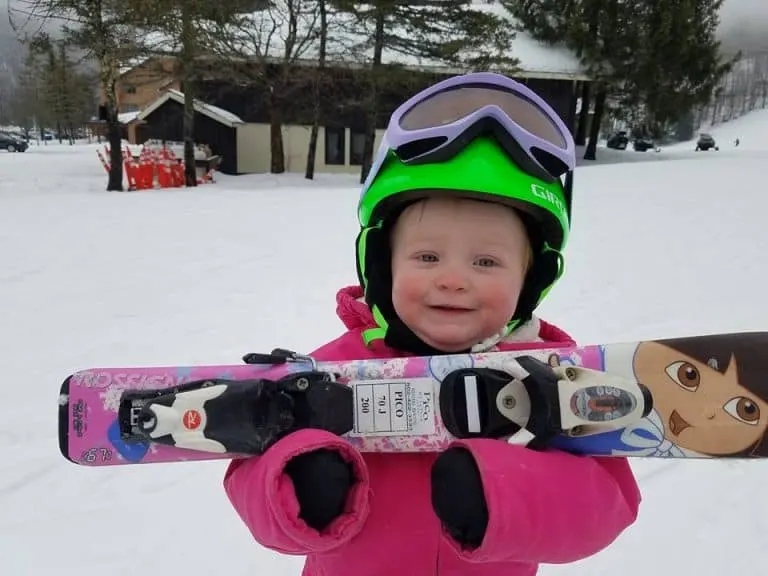 Vermont is a haven for skiers, giving them their pick of an array of downhill experiences. From mega-mountains like Killington, Sugarbush, and Stowe's Mount Mansfield, the powder is beckoning. Killington, "The Beast of the East", is the largest with six mountains of terrain. It is also typically the first of the mountains to open in November each year.
Smuggler's Notch, Vermont's largest mountain resort area, is also a favorite for families with it's kid-friendly beginner area and indoor pools to enjoy.
If you aren't ready to start taking on those double-black diamond trails just yet, there's also a smaller family-friendly ski resort for you in Vermont. Check out the elegantly groomed and affordable Burke Mountain, home of the first ski academy in the United States. Many of the runs seem made for novice skiers.
There's also Bolton Valley, which caters to varying skill levels. The Bolton Valley All Access Lift Ticket even provides access to the Sports Center with a pool and games for kids. So wax your skis, get out that equipment, the mountains are waiting for you.
Looking for more things to do in Vermont with kids in the winter? See where you can go sledding and tubing in Vermont.
Many thanks to Kristine Dworkin for researching and writing the first version of this article in 2012.
Find things to do with kids near you!
From coast to coast, we're determining the Top 10 Things to do with Kids in each state of our great nation.