Looking for the top things to do in Utah with kids? Adventure, beauty, and culture await families who visit Utah. Diverse geology shaped this land to create five glorious national parks. Remnants of Utah's rich history dot the state at historical and archaeological sites. Skiers flock to the Utah mountains in the winter for world-famous snow. Utah offers so much wonder and excitement for families willing to explore. Use our list of the top things to do in Utah to get your Utah adventure started.
Top 10 Things to do in Utah
10. Discover dinosaurs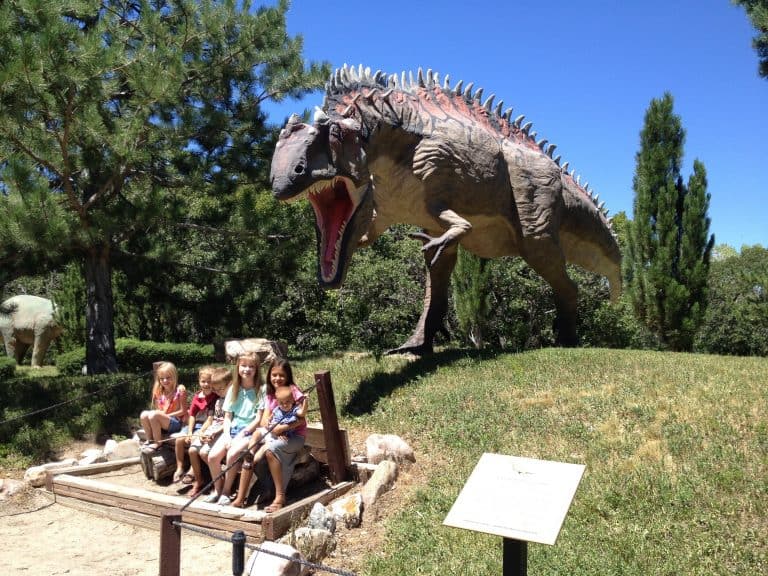 Photo by: Tiffany Vaughn
Every little explorer wants to find dinosaurs! Utah's unique geography and geology make it an ideal place to uncover them. Discover real dinosaur fossils with paleontologists and become a Junior Ranger at Dinosaur National Monument. Compare your footprint to a dinosaurs at Potash Dinosaur Tracks. Explore Utah's many interactive dinosaur museums such as Thanksgiving Point Museum of Ancient Life and George S. Eccles Dinosaur Park. Take those future paleontologists on a dinosaur tour of Utah and discover a prehistoric world like no other.
Follow this guide to find all the Prehistoric Adventures in Utah.
9. Take a Scenic Drive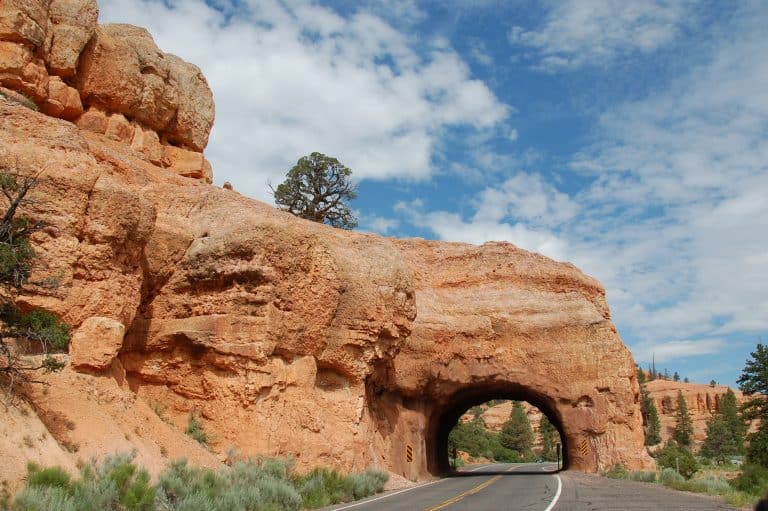 Photo by Sharlene Earnshaw
If you spot a scenic byway sign in Utah, take it! A drive down one of these highways leads to discovery of some of the grandest sites that can be found from any piece of blacktop. Scenic Byway 12 offers red rock formations, breathtaking viewpoints, and slickrock terrain. Alpine Loop winds families from American Fork Canyon to Provo Canyon. Visitors especially enjoy this drive in autumn when the aspens and scrub oak display their colors. Pack the kids, pack a picnic, and search for those scenic byway signs in Utah. Just don't forget to pack the camera! Love scenic drive, here's our guide on Scenic Drives & Byways in Utah.
Where to stay in Provo?
We've found some deals on family-friendly hotels in Provo
We're an affiliate of Booking.com. When you book through Trekaroo, you always get the lowest prices and you help to keep Trekaroo free.
8. Visit the Great Salt Lake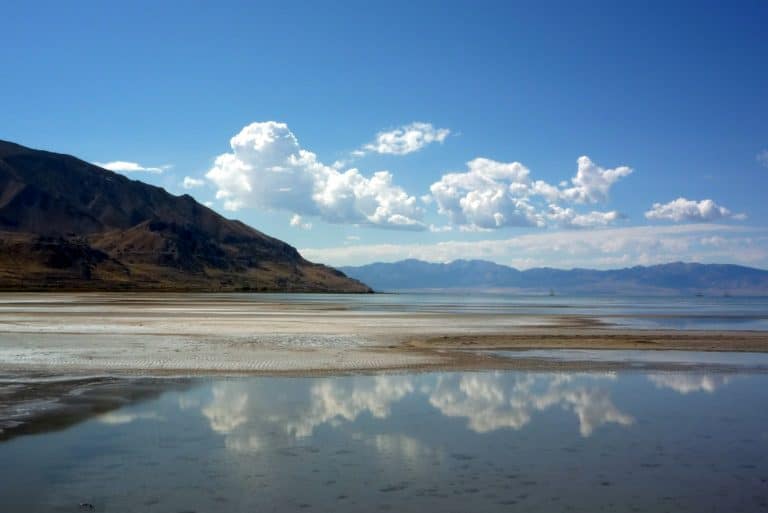 Photo by: Flickr/John Morgan
Discover an inland ocean five times saltier than seawater. Because of its saltiness, you won't find any fish in the Great Salt Lake; only shrimp, brine flies, and algae survive in these waters. The best place for families to experience the Great Salt Lake is Antelope Island. Here families can float on the high-salinity water and hike around the island. Find out more about the birds you see on the water by visiting Great Salt Lake Shorelands Preserve. After the lake, check out these Fun Activities in Salt Lake City.
➟ Snag today's best deals on family-friendly hotels in Salt Lake City
7. Play in Park City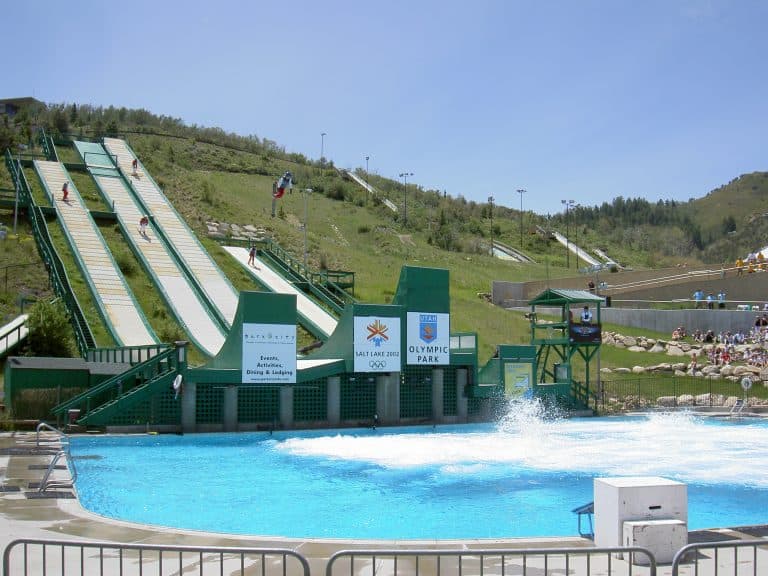 Photo by: Flickr/Bill Rand
Ready for history, adventure and luxury? Check out Main Street in Park City for shops built during the 19th-century silver mining boom. You'll also find unique boutique shops and hotels such as Marriott's Summit Watch. Did you know Park City hosted many games of the 2002 Winter Olympics and continues to train world class athletes? Families can join in the fun at Utah Olympic Park. Zoom down the alpine slide, zipline beside ski jumps, and conquer the rope courses.
After those inspiring adventures, you'll be ready to try out skiing at two of the best ski resorts in the world. Park City Mountain Ski Resort boasts the title of largest ski resort in the country. Deer Valley Resort was voted the best ski resort in America in 2018. If the snow is gone, head to the Blood's Lake Trail for beautiful hiking and Beaver Creek Trail for biking through the Wasatch Mountains.
Find things to do in Park City in the Winter.

Stay and play in Park City!
See today's deals on hotels in Park City ➟
6. Experience Native Lands and Cultures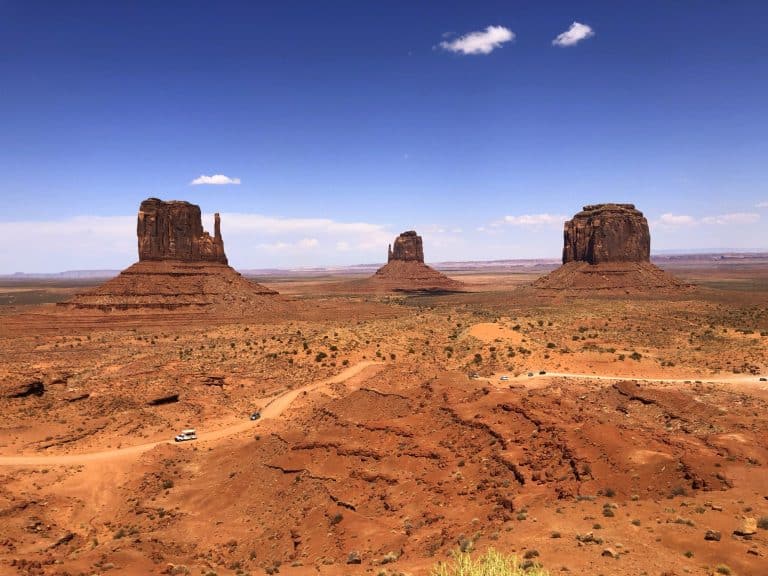 Photo by Sharlene Earnshaw
Several ancient Native American tribes flourished in Utah, leaving remains of their rich cultures throughout the state. Families can see evidence of our state's original inhabitants just by hitting a trail at some of the state and national parks. Imagine wandering trails to find ancient petroglyphs carved into cliff sides at places like Fremont Indian State Park and Museum!
Utah also houses hands-on museums like the BYU Museum of People and Cultures and historical sites such as Anasazi State Park Museum that celebrate these cultures. You can even wander through ruins of Native American dwellings at Hovenweep National Monument and Edge of the Cedars State Park. Head to Monument Valley in the the southeastern corner of the state to witness iconic southwestern vistas and learn about the Navajo Nation which owns these lands.
Find Utah's Native American Sites & Teach your family about Native American History and Culture through Travel.
5. Learn about Utah's Mormon Heritage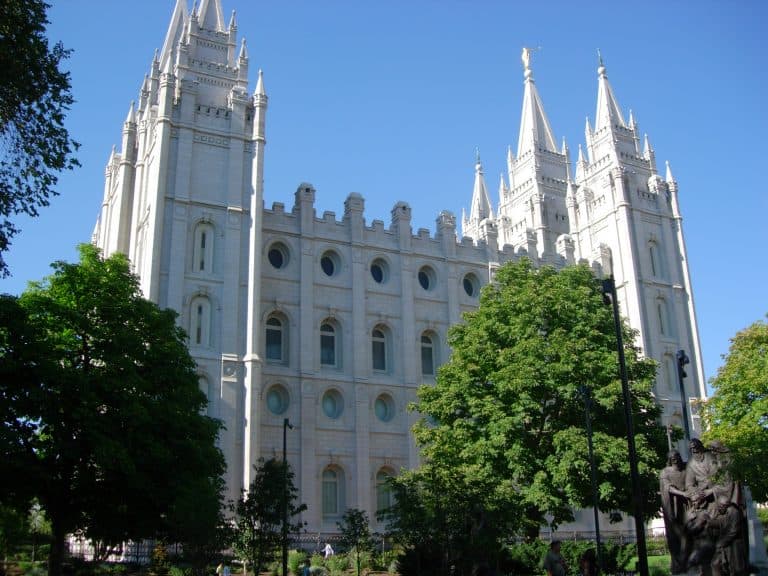 Photo by: Flickr/Hugh Millward
In 1847, Mormon pioneers reached the Salt Lake Valley and prospered in a place once thought to dry and barren to settle. They expanded throughout the state, building settlements and working the land into what it is today. Today, Salt Lake City houses the headquarters for The Church of Jesus Christ of Latter-Day Saints at Temple Square.
Mormonism is still a big part of Utah culture. Over 60% of the state's population belong to The Church of Jesus Christ of Latter-Day Saints. The Museum of Church History and Art is the best place for families to learn about Mormon culture. They even have an interactive section just for kids. Explore living history a museum like This is the Place Heritage Park to learn what life was like for the first Utah settlers. At Temple Square, be sure to stop by the visitor center. Although there are no tours of the inside of Mormon temples, the visitor center displays a 3D scale model of the inside of the Salt Lake City Temple and volunteers eagerly answer any questions you have. Families can also join a free tour around Temple Square to learn about the historic buildings.
Find plenty of sites to learn about Utah's Mormon Heritage.
4. Ski in the Greatest Snow on Earth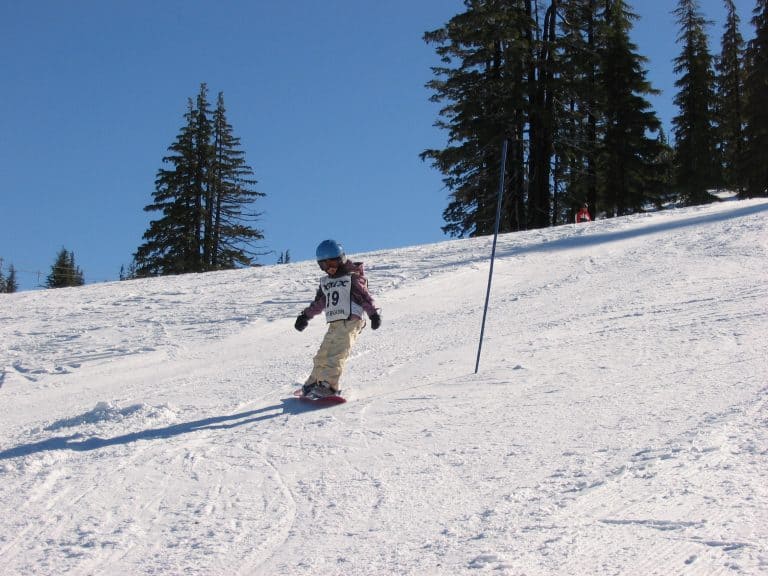 Photo by: Flickr/Matt Kern
You can't beat Utah's snow for skiing. The dry climate leaves behind fluffy, powdery snow; perfect for any winter outing. Utah also claims some of the best ski resorts towns including Park City and Brian Head. Many of the resorts even offer free skiing for kids. In addition to skiing, families love to explore mountain trails in the winter with snowshoes or backcountry skis. Or just find a snow-covered hill and zip down it on your sled.
Learn more about skiing at Brian Head.
3. Adventure in Moab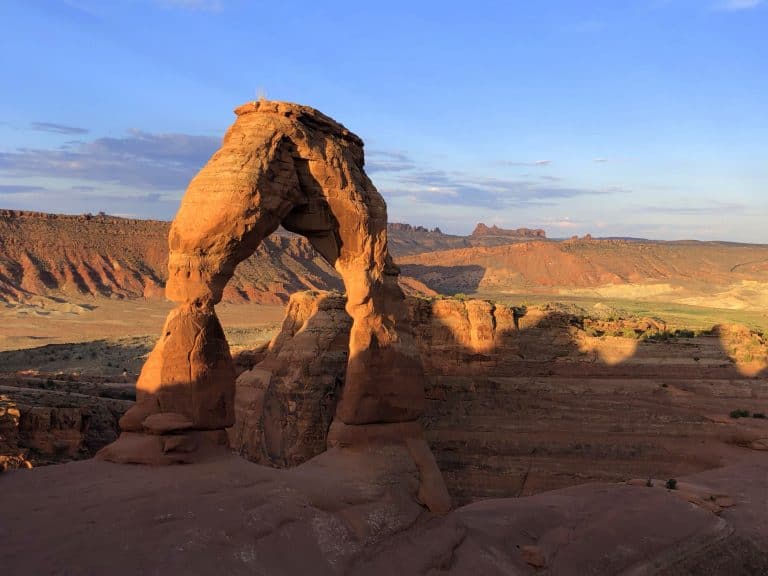 Photo by Sharlene Earnshaw
The outdoors are your playground in Moab. Excitement and adventure are only limited to your family's thrill level. Start out mild by hiking through some of the easier trails at Arches or Canyonlands National Parks. Get your adrenaline flowing with some whitewater rafting or off-road excursions. Need more thrills? Try the Slickrock Bike Trail or take your family canyoneering. Even if you're not into adventure, the red rocks and stunning scenery may reveal a wild side just waiting to explore.
Use this Guide to Family-Friendly Moab to start your adventure.
2. Soak Up the Sun on Lake Powell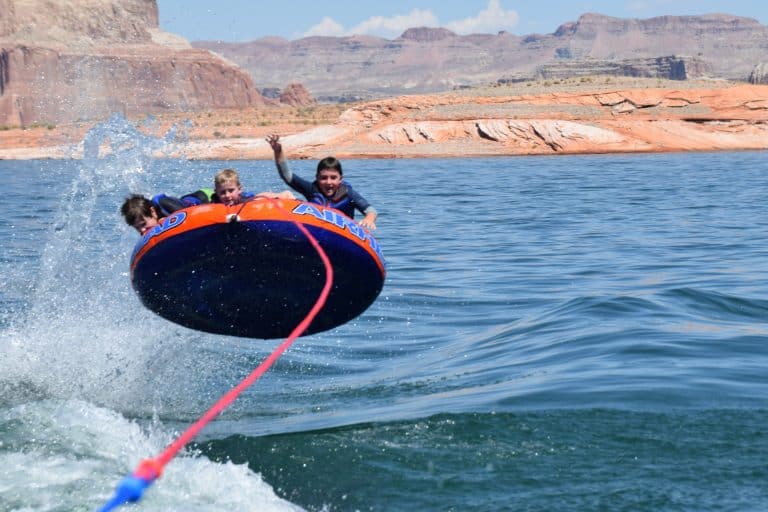 Photo by Sharlene Earnshaw
The unusual scenery and vast reaches of Lake Powell beckon over three million visitors a year. Combine that with the hot, dry weather and you've got an ideal destination for water sports. Marvel at hanging gardens, golden cliffs, and narrow slot canyons as you splash and play the day away. One of the most popular ways to enjoy Lake Powell is via a houseboat trip. It is easy to find a private cove for your family to enjoy on the lake's 1,900 miles of shoreline. In addition to water fun, Glen Canyon National Recreation Area provides hiking, camping, and photography opportunities. A visit to Lake Powell wouldn't be complete without a hike to the famous Rainbow Bridge.
Consider Houseboating on Lake Powell for your next multi-generational getaway.
1. Explore Southern Utah's National Parks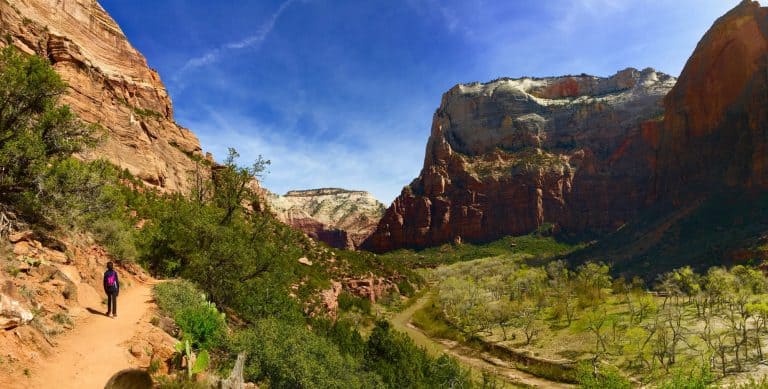 Photo by: Tiffany Vaughn
Captivating landscapes and geological wonders abound throughout Utah's national parks. Each of Utah's national parks are world-renowned, yet each is different. Zion National Park captivates visitors with its stone monoliths and narrow slot canyons. The brutal summer heat makes hiking the famous Narrows, a hike through a river in a slot canyon, extra enjoyable. Bryce Canyon National Park is known for its brilliant hues and hoodoo spires. Hike into the canyon to experience the towering canyon walls, then hike high above it for incredible views. It's a little bit out of the way, but you wouldn't want to skip Capitol Reef National Park. The sandstone sculptures and the water pocket fold are otherworldly. Kids will also love picking fruit from the park's orchards, a reminder of the area's Mormon agrarian past.
Watch the Top 10 Things to do in Utah with Kids:

Lead photo by: Bigstock/ Prochasson .