Welcome signs greet visitors with the slogan, "Utah, life elevated"; a phrase indicative of the state's altitude and its inspiring sites and history. Life is elevated in Utah, where diverse geology has shaped the land and rich history has shaped the culture providing visitors with opportunities galore. Here families can experience world class ski resorts, five national parks, an inland ocean, and historical sites which celebrate cultures that persevered in Utah's rugged desolation. This list of top 10 things for families to do in Utah is in no way ranked in order from least to greatest. Instead, this list is the cliff note travel guide for families visiting Utah; a starting point to experience life elevated.
Look for current hotel deals in Utah
10. Visit Mother Nature's theme parks
With names like Goblin Valley, Grand Staircase, and Kodachrome Basin; these places counter any adventure that man-made theme parks tout. Instead of mechanical rides, Mother Nature's theme parks give you hoodoos and fairy chimneys to climb. Instead of cartoon characters; Mother Nature gives kids a chance to use their imaginations and visualize a character made of stone. Utah's location on the Colorado Plateau provides visitors an abundant supply of these unique rock formations where kids can climb, play, and learn hands-on geology; no ticket required.
9. Relive the 2002 Salt Lake City Winter Olympics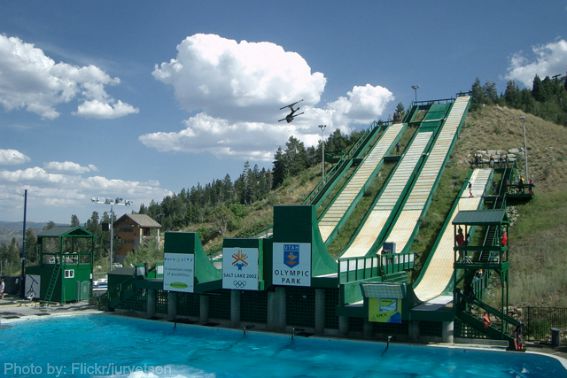 The 2002 Salt Lake City Winter Olympics have concluded, but families can still experience the games at several Olympic sites and venues throughout Utah. Watch athletes train, or experience a ride on the bobsled, 80 mph and 5 G's of force at Utah's Olympic Park. The Olympic Park is also home to the Alf Elgen Ski History Museum, bobsled, and Nordic jumping events. If your family loves to ski, check out Snowbasin Ski Resort which hosted many of the game's alpine skiing events and visit Solider Hollow which hosted Nordic skiing events. Kids can learn to ice-skate at the Utah Olympic Oval, which was the venue for the Olympic speed skating races. Whether you're testing your winter sport skills, or reliving Olympic history, Utah has plenty of sites and world–class venues to enjoy.
Find more fun for families around Park City.
8. Drive to an Island
Many first time visitors to Utah want to see the Great Salt Lake, an inland ocean five times saltier than seawater. However, visitors are sorely disappointed when they arrive to the banks of this famous lake and discover why it is also known as "Stink Lake". The Great Salt Lake is so salty that it can't support most aquatic life. Instead it teems with brine shrimp and brine flies with a definitive stench. These little critters are just odor producers, they provide food for millions of migrating birds, making the lake a bird-watching paradise. The place for families to experience the Great Salt Lake, while minimizing odor impact, is Antelope Island. At 28,022 acres, this island abounds with wildlife; from birds to bison. Here, families can hike a peak and experience unparalleled views of the Wasatch Mountains, touch a rock that is 2.7 billion years old, or discover that high-salinity water allows you to float unassisted. There is no boat required to reach the island, just drive the causeway for your own family island adventure.
Read reviews of kid friendly activities on Utah's Wastach Front.
7. Go Rock-hounding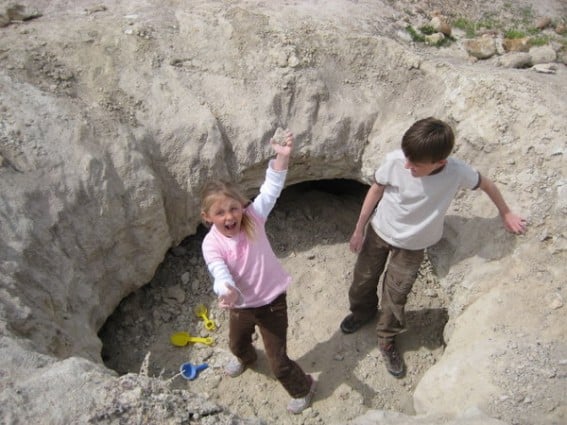 What kid doesn't like to dig in the dirt in search of treasure? Utah's varied terrain is home to plenty of gemstones, rare rocks, and fossils. Families can head out to Utah's west desert, along the pony express trail, and search for geodes at the Dugway Geode Beds or hunt for topaz at Topaz Mountain. If your family is searching for fossils, drive along remote highway 6 and pursue trilobites at Antelope Springs and the Ibex-Fossil Mountain Area. Families can also see some "commercial rock-hounders" in action at Kennecott Copper Mine, one of the largest open pit copper mines in the world. So do some mining or see some mining in action and you'll discover the real "treasure" is an awesome family adventure.
6. Discover ancient cultures
Several ancient Native American tribes flourished in Utah, leaving evidence of their rich cultures throughout the state. Families can learn more about our state's original inhabitants at one of many museums that celebrate these cultures, including the Natural History Museum of Utah, Museum of Peoples and Cultures, and Anasazi State Park Museum. Hands-on history abounds throughout the state where families can witness rock art petroglyphs and pictographs along trails and highways at places such as Dinosaur National Monument, Nine Mile Canyon, Fremont Indian State Park, and Arches National Park Delicate Arch Trail. Explore ancient Native American villages at the Edge of the Cedars State Park, Hovenweep National Monument, and Grand Gulch Primitive Area. So teach your kids about the amazing ancient Native American culture and apply these lessons as you explore historical sites throughout Utah.
Check for hotel availabilities in Utah
5. Take a scenic drive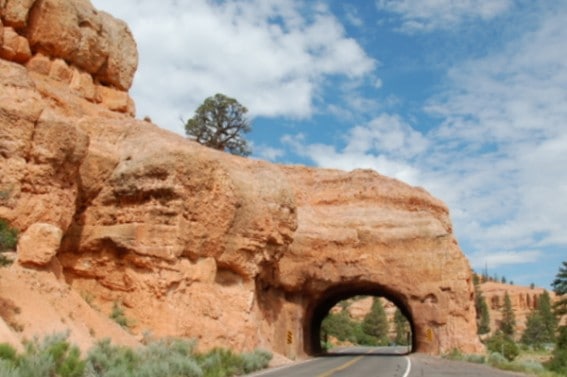 If you have the time, and you spot a scenic byway sign in Utah, by all means take it and you'll discover some of the grandest sites that can be found from any piece of blacktop. Scenic Byway 12, a 124 route between Bryce Canyon and Capitol Reef National Parks is an adventure for any family. Here you travel along red rock formations at Red Canyon, enjoy viewpoints such as Powell Point, Boynton and Homestead overlooks, and straddle slickrock terrain along The Hogback. In northern Utah, drive the Alpine Loop with access to sites and trails including Timpanogos National Monument, Sundance Ski Resort and views of the Wasatch Mountain Range. This drive is especially enjoyable in autumn when the aspens and scrub oak display their colors. So pack the kids, pack a picnic, and search for those scenic byway signs in Utah. Just don't forget to pack the camera!
4. Learn about Utah's Mormon Heritage
In 1847, Mormon pioneers reached the Salt Lake Valley and prospered in a place once thought to dry and barren to settle. These Mormon pioneers are the reason why Utah is known as the "beehive state" since a beehive is symbolic of industry and perseverance. In Salt Lake City, families can visit Temple Square, home of the Salt Lake City Temple, Family History Library and the Salt Lake Tabernacle. Kids will especially enjoy experiencing Utah's living history at places like This is the Place Heritage Park, Benson Grist Mill and the American West Heritage Center. Explore Mormon pioneer sites and learn about Utah's early Mormon heritage and you'll understand exactly why Utah is called the "Beehive State".
3. Discover dinosaurs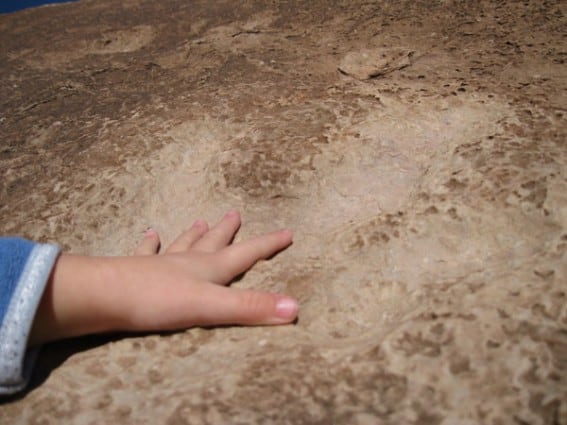 Utah's unique geographical history makes it an ideal place to discover dinosaurs. Families can tour natural history museums and learn about paleontological history or set out on a family adventure to discover fossils and dinosaur remnants on your own. Kids will love the hands-on displays at the new Museum of Natural History of Utah and families can step back in time at Thanksgiving Point's Museum of Ancient Life. Encounter life-size dinosaur models along the trails of the George S. Eccles Dinosaur Museum or let the kids place a hand in a track at Potash Road Dinosaur Tracks. Additional museums and sites throughout Utah include the Utah Field House of Natural History State Park Museum, Dinosaur Discovery Site at Johnson Farm, Cleveland-Lloyd Dinosaur Quarry, Dinosaur National Monument, and the USU Eastern Prehistoric Museum. So take those future paleontologists on a dinosaur tour of Utah and discover a prehistoric world like no other.
2. Explore five National Parks
Captivating landscapes and geological wonders abound throughout Utah's national parks. Each of Utah's national parks are world renowned, yet each is different. Zion National Park is known for its stone monoliths and narrow slot canyons. Bryce Canyon National Park is known for its brilliant hues and hoodoo spires. Arches National Park of course, is known for its large concentration of arches. Canyonlands National Park is known for its rugged landscape and high plateaus. Capitol Reef National Park is known for its sandstone sculptures and the water pocket fold, a 100-mile geographical feature. Families can visit one or visit them all and find diverse landscapes, history and culture like no other place on Earth.
Look for the best hotel prices in Utah
1. Discover the greatest snow on Earth.
There is a reason why "greatest snow on Earth" is printed on many Utah license plates. Utah's snow is pretty spectacular as a result of our dry climate which leaves behind fluffy, powdery snow; perfect for any winter outing. Yes, it's a subjective determination whether or not Utah snow is the greatest on Earth. Thankfully Utah has plenty of places for families to make up their own minds about snow quality. Families can experience the snow at one of the state's popular ski resorts, such as Park City, Canyons, Alta, Snowbird, Brighton, Solitude, or Brian Head. Explore mountain trails in the winter with snow shoes or back-country skis or find a snow-covered hill and zip down it on your sled. Whether your family is making the perfect snow angel or trekking in the back-country, Utah's "greatest snow on Earth" will not disappoint.
Photo by: Shutterstock.com
What state do you want to visit next?
From coast to coast, we're determining the Top 10 Things to do with Kids in each state of our great nation. Head here to see what tops the list in your favorite state.