If you were to ask me what my favorite outdoor destination families, Moab could very well top my list. Why? Because there are so many amazing things to do in Moab with kids!
Moab is a red rock wonderland located in eastern Utah next two national parks. It is a spot that draws hikers, mountain bikers, river rafters, and arch enthusiasts. Even burgeoning paleontologists have something to get excited about!
Things to do in Moab with Kids
1. Arches National Park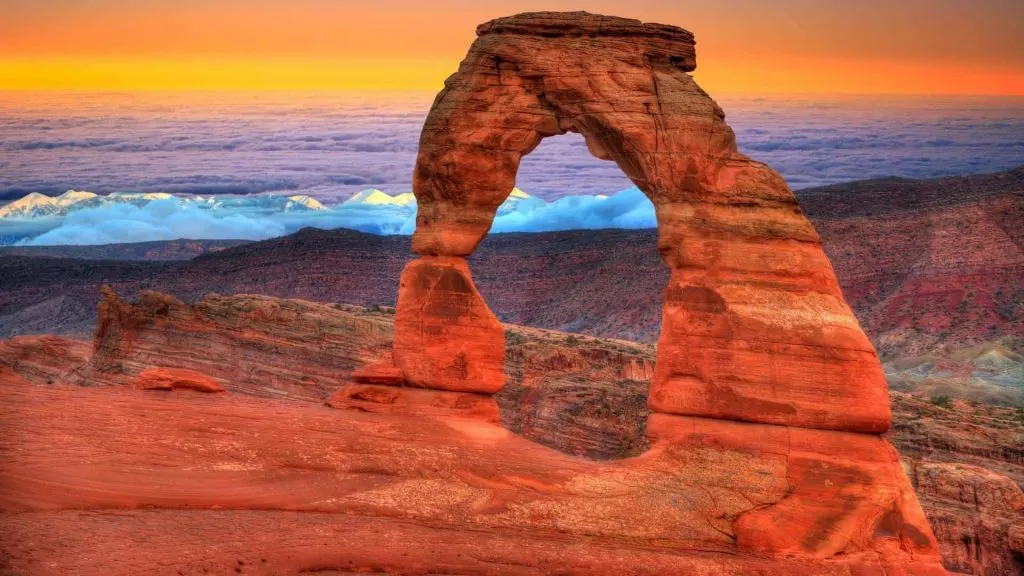 The most popular attraction in Moab is Arches National Park, home to 2,000 natural arches and several great hikes. Since it is so close to the town of Moab, there are no services inside the park like hotels and restaurants. Stop by the park's visitors center to get maps and pick up a Junior Ranger booklet for you kids so they can earn an Arches Junior Ranger Badge.
I highly encourage you to arrive early at this park, especially if you are visiting during the summer. This will help you avoid both the crowds and the heat. My family tried to be inside the park for sunrise (which was magical) each day and we had trails all to ourselves.
Highlights of this national park include the scenic, 18-mile drive and several family-friendly hikes to arches such as Landscape Arch, the longest arch in the world, and Delicate Arch, the incredibly beautiful arch featured on the Utah license plate.
TIMED ENTRY NEW FOR 2022– The National Park system has become especially popular in the past few years (thank you Covid and Instagram) so several of the most popular national parks have gone to a time-entry system. Arches National Park is one of those parks.
Timed-entry tickets are required for entry to Arches National Park April 3- October 3, 2022. This tickets are released three months in advance at 8am Mountain Time on the first of the month. Visit the park website for full details on reservations.
Read our full guide to visiting Arches National Park with kids to make the most of your time at this special spot.
2. Canyonlands National Park
Arches National Park's sister park is Canyonlands National Park, located 30 miles outside of Moab. Services inside this park are limited as well, so be sure to bring your own food and water. There are three districts that make up Canyonlands, but Islands in the Sky is the most popular and easiest to visit as a day trip.
Islands in the Sky is a mesa that sits 1500 feet above the wilds below, and the views from this part of the park are one of its main draws. Another big draw is Mesa Arch which sits on the edge of the mesa and acts as a window to sprawling canyon views that go on for miles. It is especially beautiful at sunrise.
.Whale Rock is another favorite spot for families to explore inside the park. There is a short, 0.8-mile trail that climbs up to the top of this large dome. It is marked by cairns which are fun for kids to discover along the way. They will also love that there are dozens of boulders to climb on along the route.
Explore all five Utah National Parks with this epic Utah National Park Road Trip Itinerary.
3. Dead Horse Point State Park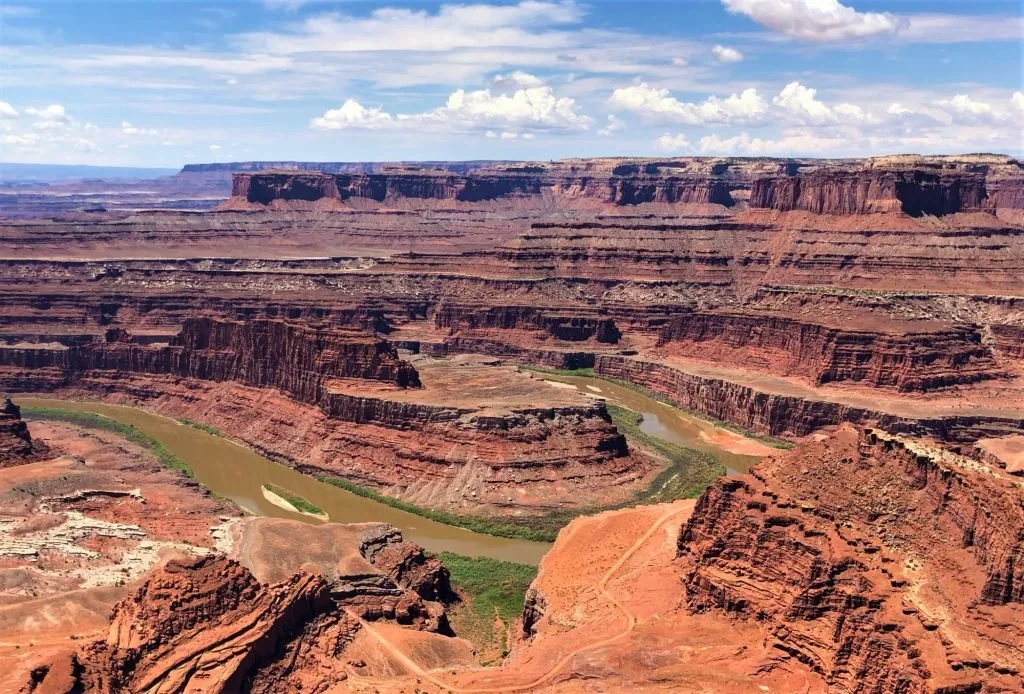 Located just down the road from Canyonlands National Park is Dead Horse Point State Park, a great place to stop before heading back to Moab.
The main draw of this park is Dead Horse Point, a lovely viewpoint where you can see a gooseneck bend in the Colorado River 2,000 feet below. There is a trail from the visitor center to the point, or you can simply drive over to the viewpoint and walk a short distance from the parking lot.
During the summer there is an ice cream stand located next to the visitor center which is an oasis in the desert, especially after hiking in the heat.
See more of the the state on this Utah Road Trip.
4. See Dinosaurs at Moab Giants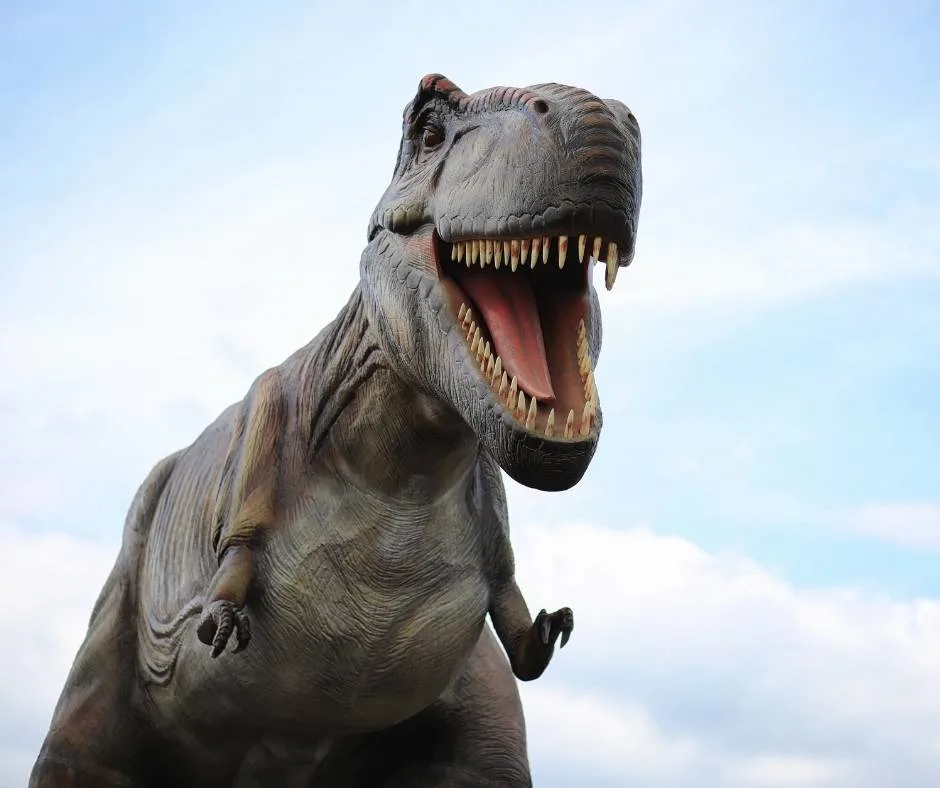 At the turnoff to Canyonlands National Park and Dead Horse Point State Park where Highway 191 and Highway 313 intersect is Moab Giants, a dinosaur museum with life-size replicas of several impressive dinosaurs.
The dinosaur replicas are displayed outside in the desert, giving visitors an idea of what this area might have looked like when these giants roamed the Moab area.
There are over 100 dinosaurs on the museum's outdoor trail. There is also a 5D virtual prehistoric aquarium, 3D movie theater, museum filled with fossilized dinosaur tracks, a playground, and a dig site for kids.
5. Hit the Slickrock Trails on a Mountain Bike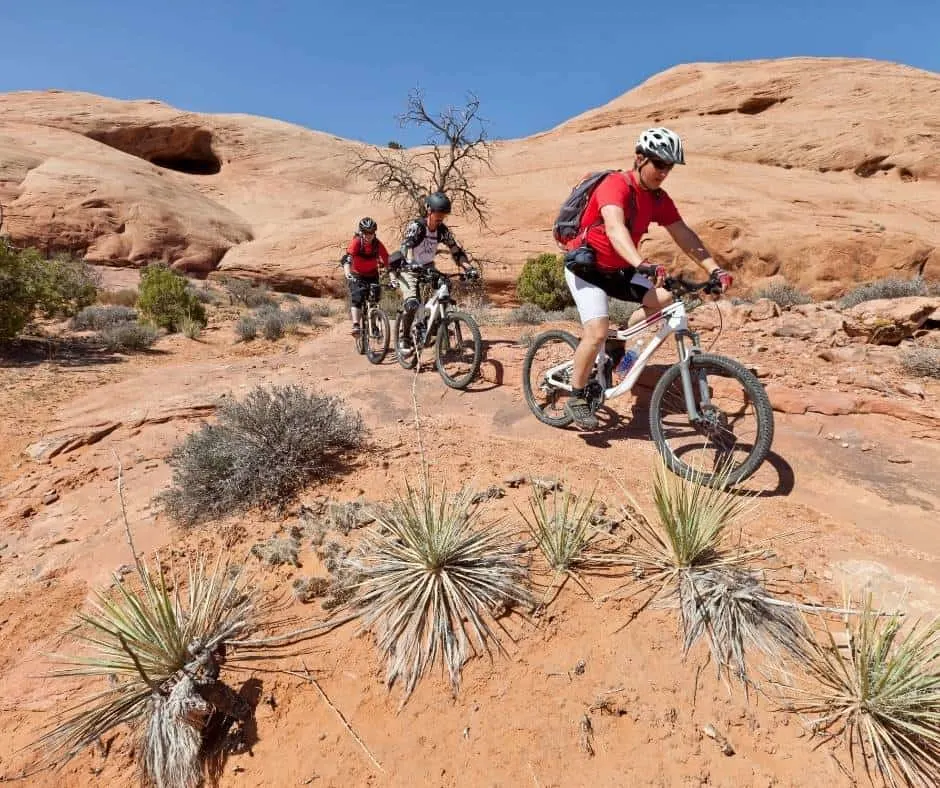 Moab is a mountain bike mecca, thanks to its amazing slickrock trails. There is something for everyone, from beginner trails to routes that experts drool over.
The Moab Brand Trails are a network of trails and there are a few different ones that are great for those new to the sport. Lazy-EZ, Bar M, North 40, and Rusty Spur are good options.
The Klonzo trail system, located 30 minutes north of Moab, is another spot that has several trails for beginners.
The Moab Adventure Center offers guided mountain bike tours (with gear) for families with kids as young as five. Their Courthouse Wash Mountain Bike Tour overlooks the Windows section of Arches National Park and is especially good for newbies.
6. Go Rafting on the Mighty Colorado River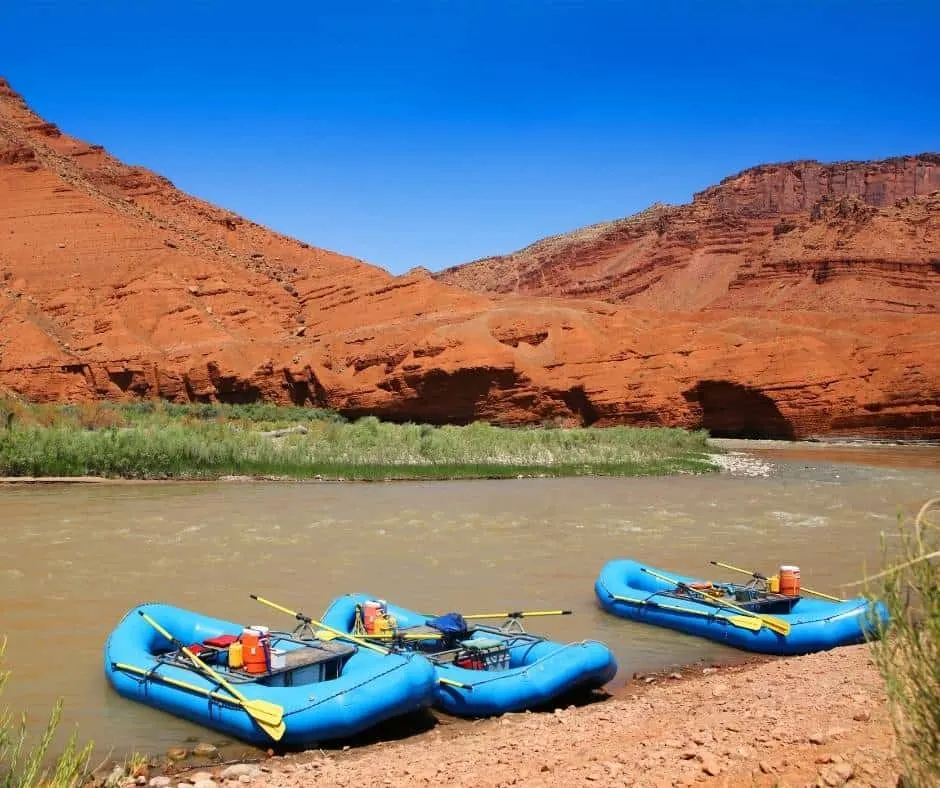 The Colorado River flows just north of town and river rafting is one of the best things to do in Moab with kids. There are a variety of tour options, from half day trips that are suitable for kids as young as four in the Fisher Towers section of the river to full day adventures in Westwater Canyon ,with Class III and IV whitewater for those eight and up.
If you prefer a kayaking or stand-up paddleboarding adventure, you can do that, too!
7. Take a Jet Boat Tour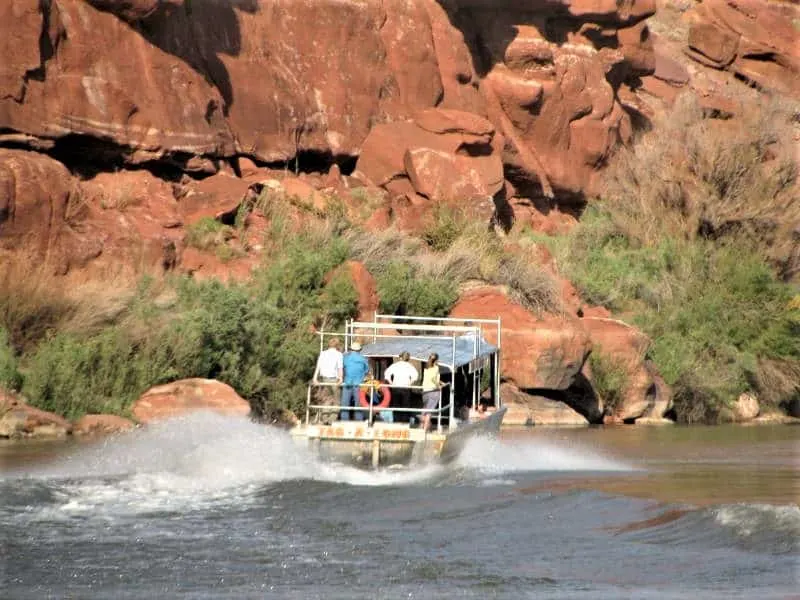 Another great way to explore the Colorado River and surrounding parks is to take a jet boat tour. Tours are typically three hours in length and have stops at a rock art site, Dead Horse Point State Park, and Canyonlands National Park. Kids as young as four can enjoy the trip.
There is also a sunset option that includes dinner and a "spin and splash" version for those that want a bit more adventure (for ages eight and up).
8. Take a Scenic Drive and See Dinosaur Tracks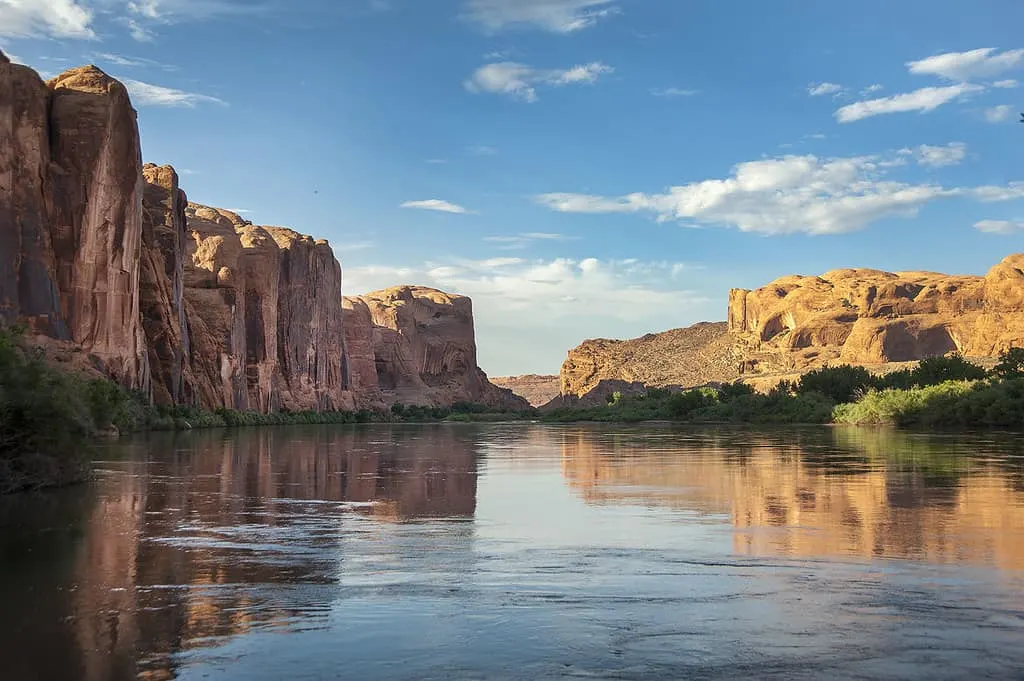 The scenery around Moab is jaw-dropping, so a scenic drive should definitely be one of the things you do in Moab with kids.
Potash Road, aka Scenic Byway U-279 is one drive you won't want to miss. It follows the river into a canyon with dramatic red rock walls rising above you.
There is a spot along the road where you can view ancient petroglyphs right from your car. There is also a place to pull off and take a short hike to some dinosaur tracks and more petroglyphs.
Along this route you will find a great 1.2-mile trail to a Corona and Bowtie Arches. There is also a half-mile spur trail you can take to Pinto Arch.
The Upper Colorado River Road (U-28) is another good option. It includes a place to stop at Matrimony Spring where fresh water gushes from the rocks (and is good to drink) the Fish Towers area which is good for hiking.
9. Have an Off-Road Red Rock Adventure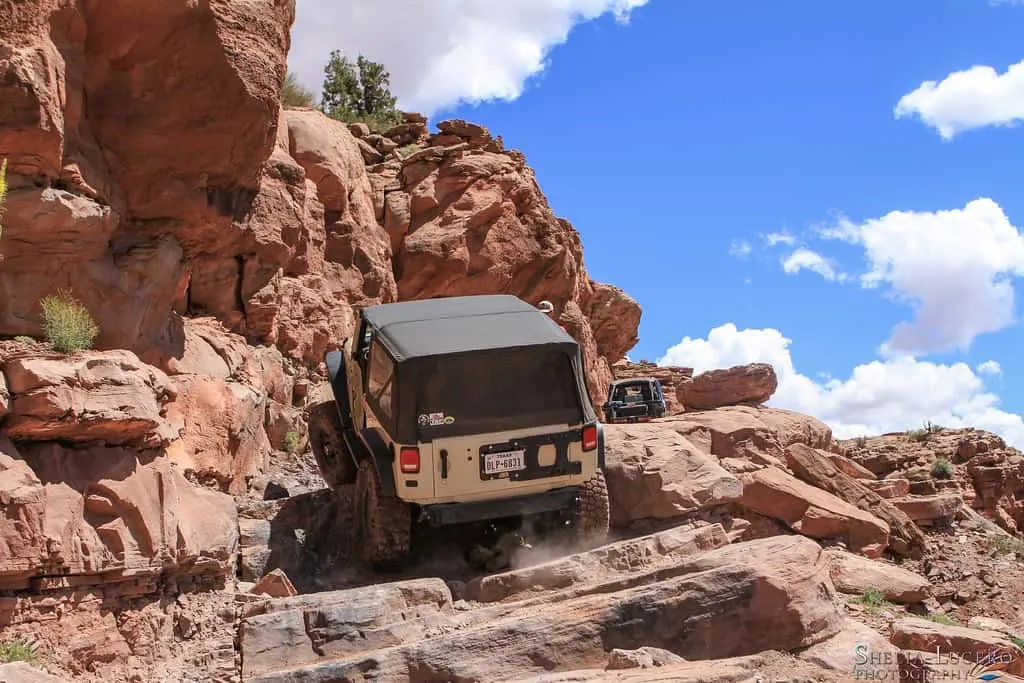 Moab's red rock is great for hiking and mountain biking as ATV, UTV, and Jeep adventures. Hell's Revenge is one of the most popular areas to drive off road vehicles.
You can choose to be the driver of a Jeep that seats four as you make your way up the Devil's Backbone. Or, let the professionals take charge and be a passenger in an adventure that takes to places that only the pros can maneuver through.
There is also a guided 4×4 trip through Arches National Park that allows you to experience some of the less visited portions of the park like Tower Arch and Eye of the Whale Arch.
If you are hoping to see the red rocks glow and change during the golden hour, book a Sunset ATV Tour.
10. Learn to Climb and Rappel with a Guide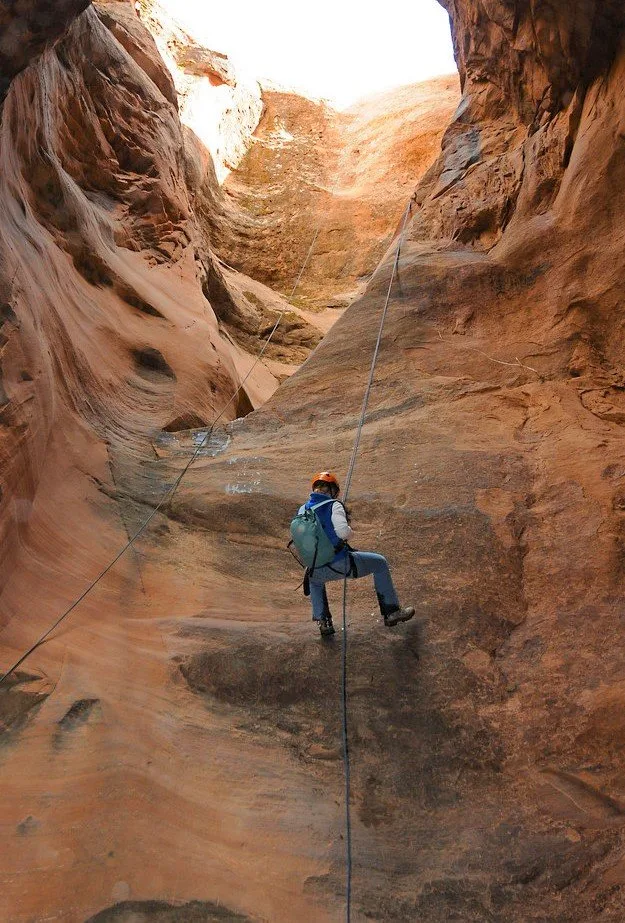 There are several great places to climb up rock faces and rappel into slot canyons all around Moab but without experience, the challenge may sound daunting. That is why guided adventures with experts are always the way to go, especially with children and novices.
There is an introductory rock climbing experience offered by Moab Adventure Center that is good for kids as young as five! It is a great way to learn the basics of belaying, climbing, and rappelling.
If you have older children (10+) and want more adventure, then the Ultimate Moab Canyoneering Adventure might be for you. It involves hiking, dropping into a narrow slot canyon, and rappelling 120 feet off of Morning Glory Arch!
Where to Stay in Moab with Kids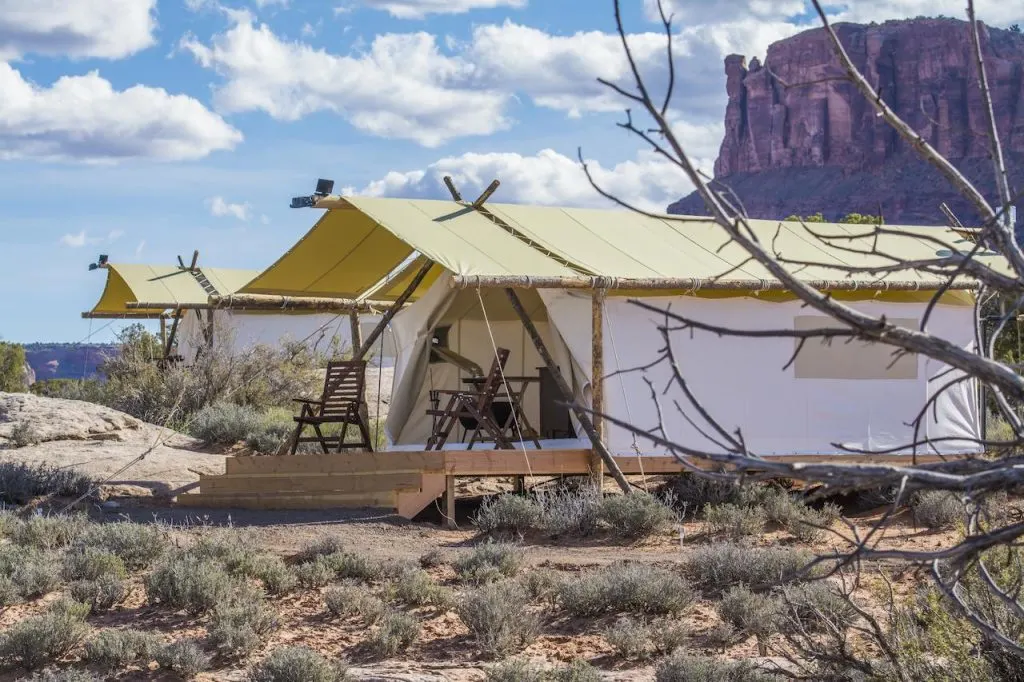 Moab is filled with lodging options. Here are some Trekaroo-approved spots:
Moab Springs Ranch– Cozy cabins in a picturesque location just two miles from Arches National Park.
Under Canvas Moab– This is glamping at its finest. It allows you to enjoy a camping experience without having to sleep on the ground or pack all the gear.
Homewood Suites by Hilton Moab– Located in the heart of town, we love this hotel for families because of the full kitchen in every room, indoor pool, and central location. Several restaurants and souvenir shops are a short walk away.
Where to Eat in Moab with Kids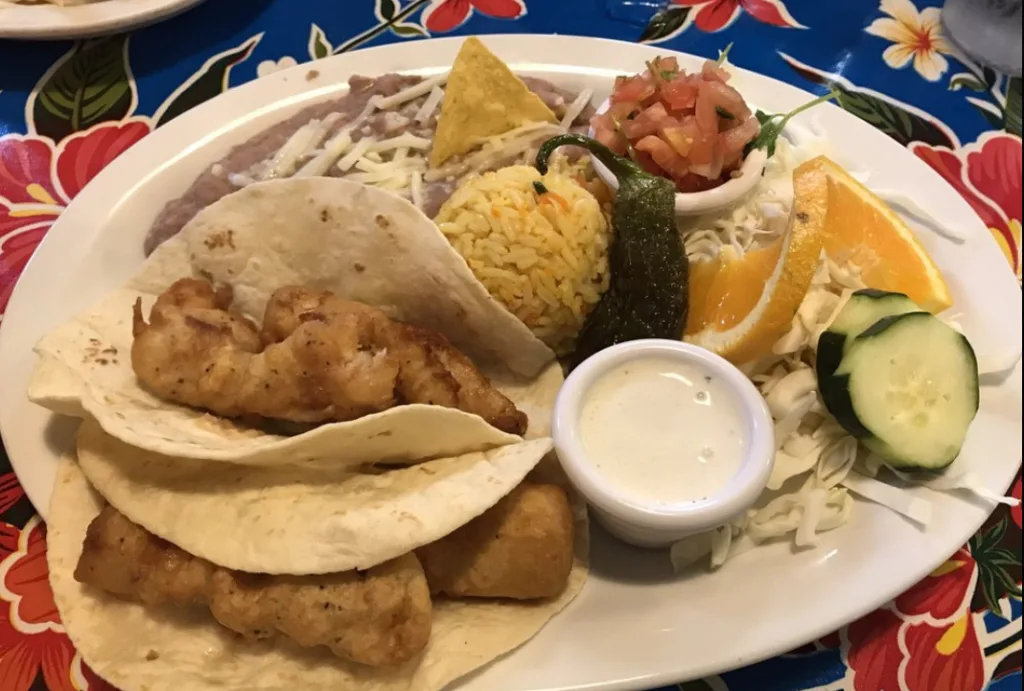 There are lots of great dining options in the town of Moab. Here are some Trekaroo tested and approved options.
Moab Brewery is a popular spot for a meal and something sudsy after spending the day exploring outdoors. It is family friendly and has a variety of burgers, sandwiches, salads, and Mexican food options on its menu.
Miguel's Baja Grill is a great option for Mexican food. The fish tacos are great, as are the fajitas, burritos, and margaritas.
Quesadilla Mobilla is another great option, especially if you are looking for something that is grab and go. It's a food truck with a permanent location on Main Street that serves up a variety of quesadillas stuffed with all sorts of meats, cheeses, veggies, and sauces.