From the top of Maine's Cadillac Mountain in Acadia National Park, you can watch the sun rise over the Atlantic Ocean. On a breezy summer day the sea, dotted with islands, stretches far to the horizon. Acadia might be Maine's most familiar family-friendly vacation destination, but there are so many more places to visit in Maine.
Families can play on sandy beaches, walk the nature trails beside Cape Elizabeth's Portland Head Lighthouse, or relax on the shores of Casco Bay at Sebasco Harbor Resort. Looking for the best places to visit on your Maine family vacation? Here are our top 10 things to do in Maine with kids, from the mountains to the shore.
Things To Do in Maine With Kids
1. Visit Hands-On Museums on Your Maine Family Vacation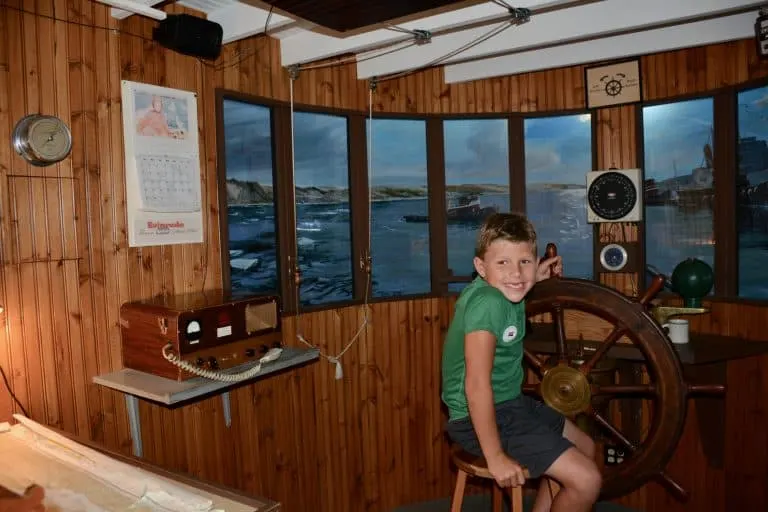 On the shores of the Kennebec River is the small coastal town of Bath. It is home to the modern, kid-friendly Maine Maritime Museum. Here, kids can see how a lighthouse works, play on a ship-themed playground, or learn about the history of the preserved shipyard from friendly volunteers.
A large metal sculpture shows exactly how big the wooden sailing ship Wyoming, constructed on site, actually was a century ago. A diorama shows several large wooden schooners being constructed at the shipyard in the early 20th century.
The Maine Maritime Museum even has various kid-friendly cruises available that tour the Kennebec River daily during the summer season.
Located in the heart of downtown Bangor, the Maine Discovery Museum offers youngsters the opportunity to participate in messy art projects, get creative with recyclable materials, become science detectives, and so much more.
Made up of more than 60 interactive exhibits, aspects of Maine are woven into the experience, giving kids the opportunity to explore concepts such as state's ecosystem and get familiar with its literary world.
If you're in the Portland area, there are three floors of activities waiting for you at the Children's Museum & Theatre of Maine. From the market to the auto repair shop, explore the interconnected services of a kid-sized town, and board an outdoor pirate ship for imaginative adventures on the high sea.
2. Attend a Lobster Bake in Maine with Kids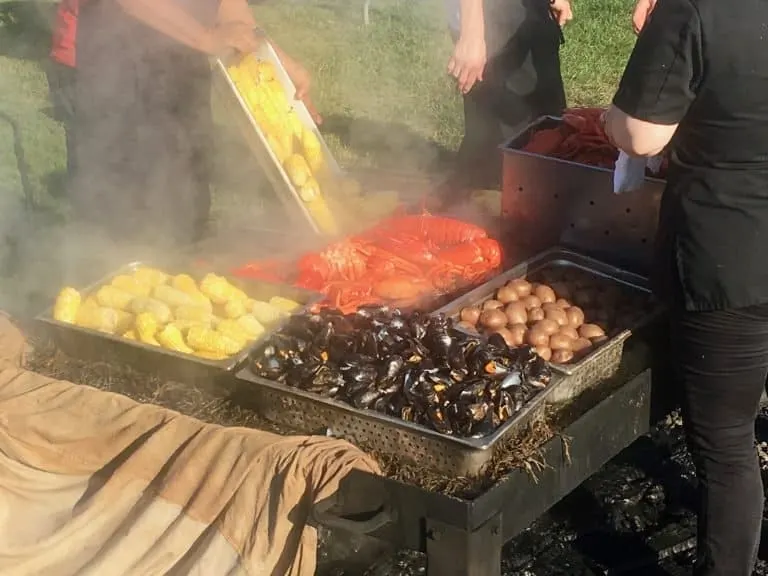 From lobster macaroni and cheese to lobster rolls, there's one thing that you're likely to find on almost every menu in Maine – lobster! Never eaten fresh lobster before? New Englanders assured me that it was easy to go buy my own lobster and cook it.
If you're not quite that adventurous, look for a resort or restaurant that holds a traditional New England lobster bake, like Sebasco Harbor Resort. At a traditional New England lobster bake, lobster is cooked with clams, potatoes, and corn over a fire with seaweed.
Of course, you might also need to find a native New Englander to help you figure out how to eat your lobster. Fortunately, most restaurants serving whole lobster are understanding and will gladly show you how.
Are your kids unsure about giving lobster a try? A unique experience available in many of Maine's popular vacation destinations is go out on a lobster boat and experience the daily routines of a Maine lobsterman.
Whether hauling traps is your thing or your aim is to learn to tell hardshells, shedders, shorts, culls, and keepers apart, several outfitters offer an unforgettable opportunity for your family to participate in bringing the ocean to your dinner plate. After spending a couple hours with a lobsterman, maybe they'll be willing to give lobster a try.
3. Explore a Fort and Take a Trip Back in Time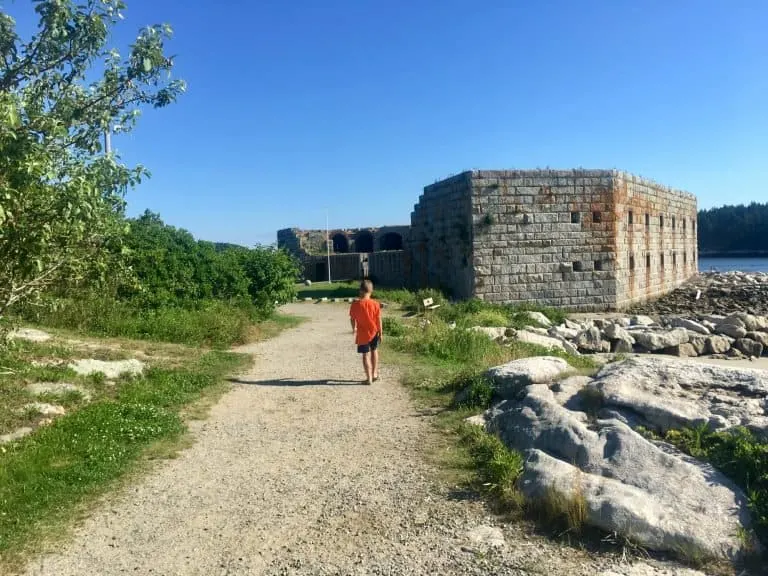 Intended to protect the Penobscot River Valley from a British naval attack, Fort Knox is one of the best preserved military fortifications in New England.
Built between 1844 and 1869, while border disputes between Maine and New Brunswick flared tensions with the British, the fort never saw any actual fighting. Take your young ones on an exploration of the fort's passageways and rooms and encourage them to engage in their own imaginary military exercises.
About an hour's drive from Penobscot near Augusta, you'll find Old Fort Western. The oldest surviving wooden fort in the area, Benedict Arnold used it as a staging point for his assault on Quebec during the American Revolution.
The Kennebec River has also seen it's share of history. If you're visiting Popham Beach, be sure to take the short drive down to the mouth of the Kennebec River to Fort Popham. At Fort Popham you'll find a parking area, more wide sandy beaches, and a bit of a history lesson about this fort built during the Civil War.
Looking for more places to visit in Maine to experience history with your family? Be sure to ride the steam locomotive at the Boothbay Railway Village in Boothbay Harbor.
4. Walk Along Maine's Impressive Coastline on the Marginal Way in Ogunquit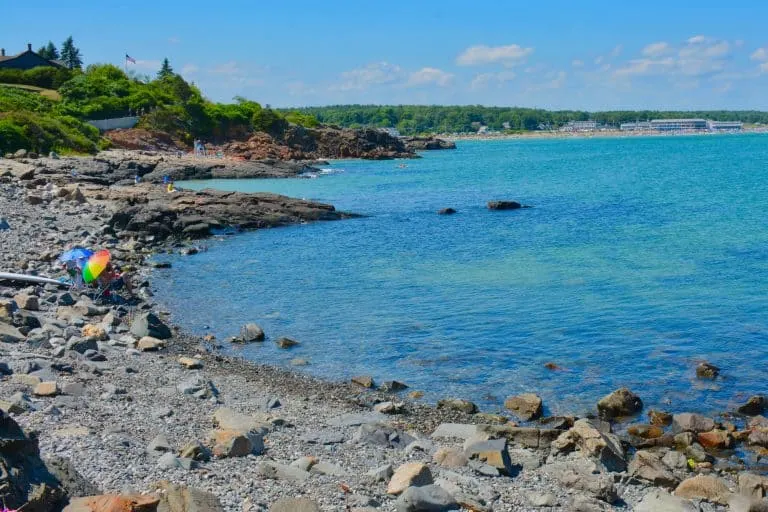 It's not difficult to find a beautiful view along the coast of Maine. It seems that each of Maine's coastal towns has their own walking path alongside the water. Dramatic views and crisp ocean air are the main attractions of Marginal Way, the fenced in walking path that winds its way along the rocky shores from the quaint village of Perkins Cove to Ogunquit Beach.
Thirty memorial benches dot this walk so there are many places to sit and admire the view. Several small beaches provide just enough space for a few families to enjoy the clear water on a sunny day. Don't miss out on the scenic drive south from Ogunquit on Shore Road through Cape Neddick to York Beach.
The charming town of Camden along the shores of Penobscot Bay offers pathways and bridges lined with flowers as well as charming shops and seafood restaurants. For an even better view, go to Camden Hills State Park just outside of town.
Families can either drive or walk to the top of Mount Battie. At the top, families will find one of the best views in Maine overlooking Camden and the islands dotting Penobscot Bay.
To the north you might even be able to spot Cadillac Mountain in Acadia National Park or Mount Katahdin, the northern terminus of the Appalachian Trail, in Baxter State Park.
5. Enjoy the View of Maine's Fishing Villages from the Water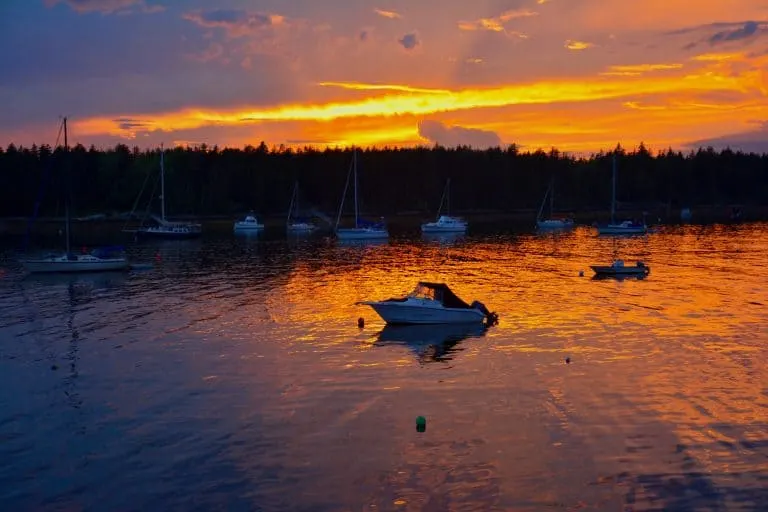 There is no better way to experience the coast of Maine than to get out on the water. Most coastal towns and fishing villages offer tours for families looking to cruise the harbor. In Portland families can hop on the Mailboat Run of the Casco Bay Lines and ride the route traveled by the working boats carrying passengers, mail and freight to the islands of the Casco Bay.
My favorite way to experience Maine is paddling a kayak past fishing villages and around the tiny coastal islands. In a kayak, families can watch sea birds and ducks swimming in the water and osprey soaring above.
Looking for a place to kayak in Maine? Consider Sebasco Harbor Resort on Casco Bay about an hour north of Portland. Imagine dropping your younger kids off at camp at 9am, then enjoying a couple hours quietly kayaking past fishing villages on the bay.
There's even a historic island to paddle around. If you have teens, they might even be willing to paddle board with you! Like many other resorts and hotels on the coast of Maine, Sebasco Harbor Resort also offers daily, family-friendly cruises around the nearby islands.
Boothbay Harbor is another great fishing village in Maine. Here are some fun things to do in Boothbay Harbor, ME.
Trekaroo is a trusted Booking.com affiliate and offers the lowest hotel rates guaranteed. Book your lodging with us and help our small business.
6. Take a Family Photo at Portland Head Lighthouse in Cape Elizabeth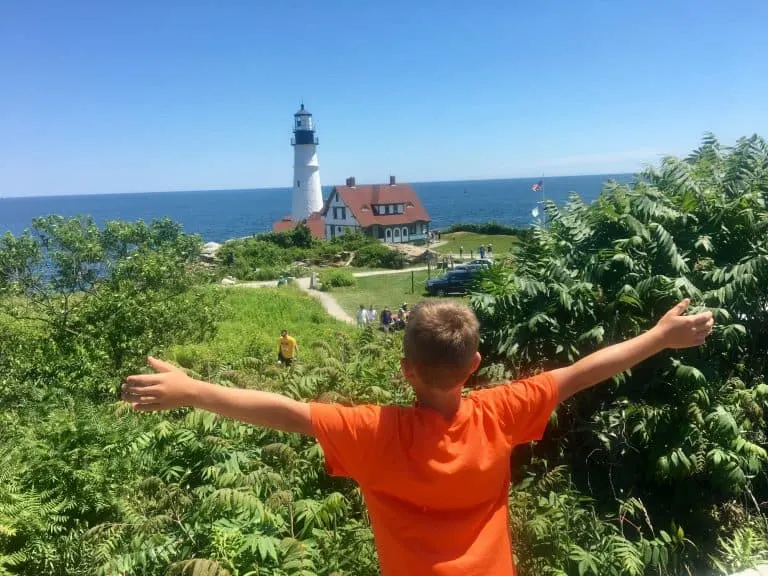 More than five dozen lighthouses keep watch over Maine's rugged coastline. While some are still operational and not open to the public, many offer opportunities to experience life watching over vessels along the often unpredictable sea.
One of the most photographed lighthouses in Maine is the Portland Head Lighthouse, located at Fort Williams Park in Cape Elizabeth. This lighthouse is still operated by the Coast Guard and therefore not open for tours. However, an adjacent museum allows visitors to inspect various lens used in lighthouses.
There are trails and picnic areas to enjoy at Fort Williams Park. It is also a prime spot for watching ships from all sorts of international locations enter Portland Harbor.
West Quoddy Head Lighthouse is perched on the easternmost tip of the United States, this light house is often the first object in the country to be touched by the rising sun's rays. Famously painted in distinctive red and white stripes, this 49-foot tall structure is part of Quoddy Head State Park.
7. Raft the Kennebec River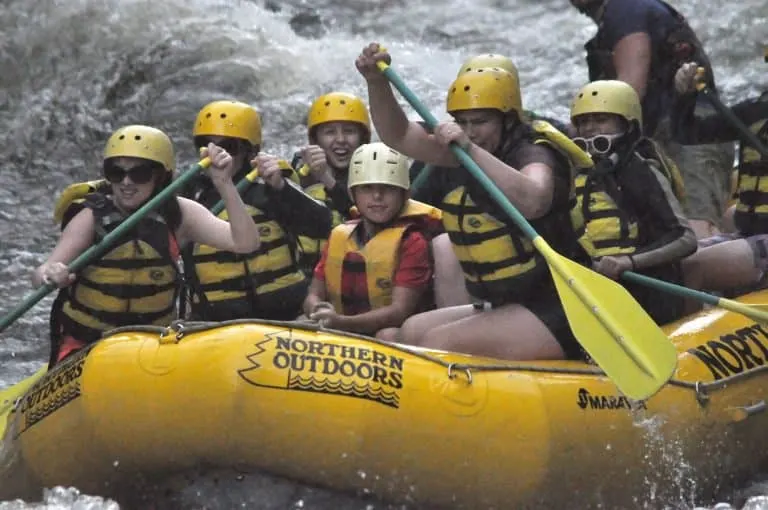 There's so much more to Maine than its coastline. Families visiting Maine must head inland to its rivers, lakes, and mountains to fully experience everything that the United States'most northeastern state has to offer. For the adventurous, the Kennebec River Valley is a truly unique and beautiful destination.
Northern Outdoors is the place to go to experience the adventurous side of Maine in any season. From snowmobiling in the winter to whitewater rafting in the summer, the thrills of Maine's Kennebec Valley create the most memorable family vacation memories.
Starting at about age 10, children can raft the Class III-IV section of the Kennebec River with Northern Outdoors. There is a river float available for families with younger children.
My son and I rafted the Kennebec in the summer rain. The hillsides covered with trees could not have been more vibrantly green. The water on the Kennebec is released from a dam at a certain predictable volume each day. So each day on the river equally thrilling and refreshing even in the middle of summer.
8. Visit One of Maine's Sandy Beaches
The coastline of Southern Maine is dotted with a variety of soft, sandy beaches and gentle surf. From York Beach in the south to Acadia's Sand Beach in the north, there are all sorts of sandy beaches to enjoy in Maine.
Parents of small tots love Mother's Beach in Kennebunk. The small beach is located in a sheltered cove and features shallow pools of water created by the tide. Among the offerings that draw young families are a playground on the beach, on-duty lifeguards and its location, a short walk from town.
York also has a beautiful stretch of coastline consisting of several villages: York Village, York Harbor, Cape Neddick, and York Beach. Visitors to York Beach area enjoy fabulous views including that of the Nubble Lighthouse just offshore. A playground, a pavilion for enjoying summer concerts, basketball courts and more are just a short walk from the sandy shores.
The area also boasts a candy store that has become a beloved summer tradition. The Golden Rod has been churning out homemade saltwater taffy for more than 115 years. Families love watching the taffy makers stretch sweet treats in the big picture windows.
Ready to plan your own trip to Maine? Don't miss our 7-day Maine Road Trip Itinerary.
9. Go Leaf Peeping or Snowmobiling or Skiing While Enjoying the Seasons in Maine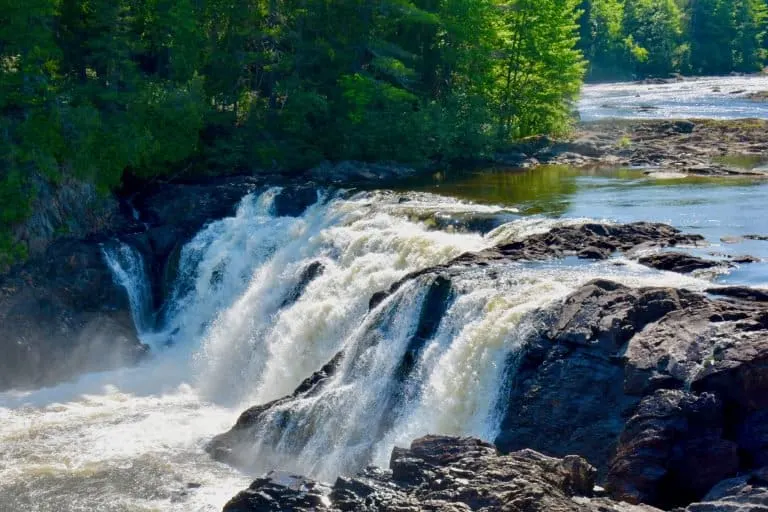 Yes, Maine is beautiful in the summertime. Families can take the short hike to Moxie Falls, one of the the tallest waterfall in New England, then wander upstream a bit to find a swimming hole to enjoy. Or, drive the gravel road out to Grand Falls for a short hike and a swim in the river. Be sure to be on the lookout for moose. US-201 through The Forks is often referred to as "Moose Alley."
In the fall, there is no better place for leaf peeping than Moosehead Lake and Baxter State Park. There are plenty of peaceful places for hiking and fishing in Maine's mountain. Can't seem to find that elusive moose? Take a moose safari on the lake either first thing in the morning or at dusk to spot all sorts of Maine wildlife.
Want to experience winter in Maine? There are many snowmobile trails crisscrossing Maine's wilderness. Or, head to Sugarloaf Mountain for skiing. During the winter, families enjoy the 1,000 acres of developed ski and snow terrain to snowshoe, ski, and snowboard at Sugarloaf Mountain.
10. Bike the Carriage Road of Acadia National Park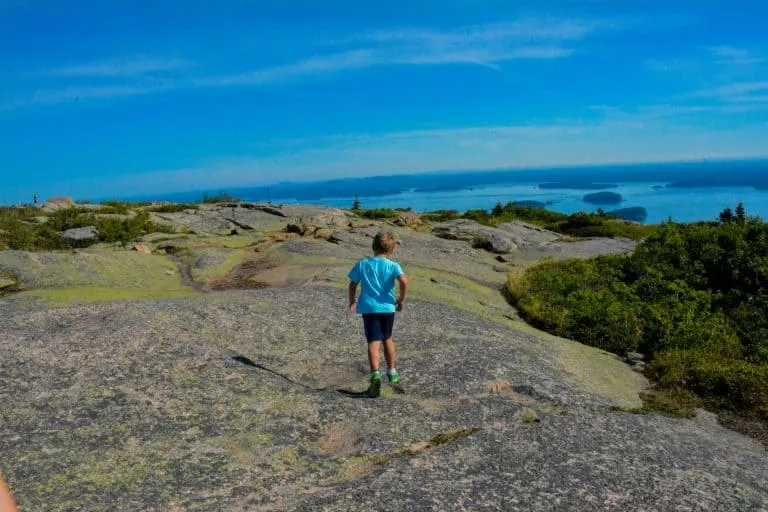 Visitors come to Acadia National Park to hike its granite peaks, bike its historic carriage roads, stroll along the shores Jordan Pond, and hear Thunder Hole roar. Acadia National Park is one of the best family-friendly New England vacation destinations for good reason- there is so much to do on Mount Desert Island!
Families can take whale watching tours out of Bar Harbor to spot humpback whales. Or, children can explore the rocky coast at low tide to find crabs and other sea life. All generations of the family can eat a meal together on the lawn at Jordan Pond House enjoying the tasty popovers with blueberry jam.
Want to experience a more historical version of Acadia's maritime fun? You can book a two-hour tall ship cruise from Bar Harbor.
Looking for more places to visit in Maine's Acadia National Park? Check out the Best Things to Do in Acadia National Park with Kids.
Find things to do with kids near you!
From coast to coast, we're determining the Top 10 Things to do with Kids in each state of our great nation.
Many thanks to Kristine Dworkin who researched and wrote the original version of this article in 2012.
Disclosure: The author was hosted by Northern Outdoors and Sebasco Harbor Resort on a trip arranged by Visit Maine. All opinions are her own.