Last Updated on
Trekaroo generates revenue from purchases made through links to our partner brands.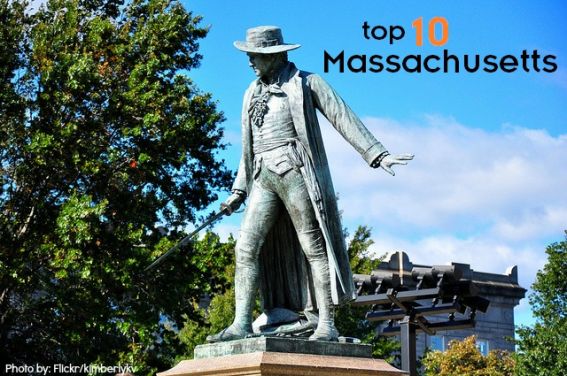 Historically and culturally significant in American history, traveling in Massachusetts can be like making your way through a living history book. Names like Paul Revere and Samuel Adams, as well as places like Plymouth and Bunker Hill, mark the maps travelers utilize. There is both fun and learning to be had in your explorations of this commonwealth, so let's get to it!
10. Beat the Heat Like a Frog
The Frog Pond is a terrific place to beat the heat during a humid Boston summer. Located in the Boston Common just off Beacon Street, the Frog Pond features a 70 foot spray plume and a wading pool for overheated youngsters. The spray plume and nearby concession stand are open daily from 11AM-6PM from July through Labor Day. If water activities aren't on your agenda, you'll find all sorts of swings, slides and climbing activities just across the path at the Tadpole Playground.
RELATED: Explore the top 10 things for families to do in Boston.
9. Bone Up on Natural History
It's easy to see why the Harvard Museum of Natural History is the university's most visited museum. With its enormous collection of minerals, meteorites, dinosaurs and other animal remains from all over the world, your future gemologists, paleontologists, and marine biologists are going to freak out! Check out a more than 1600 lb amethyst, get up close with three whale skeletons and be amazed by the fossilized skeleton of a 2,200 lb Glyptodont (a relative of the armadillo). There are more than 12,000 specimens to see here! Amazing! On weekends the museum hosts a nature story time where they feature material to help young visitors under six engage with the exhibits.
You look hungry! Find a place to eat in Cambridge.
8. Enjoy Some Family Time
The largest town on Martha's Vineyard, the seaside village of Edgartown, boasts outdoor activities like fishing, swimming and hiking as well as a plethora of nautical legends. Whether you choose to play on pristine beaches like the popular South Beach, enjoy stunning lighthouses, commune with the animals at the town's wildlife sanctuary or get lost shopping the unique boutiques and stores lining its charming streets, Edgartown will provide just the place to slow down, relax and enjoy some valuable family time. Oh and if by chance Edgartown looks familiar to you, that's because it was used as the main shooting location for the adorable sea-faring village in Steven Spielberg's blockbuster, Jaws. Hey, what's that in the water?
Discover all Martha's Vineyard has to offer.
7. Take a Pirate Adventure in Cape Cod
Photo by: Trekaroo/GPP_MA
Ahoy there, matey! Gather your hearties and board the Sea Gypsy, for a swashbuckling adventure that includes exploring pirate maps, hoisting up sunken treasure and shooting water cannons. Crew members get dressed up and tattooed just like pirates before taking part in team skill building activities including defending the ship. They even hoist the colors — that's pirate speak for, "raise the flag"— before preparing to fend off evil pirates. Shiver me timbers!
Got a pirate in your crew? There's booty to be plundered all over the nation, check out more pirate adventures.
6. Get Schooled in Search and Rescue
Photo by: Trekaroo/GPP_MA
One needs to look no further than the surrounding waters off Nantucket Island to find evidence of its rich maritime history. Thanks to bad weather and treacherous sandbars, this area was dubbed the "graveyard of the Atlantic" taking more than 700 vessels to its depths. Harrowing rescues were attempted when these incidents occurred. The Nantucket Shipwreck and Lifesaving Museum not only chronicles those shipwrecks, it also preserves the memory of those heroic islanders who attempted to rescue those in trouble. Through original photographs and artifacts from sunken ships, visitors get a great sense not just of maritime history but the evolution of Nantucket's local maritime rescue efforts through groups such as the Massachusetts Humane Society, the United States Life-Saving Service and the Coast Guard.
Discover other activities that may tickle your fancy in Nantucket.
5. Take in a Puppet Show
Photo by: Trekaroo/GPP_MA
Housed in a historic brick building in Brookline Village, the Puppet Showplace Theater brings classic stories, pirate adventures and tales with strong morals to life — and they've doing it for 37 years! Reservations are highly recommended as the theater seats only 95. While shows are scheduled here almost daily, birthday parties, field trips and other special events are among the offerings in this enchanting place. The Puppet Showplace is so unique that up and coming puppeteers also flock here to attend an acclaimed training program and workshops. Find a hotel and set up a home base in Brookline.
4. Salem Witch Museum
Photo by: Trekaroo/mamacheaps
If you're traveling with older children, the Salem Witch Museum will certainly grab their attention and may even entice them into learning more about early American history. This overview of the Salem Witch Trials offers a dramatic lesson to say to the least. Visitors travel back to 1692 when the area was gripped by a terrorizing fear that was fueled by superstition. Salem townspeople were accused of witchcraft and imprisoned, even executed as a result. Before all was said and done, nineteen men and women died by hanging, one man was crushed to death and seven others died in prison. This strange chapter in our nation's history could prove to be a good way to illustrate the pitfalls of judging others and bullying to your tweens and teens. Have you been to the Salem Witch Museum? Please dish on your experience.
3. Tour Fenway Park
It's where the Babe pitched and the Red Sox Nation gathers its citizenry. If your family loves the great American pastime, this 50-minute walking tour through history in one of baseball's most beloved parks will be a highlight in your visit to Boston. Led by an official Fenway Park guide, the tour includes a visit to the "Green Monster," as the seating area atop the 37 foot tall wall a little more than 300 feet from home plate is affectionately known. If you happen to be visiting during baseball season, take your little ones out to the ball game for a fun nostalgic afternoon filled with peanuts and crackerjacks! What's your favorite kid-friendly baseball stadium? Write a review.
2. Visit the First US Colony
Photo by: Trekaroo/GPA_MA
Engaging and experiential, Plimoth Plantation gives visitors the opportunity to see life in the 17th century through the eyes of two distinct yet interwoven cultures — English and Native American. Actors depicting real residents of the first European settlement in the United States and the Wampanoag tribe, residing nearby, interact with visitors who are encouraged to ask questions about life in Plymouth. Enjoy close up encounters with farm animals, as well as demonstrations on everything from roofs to repairing fences. Your family is in for an authentic flavor for how the first settlements in our country were established. Explore Plymouth and all the adventures it has to offer.
1. Walk the Freedom Trail
Photo by: Trekaroo/Nene
American history will unfold before your eyes as your family hikes the Freedom Trail, a 2.5 mile red brick walking tour that winds its way through many iconic historical markers. Imagine visiting Paul Revere's house or standing on the site of the Boston Massacre. Bask in the shadow of the Old North Church where Revere immortalized the phrase, "One if by land, two if by sea." When your kids set eyes on the site of the first public school in America, they'll know who to blame for their homework. And, you'll swear you can hear the echoes of General Prescott's command, "Don't fire until you see the whites of their eyes," at the Bunker Hill Monument. We've barely scratched the surface of what the Freedom Trail has to offer but rest assured, you don't need to be a history buff to enjoy this tour. This is the activity you shouldn't miss if you're visiting Boston. Want to know more before you go? Read family-friendly reviews about the Freedom Trail.
What state do you want to visit next?
From coast to coast, we're determining the Top 10 Things to do with Kids in each state of our great nation. Head here to see what tops the list in your favorite state.