There are so many great things to do in Massachusetts with kids! Historically and culturally significant in American history, touring Massachusetts can be like making your way through a living history book.
So what are the best things to do in Massachusetts with kids? Read on to discover our top picks for where to go on a Massachusetts family vacation.
Fun Things to do in Massachusetts with Kids
Spend Time in and Around Boston Common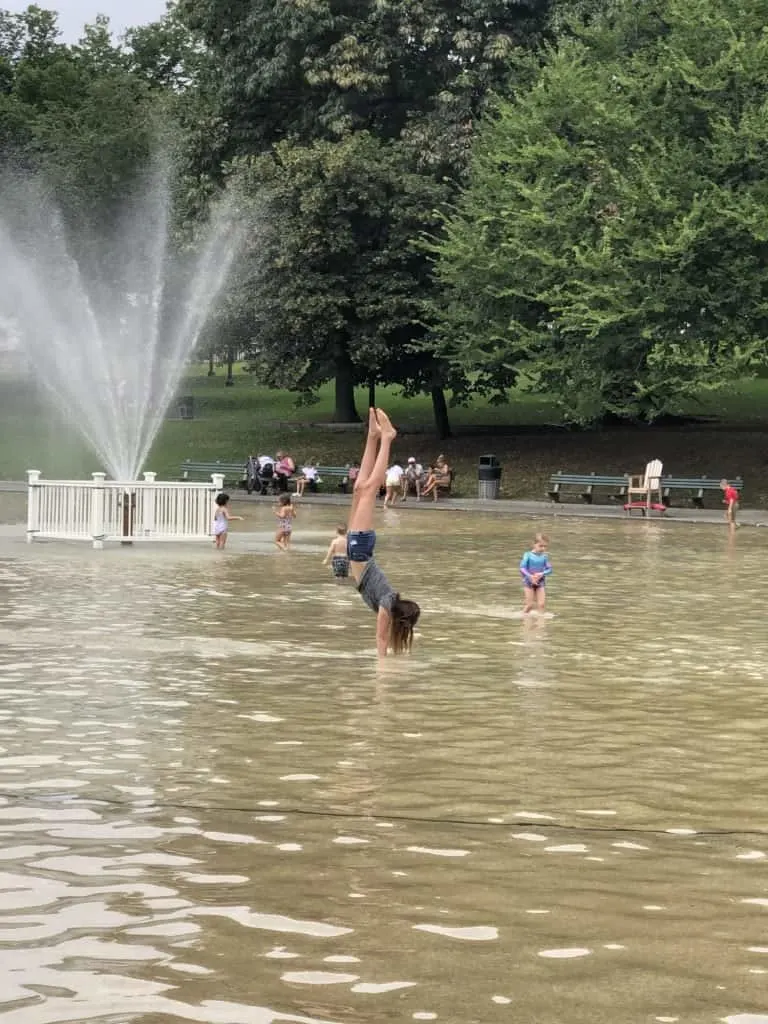 Every great city needs a great city park and the Boston Common, a gathering place for hundreds of years, most certainly fits the bill. Historic buildings surround the oldest city park in America, including the Boston Omni Parker House Hotel, home to the original Boston Cream Pie and Parker House Rolls.
The centerpiece of Boston Common is the Frog Pond , a terrific place to beat the heat during a humid Boston summer. It features a 70 foot spray plume and a wading pool for overheated youngsters.
During the winter months, frog pond becomes an outdoor ice skating rink. Visiting this iconic park should be near the top of your list of things to do in Massachusetts with kids.
If water activities aren't on your agenda, you'll find all sorts of swings, slides and climbing activities just across the path at the Tadpole Playground. The playground is gated, great for herding little ones.
The Public Garden across the street is beautifully landscaped and features swan boat rides as well as the famous bronze statue of Mrs. Mallard and her ducklings.
Explore our favorite things to do in Boston with kids.
Save 42% on tickets to Boston's most popular attractions. Trekaroo is a trusted CityPass affiliate.
Experience a New England Getaway in the Berkshires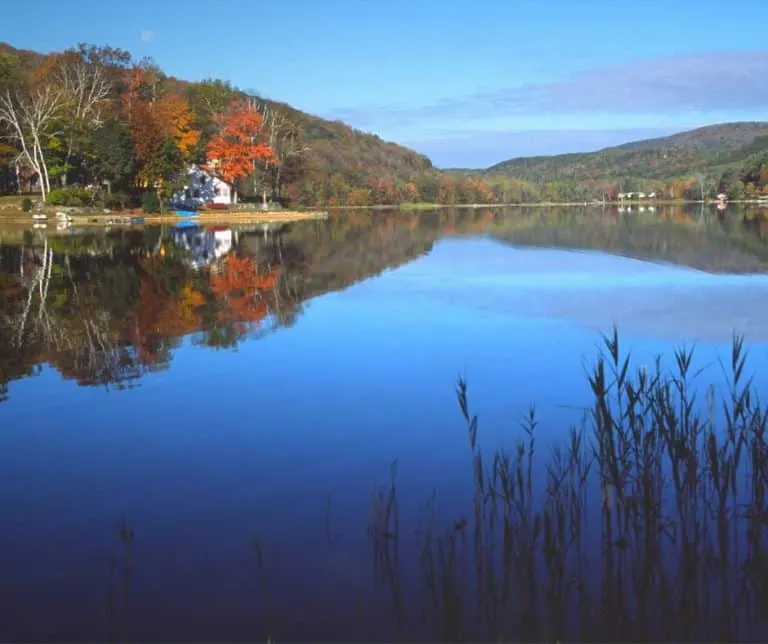 Life in western Massachusetts is much different from the urban coastal atmosphere of the east. The Berkshires are a rolling mountain range, filled with classic little towns that seems to have appeared from a Norman Rockwell painting.
As a matter of fact, Rockwell was from the region and there is a museum dedicated to him near Stockbridge. The Norman Rockwell Museum houses the largest collection of Rockwell's art, as well as original Rockwell's studio.
Gotta hankering for adventure? Maybe whitewater is beckoning. Try Zoar Outdoor for some family adventure. They offer family float trips or class II trips for beginners on the Deerfield River.
For more subdued water fun, take a narrated trip on the Quinnetukuet Riverboat and keep an eye out for nesting bald eagles.
A ride on the Berkshire Scenic Railway is a nice way to take in the scenery of the region, and the Berkshire Scenic Railway Museum is a good place to learn about the region's railroad history.
If you love living history, a stop at the Hancock Shaker Village in Pittsfield is a must. The village is a working farm and museum. The Discovery Room at Hancock Village is a fun and informative way for families to learn about The Shakers and their customs.
Kids will have to opportunity to dress in authentic Shaker clothing, weave on a traditional loom, weave the seat of a traditional Shaker chair, milk a mechanical cow, and watch the workings of a real beehive.
The Berkshires offer several ski mountains for outdoor family fun. Jiminy Peak presents great family skiing during the winter, and a mountain coaster and aerial course in the summer. Likewise, in addition to great skiing, Berkshire East has a fun zip lining excursion available seasonally.
Take in the Beauty of Martha's Vineyard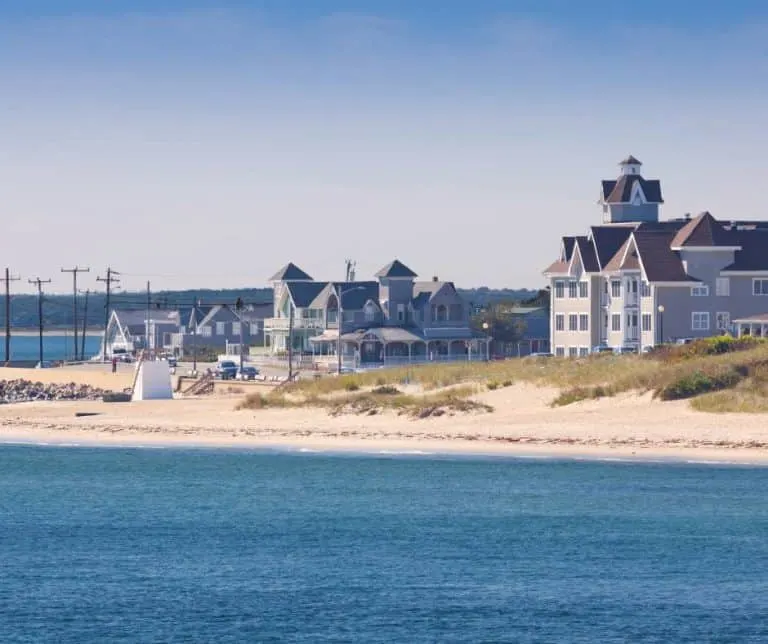 The largest town on Martha's Vineyard, the seaside village of Edgartown, boasts outdoor activities like fishing, swimming, and hiking, as well as a plethora of nautical legends.
Whether you choose to play on pristine beaches like the popular South Beach, enjoy stunning lighthouses, commune with the animals at the town's wildlife sanctuary or get lost shopping the unique boutiques and stores lining its charming streets, Edgartown will provide just the place to slow down, relax and enjoy some valuable family time.
Oh and if by chance Edgartown looks familiar to you, that's because it was used as the main shooting location for the adorable sea-faring village in Steven Spielberg's blockbuster, Jaws. For some great fun outdoors, hit the trails at the Felix Neck Wildlife Sanctuary which meander past ponds, woods, and salt marshes.
Bike riding is a popular activity on Martha's Vineyard. You can rent bikes or bring your own. Peddle along the flat path on Beach Road or take a ride out to the Aquinnah cliffs and visit the charming, red brick Gay Head Lighthouse.
You can even take the Menemsha Bike Ferry across to the cute fishing village and enjoy a fresh catch for lunch.
Summer on the Cape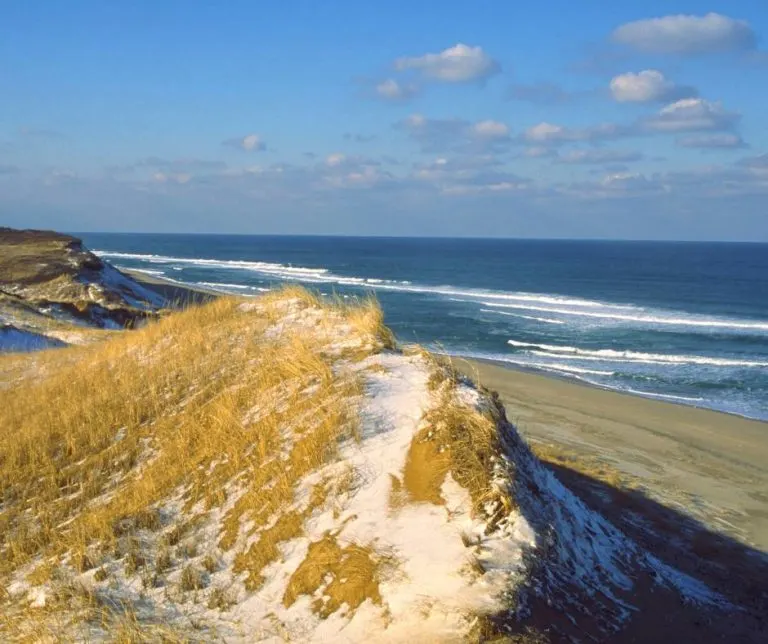 Cape Cod National Seashore is home to more than 40 miles of unspoiled New England beaches. This a classic New England vacation destination, and opportunities for wildlife viewing, hiking, kayak trips, and historical lighthouse tours abound.
The northern most part of the Cape brings you to Provincetown, a small town known for its arts vibe, tasty food, and whale watching excursions. Tourgoers are almost certain to see the massive whales during the summer months.
Gather your hearties and board the Sea Gypsy in Hyannis for a swashbuckling adventure that includes exploring pirate maps, hoisting up sunken treasure and shooting water cannons.
Crew members get dressed up like pirates before taking part in team skill-building activities including defending the ship. They even hoist the colors – pirate speak for "raise the flag"- before preparing to fend off evil pirates.
For more pirate-themed fun, try mini-golf is at Pirates Cove in South Yarmouth, home to two 18-hole mini-golf courses. The Whydah Pirate Museum in West Yarmouth is also fun. There is a scavenger hunt, pirate treasure, and even an authentic shipwreck.
If it is fresh seafood that you crave, head to Wellfleet and try your hand at shell fishing. You can pick up a shellfish license and hunt for clams and oysters on Wednesdays and Sundays during the summer months.
Looking for a perfect beach day? You can find it on Sandy Neck Beach, Coastguard Beach, and Mayflower Beach, among many others. Visit in the off season? Here are fun things to do on Cape Cod.
Experience History and Relaxation on Nantucket Island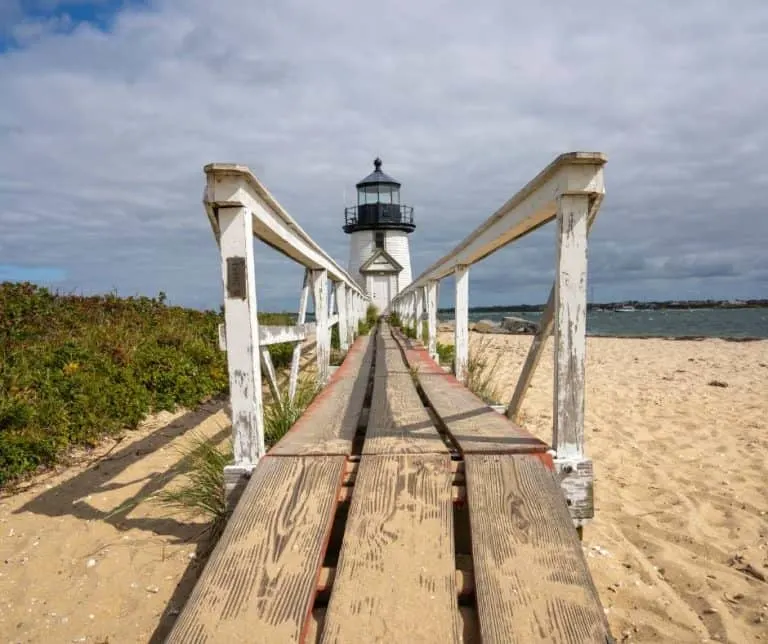 Thoughts of a summer beach vacation conjure up ideas of family time, gentle breezes, sandcastles and waves, shingled cottages, lazy days, and amazing sunsets. One of the best things to do in Massachusetts with kids is pay a visit to Nantucket Island.
Nantucket is a historic whaling town. At one time during the middle 1800's, when whaling was at its peak, Nantucket was the 3rd largest metropolitan area in Massachusetts.
The Whaling Museum includes a self-directed tour where you can learn the impetus behind Moby Dick and view the suspended skeleton of a 40-foot whale that washed ashore in 1998.
One needs to look no further than the surrounding waters off Nantucket Island to find evidence of its rich maritime history. Thanks to bad weather and treacherous sandbars, this area was dubbed the "graveyard of the Atlantic" taking more than 700 vessels to its depths.
The Nantucket Shipwreck and Lifesaving Museum not only chronicles those shipwrecks, it also preserves the memory of those heroic islanders who attempted to rescue those in trouble.
If it is beach time you crave, there are many different types of beaches on which to claim your spot in the Nantucket sand. Children's Beach is a low-wave area best suited for small kids. Jetties Beach provides kids with snorkeling opportunities.
Here is a wonderful three-day Nantucket itinerary.
Have a Literary Adventure in Concord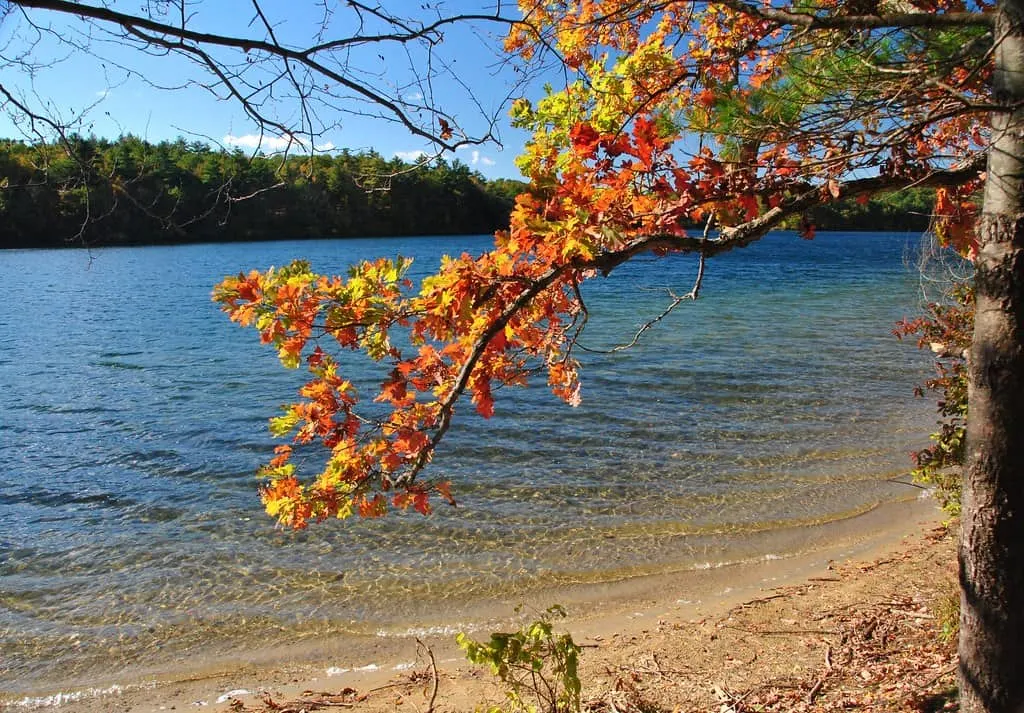 Literary families will enjoy a pilgrimage to Concord, about half an hour northwest of Boston and home to two significant literary sites.
Walden Pond State Reserve is home to Henry David Thoreau and inspiration for his influential book Walden.
It is a great place for families enjoying a swim in the pond during the summer or bask in the beauty and serenity Thoreau described so vividly during the fall and winter months. Easy hiking trails make this the perfect place for families to enjoy fall colors or to try cross-country skiing for the first time.
The Orchard House, home to Louisa May Alcott and the setting of her beloved novel, Little Women is also nearby and open for tours.
While in Concord, a stop at the birthplace of the American Revolution is a must. The Old North Bridge may seem like an unassuming spot for young ones, but those who have studied about the American Revolution will grasp the significance of the spot where the "shot heard around the world" was fired.
Discover the Bewitching History of Salem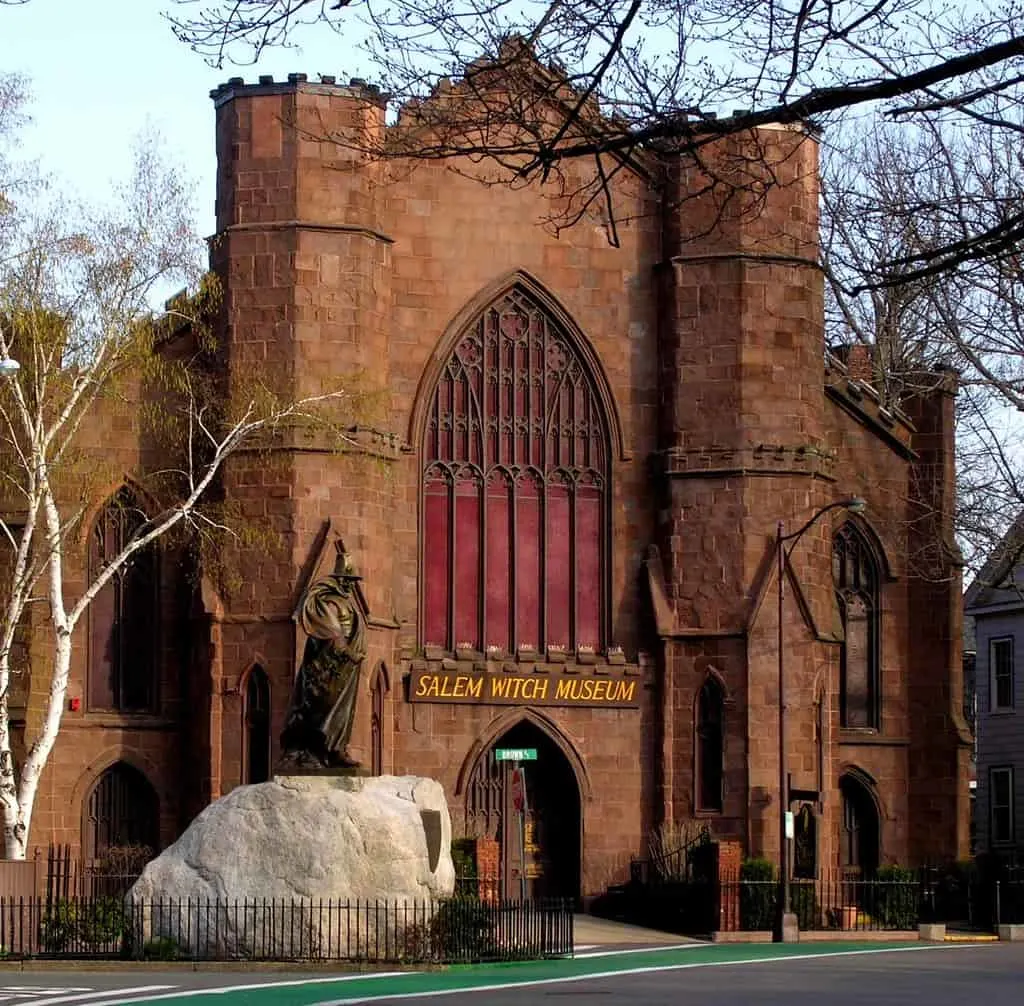 If you're traveling with older children, Salem is a great destination to learn the spooky (and grizzly) history of the Salem Witch Trials. The Salem Witch Museum will certainly grab their attention and may even entice them into learning more about early American history.
This overview of the Salem Witch Trials offers a dramatic lesson to say to the least. Visitors travel back to 1692 when the area was gripped by a terrorizing fear that was fueled by superstition. Salem townspeople were accused of witchcraft and imprisoned, even executed as a result.
Before all was said and done, nineteen men and women died by hanging, one man was crushed to death and seven others died in prison. This strange chapter in our nation's history could prove to be a good way to illustrate the pitfalls of judging others and bullying to your tweens and teens.
Beyond the museum, families will enjoying following the Salem Heritage Trail; visiting the legendary House of Seven Gables; seeing the replica tall ship, the Friendship of Salem, at the Salem Maritime National Historic Site; and taking a boat tour on the replica schooner Fame of Salem.
See the Red Sox Win at Fenway Park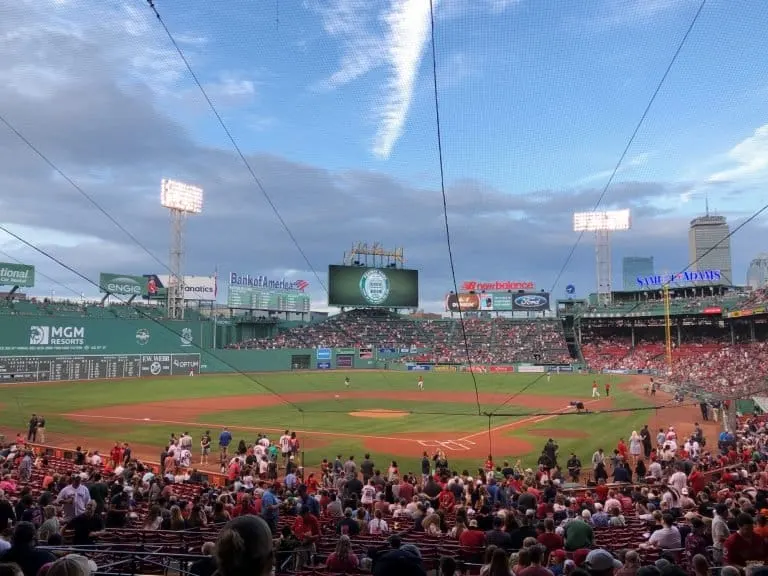 Most of our country's classic ballparks have been torn down and replaced by bigger and more sophisticated stadiums, but the people of Boston would rather lay down and die than see their beloved Fenway Park disappear.If your family loves the great American pastime, a walking tour of the park is an essential experience.
Led by an official Fenway Park guide, the tour includes a visit to the "Green Monster," the notrious 37-foot wall in left field. If you happen to be visiting during baseball season, don't miss the opportunity to take your kids for a fun nostalgic afternoon filled with peanuts and crackerjacks (and hopefully a Sox win!).
If football is your passion, head to Foxborough and watch the New England Patriots play at Gillette Stadium. If you aren't in town for a home game, you can still visit Patriot Place, and open-air shopping and entertainment center, and the Patriots Hall of Fame.
Experience Living History at Plimoth Plantation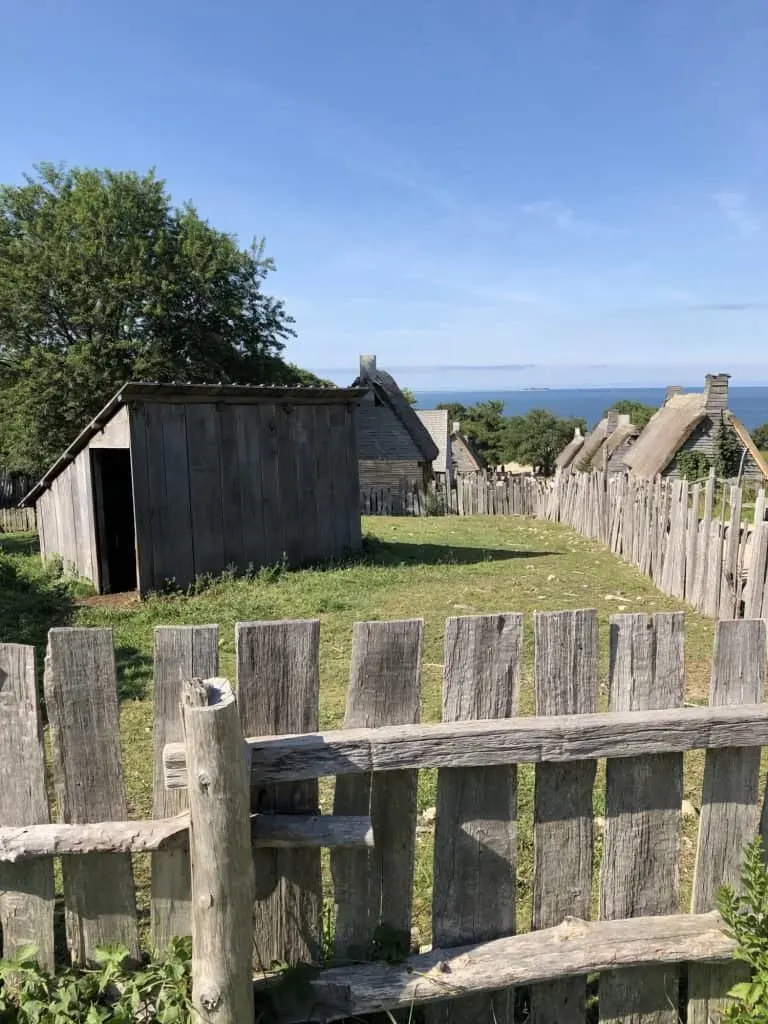 Engaging and experiential, Plimoth Plantation gives visitors the opportunity to see life in the 17th century through the eyes of two distinct cultures, British colonists and Native Americans, in a family-friendly way.
Actors depict real residents of the first European settlement in the United States. You can tour recreated homes and buildings, enjoy close up encounters with farm animals, and participate in demonstrations on everything from making bread to repairing fences to marching with long, sharp pikes to help defend the colony. The lessons learned will stick with your kids much more than anything they will ever learn in a textbook.
At the Wampanoag village, docents are not in character but are still happy to answers all your questions about Native American life back in the 1600s. It is very interesting to tour traditional dwellings and watch Native Americans demonstrate their traditions to guests.
Down at the waterfront, don't miss the chance to walk through a recreated Mayflower ship and see the actual Plymouth Rock (it is much smaller than most expect). There is also a grist mill a short walk from the harbor which is worth visiting.
Walk the Freedom Trail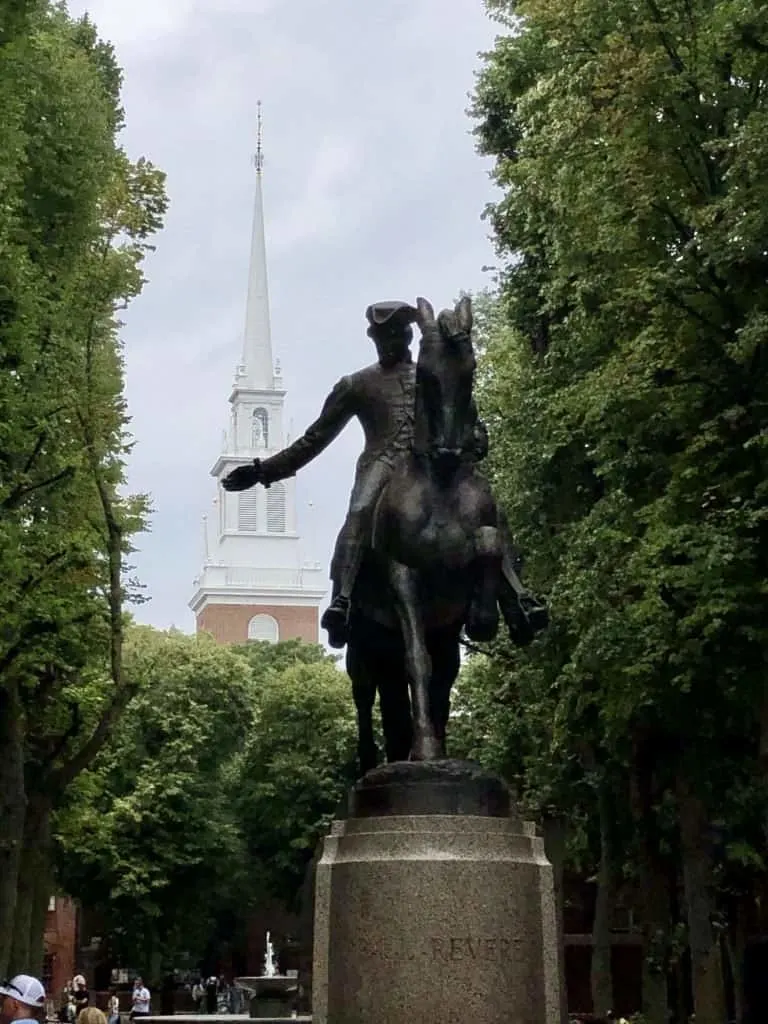 American history will unfold before your eyes as your family walks the Freedom Trail, a 2.5 mile red brick walking tour that winds its way through many iconic historical markers. A Junior Ranger booklet and tour map can be picked up at Fanueil Hall, or you can book a walking tour with a guide.
Imagine visiting Paul Revere's house or standing on the site of the Boston Massacre. Bask in the shadow of the Old North Church where Revere immortalized the phrase, "One if by land, two if by sea."
When your kids set eyes on the site of the first public school in America, they'll know who to blame for their homework. And, you'll swear you can hear the echoes of General Prescott's command, "Don't fire until you see the whites of their eyes," at the Bunker Hill Monument.
Take the bridge across the Charles River to visit the Navy Yard's most famous resident, the USS Constitution, aka "Old Ironsides". Then enjoy hands-on historical reenactments on the replica ship of the Boston Tea Party Museum.
Trekaroo Tip: Be sure to make time to make a pit stop at Quincy Market to eat. We love the fresh lobster rolls and the legendary slices from Pizzeria Regina. The original Pizzeria Regina is also worth visiting if you love amazing pizza. Just a couple blocks off the Freedom Trail, it is not far from Paul Revere's house in the Old North End.
Find things to do with kids near you!
From coast to coast, we're determining the best things to do with kids in each state and dozens of cities in our great nation.