From world-class skiing destinations to savory hot-springs soaking spots, there are plenty of amazing mountain towns in Colorado to explore.
As a Colorado native and author of the new guidebook, Colorado Family Outdoor Adventure, I have quite a bit of expertise in this field and am eager to share 15 of my favorite mountain towns throughout the Centennial State. The best mountain towns in Colorado each have something unique to offer families.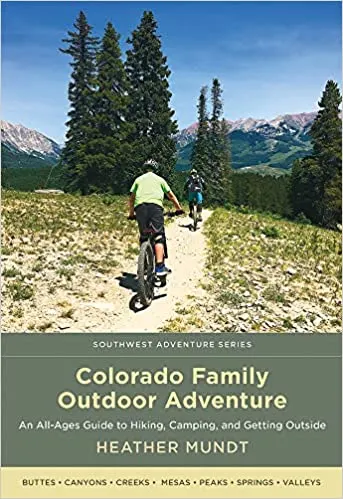 15 Best Mountain Towns in Colorado
Aspen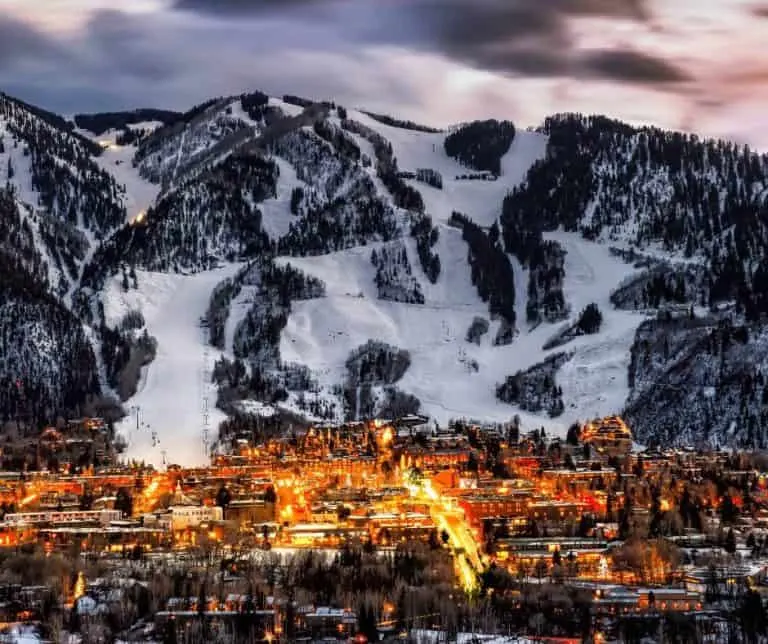 Elevation: 8,000'
Population: 6,949
Can't-miss highlight of this Colorado mountain town: This area is home not to just one ski but four world-class ski resorts: Aspen Highlands, Aspen Mountain, Buttermilk, and Snowmass, all accessible with one lift ticket!
Once a summer hunting spot for the Ute tribe, this charming hamlet along the Roaring Fork River became a mining boomtown in the 1880s. Skiing brought it back from the 1893 silver-market crash, starting in in 1947 with Aspen Mountain; three more resorts developed over the next two decades.
As John Denver best described Aspen, it's a town of cathedral mountains and clear-blue mountain lakes that inspire a "Rocky Mountain High."
Insider tip: Alleged to be the state's most photographed peaks, Maroon Bells Scenic Area (located about 12 miles southwest of Aspen) features the two, red-hued "bells": Fourteeners (14,000 feet+) Maroon and North Maroon Peaks, anchored by stunning Maroon Lake.
The area also offers several popular hikes: a one-mile route on the Maroon Lake Scenic Trail, beginning at the parking lot and following along the lake; the 3.8 roundtrip hike to Crater Lake (difficult and crowded); or the Maroon Creek Trail, roughly 6.4 miles roundtrip, an easier trek that's less trafficked.
Stay here: The Aspen Meadows Resort is home to the world-renowned Aspen Institute, staffing its own curator to oversee the resort's hundreds of works of art and indoor galleries/exhibitions (complimentary guest tours available). The summer Aspen Music Festival and School performs on the campus, a favorite for families. Arrange for a packed picnic/wine for the occasion.
Breckenridge
Elevation: 9,600'
Population: 5,186
Can't-miss highlight of this Colorado mountain town: Opened in December 1961, Breckenridge Ski Resort comprises Peaks 6–10 spanning the southern half of the Tenmile Range.
This spot along the Blue River was inhabited for hundreds of years by the Ute tribe until white settlers arrived in 1859 for Colorado's Gold Rush. After several "booms," Breckenridge was at risk of becoming a ghost town by the 1940s during World War II. Saved in 1961 with the opening of Peak 8 Ski Area, "Breck" is Colorado's largest historic district and a family favorite destination.
Known for decades as a family destination, Breckenridge Ski Resort offers plenty of wide, gentle terrain for beginners (mostly Peaks 8 and 9) and blue groomers (on Peak 7). More experienced skiers and riders can head to Peak 6 (added in 2013) for intermediate bowls and hike-to chutes for experts.
Insider tip: Breckenridge is a fantastic year-round destination but especially in September during the largest Oktoberfest street party in Colorado's Rockies.
Stay here: Located at the base of Peak 9, the Gravity Haus concept offers several locations throughout Colorado's mountain regions, focusing on connecting people who see the world as a playground. Featuring 60 curated rooms for the modern outdoor enthusiast, relax in the dry sauna, soak in the Japanese-inspired onsen, or enjoy family-style meals at Cabin Juice.
Read more about winter in Breckenridge.
Cañon City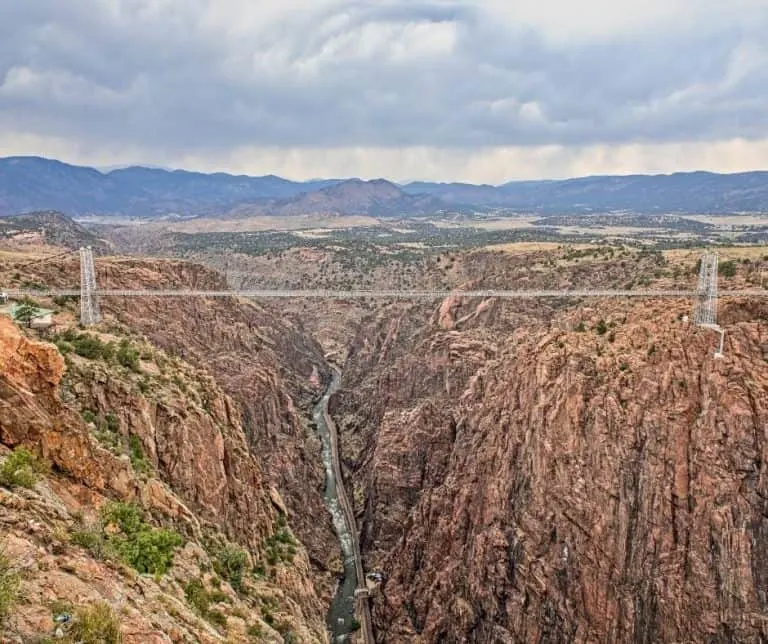 Elevation: 5,300'
Population: 17,363
Can't-miss highlight of this Colorado mountain town: A 10-mile-long chasm carved into granite by the Arkansas River, the Royal Gorge Bridge and Park area was home for centuries to the Ute tribe before being discovered in 1806 by Lieutenant Zebulon Pike during his Louisiana Purchase exploration.
One hundred years later, the land was ceded to the city, and the country's highest suspension bridge (nearly 1,000 feet high) was built in 1929. Known as America's Bridge, visitors can walk 1,260 feet across it toward the Plaza Theater, showing a movie on the gorge's history; Tommy Knocker Children's Playland; and Aerial Gondolas, carrying passengers 2,200 feet across the gorge.
There are also activities here for all adventure lovers: For the adrenaline junkies, there's America's highest zipline, the Cloudscraper Zip Line; the Royal Rush Skycoaster, where passengers are sent in a free-fall swing deemed the "World's Scariest Skycoaster" (I've done it twice!); and the via ferrata, offering guided climbing routes for all levels.
Insider tip: Whether peering at it from 1,000 feet above from the Royal Gorge Bridge, fly-fishing along its banks or riding its churning waters, the Arkansas River is a must-see destination in this area. Boasting Colorado's longest stretch of Gold Medal Trout waters (102 miles), many visitors come for its whitewater. Roughly 20 different rafting companies are headquartered here.
Stay here: Our family's favorite spot lodging is at Royal Gorge Cabins, located five miles north of the Royal Gorge Bridge and Park (about nine miles from the city).
Owned by Echo Canyon River Expeditions—which sits across the street from the cabins, next to the company's restaurant, 8 Mile Bar and Grill—the property features 9 luxury cabins (6 2-bedroom and 3 1-bedroom) complete with indoor-outdoor fireplace and patio seating, as well as a personal cornhole game and hammock (plus a kitchenette, WiFi and TVs).
There are also eight glamping tents— four each of double and single queen beds—and one, two-person log cabin, Pine Creek.
Here are eight amazing things to do at the Royal Gorge.
Crested Butte
Elevation: 8,885'
Population: 1,669
Can't-miss highlight of this Colorado mountain town: Established in in 1961 just three miles from downtown, Crested Butte Mountain Resort was Colorado's second resort to open a gondola (after Vail). Considered the birthplace of freeskiing—tricks, jumps, and terrain parks—this resort is known for offering extreme terrain.
Best known as the Wildflower Capital of Colorado, celebrated annually during the Crested Butte Wildflower Festival in July, this former mining-camp supply hub and coal-mining spot is also nicknamed "the last great Colorado ski town."
Founded in 1880, its main drag, Elk Avenue, is also one of the most colorful and charming of all the state's Victorian mountain towns—roughly 85 percent of the buildings date back to the late 19th and early 20th centuries—and is both a designated National Historic District and Certified Colorado Creative District. www.visitcrestedbutte.com
Insider tip: A revered mountain-biking destination, the highlight is the Crested Butte Mountain Bike Park, offering 29 trails traversing more than 30 miles of terrain. The park features trails for all skill levels, from the beginner Hotdogger (green circle) to the expert Psycho Rocks (double-black-diamond).
Stay here: There are only a couple hotels at the ski area, so we've always chosen Grand Lodge Crested Butte, which includes comfort, convenience, and an indoor-outdoor pool. It's also located right at the center of the mountain activity.
Durango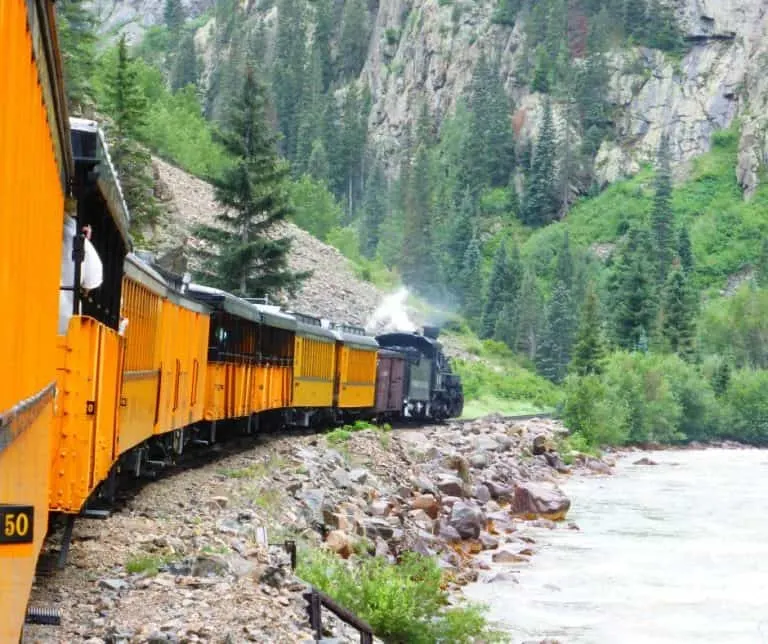 Elevation: 6,512'
Population: 19,223
Can't-miss highlight of this Colorado mountain town: Once a lifeline for Silverton mines, the historic Durango and Silverton Narrow Gauge Railroad has continued operating since 1881.
Even if you don't have time to ride the train to Silverton, a 45-mile, four-hour (one way), cliff-hugging journey, be sure to check out the free museum located in the railyard just outside the Durango depot. There's a second museum in Silverton's depot.
A Nationally Registered Historic District, the welcoming downtown takes visitors back to circa 1880, when it was founded by the Denver and Rio Grande Western Railroad. Located 55 miles east of Mesa Verde National Park, it's a great base camp for exploring Colorado's Southwest.
Insider tip: Referred to as "The River of Lost Souls" for the Spanish explorers who died here and whose bodies were never recovered, the Animas River is a popular draw for both travelers and locals. Running right through town and comprising 126 miles, the river offers Gold Medal waters and plenty of whitewater rapids for rafting and kayaking enthusiasts.
For the nature lover who prefers to stay out of the water, head to the Animas River Trail (ART), a 7-mile, shared-use, riverside path that offers access to a variety of parks, open spaces, and more.
Stay here: Let history come alive before your eyes at the historic Strater Hotel. Located in the heart of the historic downtown, this 1887 gem offers 88 unique guest rooms, a Wild West themed saloon, a craft-cocktail Lounge, a fine-dining restaurant, and year-round live entertainment.
Estes Park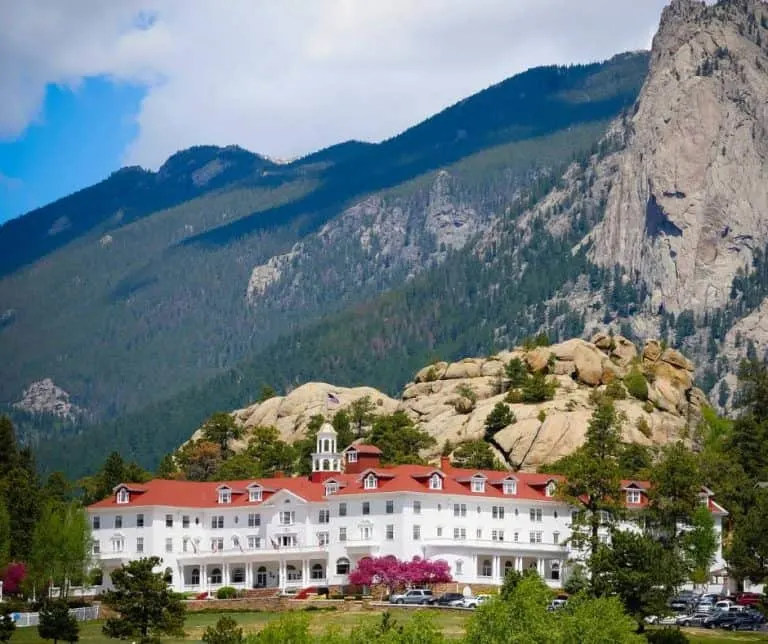 Elevation: 7,522'
Population: 5,880
Can't-miss highlight of this Colorado mountain town: The town's greatest claim to fame is its status as the eastern gateway city to the state's most-visited national park, Rocky Mountain National Park (RMNP). When visitors think of Colorado's expansive blue skies, verdant mountain meadows dotted with wildflowers, and alpine lakes tucked at the base of craggy peaks, RMNP is where to find it.
Home to 355 miles of hiking trails, 147 lakes, and 77 mountains taller than 12,000 feet—including the state's northernmost Fourteener and park's highest point, Longs Peak (14,255 feet)—it's no surprise that it's the fifth most-visited national park in the U.S.
Here are the best hikes in Rocky Mountain National Park for families.
The former stomping grounds of the ancient Clovis culture, as well as Ute and Arapaho tribes, the town was incorporated in 1917, two years after the national park's designation. The town's touristy Elkhorn Avenue is lined with shops, restaurants, and saltwater taffy shops, making it a popular basecamp for visitors to RMNP.
Insider tip: In summer months, the town is jammed with tourists, so residents prefer to visit during fall months. Not only are the aspens beautiful in September and October, but it's also elk-mating season, called an elk rut, when elk begin gathering and bugling to gain females' attention.
Stay here: Everyone should stay at least once at the town's iconic Stanley Hotel, the famous inspiration for the hotel in Stephen King's "The Shining."Even if you don't stay here, you can still take one of the property's ghost tours.
Frisco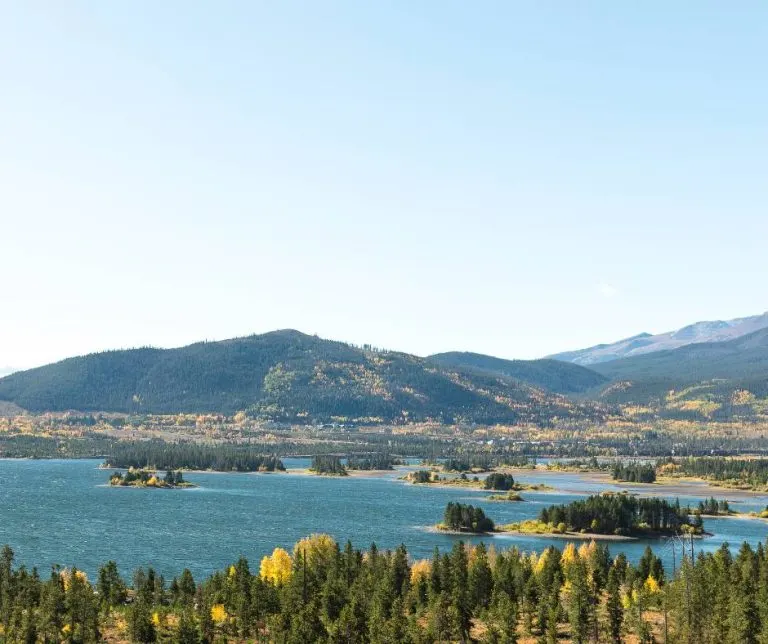 Elevation: 9,075'
Population: 2,903
Can't-miss highlight of this Colorado mountain town: One of three Summit County towns surrounding Lake Dillon (with Dillon and Silverthorne), the freshwater reservoir set around 9,000 is the centerpiece of activity in this charming mountain town.
Officially named Dillon Reservoir, there are roughly 27 miles of shoreline and a paved, 18-mile bike path that winds around it, which can be accessed at any point. The reservoir is also stocked annually with 50,000 rainbow trout.
Established in 1873 during the Colorado mining boom, Frisco's pedestrian-friendly Main Street is filled with shops and restaurants. We've often stayed here in rental properties when skiing nearby Copper Mountain because it's so close and a tad cheaper than ski-village lodging.
The Summit Stage also offers free rides throughout Summit County, including to ski resorts. Nearest ones include Breckenridge Ski Resort, Copper Mountain Ski Resort, Keystone Resort.
Insider tip: Connecting Frisco to Vail over Vail Pass (about 10,660 feet), The Vail Pass Bike Path offers many experiences, including riding about 14 miles from Frisco to Copper Mountain Resort and back, or completing the full 24-mile, 1,550-foot-climb roundtrip from Frisco's Main Street. For the price of a bike rental, visitors can even ride a free shuttle to the top of the pass to cruise 14 miles downhill.
Stay here: Located on Main Street in the heart of the action, the Hotel Frisco is a great mountainside home away from home.
Glenwood Springs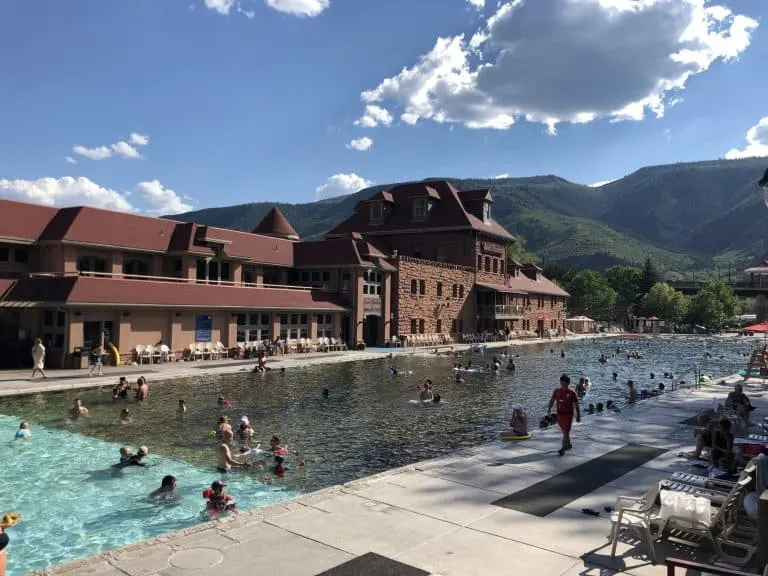 Elevation: 5,761'
Population: 10,326
Can't-miss highlight of this Colorado mountain town: This city located at the confluence of the Roaring Fork and Colorado River (formerly the Grand River) is home to the world's largest mineral hot-springs pool, located at Glenwood Hot Springs Resort.
In addition to its famous pool, in 2019 the resort added the Sopris Splash Zone featuring Shoshone Chutes, a river ride that mimics a whitewater experience; Hanging Lake, a wade-in pool perfect for littles; and the Grand Fountain, a splash pad by day and an illuminated show fountain by night.
Native American tribes like the Ute, Comanche, and Arapaho understood the curative nature of this area's hot springs and vapor caves long before it became a destination for health-minded travelers in the late 1880s.
With the arrival of the railroads in 1887 and the 1888 opening of Glenwood Hot Springs, it quickly became a playground for the well-to-do. Now it's a must-visit spot for Colorado kids, who love the chance to soak in the city's world-famous springs.
Insider tip: Carved by the Colorado River, which glides its way through the 16-mile Glenwood Canyon into town, this area is an exceptionally beautiful outdoor-recreation destination. Visitors can bike the Glenwood Canyon Recreation Path, which runs between the Colorado River and I-70. Starting at E. 6th St. in Glenwood Springs and ending in Dotsero, the paved, relatively flat trail spans about 14.4 miles (one way).
Stay here: Serving guests since 1893, the historic Hotel Colorado was renovated in 2020 and is located just 0.3 miles from the Glenwood Hot Springs Resort.
Granby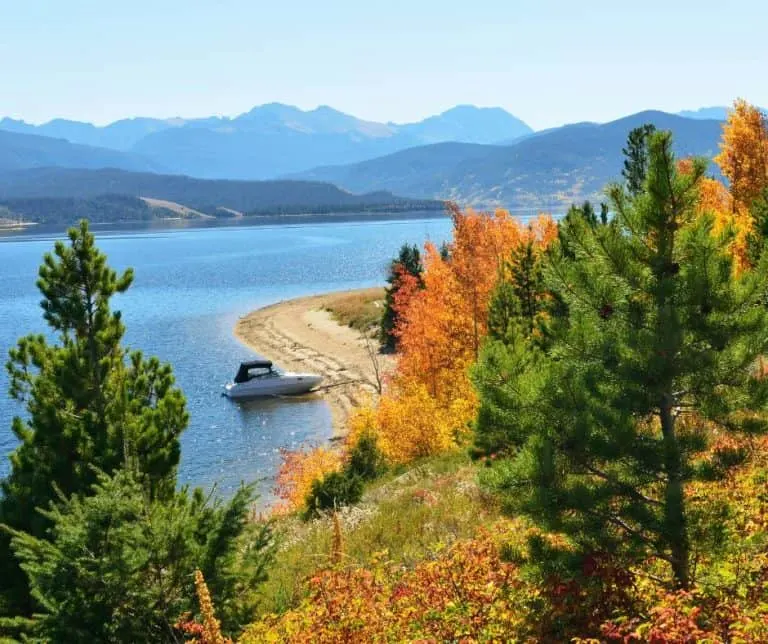 Elevation: 7,935'
Population: 2,132
Can't-miss highlight of this Colorado mountain town: Designed with families in mind, Granby Ranch ski resort comprises four chair lifts over two mountains: East, offering green and blue trails, and West, with more challenging blue and black ones.
There's plenty of skiing for all levels, and all trails lead to the base area so it's easy to meet up with your group. In warmer months, the resort is a popular destination for mountain biking, as well as golfing at the resort's 18-hole Golf Granby Ranch course.
Founded in 1905, this former logging and railroad community is the only Designated Colorado Main Street in Grand County, a program that aims to revitalize communities through grassroots efforts, featuring a lively mix of restaurants and vibrant street art.
Insider tip: Located just 15 miles from the west entrance of Rocky Mountain National Park (RMNP), this town offers a ranch-town vibe that is often less crowded than the park's gateway towns, Grand Lake and Estes Park.
Stay here: Located 8 miles south of Granby, Snow Mountain Ranch (YMCA of the Rockies) is our favorite family-friendly Granby destination.
It features several lodging options—lodge rooms, cabins, campgrounds (tent and RV), and yurts—with many on-site activities included in the price of a stay such as a mini-golf course, indoor pool, tennis courts, hiking and biking trails, reservoir fishing, lawn games, and the Kiva Recreation Center (roller skating, volleyball, basketball, badminton, tennis, pool, ping pong, etc.). The Schlessman Commons dining hall also serves three buffet-style meals daily.
Grand Junction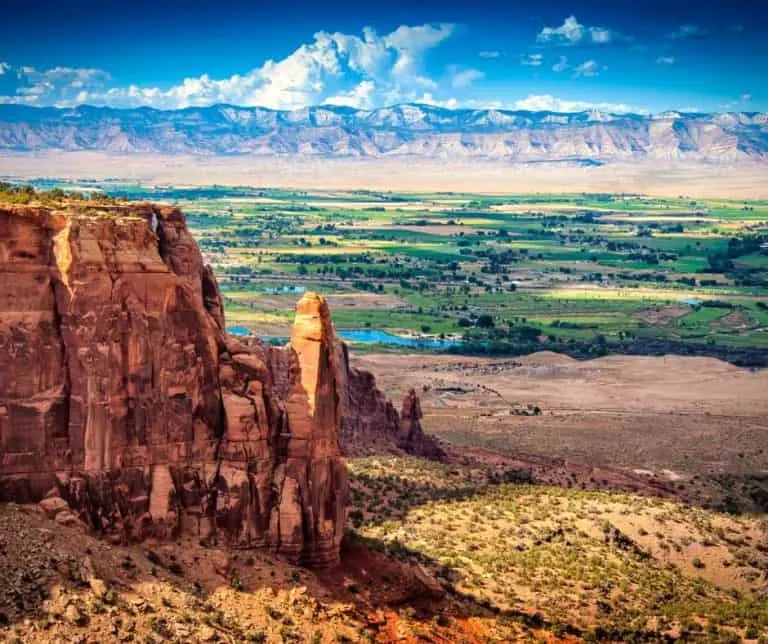 Elevation: 4,583'
Population: 66,958
Can't-miss highlight of this Colorado mountain town: Home to the area's iconic red-rock cliffs and sandstone spires, the 31-square-mile Colorado National Monument is easy to tour via the 23-mile, paved Rim Rock Drive, offering 19 overlooks.
For centuries, the Ute, Fremont, and other tribes inhabited the Grand Valley—Grand Junction (GJ), Fruita, and Palisade—leaving their history etched in cave paintings and petroglyphs before white settlers came to farm its fertile lands.
Set at the "junction" of the Gunnison River and Colorado River (formerly the Grand River), Colorado's largest Western Slope town is one of the state's largest food producers.
Insider tip: The area of Grand Valley is known as Colorado's Wine Country, the state's second designated grape-growing region or American Viticultural Area (AVA), where nearly 30 wineries flourish in this temperate climate.
Stay here: The Hotel Maverick, which opened in 2020, is both a hotel and a hospitality teaching facility located on the Colorado Mesa University campus. It's also home to the only king-sized bunkbed we've ever seen, which is great for families.
Leadville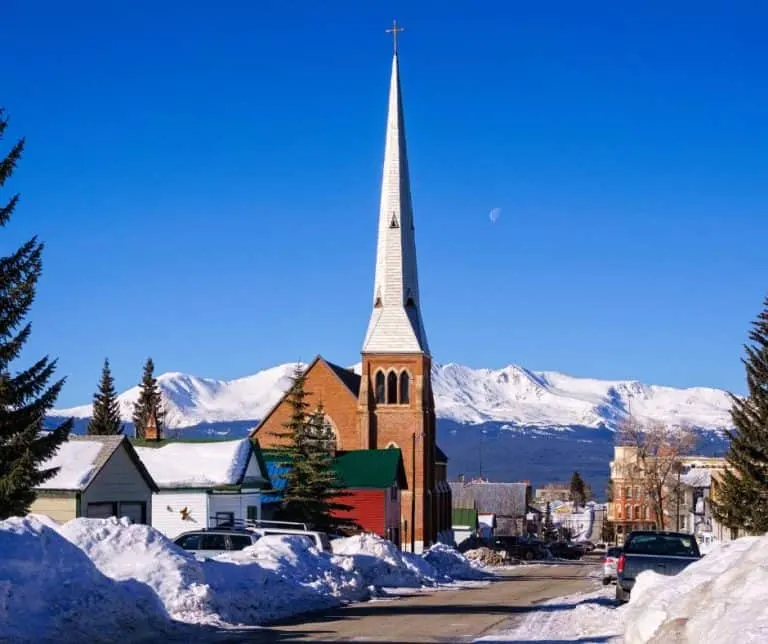 Elevation: 10,152
Population: 2,613
Can't-miss highlight of this Colorado mountain town: One of the country's oldest ski resorts (1942), Ski Cooper is a family-friendly spot that offers a wide variety of terrain for all levels at a cheaper price than larger resorts.
Established as Leadville in 1878, Leadville is the highest incorporated city in North America. Nicknamed the "Two-Mile High City," it resembles what it must have looked like in the late 1800s and is surrounded by Colorado's two highest 14ers (14,000-feet+ peaks) Mt. Elbert and Mt. Massive.
The town is the perfect headquarters for recreation in the Leadville and Twin Lakes region, or for visiting the town's popular ski-resort neighbor, Copper Mountain.
Insider tip: Considered Colorado's most beautiful resort when it was built in 1879, the Interlaken Resort at Twin Lakes (22 miles south of Leadville) was popular for travelers in nearby mining towns such as Aspen and Leadville to ride horses, fish, and cruise the lakes via steam-powered boats.
Closed in 1950, this National Historic Site is a "ghost resort" that can only be reached by foot or by one-hour, 45-minute boat tours via Twin Lakes Interlaken Boat Tours.
Stay here: Set in a Victorian redbrick building in downtown Leadville, the Delaware Hotel is an 1886 hotel that is a three-minute walk from the National Mining Hall of Fame, one of the town's most popular and unique highlights.
Pagosa Springs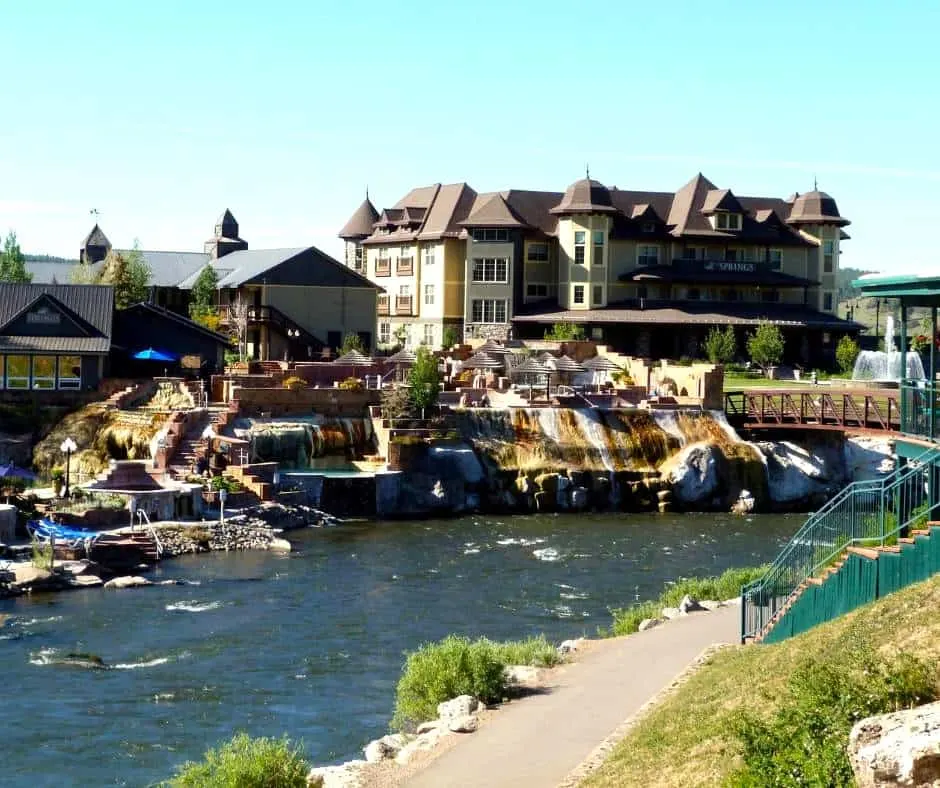 Elevation: 7,126'
Population: 1,631
Can't-miss highlight of this Colorado mountain town: Home to the world's deepest geothermal hot spring, according to Guinness World Records, the town was named "Pagosah" or "healing waters" by the Ute tribe that discovered their therapeutic qualities.
Located at the town's largest hot springs property, the Springs Resort and Spa, it offers 24 pools ranging from 83 degrees to 114 degrees terraced alongside the San Juan River (includes a mineral-water swimming pool and 5 age 23+ pools). Stay at the resort or buy a day pass.
Located just 35 miles from the New Mexico border, Pagosa Springs is surrounded by more than 2.5 million acres of wilderness and national forest areas, including the Weminuche Wilderness, the San Juan and Rio Grande national forests, and Southern Ute Indian lands.
With the San Juan River running right through it, plus some 650 miles of recreation trails, there's plenty of outdoor- recreation opportunities.
Insider tip: Perched at 10,000 feet on the top of Wolf Creek Pass just 30 minutes from Pagosa Springs, Wolf Creek Ski Area boasts "The Most Snow in Colorado," averaging 430 inches per year. Parking and shuttles to the base are free.
Stay here: We've always enjoyed our stays at Springs Resort and Spa, which offers nearly 90 rooms and 24-hour access to the hot springs.
Steamboat Springs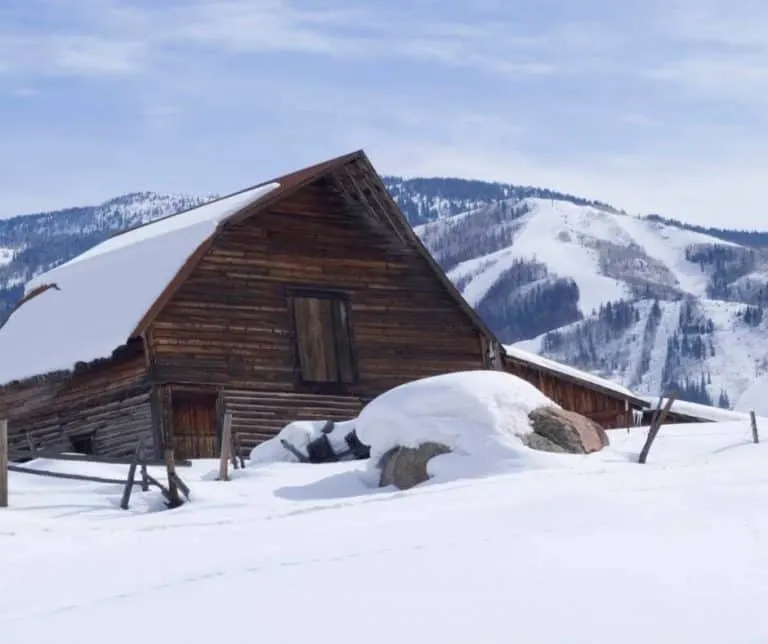 Elevation: 6,900'
Population: 13,452
Can't-miss highlight of this Colorado mountain town: Situated along Hot Springs Creek about seven miles north of town, Strawberry Park Hot Springs comprises five pools bordered by natural stone. One is basically creek water. Facilities are limited- a tepee and heated cabin for changing, picnic areas, two massage rooms, and basic concessions.
Named by 19th-century French fur trappers who thought one of the natural springs along the Yampa River sounded like a steamboat engine, these former Ute hunting grounds drew settlers to their springs and idyllic ranch land.
Nicknamed "The 'Boat," set far from the bustle of the Denver Metro area, Steamboat Springs is also known as Ski Town, U.S.A.® (or also Bike Town USA), home to light, dry snow known as Champagne Powder.®
Insider tip: Bordering the Yampa River Core Trail, the six-acre Yampa River Botanic Gardens— home to 50 gardens, sculptures, and more— debuted in spring 2022 a newly renovated Hummingbird and Butterfly Gardens. The park is free and open to the public May–Oct. (weather permitting).
Stay here: Although not the cheapest option in town, The Steamboat Grand is one of our favorite places to stay, especially during ski season because it's located at the base of Steamboat Ski Resort.
Telluride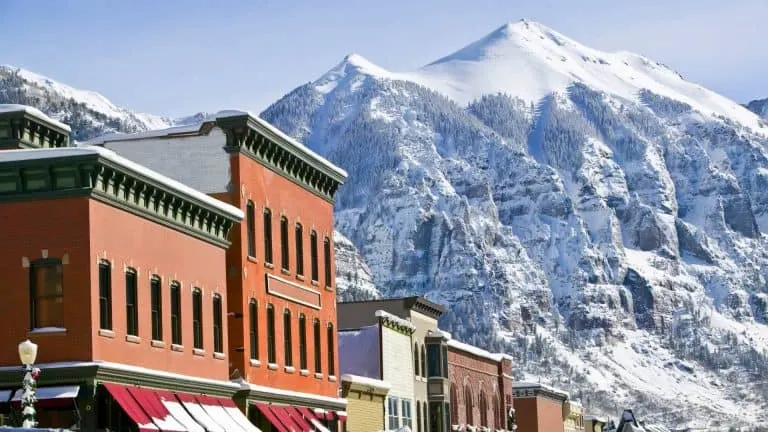 Elevation: 8,750'
Population: 2,595
Can't-miss highlight of this Colorado mountain town: Famous for uncrowded slopes, lack of lift lines, and accessibility—Lifts 7 and 8 are based right in Telluride—Telluride Ski Resort is a beloved skiing destination.
By 1878, this rowdy mining camp first known as Columbia was established as Telluride, a boomtown that continued to prosper with the arrival of the 1890 Rio Grande Southern Railroad. Today it's a National Historic Landmark District (since 1964), Certified Creative District, and renowned vacation spot.
Insider tip: For a backcountry experience, stay at 66 The High Camp Hut, set at over 11,000 feet (about 15 miles from town). Equipped with a kitchen, wood-fire hot tub, outhouse, sauna, and sleeping amenities for 12. Meet up at designated location and load gear into a snowcat or jeep. The hike—2.5 miles, 1,000-foot climb—takes about two hours.
Stay here: The Hotel Telluride offers unique outdoor-adventure packages, including a Ropes and Rungs rock climbing and via ferrata tour, as well as a Wings Over Telluride bird-watching adventure. I experienced the Two Picks and a Prayer ice-climbing experience, a half-day beginner ice climb at Lower Ames Falls with San Juan Outdoor Adventures.
Vail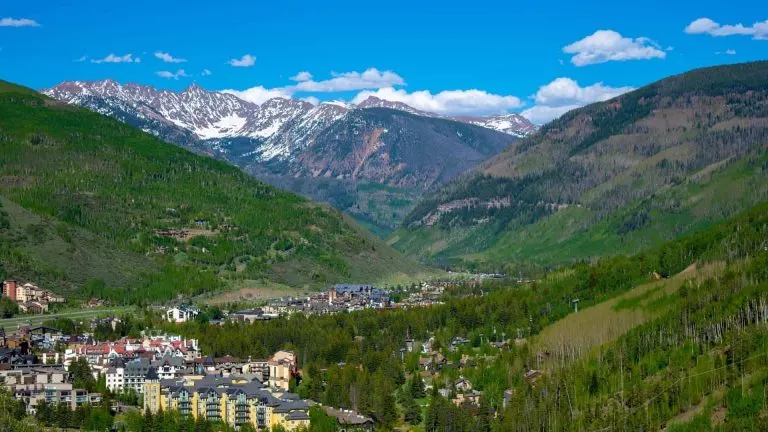 Elevation: 8,200'
Population: 4,735
Can't-miss highlight of this Colorado mountain town: A top destination for skiers and boarders for nearly 60 years, Vail Ski Resort's back bowls, expansive terrain, and only-in-Vail views of the Gore and Sawatch mountain ranges are legendary. Nonskiing activities happen at Adventure Ridge (Epic Discovery in summer), including the mountain coaster and tubing at Eagle's Nest.
Once a summer respite for the Ute tribe, this world-famous ski town at the base of Vail Pass was modeled after Zermatt in the Swiss Alps.
It features five villages: Vail Village, connected with heated pedestrian streets winding along Gore Creek and includes Gondola One; Lionshead, the Bavarian-inspired area set at the base of the Eagle Bahn Gondola; West Vail; East Vail, just east of Vail Golf Course; and Cascade Village. A popular ski destination by the 1970s, it also offers 58 miles of paved recreational paths, 343 miles of mountain-biking trails, and 166 miles of hiking trails.
Check out our complete guide to things to to in Vail in summer.
Insider tip: One of our most memorable experiences anywhere worldwide, our boys will never forget their roles as wranglers of llamas, ideal backcountry companions because they are typically calm and can lug up to 80 pounds of gear (via Paragon Guides). Pricey but worth it!
Stay here: Antlers at Vail is a comfortable condominium hotel in Lionshead that's an easy walk to Eagle Bahn Gondola. Complimentary bike and snow- shoe rentals; loaner sleds available. There's even a free shuttle to the grocery store to stock up on food for your stay (seasonally).