Planning a family vacation but not sure what to do in North Carolina? From miles of hiking trails in Great Smoky Mountains to the Cape Hatteras Lighthouse, there are so many fun things to do in North Carolina with kids.
We love that there are so many North Carolina attractions for families to enjoy.
Splash and play on the beaches of the Outer Banks or go see wild horses. Drive the Blue Ridge Parkway and stop at Asheville's extravagant Biltmore Estate.
Walk across the mile high swinging bridge at Grandfather Mountain for some of the best views in the state and so much more! Here is your guide to family fun in North Carolina.
Things to Do in North Carolina with Kids
1. Climb to the Top of a Lighthouse for Spectacular Views of the Outer Banks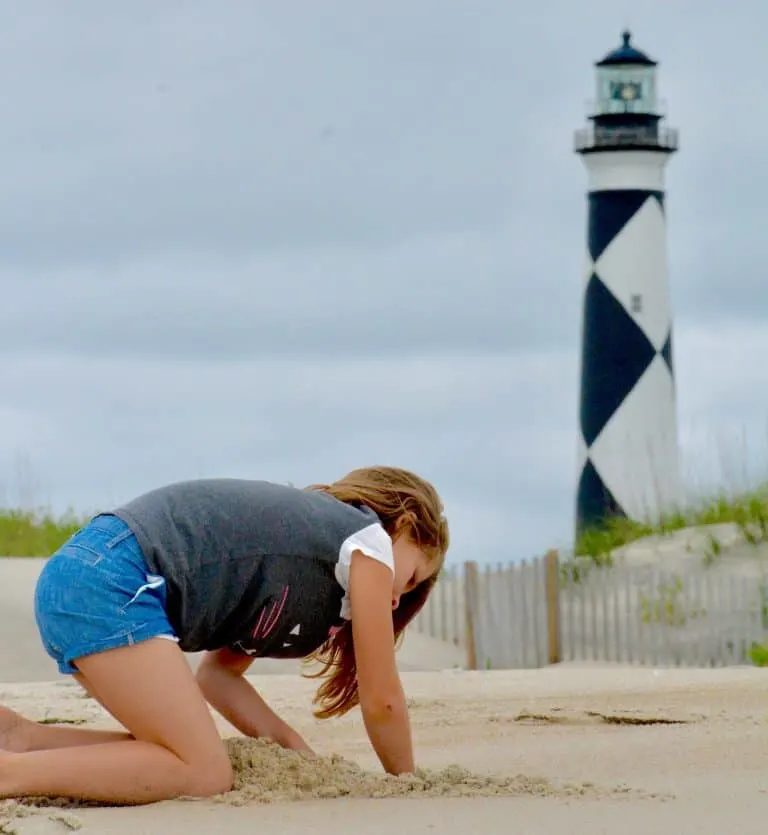 Amazing outdoor experiences are offered along the legendary Outer Banks National Scenic Byway that threads the Outer Banks, a 200-mile string of barrier islands covering most of North Carolina's coastline.
Experience Cape Hatteras National Seashore where families can climb historic lighthouses or observe the sea turtles that nest along the beach in the summer time.
Stay in a big, beautiful seaside cottage with the shore at your beckoning on your North Carolina family vacation. Families can also visit state parks, like Jockey's Ridge, home to the East Coast's highest sand dune.
Where there's a shore, there's a lighthouse, and the Outer Banks has five of them. Families can climb to the top of the Bodie Island Lighthouse or the Cape Hatteras Lighthouse. Cape Hatteras Lighthouse is the tallest brick lighthouse in America and offers remarkable views if you're up for the climb.
To the south of the Outer Banks, the Core Banks and Shackleford Banks are home to the Cape Lookout Lighthouse. It is part of the Cape Lookout National Seashore, and it is only accessible via boat from the Crystal Coast region of North Carolina.
Visiting Cape Lookout National Seashore? Take a day trip to New Bern to tour the historic Tyron Palace and interactive North Carolina History Center. Read our guide to Exploring Historic New Bern with Kids.
2. Learn about the Natural Side of North Carolina at a National Park Visitors Center, the North Carolina Zoo, or a Science Museum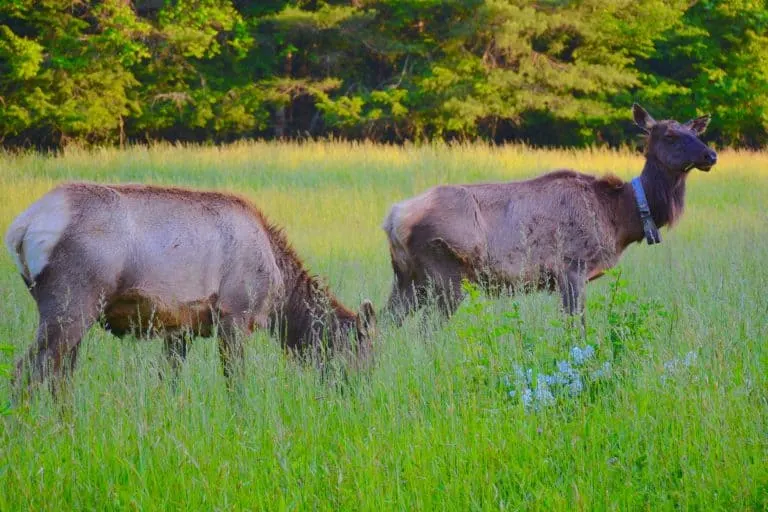 North Carolina is made up of three principal geographic segments: the eastern coastal plain, the middle Piedmont region, and the Appalachian Mountains.
All offer great opportunities for families to get up close and personal with lots of different types of animals, from viewing elk in Great Smoky Mountains National Park to observing sea turtles on the beach.
Looking for things to do in North Carolina with young children? Visit the North Carolina Zoo in Asheboro, home to many diverse types of animals on display, a kids' play areas, and walking trails.
Have a child who's passionate about horses? Then don't miss the chance to see the wild mustangs living in their natural habitat in North Carolina's Outer Banks.
Is there a budding scientist in the family? North Carolina is home to a several science museums that educate and entertain.
The Morehead Planetarium and Science Center in Chapel Hill is over 70 years old and was the first planetarium built in the South. In the early years of the space program, NASA astronauts trained at Morehead. Now, it offers a variety of shows for families.
The North Carolina Museum of Natural Sciences in Raleigh is also a beloved destination thanks to its nine different exhibit halls, which include dinosaurs, snakes, butterflies, prehistoric North Carolina, and much more. This natural sciences museum is one of the best places to visit in North Carolina, and it's free to visit.
Extend your stay in Raleigh and check out our picks for Must-Do Family Adventures in Raleigh, North Carolina.
3. Cool Off at Sliding Rock in the Pisgah National Forest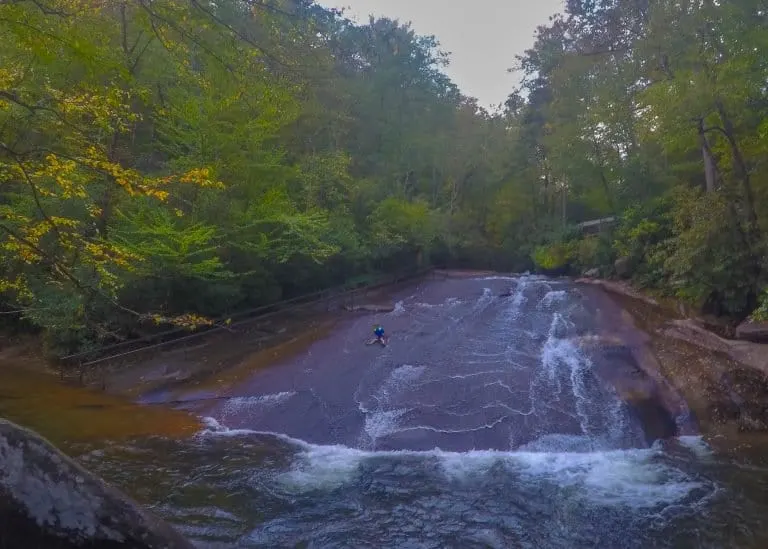 When most people think of North Carolina family vacation, they think of a week at the beach. But, I'd much rather enjoy a day in the mountains.
The best way to spend a summer day in North Carolina's Blue Ridge Mountains is at a swimming hole by a waterfall. The water is refreshing and clean. The forest around shades families from the heat of the sun.
Sliding Rock, less than an hour from Asheville in the Pisgah National Forest, is the best waterfall area for adventurous families to enjoy in the region.
Kids and adults climb to the top of the rock, scoot over to find the current, and slide down into a deep pool of water. On a cool, late summer day, you'll likely have Sliding Rock all to yourself, but on the hottest summer days, you'll have to share with other adventure seekers.
From Cascade Falls and Linville Gorge on the northern end of the Blue Ridge Parkway to the deep creek trails and waterfalls inside Great Smoky Mountains National Park outside of Bryson City, there are plenty of places to go in North Carolina for kid-friendly water fun.
In Deep Creek families can even rent tubes to float lazily past Tom Branch Falls.
Want to discover some of the swimming holes and hidden gems in North Carolina's Blue Ridge Mountains that only the locals know about?
Check out our ideas for a relaxing North Carolina family vacation, NC Mountain Vacations: Relax at Lake Junaluska in North Carolina.
4. Take Part in North Carolina's Folk Arts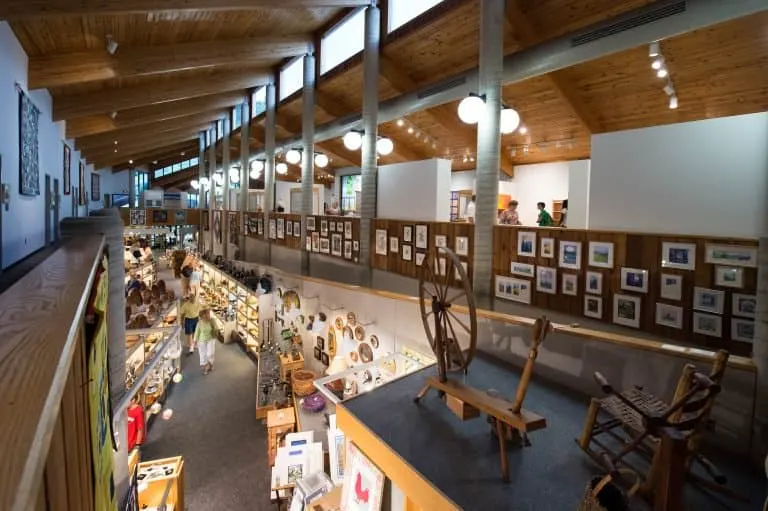 There is a thriving arts community in North Carolina and visitors have many chances to admire art of all shapes and sizes, along with the opportunities to make art.
The Hickory Museum of Art is home to a collection of American art (and specializes in art from the North Carolina area) including paintings, photographs, drawings, and sculptures. It also hosts summer camps for little artists.
Nearby, on the Blue Ridge Parkway local artisans show off their work at the Folk Art Center located near Asheville. During the summer season there are often artisans available in the entrance to demonstrate their craft for visitors.
The North Carolina Art Museum in Raleigh is a favorite for families because it offers 3 miles of outdoor trails, welcoming staff, and tote bags with hands-on activities.
The best thing about this museum is that it is free so families with young children can stop in for just a short time for some family fun.
While you're visiting Raleigh, don't miss the Marbles Kid Museum a Trekaroo favorite for families with young children.
5. Experience the Thrills of North Carolina's Rivers and Lakes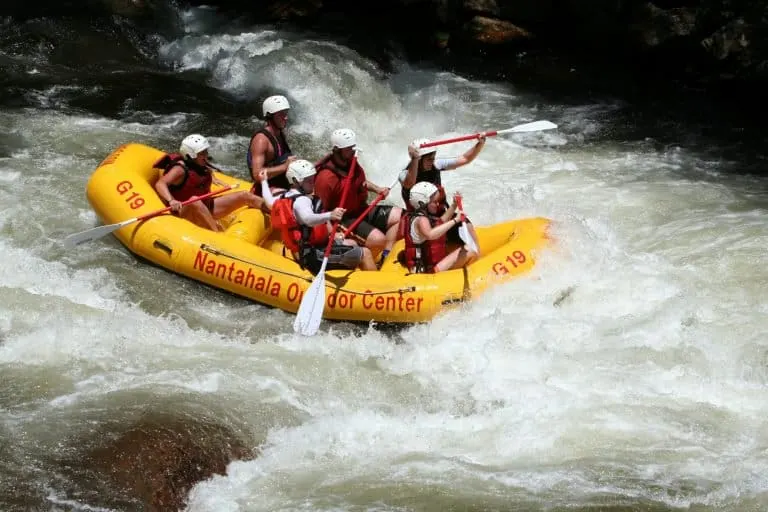 Some of the best adventures to be had in North Carolina can be found 20-40 minutes south of Bryson City along the Nantahala River. Multiple companies raft the Nantahala. Generally, they accept children as young as 7 years old on their three-hour guided tour of the river's Class II-III rapids.
If three hours of adventure isn't enough to satisfy your family, Wildwater's zip line canopy tours provide even more thrills. Kids ages 10 and up are welcome on the adult course while kids ages 4-10 will enjoy zipping through the trees on the KidZip course.
In Charlotte, families can get their thrills at the US National Whitewater Center. This 500 acre facility is dedicated to getting families playing outside and is home to whitewater rafting (on man-made rapids!), mountain biking, kayaking, rock climbing, zip lining, and more.
Looking for winter adventures in North Carolina? In the winter months, there's snow in the mountains. Check out Trekaroo's guide to the Best Ski Resorts in the Southeast for Families to find the right North Carolina ski experience for your family.
6. Take to the Skies with the Wright Brothers or the Road with NASCAR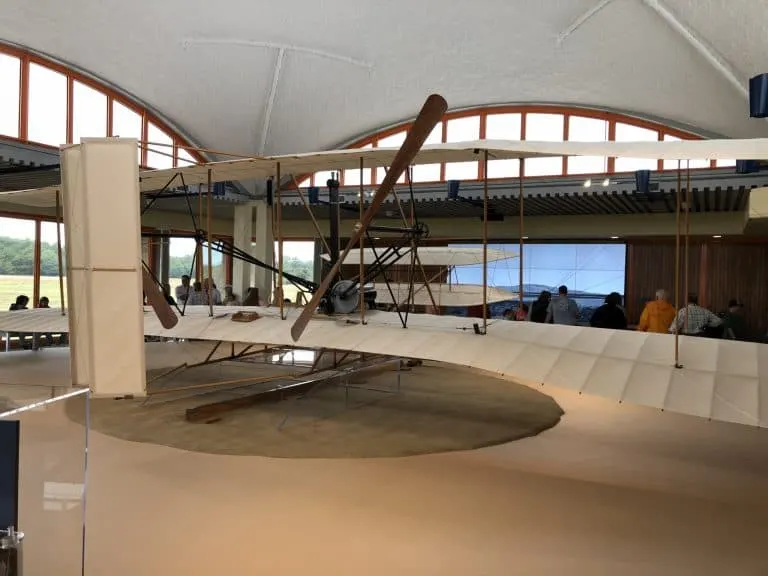 North Carolina is known for many things, including being the place where the Wright Brothers took their famous first flight.
At the Wright Brothers National Memorial, visitors see where the brothers flew in 1903, explore two museums dedicated to the Wright Brothers and all things airplane, visit reconstructions of the brothers' living quarters and hangars, and see reproductions of the Wright Brothers' earliest airplanes!
Over on the other side of the state in Charlotte is the Carolinas Aviation Museum. This family-friendly museum is dedicated to teaching people about aviation history and inspiring a new generation of engineers, mechanics, and pilots.
See more of Charlotte. Here are over 50 fun things to do in Charlotte, NC.
See a collection of military, commercial, and civil aircraft, as well as a collection of helicopters. The museum is also home to USAirways Flight 1549, better known as the "Miracle on the Hudson" plane.
If watching other people speed is more your thing, North Carolina is home to many of NASCAR's biggest names. Charlotte is also home to the NASCAR Hall of Fame where families can learn about the history of NASCAR and take part in hands-on activities. Read about enjoying NASCAR racing in Charlotte with kids.
7. Hike to a Mountaintop View in Great Smoky Mountains National Park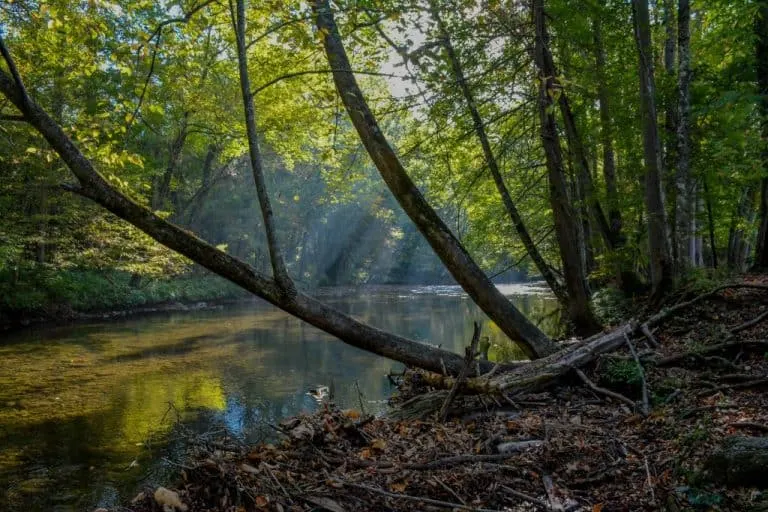 In the morning, the mist rises from the streams and rivers that wind through Great Smoky Mountains National Park. Despite the park's name, it's not the mountain peaks that draw crowds to the Smokies, it's the waterfalls and rocky creeks that families hike to so they can cool off from the summer heat.
Besides the popular Oconaluftee entrance to great Smoky Mountains National Park at Newfound Gap Road, there are more than four other points in North Carolina where families can drive into the national park. All of these areas are quieter than Oconaluftee.
In Bryson City, kids can float past waterfalls at Deep Creek. On the "Road to Nowhere" families can enjoy classic views of the mountains and find many hiking trails. In Cataloochee, visitors who are brave enough to traverse the dirt road will be rewarded by views of elk happily grazing in the meadow.
Not sure what to do in North Carolina when visiting Great Smoky Mountains National Park with your family? We've got you covered with a full, comprehensive guide of North Carolina's Great Smoky Mountains National Park.
8. Experience History at the Biltmore Estate in Asheville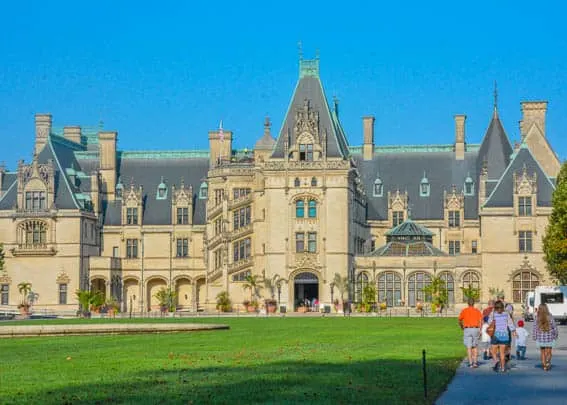 Learning about history from books is great, but getting the chance to see historical places in person is even better. Fortunately, North Carolina offers many wonderful opportunities to experience history. Old Salem, in Winston-Salem, transports guests back in time to the 18th century. Visitors can explore over 80 restored buildings, learn about the village from costumed guides, and participate in hands-on activities.
Over in Wilmington, families will love walking along the 2-mile riverwalk, with its great views of the Cape Fear River. While in town, don't miss the chance to tour the Battleship North Carolina.
This decommissioned World War II vessel is open to the public every day. It offers the chance to learn what life was like for those fighting in the Pacific during WWII.
Just outside of Asheville in the Blue Ridge Mountains, families can step into the turn-of-the-20th century life of George and Edith Vanderbilt and imagine themselves living in the gorgeous 250-room Biltmore Mansion while exploring the lovely grounds and gardens that surround it. Kids love the self-guided audio tour led by the Vanderbilt's family dog.
Visiting Asheville on a North Carolina family vacation? Check out our favorite places to eat and things to do in Asheville with Kids.
9. Enjoy the Beauty of the Mountains on the Blue Ridge Parkway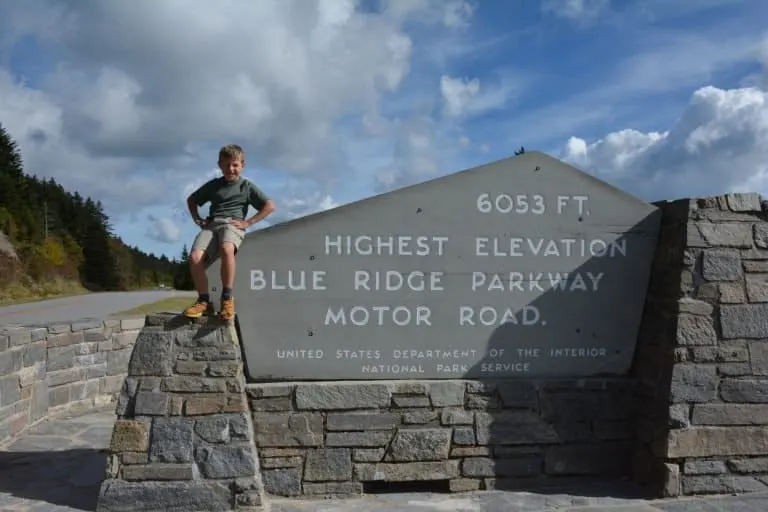 The Blue Ridge Parkway travels from North Carolina's Great Smoky Mountains all the way to Shenandoah National Park in Virginia. It offers 469 miles of great views, outdoor activities, and lots of family fun.
There are many waterfalls and mountaintop peaks to discover along the Parkway. Grandfather Mountain is a highlight with its mile-high swinging bridge, hiking trails, museum, and small zoo, there's something for everyone in the family to enjoy.
Another not-to-be-missed family activity on the Blue Ridge Parkway is Tweetsie Railroad in Blowing Rock. This is actually so much more than just a train ride- it's North Carolina's first theme park! Ride a steam train, pan for gold, play country fair games, feed some animals, and more.
Looking for the best places to go in North Carolina on the Blue Ridge Parkway? Check out Trekaroo's Driving the Blue Ridge Parkway, NC – 14 Great Spots to Stop.
10. Relax and Play on a Sandy Beach on a North Carolina Family Vacation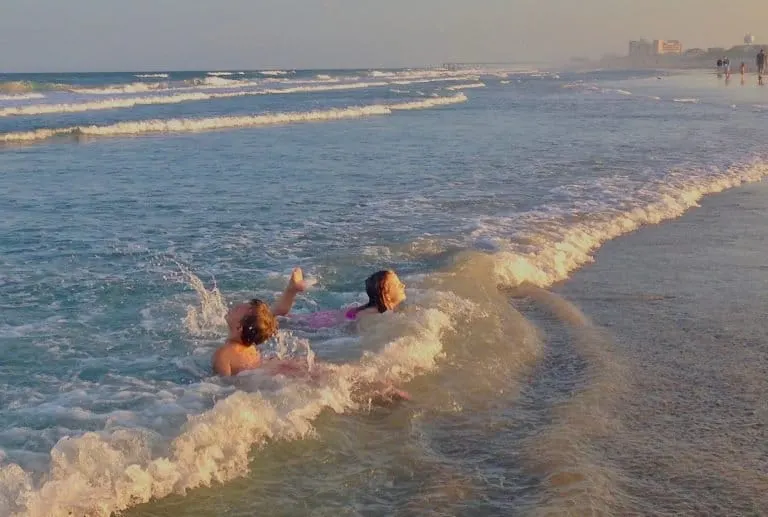 North Carolina has much natural beauty to enjoy and one of the best parts of the state are its beaches. Kure Beach, Carolina Beach, and Wrightsville Beach are all favorites of families.
These beaches are great places to visit to camp, fish, hike, check out local flora and fauna. Want to learn to surf? Carolina Beach and Wrightsville Beach both have family-friendly surf schools.
During the summer, Carolina Beach also is home to the Carolina Beach Boardwalk. It has lots to do and see, including an amusement park and arcade. At Kure Beach, have fun checking out the NC Aquarium at Fort Fisher.
Of course, you won't want to miss the beaches of the Outer Banks as well. Here are 33 great things to do in the Outer Banks, a truly magical North Carolina destination.
*Special thanks to Tina Buell for her help with research for this article.
Find things to do with kids near you!
From coast to coast, we're determining the Top 10 Things to do with Kids in each state of our great nation.