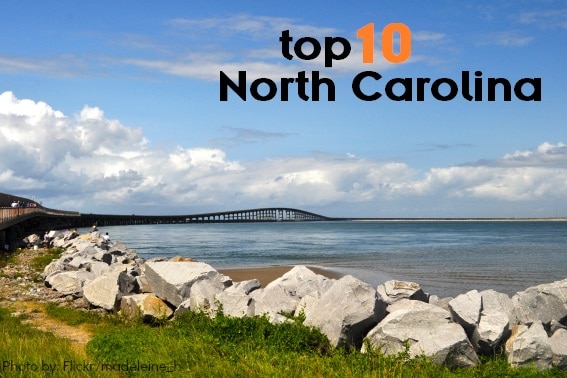 One of the original 13 colonies and the last to adopt its state motto of  "Esse quam videri" (To be, rather than to seem)," North Carolina is exactly what it seems—a state offering a seemingly endless array of breathtaking beaches, national parks, mountain ski resorts, charming small towns, and historic sites that stretch back to the our nation's earliest days. The Tar Heel State also offers more recreational activities than you'll have time to enjoy in one vacation! Without further ado and in no particular order, here are Trekaroo's top ten things for families to do in North Carolina.
10. Explore the South Outer Banks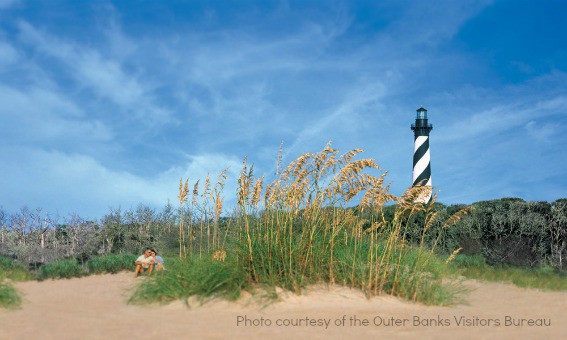 Amazing outdoor experiences are offered along the legendary NC 12 two-lane coastal highway that threads the Outer Banks, a 200-mile string of barrier islands covering most of North Carolina's coastline. Stay in a big, beautiful seaside cottage with the beach at your beckoning. Experience Cape Hatteras National Seashore—acknowledged as one of America's National Scenic Byways for the history, traditions, and untainted beauty of Hatteras Island and its seven villages. Ride a 4×4 on the beach or reconnect with nature on a guided horseback tour through the Cape's national coastal wilderness area and Buxton Woods maritime forest. Inspire imaginations at Chicamacomico Life-Saving Station where kids learn about shipwrecks and life on Hatteras Island during the turn of the 20th century at this historic campus, which predates the Coast Guard.
This area features nine state parks, tourist friendly coastal communities, and Jockey's Ridge—the East Coast's highest sand dune and 426-acre State Park with self-guided trails. Where there's a shore, there's a lighthouse, and the Outer Banks has five of them. The Bodie Island Lighthouse recently opened for climbing to the public for the first time. The most famous, Cape Hatteras, is the tallest brick lighthouse in America and offers remarkable views if you're up for the climb.
Have you visited Bodie Island Lighthouse? Leave a review!
9. Go on an Animal Safari!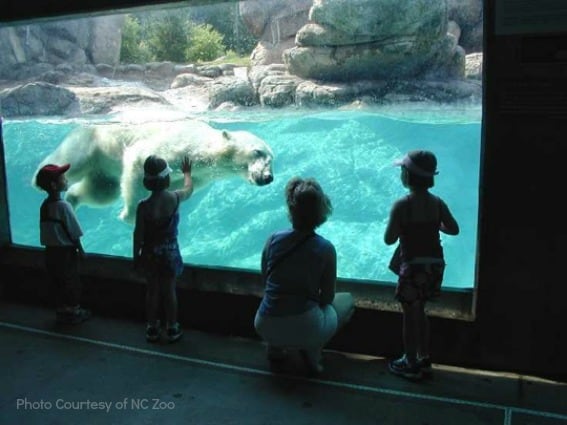 North Carolina is made up of three principal geographic segments: the eastern coastal plain (which occupies almost half the state), the middle Piedmont region, and the Appalachian Mountains and foothills. All offer great opportunities for families to get up close and personal with lots of different types of animals. Visit the NC Zoo in Asheboro, a favorite of Trekaroo families thanks to its many diverse types of animals on display, kids' play areas, and walking trails. Outside of Charlotte, families can explore the Lazy 5 Ranch, which is home to 750 animals from six continents! Have a child who's passionate about horses? Then don't miss the chance to see the wild mustangs living in North Carolina's Outer Banks.
Over at the Bald Head Island Conservancy, families can kayak, bird watch, and also learn about efforts underway to help protect the loggerhead turtle nesting sites located on the island. Sylvan Heights Bird Park in Scotland Neck also exists to help protect animals while educating the public. Come to this park and see over 2,000 birds from all over the world while learning about the importance of wetland conservation. At the Carolina Raptor Center, learn about the 25 difference species of raptors while walking a ¾ mile nature trail and enjoying beautiful scenery.
8. Learn About Science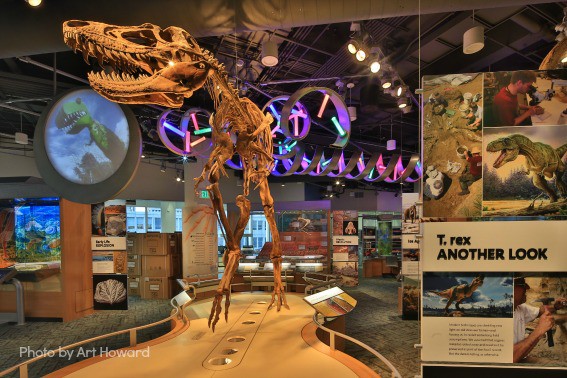 Is there a budding scientist in the family? North Carolina is home to a number of science centers that educate and entertain. Trekaroo families love The Morehead Planetarium and Science Center for its amazing planetarium (once used to train NASA astronauts!), as well as its large variety of programming, science shows, and exhibits. Visit the Natural Science Center of Greensboro; this center offers the chance to meet a 36-foot T-Rex, see a variety of animals in the outdoor zoo, get up close with marine life in the "Sciquarium", watch a show in the Omnisphere Theatre, check out the sun in the solar observatory, and interact with a number of other exhibits. There's even a special area dedicated to the smaller scientists in the family (ages 5 and under).
Raleigh is home to the North Carolina Museum of Natural Sciences. This is a beloved destination thanks to its nine different exhibit halls, which include dinosaurs, snakes, butterflies, prehistoric North Carolina, and much more. Best of all, general admission to the regular exhibits is always free! Visit SciWorks in Winston-Salem for its planetarium, outdoor environmental park with animals, and 25,000 square feet of exhibit space.
7. Follow Blackbeard's Pirate Trail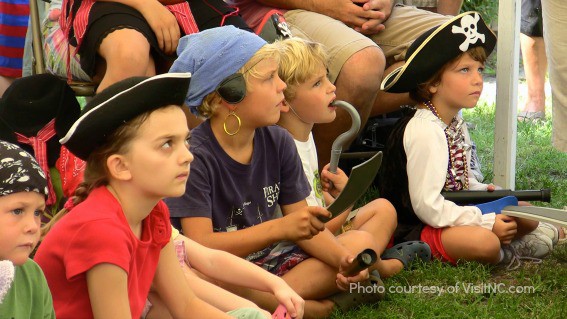 The voyage begins in the historic seaside town of Beaufort at the North Carolina Maritime Museum with a captivating exhibit on Blackbeard the Pirate including relics from his flagship, Queen Anne's Revenge. In 1996, her wreckage was discovered just offshore from Fort Macon State Park, a barrier island along the coast. The park is surrounded on three sides by water and is a wonderful place to explore salt marshes and estuaries, and to teach conservation of these ecologically important habitats.
Port City Tours ferries guests to Pirate Island where they must aid a shipwrecked pirate guide uncover clues that will lead them to treasure. In August, Beaufort is overrun with pirates for two full days during the Beaufort Pirate Invasion. From their headquarters at the Beaufort Historic Site, miscreant characters roam the streets engage in clashes, erupt into song, and recruit would-be young pirates!
6. Experience History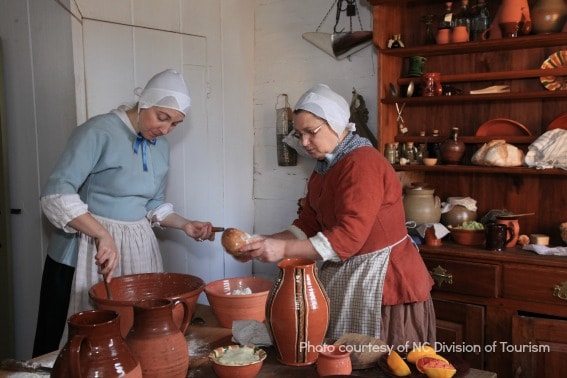 Learning about history from books is great, but getting the chance to see historical places in person is even better. Fortunately, North Carolina offers many wonderful opportunities to experience history. In Asheville, families can step into the turn-of-the-20th century life of George and Edith Vanderbilt and imagine themselves living in the gorgeous 250-room Biltmore Mansion while exploring the lovely grounds and gardens that surround it. Over in Manteo, visit Fort Raleigh National Historic Site. Here visitors learn about England's first settlements in the New World and the fascinating (and still unsolved!) mystery of the Lost Colony. Families love walking on the trails around Fort Raleigh and taking in its natural beauty.
Old Salem, in Winston-Salem, transports guests back in time to the 18th century. Visitors can explore over 80 restored buildings, learn about the village from costumed guides, and participate in hands-on activities. There is fun to be had for the whole family from preschoolers on up. Trekaroo families say that no visit to Old Salem is complete without a stop at Winkler Bakery for some fresh-baked cookies and sugar cakes! For military history, head to the Bentonville Battlefield in Four Oaks. This battlefield was the location of the state's largest battle during the Civil War. The home on-site still stands and was turned into a field hospital. Families can also check out the trenches, a cemetery, and a visitors center.
5. Take Part in the Arts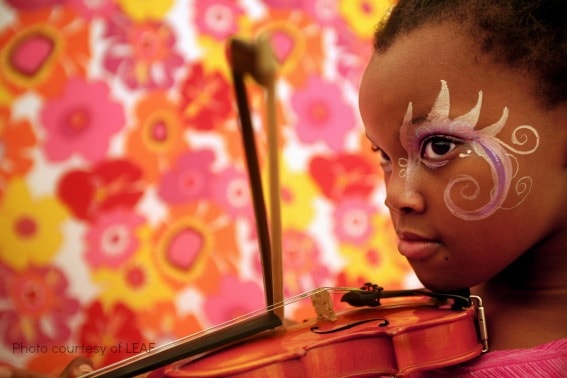 There is a thriving arts community in North Carolina and visitors have many chances to admire art of all shapes and sizes, along with the opportunities to make art. The Hickory Museum of Art is home to a collection of American art (and specializes in art from the North Carolina area) including paintings, photographs, drawings, and sculptures. It also hosts summer camps for little artists. At ArtQuest in Greensboro, families don't just admire art; they are the ones creating the art! ArtQuest  is a fully stocked, hands-on art studio where the only limit to what you create is your own imagination.
Families who loves great music should check out the twice-yearly Lake Eden Arts Festival. It features musicians and artists from around the world. This festival prides itself on being very kid-friendly with tons of activities including sports, costumes, art projects, music, shopping, and so much more. There's also a strong emphasis on education through art so that kids learn while having a great time!
4. Diverse City Fun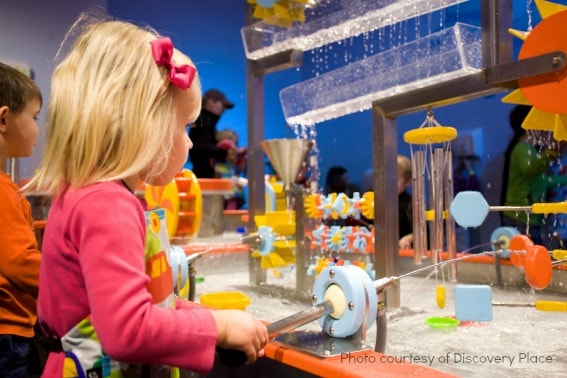 North Carolina cities have a lot to offer families as well. In Charlotte, families love the US National Whitewater Center. This 500 acre facility is dedicated to getting families playing outside and is home to whitewater rafting (on man-made rapids!), mountain biking, kayaking, rock climbing, zip lining, and more. If watching other people speed is more your thing, Charlotte is also home to the NASCAR Hall of Fame where families can learn about the history of NASCAR and take part in hands-on activities. Another Trekaroo favorite activity in Charlotte is Discovery Place. This huge and recently renovated museum offers lots of interactive and educational games and activities for family members of all ages.
Over in Wilmington, families will love walking along the 2-mile riverwalk, with its shops, restaurants, and great views of the Cape Fear River. While in town, don't miss the chance to tour the Battleship North Carolina. This decommissioned World War II vessel is open to the public every day, and offers the chance to learn what life was like for those fighting in the Pacific during WWII. Be sure to wear comfortable shoes; this ship is huge and you will be doing a lot of walking as you explore! Wilmington is also a popular spot for movie shoots (Iron Man 3 was shot here), so keep those eyes open for celebrities while exploring the city!
Here are more ideas for family-friendly fun in Wilmington, NC!
3. Take to the Skies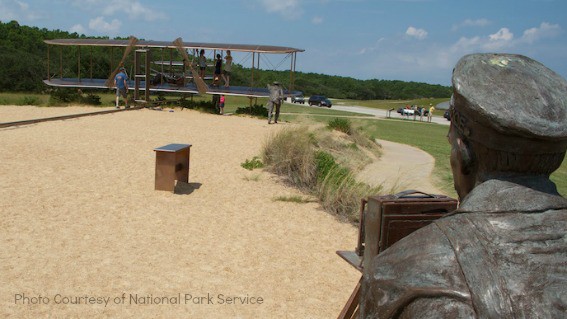 North Carolina is known for many things, including being the place where the Wright Brothers took their famous first flight. At the Wright Brothers National Memorial, visitors see where the brothers flew in 1903, explore two museums dedicated to the Wright Brothers and all things airplane, visit reconstructions of the brothers' living quarters and hangars, and see reproductions of the Wright Brothers' earliest airplanes!
Over on the other side of the state in Charlotte is the Carolinas Aviation Museum. This family-friendly museum is dedicated to teaching people about aviation history and inspiring a new generation of engineers, mechanics, and pilots. See a collection of military, commercial, and civil aircraft, as well as a collection of helicopters. The museum is also home to USAirways Flight 1549, better known as the "Miracle on the Hudson" plane.
2. Enjoy the Beauty of the Mountains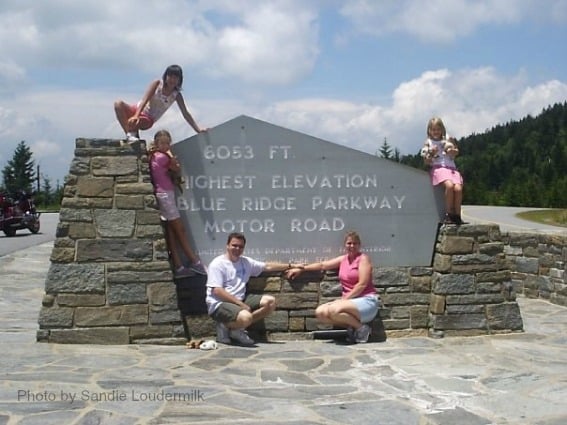 If beautiful mountain ranges with lush forests, hidden waterfalls, and multitudes of hiking trails are up your alley, head to the Great Smoky Mountains National Park in North Carolina. Here visitors find thousands upon thousands of acres of gorgeous scenery, ready to be explored by car or on foot. Pack that camping gear and fishing pole, and get ready for some fun. For great views of the area in a fun environment, take a ride on the Great Smoky Mountains Railway. Go whitewater rafting on the Nantahala River for a true adventure.
The Blue Ridge Parkway travels from North Carolina's Great Smoky Mountains all the way to Shenandoah National Park in Virginia. It offers 469 miles of great views, outdoor activities, and lots of family fun. Trekaroo families always make a point of stopping at Grandfather Mountain. With its mile-high swinging bridge, hiking trails, museum, and small zoo, there's something for everyone in the family to enjoy. Another not-to-be-missed family activity on the Blue Ridge Parkway is Tweetsie Railroad. This is actually so much more than just a train ride- it's North Carolina's first theme park! Ride a steam train (watch out for potential Old Wild West bandits on the train!), pan for gold, play country fair games, feed some animals, watch a live show, and much more.
1. Relax and Play on a Beach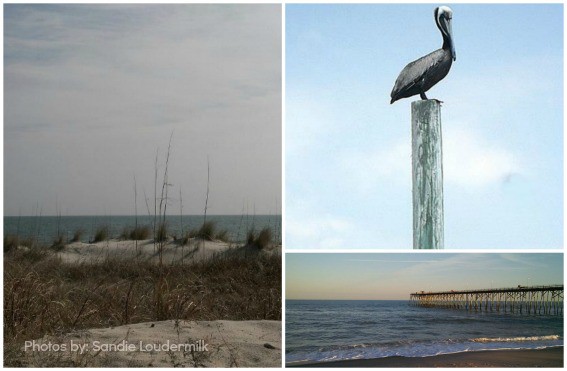 North Carolina has much natural beauty for your family to enjoy and one of the most beautiful parts of the state are its beaches. Kure Beach, Carolina Beach, and Wrightsville Beach are all favorites of families. These beaches are great places to visit to camp, fish, hike, check out local flora and fauna, and, of course, enjoy the sand and ocean. They also feature seasonal Farmers' Markets! At Carolina Beach State Park, families will even have the opportunity to see a Venus Flytrap in its native environment! Want to learn to surf? Carolina Beach and Wrightsville Beach both have family-friendly surf schools where families can learn to surf and paddleboard. During the summer, Carolina Beach also is home to the Carolina Beach Boardwalk, with lots to do and see, including an amusement park and arcade. At Kure Beach, when the family is in need of a break from sunning and playing outdoors, have fun checking out the NC Aquarium at Fort Fisher.
Bear Island is home to Hammocks Beach, which is only accessible by boat or passenger ferry, so it remains uncrowded. Visitors love exploring the sand dunes and marshland. Be prepared to do a good bit of walking from the ferry dock to the beach, and be sure to bring (and carry) plenty of supplies as few things are available for purchase on the island. Trekaroo families also think highly of Emerald Isle Beach. They rave about the beautiful sand and crystal clear water of Emerald Isle. Don't forget the camera!
North Carolina is a beautiful state with endless opportunities for families to have fun together. Leave us a comment and share about your family's favorite NC experience!
*Special thanks to Tina Buell for her help with research for this article.
What state do you want to visit next?
From coast to coast, we're determining the Top 10 Things to do with Kids in each state of our great nation.   Head here to see what tops the list in your favorite state.