I'm convinced that I could live a lifetime in Asheville, NC, and not have the time to try every amazing restaurant that the city has to offer. It would certainly take decades to hike every mountaintop and waterfall along the Blue Ridge Parkway. And, it would take years to delve fully into all the stories that the historic Biltmore Estate has hidden within its gates. My visit to Asheville, NC with my son was simply not enough Asheville for me. It only gave me a small taste of the fun things to do in Asheville with kids and convince me that I must come back for another visit — soon.
Great Things to do in Asheville, NC with Kids
Explore the Blue Ridge Parkway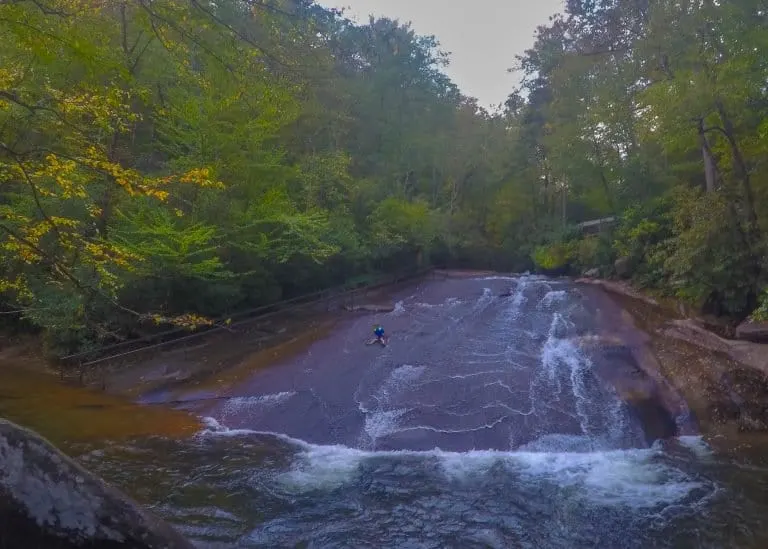 The Blue Ridge Parkway skirts around the perimeter of Asheville from the north, to the east, to the south. Downtown Asheville itself is only about five miles from this scenic drive. Many of Asheville's top tourist destinations like the Folk Art Center, North Carolina Arboretum, and Blue Ridge Parkway Visitor Center are only accessible via the Parkway. In addition to the hiking trails along the Parkway, there are plenty of opportunities for hiking in the Pisgah National Forest for families with children of all ages.
Ready to explore the Blue Ridge Parkway? We have an entire article dedicated to driving the Blue Ridge Parkway from Asheville,NC.
Tour the Historic Biltmore Estate in Asheville with Kids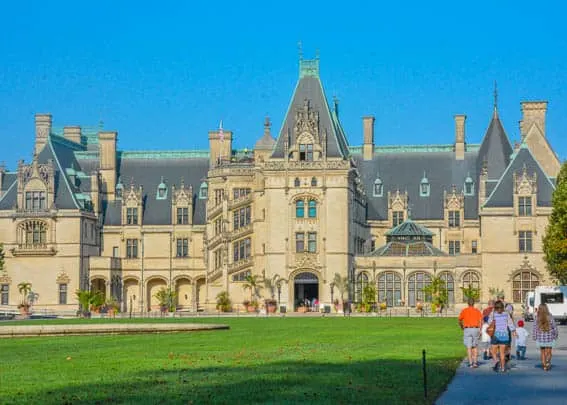 The Biltmore Estate, the early 20th century home to George Vanderbilt and his family, has been a tourist and vacation destination for decades. Touring the Biltmore is one of the classic things to do in Asheville, NC with kids. From tours of the historic mansion for day trippers to luxury accommodations and a resort village, this historic property is a must visit for any family coming to the Asheville area.
A visit to the Biltmore is not a quick add-on to your Asheville vacation; the estate and house are huge, and the audio tour of the house alone takes at least 90 minutes. Nor is a visit to the property cheap, so plan at least a half day — if not a full day — to tour the house, stroll through the gardens and soak in the atmosphere at one of the South's most iconic estates.
Listen to the Children's Audio Guide at the Biltmore Estate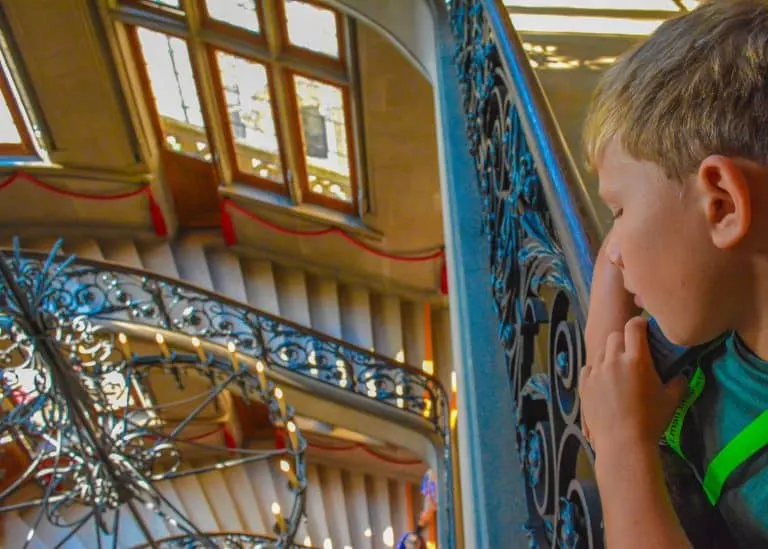 If you want to make the most out of your visit to the Biltmore House with elementary school age children, be sure to purchase a ticket for the children's audio guide. The guide is narrated by the Vanderbilt dog, Cedric, with guest appearances from the service staff and Vanderbilt children. The guide is not only cute, but informative; it paints a picture of everyday life in the historic home — both for the Vanderbilt family upstairs as well as the staff downstairs.
If your children are a bit mature for an audio guide narrated by a family pet, be sure to watch a couple of seasons of Downton Abbey before touring the house; the theme of upstairs and downstairs is emphasized throughout the audio tour— with the tour path including an extensive look at the kitchens, maids quarters, and staff dining areas.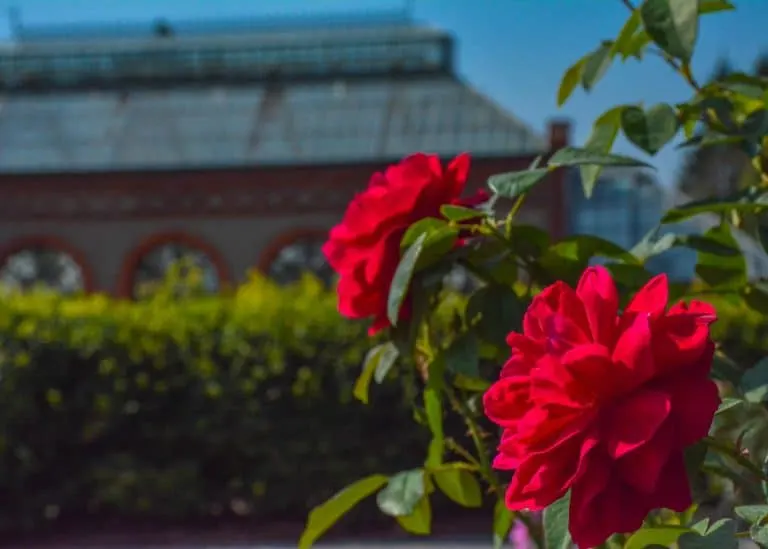 In order to reach the Biltmore House, you will by necessity be walking and driving around the extensive Biltmore Estate. Be sure to stop and smell the roses – literally, the rose garden was one of my favorite places on the estate. But, also, simply take your time to enjoy the journey around the estate. If you have extra time, consider a bike ride or a more extensive hike on the property.
Looking for a totally relaxing, family vacation destination in the Great Smoky Mountains? Consider Haywood County, NC Mountain Vacations: Relax at Lake Junaluska in North Carolina.
Eat Well in Asheville – Even with Kids!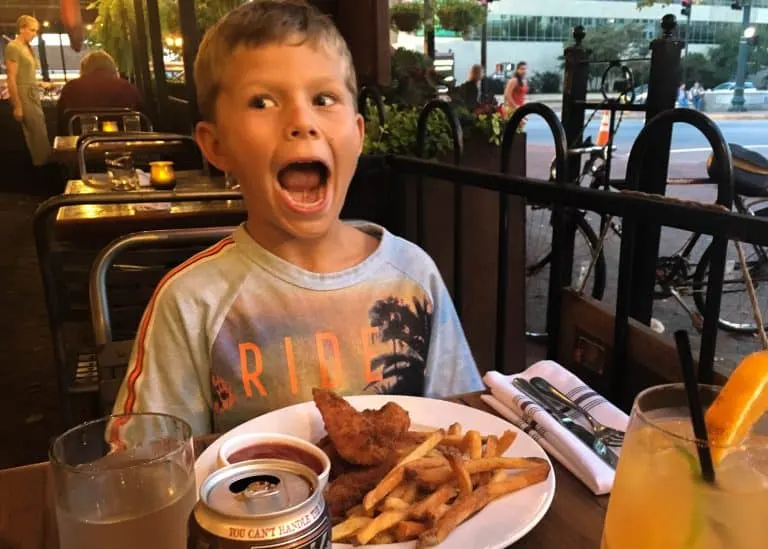 Foodie or not, I recommend eating well while in Asheville with kids. There's food for every budget and every time of day. I carefully picked restaurants for breakfast, lunch, dinner, and dessert. But, maybe we should have added brunch and snacks a few times a day too — just to find more excuses to enjoy Asheville's amazing restaurant scene. Anything Southern-inspired is really your best bet – shrimp and grits tacos, anyone?
Start Your Day Right in Asheville with Kids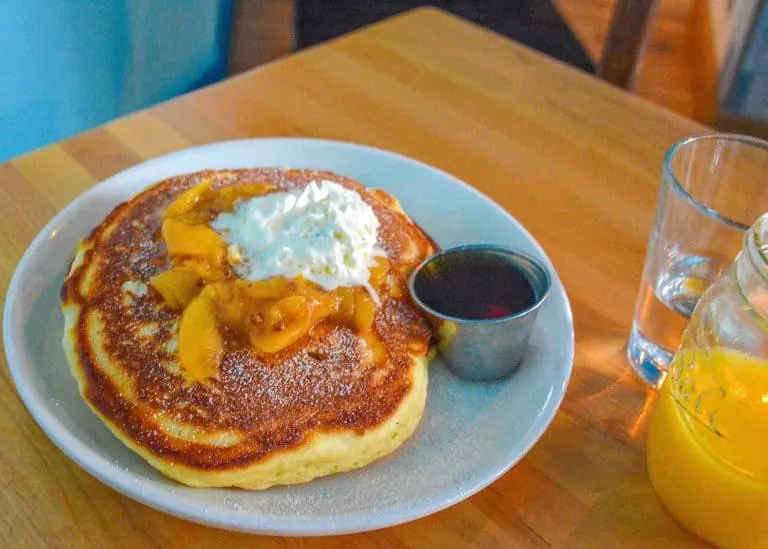 I admit that when I'm traveling, I typically grab a bagel and yogurt at my hotel's breakfast buffet and consider myself good to go for at least a few hours. But, this would be a very poor move when traveling in Asheville. Breakfast was my favorite meal every day we spent in Asheville. Every slice of bacon I tried was just perfect — enjoy!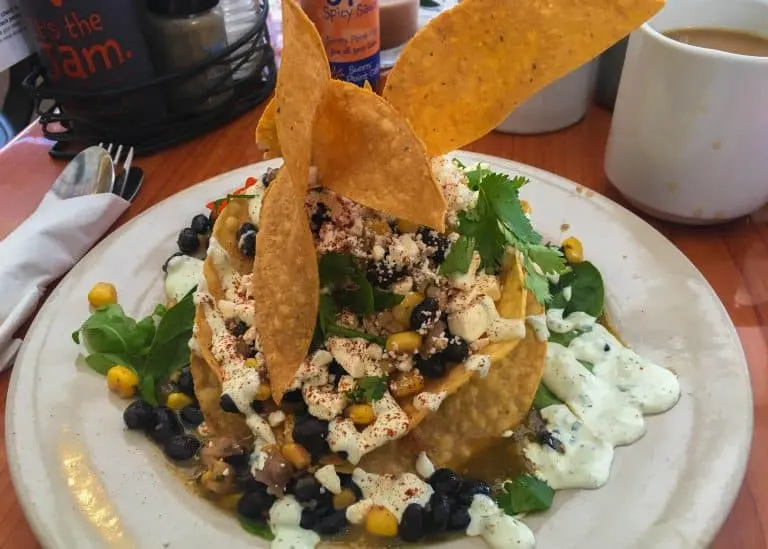 While it's a drive from downtown, I highly recommend Sunny Point Cafe. I admit that I do not often eat a tostada for breakfast, but if I lived anywhere near Asheville I'd be eating Sunny Point Cafe's Grit Cake Tostadas (pictured) as often as possible, maybe once week – or more. My son and I also enjoyed the huge, amazingly fluffy pancakes at Over Easy Cafe (pictured above) and stopped for a quick sugary snack at Vortex Doughnuts one morning when we were in a hurry.
Stop and Grab a Quick Lunch in Asheville with Kids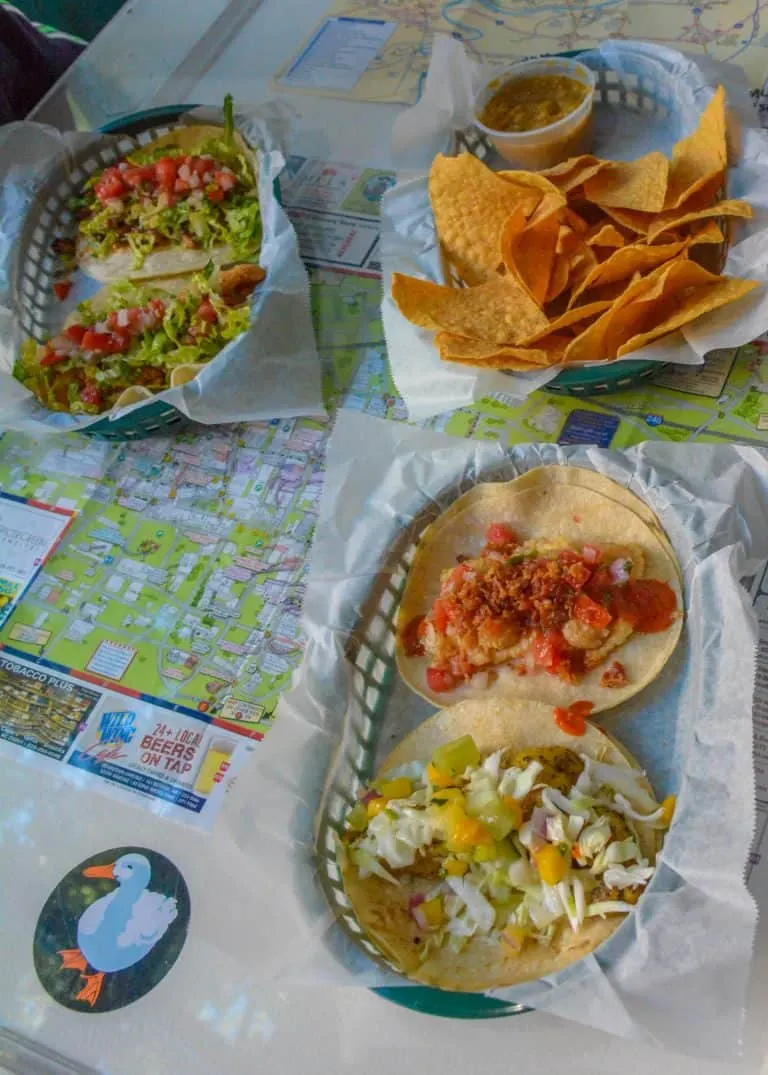 Finding time for lunch while visiting Asheville was no easy task; we didn't even stop every day – so I'm short on personal recommendations. However, we did love White Duck Taco Shop, and with three locations in Asheville, it's easy to find one that is close to your adventure of the day. I might need to take another 7-hour road trip from DC to North Carolina just to satisfy my craving for their shrimp and grits taco (pictured).
Relax and Enjoy Dinner at One of Asheville's Family-Friendly Restaurants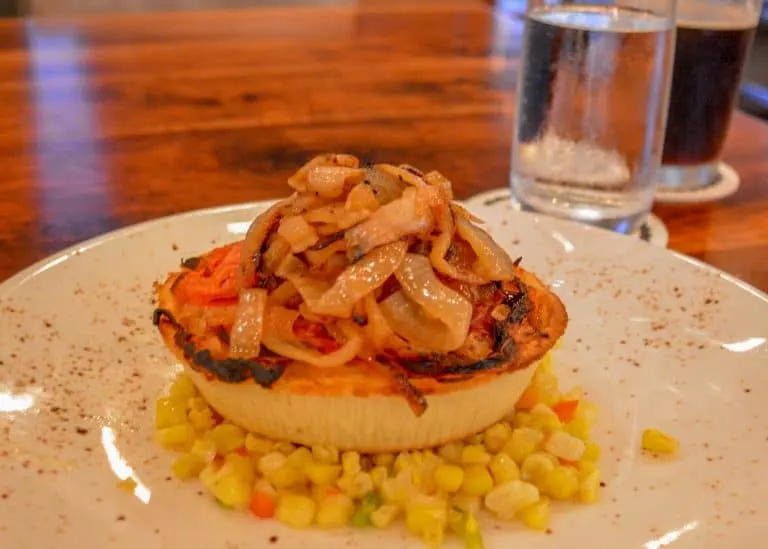 As a mother, I loved how most Asheville restaurants welcome kids with a children's menu — even restaurants with a sophisticated, seasonal local menu. After a day of adventure, I settled upon trying out Rhubarb, in part because of it's menu, but mostly due to a recommendation and it's location close to our hotel and the French Board Chocolate Lounge. While my son ordered chicken strips, I ordered a vegetarian dish featuring portobello mushrooms, white beans, greens and a pesto sauce; it was so fresh and flavorful. I also savored every bite of my tomato pie (pictured) at Edison's during our stay at Omni Grove Park Inn up in the hills above the city.
Drink Your Chocolate – French Broad Chocolate Lounge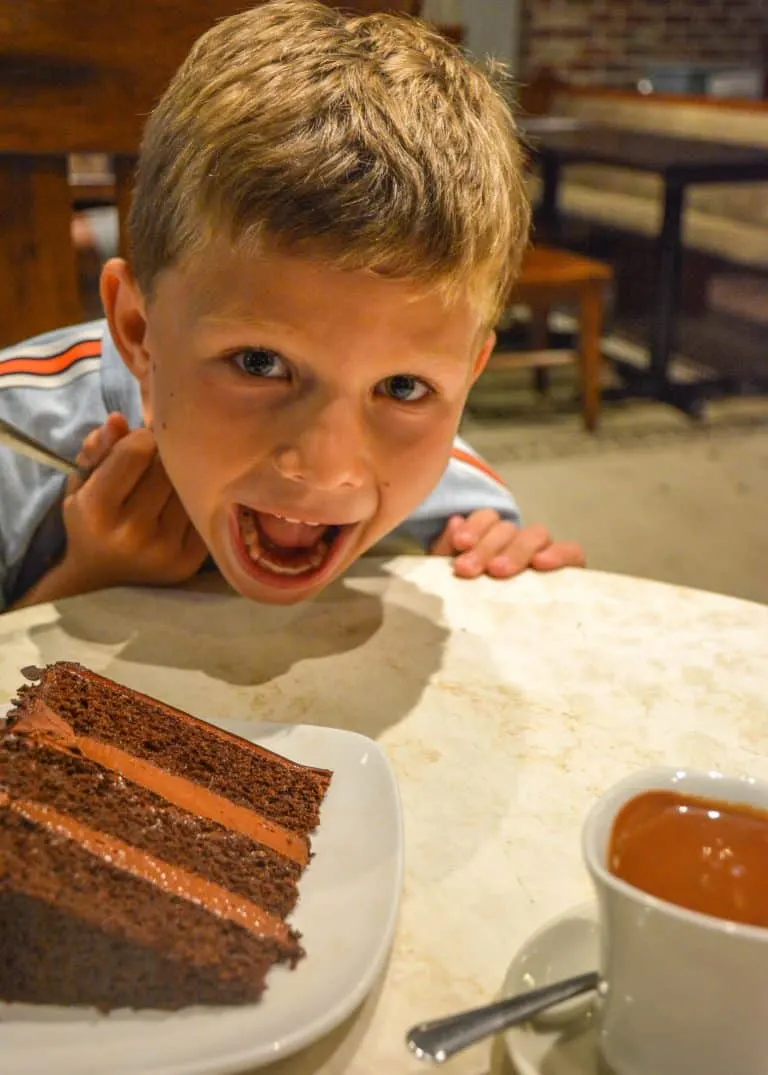 While I'm sure that many of the restaurants that we visited in Asheville have many fine dessert options, we could not pass up the opportunity to try the drinking chocolate at French Broad Chocolate Lounge — and you shouldn't either. My salted caramel chocolate drink was so smooth and rich; to my disbelief, my son didn't like it, which meant that I didn't have to share.
Opt for Kid-Friendly Adventure at the Adventure Center of Asheville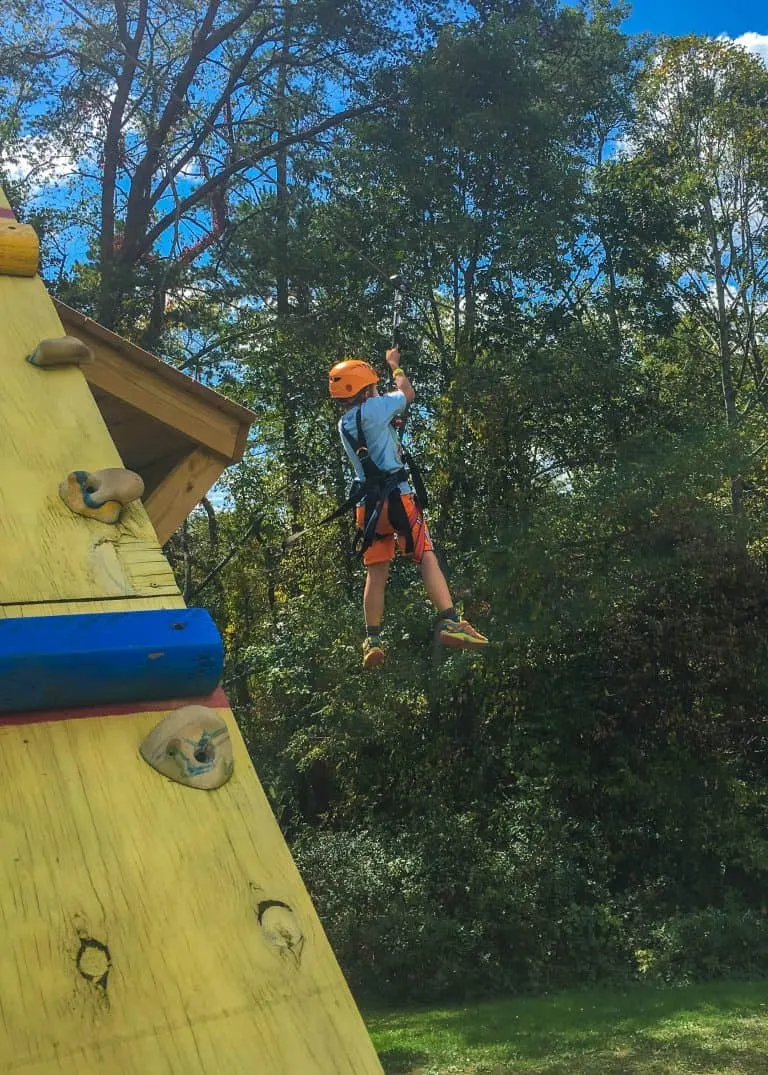 There is plenty of adventure to be had in the mountains outside of Asheville with kids, but just five minutes from downtown, the Adventure Center of Asheville also has plenty of the thrills for everyone in the family ages four and up. If flying through the sky is your thing, the Adventure Center of Asheville has two separate zip line options.
First, they have a canopy tour for ages 10 and up featuring 11 zip lines and a few sky bridges. They also have Kid Zip, a pair of courses that combine zip lines and playground structures in an innovative and unique way. Kid Zip is the playground that my seven-year old son dreams of with climbing elements and a total of nine zip lines that kids can be done over and over again during their two-hour time allotment.
The Adventure Center of Asheville also features a Treetops aerial adventure course with obstacles high up in the trees – kayak through the air and slide from the tree tops to the ground. These obstacles are whimsical, colorful, fun, and most importantly safe.
Ride a Bike at the Kolo Bike Park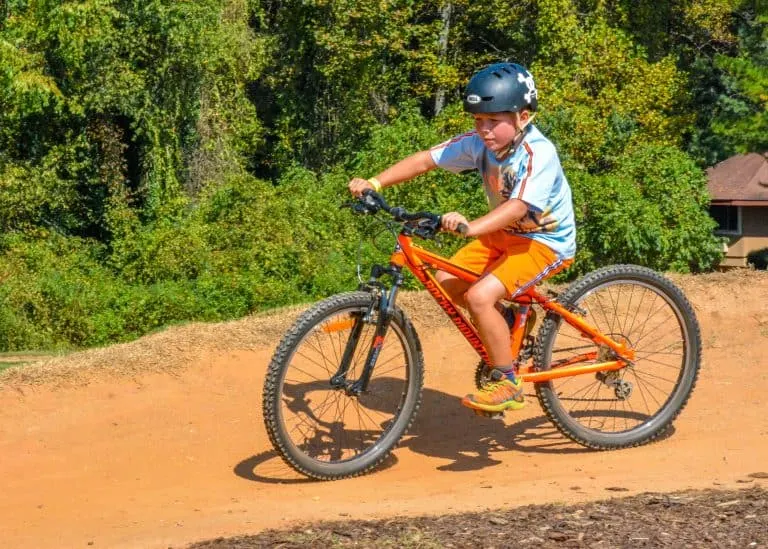 At the same Adventure Center of Asheville location, the Kolo Bike Park provides thrills on the ground. Families can rent mountain bikes or bring their own to experience the parks' two pump tracks and several miles of mountain biking trails for various levels of cyclers.
Our visit to Kolo Bike Park marked my son's first experience riding on trails and a pump track. He's been ready for years, but since my cycling experience is limited, I didn't know where to begin. Kolo Bike Park took care of it all. Now, I just have to find somewhere close to home for him to practice his mountain biking skills.
Check for hotel availability in Asheville
Where to Stay in Asheville with Kids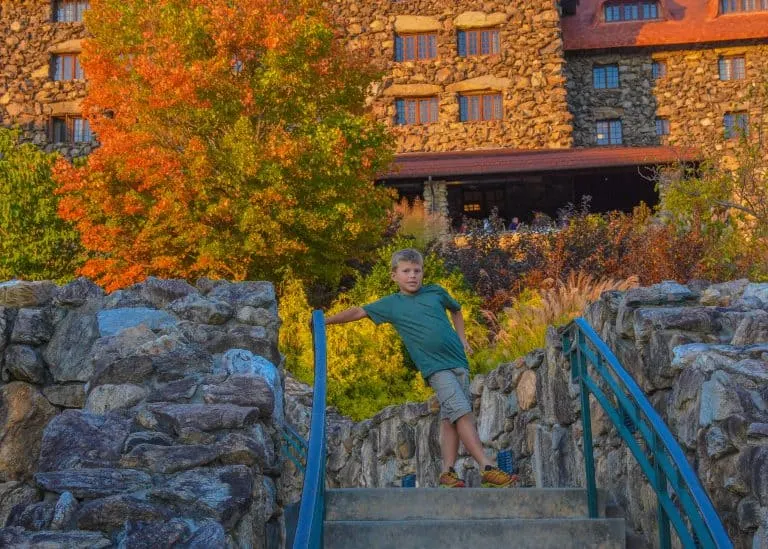 I recommend examining your priorities when choosing a place to stay in Asheville. If you want to fully enjoy Asheville's food scene, choose a place to stay downtown near the city's best restaurants. Not that there aren't fabulous restaurants that you'll want to try outside the downtown neighborhood. However, being able to walk to and from dinner at the end of the day is a really nice perk when staying in the neighborhood.
If you're looking to spend most of your time hiking and enjoying Asheville's top destinations, I recommend staying out by the Biltmore in one of the chain hotels that offer a complimentary breakfast; this area also offers good access to the Blue Ridge Parkway going south out of Asheville. Finally, if you're looking for a no fuss resort vacation, consider the Omni Grove Park up in the hills overlooking Asheville or the hotels on the Biltmore Estate property itself.
Where to Stay in Downtown Asheville with Kids
I chose to stay two nights at the Hilton Garden Inn Asheville Downtown during our visit to Asheville. The property is an easy 10-minute walk from Asheville's downtown restaurant scene. We simply left our car parked at the hotel and walked past the municipal buildings near the hotel to the restaurants.
French Broad Chocolate Lounge, Rhubarb, White Duck Taco, and Over Easy Cafe are all just a short walk from the Hilton Garden Inn. Inside the hotel, rooms are modern and quiet; reception is helpful, and there is a small store inside the lobby with food and incidentals. I recommend this hotel to families who want to focus their visit to Asheville around the downtown restaurant scene.
Where to Stay in Asheville with Kids near the Blue Ridge Parkway
We also stayed one night at the Omni Grove Park Inn overlooking the city on this visit to Asheville. While the Hilton Garden Inn Downtown, is in a great position to get out and enjoy the town, the Grove Park Inn is exactly the opposite; you'll want to park your car, sit back, relax and enjoy the resort's amenities. There are pools, hiking trails, golf, outdoor adventure concessionaires, stores, and restaurants on property.
I loved our spacious room with inviting brown leather chairs positioned right by the window. The chairs were perfect for reading a book and enjoying a view of the mountains surrounding Asheville. The Omni Grove Park Inn is truly a retreat from the city. However, you won't miss out on Asheville's legendary food scene. My meal at Edison's on property was one of the most flavorful of my entire visit to Asheville. And, the sunset view of the Blue Ridge Mountains was unparalleled.
Disclosure: Explore Asheville facilitated my family's visit to Asheville by providing restaurant recommendations and connecting me with their local hotel partners and business. The Biltmore Estate, North Carolina Arboretum, Asheville Adventure Center, Omni Grove Park Inn, and Hilton Garden Inn Downtown Asheville provided complimentary or media rate experiences and lodging for my family. All opinions are my own.