Family fall fun can be found at these pumpkin patches near Seattle, Washington. Take a look at the list and find the perfect match for your family's style. Extend the season by visiting a couple different patches throughtout the season.
Explore pumpkin patches with gorgeous backdrops, haunted mazes, private fire pits, and a beautiful variety of pumpkins and gourds. These are the best of the best in the Seattle area for 2022.
Visiting the city? Here are the 10 best things to do in Seattle with Kids.
10 Best Pumpkin Patches Near Seattle
1. Bob's Corn and Pumpkin Farm in Snohomish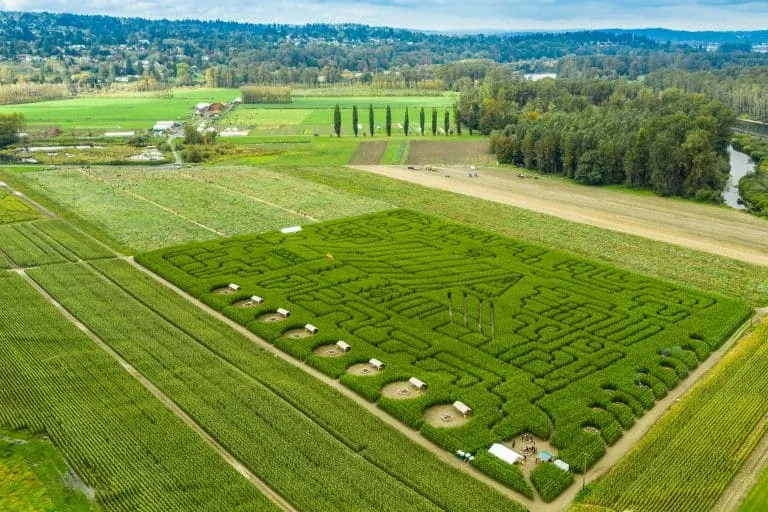 One of the best pumpkin patches near Seattle, Bob's Corn and Pumpkin Farm, is on a 40-acre pumpkin patch in Snohomish. They have a variety of pumpkins from mini to extremely large!
Kids will enjoy the 12-acre corn maze, pony rides, a trike track, cow train, and a mining experience. This will allow your children to hunt for treasure all on their own!
You will want to partake in the hot food options and face painting available on the weekends! Families love the bonfires available for personal use, be sure to book yours in advance because there are only 18 available. The pumpkin patch also offers event space for private parties.
Purchase tickets online before you go and save $5 per person! Platinum Pass admission includes the mining and 10 apples for the apple cannon. There is a night maze that is open on Friday and Saturday nights which is best for older kids. This pumpkin patch is open from September 17 to October 31, 2022.
10917 Elliot Road, Snohomish
2. Fairbank Animal and Pumpkin Farm in Edmonds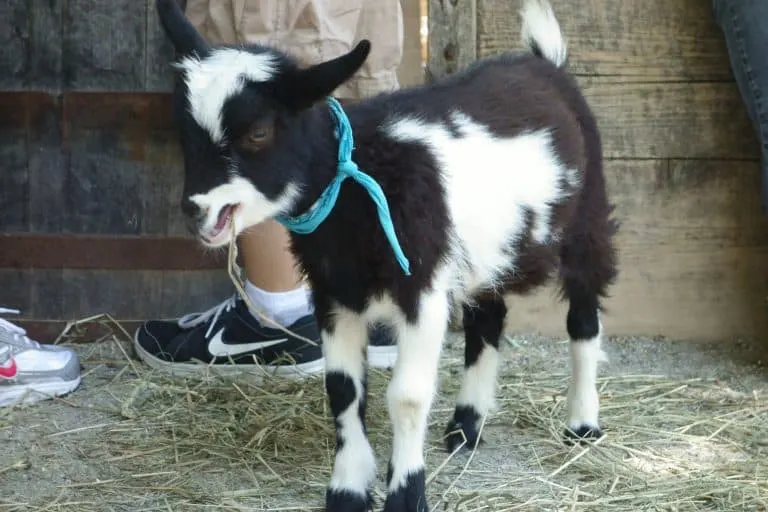 The darling pumpkin patch at Fairbank Animal and Pumpkin Farm is located in Edmonds, Washington. This farm offers a fun variety of activities for your kids to enjoy beyond picking out the perfect pumpkin.
One thing your family will not want to miss is the opportunity to see the chicks, ducklings, cats, sheep, goats, turkeys, pigs, and rabbits, waiting for you at the Fairbank Animal Farm. You will also enjoy participating in the toy duck races, watching the poultry incubator, joining the straw treasure hunt, and exploring the corn maze!
There's so many opportunities to take fall pictures with the covered wagons or the sprouting vegetable garden! The little ones will especially enjoy feeding the poultry, which is included in your child's admission!
Admission to this pumpkin patch is just $5 and gourds and pumpkins begin at $1. Parking is free and reservations are not needed – just come on down to the Fairbanks Animal Farm and enjoy yourself! Fairbank Animal and Pumpkin Farm is open on Saturdays and Sundays from 10am to 5pm.
15308 52nd Ave W, Edmonds
3. Swans Trail Farms in Snohomish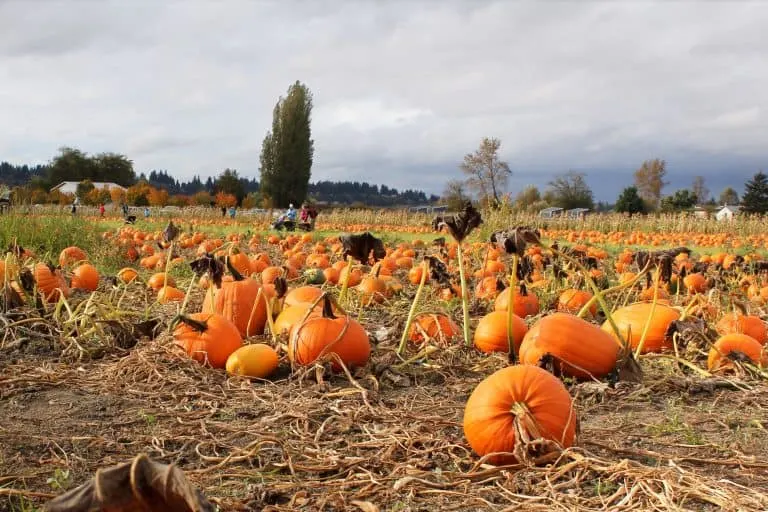 Swans Trail Farm, located in Snohomish, is a second-generation family farm. The farm features lots of fall family fun activities. They offer u-pick apples (September) and a pumpkin patch.
The 50-acre, pumpkin patch experience is one of the largest in the area earning it's place as one of the best pumpkin patched near Seattle. Swans Trail Farms offers a beautiful variety of pumpkins in a bunch of different shapes and colors.
The pumpkin patch and food areas are open to the public at no additional cost. You just pay for what you want to purchase. You won't want to miss out on the Apple shack, donut shop, and country store! You'll also find food at the brisket corner and the tractor café!
The farm is the host of the Washington state corn maze! This 4.5-mile maze is Washington in miniature with more than 250 state roads, 400 towns, and plenty of landmarks and historical facts along the way.
Activities are available from 10 AM to 6 PM from September 24th to October 31st. Be sure to visit their website for a list of all activities and times for the fall festival.
4. Stocker Farms in Snohomish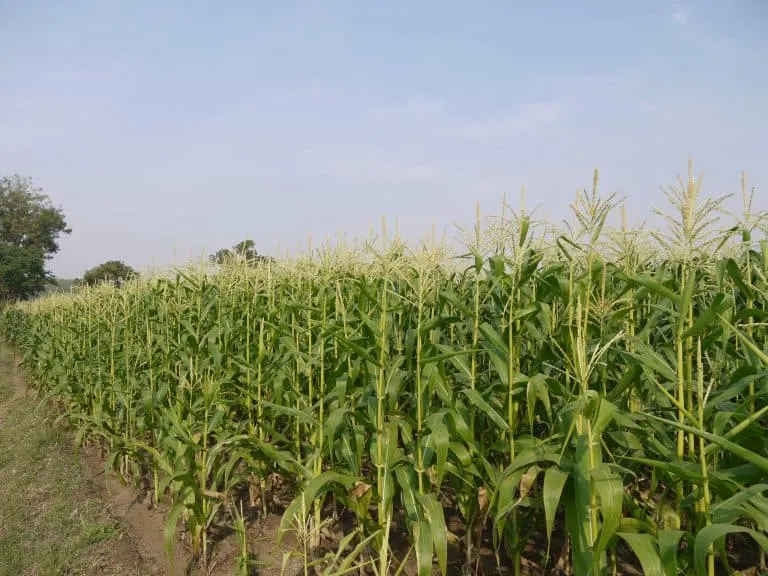 Stoker Farm, located in Snohomish, has a wide range of activities for the fall. The farm features sunflower fields that are open for you pick blooms and beautiful photo opportunities on the weekend as well.
On Saturday nights, firework extravaganzas take place at 7:30. Your kids will love the giant, jumping pillow, pumpkin barn, duck races, pumpkin, tetherball, and so much more! Don't miss the Pumpkin and Candy Cannon that takes place on the weekends!
For those with a more daring spirit, there are Stalker tickets available for their haunted corn maze. If you purchase your tickets online, you will receive a discount. The maze provides a frightful experience exploring the slasher family homestead and Pogo's funny farm. In addition to the mazes, there are photo opportunities, and carnival games throughout the night.
The Stocker Farm's fall festival runs on the weekends beginning September 17th through October 31st, 2022.
8705 Marsh Road, Snohomish
5. Craven Farm in Snohomish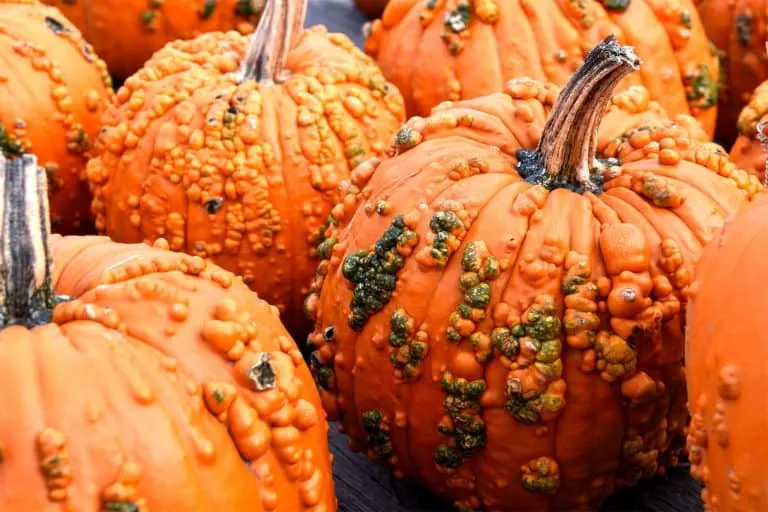 Craven Farm in Snohomish, Washington is one of the best pumpkin patches near Seattle. It offers a fall pumpkin patch festival that runs from September 17th through October 30th, 2022.
They offered late nights on October weekends featuring nighttime fun including private fire pits to host cozy family gatherings. This beautiful pumpkin patch also offers a corn maze, hayride, and gorgeous autumn decor that makes for a great photo backdrop.
Attractions include mini golf, human foosball, a cow train for the kiddos, duck races, and the ever-popular apple cannon. You can purchase a wristband which gives you access to all the activities or purchase activities individually.
Your four-legged friends will love the animal pooches in the park night. Pups are invited to join on Sunday, September 18, Wednesday, October 12, and Sunday, October 23! These are the only days dogs are allowed on the farm, so be certain to book your family pumpkin patch visit during those times if you would like to bring your four-legged friend.
There's truly something for everyone at Craven farm. Visit their website to book your visit in advance.
13817 Shorts School Road, Snohomish
6. Carpinito Brothers in Kent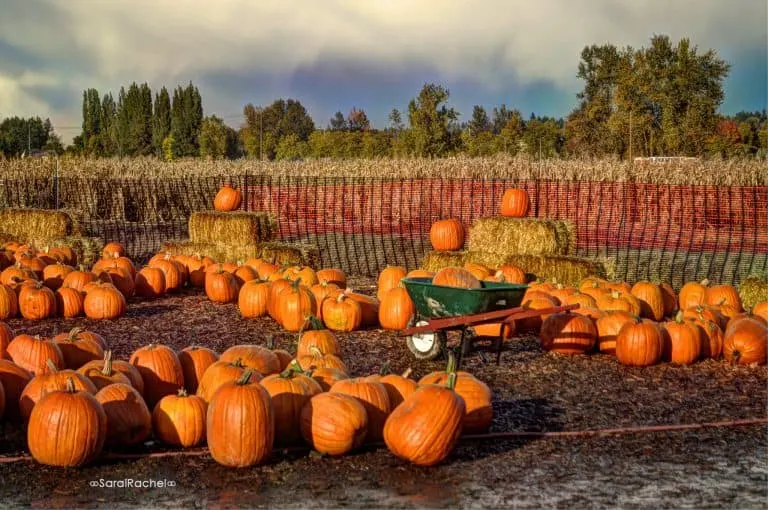 Carpinito's Brothers Farm in Kent, Washington is full of family fun! The farm may be an hour outside Seattle, but made the list of best pumpkin patches near Seattle due to it's unique location.
It's picturesque backdrop of Mount Rainier earns it's place on the list. The expansive offerings of pumpkins and gourds are a sight to see. There is a small fee to enter the pumpkin patch, but that is used as a credit towards your pumpkin purchases.
You won't want to miss the corn maze which has an "Alien and Spaceship" theme this year. Admission to the corn maze is $11 for 13 and up and kids 5-12 are $8. Younger than 5 are free.
They also have a Farm Fun Yard is available featuring hay, rides, goat walks, and lots of fun, hands-on activities. Admission to the Fun Yard is $7 and the hayride is $4. The pumpkin patch open September 30th and runs through Halloween. You can visit their website for more information.
1148 Central Ave N, Kent
Make a weekend of it. Here are 10 amazing weekend getaways from Seattle for families.
7. Fall City Farms in Fall City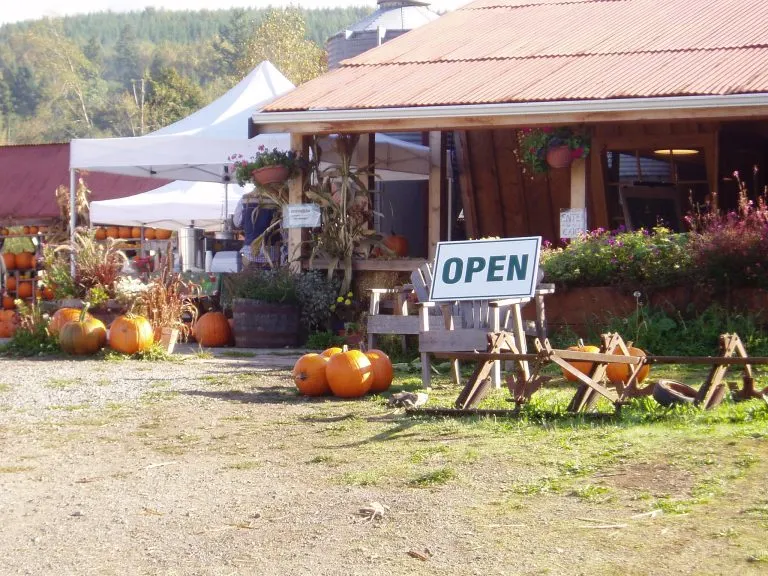 Fall City Farms is located just outside of the Seattle Metro and is one of the best pumpkin patches near Seattle. The property features a unique pumpkin barn that is perfect for fall photos. These pumpkins are grown right on the farm so you pick them striaght from the vine.
Your family will enjoy the hot cider and mini donuts while exploring the farm. The adorable farm animals are sure to be a hit!
Fall City Farms is open weekends throughout October from 10 AM to 5 PM and reservations are not required. Visit their website for more information.
Trekaroo tip: This farm also sells Christmas trees during the holiday season.
3636 Neal Road, Fall City
8. Remlinger Farms in Carnation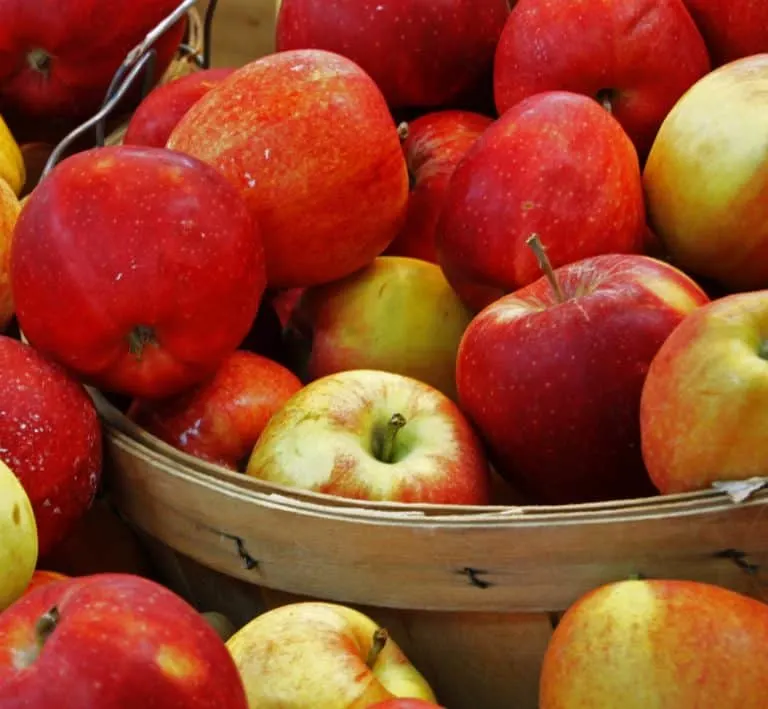 Remlinger Farms, located in Carnation, offers a full harvest festival every weekend throughout October. With a variety of over 25 different activities, your family is sure to find something that they love!
The pony rides and the straw maze are two of the more popular activities. The new apple cannon is sure to be a hit as well. Perhaps give your adventurous side a try and go down the giant slide or take a spin on their go karts, swing ride, or kiddie coaster!
Bring an appetite because there is lots to eat at this farm. Caramel apples, pumpkin pie-spiced donuts, pumpkin bread, homemade chili, pizza and kettle corn are just a few of the highlights.
Their train is running again this year and you can grab your tickets while visiting the fall festival! Go to their website to learn more about tickets and reserving pony rides for your visit.
32610 NE 32nd St, Carnation
9. Pfaff's Old Time Farm in Auburn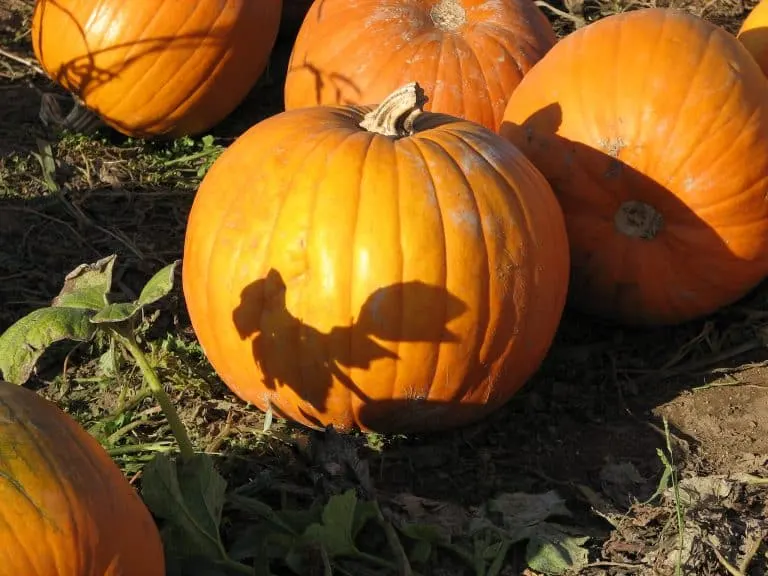 Pfaff's Old Time farm is located on a beautiful Christmas tree lot in Auburn making it one of the best pumpkin patches near Seattle. Here you will find gorgeous organic pumpkins grown amongst the Christmas trees!
The pumpkin patch offers a fun scavenger hunt and your family will love the natural and beautiful backdrop of this Christmas tree farm.
Visit their website to learn more about this gorgeous farm.
29204 124th Ave SE, Auburn
10. Carleton Farm in Lake Stevens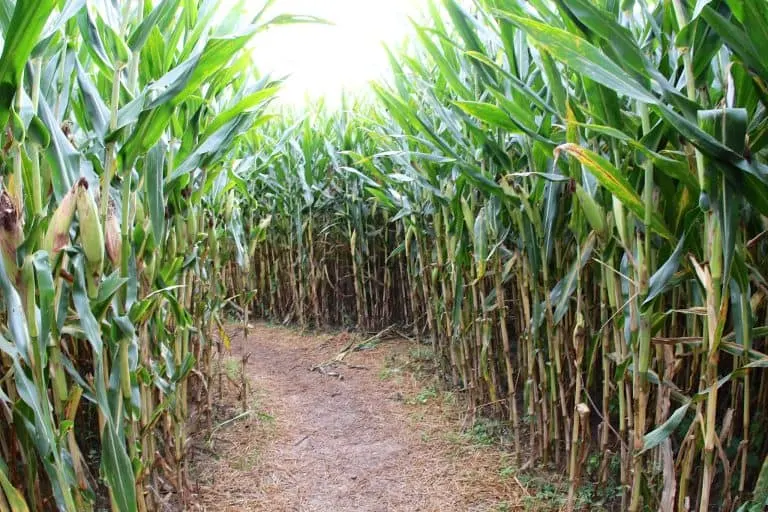 Carleton Farms is located in Lake Stevens, Washington. This adorable farm offers u-pick pumpkins and some wholesome family fun. Your children will love the farm animals, and the corn maze!
The market and concessions are great to explore and pick up some fall decor. Fridays through Sundays, the farm offers game zone and kids corral activities. You can purchase a wristband to access all the activities! The activities include tube, slides, zip swings, roller slides, paintball gallery, apple guns, and punch pumpkins!
The farm is open throughout October, visit their website for pricing and hours.
630 Sunnyside Blvd SE, Lake Stevens
Explore more of the state! Here are our favorite things to do in Washington with kids.
Lead photo by St0rmz.