Orlando will be a family road trip destination for many this year! You probably know which theme parks you want to visit and what you want to do once you've arrived in Central Florida, but how about pit stops en route? With an Orlando family road trip, getting to Orlando can be half the fun — especially if your family stops at some of these Trekaroo-approved attractions. Select your route, I-95 or I-77, and start planning your family's stops along the way! Here is Trekaroo's guide to an Orlando family road trip.
Visit Orlando and stay at these family friendly hotels!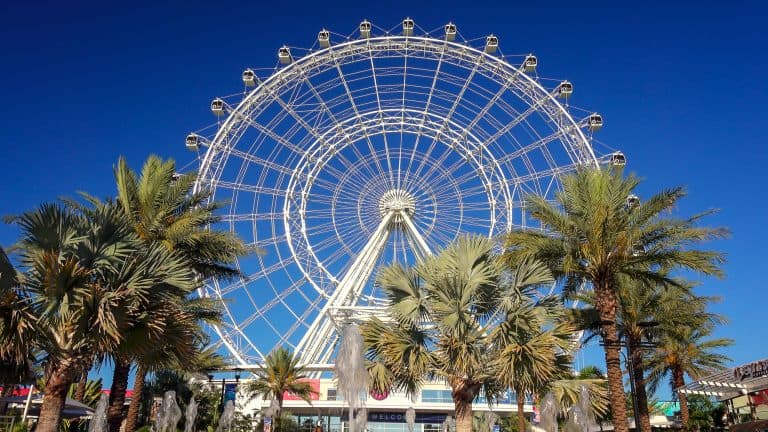 Getting to Orlando: I-95 Road Trip Itineraries
Stretching from Maine to Florida,  I-95 is the most direct path from north to south along the Atlantic Coast. Road trippers driving this route know that frequent pit stops are a must. While there are plenty of rest areas along I-95, your family will have a lot more fun if you get off the interstate once and awhile.
---
I-95 Pit-Stops in Delaware and Maryland
If you're beginning your drive in Connecticut or New Jersey, the entire family will be ready to stretch their legs by the time that you cross the Delaware Memorial Bridge and say goodbye to the New Jersey Turnpike! Wilmington, Delaware is one of my favorite pit-stops along I-95. There is so much to do only a short distance from the interstate.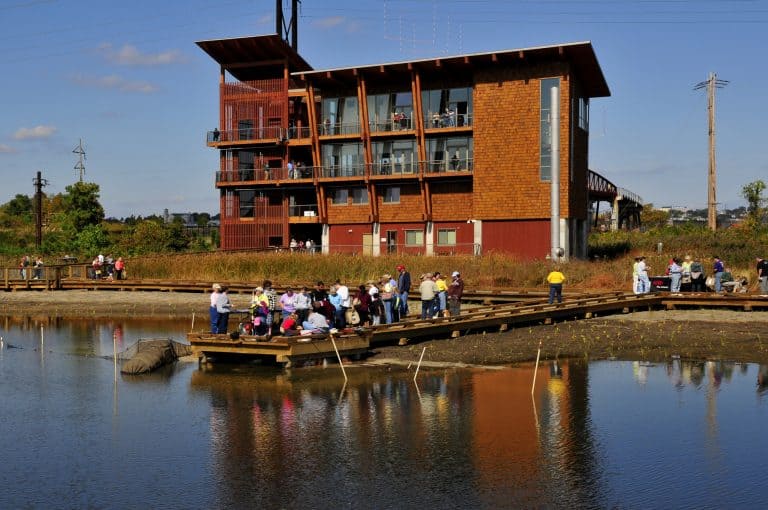 Photo Courtesy of Greater Wilmington CVB Rod Hampton 
Wilmington
The DuPont Environmental Education Center is just about 5 minutes off the Rte 4/ Martin Luther King blvd exit in Wilmington (exit 6 on I-95.) The Russell W. Peterson Urban Wildlife Refuge, where the environmental education center is located, is one of only a handful of urban wildlife areas in the country. There are trails for walking and bird-watching along the pond and through a garden featuring native plants open daily during daylight hours. Additionally, the education center building is open 11AM-5PM Tuesday through Saturday and noon-5pM on Sundays. This makes the perfect pit-stop because entry to the DuPont Environmental Education Center is completely free!
If it's raining when you get to Wilmington and the little ones are in desperate need of a break from their car seats, you'll be happy to know that the Delaware Children's Museum is also off the same exit.
Baltimore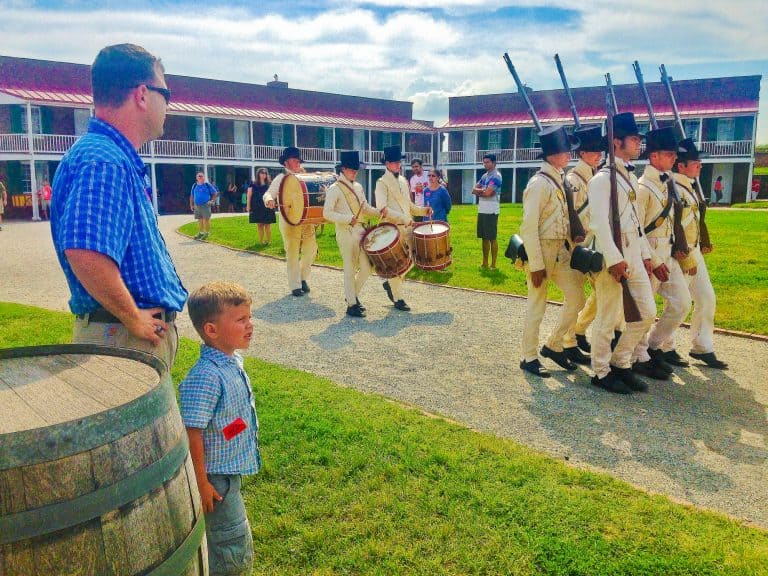 Looking for a quick stop in Baltimore? Trekaroo recommends a stop at Fort McHenry National Monument and Historic Shrine just 5-10 minutes off of I-95 after exiting the tunnel (exit 55.) While there is an entrance fee for adults ages 16 and over, a visit to Fort McHenry is certainly cheaper than going all the way into Baltimore and parking at one of the garages in the Inner Harbor neighborhood. Children love to explore the nooks and crannies of this famous fort, and it is a great place to burn off some kid energy. At various times during the day families can even help take down and fold a War of 1812 era flag that flies high above the fort. Of course, there's plenty of history lessons to be had at Fort McHenry. Francis Scott Key penned his famous "Star Spangled Banner" poem, later to become our national anthem, while watching for the flag to rise above the fort by the dawn's early light.
I-95 Pit-Stops in Virginia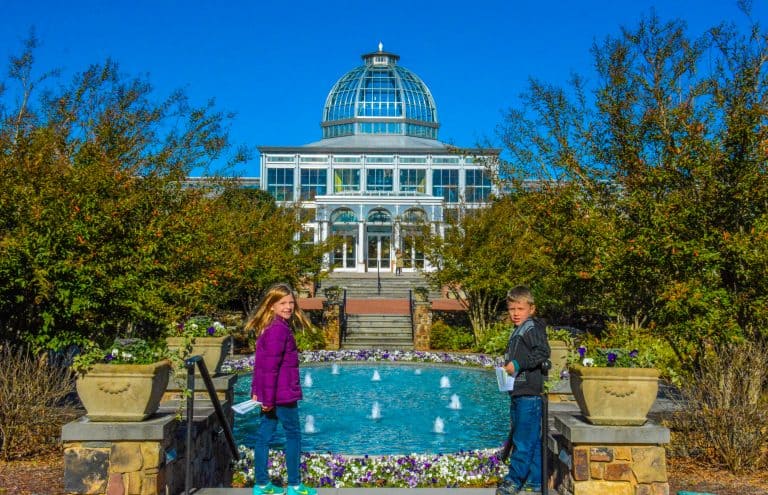 Once you've made it through the Capital Region and bypassed Washington DC, you'll certainly be ready for another pit stop by the time that you cross the Potomac into Virginia.
Richmond
Richmond is a fun place to stop just for a couple hours or even to spend the night. Everyone's got to take a break from driving to sleep at some point, right? Virginia's capital has a growing foodie scene in its Church Hill, Carytown, and Downtown neighborhoods making it the perfect place to eat a satisfying dinner. There are also museums, historic sites, and gardens to explore in this beautiful Southern city on the James River.
If you're opting for only a quick break in Richmond, Lewis Ginter Botanical Gardens (exit 83B) has a fun children's garden where the tots and youngsters can play. My kids enjoyed playing hide and seek in a lovely wooden treehouse, walking around the conservatory, and smelling the roses. (Lewis Ginter's iconic conservatory is pictured above.)
Looking to extend your Richmond Pit-Stop? Check out Trekaroo's Things to Do in Richmond with Kids.
I-95 Pit-Stops in the Carolinas and Georgia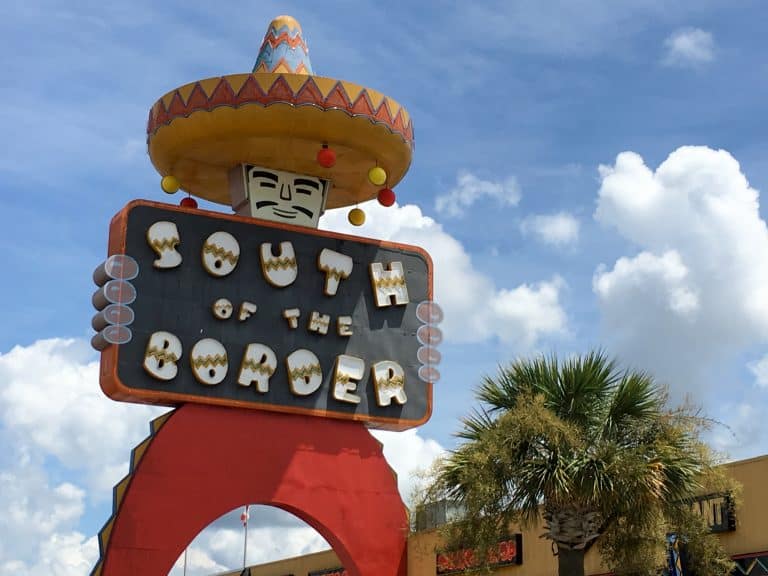 Photo by:Flickr/TruffShuff
South Carolina
After driving 180 miles through North Carolina, you'll reach the famous rest stop, South of the Border. You guessed it, it's located just south of the North Carolina- South Carolina Border! With three restaurants, a reptile lagoon, a small amusement park, and even a motel, South of the Border is easy to spot: look for the Sombrero Tower at exit 1 in North Carolina. This is a perfect stop for a snapshot of your Orlando family road trip.
Truth be told, my favorite part about driving in Georgia are the peach stands. Georgia is the home of peaches and pecans, and there's no problem finding either, as nearly every exit in Georgia has peach stands!
Georgia
Darien, GA, not far off of exit 49, a seaside village famous for shrimpin' and food. Darien has an old-school look and feel, and self-guided tours give a good reason to stretch out those legs. The Purple Pickle in Darien is a sub and sandwich shop with southern hospitality. Chicken and waffles, a southern favorite, is a perfect choice.
Check out the best hotel deals nearby!
I-95 Pit-Stops in Florida – You've Made It!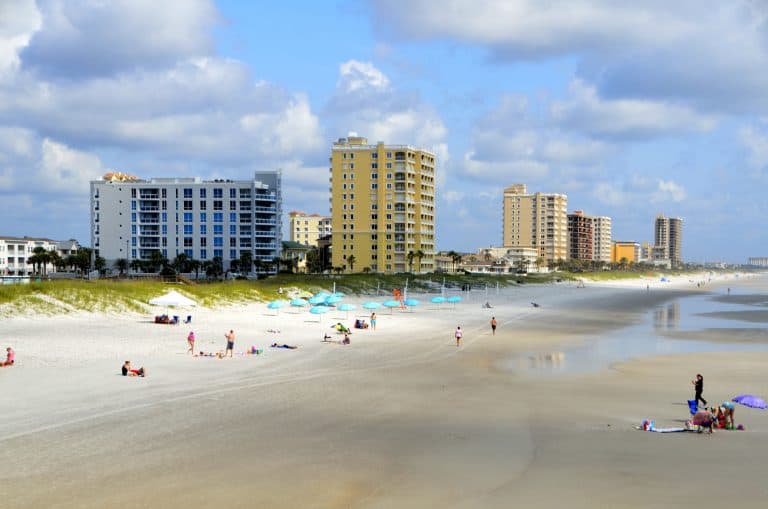 Photo by: Bigstock/bren64
Once you hit the Florida border, there's only one thing on everyone's mind- the beach! Jacksonville Beach at exit 341 and Daytona Beach at exit 261 are two family-friendly beaches with great restaurants and lots of play space for families. Don't forget to pack a kite, as the ocean breeze at both beaches is ideal for kite flying! The beaches are a great place to take a few days rest on your Orlando family road trip.
Getting to Orlando: I-77 Road Trip Itineraries
Looking for the fast track from Cleveland, OH to Columbia, SC? I-77 is your highway! Spanning 611 miles, good food, fun pit stops, and loads of family-friendly attractions make this route a great choice. From Columbia, you can join up with I-95 South for the last leg.
I-77 Pit Stops in Ohio and West Virginia
Leaving the shores of Lake Erie, you'll soon be in Appalachia. Mountains stretch as far as the eye can see.  It will take you at least three hours to cross the Mountain State. Consider a stop at the state capital or a state park!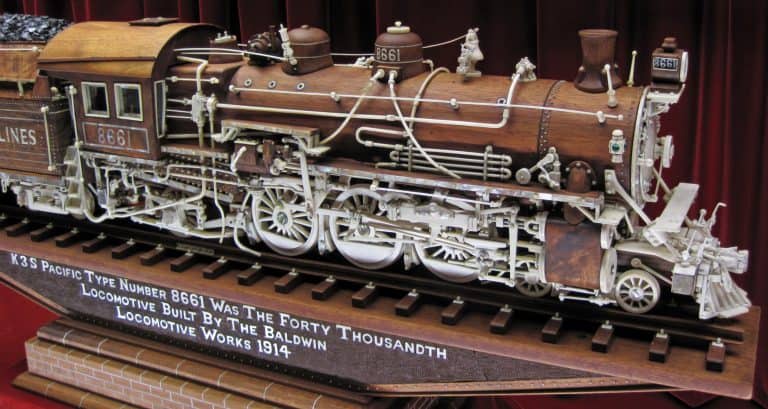 Photo by:Flickr/James St. John
The Warther Museum  is a unique museum located in Dover, Ohio off of exit 83. This woodcarving museum has several locomotive replicas, called "priceless works of art" by The Smithsonian. The collection is compliments of  founder Ernest Warther's love of trains.
West Virginia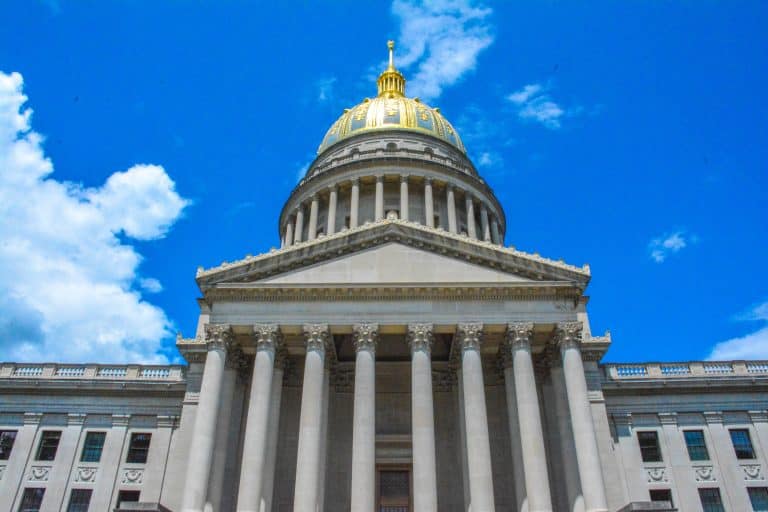 On the I-77 route, families pass through Charleston, capital of West Virginia. Take exit 99 for the West Virginia State Capitol Building along the Kanawha River. It is one of the most beautiful out of all fifty states with its gilded dome and marble interiors. It can even be seen from quite a distance away. If the weather is not quite right for a stroll around the gardens, take a look inside the extensive West Virginia State Museum. There is no cost to visit the West Virginia State Capitol Building, gardens and West Virginia State Museum; they are all free! Did you know that West Virginia was the only state born out of the American Civil War? There is a prominent statue of Abraham Lincoln in front of the state Capitol building so that West Virginians never forget their history.
Charleston is a great place to spend the night. There are several great kid-friendly restaurants downtown. Check out Trekaroo's recommendations for Spending a Day in Charleston, West Virginia Capital City. 
Lodging options in Charleston, West Virginia!
If you're more the outdoorsy type consider driving another 90 minutes down the interstate and camping at Camp Creek State Park just off exit 20 in West Virginia. Camp Creek, one of West Virginia's beautiful  state parks, offers cabins, horseback and hiking trails, and several playgrounds to blow off some pent-up energy.
Feel like shopping for some souvenirs of your awesome road trip? Exit 45 in West Virginia is a great place to stop and pick up handmade arts and crafts at Tamarack. Feel like stepping back in time?
I-77 Pit Stops in the Carolinas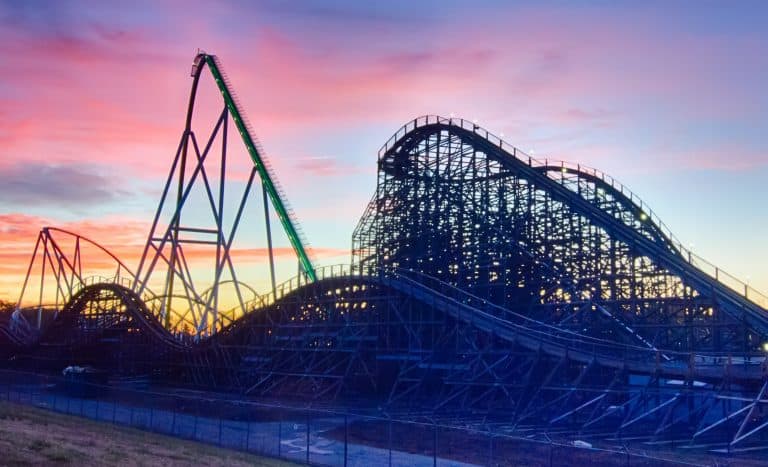 Photo by: Bigstock/digidreamgrafix
Crossing from Virginia into North Carolina, visit Mt. Airy, NC off exit 81. This small town will make you feel as though you've been dropped in the middle of "The Andy Griffith Show!" One stroll down Main Street and you'll think you've been transported to Mayberry.
Carowinds off exit 90 in South Carolina is often called the "Thrill Capital of the Southeast!" Thrill rides, family-style rides, a waterpark, and even Planet Snoopy make this park fun and family-friendly.
You'll be joining I-95 soon, don't forget to grab some southern barbecue before you leave South Carolina! Maurice's off exit 18 in Columbia is a fan favorite.
Getting to Orlando: I-4 From Orlando to Tampa
So many travelers recognize I-4 as the well-traveled highway to Disney and Universal Studios, but this interstate really has so much more! Fun dinner shows, exhilarating activities, and awesome attractions give road tripping families tons of spots for breaks and leisure.
Chocolate lovers will want to keep exit 65 in mind for one reason: Chocolate Kingdom. With hourly tours, families learn how chocolate is transformed from a bean to a mouth-watering treat.
Looking for fun dining? Choose exit 68 to dine like royalty at Medieval Times Dinner and Tournament Show or choose unusual sandwich options at Earl of Sandwich.
Planning on driving through Orlando and heading toward Tampa? Make a pit stop on exit 17 and check out Dinosaur World. Kids will enjoy the fossil dig and life-size dinos while adults will adore the serene environment.
Looking for some fun off the beaten path? Take exit 77 and in under an hour arrive at Wild Florida Airboats and Wildlife Park. Take a spin on an airboat through the Central Florida Everglades and visit the wildlife park while taking in a glimpse of what Florida looked like 1,000 years ago!
Need an Orlando lodging recommendation now that your route is planned? Check out Trekaroo's Best Orlando Hotels for Families.
SaveSaveSaveSave
SaveSave
SaveSave
SaveSave