Are North Carolina's Outer Banks, Washington D.C., or Philadelphia part of your family's summer vacation plans this year? If the answer is yes, then it's probable that you'll be driving to your destination via I-95 along with millions of other Americans.  I'd like to suggest that you make a stop along the way and discover the all the fun things to do in Richmond, VA with kids.
Richmond, Virginia Vacation with Kids – Things to do in Richmond, VA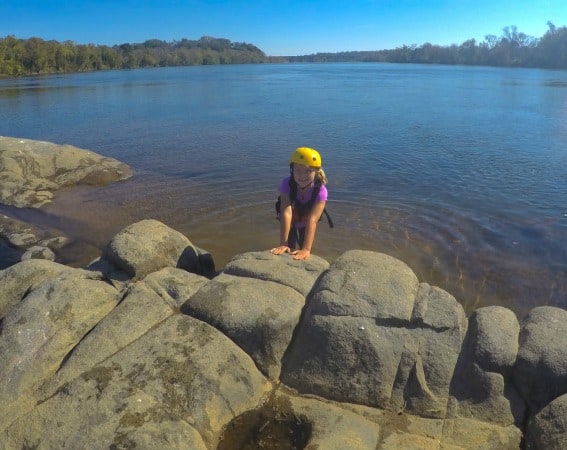 Recently, I took a Richmond, Virginia vacation and discovered lots of things to do with in Richmond, VA with kids. It is a much more of a kid-friendly, outdoorsy destination than I had thought. And now, based on several road trips through the area, I believe that it is the best Virginia vacation destination for families along I-95.
Check out Trekaroo's Top 10 Things to Do in Virginia!
Play Outdoors on the James River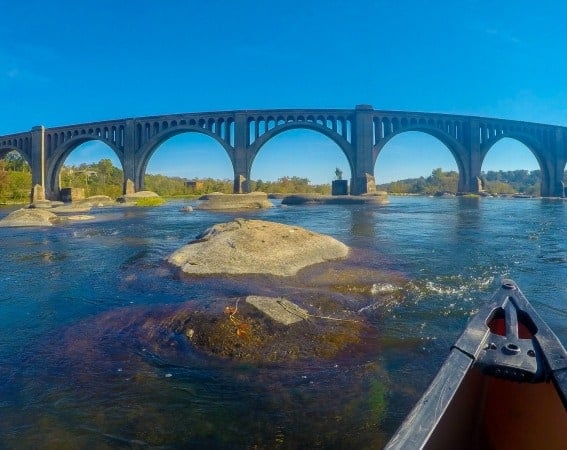 Not only is the James River some of the best whitewater in the East, but it's also among the best urban whitewater destinations in the nation. Families looking to combine their trip to Washington D.C. and Philadelphia with a little outdoor adventure should consider a whitewater rafting experience with Riverside Outfitters while in Richmond.
Families with kids as young as six years old can experience the Upper James River. The paddle begins a ten minute drive outside of town at the Pony Pasture Rapids, which is a beautiful place worth a visit even if you don't have the time for a full whitewater adventure. When the water is high enough, there are enough rapids to get the youngest adventure seekers hooked on whitewater adventure for life. During lower water levels, this section of the river is a pleasant SUP, canoeing, or kayaking experience for the more experienced whitewater enthusiasts in the family.
For families with teens, the Lower James River offers Class II – Class IV whitewater right in downtown Richmond. It's a two to three hour experience (including a snack) just like the Upper James River. It's this stretch of the James that has earned Richmond the reputation for being a premier, urban, whitewater destination.
Take the Little Ones Out to Explore Beautiful Gardens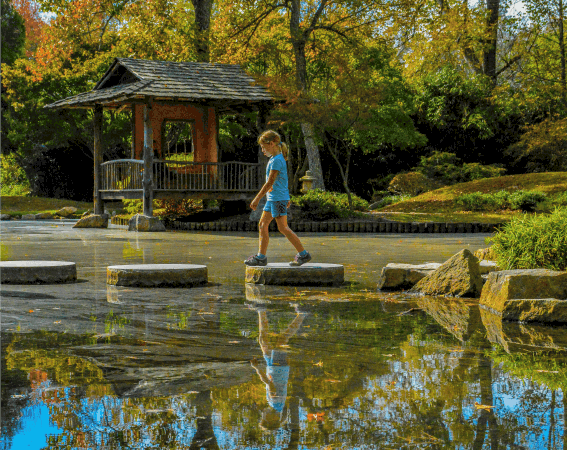 If you have little ones, you'll want to make a stop at Maymont while in Richmond. I cannot think of a more ideal place to spend a pleasant morning with toddlers or preschoolers. The real highlight of Maymont for everyone, no matter their age, are the gardens, especially the beautifully landscaped Japanese Garden. Tots will enjoy spotting the koi, standing beside a tall waterfall, and hopping stones to an island in the middle of a pond. However, parents of toddlers are most likely to spend the majority of their time at the small zoo, home to about a dozen locally found animals, and large nature center highlighting the ecology of the Chesapeake Bay Watershed including several aquariums. Finally, parents will especially love that the outdoor areas of Maymont are completely free, and there is only a small fee for the indoor exhibits.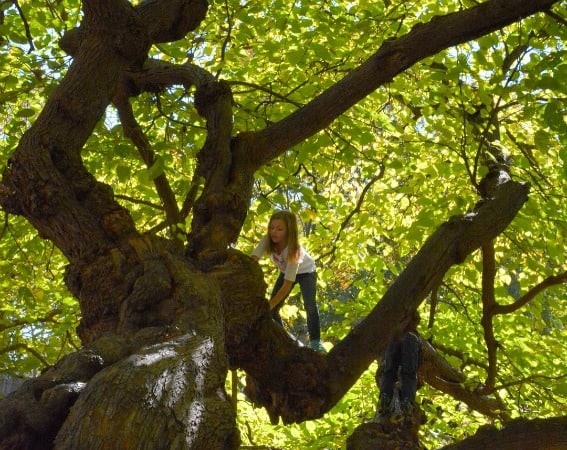 Another beautiful garden in the Richmond area is the Lewis Ginter Botanical Garden. They have a large children's garden where kids can climb a tree, play hide and seek, or build a fort with natural materials.
Bike or Walk Along the Waterfront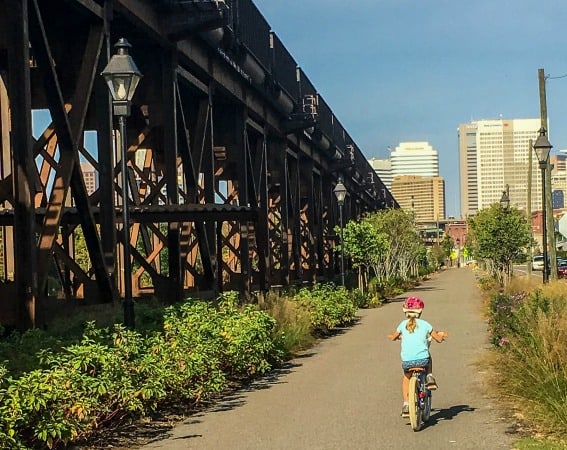 Still need to spend a bit more time outdoors before being cooped up in the car for several more hours with the family? Richmond's recently completed Virginia Capital Trail is a nice place to take the teens for a bike ride. When we visited, there were bikes available to rent at a gravel parking area near Great Shiplock Park. Heading out of the city, families with older children can bike on the trail which runs along a county highway for miles often within sight of the James River. Families with little ones can walk or bring their own bikes and head the half mile or so towards the city. Eventually, the path joins up with a beautiful downtown area Canal Walk. There are also plenty of trains around that will keep your transportation-loving tot thoroughly amused.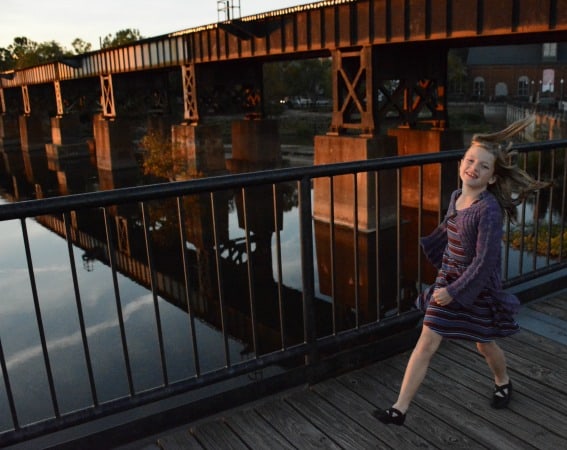 If you're just looking for a quick stroll, Brown's Island, near Historic Tredegar might be the perfect place. We caught the sunset here one night. It was magnificent!
Visit a Historic Plantation – A microcosm of American History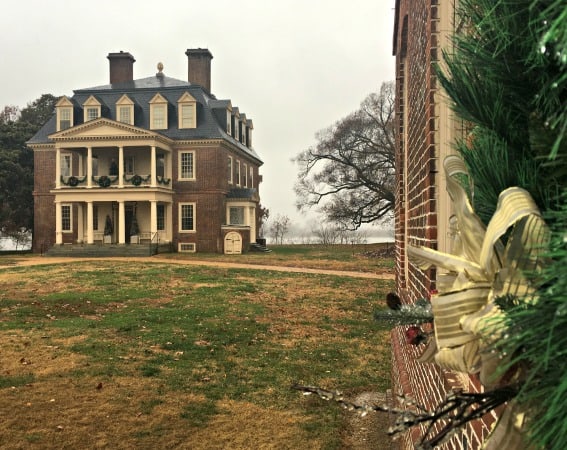 There are two unique historic plantations 20-30 minutes outside of Richmond along the James River as it flows towards the ocean. These plantations have been inhabited by only a couple of families since the early 18th century before the American Revolution. Unlike typical history museums that cover a certain topic, time, or place, the historic stories told at these plantations are simply the journeys of one American family as they move through the scope of American history beginning with the colonization of America proceeding through the American Revolution and Civil War to the modern day.
The Shirley Plantation is still inhabited full-time by the Carter family who has lived on this property since the early 18th century. The Carter family was one of the wealthiest and most influential families in colonial Virginia. Prior to the Civil War, a daughter from the Carter family married into the Lee family. So, Robert E. Lee likely spent some of his formative years in this house. While the house tour itself is not particularly kid-friendly, the tour guide has plenty of fun anecdotal stories to tell, and there is a kid's scavenger hunt guide to the out buildings on the property.
Nearby the Berkeley Plantation tells the story of the family of William Henry Harrison; yes, the American President famous only for having the shortest term of office and the longest Inaugural address. The plantation was settled by English colonists around 1624, and it's location led it to be a lucrative shipping center in colonial Virginia. Notably, the house was used during the Civil War by General McClellan of the Union.
Thoughtfully Contemplate the History of The South at a Richmond Museum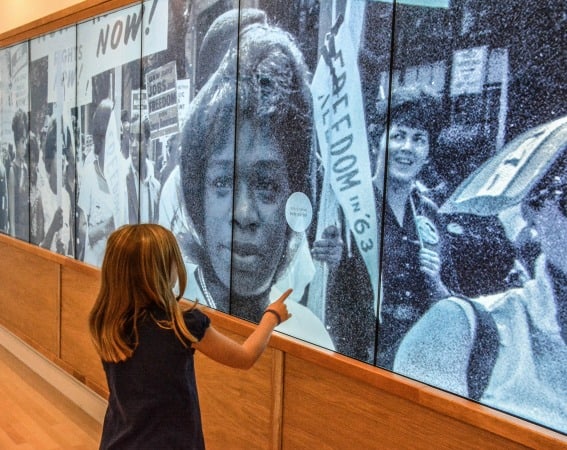 Many familiar names have made history in the Southern city of Richmond, from founding fathers Patrick Henry and Thomas Jefferson to Jefferson Davis and Robert E. Lee of the Confederacy to Edgar Allen Poe. If you're looking for a quick 45 minute history lesson, the National Park Service's Visitor Center Museum at Historic Tredegar provides an overview of the history of the Confederate years in Richmond. The Edgar Allen Poe Museum, located in a historic building near the house where Poe himself was raised, displays Poe memorabilia, and shows what life was like for Poe in antebellum Richmond; it takes just about 30-40 minutes to visit.
If you're looking to inspire conversation with your older children about historic perspectives of The South, the American Civil War Museum at Tredegar and the Black History Museum and Cultural Center both provide a more complex history of the city. My family history dates back more to the California Gold Rush than the Civil War, so I found the perspectives presented at these museums particularly thought-provoking as they gave me a different view of modern United States history.
Explore Richmond's Neighborhoods on Your Richmond, Virginia Vacation
Even if you have only a very short time to stopover in Richmond, I recommend that you plan on eating at least a meal or two while exploring Richmond's classic, historic neighborhoods.
Church Hill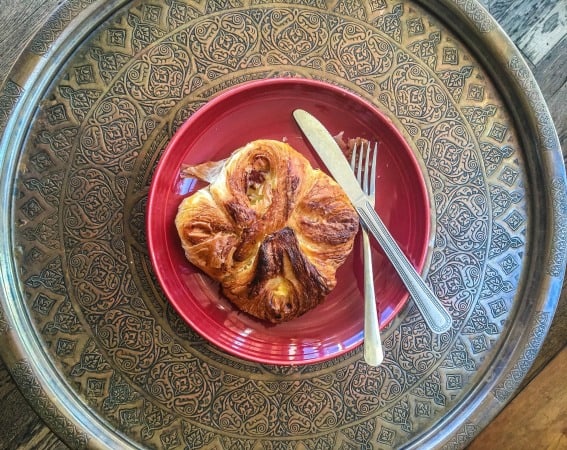 On two separate visits to Richmond, I found two hidden gems in Church Hill. First, for breakfast Sub Rosa Bakery has some of the most amazing pastries that I have tasted on this side of the Atlantic. It's easy to stop in and get some flakey croissants to go. And, for lunch, Stroops Heroic Dogs are amazing; yes, these are hot dogs that will satisfy everyone from foodie to three-year-old.
Museum District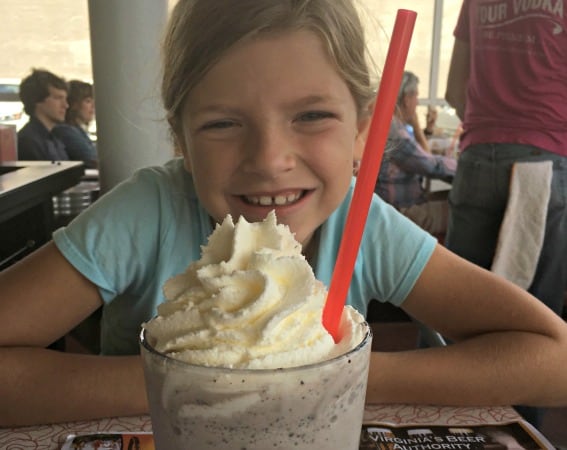 Before a visit to the Virginia Museum of Fine Arts, my daughter and I stopped for lunch at Boulevard Burger and Brew. Based on the outside of the restaurant, I thought that this was just your typical diner, but not so; this California girl was able to get a burger topped with kale, mushrooms, and goat cheese. It's not too far from Richmond's classic Monument Avenue, if you feel like you'd like a walk after enjoying a milkshake and onion rings.
Carytown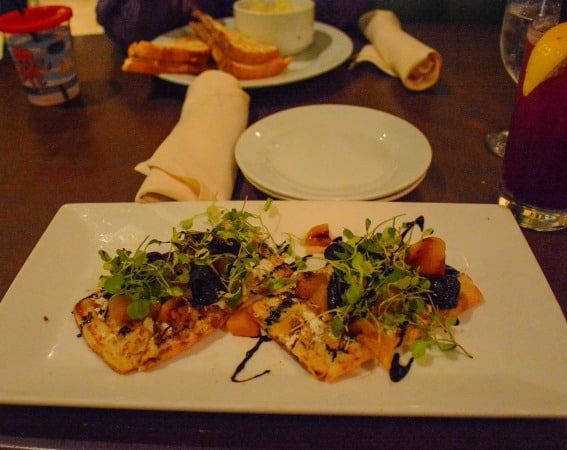 All my friends who are familiar with Richmond told me that I had to go to Carytown. It is the trendy neighborhood where we ate dinner at the Daily Kitchen and Bar during Richmond's restaurant week Halloween weekend 2016. After a yummy dinner made with fresh ingredients, my daughter and I took a walk and discovered Richmond's favorite toy store, World of Mirth, just down the road.
Downtown
With cobbled streets that are steeped in Southern history, all visitors to Richmond should spend a bit of time walking around the downtown area. Parents of tots will especially love the laid back atmosphere at Urban Farmhouse Market and Café, which has a creative children's menu especially for little ones.
Check out Trekaroo's full guide to Visiting Richmond with Kids.
All photos are by Melissa Moore unless credited otherwise.
Disclosure: I was hosted by Visit Richmond at many of the attractions and a couple of the restaurants mentioned in this article. All opinions are my own.
SaveSave
SaveSaveSaveSave
SaveSave
SaveSave
SaveSave