Whether your family is sporty, nerdy, lazy, foodie, or all of the above, you are sure to love one of our picks for best beach towns in Florida. After all, the state has over 1,000 miles of sandy beach. The difficult part can be narrowing down your choices!
What makes a great family beach town? Let's assume easy access to a sandy beach is a given. Add in some kid-friendly restaurants, a few entertainment options, and a variety of places to stay and you've got some real contenders. Each beach town in this guide checks all of these boxes and throws in some unique, local character for good measure.
Best Beach Towns in Florida
1. Pass-a-Grille
Pass-a-Grille is a small community on the southern end of the more well known St. Pete Beach. It's best for straight up beach bums!
Read about fun things to do in neighboring St. Pete Beach.
You'll know you've passed into the chill, historic district of Pass-a-Grille when you go south of the Don CeSar Hotel. There are no high rises here, making the area feel especially quaint and walkable. Pass-a-Grille has the best beach in the area because it's wider than the beaches just to the north.
Take the Shell Key Shuttle for a dolphin cruise or fish off the Merry Pier if you need a day off the sand. Gulf Way is the main drag and home to several family-friendly restaurants. Some, including the Paradise Grill, have excellent views of the water. Sea Critters Café is the place for the freshest catch.
Most likely, a rental house within walking distance of the water and restaurants is your best bet. Coconut Inn and Havana Inn both have fully equipped kitchens and multi-bedroom units. Try a cottage at Inn on the Beach for something in between.
The nearest large resort is the TradeWinds Island Grand Resort and Spa in St. Pete Beach.
Love charming small towns and want something closer to Orlando? Check out Mount Dora!
2. Daytona Beach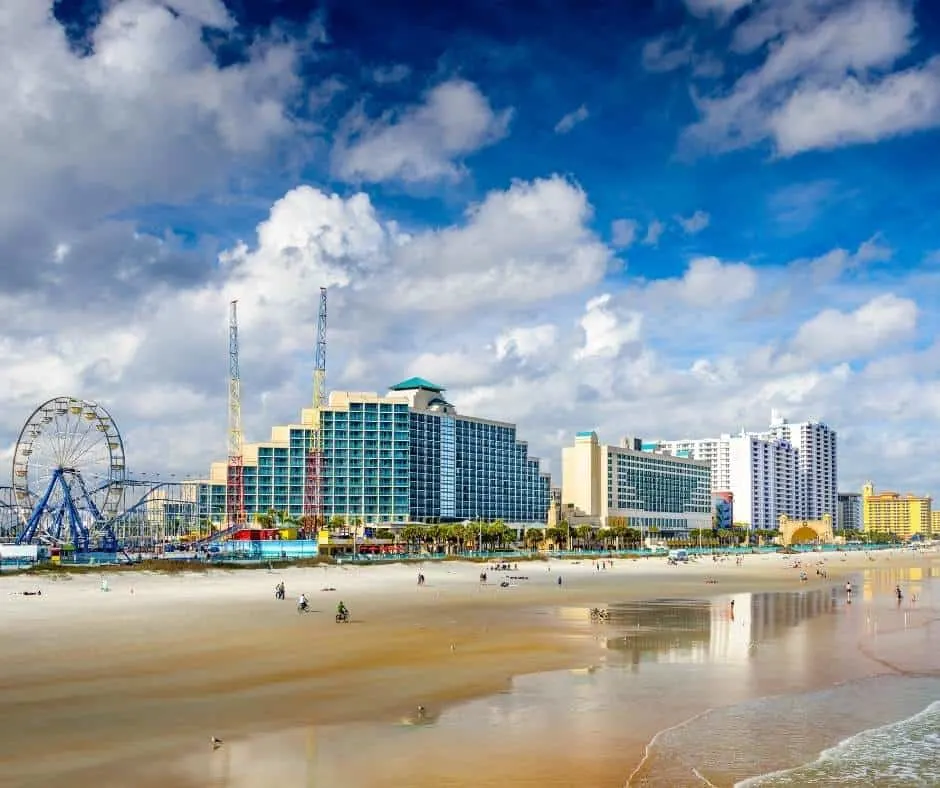 Maybe your family wants to jump into the middle of it all rather than get away from it all? If so, head to Daytona Beach! A trip to Daytona is for families that want to see a ton of action. It's revered as the "world's most famous beach" and NASCAR headquarters.
From the International Speedway and the Daytona Beach Boardwalk, to the Daytona Lagoon Waterpark, there is a lot to do in Daytona. At the very least, don't miss your opportunity to climb Florida's tallest lighthouse, the Ponce Inlet Lighthouse.
If you've got a large family, or it just looks like you do because of all the gear you lug everywhere, Daytona is the answer to all of your beach dreams. There are sixteen miles of beach open to automobiles. Park on the sand and spare yourself the back ache. Or, rent an electric bike and explore the beachfront on two wheels.
The Shores Resort and Spa is a beachfront resort that blends luxury and all the comforts of home into the perfect retreat. Another family favorite is the Sun Viking Lodge. Some rooms have kitchens and all guests will love the waterslide and fun, family programming at the oceanfront pool.
3. Amelia Island
Amelia Island is the northern-most barrier island on Florida's east coast. Due to its location, it's one of the most unique coastal areas in Florida.
History buffs will be especially delighted with all there is to learn about the "Isle of 8 Flags" in historic downtown Fernandina. The giant oaks that cover the island are enough to make any amateur nature photographer swoon. But really, whether you are looking for history, nature, outdoor adventures, or beautiful beaches, Amelia Island will not disappoint.
Have a kid who loves to skateboard? A unique way to tour Amelia Island is on a kid-friendly skateboard tour. They even take photos of your family on the boards so you can have a great keepsake of this fun experience.
Can you imagine anything more idyllic than a horseback ride along the seashore at sunset? Book a ride with Amelia Island Horseback Riding. If you'd rather enjoy horses from afar, take a cruise with Amelia River Cruises to see the wild horses of Cumberland Island, along with dolphins and manatees in the river.
If you would rather get active while exploring the water, check out this highly-rated, family-friendly guided kayak tour.
The island maintains 30+ miles of bike trails. With designated "casual" and "advanced" trails, your family can get on those casual trails and not feel like you are in the way of serious bike riders.
Both the Ritz Carlton and the Omni Amelia Island Resort have large, luxury resorts on the island. At the other end of the spectrum, families can camp at Fort Clinch State Park. For something right down the middle, the Hampton Inn & Suites Amelia Island-Historic Harbor Front overlooks the Fernandina Beach Marina and is a few blocks from the historic district.
Craving some alone time? Check out these romantic getaways in Florida.
4. Seaside
Seaside is the ultimate small beach town experience. Its a planned community along the stretch of Florida panhandle between Destin and Panama City Beach known simply as "30A."
Heading to Destin? Check out our favorite things to do in Destin with kids.
The town's mission since the early 1980s has been to promote walkability and nourish an instantly recognizable architectural identity. That mission is still largely intact today. The Victorian-meets-Key-West style houses, the white picket fences, the pedestrian alleys, and the adorable gazebos make for some truly alluring neighborhood strolls.
For the most part, vacationing families park their car for the week and walk to the beach and town center. Parents lounge on the front porches of their pastel beach cottage for hours. Kids wander down to the town green to find friends to play with any time they please. Seaside has a very strong feeling of community, even if that "community" is just visiting families living their best life for a week.
There are several restaurants in the town center as well as food trucks on the green. Don't miss breakfast at the Great Southern Café and watch at least one sunset from the Bud 'N Alley's deck. Other than maybe a movie on the green, don't expect much as far as entertainment goes in these parts.
You won't find any bowling alleys or go-kart tracks for miles around. There is, however, an 18 mile bike path connecting all of the 30A towns, so bike rentals are a must!
A rental house is the only way to go if you want to stay in Seaside proper. If you find those prices prohibitive, houses in Seagrove are more reasonably priced and the camping at Grayton Beach State Park is phenomenal. Both are just a bike ride away. In fact, if you want a little more privacy, you might actually prefer the state park.
5. Delray Beach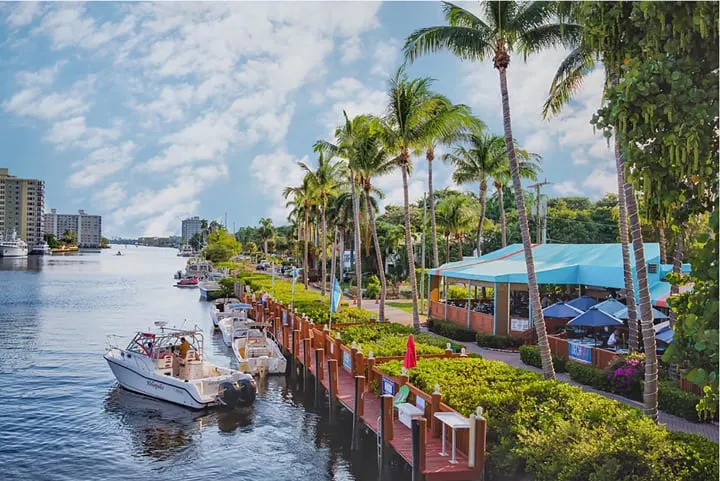 Delray Beach is a small town known for big fun just north of Boca Raton on Florida's east coast. It's one of Coastal Living's "Happiest Seaside Towns." The mile of Atlantic Avenue stretching inland from the ocean is pedestrian friendly and bustling with local cafes and boutiques.
When you've had enough sand in your shoes, stroll through the Morikami Museum and Japanese Gardens or the Wakodahatchee Wetlands. Must-dos for the whole family include a round of mini-golf through botanical gardens at Putt 'N Around and catching a shark feeding at the Sandoway Discovery Center.
Delray Beach is known for its eclectic art scene as well. Tour the Pineapple Arts District just off Atlantic during a First Friday Art Walk to get a taste for the local talent.
Either the Opal Grand Oceanfront Resort or Dover House Resort will put you oceanside near Atlantic Avenue for the ultimate in walkability. If you are looking for easy access to a quieter part of the beach, Berkshire on the Ocean offers one bedroom units with kitchens close to Atlantic Dunes Park.
6. Naples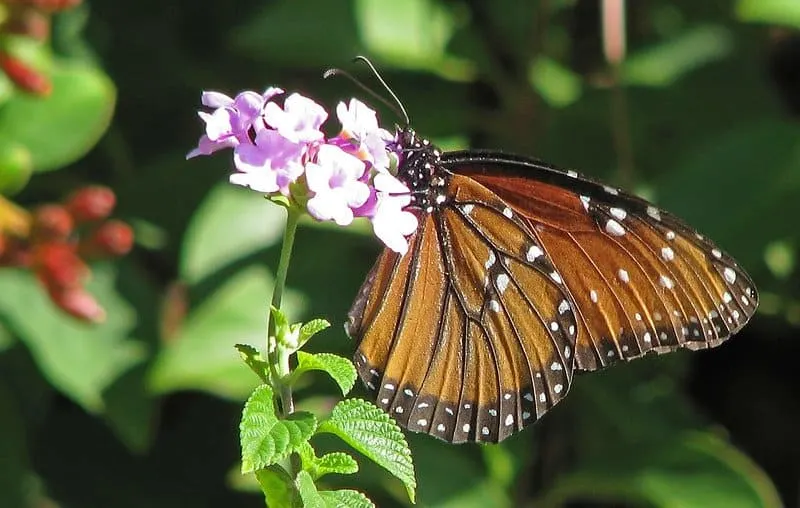 Naples, far south on the gulf coast of Florida, has long been adored by our country's snowbirds. It's more of a well-kept secret though that Naples has a ton to offer families as well.
The cherry on top is that it's far enough south that families can find a little bit of summer even in January. Naples is perfect for families that need the warmth, and they need it year round.
The Naples Beach Hotel and Golf Club has the ocean out the front door and the golf course out the back. Talk about making everyone happy! This hotel takes its ocean views seriously. You can keep your eyes on the water from the pool, beach bar, and signature restaurant.
Naples is very close to the Everglades, and it was the wildlife to prove it! Between lemurs at Naples Zoo, bald eagles at Rookery Bay, alligators at Cork Screw Swamp Sanctuary, and the manatees on an eco-tour, your family can be up to your eyeballs in critters for a whole week. And that's just the beginning! Check out our complete list of 10 Fun Things to Do in Naples, Florida with Kids to get the full picture.
7. Cocoa Beach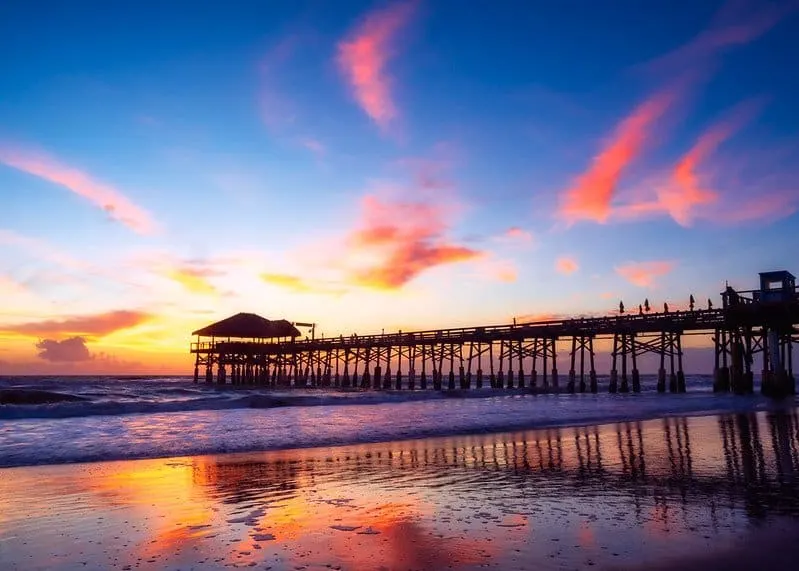 There are two distinct reasons Cocoa Beach may be your family's ideal beach town in Florida. One, it's only an hour from Orlando. So if you wanted to unwind at the beach after a few high octane days at Disney World, this is the easiest place to do that. And if you are planning on spending time in Orlando or Disney World, we have comprehensive guides for both.
Two, it's right next to Cape Canaveral. So if seeing a space shuttle launch is on your bucket list, set up camp here for a week during launch dates. There's plenty of beach to explore while you are waiting for blastoff.
And if you want to explore the waters around Cocoa Beach you definitely won't want to miss taking the Mangrove Tunnel Manatee and Dolphin kayak tour.
Westgate Cocoa Beach Resort is right next to the pier and has a splash ground, lazy river, and pool. The villas and suites are great for larger families. The Hilton Cocoa Beach Oceanfront has a large, oceanfront pool and bikes and beach toys for rent, as well as on-site surfing lessons.
Road Tripping to the Best Beach Towns in Florida
Want to explore a large chunk of Florida in one go? Check out our Key Largo to Central Florida Road Trip Itinerary, taking you from the Keys through Miami, up the east coast of Florida to Cocoa Beach.
Coming to Florida from Texas? Our Texas to Florida Road Trip shows you all the best stops along the way and lands you right near our favorite beach town on the Florida panhandle, Seaside.
Cruising down the I-95 corridor? This Drive to Orlando Itinerary is the ultimate roundup of stops on I-95 on the way to Florida, taking you through two of our top picks for best beach towns in Florida – Amelia Island and Daytona Beach.