It is HOT in Orlando so a great pool is key to any visit, but where are the best hotel pools in Orlando? Most families look for hotels with pools when booking their Orlando vacations, but some hotels have pools that really go above and beyond expectation. Many have lazy rivers, slides, and even full water parks!
Of all the places I have visited in the US, I feel like a great pool is most key in Orlando. First, the weather is often hot and humid. Second, nothing is better after a long, sweaty day at a theme park than some time in the pool. Third, most people visiting Orlando are doing multiple theme parks and a day off at the hotel pool is perfect for a recharge between park days.
We have done the research ourselves (someone had to splash in all those great pools!) and asked family travel experts for their input as well. The result is a list of really great hotels that also have amazing pool complexes. Here are our picks for the best hotel pools in Orlando.
The 13 Best Hotel Pools in Orlando
Orlando World Center Marriott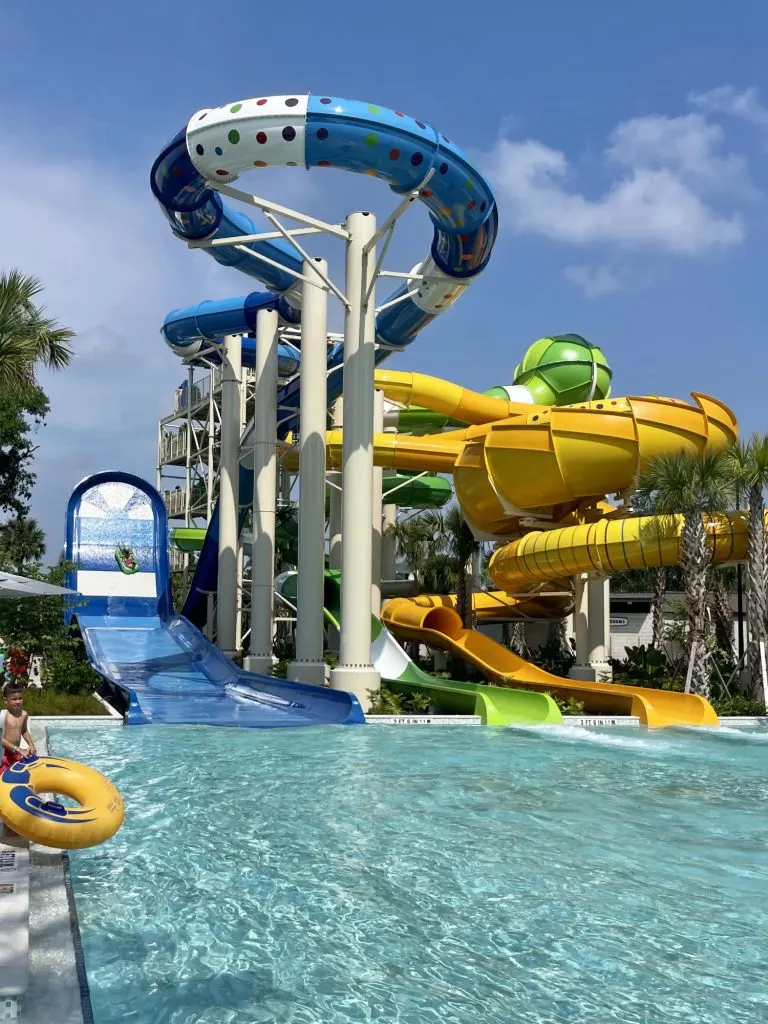 There is no need to pay for a water park day on your Orlando vacation when you stay at the Orlando World Center Marriott because this resort has a newly-built water park right on property that is exclusive to hotel guests!
The new River Falls Water Park opened in 2022 and features three different slides- one where you can ride on a tube with a friend and two where you go it alone. Since the slides are only open to hotel guests, you never wait more than a few minutes to ride.
In addition to the water slides, River Falls also has a lazy river that is the perfect spot for relaxing on an inner tube and a water playground designed with the hotel's youngest guests in mind. They even have life jackets available for complimentary use.
But wait- there's more! In addition to the River Falls Water Park there is also Falls Pool Oasis, an enormous pool complex that has waterfalls, huge TVs with sports playing, a zero-entry lagoon, and another water playground for the little ones.
Want more slides? They have more slides! Falls Pool Oasis has two, 200-foot body slides and a towering 90-foot speed slide with a big drop to keep the adrenaline junkies in your family happy.
Order a Castaway Cooler or Beach Bellini to sip on while relaxing in your lounge chair, but also be sure to make room for lunch- we loved the ahi tuna bowl, pulled pork sliders, and Baja chicken sandwich.
There is also a wide variety of daily activities scheduled by the pool deck like crafts, games, dive-in movies, and a nightly laser light show.
This property also made our list of the best Orlando resorts for families!
Beyond the Pool- More Reasons to Stay at the Orlando World Center Marriott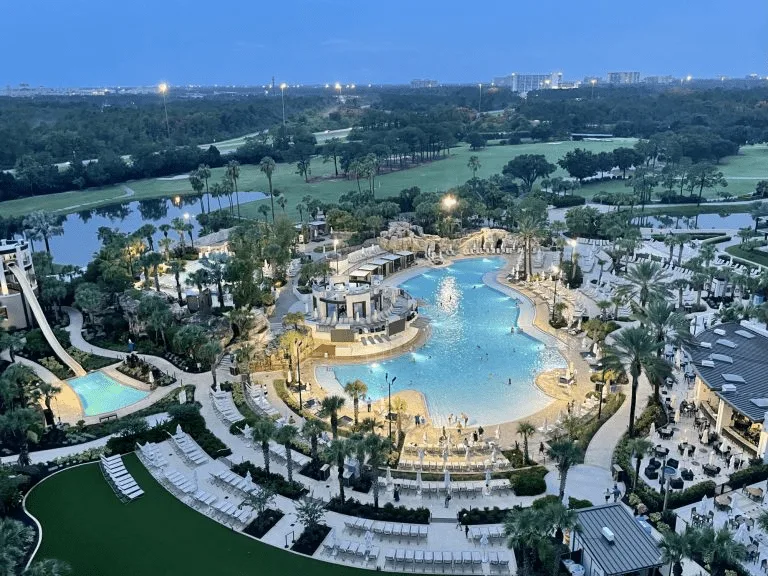 Beyond a pool complex that is hard to step away from, the hotel also has a great deck filled with games like corn hole, giant chess, giant Jenga, and ping pong. Kids will also love the mini golf course and arcade, plus the volleyball, tennis, and basketball courts. Rooms are comfortable (most are standard-sized hotel rooms) and come with mini fridges.
Parents will love the full service spa, 18-hole championship golf course, fitness classes, and range of dining options on property, from Mikado Japanese Steakhouse to High Velocity sports bar. They will also appreciate the complimentary shuttles to the Disney World theme parks as well as Disney Springs.
Here are our favorite things to do in Orlando on a family vacation.
Gaylord Palms Resort and Convention Center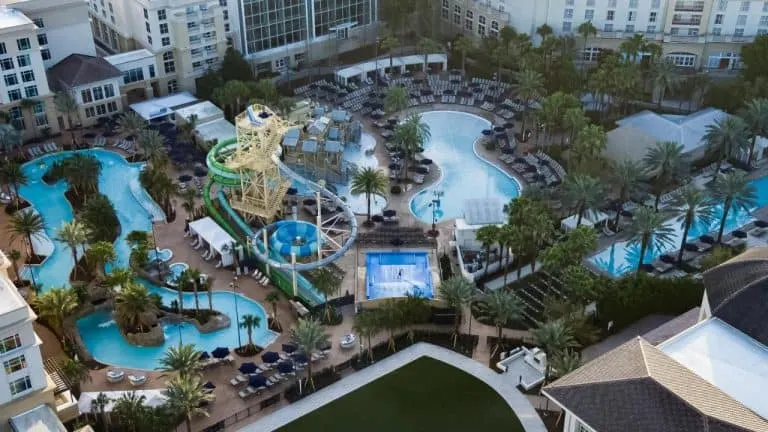 If you love a resort that is a destination in itself, then your family will love the Gaylord Palms Resort and Convention Center.
This hotel is perfect for families that want to be close to the Orlando theme parks (Disney World and Universal Orlando are a short ride away) but want a waterpark on site, and a tropical resort feel.
I loved the spacious rooms at the Gaylord, ours had a beautiful atrium view, and of course the adults-only pool where there is food and beverage service, but my kids LOVED the on-site water park and often ask when we are going back!
Cypress Springs is the name of the waterpark at the Gaylord Palms, and there you will find seven slides (including a floor drop one, my kids love that), two pools, an action river, a flowrider and a kiddie splash area!
Parents will love the hot tubs, poolside service, and loungers to relax and unwind. The Gaylord also has cabana rentals for private relaxation.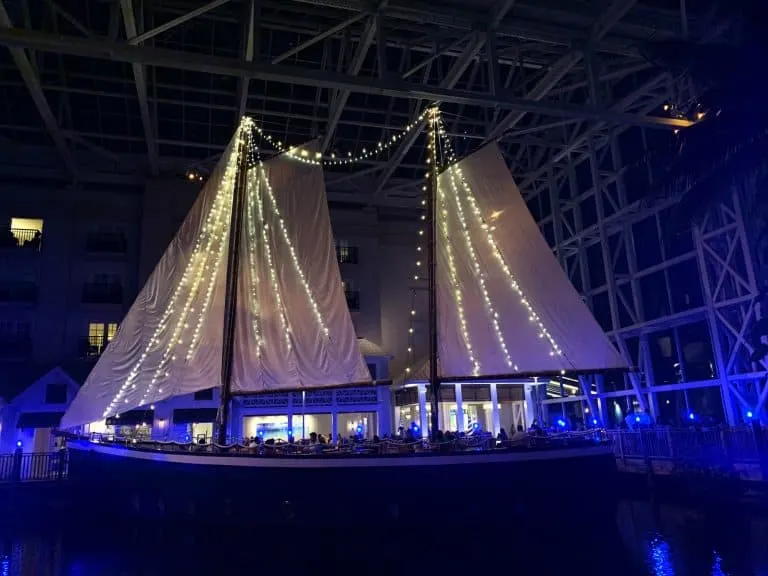 At the end of the day, be sure to check out the pirate ship in the lobby, where you can enjoy dinner on board, or one of the other fine dining restaurants on site.
There is so much to see and do in Orlando, but if you stay at the Gaylord Palms, you might never need to leave your hotel!
– Harmony Skillman, MommaToGo.com
Check out this great guide to visiting Orlando with teens.
Four Seasons Resort Orlando at Walt Disney World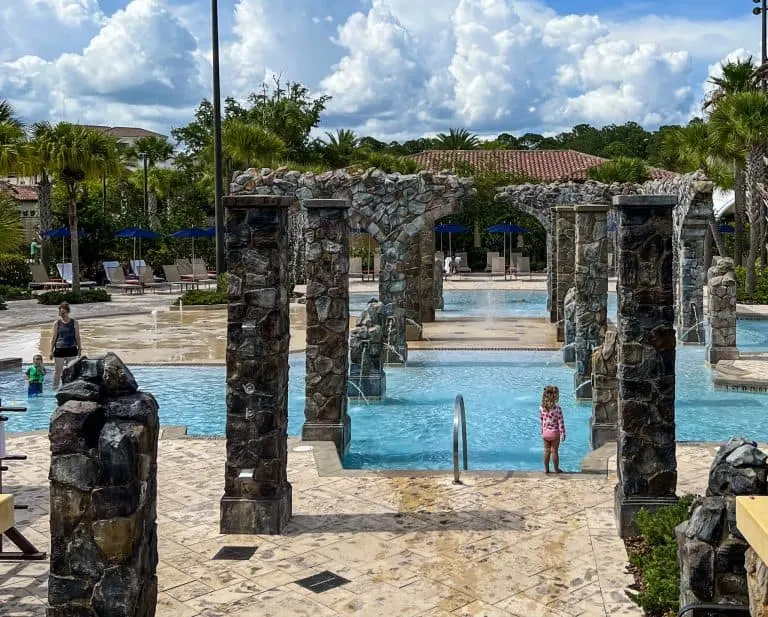 The pool at the Four Seasons Resort Orlando has everything kids of all ages could ever want in a luxury setting that will allow parents to totally relax.
Start with the littlest guests: The main pool is a zero-entry pool where toddlers can comfortably wade into the water. Small children could play happily in this pool for hours. But if the zero-entry pool is not enough entertainment, the Four Seasons also has a huge splash pad area with shallow wading pools and fountains.
For slightly older kids who need more entertainment, head to the lazy river. It's calm enough for relaxing on a tube but has a few waterfall areas that make it exciting enough for adventurous kids. At one end of the lazy river, you'll find a secret watersports area with a volleyball net and basketball hoops.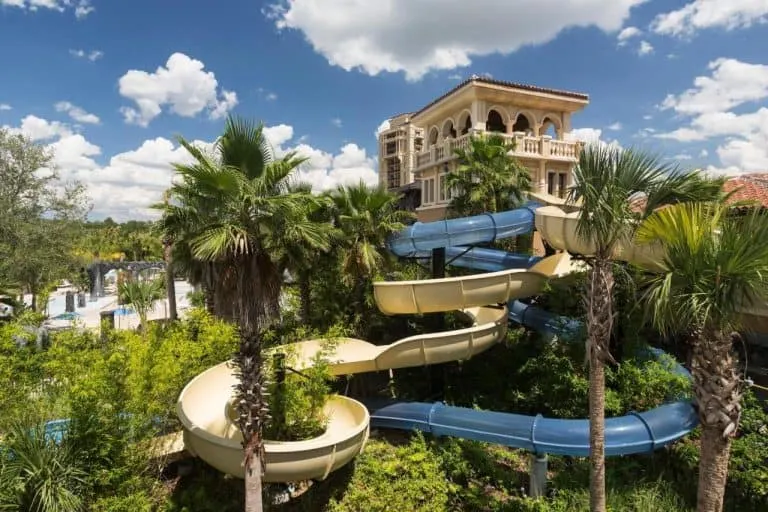 If you need more, there are two water slides! Perhaps the best part about the water slides at the Four Season is that the slides are monitored by a lifeguard and fully contained, meaning the ride ends in the shallow slide without dumping kids into deep water. That means kids can run off to the slides on their own, without the need for parents to hover and watch them.
An added pool perk? Many nights, the Four Seasons Orlando plays Disney movies on a big screen by the pool, where you can order dinner for the kids. A great way for everyone to unwind. Honestly, if you stay at the Four Seasons while in Orlando, you'll be tempted to never leave the hotel pool.
Beyond the Pool – More Reasons to Stay at the Four Seasons Resort Orlando
The Four Seasons goes above and beyond to give kids and parents a memorable stay. When you arrive, kid-sized robes and bubble baths will await your children in your room as a welcome gift.
The kids' club, Kids For All Seasons, sits in a mansion in the middle of the pool complex, with outdoor table games luring kids to play. Of course, there's also Disney- the Four Seasons Resort Orlando is on the Disney property, meaning guests have early entry to Epcot and Magic Kingdom, plus complimentary shuttles.
Finally, parents will love having a luxury hotel to return to after a day at Disney. The service at this hotel is simply phenomenal, true to the Four Seasons brand, with the staff going out of their way to make sure you have what you need. The Four Seasons is family-friendly luxury at its best: a hotel that the whole family can enjoy.
Ready for the grand finale? If your kids' crash before the Magic Kingdom fireworks, you can see them from the Four Seasons rooftop bar and restaurant.
-Lee Friedman, founder of Mango Tree Travel
Holiday Inn Orlando Suites- Waterpark
It has "waterpark" in the name so you know the pool area has to be good, right? The Holiday Inn Orlando Suites – Waterpark is the only all-suite Holiday Inn property in the Orlando area, and it has one of the best pools in Orlando for families with younger kids.
We love that it has a zero-entry lagoon pool and a four-story water play structure filled with slides, sprayers, and splashtacular fun. There are also always lifeguards on duty to help keep the kiddos safe while they play.
Beyond the Pool – More Reasons to Stay at Holiday Inn Orlando Suites- Waterpark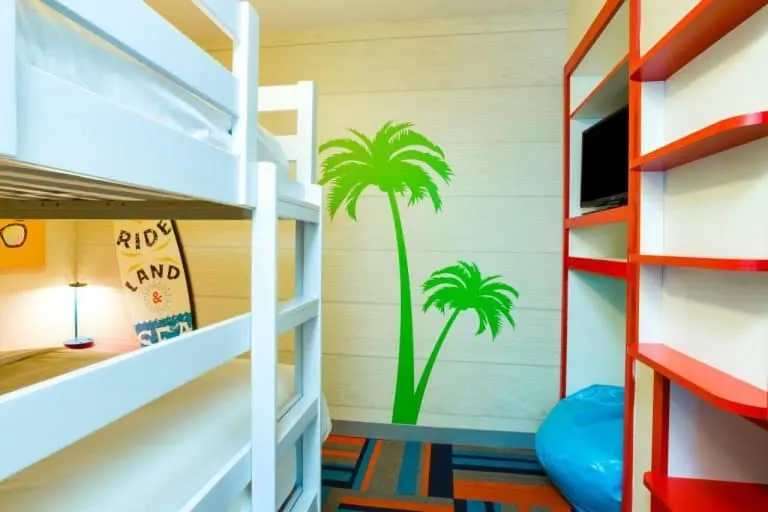 This hotel has more to offer families than just a great pool area. There is a mini golf course, arcade, activity center, Bank Heist laser challenge, playground, basketball court, family movie nights, bingo, karaoke, trivia, and even visits from Gatorland critters.
Suites are spacious and feature one to three bedrooms, many with bunk beds! There are rooms with full kitchens which always come in handy when traveling for several days as a family. There are also three restaurants, an ice cream shop, and a bar on property.
Bonus: This property does offer a complimentary shuttle to Walt Disney World.
If you are headed to Disney World you will definitely want to see which rides made our list of the best rides at Disney World.
Sheraton Vistana Resort Orlando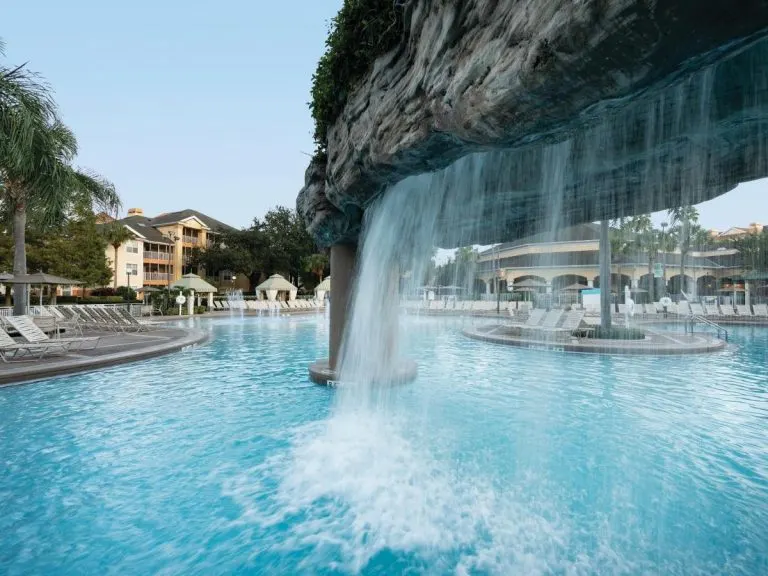 Escape the Florida heat and take a break from the theme parks, when you enjoy a stay at Sheraton Vistana Resort in Orlando. The Vistana properties are part of the Marriott family and their timeshare collection, but anyone can pay cash to stay at this beautiful resort that's minutes from Walt Disney World.
The whole family will love the seven pools (and eight whirlpools) located on property that offer an array of fun for guests. The lush landscaping around the pool areas offer shade and there's no shortage of cabanas for rent.
Younger kids will appreciate the zero-entry pool with a pirate-themed splash pad area. Older kids who want more thrills, can hang out at the in-pool volleyball court and shoot some balls with the poolside basketball hoops. Or take a ride down one of the slides!
There's also plenty of waterfalls and enclaves to escape the crowds when you want some peace and quiet. It's easy to spend all day long at the pool, with two poolside dining options available and on-site entertainment for the kids. Sheraton Vistana is definitely a great Orlando pool option for families!
Beyond the Pool- More Reasons to Stay at the Sheraton Vistana Resort Orlando
Additionally, Sheraton Vistana offers some amazing amenities for families. Theme park shuttles, pool movie nights, miniature golf and crafting classes are just a few ways to fill your vacation itinerary. There's never a dull moment at this popular Orlando resort!
Read Kimberly's full review of the Sheraton Vistana Resort Orlando.
– Kimberly Stroh, Founder of Savvy Mama Lifestyle
Westgate Vacation Villas Resort
Timeshares can be found all over the Orlando area because families like to have spacious accommodations and full kitchens when they travel for extended periods in the same place. But this timeshare offers more than space and a kitchen- it offers a waterpark!
You don't have to be a timeshare member to stay at Westgate Vacation Villas Resort. You can book it directly on sites like TripAdvisor or find people who are looking to sell their weeks on websites like Redweek.
Shipwreck Island Waterpark is a two-level waterpark with a large water playground, Black Beard's Pirate Ship, that has waterslide and water cannons as well as several other fun water features (including the ever-popular massive tipping bucket filled with water).
There is also a lazy river, dual tube slides, a drop slide, and another water playground for the little lones. Still not enough? Well there are also 14 pools and 14 hot tubs on property as well!
Beyond the Pool- More Reasons to Saty at the Westgate Vacation Villas Resort
Large families will be happy to learn that this property has 1- and 2- bedroom suites that can sleep up to 10 people and are equipped with full kitchens, living rooms, and dining rooms.
Ammenities on property include bike rentals, basketball courts, boat rentals, game room, mini golf, horseshoes, movie theatre, shuttle board, and volleyball courts.
Hilton Orlando Buena Vista Palace Disney Springs Area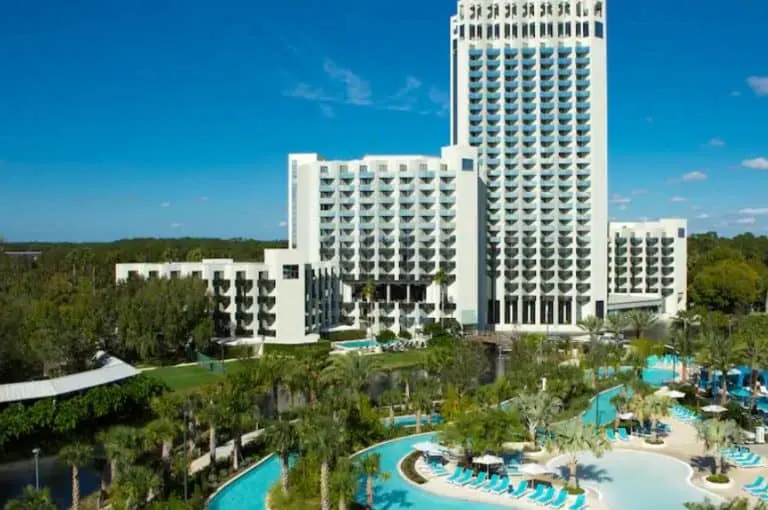 When I say that Hilton Orlando Buena Vista Palace has an expansive pool area with a Caribbean resort feel to it- you have to take my word for it because I love myself a good hotel pool!
As a matter of fact, I spent an entire day enjoying this pool by myself while my husband and daughter went to Universal Orlando.
The pool area at this Hilton property would be a memorable one due to its mere size alone, but when you add to it a separate kids water play area, a lazy river, cabanas for rent, a hot tub, poolside drink service and an adjacent shaded bar and grill area – you have all the ingredients for a winning hotel pool!
Our stylishly decorated the 9th floor room was overlooking the pool area. There are several other restaurants on the property (my favorite was a swanky breakfast LetterPress), and Disney Springs with numerous shopping, dining, and entertainment venues within walking distance.
Guests staying at this hotel can also take advantage of free shuttles to Disney World and early entry to the parks since this is an official Walt Disney World Resort hotel.
For a quick Florida getaway to appeal the entire family, check our one of our trip reports.
– Victoria Burdman, CelebratetheWeekend.com
Disney's BoardWalk Inn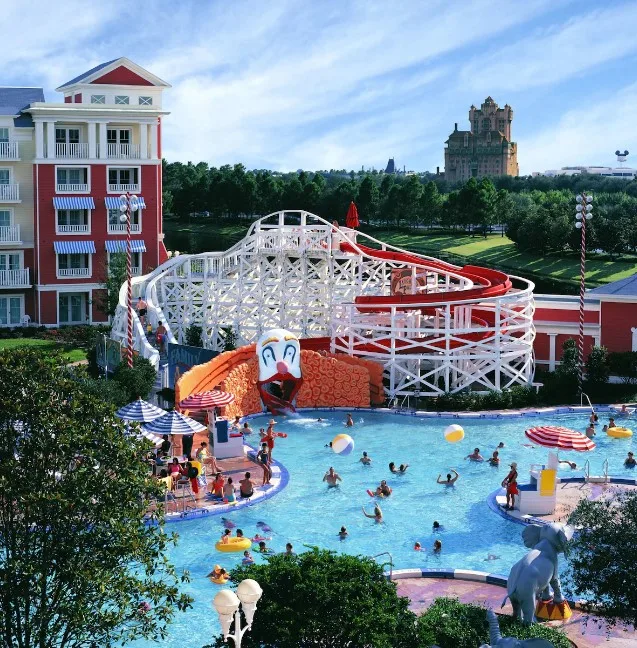 Disney's BoardWalk Inn, one of Disney World's deluxe properties, has amazing pools that are exclusively for hotel guest use.
Luna Park Pool
The Luna Park Pool is the main pool at the resort. The majority of the pool is shallow, making it a good option for kids of all ages. Free life jackets and towels are available poolside. Lifeguards are always on duty.
The highlight of the Luna Park area is the slide. It is large for a hotel pool, featuring multiple turns. Once upon a time, children exited the slide through a demented clown's mouth. Disney got the memo that that wasn't the best option. The slide has recently been renovated. Riders now exit through images from the new Mickey Mouse cartoons.
Disney Cast Members organize activities at the main pool throughout the day. If you're into Disney trivia, this is the pool for you.
The main pool also features Leaping Horse Libations, a bar with theming that is reminiscent of a carousel. It is a full bar that serves everything from beer to fruity cocktails. You can also order food here if you don't want to leave the pool to eat.
In addition to the big pool, this area features a hot tub, wading pool, and playground for young children. A free fooseball table is located immediately outside of the pool area.
Leisure Pool
If the Luna Park area is too loud for you, there is also a Leisure Pool on property. This pool is much smaller, but it is certain to be a more peaceful experience.
The Leisure pool is located near the Community Hall. Here, you can play games like foosball, air hockey, ping pong, and bags. There are also some video games, all of which are free for hotel guests.
Here is a comprehensive review of the Disney Boardwalk.
Beyond the Pool – Reasons to Stay at Disney's BoardWalk Inn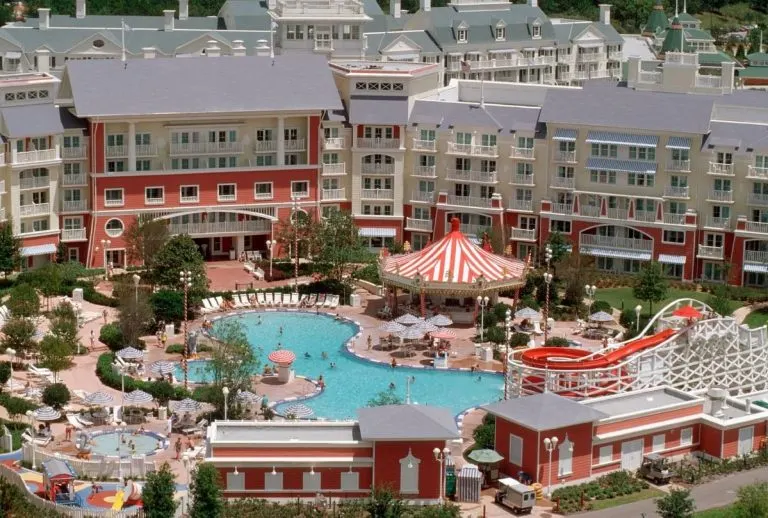 Beyond the pool, there are a number of reasons to stay at Disney's BoardWalk Inn. The hotel is located on Disney's BoardWalk, an area that offers several dining and entertainment options.
You can walk to EPCOT, and transportation to all of the Disney World parks plus Disney Springs is complimentary.
Guests of this hotel get early entry to Disney theme parks, as well as extended evening hours on select nights, a substantial advantage for guests who want to visit the parks when they are less crowded.
– Adriane at PutonYourPartyPants.com
Love Disney World? Then, we bet you will love a Disney Cruise! Check out our guide to their newest ship, the Disney Wish.
Disney's Beach Club Resort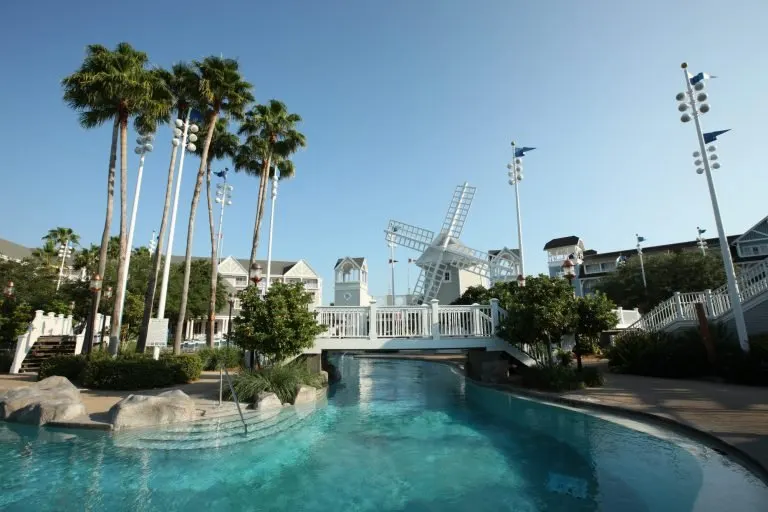 If you love that toes in the sand feeling, the pool at the Disney's Beach Club Resort is the perfect place to book for your next Disney vacation. Located within walking distance to Epcot and Disney's Hollywood Studios, it is right near several Disney Vacation Club hotels on Crescent Lake in the Epcot Resort area.
One of the most unique features of this resort pool area is, just as the name implies, that you are transported to a beach. Only this one goes right into the pool.
Disney's Beach Club Resort is a New England-themed resort that sets you right into a Cape Cod experience. There are three pools at this resort, but Stormalong Bay is one not to miss!
The expansive, sand-bottomed pool will give you that beachy feel, like you walked right into the ocean surf. You can "walk the plank" on a shipwreck replica by taking a ride down the 230-foot waterslide right into the pool. Or float along the pool's lazy river in a tube.
The Shipwreck Pool's zero entry is perfect for the little ones. And you can relax in one of three whirlpool tubs or relax "beachside" at this beach-themed resort. It's definitely one of the best pools in Orlando.
Beyond the Pool- More Reasons to Stay at Disney's Beach Club Resort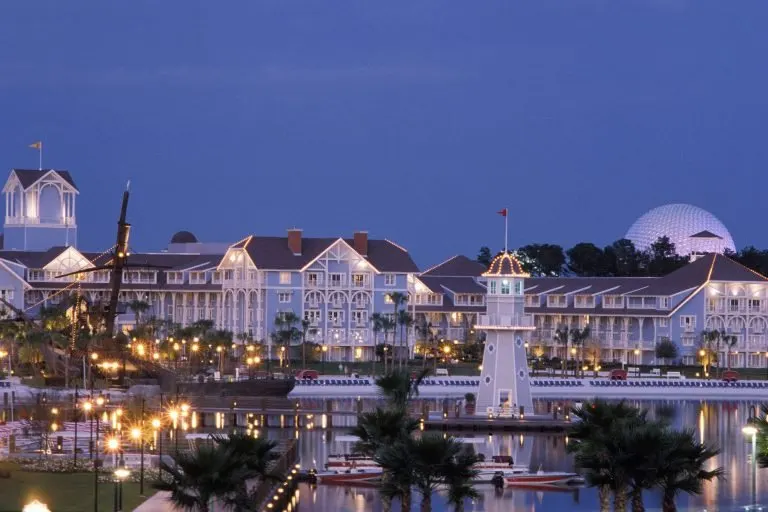 The Beach Club's location is ideal for a Walt Disney World Resort vacation, one of the best things to do in Orlando with kids. You can walk around Crescent Lake, take a boat ride (or walk to) Epcot or Disney's Hollywood Studios, or enjoy the entertainment of Disney's Boardwalk Area.
From carnival games to entertainment to riding a surrey bike, this is an area full of activities for the whole family. At Disney's Beach Club Resort you can enjoy a character breakfast at Cape May Cafe, grab an ice cream from Beaches and Cream, or enjoy dining at Martha's Vineyard, Beach Club Marketplace or poolside at Hurricane Hannah's.
Families will also love the on-property activities like Movies Under The Stars and Resort Campfire activities. You can also rent motorized watercraft to enjoy on Crescent Lake and even enjoy a guided bass fishing excursion.
– Keri Baugh, Family Travel Blogger, Bon Voyage With Kids
Disney's Polynesian Village Resort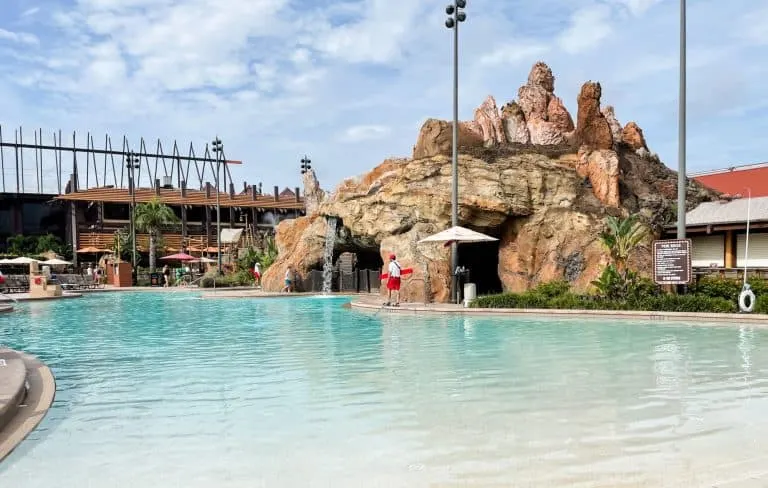 At Disney's Polynesian Village Resort, the pools are the perfect spot to escape the hustle and bustle of the Walt Disney World theme parks. The resort offers two pools and a splash pad for your family to enjoy.
Bring on the fun at the Lava Pool! With a volcano as the backdrop, this pool is complete with a zero-depth entry, a waterfall, and a 142-foot waterslide. The atmosphere is lively while the Disney Cast Members keep everyone entertained with music and games.
Steps away from the Lava Pool, you can't miss Kiki Tikis Splash Play Area. Guests under 48 inches tall will have a blast exploring this splash pad. It includes two water slides, a shallow wading pool, and plenty of water fun.
If you're looking for a more tranquil setting, head over to the Oasis Pool. This leisure pool is for all ages and offers a zero-depth entry. If you want even more relaxation, you can book a private shaded area with cushioned lounge chairs where you'll be able to order food and drinks to be delivered directly to you.
Beyond the Pool—Reasons to Stay at Disney's Polynesian Village Resort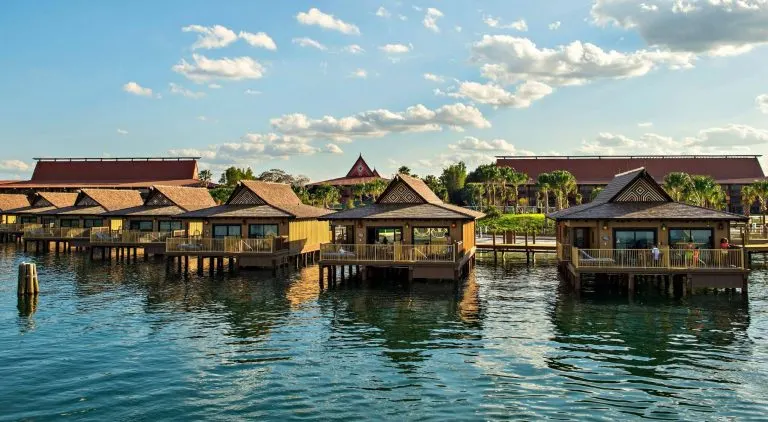 The resort has a tropical theme based on the relaxing vibe of the South Pacific, so the second you step foot on the property, you'll be in vacation mode! It's considered a deluxe resort, so you will be able to enjoy all the benefits that comes along with that, including extra hours at the theme parks.
You will also be able to dine at some of Walt Disney World's most popular restaurants, such as 'Ohana. And there's no need to visit the parks to get a fan-favorite Dole Whip. You can grab one right at the resort.
When you're ready to have some fun at the Disney parks, Disney's Polynesian Village Resort is in a prime location. You'll be a short ride away from both the Magic Kingdom and EPCOT. The resort offers multiple complimentary transportation options to get you anywhere you want to be on Walt Disney World property, including the monorail and a boat.
To end the night, you'll be able to watch the Magic Kingdom fireworks and the Electrical Water Pageant right on the resort's beach.
-Jenn at ThoseJohnsonBoys.com
Reunion Resort and Golf Club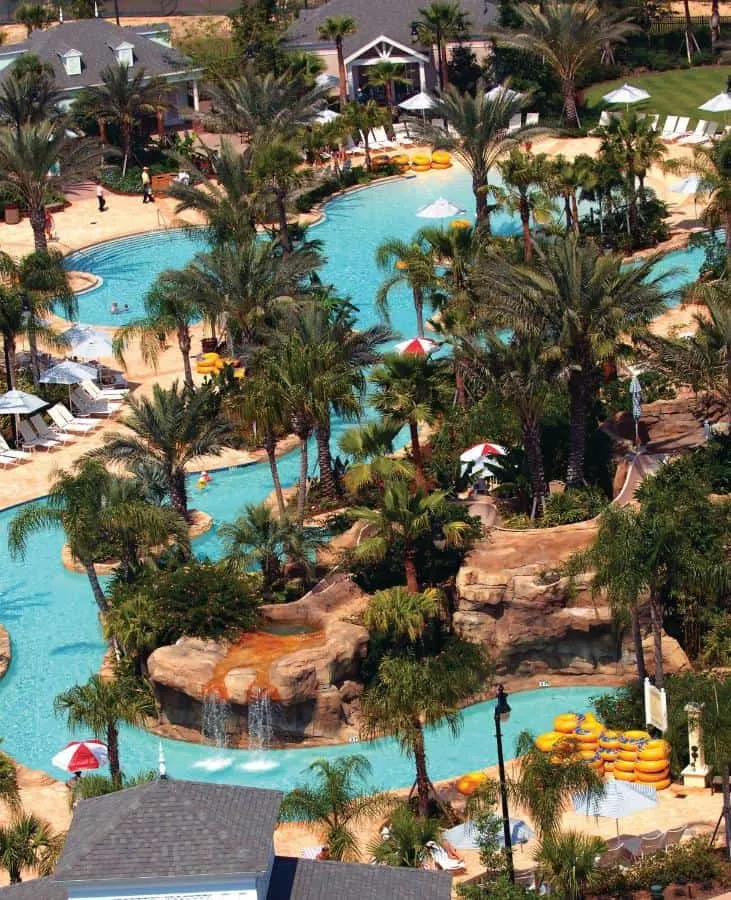 Located 20 minutes from Walt Disney World, Reunion Resort and Golf Club is a huge property with luxury suites and condos and even 2- or 3- bedroom villas and private vacation homes. There are 11 pools on property – a large tropical waterpark with three slides a 1,000-foot lazy river, as well as tennis courts.
There is a large water playground for younger kids with spraying water cannons, rope bridges, and oversized bucket that overturns couple minutes to soak everyone below. Poolside cabanas and games taking place throughout the day.
Beyond the Pool – Reasons to Stay at Reunion Resort and Golf Club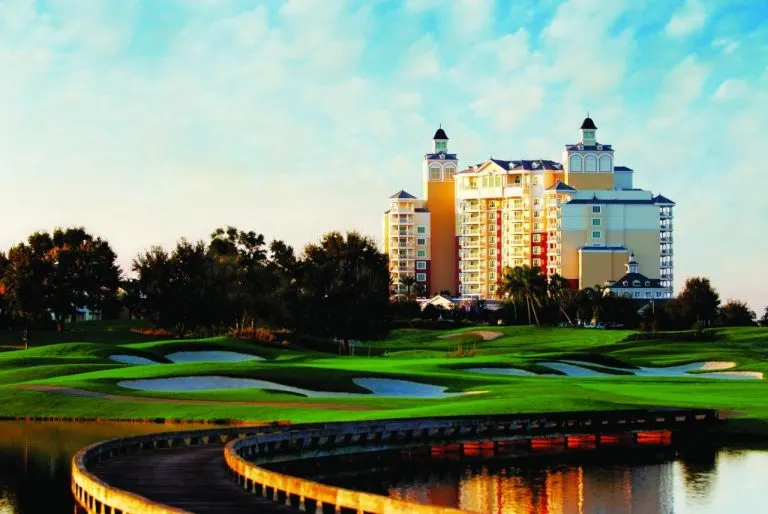 Reunion Resort and Golf Club shares facilities with Wyndham Vacation Resorts Reunion at Orlando. Accommodations are all suite with full kitchen, living room, dining room featuring 1-, 2-, or 3- bedroom suites.
There are six restaurants on property, six tennis courts with lessons, two pickleball courts with lessons, three golf courses, bocce ball courts, fitness center and fitness classes, and spa. Camp Reunion offers half and full day programs for kids 4-12.
Reunion Resort also offers daily lawn games including giant checkers, corn hole, mega Jenga, horseshoes, hula hoops, and jump ropes. There are also bike rentals, activity trails, and community playgrounds.
This property is a bit further out from Disney World and Universal so a rental car is key, but if you were planning on heading to Legoland Florida as well, the location is actually very central.
Coco Key Hotel and Water Park Resort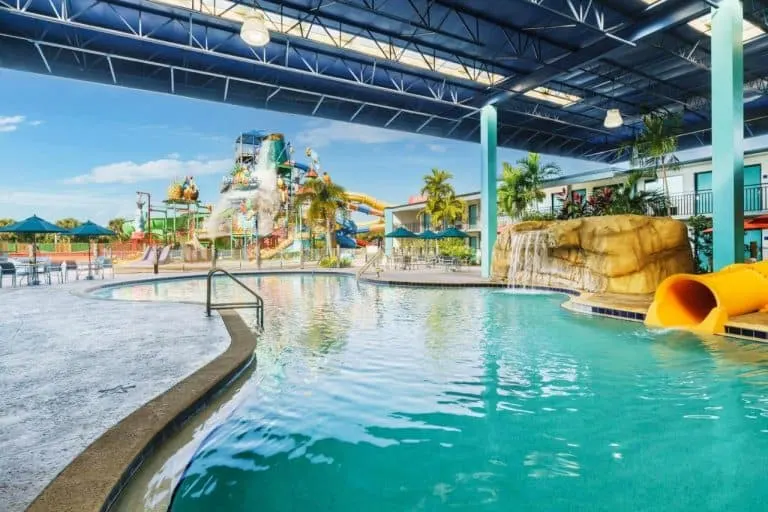 Another property with "water park" in its name, it is no surprise that Coco Key Hotel and Water Park Resort makes our list of the best hotels pools in Orlando.
This hotel has 391 rooms and 54,000 square feet of water park space which means there is 138 square feet of water park space per room- I like those numbers!
Inside this large, water park you will find 14 different slides and rides plus Parrots Perch which is a large water play structure filled with fun. A portion of the water park is also covered with canopies which is a relief from the hot, Orlando sun.
There is also a shallow lagoon designed for little kids with fountains and slides made just for them. Life jackets are also avilable for complimentary use. Trained lifeguards are always on duty when the water park is open.
If you get hungry or thirsty, head to the Wet Rooster Tiki Bar by the pool, or dine at one of the other two restaurants on site.
Beyond the Pool- More Reasons to Stay at Coco Key Hotel and Water Park Resort
This is a budget-friendly hotel, and there are rooms and suites available, including some with bunk beds. Kids will also want to spend time at the 6,500 square foot arcade.
This hotel is located close to Universal Orlando and shuttle service to those parks is prvided.
Note: Four water park passes per day are included with your stay. Additional passes can be purchased and children under 36″ are free.
Universal's Cabana Bay Beach Resort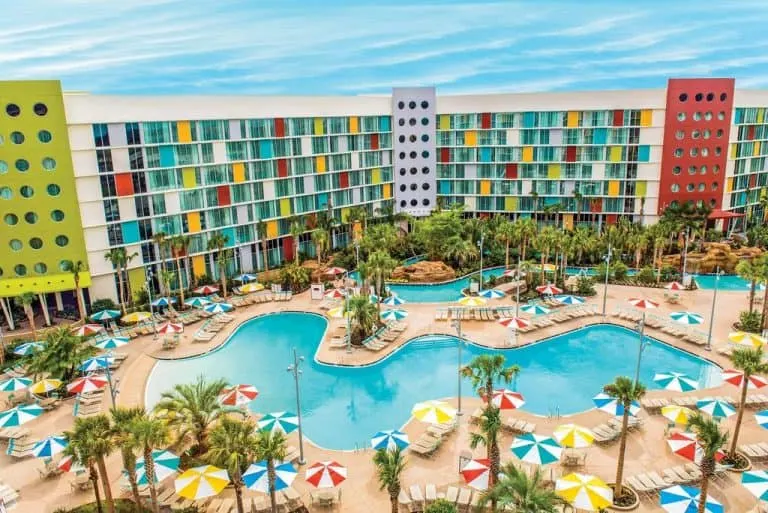 There are several great hotel pools on Universal Orlando property, but our pick for top pool complex goes to Universal's Cabana Bay Beach Resort due to the great variety of water play options and more budget-friendly price tag.
This hotel has two large pools, a dive tower-themed water slide, lazy river, sand beach, a splash pad, cabanas and fire pits to enjoy in the evenings.
Trekaroo Tip: Unlike Walt DIsney World hotel properties which strictly regulate pool admission to those staying at each specific proprty only, Universal Orlando encouarges pool hopping. So you can stay at Cabana Bay and still swim at the more luxurious properties like Loews Sapphire Falls (which also happens to have a great pool).
Beyond the Pool- More Reasons to Stay at Universal's Cabana Bay Beach Resort
Families staying at Universal's Cabana Bay Beach Resort get the perk of early admission to The Wizarding World of Harry Potter and Universal's Volcano Bay Waterpark, but they pay less than they would staying at the more "deluxe" Universal resort properties.