It may be known for its Southern charm and rich history, but did you know there are lots of fun things to do in Charleston, SC with kids as well?
Experiencing the Southern hospitality and charm of historic Charleston had been on my personal bucket list for years. I pictured myself single, strolling south of Broad Street under expansive oak trees laced with Spanish moss or sitting at a café slowly sipping sweet tea.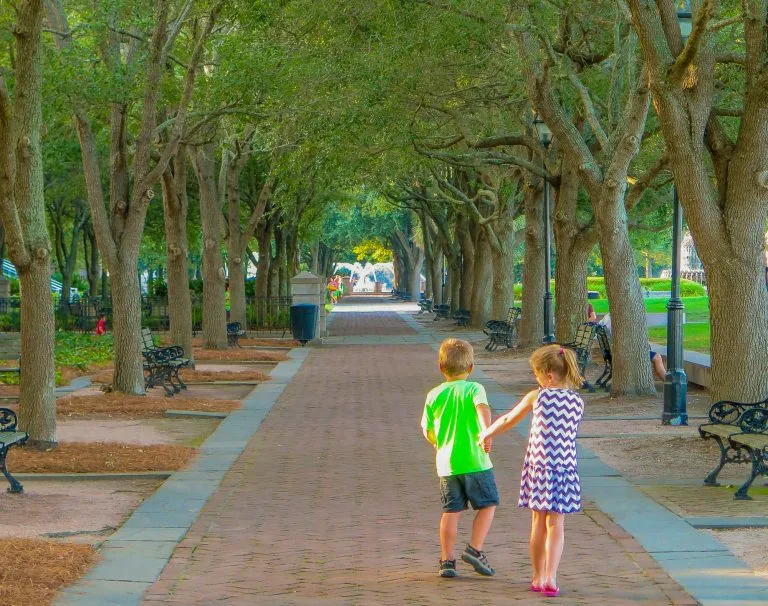 Alas, I am a mother and the days of slowly slipping tea are long gone for now. Thankfully, my kids and I still had a wonderful time discovering all sorts of great activities to enjoy in Charleston.
My daughter twirled around with ice cream cone in hand through the cobblestone alleyways of the historic city. Together we gobbled up some yummy tacos as quickly as possible so that we could get back to splashing in the fountains at Waterfront Park.
Never in my wildest dreams did I imagine all the fantastic things to do in Charleston for kids.
Explore more of the state! Here are the best things to do in South Carolina with kids.
Fun Things to do in Charleston, SC with Kids
1. Take a Carriage Ride in Historic Downtown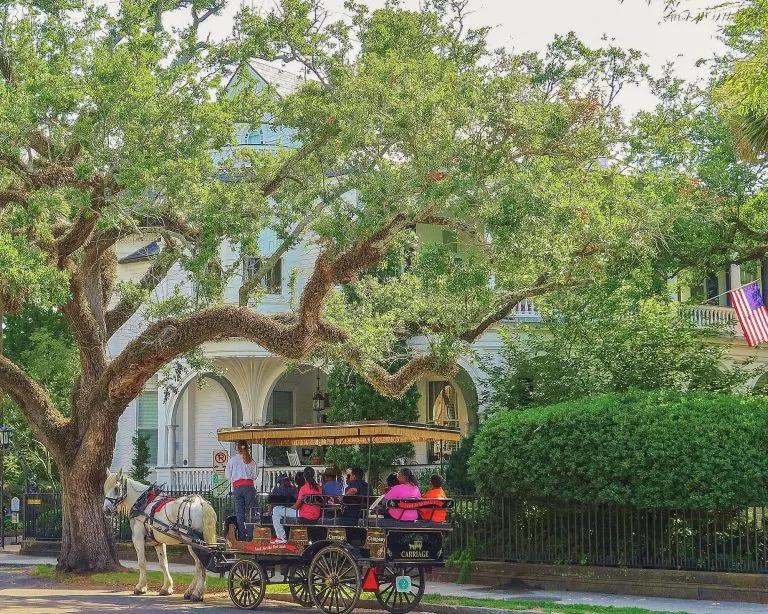 Starting your family's day with a one-hour carriage tour is the best way to get a feel for the walkable area of Historic Charleston.
I decided years ago that when I finally had the opportunity to visit Charleston, I would take a carriage tour. I told my five-year-old son and six-year-old daughter about my plans the day before we arrived. By 9 AM on our first full day in Charleston, they were as excited as I was to go on a tour.
Their excitement did wear off about halfway through the tour. However, I am so glad that we spent the first hour of our day hearing stories about the city's history and getting oriented with the landmarks in historic downtown Charleston SC.
Visiting off season? Here is a great guide to Charleston in winter.
2. Explore Fort Sumter
For most families visiting Charleston with kids, a boat ride out to Fort Sumter is a top priority.
The two-hour tours leave from either Patriots Point, home of the USS Yorktown, or Liberty Square adjacent to the South Carolina Aquarium. Visitors spend about an hour on the island walking through the ruins of the fort.
Honestly, there isn't a whole lot to do at the fort. However, I found the opportunity to teach my children a history lesson about the Civil War invaluable.
My daughter and I counted the stars on the flags flying both over the fort and inside the museum. This activity spurred a discussion of how some states broke away from the Union.
Due to its historic significance, Fort Sumter is a place that any family who is visiting the region for more than a day should fit into their itinerary.
3. Visit the USS Yorktown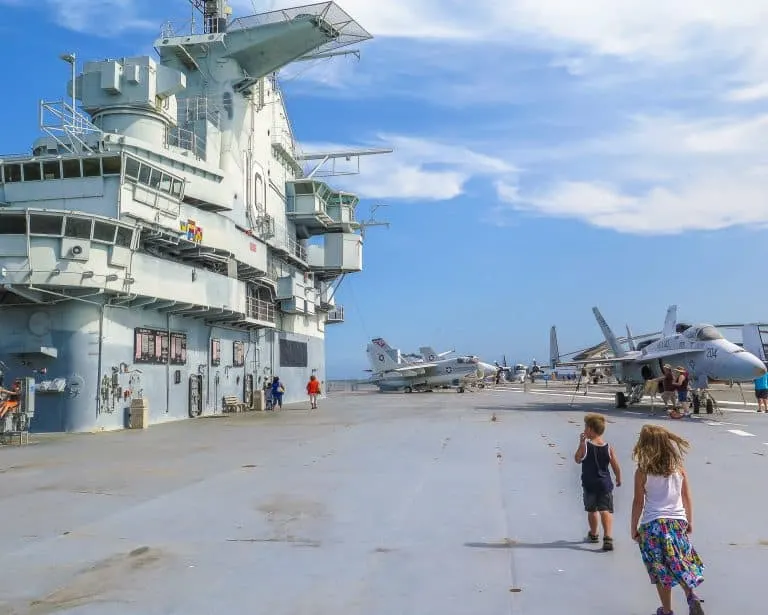 At Patriots Point, the disembarkation point for some Fort Sumter Tours, visitors can leave the Civil War history behind and cross a bridge lined with flags to board one of the most impressive naval vessels in the country, the USS Yorktown.
The USS Yorktown is a naval aircraft carrier permanently moored in the Charleston Harbor. It was the named after the famed Battle of Yorktown in the Revolutionary War and served during World War II. Kids love exploring this massive ship and imagining what it must have been like to have been a sailor who lived onboard.
Those interested in military history will definitely want to take each of the self-guided tours available. The highlight of our family's visit to Patriots Point was following the yellow arrows up to the flight deck for a view of Charleston. My kids loved sitting in the captain's chair and pretending that they were in charge of the ship.
Exploring this aircraft carrier is one of the major highlights of the Patriots Point Naval & Maritime Museum. Admission to the museum also includes visiting a destroyer (USS Laffey), a submarine (USS Clagmore) and 28 historic aircraft.
Check for deals on family-friendly hotels in Charleston. As a Booking.com affiliate Trekaroo is thrilled to offer its readers the lowest rates guaranteed.
4. Take of Boat Tour at Magnolia Plantation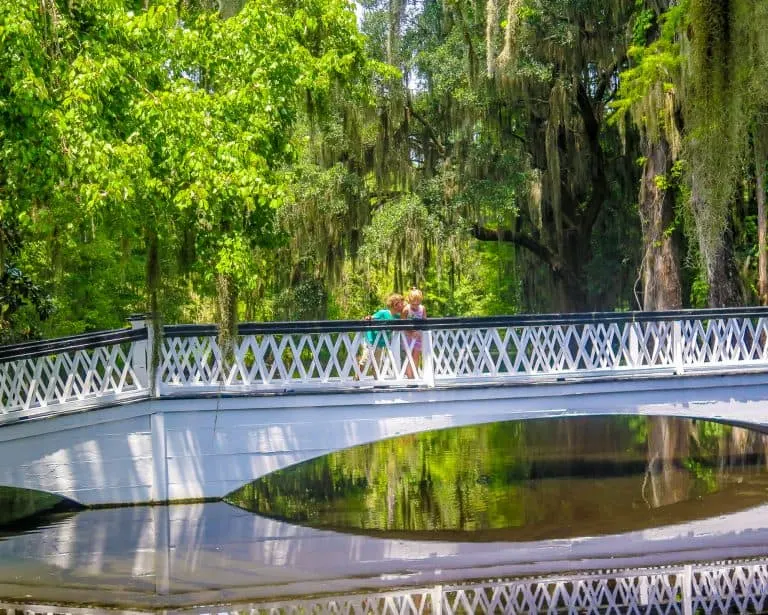 For a different look at the region's antebellum history, take a boat tour at Magnolia Plantation. The 30-minute tour highlights both the nature and history of the plantation.
Visitors are likely to see alligators, great blue heron, and anhinga birds. These birds are also called "snake birds," due to their long, thin heads and necks that stick out of the water as they swim.
As everyone keeps watch for the next gator sighting, the tour guide tells the stories of the slaves who worked in the rice paddy letting in the fresh water from the nearby Ashley River into the canals as the tides changed in order to cultivate the fields.
5. Head out to Morris Island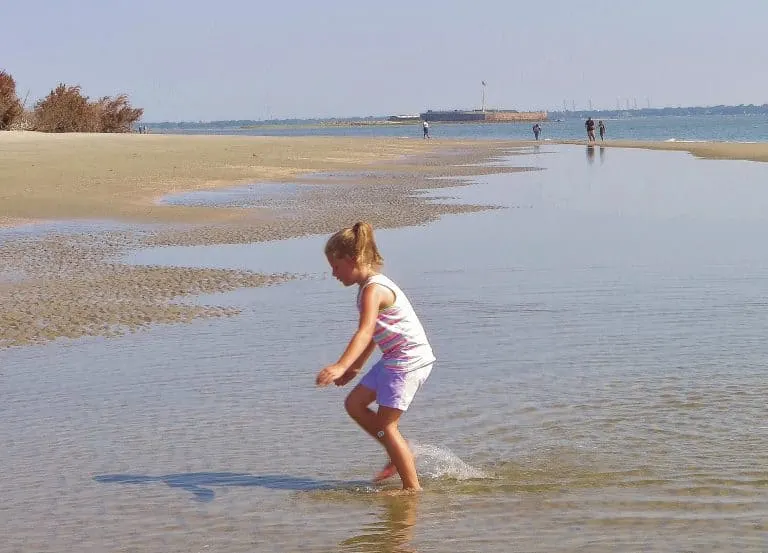 My family took a Saturday morning nature tour out to Morris Island with Sandlapper Cruises. My kids waded in the Atlantic, discovered hermit crabs scampering along the shore, and found a perfect sand dollar on the island.
Later on our way back to the Charleston Maritime Center, we watched a family of dolphins as they played in the harbor. Then our tour guide picked up the boat's crab pot which had trapped two blue crabs for us to observe.
A nature tour is a great way to let the kids explore at their own pace. It also allows kids to take a break from the ever-present history lessons found when touring Charleston with kids.
6. Spend the afternoon at Folly Beach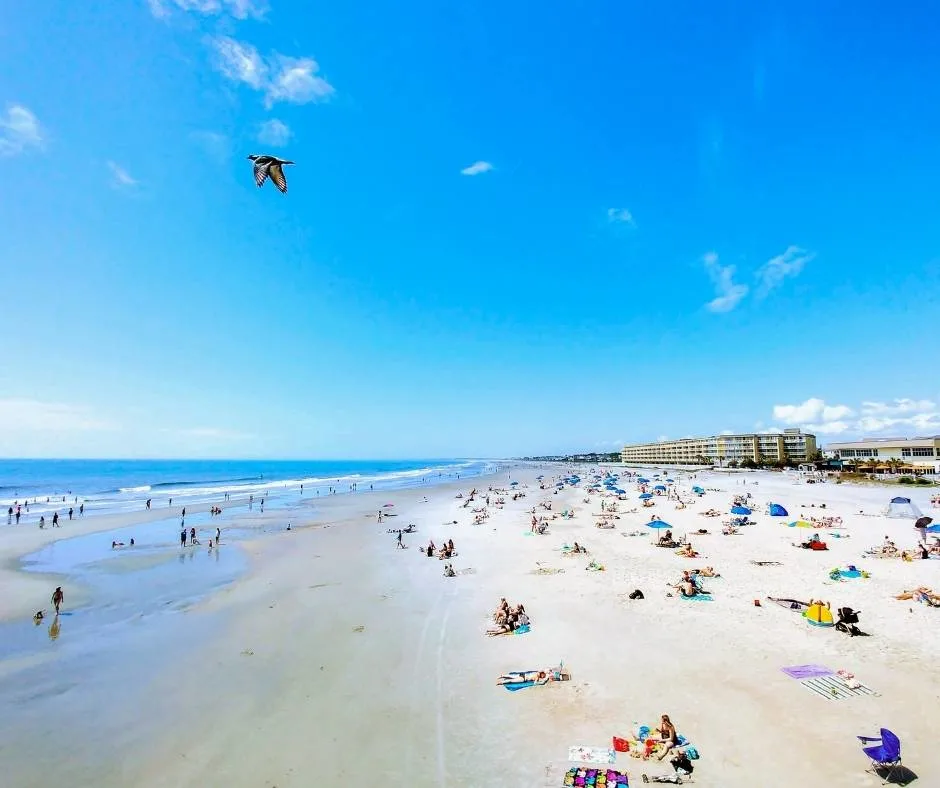 Folly Beach is the closest beach to downtown Charleston, and a great destination for families.
In addition to being a fun place to build sandcastles, surf, and splash in the water, there are also great opportunities to kayak, ride bikes, or paddleboard. The area is also home to a pelican rookery and the Folly Beach Pier.
Center Street, which parrallels the beach, has surf and souvenir shops, as well as a wide variety of dining options.
7. Get Hands On at the South Carolina Aquarium
The South Carolina Aquarium also came highly recommended to us as the best place to escape the afternoon heat. After our visit, we agree that the aquarium is one of the best things to do in Charleston with kids.
Watching the fish swim round and round in the largest tank was certainly relaxing after a morning exploring the city.
For the younger kids, there are several play areas on both floors of the aquarium. The sharks and rays touch tank and the second-floor touch tank with invertebrates give older children a way to connect with the animals in the aquarium.
8. Step Back in Time and Take a Historic Home Tour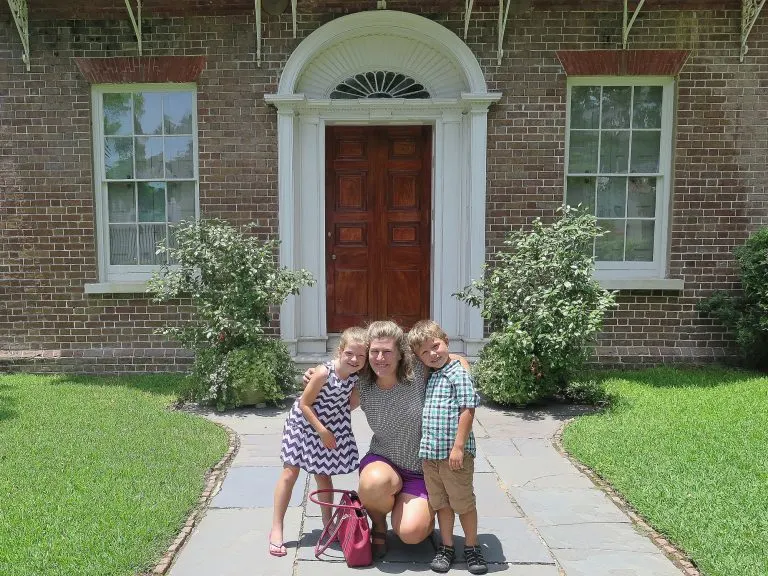 Over a dozen historic sites are within walking distance of Market Street, the site of the Historic Charleston City Market and the launching point for most of Charleston's horse drawn carriage tours.
Taking a walk down Church street to the Edmonston- Altson House or the Nathaniel Russell House is a great way to step back in time to 1861 when the Civil War began. Even with younger children, a tour of a historic home is one of the best things to do in Charleston, SC with kids.
Based on a recommendation from a tour guide, I chose to tour the Edmondston-Alston House with my son and daughter.
As our tour began, the guide gave both my children a simple scavenger hunt. It worked like a charm to keep their hands busy and their minds focused during the 30-minute tour. Standing on the piazza and looking out over the harbor to Fort Sumter, it's possible to picture General P. T. Beauregard as he watched the first battle of the Civil War from the very same spot.
Walking through this neighborhood with gas-lit lanterns can certainly bring one back in time 200 years ago. However, touring a historic home provides a fuller picture of what life was like for antebellum Charleston families.
We also enjoyed a tour at the Nathaniel Russell House, famous for its extravagant free-flying spiral staircase. Our tour guide was enthusiastic to pass down her knowledge of the area's history to the next generation of historians.
9. Enjoy Charleston's Gardens & Outdoor Spaces Like Battery and White Point Gardens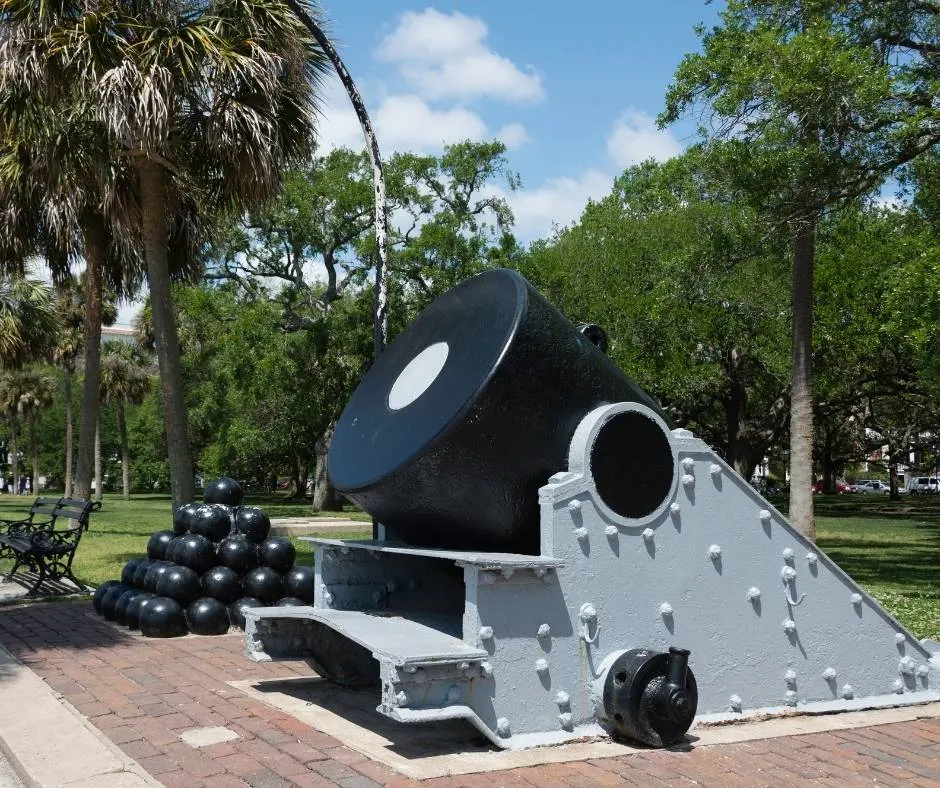 It's not difficult to capture a fantastic picture in Charleston from the bridges of Magnolia Plantation to the stately, antebellum houses lining the Charleston Harbor on The Battery. All my favorite things to do in Charleston, SC with kids were found outdoors.
Don't forget to leave plenty of time in your Charleston itinerary to enjoy the Battery and White Point Gardens. This park is filled with more magnificent views as well a a collection of cannons from the Civil War that your kids won't be able to resist.
Want to make Charleston part of your family's Southern road trip itinerary? Check out Family-Friendly Road Trip Charleston, SC to Savannah, GA.
10. Paddle a Boat Through the Swamp at Cypress Gardens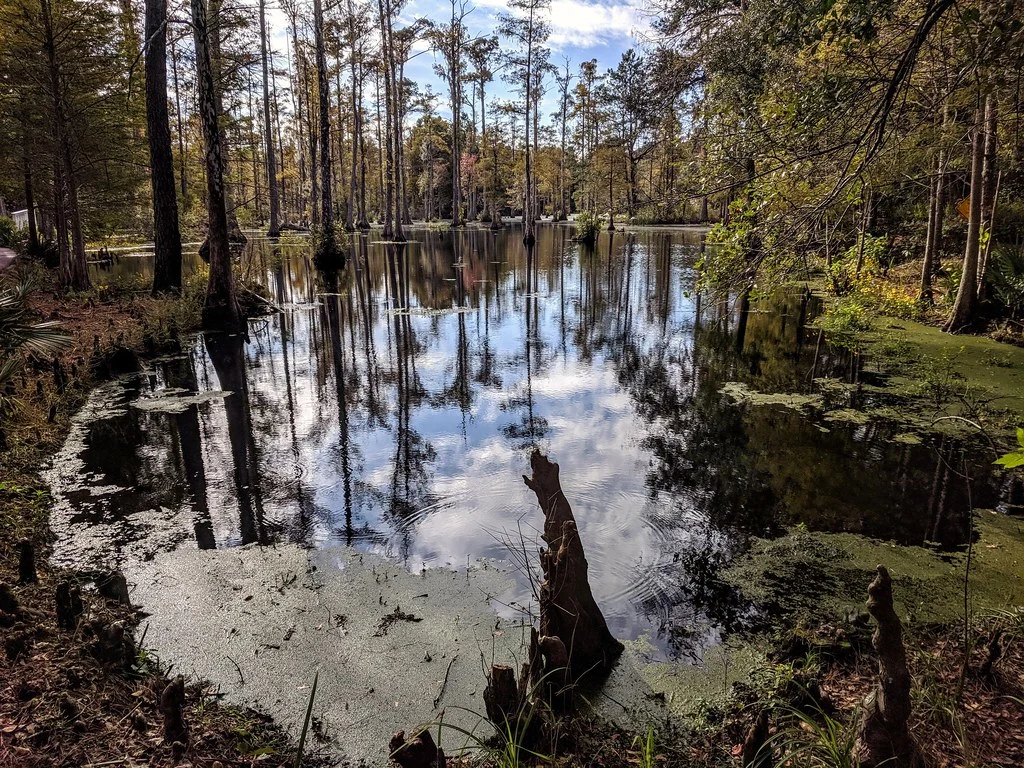 Just 30 minutes from downtown in Moncks Corner you will find Cypress Gardens, a 175-acre swamp garden where you paddle a boat and spot turtles, birds, and even alligators!
It is a beautiful spot that has been used as a filming site for several movies, including The Notebook. There are 3.5 miles of trails in the garden, along with a butterfly house and Swamparium which houses wildlife from the local South Carolina Lowcountry.
Restaurant Recommendations in Charleston, SC with Kids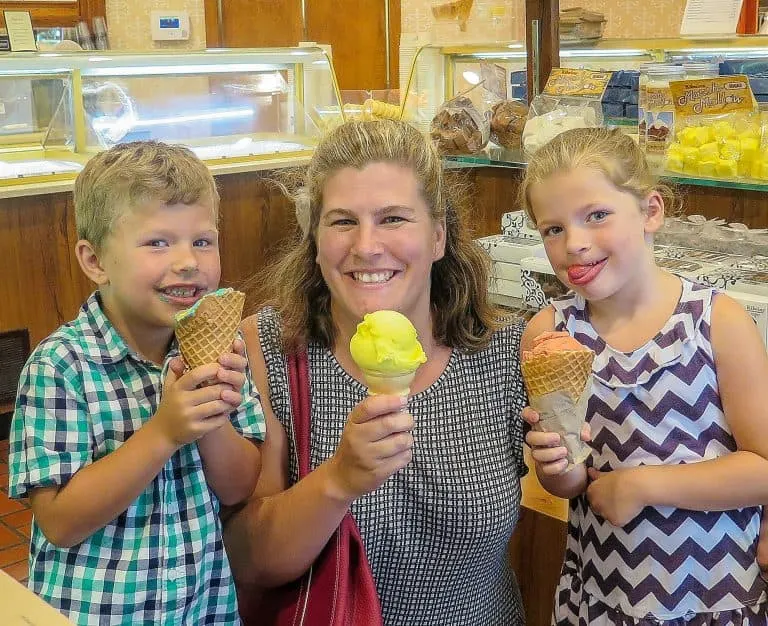 Everything that my kids and I ate in Charleston was absolutely amazing. We loved breakfast at Another Broken Egg. This California girl even found the tacos at Minero very tasty.
Fuel is a Caribbean-inspired restaurant that inhabits an old gas station. Enjoy Jamaican Jerk Chicken, Mahi Mahi tacos, and sweet plantains on the outside deck, while the kids played bocce ball and corn hole toss.
Where to Stay in Charleston with Kids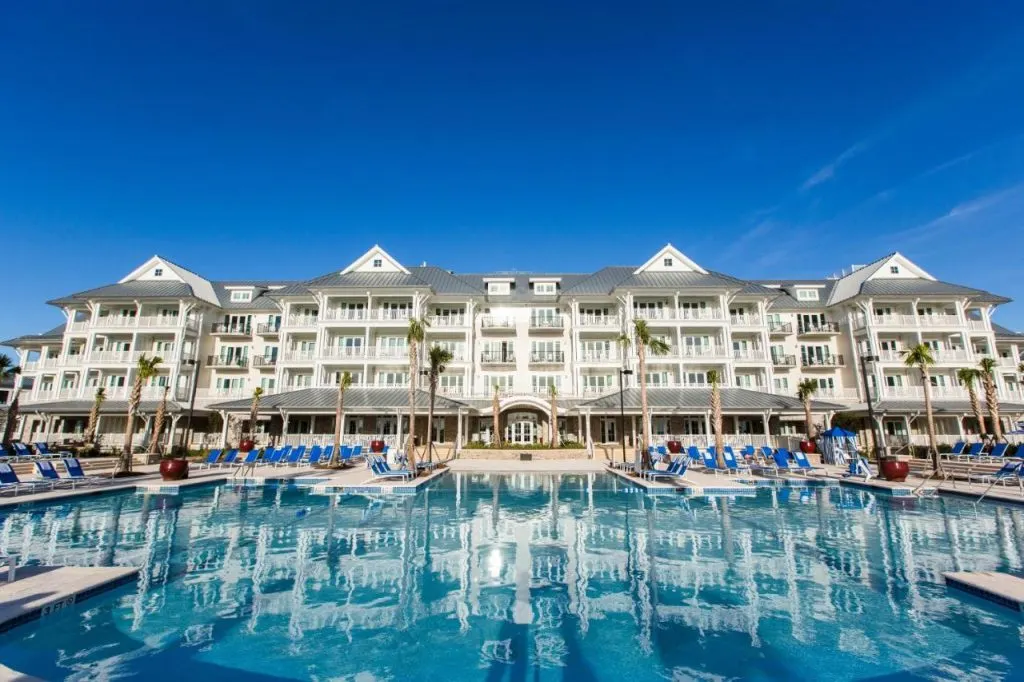 Situated just a short water taxi ride away from downtown Charleston SC, the Beach Club at Charleston Harbor and Marina is the perfect place for families to relax and regroup in a charming, attractive, and roomy environment.

Harbor views, delicious food, nautical-themed, vibrant and un-cramped rooms allow for time together, yet make sure no one feels like they're on top of one another. The 92-room LEED certified boutique hotel, which opened in 2016, is as fresh today as it was then. It's situated right on the water with balconies overlooking the harbor. Sit on the balcony or your private porch and wrap yourself in the seersucker robe from your room to enjoy the twinkling lights of the cityscape.

Amenities families can take advantage of include two tropical pools, a private beach nearby, bikes available to ride, outdoor games, movie nights in the on-site 33-seat theater, a marina store, spa and wellness activities, on-site restaurant as well as room service and a pool bar with delicious food, a Kid's Camp during seasonal times, and the ability to walk around and enjoy the marina.

The ship USS Yorktown is in the harbor, so touring it is quick, easy, educational and interesting. Additional marina activities can be arranged such as sailing and fishing.
One feature families will especially appreciate is the Family Parlor rooms which are designed for those looking for more space and specific accommodations for children. The rooms feature a king bed and sitting area, as well as a separate room with two twin beds that allow kiddos to sleep in darkness and peace while parents can have their own space to relax as well. A deep soaking tub and separate walk-in shower make cleanups for all a breeze.
This snazzy, fun and versatile lodging option is perfect for a refreshing escape to the Charleston area and allows you to treat the family to an upscale coastal getaway that's close to everything the city has to offer – yet feels miles away.