Last Updated on
Trekaroo generates revenue from purchases made through links to our partner brands.
When Spanish explorers led by Ponce de Leon landed on the Eastern Coast of Florida 500 years ago, they were searching for gold and the magical Fountain of Youth. Impressed by the variety of tropical flowers, Ponce de Leon named this land La Florida and established the first European settlement in what would become the United States nearly 100 years before the settlement in Jamestown, Virginia. Florida not only boasts the oldest recorded European history in the New World but also a rich Native American heritage, which began over 12,000 years ago and continues to the present day. Since the early 1500's, explorers of all ages have come to Florida seeking their own version of the fountain of youth. Whether on the white sand beaches or in a Magic Kingdom, families can find their treasures – vacations packed with priceless memories. These are my top 10 things for families to do in Florida. Embark on your journey to Florida!
Family-friendly hotels all-over Florida!
Get the inside scoop and ask questions about your Florida trip. Trekaroo has reviews on Florida from real parents.
Top 10 Things For Families Do To in Florida
10. Forts and cannons!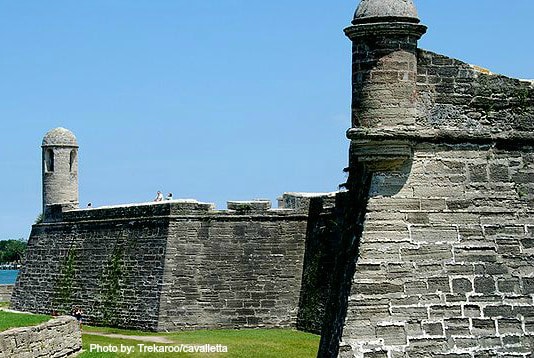 The journey begins where Ponce de Leon's landing party came ashore 500 years ago – on Florida's "First Coast." The Castillo de San Marcos in St. Augustine dates from the 17th Century and is the oldest masonry fort in the United States. Rangers offer a glimpse of the lands those early Spanish explorers might have seen from their ships, and the cannon firings will really impress the kids! The cannons are aimed at the coastline so make your way inland to Tallahassee and the Mission San Luis Archaeological Site. There, you'll step back in time to experience life at the Mission in 1703. Kids will get to see how families lived and played ages ago. A world without electricity! What seems like worlds away is Fort Jefferson at Dry Tortugas. This remote fort is seventy miles west from Key West. Getting there is a challenge but the crystal clear snorkeling, two hour boat ride, and colorful coral reefs are spectacular!
9. Start your engines!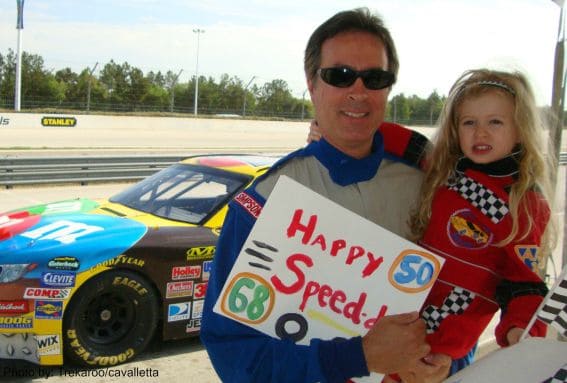 As any race fan knows, the NASCAR season begins and ends in Florida. Kicking off in February at the Daytona International Speedway, race fans come from around the world to cheer on their favorite drivers. The season concludes at the Homestead-Miami Speedway in November. In 2011 and 2012, the NASCAR champion was determined at the final race in Homestead which made for an exciting race to the checkered flag! Other races are held at both tracks throughout the year and tours are also available on non-race days. The "12 Hours of Sebring" at the Sebring International Raceway draws a smaller but loyal crowd. In April, IndyCars roar through the streets of downtown St. Petersburg at the Honda Grand Prix. If you've always wanted to get behind the wheel of a racecar, the Richard Petty Driving Experience at Walt Disney World offers several different NASCAR driving and ride-along packages for children as young as six years old and 48" tall though adults. That is bound to get anyone's motor running!
Book your hotel for the race!
8. Springs, Caves, Trails, and the quest for the Fountain of Youth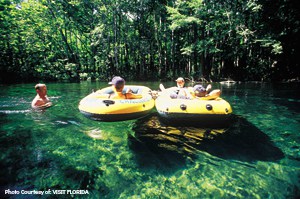 With over 11,000 miles of rivers and waterways to discover, be sure to pack those swimsuits! Snorkel at the Biscayne National Underwater Park in Homestead or relax on a glass bottom boat ride. Perhaps the Fountain of Youth can be found at the Falling Waters State Park in Chipley, which boasts Florida's highest waterfall at 67 feet. Rent a canoe at Canoe Escape and paddle along the Hillsborough River in Tampa. Birds, alligators, and turtles will keep you company! The de Leon Springs make for a brisk swim but the boat tours and wildlife sightings are beautiful. Take a guided tour of the limestone caves at the Florida Caverns in Marianna. Pack a picnic lunch or plan to camp overnight. If your family dreams of riding horseback along beach trails, make plans to visit Amelia Island State Park. For tweens and teens, rent an inner tube and float along the crystal clear spring waters at Ichetucknee Springs in Fort White then enjoy a picnic lunch in the cypress hammocks shade. In October, view the monarch butterfly migrations at St. Marks National Wildlife Refuge when the wildflowers are at their peak. Seeing thousands of butterflies take flight is truly magical!
7. Viva Florida!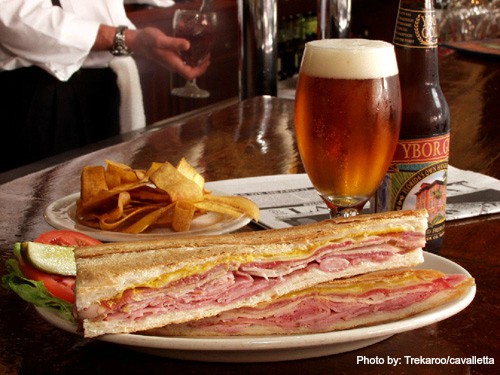 Over a century ago, Miami and Tampa drew highly skilled workers from Cuba, Italy, and Germany to work in their world-famous cigar factories. A friendly rivalry between these two cities includes a debate on who makes the best Cuban sandwich – the restaurants in Miami's Little Havana or Tampa's Latin Quarter known as Ybor City. After a public vote, the Columbia Restaurant in Tampa won over Little Havana's Versailles. From Key Lime Pie to Guava desserts, take time to wander along these bustling streets and try the variety of Caribbean, Latin, Greek, Cuban, and French cuisine. At Billie Swamp Safari in Clewiston, learn more about the Seminole people and try some gator nuggets or frog legs. They've got a kick! Thanks, in part, to this influx of workers, Florida has a rich cultural heritage waiting to be discovered at over 340 Florida Museums across the state. Go explore!
Read more kid friendly resorts, restaurants and attractions in Miami Beach. Also, check out reviews of kid-friendly attractions in Tampa and family friendly day trips.
6. Adventures with fins, fur, and flippers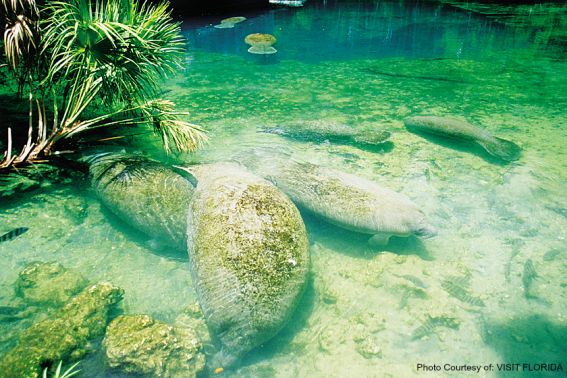 Journals written by Spanish sailors often included stories of mermaids they saw while sailing near Florida's coastline. History reveals that these mysterious mermaids were actually Florida manatees. Mermaids do exist at Weeki Wachee Springs, but they look much different than the manatees at the Homosassa Springs State Park. If you prefer to swim with dolphins, Discovery Cove in Orlando offers amazing year round opportunities. Some of the best bird watching and nature trails can be found at the J.N. "Ding Darling National Wildlife Refuge on Sanibel Island, the Merritt Island National Wildlife Refuge in Titusville, and the St Joseph Peninsula State Park in Port St. Joe. Animal rescues and rehabilitation happen every day at the Loggerhead Marinelife Center in Jupiter, Mote Marine Laboratory in Sarasota, and at the Clearwater Marine Aquarium, which is home to Winter the Dolphin. For something your kids will talk about for years, book a campsite at Lion Country Safari near Boca Raton. Waking up to the sounds of a lion's roar is unforgettable! Then, drive through their habitat as the animals roam free around you.
Read more about animal experiences in Tampa Bay (or check out Tampa's Top 10 for Families)
5. The River of Grass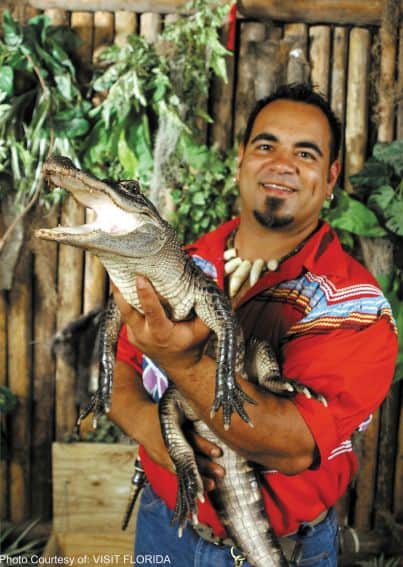 The Everglades, also known as the River of Grass, is home to over 700 plant and 300 bird species as well as the endangered manatee, crocodile, and Florida panther. It's also the only place in the world where alligators and crocodiles co-exist. This mysterious combination of water and drought, sunshine and shade is vital to Florida's delicate ecosystem. Visiting the Everglades National Park is easy from either coast of Florida as there are five separate park entrances. If you're visiting the National Park near Miami, stroll along the Anhinga Trail and look for alligators. Afterwards, plan to visit the Miccosukee Indian Village where you'll witness breathtaking feats of courage as men wrestle alligators. Kids of all ages will get a kick out of gliding inches above the water on a fast-moving airboat ride in Homestead at the Everglades Alligator Farm or in Everglades City at the Everglades National Park Airboat Tours. Wear a floppy hat and drink plenty of water. It can get pretty hot in the swamp!
Read more about the Everglades around Naples/Marco Island.
4. Blast into space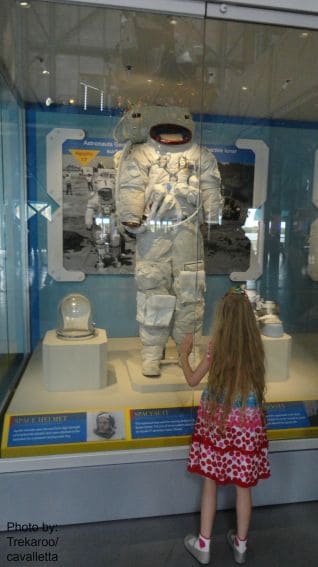 For over 500 years, Florida has been popular with explorers. From Ponce de Leon's quest to the astronauts and engineers of NASA and the international race to space, Florida has a rich, rugged passion for discovery. The Kennedy Space Center is the only place in the world where you can still soar to the stars. Catch a glimpse of the foundations of space exploration as you witness a Saturn V rocket launch in the Apollo/Saturn V Center and watch the first moon landing. Take one of the Up-Close Tours to see the historical Launch Pad 39-A where the first rockets and all space shuttles blasted off into space or step inside the massive Vehicle Assembly Building to see how rockets were prepared for launch. Think you have the right stuff? Test your skills in the Astronaut Training Experience then hop aboard the Shuttle Launch simulator. Who knows? You may be piloting the next generation of spacecraft to journey where no one has gone before. Afterward, meet an astronaut at the daily Astronaut Encounter where veteran astronauts answer questions from the audience. New in 2013, the interactive Angry Birds Space Encounter allows guests to create their own Angry Bird then participate in seven different hands-on exhibits. Later in 2013, Space Shuttle Atlantis will be installed in its newly constructed 90,000-square-foot permanent Earthbound home. This is definitely one of the most popular things for families to do in Florida.
Explore space and stay at these family-friendly hotels!
Read about other activities on Florida's Space Coast for kids!
3. Get to know the Parrot-heads in the Conch Republic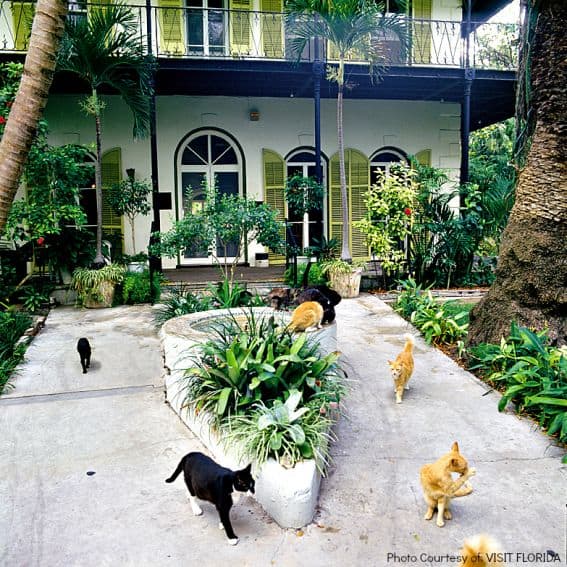 Known as America's Caribbean and the sport fishing capital of the world, the Florida Keys are a chain of islands that stretch for 106 miles off of Florida's mainland. On Key Largo, the first Key in the island chain, take the plunge and view the underwater spectacle at the John Pennekamp Coral Reef State Park. Be on the lookout for colorful fish, coral, and the world-famous nine-foot tall bronze statue, "Christ of the Deep." Back on dry land, the Crane Point Museum and Nature Center in Marathon shows visitors how the Overseas Railroad connected Miami to Key West. This 63-acre site houses 600 year old artifacts in the Museum of Natural History. Walk the nature trails or board the free trolley to see spectacular views of Florida Bay and the Marathon Wild Bird Center. For a fish story your kids will love to tell, visit Robbie's of Islamorada to hand-feed schools of 50-100 jumping tarpon. On Key West, get a feel for the island by taking the Conch Tour Train along Duval Street and swing by the Hemingway House to search for those famous six-toed cats! You can watch the sunrise and sunset all in one day in Key West. Mallory Square is well known for their artistic celebrations at sunset while the Southernmost Point might claim the prize as the most photographed spot on the island. Take the time to snap a family photo; you'll be glad that you did! Remember, where Route 1 ends, the party begins!
Looking for more? Read our Top 10 Things to do with kids in Miami.
2. Search for seashells
The Sunshine State has almost 700 miles of sandybeaches along Florida's 1,200 mile coastline. Many of these beaches are consistently rated among the world's best with the white powdery sands on Florida's Panhandle, the Emerald Coast, claiming the most praise. Choosing where to stay depends on what you want to experience. If you prefer pristine beaches, pitch your tent on the sugar sandy beaches on Perdido Key near Pensacola or take a ferry out to Caladesi Island near Dunedin. Teens would be thrilled to drive your car on Daytona Beach known for Spring Break fun or learn to surf at Ron Jon Surf Shop in Cocoa Beach. The beaches around St. Petersburg/Clearwater were voted the best for families because of the wide variety of nearby attractions, restaurants, and theme parks. If you prefer a tropical flavor, head for the beaches in Fort Lauderdale. On the Southwest Coast, Marco Island offers miles of sandy shoreline perfect for romantic sunset strolls.
Bring the whole family to the beach! Find the best hotel deals here!
Read more about great family friendly activities on Florida's Emerald Coast, and in Southwest Florida.
1. Disney World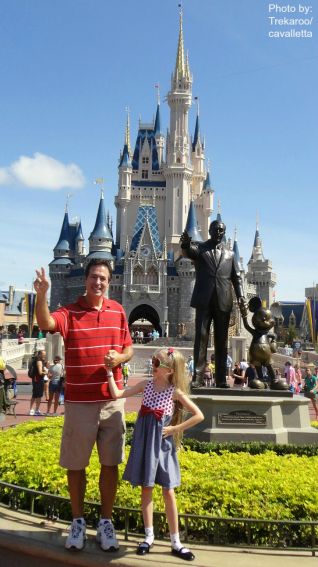 In what was once a land full of orange groves and palm trees, Walt Disney envisioned his own magical world. His team of imagineers rebuilt the landscape into one of the most magical places on Earth, the Walt Disney World Resort. Since 1971, families have created memories at the Magic Kingdom, which is the most visited theme park in the world. With the addition of EPCOT, Animal Kingdom, Hollywood Studios, two water parks, Downtown Disney, and over 20 resort properties, this "small world" draws millions of visitors each year. After just one visit, you will understand why this is heralded as the "Most Magical Place on Earth."
Head to this Ultimate Disney Guide for our most up-to-date Disney coverage, tips, and information. Explore Orlando with our Top 10 Orlando Guide.
Lead image by: Shutterstock.com

What state do you want to visit next?
From coast to coast, we're determining the Top 10 Things to do with Kids in each state of our great nation. Head here to see what tops the list in your favorite state.