Clearwater Beach, Florida is located along the Gulf of Mexico just 40 minutes west of Tampa. This beautiful coastal city sits on an expansive stretch of white sand. It's simply a lovely slice of paradise.
There are so many great things to do in Clearwater Beach with kids. Families come to St Pete/Clearwater to enjoy a beach town with sugary white sand beaches, endless sunshine, and warm ocean waves.
Visitors love that there are several resorts with access to sandy beaches with the clear shallow water. Dig your toes in the sugar sand and let the ocean breeze wash over you. There is a reason why Clearwater Beach is one of the top beaches in the United States!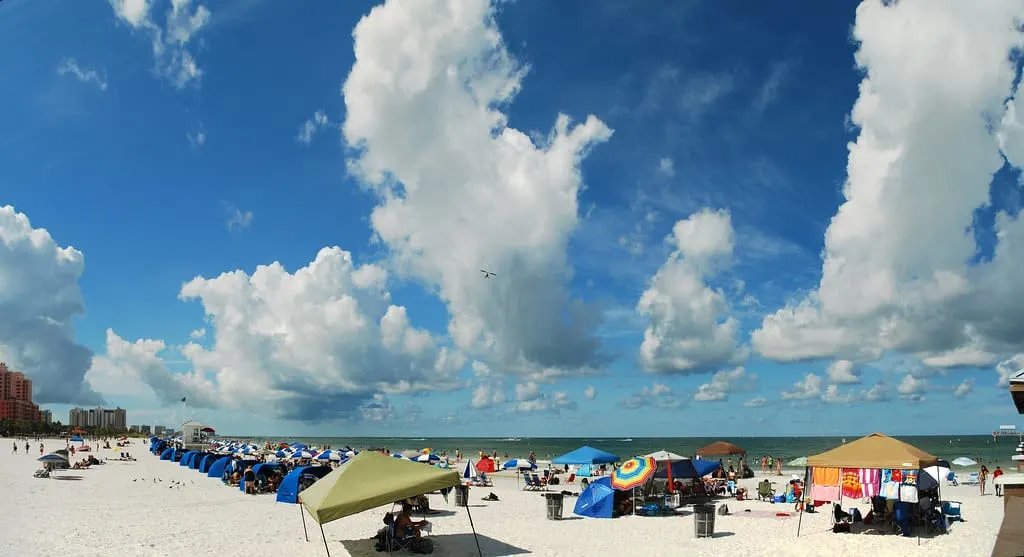 Things to do in Clearwater Beach with Kids
1. Spend Time on the Boarwalk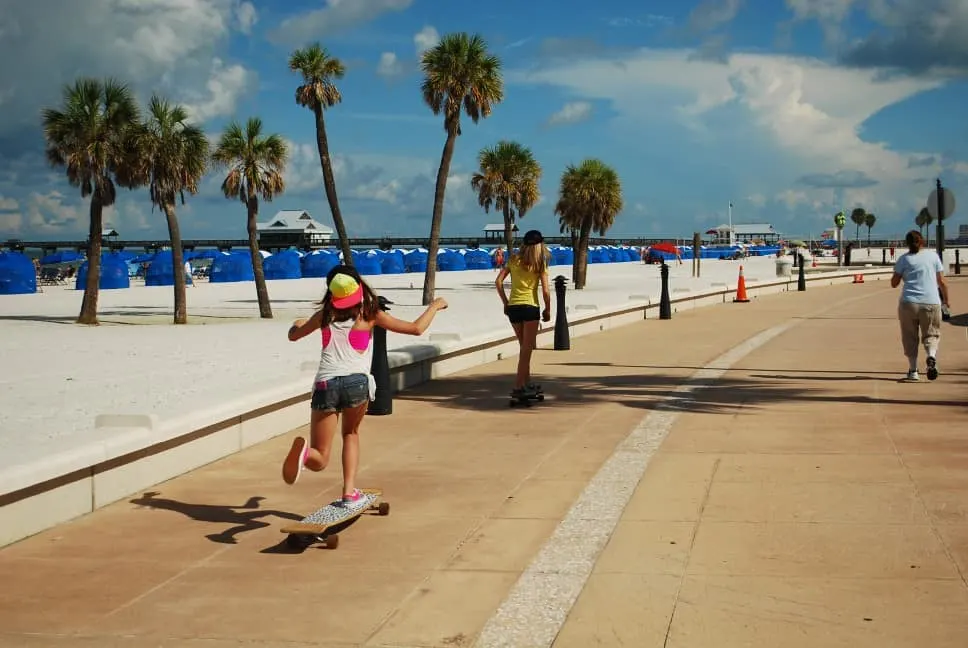 Clearwater Beach, FL is a pedestrian-friendly tourist town. Pop the kids in the stroller and meander down Clearwater's half-mile Beach Walk. If the kids are older, rent a bike or take a stroll.
You'll find plenty of folks out doing the same thing. Along the way, enjoy spectacular views of the shoreline, fun retail shops, and plenty of places to eat.
St. Pete Beach is just down the road! Here are 9 Great Things to do in St Pete Beach, Florida.
2. Take the Jolley Trolley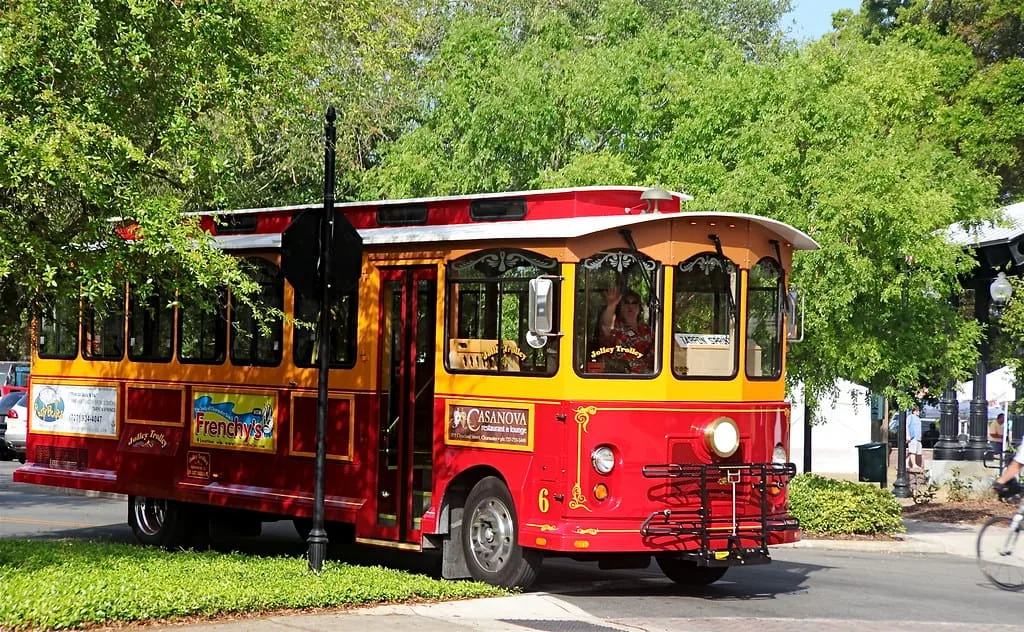 For those traveling the length of the town, take a ride on The Jolley Trolley. This mode of transportation is an amusing and convenient way to get around Clearwater Beach.
The Jolley Trolley stops at convenient places around town at 30-minute intervals. An unlimited daily pass on the trolley is $5.00 and children 5-and-under ride fee! The Trolley runs 7 days a week and stops at most of Clearwater Beach's main attractions.
3. Take in a Sunset at Pier 60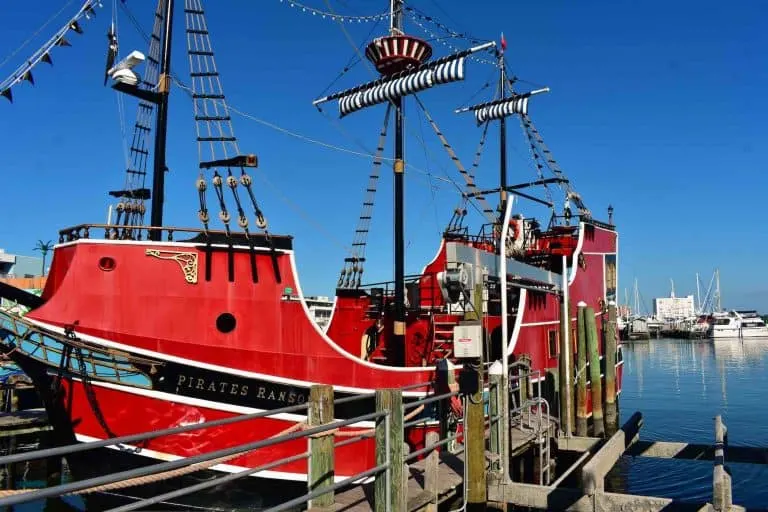 Pier 60, a.k.a. the public beach, offers a plethora of beachfront playgrounds and sugary sand. Located on Clearwater's stunning beachfront promenade, the Pier is famous for its sunset celebrations.
On Friday and Saturday nights, Pier 60 presents Sunset Cinema, a family-friendly film screening on a jumbo outdoor screen. Pack a picnic and a beach blanket and enjoy this free event.
Explore more of the region. Here are our favorite things to do in Tampa with Kids.
4. See Turtles and Wildlife at Sand Key Park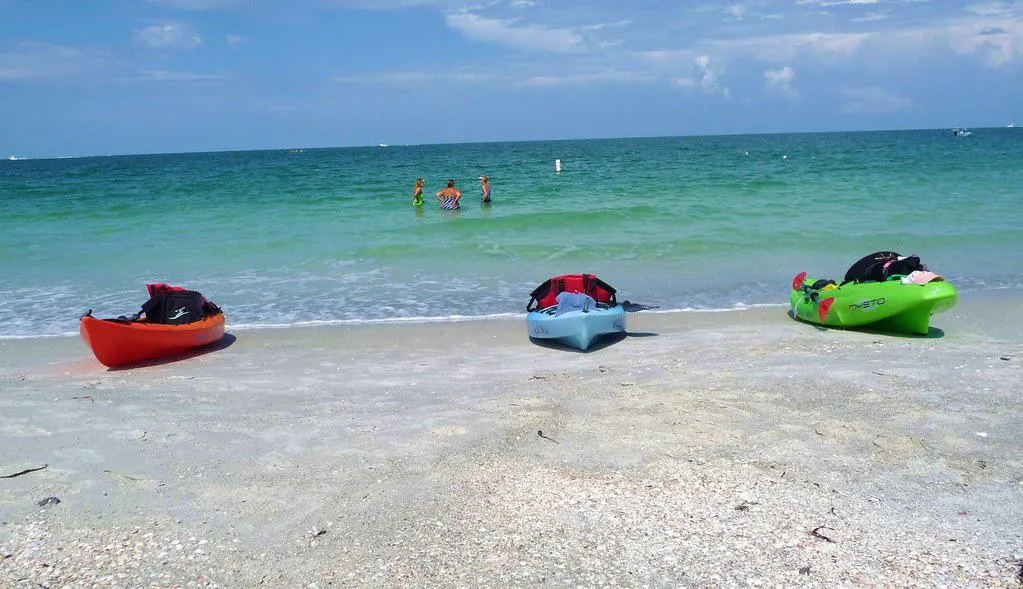 Sand Key Park is located at the tip of the Sand Key barrier island in Clearwater Beach, FL. It is a great place to swim, kayak, and snorkel.
If you're lucky, you might meet the endangered sea turtles who come to this beach to lay their eggs. Be sure to keep your distance and respect barriers set up to give mama turtles privacy.
This rare salt marsh area is also a nesting site for endangered birds. If you're interested in snorkeling and spotting wild dolphins, St. Pete Dolphins Snorkeling Cruise runs half-day tours out to Egmont Key.
5. Interact with Dolphins at Clearwater Marine Aquarium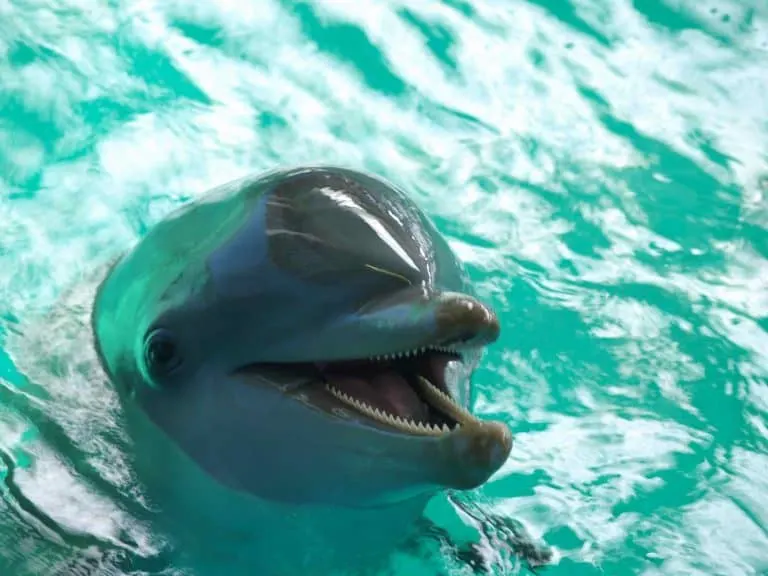 Clearwater Marine Aquarium is home to Winter, the famous dolphin from the movie Dolphin Tale. Dolphin Tale is the true story of a young dolphin who found herself caught in a crab trap line.
She was rescued and transported to Clearwater Marine Aquarium. Unfortunately, Winter lost her tail as a result of her injuries and was fitted with a prosthetic tail. Today she is a great reminder of the importance of protecting our marine life.
The aquarium offers a Behind-the-Scenes Tour for families interested in the aquarium's dolphin and sea turtle rescue program. Each tour concludes with VIP seats to the dolphin show.
The aquarium also offers dolphin lovers ages 3 and up the opportunity to interact with Atlantic Bottlenose dolphins. For those who are old enough, masks and snorkels are provided for watching the dolphins interact underwater. All participants receive a complimentary photo before going home.
See dolphins in the wild on this two-hour dolphin cruise. As a Trip Advisor affiliate Trekaroo receives a small commission to help fund our small business and you get the lowest rates guaranteed.
Day Trips from Clearwater Beach with Kids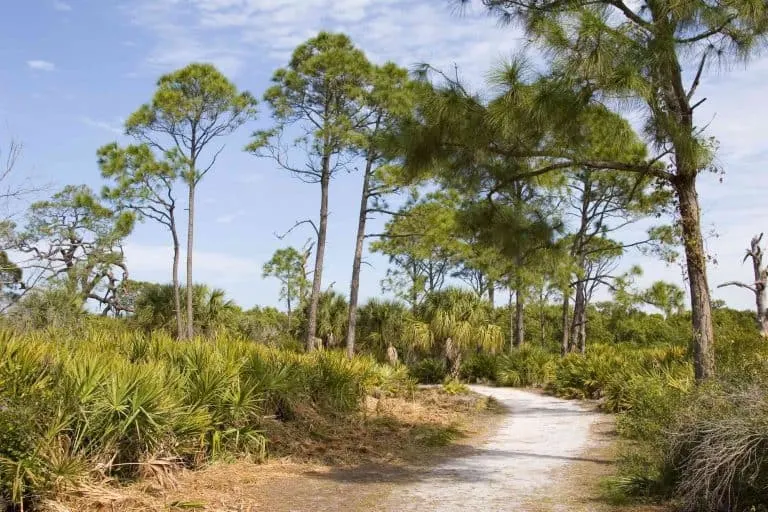 Family-friendly day trips include taking a boat to Caladesi Island State Park and discovering Honeymoon Island State Park.
In nearby Tampa, you can ride roller coasters at Busch Gardens. Here are 10 of our favorite things to do in Tampa with kids.
During baseball season, Brighthouse Field is a fun family outing. And if you're interested in exploring further, St. Pete, FL is just 45 minutes away.
Are you fan to visiting state parks? Here is Trekaroo's list of State Parks that viral National Parks.
Where to Stay in Clearwater Beach with Kids
Clearwater Beach, FL has lodging to fit any budget.
We're an affiliate of Booking.com. Which means you get the same great prices, while we receive a small commission. Thanks for helping to keep Trekaroo free.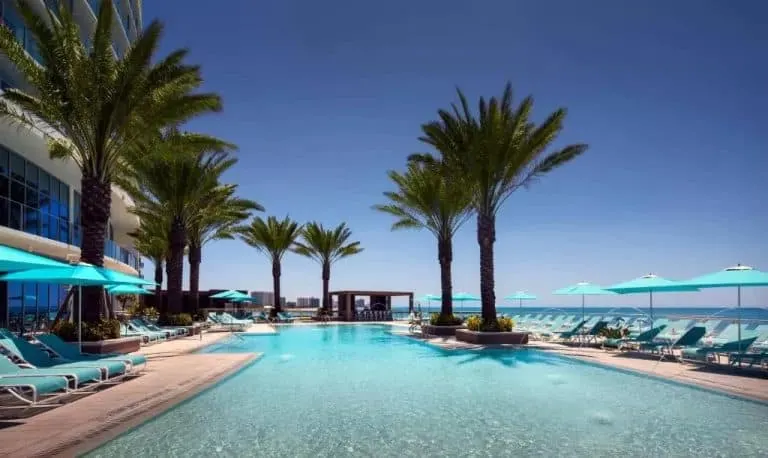 Opal Sands Resort
Families looking for a luxurious stay right on the beach should indulge in the Opal Sands Resort. This hotel opened offers travelers an upscale option to lay their heads.
There are standard rooms as well as rooms for larger families. The decor is soft, soothing, and pretty. The friendly staff will help with whatever you need, including dinner reservations and activity suggestions.
In addition to the pool and location, families love the free bike rentals offered by the resort. Take a ride and too explore the area.
Spend all of your time relaxing poolside or strolling along the beach. If you want to get our and explore the area, take advantage of the free bike rentals offered by the resort. But take the time to savor the spectacular sunsets every evening.
Sandpearl Resort
Another terrific option for families is the Sandpearl Resort, which is also located on the beach. Tastefully decorated and ready to host guests looking to vacation and relax, this hotel is a solid, family-friendly choice.
This beach resort has delicious on-site dining, in-room entertainment, a large and welcoming pool area, and friendly staff members. It is centrally located with quick and convenient access to the area's key attractions.
*Disclosure: I was offered complimentary admission to at least one of the above activity venues. I also received a complimentary night's stay at the resorts mentioned. However, the opinions are entirely my own.