In my family's travels across America, our route has often taken us through state capitals. Sometimes we stop to check them out, other times we don't. From Sacramento to Indianapolis to Richmond, I've found that these capital cities have given our family great insight into their respective states even though they're relatively small. To be honest, I've given Charleston, West Virginia a pass on more than one occasion. Finally, this summer, I took the opportunity to visit. I found lots of fun things to do in Charleston, WV with kids. Looking for places to visit in West Virginia? Read on for things to do in Charleston, WV from visiting the West Virginia State Capitol Complex to driving scenic Route 60 in West Virginia to the New River Gorge.
Look for current hotel deals in Charleston, West Virginia
Things to do in Charleston, WV with Kids- From the West Virginia State Capitol Complex to a Drive on Route 60 in West Virginia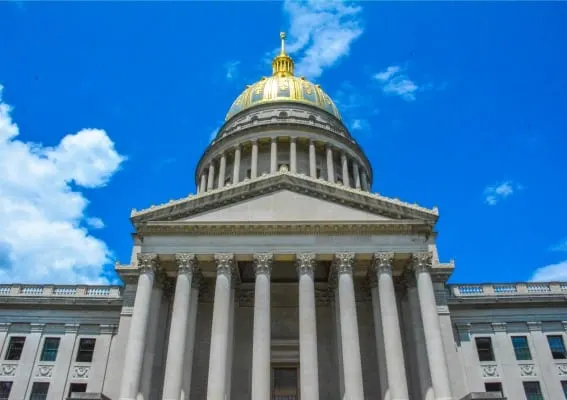 A Gilded Dome and a Riverside Location, the Beautiful West Virginia State Capitol Complex
There are many beautiful State Capitol buildings out there across America, and West Virginia's State Capitol Building is one of the most impressive. It is truly world class. However, West Virginia doesn't just have a beautiful Capitol building. The entire West Virginia State Capitol Complex from the grounds to the statues to its riverside location along the Kanawha River is absolutely stunning. Plan to spend some time walking around outside the building when you visit. It's certainly one of the best places to visit in West Virginia.
A Capitol Built of Marble and Gold – West Virginia State Capitol Complex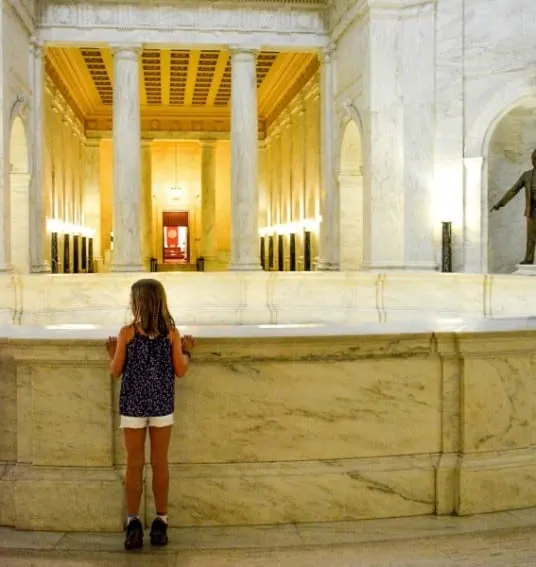 After the previous Capitol building was destroyed in a fire in 1921, the current Capitol building was seemingly built to survive any conceivable natural disaster. Its dome is accented heavily in gold leaf. The inside of the building features nine different types of marble. This is one solidly built Capitol building! Taking a walk through the West Virginia State Capitol Complex, whether on a tour or not, is one of the best things to do in Charleston, WV.
A Recognizable Figure – Lincoln Walks at Midnight Statue – West Virginia State Capitol Complex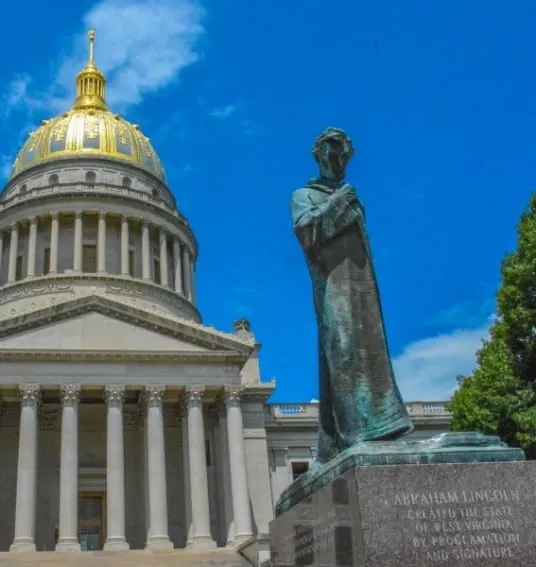 Locals are proud of their Abraham Lincoln Statue, "Lincoln Walks at Midnight." It's located right out in front of the Capitol building facing the river. It is a beautiful reminder that this state was born out of the conflict of the Civil War, and President Lincoln is both directly and indirectly responsible for West Virginia's statehood. Younger visitors might not be able to appreciate all the intricacies of the various war memorials and such around the West Virginia Capitol Complex. However, they will be able to identify Lincoln, and thus, remember how the state of West Virginia came to be.
An Impressive History – The West Virginia State Museum – West Virginia State Capitol Complex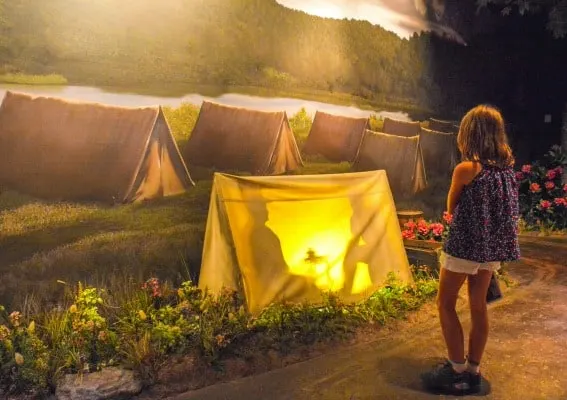 Descending the escalator down into the West Virginia State Museum, also referred to as the Culture Center, opposite the State Capitol Building, the Governor's voice welcomes families to this extensive museum. Then immediately visitors are transported to a prehistoric age of dinosaurs. The first exhibit is a lesson on how coal was formed beneath the surface of the Appalachian Mountains in West Virginia. Slowly history unfolds from room to room. Visitors can't help but be swept away to another time from John Brown's Raid on Harpers Ferry over 150 years ago to the construction of the New River Gorge Bridge more recently. Each important event in the history of West Virginia is featured.
Walking down the timeline of history, families move from one era to the next. Visitors with extra time to spend can venture off the timeline into rooms of artifacts and exhibits that look more like a traditional museum. Yes, museum-lovers could easily spend a half day, or more, exploring the West Virginia State Museum. It's certainly one of the most comprehensive museum experiences in the United States and one of the best places to visit in West Virginia.
Downtown Charleston – Things to Do in Charleston, WV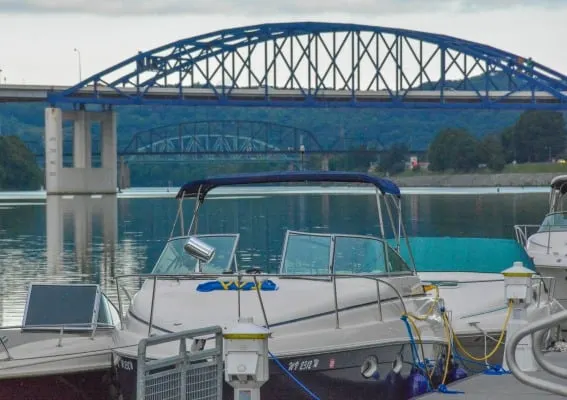 Having lived in and around cities such as San Francisco and Washington D.C., I congratulated myself upon driving into Charleston, WV for the first time and immediately finding a parking space within a block of the city's trendiest downtown neighborhood. Now having visited the city, this is laughable. Don't expect to find traffic or skyscrapers or any difficulty parking in West Virginia's capital city. Charleston is a compact city and is quite easy to navigate whether on foot or by car. Walking from the indoor/outdoor marketplace of the revitalized Capitol Market down Capitol Street to the riverfront is a charming 15-20 minute walk that takes families from one end of the historic downtown area to the other. But, don't be fooled there's lots of things to do in Charleston, WV for families.
A Place for all to Play – The Clay Center and Children's Museum – Things to Do in Charleston, WV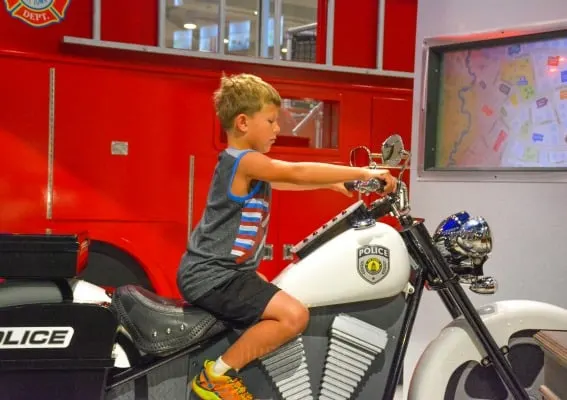 Part of the recent revitalization of downtown Charleston has been bringing the Avampato Discovery Museum to the Clay Center. The Clay Center hosts musical events and other such programs in its theater. It is also home to an art museum on its upper floor. The Clay Center hosts many things to do in Charleston, WV.
The first floor of the children's museum hosts a town exhibit where children from tots to tweens can pretend to be a vet, sit at the governors desk and sign legislation with a stamp, or work out the intricacies of architecture and interior design as they make plans for a house. My kids and I have seen plenty of exhibits like this city before. However, this one is both relatively new and appeals to a greater age range than others that we have experienced. That makes it a favorite for my seven and eight year old children. And, there are even more new exhibits coming this soon!
Found some fun things to do in Charleston, WV. Check for hotel availability in Charleston, West Virginia
A Story About our Visit to the Friendly Downtown Neighborhood on Capitol Street – Things to Do in Charleston, WV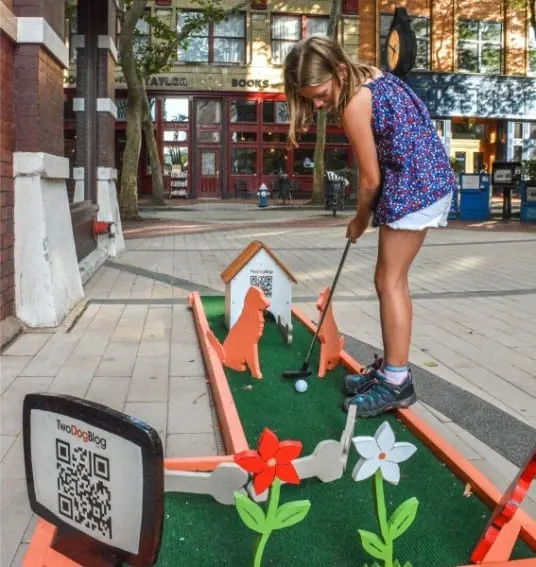 When we visited Charleston, Capitol Street was lined with miniature golf holes creatively decorated by local businesses for a summer festival event running from June 24-July 8, 2017. Local businesses, like Taylor Books, a fun local bookstore where we picked up some reading material mid-road trip, had clubs and golf balls available just inside the store for anyone to borrow so that they could enjoy this "Downtown Open" golf event. There's so many things to do in Charleston, WV in the summer.
The Story of our Visit to Charleston, WV
Of course, as soon as my children saw the Downtown Open, they just had to play. So, after eating pizza at Pies and Pints and devouring mint chocolate chip ice cream at Ellen's Homemade Ice Cream across the street, we picked up some clubs and balls for miniature golfing. As a mom I should have seen it coming, my seven-year-old boy immediately hit his ball out into the middle of street in front of car. Then he began to run out after it. Surprisingly the ball didn't hit the oncoming car. Instead, the car stopped in the middle of the street. To my complete surprise, the driver got out, retrieved my son's golf ball, and kindly handed it to him.
Situations like this one have shown us that the people of West Virginia are some of the friendliest, most kind and helpful people that I've encountered across the 49 states in which I've traveled. (I'm still holding out hope for you, Nebraska.) I lost count of the number of times that little boys held open the door for us during our four day road trip across the state. And, so many locals stopped to give us directions.
Where to Stay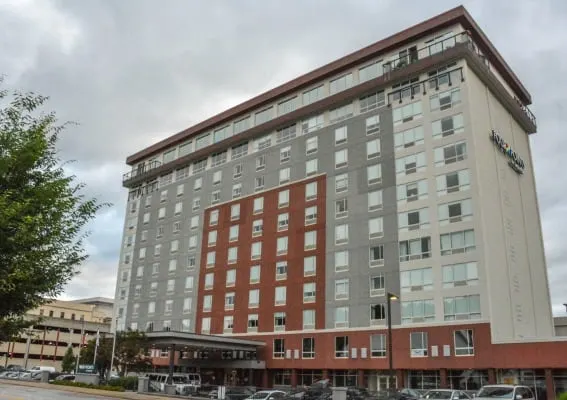 My family stayed at the Four Points by Sheraton during our visit to Charleston. It does not have the complimentary breakfast buffet that I typically seek out when traveling with my kids, but I can still highly recommend this hotel based on its excellent location. (We had a tight schedule and ended up ordering room service for breakfast – a special treat that my children absolutely love.)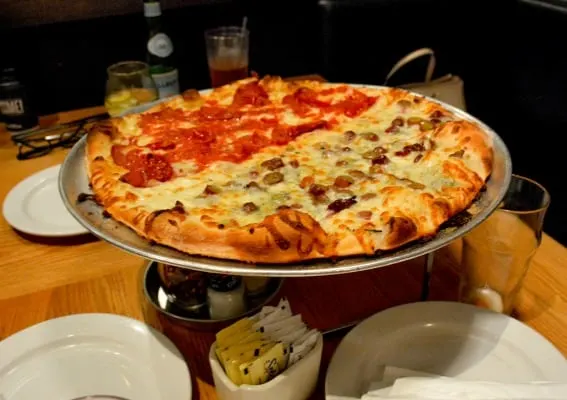 The Four Point is within walking distance of the downtown restaurant scene on Summers Street and Capitol Street, where we enjoyed both Black Sheep Burrito and Pies and Pints Pizzeria (pictured above.) The Kanawha River and the Haddad Riverfront Park a popular location for summer festival is literally right across the street from the hotel. On Friday nights during the summer, Kanawha Blvd directly in front of the hotel closes to car traffic for Live on the Levee. It's a night of live music. Fortunately for hotel guests, it wraps up at a relatively reasonable 9:30PM.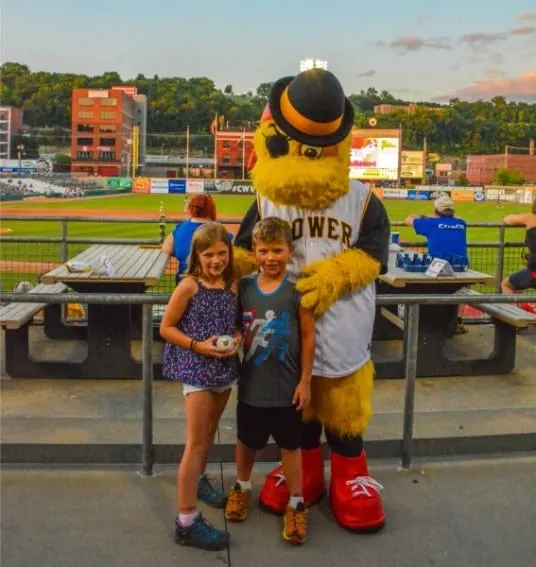 The hotel also has a shuttle with a friendly driver that picked us up at the WV Powers game at Appalachian Power Park a few miles away when we tired out and needed to return to our hotel room. That friendly driver made the great recommendations for our Route 60 drive the following day.
Things to Do Near Charleston, WV – Road Trip Route 60 West Virginia to the New River Gorge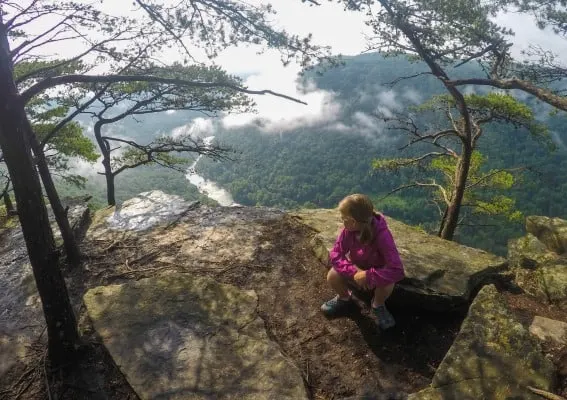 If you just happen to be driving through Charleston in route to another destination, you should be aware that it is only about an hour away from the scenic New River Gorge, one of the best places to visit in West Virginia. It would be such a shame to visit Charleston and not drive the scenic Route 60 out to Fayetteville! The drive to the New River and back to Charleston can easily be done in one day.
Route 60 West Virginia Stop #1- Kanawha Falls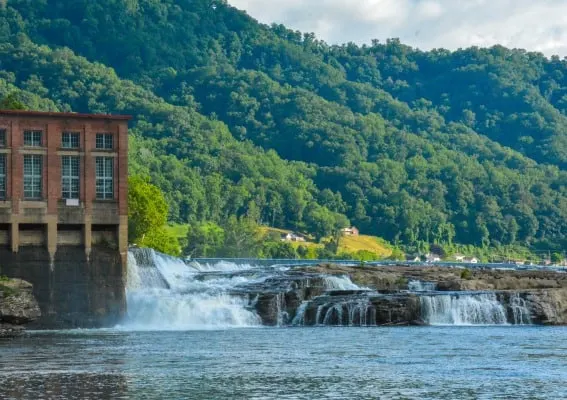 The first 45 minutes on Route 60 out of Charleston offers no real incentive for stopping to admire the view. Yes, it's a scenic highway, the Midland Trail National Scenic Byway, and it follows the path of the Kanawha River. However, it's not any more scenic than any other country road in the state. The first place that you'll want to pull over and admire the views is at Kanawha Falls; there is parking to view the falls at the Kanawha Falls Public Fishing Area. When we arrived first thing in the morning, there was a lone kayaker out fishing. Unfortunately, I couldn't even get my sleepy kids to look out the window to enjoy this view. (They had been up too late at the WV Power game the night before.)
Route 60 West Virginia Stop #2 – Glen Ferris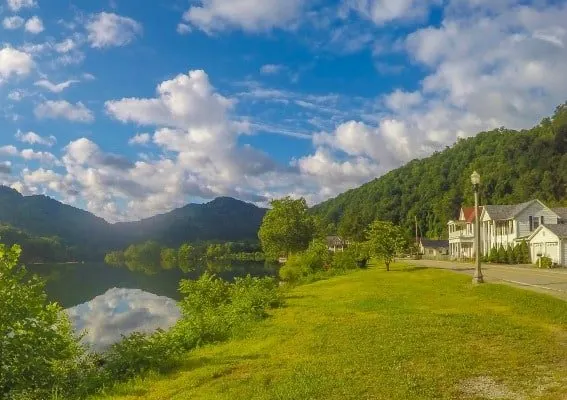 Just a minute or two further up the road from this parking area, drivers will surely be compelled to pull over to the side of the road once more in the tiny town of Glen Ferris. There is parking along the river side of Route 60. It offers a another vantage point of the river and falls. Our shuttle driver from Four Points in Charleston recommended eating at the Glen Ferris Inn here. However, we arrived just after eating breakfast in back at the hotel so we weren't hungry for a meal yet.
Route 60 West Virginia Stop #3 – Cathedral Falls at Gauley Bridge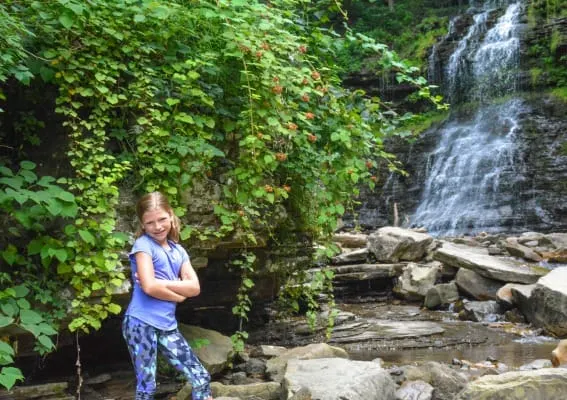 Past the bridge and railroad tracks, another five minutes up the road on the left is the the 60 foot Cathedral Falls, one of the most scenic and easily accessible waterfalls in the state of West Virginia. It is a beautiful place for a picnic, to let the kids hop around on the rocks at the bottom of the falls, or to wade on a hot day.
Route 60 West Virginia Stop
#4 – Hawks Nest State Park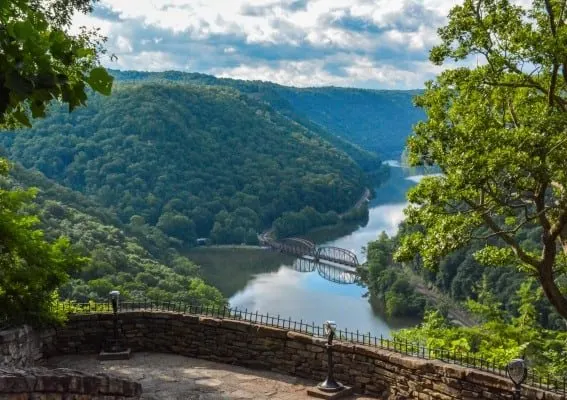 The final stop on Route 60 before reaching the New River Gorge is Hawks Nest State Park about 10-12 minutes further down the highway. The Hawks Nest Scenic Overlook offers a stunning view and is only a few minutes walk from the road. Further down the road a bit is the top of the aerial tramway which runs all the way to the bottom of the canyon where families can take a jet boat ride along the New River; of course, there are also a variety of trails to explore in this state park.
Route 60 West Virginia Stop #5 – Canyon Rim Visitor Center
Continuing on to US-19, plan to stop just before the New River Gorge Bridge at the Canyon Rim Visitor Center. The rangers at the visitor center can guide families towards appropriate hikes and driving routes.
Looking for more places to visit in West Virginia? Check out Trekaroo's Top 10 Things to do in West Virignia.
Drive Back to Charleston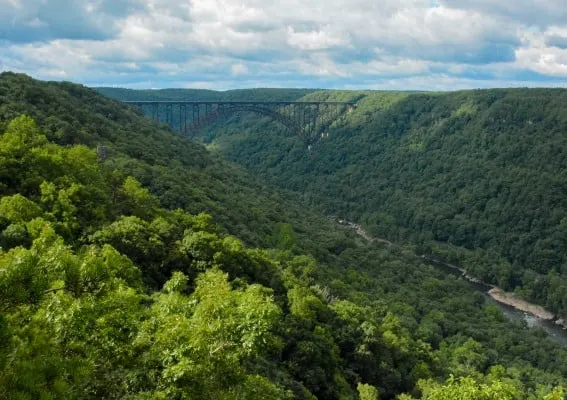 Finally, enjoy the drive across the New River Gorge Bridge to Fayetteville, and then drive US-19 and WV-612 to Interstate 64. It's about an hour's drive back to Charleston in total.
Found things to do in Charleston, WV? Look for the best hotel prices in Charleston, West Virginia
Alternatively, stay awhile in the New River Gorge area and follow the recommendations in my guide Road Trip West Virginia's Mountains Charleston to D.C. to continue your road trip further through the mountains.
Disclosure: My family was hosted by the Charleston West Virginia CVB. All opinions are my own.
Social Media Photos by: bigstock/benkrut
All other photos by Melissa Moore.