There are lots of fun things to do in Virginia Beach with kids so it is no surprise that this town is a perennial retreat for both East Coast families and travelers. "The Beach" has provided surfers, locals, and visiting families with kids of all ages endless entertainment, both near the shore and off.
The length of this stretch of sand translates into always finding a spot for your towels and beach umbrellas, even during peak summer. But this coastal destination has so much more to offer. Here are our favorite things to do in Virginia Beach on a family vacation.
Explore more of the state! Here are our favorite things to do in Virginia with kids.
Fun Things to do in Virginia Beach with Kids
Climb Cape Henry Lighthouse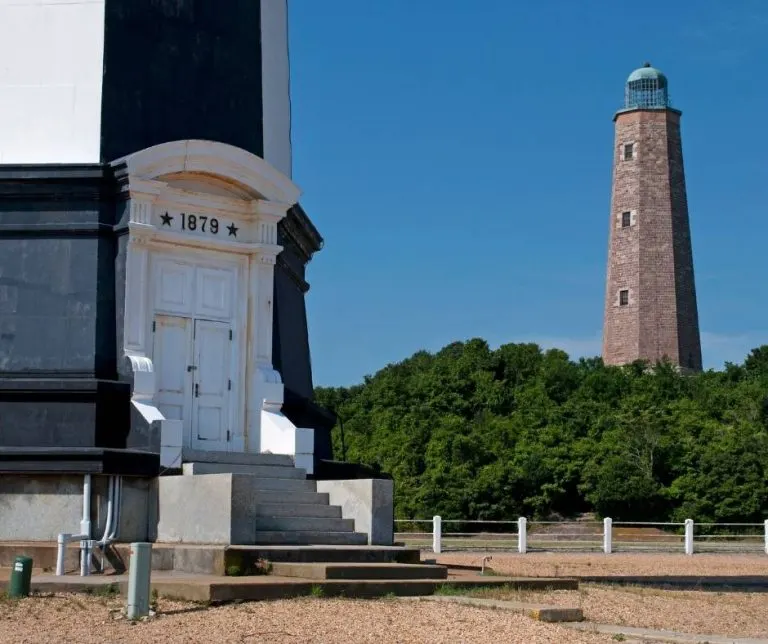 If you've been to Washington DC, you may have learned that many of its historical buildings were made from Aquia sandstone. It's this same building material that makes up the famous Cape Henry Lighthouse.
During a visit, your family can climb to the top of the lighthouse. for safety, children under 42 inches tall are unable to climb and kiddos may not be carried up the steps. Additionally, if the temperature in the lighthouse rises over 125 degrees, it will be closed for safety.
If you love American history like I do, here's a fun fact: the Cape Henry Lighthouse was the very first federally funded public works project in the very beginning of the U.S.'s creation, overseen by Alexander Hamilton and authorized by George Washington!
Check Out the ViBe Creative District Murals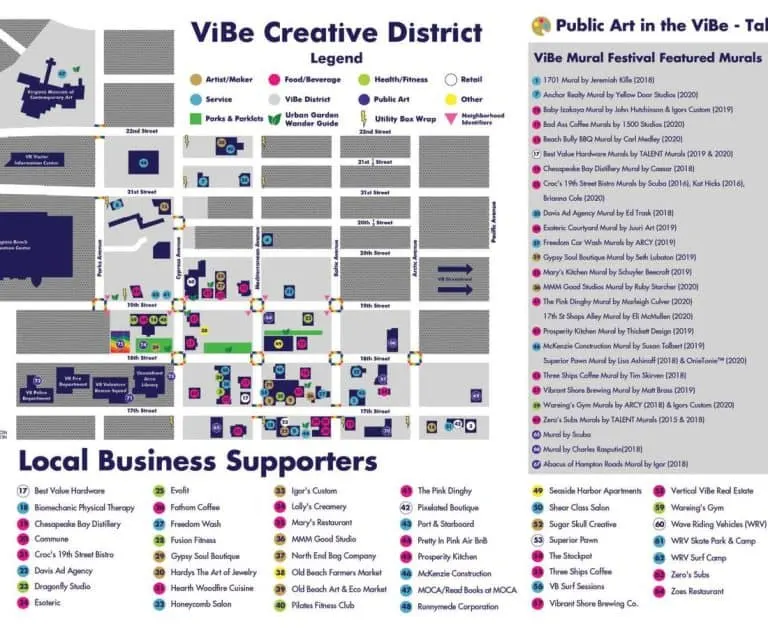 One of the many reasons to love the ViBe District in Virginia Beach is that it's always evolving. And by evolving, local artists are frequently adding their flair to unpainted building sides. These works of art are colorful, beautiful, and extremely eye catching.
If you want to take a stroll to see the ViBe Creative District Murals, it's roughly a mile which makes a fun way to get some exercise.
Watch Some Serious Surfing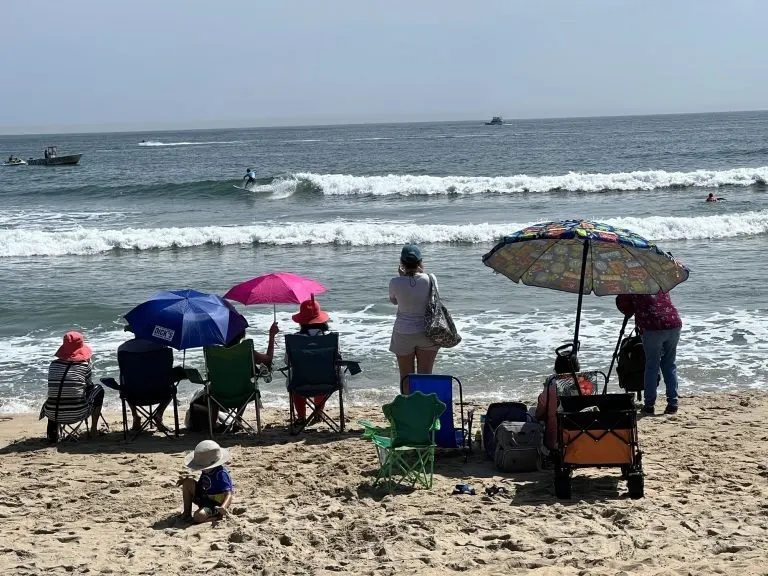 If you're in Virginia Beach the weekend before Labor Day, heading down to where the "OG" surfers got their start and catching a few heats from the East Coast Surfing Championship is an absolute must.
Even if your family isn't bananas over the water sport, there's just something about sitting on the sand and watching the board masters weave and bob over the waves that makes for a cool day.
In addition to the competition, the areas surrounding is filled with fun activities (this year they created a giant beach pool!), shopping, food booths, and plenty of spots to play.
Try Oysters Fresh from the Water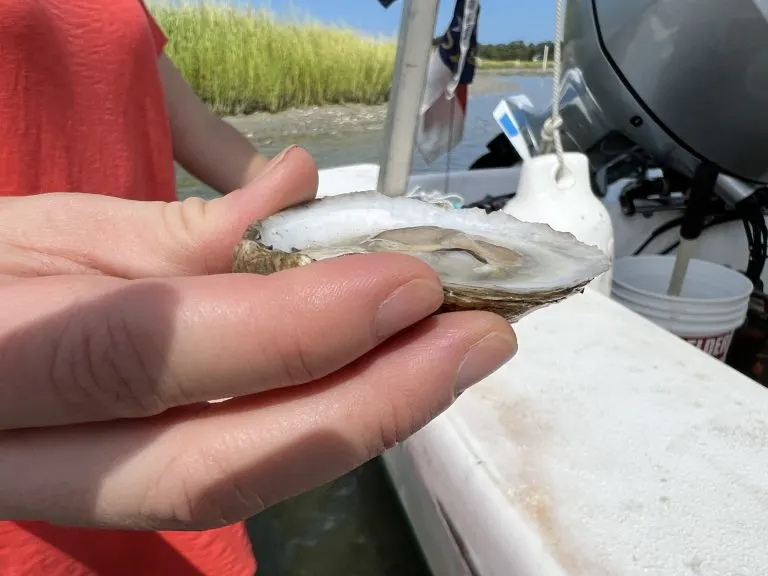 If you haven't had to the pleasure of visiting an oyster darm, you will definitely want to visit (and taste) eco-friendly Pleasure House Oysters. It's a fun boat ride out into the bay where there are literally oyster farms!
Not only did we get to test drive fresh oysters straight off the boat, we also learned about the bay and the ecosystem surrounding the farming method- tasty and educational!
If I had to pick a favorite moment, it's a tie between the look on my daughter's face as she tried a fresh oyster for the first time and immediately asked for more and when we were standing still waiting for teeny crabs to come out scampering for their hiding holes in the sand.
Rent a Cool Eco-Friendly Vehicle for the Day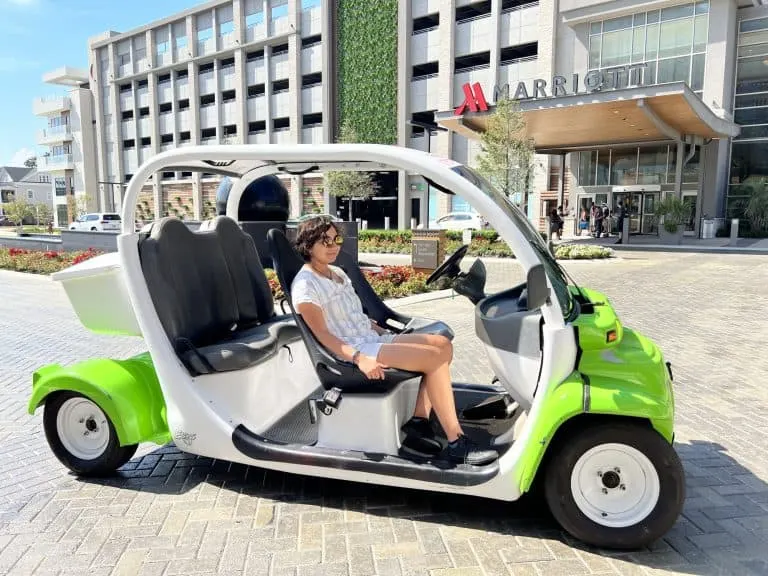 ECO Carts are one of those cool ways to get around Virginia Beach without the hassle of driving your own car.
They look like beefed up golf carts which, in reality, they are basically street legal versions of. They're not only fun (who doesn't love driving a golf cart?), they're able to be driven on roads that have a speed limit of 35 MPH or less.
I'm not going to lie, there is a learning curve when getting used to driving one, but once I got the hang of it, it was really fun.
Take a Stroll on the Boardwalk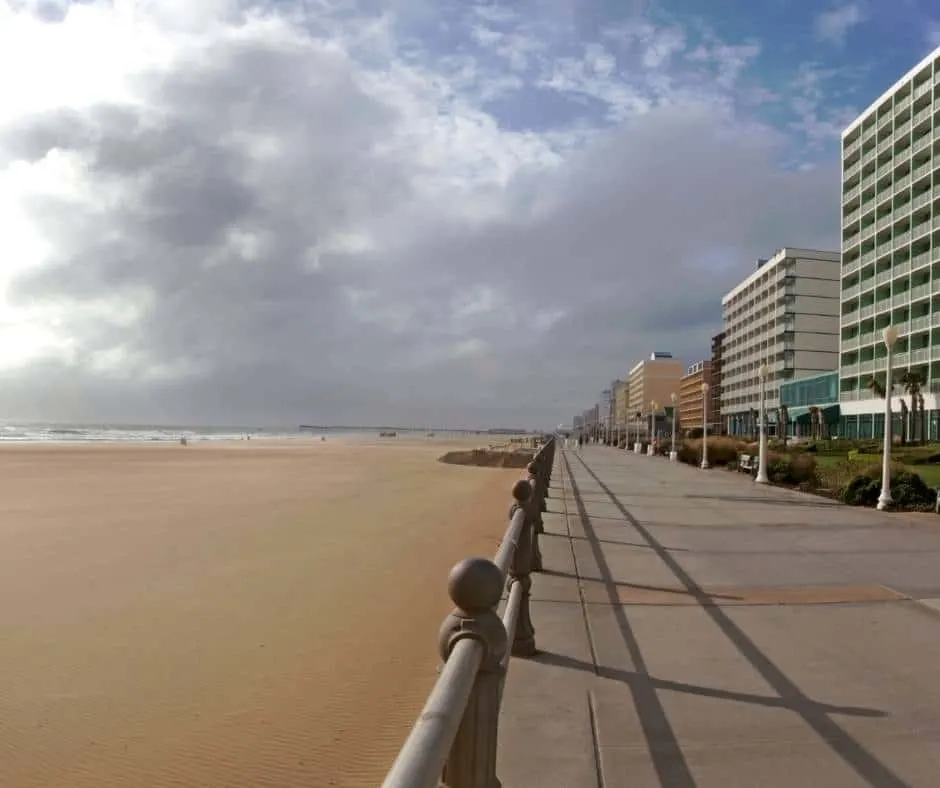 I love a good boardwalk and Virginia Beach has a beautiful one. It's absolutely free to stroll along and check out local art like the famous Neptune statue, but my favorite thing to do is wait until sunset and enjoy the atmosphere and ocean breeze.
In all, the Virginia Beach Boardwalk runs for three miles, from 2nd to 40th Street. There are separate lanes for bikers, so you can walk, ride, or even rollerblade with the ocean at your side. There are several attractions and restaurants along the boardwalk, as well entertainment at the oceanfront stages in the summer.
Feed Some Farm Cuties at Hunt Club Farm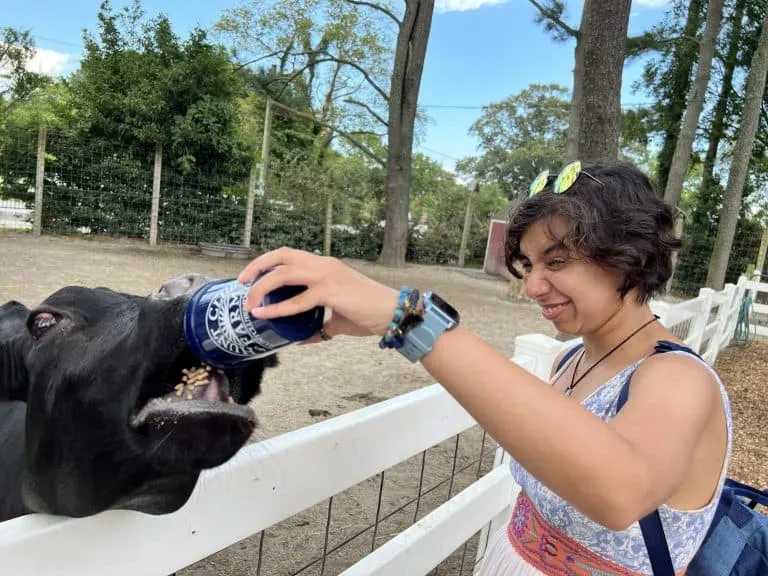 If you have kids that love animal farms, you'll really enjoy Hunt Club Farm. Once inside, there are several different barns and stations where you can pet the animals, feed them, and even sit and enjoy their company. We really enjoyed the calves, goats, and sheep.
If you have climbers in the family, the TreeWalk Adventure gives a super cool, panoramic view of the land and some additional farm cuties. They also have an aviary where you can feed birds and pony rides for the little ones.
Edgar Cayce ARE Center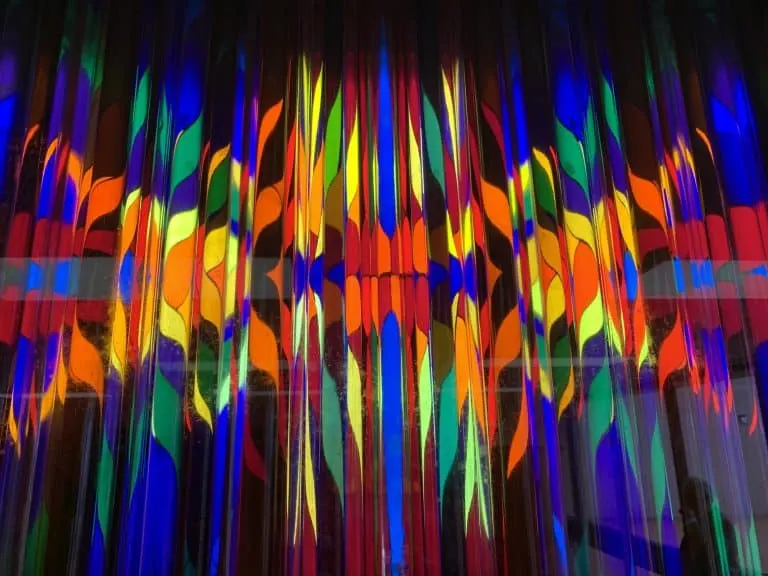 The Edgar Cayce ARE (Association for Research and Enlightenment) Center may not be everyone's cup of tea, but it was certainly my and my daughter's when we visited.
Created for the purpose of spiritual enlightenment, the ARE Center is a peaceful respite for the busy beach. It's also one of knowledge: the vast library is full of all sorts of fun reads.. It was founded by Edgar Cayce, one of the founding fathers of holistic medicine.
For us, it was beautiful, calming, and a nice way to reconnect with ourselves. This spot is probably not ideal for families with young children, but families with thoughful teens and tweens might enjoy it.
Learn Through Fun at the Children's Museum of Virginia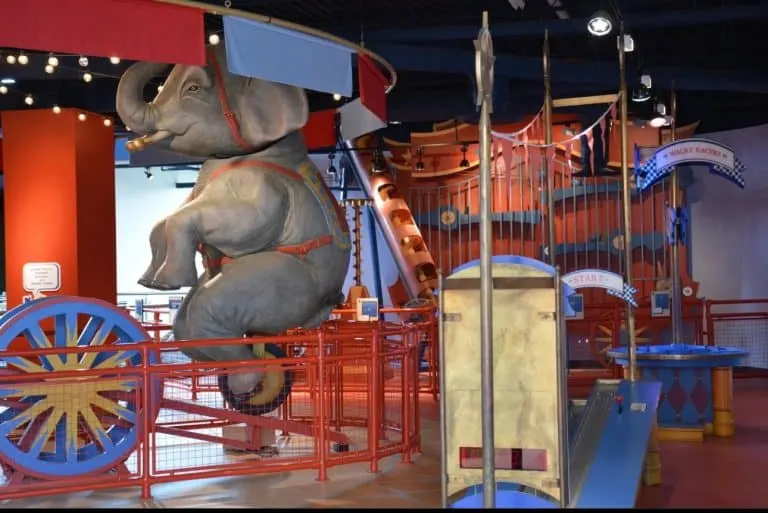 Learning through play is always my idea of a good time, and the Children's Museum of Virginia is a great spot to do just that.
It's about 20 miles from the beach itself in Portsmouth, but it's the largest children's museum in the state, so it's definitely worth the drive. Highlights include an antique train and toy collection, a working port replica, dozens of hands-on exhibits, and a planetarium.
This museum is open Wednesday through Sunday and advanced purchase tickets are currently required.
Visit Mount Trashmore Park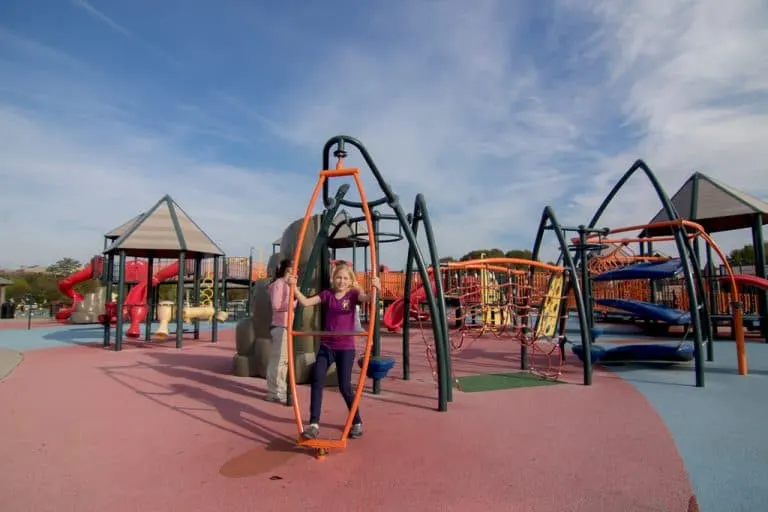 The sister park to Haginodai Park in Japan, Mount Trashmore Park is the place to go for hiking, walking, and blowing off extra energy.
Yep, the name of the park is reflection of its beginnings- its the first landfill park in America! The park is 156 acres full of two manmade mountains and lakes, a skate park and vert ramp, and two big playgrounds.
Learn about Marine Animals at Virginia Aquarium & Marine Science Center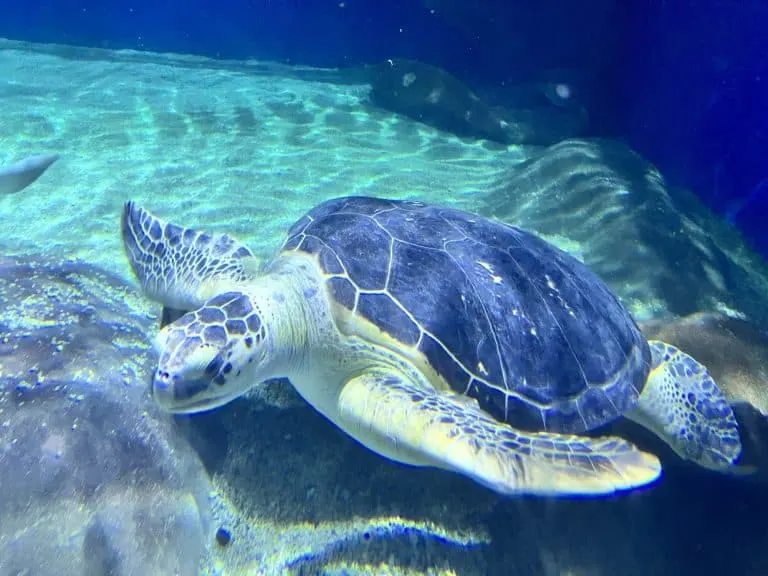 If there was an attraction that my daughter has to visit every time we visit Virginia Beach, it's the Virginia Aquarium & Marine Science Center. Both an indoor and outdoor attraction, it's filled with marine and aquatic animals (of course) , but it also has cool animals like a talking crow named Russell.
It's my type of place to go on a hot day as you can sit in several of the larger rooms and watch the gigantic tanks filled with sea life which are very peaceful and calming. Those eight and older can upgrade their experience with a behind-the-scenes tour focused on komodo dragons, sea turtles, or sharks.
The best time of day to go is right when it opens as midday can get pretty crowded. There is a $5 charge for parking.
Trekaroo tip: If you have somoene in your family with sensory issues, visit the aquarium on the second Saturday of the month between 7:30 and 9:30 when there is softer lighting and more limited sounds so that those with sensory sensitivities aren't over stimulated.
Enjoy Ocean Breeze Waterpark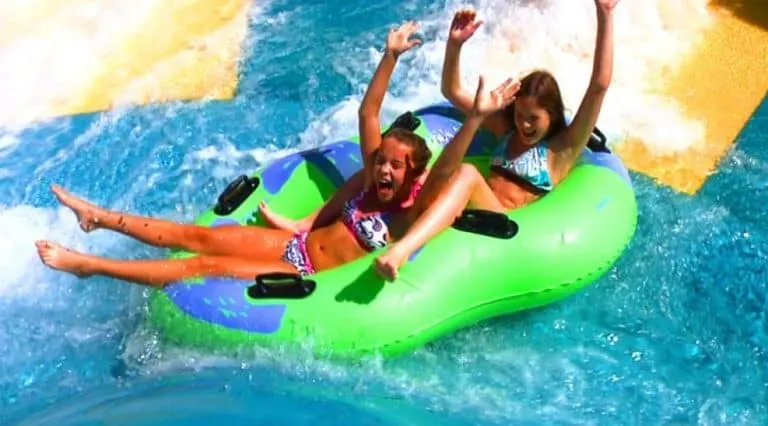 If your family loves water parks, Ocean Breeze Waterpark is a great place to go for the day. It offers over 30 rides and slides, and has plenty of freebies including parking, tubes, and sunscreen in case you forget yours. The park is all outdoors, so keep that in mind when planning your visit.
For the wee ones, there are a couple of dedicated areas including Hook's Lagoon and the Little Amazon. This is a seasonal waterpark that is generally open during the warm season so check their calendar for opening hours and dates.
Visit First Landing State Park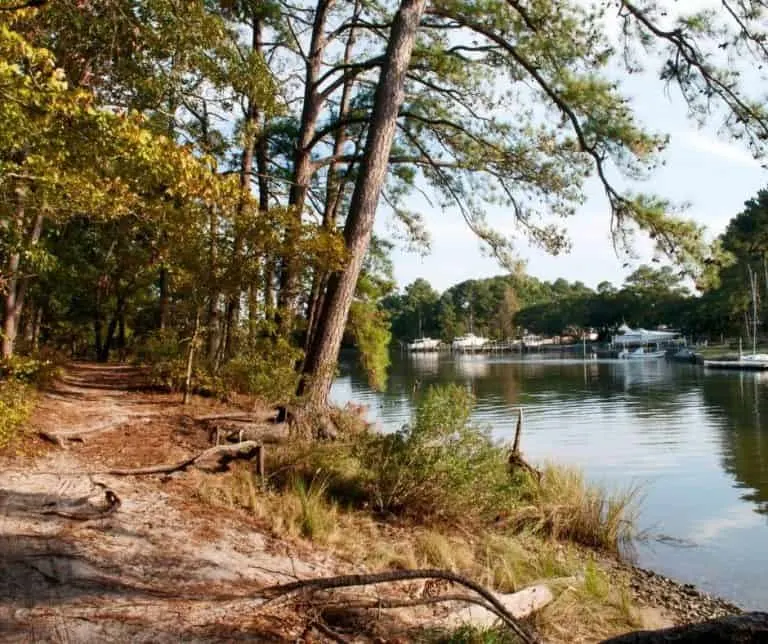 Located near Cape Henry Lighthouse, you'll be walking on a piece of history when you First Landing. Not just your average state park, First Landing State Park is where British colonists first made landfall in 1607. And not only does it have 1.5miles of sandy beach, it has super cool spots like a cypress tree swamp, lagoons, and a maritime forest.
First Landing State Park is, by far, the most popular of the Virginia State Parks so, my advice, is to arrive early. There is dedicated parking but once it's at capacity, cars will be turned away.
Catch a Gorgeous Sunrise at Little Island Park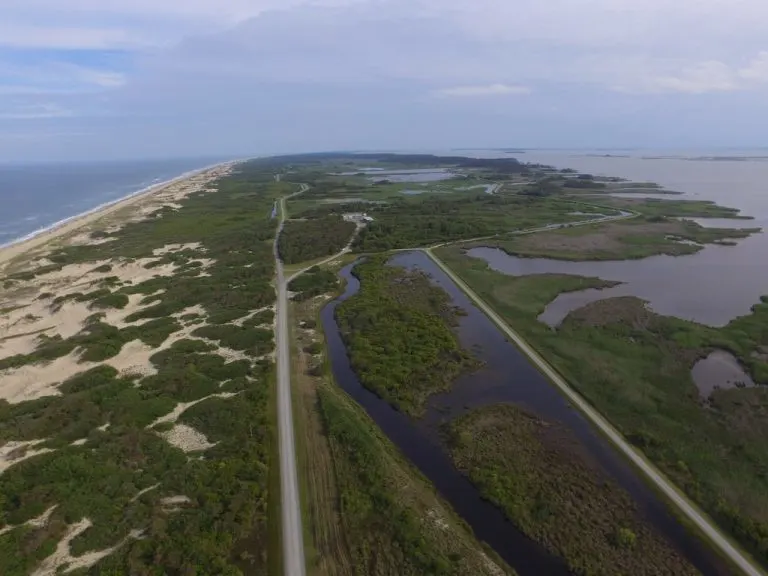 A 122-acre park in Sandbridge, Little Island Park is known for its gorgeous sunsets on clear nights. There are plenty of activities for the kids, too including swimming and fishing at the beach, crabbing, and a lovely playground.
If you're up for some sport, bring your rackets as there are lighted tennis courts, a pickleball court, and even basketball courts. In addition, there are picnic areas and shelters with charcoal grills, a canoe and kayak launch area, and public restrooms.
Military Aviation Museum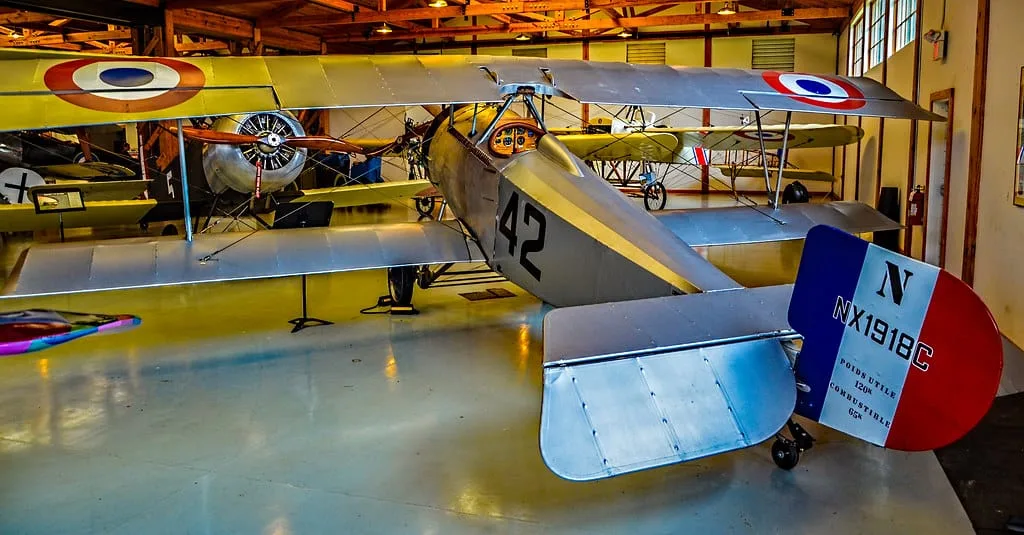 If you're planning a multigen Virginia Beach family vacation, the Military Aviation Museum may be right up your street.
With one of the largest, privately owned WWI and WWII collections, it's a cool way for families to learn about both military heritage and the veterans that served in the wars.
If you have someone in your family who is a major WWII buff, they may want to book a flight in an authentic WWII aircraft. The open cockpit flight in a biplane is something they will never forget!
Red Wing Park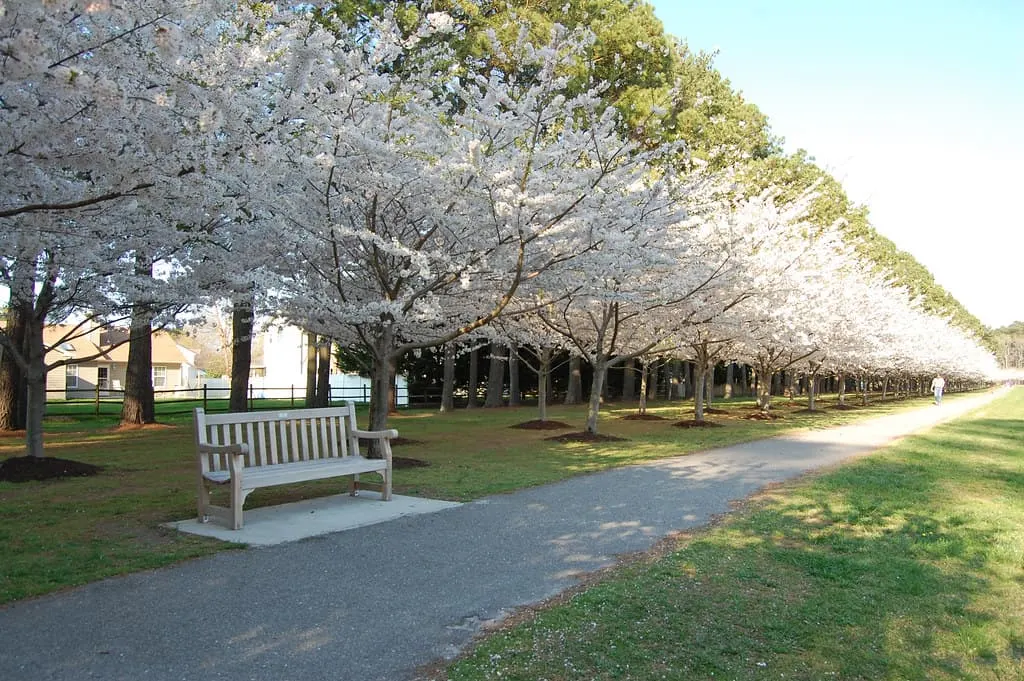 If you're visiting Virginia Beach in the spring, Red Wing Park is THE place to go for its Cherry Blossom Festival in April.
On its 97 acres are several gardens (the Miyazaki Japanese Garden is gorgeous!), courts, picnic shelters and areas, walking paths, and even corn hole boards.
Play Miniature Golf at Jungle Golf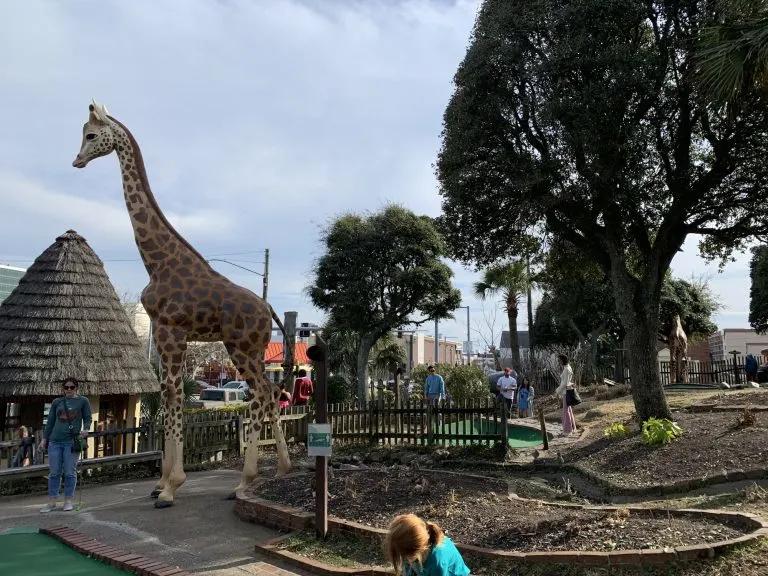 Right near the beach is one of my family's favorite things to do in Virginia Beach- Jungle Golf. It's an 18-hole miniature golf course with an exotic animal theme, but it's the laughs and really bad putts that make me smile.
And here's what's super cool: Jungle Golf is open 24 hours a day! Yep, if you and the kids have jet lag or smily wake up super early and want to let the rest of your traveling party sleep in, it's a fun way to get out of your vacation rental or hotel and enjoy the great weather.
Explore Grommet Island Park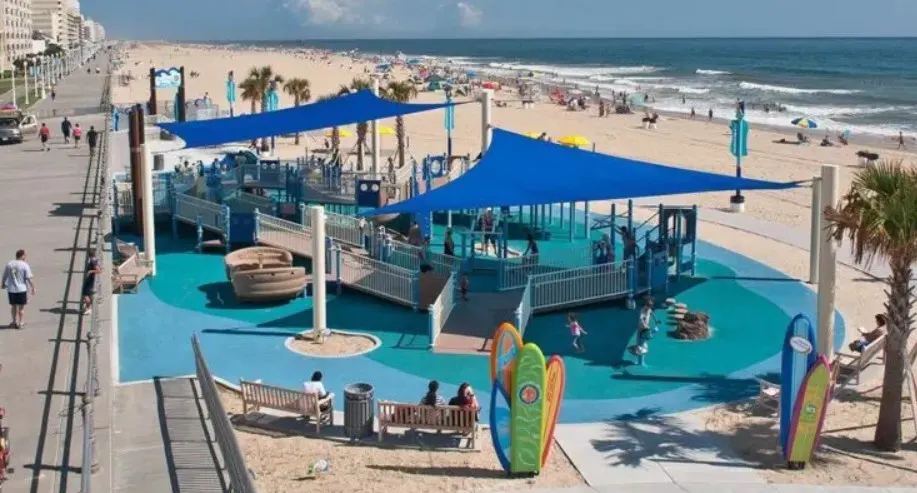 Last, but definitely not least, is Grommet Island Park. Right off Second Street, it's a play haven for kids that love to run and climb. Created with a beachy theme, the play space has everything from a cool wave to play on to climbing areas and and slides. And who doesn't love a beachfront playground?
But my favorite part is the fact that the park is a park for everyBODY, literally. It offers a sensory board, raised sand tables, accessible seating, and even a sand scoop for kiddos in wheelchairs.
Want more Virginia Beach fun? Check out our article higlighting outdoor fun in Virginia Beach and Virginia Beach for young adults.
Where to Stay in Virginia Beach with Kids
For me and my family, there are two amazing hotels where we like to stay when visiting Virginia Beach:
Marriott Virginia Beach Oceanfront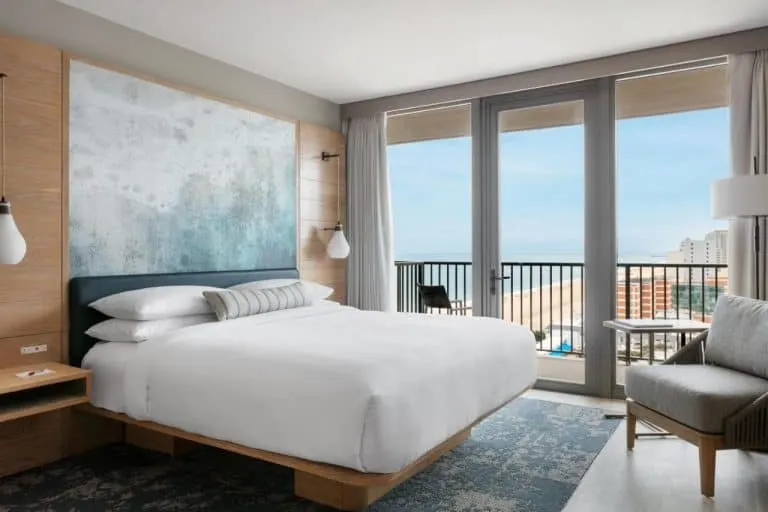 Marriott Virginia Beach Oceanfront is definitely my top pick for families heading to Virginia Beach. It's literally right on the beach so you can play in the ocean if you want, but it also has three pools, each with a different vibe. My personal favorite is the infinity pool near the outdoor bar area.
In addition to the pools, there are outdoor play spaces with bocce ball and artificial grass to run and play. And if you like a beach that's not so crowded, this is the spot: the hotel is right at the top of the Boardwalk area so there's not a ton of foot traffic.
The Cavalier Virginia Beach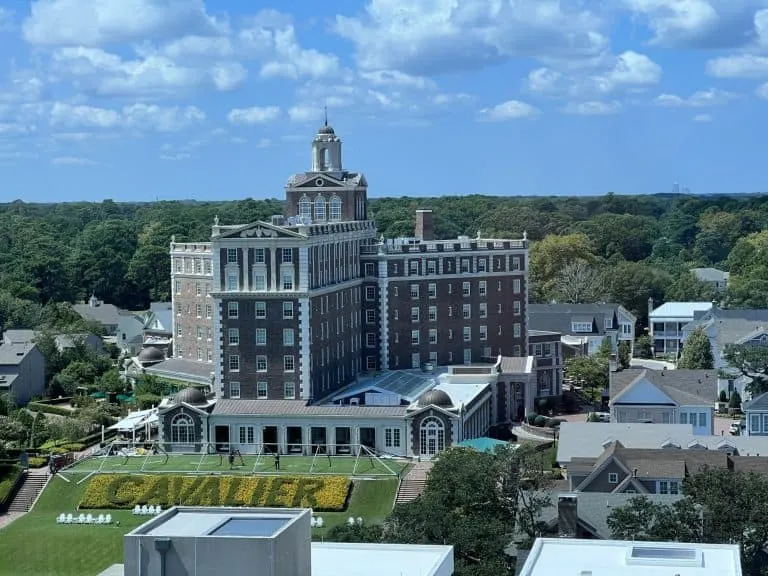 If you and the fam love staying at gorgeous, historical hotels, The Cavalier Virginia Beach is the where you want to stay. Not only does it have plenty to offer families including a beautiful, indoor pool, it's across the street from the beach. Created in the height of the Big Band era, everyone from Frank Sinatra to U.S. Presidents have all hung their hats in the guest rooms.
Disclosure: The author was hosted by Visit Virginia Beach for the purposes of researching this article. She was not asked to express any particular opinions and all stated in the article are her own.