Looking for the perfect family vacation spot? Look no further than Pensacola, Florida! With a plethora of fun and exciting activities as well as some of the best beaches around, you and your loved ones are sure to have a memorable time. Here are the best things to do in Pensacola with kids.
15 Things to Do in Pensacola with Kids
1. Spend the Day at the Beach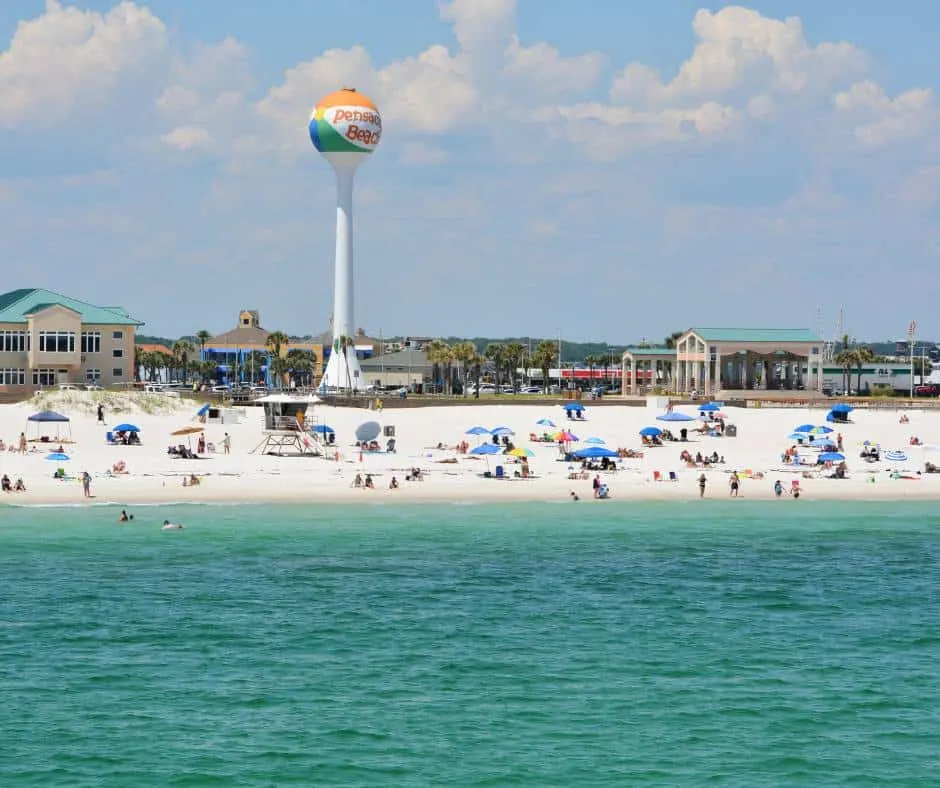 I love putting my feet in the sand, especially when it's sugar white, velvety sand on Pensacola Beach. Add in the fact that the water is a gorgeous shade of emerald green and it's a mix for a beautiful day at the beach.
As a gal that enjoys sharing budgeting tips with you, I love the fact that beach parking is totally free. If you want a good parking spot, make sure you get to the beach early as parking becomes much harder to find as the day goes on.
If you forget something, no worries. There are tons of beach shops where you can find everything from sunscreen to beach blankets and chairs.
Pensacola Beach made our list of the best Gulf Coast beaches.
2. Hit Up the Shops at Pensacola Beach Boardwalk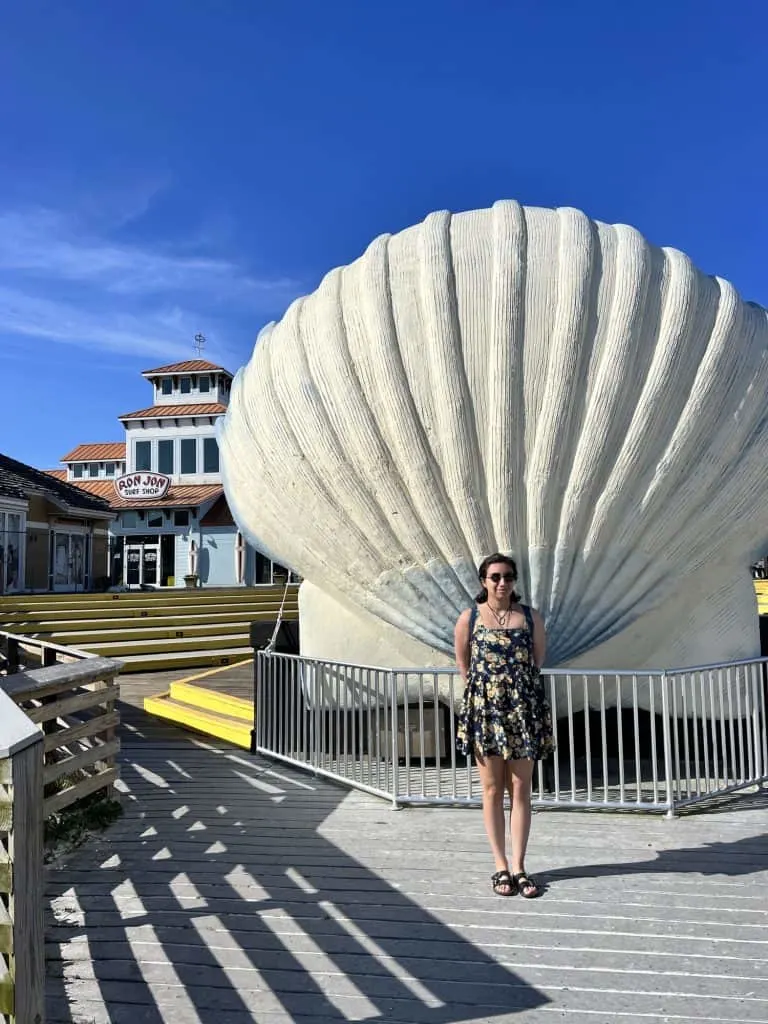 If you plan on doing some shopping while at Pensacola Beach, The Pensacola Boardwalk area is the place to do it. It is filled with both mom and pop shops as well as national brands (hello, Ron Jon Surf Shop!). On weekends there are even local vendors selling handmade goodies at affordable prices.
In addition to shopping, there are several really good restaurants when you're in need of a meal – more on that below.
3. Visit the National Naval Aviation Museum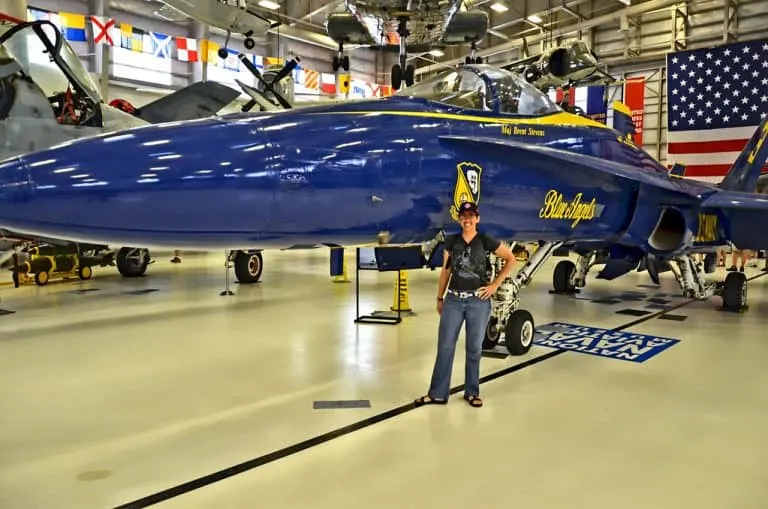 The National Naval Aviation Museum is a must-see for anyone interested in aviation history. Located on the grounds of Naval Air Station Pensacola in Florida, the museum houses a vast collection of aircraft, artifacts, and exhibits that tell the story of naval aviation from its early days to the present.
Home to more than 150 aircraft, this museum is perfect for kids who love planes and aviation history. Visitors can see everything from early biplanes to modern jet fighters. The museum also has a number of interactive exhibits that allow visitors to learn more about the history of naval aviation.
One of the most popular exhibits at the museum is the Blue Angels Flight Simulator. This simulator gives visitors a chance to experience what it's like to fly one of the Navy's famous Blue Angels jets. The museum also has a number of other interactive exhibits, including a flight deck trainer and a cockpit trainer.
The museum also hosts a number of special events throughout the year, such as air shows and film festivals. Additionally, the museum also offers a number of educational programs and events throughout the year. It is open seven days a week from 9-4 and admission is free.
4. Spend the Day at Gulf Islands National Seashore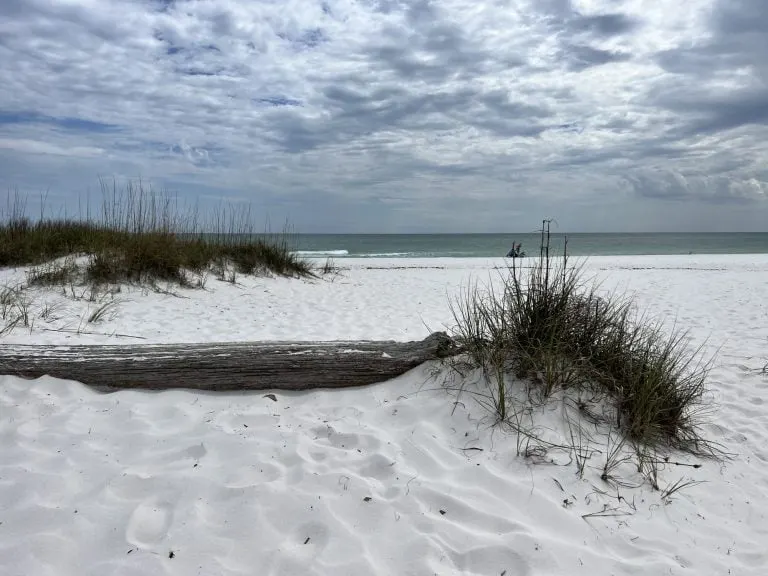 With its pristine beaches, lush forests, and abundant wildlife, it's no wonder that Gulf Islands National Seashore is a popular destination for families. The best time to visit is during the spring or fall when the weather is mild, but a summer visit will surely include plenty of time in the water
The Seashore's white-sand beaches are perfect for swimming, sunbathing, and beachcombing. Be sure to keep an eye out for seashells, crabs, and other marine life. Enjoy the beautiful scenery and get some exercise at the same time. The seashore also has over 100 miles of hiking and biking trails that wind through forests, dunes, and beaches.
The seashore offers a variety of nature programs for all ages, including ranger-led walks, talks, and boat tours where your family can learn about the seashore's unique ecosystem and its plants and animals.
If your family likes to fish, bring your fishing gear and cast a line in the Gulf of Mexico. The seashore is home to a variety of fish, including redfish, speckled trout, and flounder.
There are several campgrounds located within the seashore, where you can pitch a tent or rent a cabin. be sure to make reservations in advance, especially during the peak season.
5. Pensacola Children's Museum
If you're looking for something to keep your young children entertained for a few hours, the Pensacola Children's Museum is a great place to visit.
There are over 100 hands-on exhibits that kids can explore. From exploring the ocean to climbing through caves, there is something here for everyone! Additional highlights include a miniature town designed to look like historic Pensacola, a pint-sized Publix grocery store, and a markerspace filled with STEAM activities.
6. Watch the Blue Angels Practice on an Easy Cruise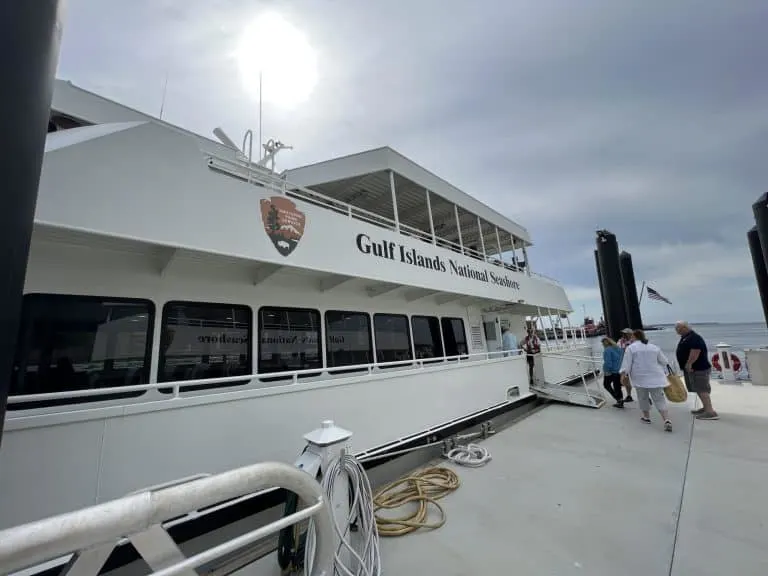 The Blue Angels are one of the most popular and beloved military units in the United States. They are known for their thrilling aerial acrobatics and their commitment to public service. If you're looking for a family-friendly way to see the Blue Angels, then a practice cruise on the Pensacola Bay Ferry is the perfect option.
The ferry departs from the Pensacola Bay Center and travels to Fort Pickens, where the Blue Angels practice. The cruise takes about 90 minutes, and during that time you'll have the opportunity to see the Blue Angels perform their signature maneuvers up close. You'll also get to enjoy stunning views of Pensacola Bay and the Gulf of Mexico.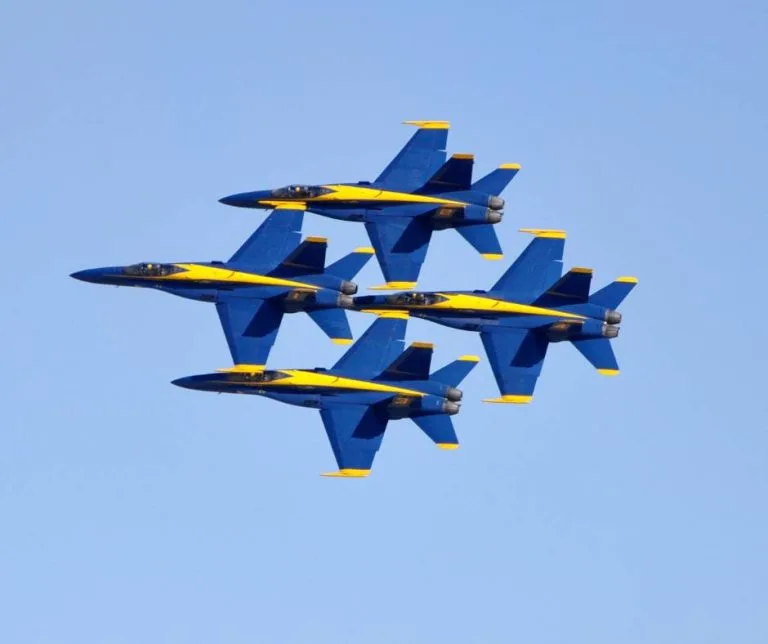 The ferry is a great way to see the Blue Angels for a few reasons. First, it's a much more affordable option than attending an air show. Second, the ferry gives you a closer view of the planes and the pilots. And third, the ferry is a great way to spend a day with your family.
7. Climb Sky High at Laguna's Adventure Park at Laguna's Pensacola Beach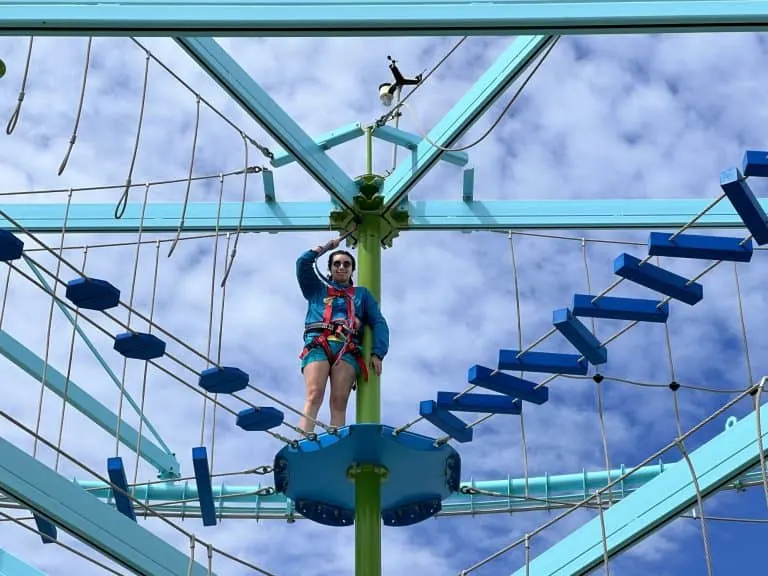 Laguna's Beach Bar and Grill is a popular spot live entertainment, brick-oven pizza kitchen, and Fat Tuesday's frozen drinks, and beachfront dining, but it is also great spot for adventure.
One of our favorite spots for fun activities in Pensacola, Laguna's Adventure Park offers everything from a ropes course to zip lining, mini golf, go karts, and a splash pad for hot days. They even have a Tiny Tykes ropes course for kids under 48 inches tall.
In addition to the fun mentioned above, we enjoyed sitting on the beach area and simply enjoying the gorgeous view of the calm water.
8. Catch a Show at Saenger Theatre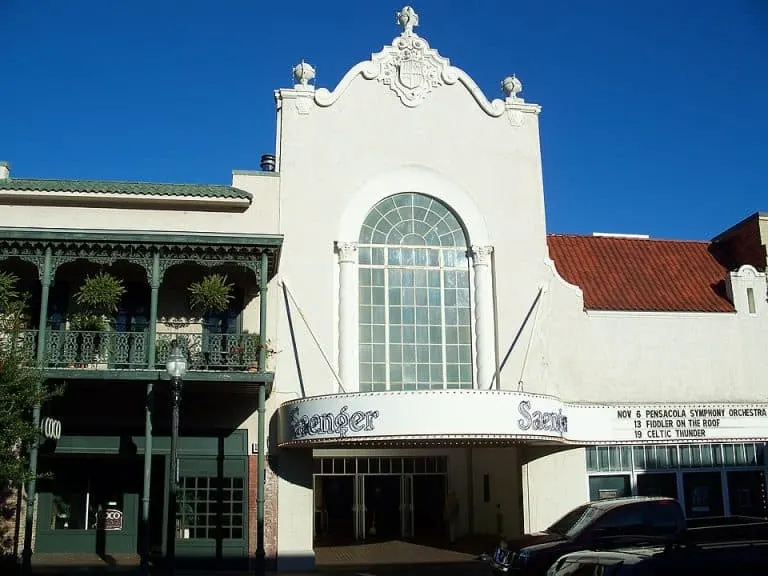 The Saenger Theatre is a historic theater in Pensacola, Florida. It was built in 1925 and is listed on the National Register of Historic Places. The theater is known for its ornate Spanish Baroque architecture and its luxurious interior. It has hosted a variety of performances over the years including Broadway shows, concerts, and movies.
The Saenger Theatre is a great place to take the family for a night out. There are a variety of family-friendly shows that are performed at the theater throughout the year. Some of the most popular family-friendly shows include Disney one Ice, The Nutcracker, Blue Man Group, Sesame Street Live, and the Magic of David Copperfield.
The Saenger Theatre also offers a variety of educational and cultural programs for families throughout the year including family movie nights, music lesson, and arts and crafts classes.
9. Enjoy the View at Pensacola Beach Gulf Pier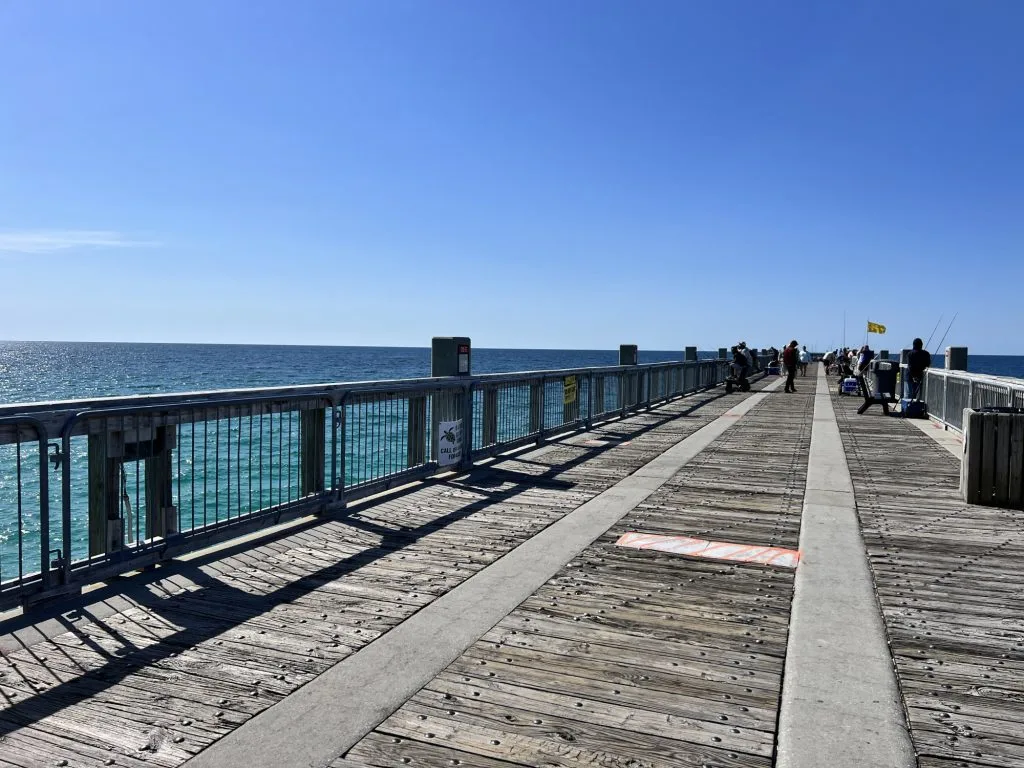 The Pensacola Beach Gulf Pier is a great place to visit while in town. The pier is a super popular spot for fishing, and you can catch a variety of fish including redfish, trout, and flounder. If you don't have your own gear, you can rent it from the bait and tackle shop on the pier.
The pier's main attractions are the offers awesome views of the Gulf of Mexico and the Pensacola Beach coastline, plus you really get to see that gorgeous emerald water from above. You can also see dolphins and other marine life swimming in the water below – we actually spotted a mama and baby dolphin on our visit!
There is a per-person, per-day charge to get onto the pier, but you can spend as much time as you like while you're there.
10. Explore Fort Pickens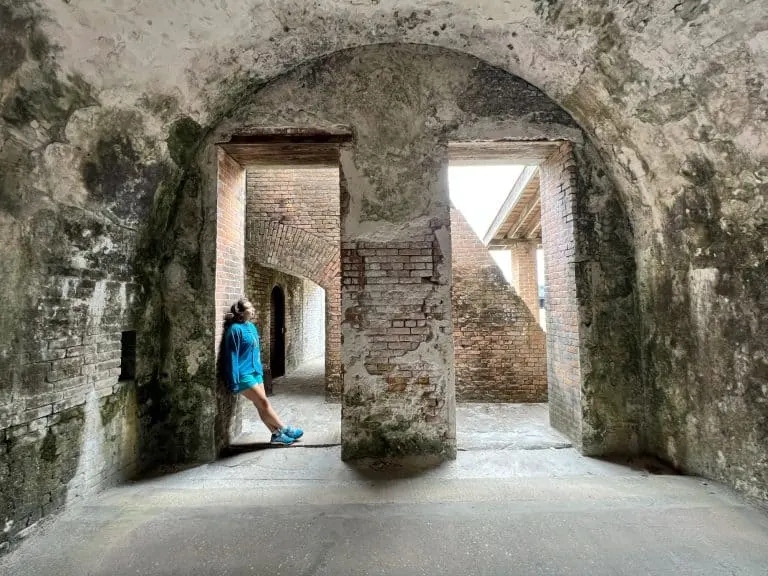 Fort Pickens is a historic United States military fort located on Santa Rosa Island. Named after American Revolutionary War hero, Andrew Pickens, the fort was built in the 1830s to defend Pensacola Bay from foreign attack. It did see action during the Civil War, when it was besieged by Confederate forces for nearly a year.
After the war, Fort Pickens was used as a training base for the U.S. Army and Navy. It was decommissioned in 1947 and is now part of the Gulf Islands National Seashore.
Fort Pickens is a super fun place to visit with family because there's so much to do there in addition to exploring the fort and grounds. Highlights include hiiking the trails around the fort, enjoying the beach, and fishing from the pier.
The fort also has a visitor center with exhibits on its history and a museum shop. There are also ranger-led programs and activities offered throughout the year. While there's no charge for a self-led exploration tour of the fort, there is a per-vehicle charge of $25 to access Gulf Islands National Seashore where the fort is located.
11. Take a Night Kayaking Trip with Glow Paddle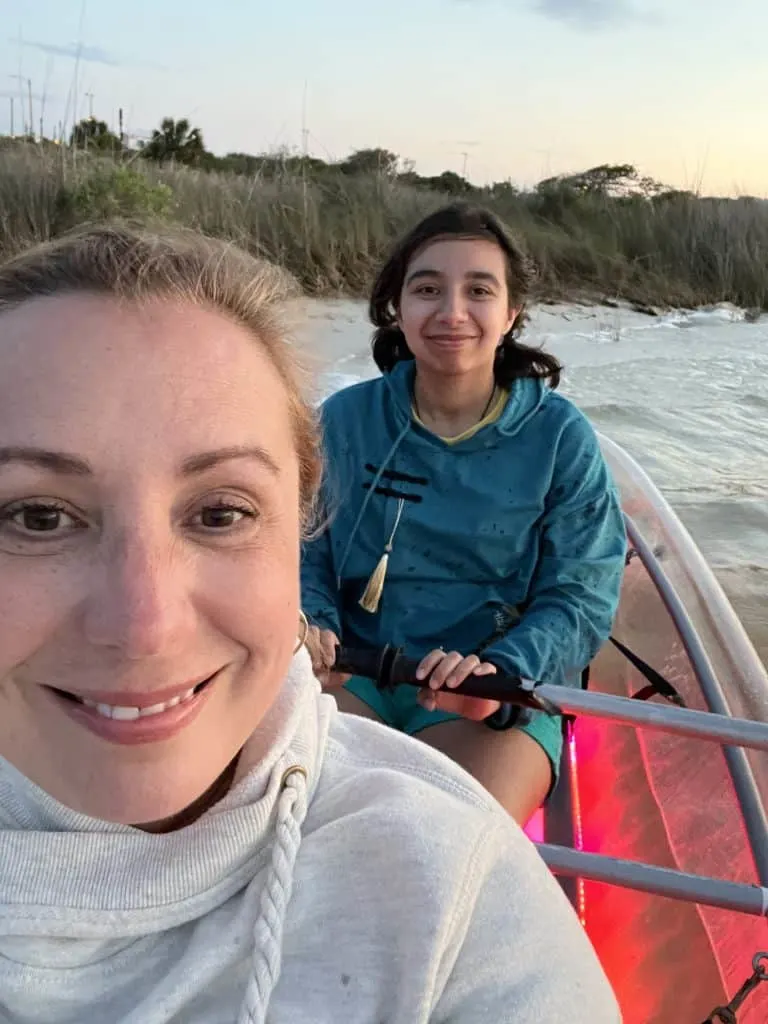 Looking for a fun and unique way to experience the beauty of Pensacola Beach? Glow Paddle is definitely the way to go. This family-friendly activity allows you to paddle around the Sabine Bay in clear kayaks that are illuminated with LED lights.
Glow Paddle is open from 7:30pm to 9:30pm, seven days a week. Reservations are required, so be sure to book your spot in advance. Prices begin at $59 per person for each session.
Be sure to keep an eye out for marine life! You may be lucky enough to see dolphins, stingrays, and even sea turtles. And don't forget to look up at the stars. The night sky is especially beautiful from the water.
In order to make the most of your Glow Paddle experience, wearing comfortable clothing and shoes that you don't mind gettgin wet and packa water bottle and some snacks.
Glow paddle is especially fun for older kiddos, teens, and even (gasp!) time away from the famil on a Pensacola girls' getaway, too!
12. Tour the Pensacola Lighthouse and Museum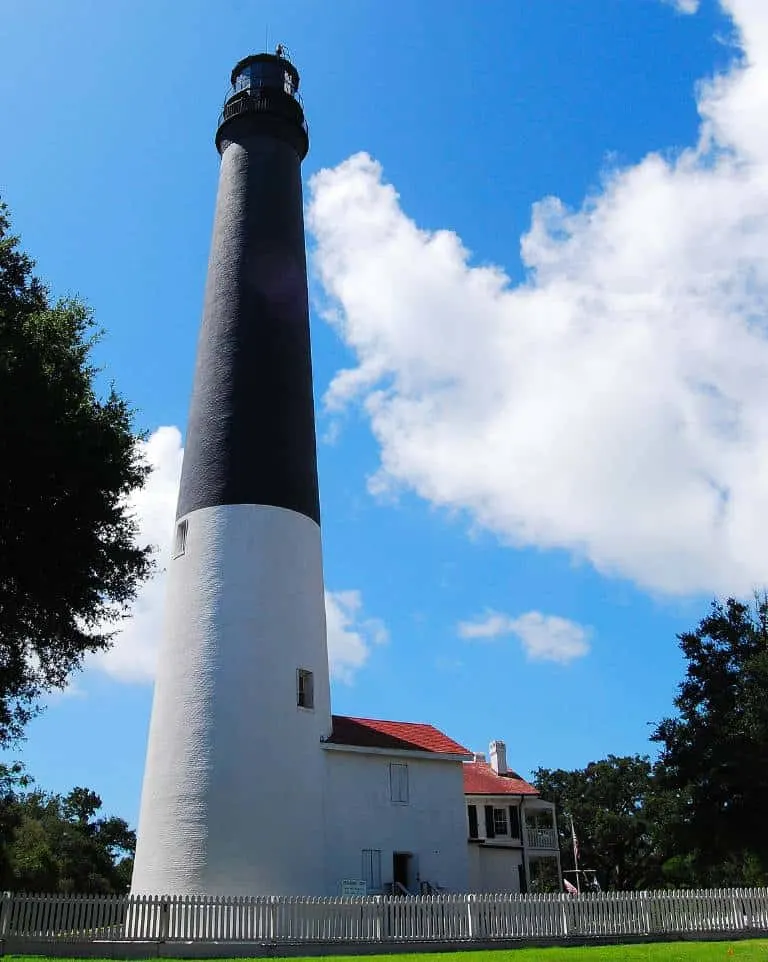 Pensacola Lighthouse and Maritime Museum is not only an historic landmark, it is also a great place to enjoy views of the Gulf Coast.
Built in 1859, it's the third-tallest lighthouse in Florida. Standing 151 feet tall, the lighthouse has a Fresnel lens that is 15 feet in diameter. The lens is made of glass and has 192 prisms that bend the light so that it can be seen for miles around.
Visitors can climb the 177 steps to the top of the lighthouse for panoramic views of Pensacola Bay, the Pensacola skyline, and the Gulf of Mexico.
The museum is located on the grounds of Naval Air Station Pensacola. Visitors must have a valid government-issued ID to enter the base. It has exhibits on maritime history, including a model of the USS Pensacola, a Civil War-era warship. It also explains the lighthouse's role in guiding ships safely into port.
13. Root for the Home Team at Blue Wahoos Stadium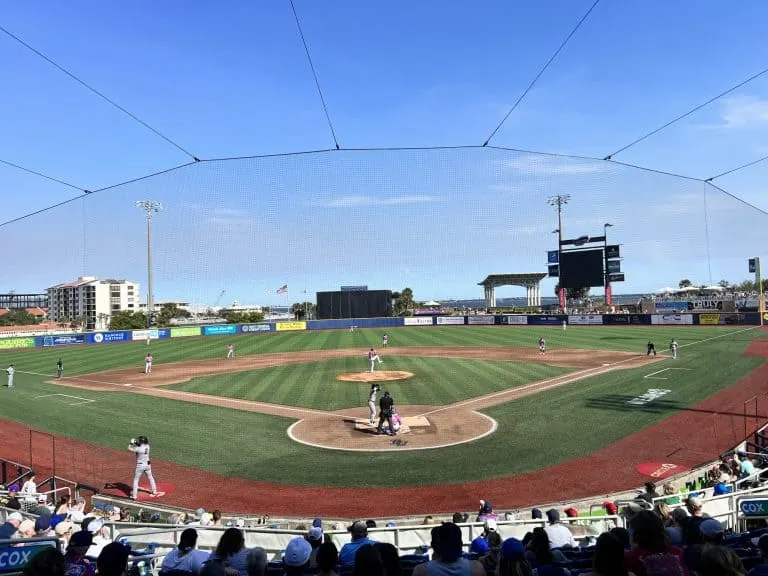 Blue Wahoos Stadium is a minor league baseball stadium located in Pensacola, Florida. It is home to the Pensacola Blue Wahoos, the Double-A affiliate of the Cincinnati Reds.
Blue Wahoos Stadium is a great place to take the family for a day of fun. There is a playground, a kids zone, and a mascot, Charlie the Marlin, who is always happy to pose for pictures and give autographs. As for affordability, tickets are inexpensive and there really is no bad seat.
There is a grass area in the outfield so if you purchase seating in the area, bring a blanket or beach chair to sit on. You are also able to bring in a picnic lunch to save money on food.
14. Check Out Pensacola Museum of Art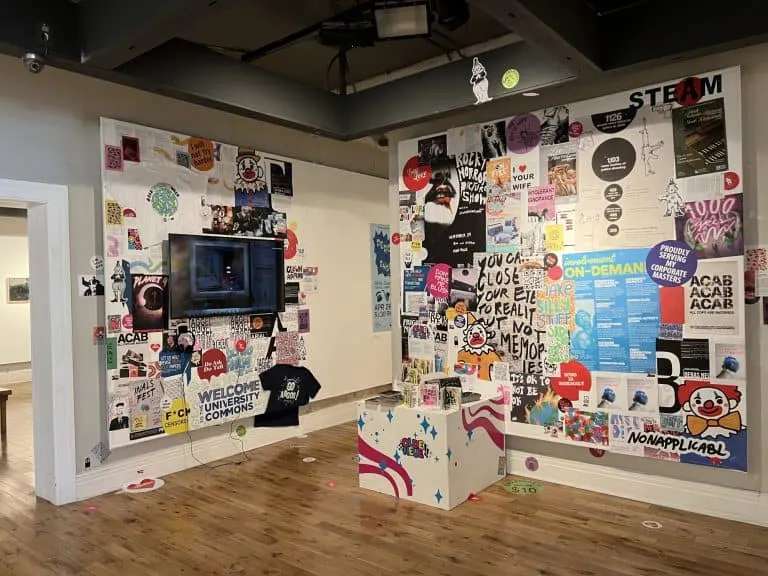 Located in the heart of downtown Pensacola, the Pensacola Museum of Art is easy to get to. There is plenty of free parking available, and the museum is open Tuesday through Sunday from 10am to 4pm.
Its collection includes paintings, sculptures, photographs, and works on paper from the 19th century to the present day. There are also rotating exhibits that feature the work of local and regional artists.
In addition to its permanent collection, the museum offers a variety of educational programs and events for families. These include art classes, storytime, and family days.
15. Spend Time at the Gulf Breeze Zoo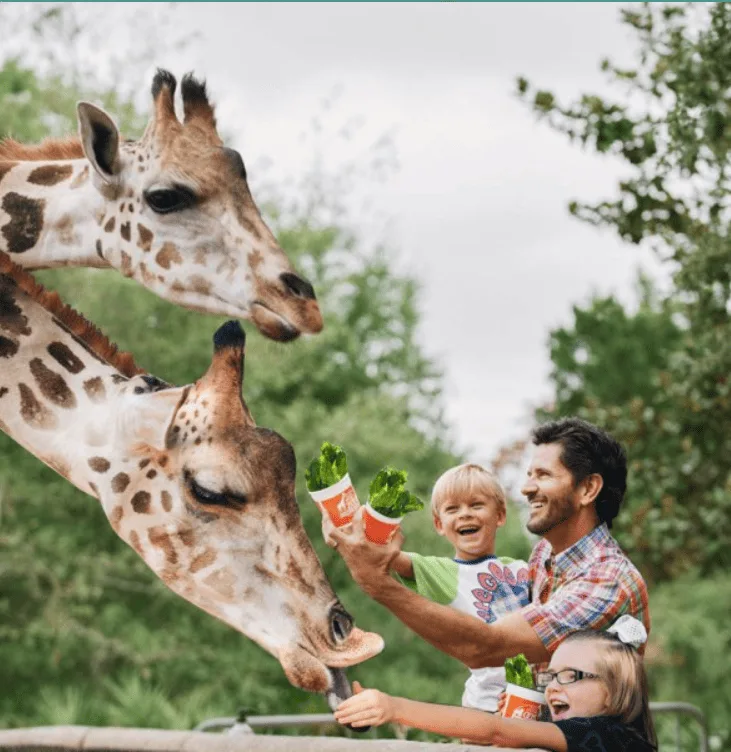 The Gulf Breeze Zoo is is a 50-acre zoo that houses a diverse collection of 900 animals representing 200 species from around the world, just a few minutes from Pensacola in Gulf Breeze.
The zoo is home to favorites like lions, tigers, elephants, rhinos, zebras, as well as a variety of primates, reptiles, and birds. One of the can't-miss highlights of the Gulf Breeze Zoo is the opportunity to feed the giraffes. You can also feed camels, alligators, hippos and even Scottish Highland cows!
Kids will love the petting zoo which has classic barnyard animals like goats, sheep, and llamas. They will also like the Safari Train ride that takes visitors which is narrated by knowledgeable guides.
Where to Eat in Pensacola and Pensacola Beach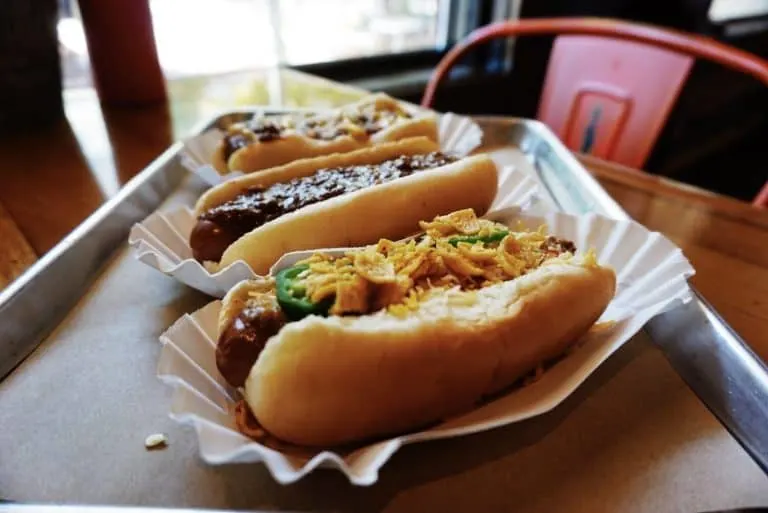 If you love seafood, there are plenty of restaurants that you'll completely dig. And if you don't (hands up for this lady!), you'll still find plenty that will suit your dining taste. Here are my suggestions on where to eat in Pensacola and Pensacola Beach:
Papa's Pizza is a fun choice for folks that love a great, New York-style pizza (again, me). Its sauce is simple and the toppings are fresh, plus it's right on the Boardwalk, making it easy to grab a table and get back to the beach fun.
Hear me out on this one: eating at a Pensacola Blue Wahoos game is actually quite the tasty experience. It offers everything from handmade milkshakes to Dole Whip (hello, Walt Disney World!) to seafood.
Laguna's Beach Bar and Grill has a fun, covered restaurant that has salads, wraps, and pizza – perfect for everyone's cravings in one spot. Plus there are all the activities as well as the beach to keep the kids entertained.
And I can't mention Pensacola dining without mentioning The Dog House. Right in the heart of Downtown Pensacola, it's a no-frills style of dining for hot dog lovers where you can customize them with up to six toppings – and there's even a vegan sausage for a meatless version.
Where to Stay in Pensacola & Pensacola Beach
If you and your family want to spend most of your time at the beach, grabbing hotel right on the sand is where it's at in Pensacola Beach. But if you want a more laid back experience, and want to spend time in Pensacola proper, then a hotel in the city would be your best bet. Here are my top picks for where to stay in Pensacola and Pensacola Beach:
Holiday Inn Express Pensacola Downtown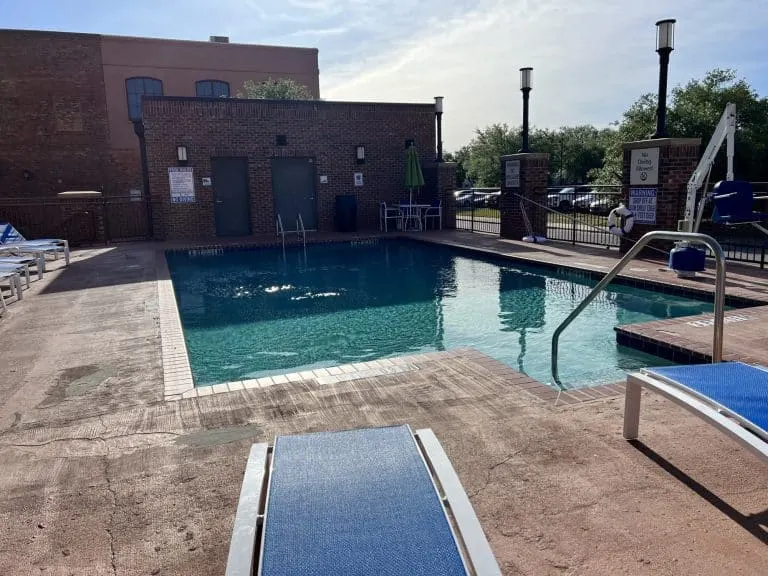 The hotel where my daughter and I stayed during our visit, the Holiday Inn Express was perfect for us as we wanted to walk around the city – and we did plenty of it. Located only a few minutes away from the freeway, it was close to the Blue Wahoos Stadium, only a couple of blocks from the museums, and offers free parking, wifi, and breakfast.
Another fun perk of staying was the fact that there's an afternoon complimentary snack of cookies and popcorn which was ideal for tiding us over until dinner.
Holiday Inn Express Pensacola Beach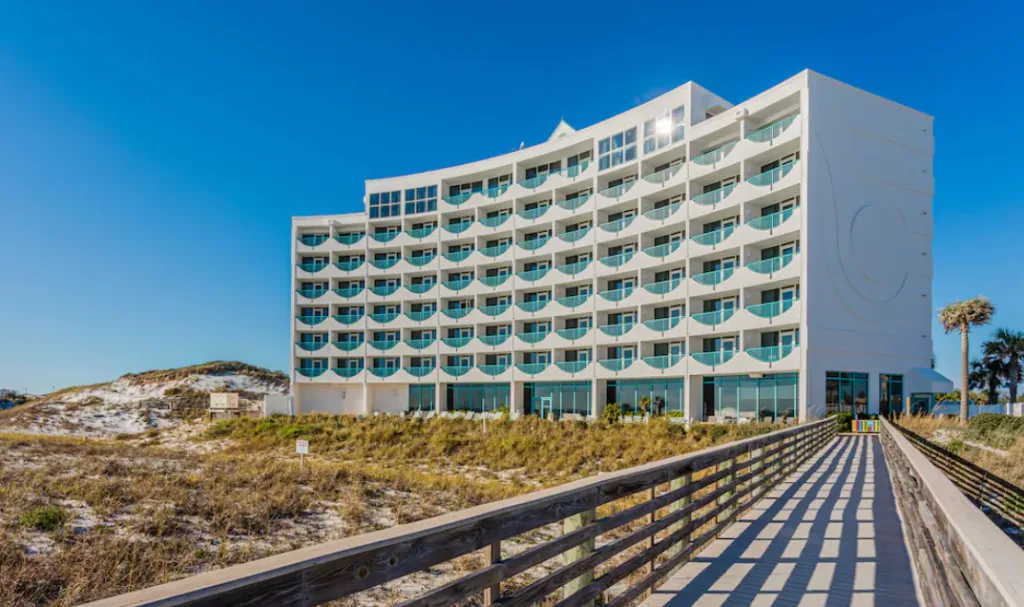 On the other side of the coin, there's a Holiday Inn Express right on the sand in Pensacola Beach. While it is costlier to stay there compliments of the location on the Gulf of Mexico, it offers free wifi, parking, and complimentary breakfast. Additionally, it has direct beach access so you won't have to worry about finding a parking place to enjoy the water.
Disclosure: I was graciously hosted by the fine folks at Visit Pensacola to give you the scoop on what makes it so fun for families. All opinions are my own!