Families flock to Florida's gulf coast to swim with manatees in the Crystal River. The Crystal River is teeming with opportunities to learn about nature and marine environments. Plus, it is an accessible adventure for many–if you can snorkel, you can make this happen. So, strap on the fins and grab your GoPro and ease into the water for the experience of a lifetime.
Swim with Manatees in the Crystal River
About the Crystal River
Kings Bay sits along the eastern edge of the Gulf of Mexico. It is a labyrinth of canals and islands within the Crystal River watershed.
The US Fish and Wildlife Service maintains the area as Crystal River National Wildlife Refuge for many species of birds, reptiles, and animals. This includes the federally threatened Florida manatee.
There are 30 resident manatees that make Kings Bay their home year-round. But the winter months make up manatee season. When the temperature drops, the migrant manatee population skyrockets to around 600!
Since the mammals are susceptible to cold, they cannot survive for long durations at temperatures under 68 degrees Fahrenheit. So the manatees return to the area each winter to enjoy the springs fed warm water.
Endangered Species: West Indian Manatees 101
Sailors once mistook these majestic marine mammals for mermaids. However, manatees are more closely related to an elephant than any water-dwelling mammal. They live in fresh water, brackish water, or saltwater.
These herbivores can live up to 60 years and have no natural predators. Yet, they remain threatened due to impacts from humans on their slow-moving populations. They can grow up to 10 feet in length and tip the scales at over 1000 pounds!
These gentle giants are very social creatures. They rely heavily on touch and sound for communication. They are curious and will inspect newcomers gently with their flippers and snouts.
The "resident" population is more desensitized to humans than the migratory population. For that reason, better odds for close encounters happen earlier in the season.
The Only Place to Stay for Adventures in Kings Bay
Lets be real here – this is not actually THE ONLY place to stay. You'll find plenty of inns and B&B options in town.
But, if you want to keep operations simple, family-friendly, and have the luxury of leaving your room and walking only a few steps to the waterfront, The Plantation on Crystal River is where you want to hang your hat.
This resort has the feel of Hemingway-style old Florida. It's a classic property with cypress trees draped in Spanish moss and well-manicured landscape bordering the entry drive.
While it resembles an antebellum plantation estate, the property has all the modern amenities you desire. There's even a children's splash pad, which was being built when we stayed on-site in 2019.
On-site at the Plantation, guests enjoy being tucked away in nature on the expansive property which is adjacent to a premier golf course, adding a buffer from the nearby city streets.
Boutique shopping is just a five-minute drive and there is an Aveda spa housed on the property for relaxing and Zenlike natural treatments.
Book a trip to Crystal River!
Adventures at the Plantation on Crystal River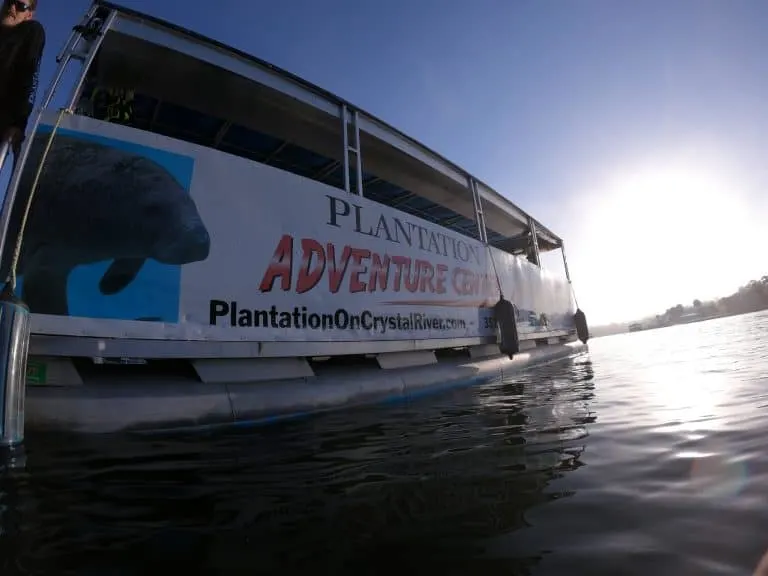 Boating, scuba diving and fishing popular in this area, and the Plantation on Crystal River is the ultimate base camp for whole-family adventures.
If swimming with manatees in Florida is your goal, this is the place to hire guides. The Plantation Adventure Center gears up swimmers with the thick wetsuits. Plus, the guides are nearly all master-level scuba divers.
Find more Florida fun! Here are the Top 10 Things to do in Florida with Kids.
The Manatee Tour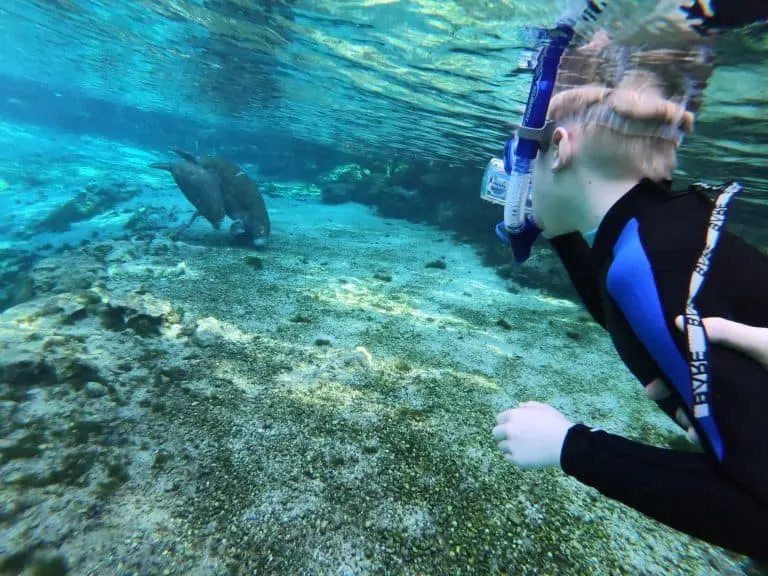 At the beginning of your tour, you'll view a mandatory expectations video from the US Fish and Wildlife Service about what to do (and what not to do) while in the water. After that, you're just a short and enjoyable boat-ride away from a bucket-list worthy adventure.
I felt a bit (ironically) like a fish out of water as I entered the Crystal River. But my guide was able to gently drag me over to the manatee in a more graceful way than I could have managed.
As a bonus, in about half the time it took me to swim 10 feet, he'd positioned me and my son in a perfect viewing area, just in time for a manatee to face us only inches from our goggled faces. Talk about a manatee encounter! The thrill of having a manatees' bumpy and mossy back suddenly rise directly below you is one you cannot even begin to imagine without experiencing it firsthand.
The murky water clears, and you see a giant below, slowly grazing, munching and crunching until it decides to surface. The creatures are generally ambivalent toward the schools of humans paddling and floating nearby as they try to surface for a breath.
There is little else I can think of as adorable as a bewhiskered snout breaking through the murky waters of the main canals with a soft snort and then a small breech, followed by the tail and then mere ripples on the surface of where the pug-like water puppy had been.
Other tour groups rely on in-water guides from neighboring permitted tour boats to find manatees and then simply release their guests into the water solo. But we had a much more meaningful and respectful viewing experience trusting our time to the experts at Plantation.
Mornings are Best
Manatees are most active in the mornings, so we opted for a morning tour. In fact, my son had such a positive experience that I walked down to the dive shop to inquire about space on a second tour.
Luck was on our side and we booked another excursion for the following morning. How often can you play the role of "cool mom" while giving your kid a valuable Planet Earth style lesson AND enjoy it as much or more as they do? Manatees for the win!
Visiting Three Sisters Springs
Three Sisters Preserve holds the title as the the crown jewel of Kings Bay. Visitors to the preserve gain access to astounding close-up views of manatees in their natural habitat.
There is a park path which meanders around by the springs and waters from above. So getting in the water is not mandatory.
However, for those who'd like to become a mermaid for the morning, take to the springs sporting goggles and a snorkel and mingle with manatees in clear, warm water.
This special, sheltered area is where the manatees go to sleep. It's important to be very respectful of viewing distance and not initiating contact with the dozy creatures. Mind your manatee manners.
There are also generally observers topside making sure swimmers are minding their manners, so be warned – no ugly tourist behavior is tolerated here.
Making Manatee Memories with Mom
This is certainly a bucket list adventure and is one my son and I won't soon forget.
The inspiring part is that even months later, he's still able to recall with crystal clear detail the details of our swim with manatees. Plus, he remembers many of the facts we learned about manatees.
During our second outing, we were extremely pleased to have the pleasure of sharing the springs with a cow and calf. I hope my son will remember the moment forever. I certainly will.
In a serendipitous way, it felt a bit like we were kindred spirits in that underwater moment, both mamas swimming with their offspring, enjoying mild water temperatures on Spring Break.