The best Gulf Coast beaches happen to also be some of the best beaches in the entire country! The Gulf of Mexico is a relatively shallow, warm, and calm body of water compared to the Atlantic and Pacific Oceans, making it home to some of the prettiest, most family-friendly stretches of sand around.
From the wildlife sanctuaries of Texas to the white sands and emerald waters of Florida, these are nine beaches that we think are the absolute best beaches on the Gulf Coast.
The Best Gulf Coast Beaches
Hit up one of these Gulf Coast beaches for a hefty dose of sand, sun, and seafood! Please note: beaches are listed geographically from west to east; numbers are not intended to represent ranking.
1. South Padre Island, Texas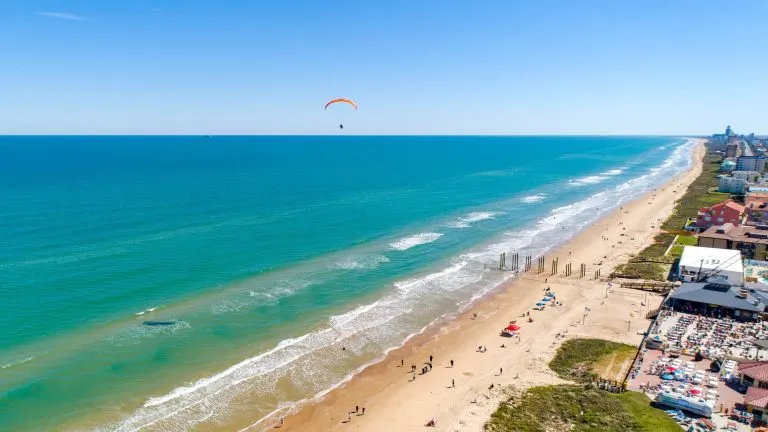 South Padre Island (SPI) is on the southernmost tip of a long barrier island, almost at the Texas-Mexico border. This is the best beach in Texas if you prioritize swimming in clean, clear water and getting all your tropical, beachy vibes going.
May and October are the ideal months to visit. Swimming is comfortable and high temperatures hover in the 80s. South Padre Island is the southernmost of the best Gulf Coast beaches, offering your best shot at toasty warm days in the winter.
South Padre Island can get wild with partiers during spring break, but it's a beach-loving family's paradise otherwise. If you've never seen a Roseate Spoonbill before, you're in for a real treat! These gorgeous pink birds call SPI home.
If you like to plan adventures off the sand, there are plenty of fun activities for the whole family to enjoy. Highlights include exploring the wetlands at the South Padre Island Birding and Nature Center, relaxing on a catamaran cruise, kayaking the Laguna Madre, and frolicking in the pools of Isla Blanca Park.
Check out our article highlighting 10 Fun Things to Do in South Padre Island for more details on things to do, where to stay, and where to eat.
2. Port Aransas, Texas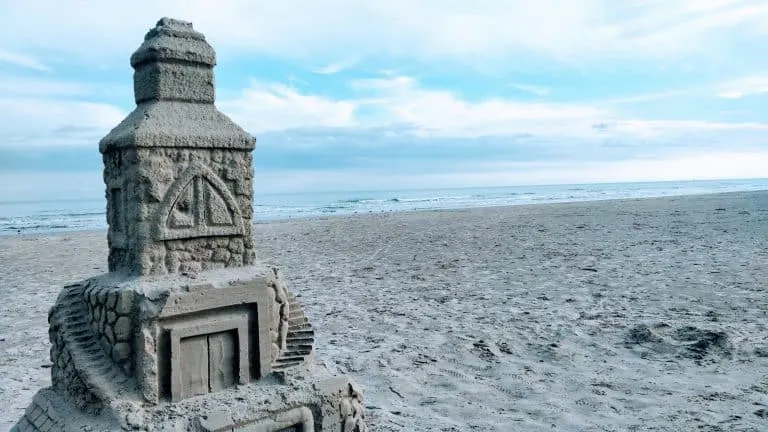 Port Aransas is also on a Texas barrier island, but is not nearly as far south as SPI. Port A, as it's known locally, stands out for its enormously wide beaches, frequent sea turtle sightings along the jetty, and the resident alligator that calls the Port Aransas Nature Preserve home.
The beaches at Port Aransas have hard-packed sand, making them ideal for long runs and even bike rides! The town itself is a collection of fun, colorful beach houses and plenty of seafood restaurants to keep your family well fed.
Port A's central location ups its convenience factor significantly. You can have breakfast in Port Aransas, explore the pristine beaches of Mustang Island State Park before lunch, spend the afternoon at the Texas State Aquarium in Corpus Christi, and be back for sunset cocktails on the beach.
See 8 FUN Things to Do in Port Aransas, Texas for more details. Interested in more Texas beaches? Here's our list of The 10 Best Beaches for Families in Texas.
3. Ocean Springs and Ship Island, Mississippi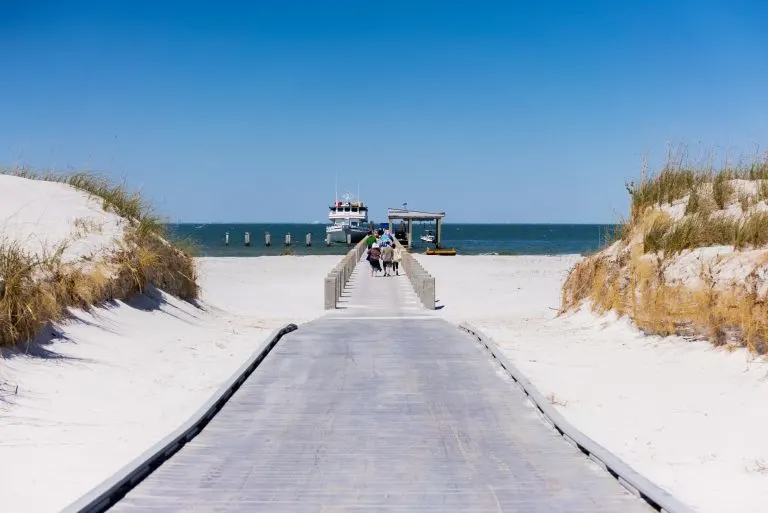 Ocean Springs is in the middle of a 60-mile, stretch of Mississippi Highway 90 hugging the Gulf Coast known as the "Secret Coast." It's a small, artsy town with loads of southern charm. The downtown blocks are lined with massive oaks, art galleries, and restaurants like Pleasant's BBQ and Tatonut Donut Shop.
Fort Maurepas City Park sits rights on Front Beach, less than a mile from downtown. Set up some beach chairs and take in expansive views of the Mississippi Sound from both the park and the beach. There's plenty of sand and swimming to satisfy a hankering for the beach at Front Beach, but the star beaches are on the barrier islands just off the mainland.
For a more remote beach experience, hop over to Gulfport and take a ferry out to the pristine shores of Ship Island. The island is protected as part of the Gulf Islands National Seashore and is one of the best kept secrets of the Gulf Coast.
It's easy to explore the entire Secret Coast using Ocean Springs as a home base. Head to Bay St. Louis if a haunted bayou tour is calling your name, to Long Beach if a Wolf River kayak tour sounds more your speed, or to Gulfport if a day at the Mississippi Aquarium or the Gulf Islands Waterpark is the ideal adventure for your family.
Ocean Springs is also featured as one of seven stops in our Texas to Florida Road Trip itinerary.
4. Gulf Shores/Orange Beach, Alabama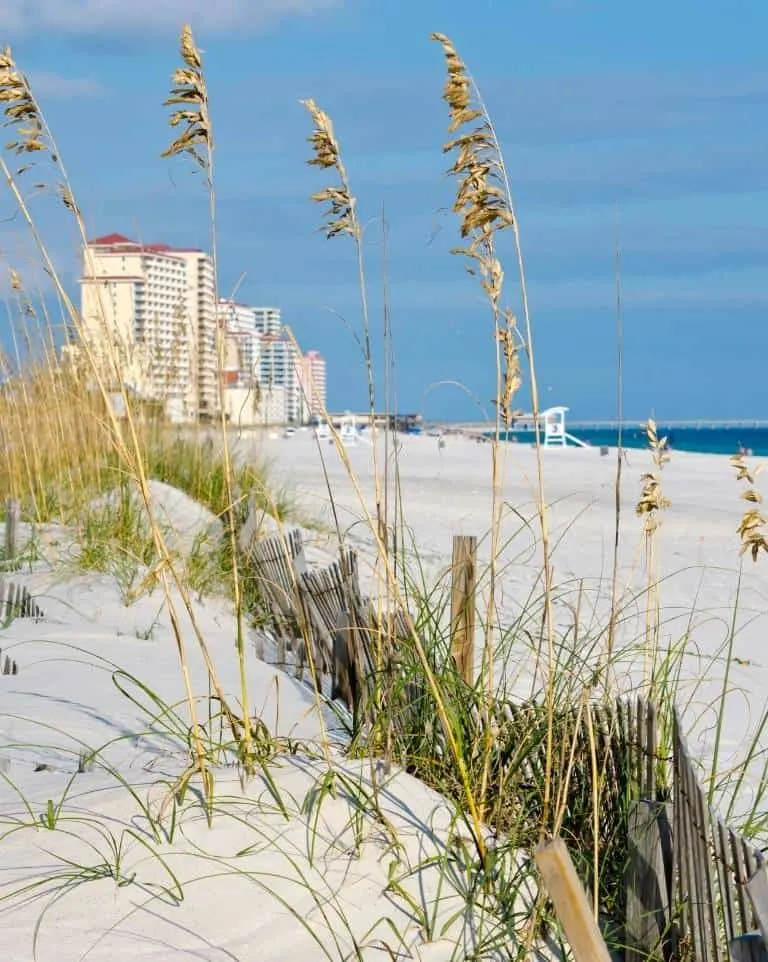 While the beaches of Texas and Mississippi are excellent for exploring the rugged, unique beauty of coastal ecosystems and wildlife, the Alabama and Florida Gulf Coast beaches rival the Carribean when it comes to soft sand and clear, emerald water.
Alabama's best beaches are just east of Mobile Bay. The two largest communities of coastal Alabama are Gulf Shores and Orange Beach, but the entire 30-mile stretch from Fort Morgan to the Alabama-Florida border is a stunning stretch of beach.
Restaurants, hotels, and entertainment options abound in the area. If you have never stayed oceanfront before, this is the place to do it! There are plenty of affordable choices with room for the whole family. We love The Beach Club Resort and Spa in Gulf Shores for a complete resort experience with a beachfront pool and restaurant.
Don't miss experiences in the area include a bike ride through Gulf State Park and kayaking with the dolphins in Oyster Bay. For more details, check out 8 Fun Things to Do in Orange Beach with Kids and 10 Best Things to Do in Gulf Shores with Kids.
5. Pensacola Beach, Florida
Pensacola Beach sits just a smidge over the Florida border from Alabama on Santa Rosa Island, the longest barrier island of the Florida panhandle. Similar to the Alabama gulf coast, Pensacola is the lively hub of the area, but the gorgeous beach stretches on for miles in either direction from the city.
Quietwater Beach is on the sound side of the island with a bustling boardwalk. Hit this beach for waterfront dining, people watching, equipment rentals, and seasonal events.
At the other end of the spectrum, Johnson Beach, part of the Gulf Island National Seashore, offers access to pristine seascapes without the crowds. Try this one when you're on the hunt for some seaside solitude.
Don't miss a visit to the Pensacola Beach Pier. At almost 1,500 ft. into the water from the shore, it offers a unique vista for sunsets and dolphin sightings as well as a great place to fish.
The area is big enough that you won't have any problem finding something to do off the sand. Highlights include the Gulf Breeze Zoo and Laguna's Adventure Park. The Pensacola Beach Trolley runs during the summer to transport beachgoers to and from the major beach attractions.
There's even some history to take in at Fort Pickens and Historic Pensacola. The fort dates back to pre-civil war coastal defense efforts. Historic Pensacola is a collection of history museums and historic properties open to the public in downtown Pensacola.
6. Destin, Florida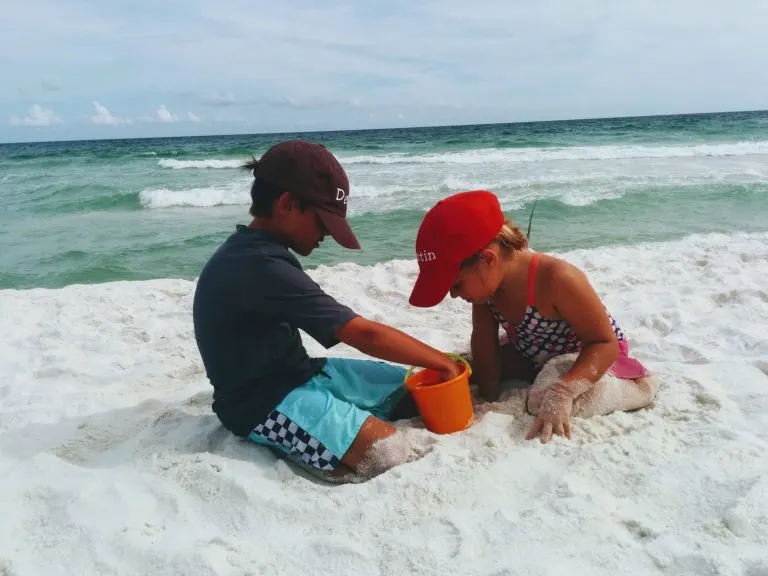 Destin, Florida is the westernmost beach town on the stretch of the Florida panhandle known as the Emerald Coast. The water is very frequently a brilliant kaleidoscope of blues and greens in this part of Florida. The eastern end of this 50-mile stretch is Panama City Beach. They are similar, but we prefer Destin for families.
Destin is a great beach destination if you want your visit to be action packed. It's where you will find fishing charters, boat rentals, jovial crowds gathered on the sandbar known as "Crab Island", go-kart tracks, golf courses, outlet shopping, big firework shows, and more. Check out our 21 Fun Things to Do in Destin, Florida with Kids for all the details.
If you really want to see the Emerald Coast (and trust us, you do!) but prefer slower, quieter, and more upscale, Rosemary Beach (next up on our list) is likely more your speed.
7. Rosemary Beach, Florida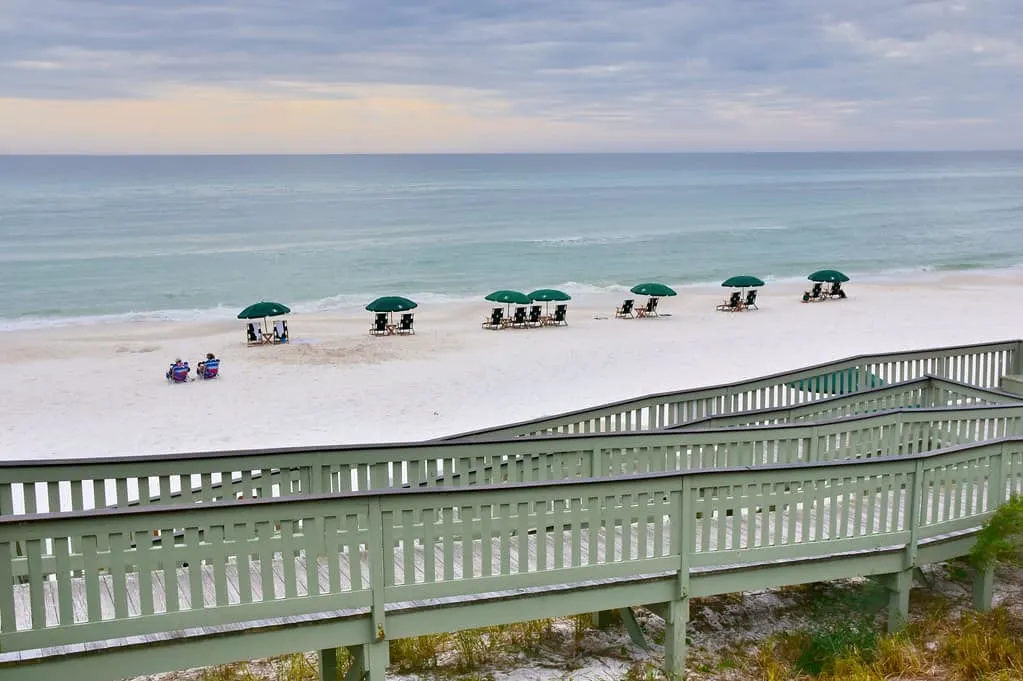 Rosemary Beach is an upscale, master-planned community on the eastern end of county road 30A on the Florida panhandle. The concept is Southern meets European, and it feels very much like a ski resort except you're on the ocean instead of the mountain. Home in this area feature massive porches made for lounging away the afternoon.
It's possible to spend a week in Rosemary Beach without ever getting in your car, especially if you're content with long beach days bookended by meals and sprinkled with the occasional bike ride, dip in the pool, or tennis match.
While tons of families vacation here, most apparent in the number of free-roaming kids on bikes, you can also find adults-only restaurants in Rosemary.
The central corridor of the community is lined with restaurants and shops and flanked by street after street of houses, community pools, and green squares providing space for spontaneous play and organized events like movies and the farmer's market.
The charm of Rosemary Beach is most certainly in the seemingly endless streets and pedestrian boardwalks that wind through the community. Plan on taking several evening strolls to quiet your mind as you marvel at the architecture and gardens.
Everyone staying in Rosemary Beach gets access to the gated beach entrances. The beach is the same white sand and clear, emerald water you'll find anywhere from Destin to Panama City Beach.
Splurge for the daily beach chair and umbrella service because the bring your own chair section of the beach is quite small.
8. Clearwater Beach, Florida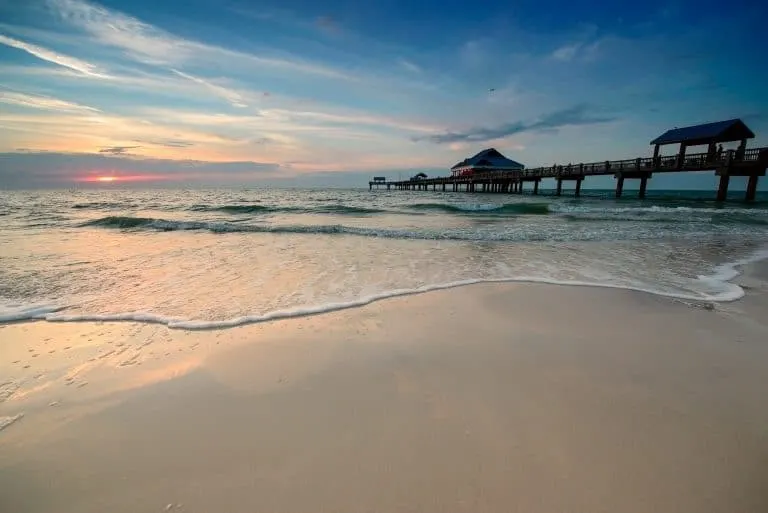 As we leave the northern edge of the Gulf of Mexico and head down into the Florida peninsula, we skip almost 400 miles of coastal forest preserves until we reach Clearwater Beach.
The beach communities of the Tampa area start with Clearwater Beach in the north and span about 20 miles down to St. Pete Beach in the south, with several smaller communities in between. This stretch is home to wide beaches with white sand, lots of seashells, and clear, turquoise water.
Clearwater Beach is a happening place, with crowds strolling the Beach Walk, packing the waterfront restaurants, and trying to catch their dinner out on Pier 60. See our list of 5 Fun Things to Do in Clearwater Beach, Florida for more details.
The showstopper is the Clearwater Marine Aquarium. It offers the standard aquarium viewing plus animal care experiences and boat tours of Clearwater Bay. Of course, there's all the action of Busch Gardens just 45 minutes away in Tampa as well.
However, there is no shortage of quieter beaches nearby, from the isolated Honeymoon Island and Sand Key Parks, to the smaller communities of Belleaire Beach and Pass-a-Grille.
We love the chill vibe of Pass-a-Grille so much we included it in our roundup of The 7 Best Beach Town in Florida for Families.
9. Siesta Key Beach, Florida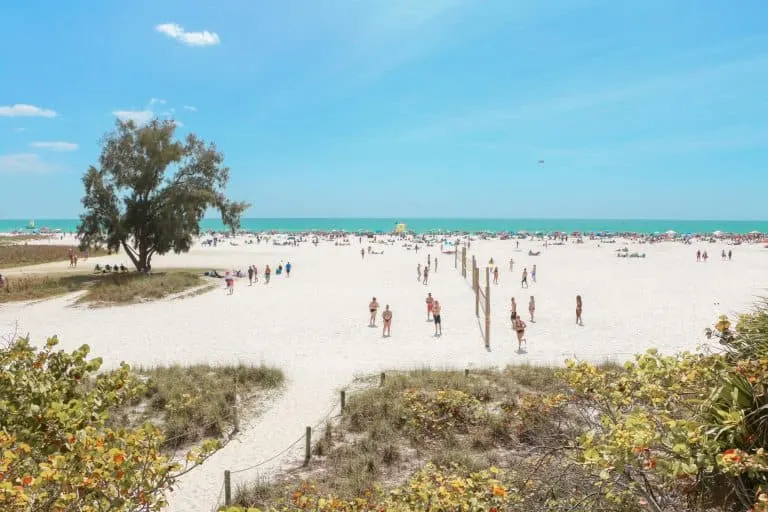 Our final stop on this grand tour of the best Gulf Coast beaches is near Sarasota at Siesta Key Beach. This beach is the sandy crowd-pleaser of Siesta Key, the barrier island populated with hotels, restaurants, and beach outfitters ready to cater to your every need for a day at the beach.
Siesta Beach has a playground, volleyball nets, and a weekly drum circle, while Siesta Village is home to shops, restaurants, and a weekly farmer's market. It's easy to get from the village to the beach and back again thanks to the free trolley that runs seven days a week. Don't miss breakfast at Restaurant Bonjour French Cafe or happy hour at the Siesta Key Oyster Bar in Siesta Village.
For bigger family adventures, head into Sarasota to explore the Mote Aquarium and Sarasota Jungle Gardens or play a round at Sarasota Lanes or Smuggler's Cove Adventure Golf.