We've searched high and low for the best pumpkin patches in San Diego and we have 12 that we think your families will flip over this fall!
There is something for everyone. Want to find petting zoos, bounce houses, carnival rides, craft fairs, organic gardens, or just the best pumpkin pictures in town? Well, we have the right pumpkin patch in San Diego County for you!
San Diego County is such a diverse area that you can find pumpkins by the beach, in the mountains, or in the desert!! Check out out favorite pumpkin patches all over San Diego for 2023!
Want more San Diego fun? Check out the 10 best things to do in San Diego with Kids.
12 Best Pumpkin Patches in San Diego for 2023
1. Bate's Nut Farm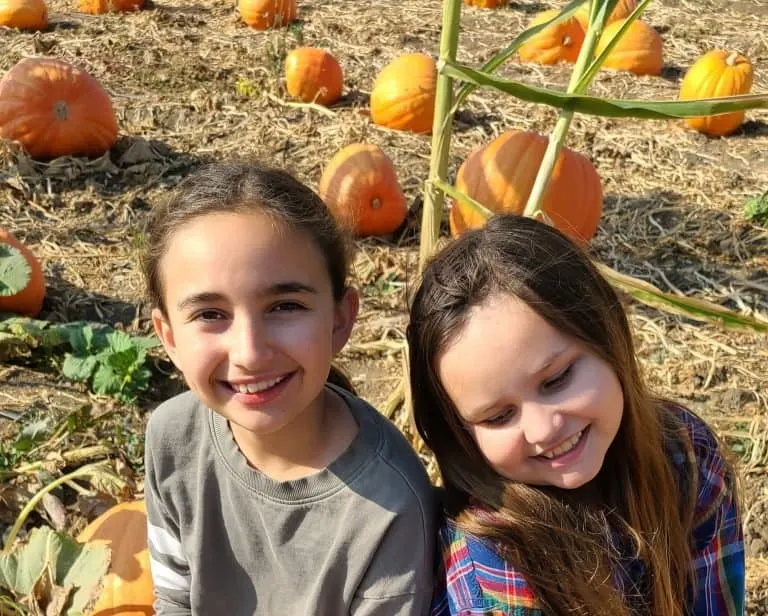 Bate's Nut Farm is definitely a staple on any list of pumpkin patches in San Diego County. The large space located in Valley Center has giant pumpkins making for some of the most memorable and treasured pumpkin hunting experiences.
In addition to the giant pumpkins, gorgeous patches, and a vast variety of gourds – Bate's Nut Farm is full of family friendly activities.
Your family will appreciate the farm classics like the pony rides and petting zoo, the tractor ride around the property, and the straw maze where the whole family can work together on finding their way out.
In addition to their classic activities, on weekends you can find inflatable slides, bounce houses, and games. Makers markets take place throughout the fall and carnival foods line the street. Be sure to check out the mercantile for some tasty treats like taffy, fudge, and ice cream.
Amenities: Bate's Nut Farm offers wagons to collect all your goodies, but to save time you might want to bring your own. There are onsite restrooms in addition to portable toilets and hand washing stations.
This pumpkin patch is open daily beginning September 16th. The season runs through Halloween. Admission is free but there is an $10 parking charge weekends in October.
15954 Woods Valley Rd, Valley Center
2. Del Mar Pumpkin Station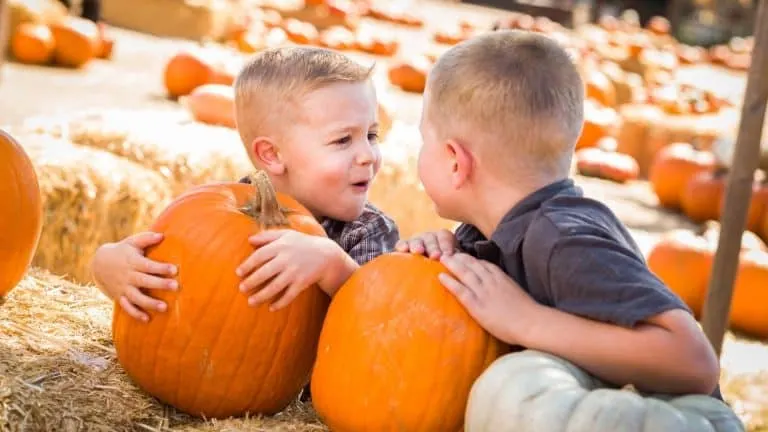 The Del Mar Pumpkin Station checks a lot of boxes for family fun! This is one pumpkin patch in San Diego that you will want to check out with the entire family. They even host party spaces if you want to expand your guest list.
Pumpkin Station features a large selection of pumpkins, several picture spots, kid sized amusement rides, a small petting zoo, and inflatables are all available to delight the kids. The Pumpkin Station is also open late which makes this a great place for working families to still enjoy during the week.
Amenities: Pumpkin Station has free parking just outside of the patch located on the east side of the Del Mar Fairgrounds. There are several portable toilets and hand washing stations.
Open daily September 29th through October 31st. Use this coupon for a free train ride!
15555 Jimmy Durante Blvd, Del Mar
3. Julian Mining Company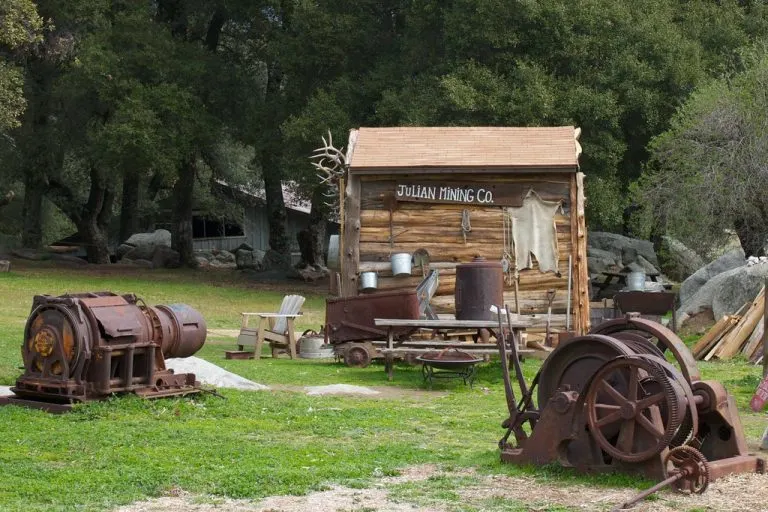 The Julian Mining Company offers a great option for pumpkin searchers. This pumpkin patch offers some authentic rustic touches that your family will definitely enjoy.
The U-pick pumpkins are not the only things available at the Julian Mining Company. Onsite you will find a delicious apple cider press, axe throwing, and hay rides.
Year round you will find family fun activities like gold and gem mining, shopping at the mercantile, and the newest attraction- a mine tunnel ride! Your family will feel transported back in time to the California golden age!
Amenities: There is free parking at the Julian Mining Company. Restrooms and hand washing are available onsite. Food and shopping is also available.
4444 CA-78, Julian
4.
Oma's Pumpkin Patch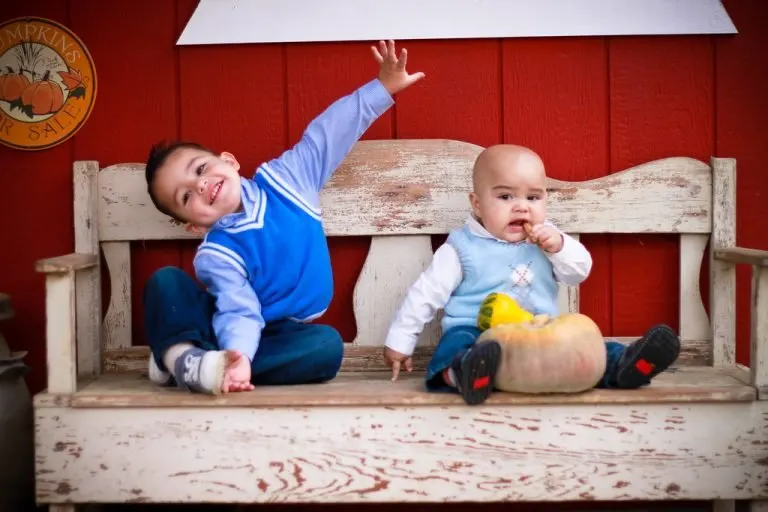 The well-known Oma's Family Farm in Lakeside hosts Oma's Pumpkin Patch throughout October. This farm welcomes schools from all over the area to learn about the dairy and farming process.
This family farms opens the pumpkin patch along with some fun activities like a playground, petting corral, a tricycle racetrack, and tractor rides! Tickets must be purchased in advance so please plan accordingly. The farm is open September 26th through October 28th (Tuesday through Saturday).
Amenities: There is free parking and restrooms available. The property has dining and retail onsite.
5. Mr. Jack O' Lanterns Pumpkins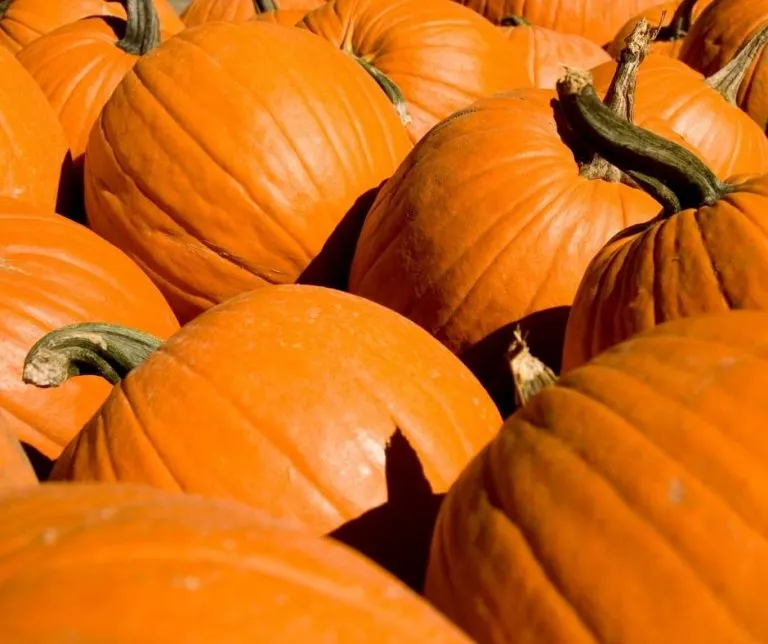 Mr. Jack O' Lanterns Pumpkins has two location in San Diego in La Jolla and Mission Bay. These pumpkin patches in San Diego offer a variety of activities and fall-themed shopping.
Harvest festival-themed games like pumpkin bowling and candy corn hole will make for a fun way to spend the the day. There are also the ever popular inflatables and obstacle courses. In addition to the fun activities, they offer wonderful photo spots to snag that perfect pumpkin patch photo.
Amenities: Both of these patches offer free parking and portable facilities.
6710 La Jolla Blvd, La Jolla and 3190 Mission Blvd, San Diego
6. Mountain Valley Ranch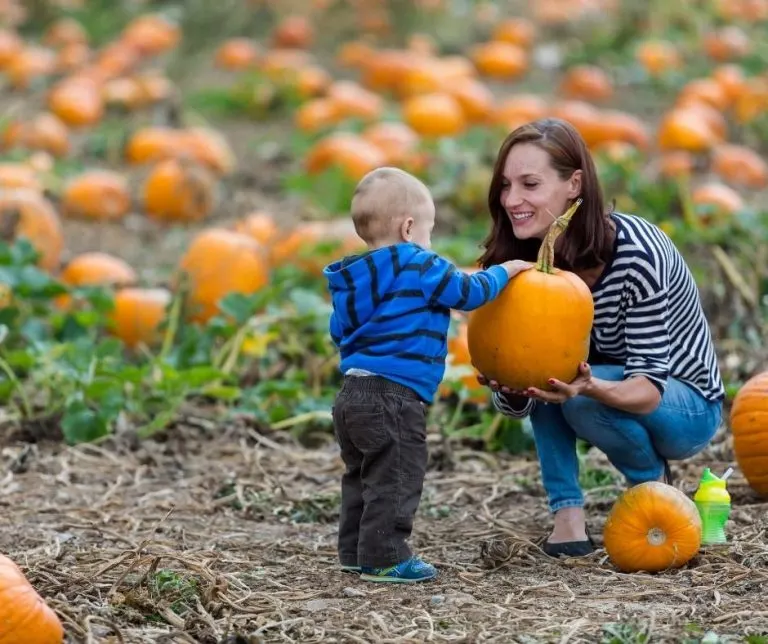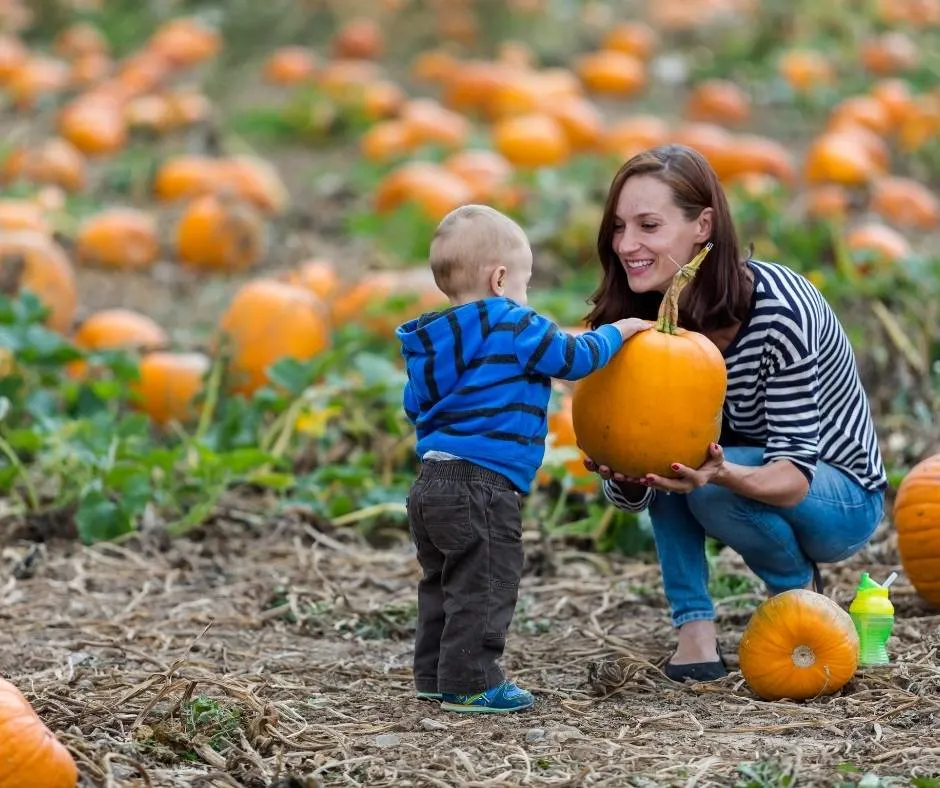 Mountain Valley Ranch Pumpkin Patch is another great option with a wonderful selection of activities to fulfill those fall desires. It opens the last weekend in September and is open daily through Halloween.
The patch is nestled in Ramona with a lovely country back drop. Families will love picking out their pumpkins and enjoying the corn maze, corn canon, hayrides, petting zoos, and pony rides. Parents will get a kick out of the classic cars on display around the property.
Amenities: The Mountain Valley Ranch has free parking, restrooms, and onsite hand washing available.
842 Highway 78., Ramona
7. Pumpkin Patch at The Strawberry Company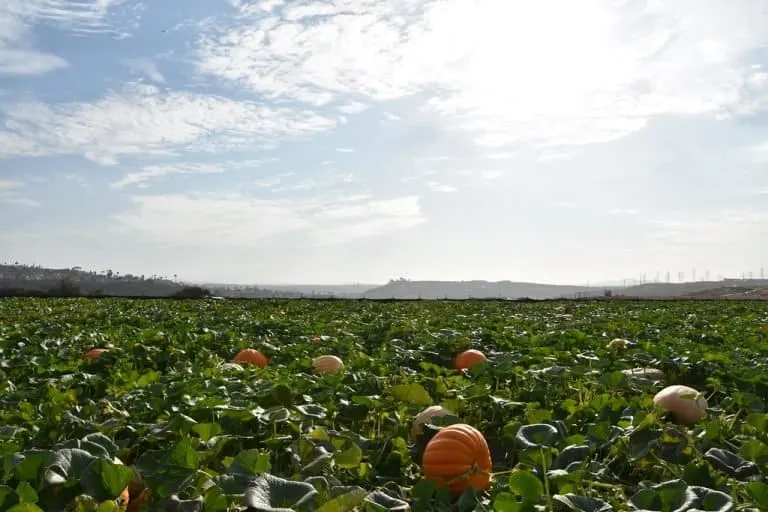 This pumpkin patch in San Diego is quickly becoming a family favorite! Located in the beach community of Carlsbad, the Pumpkin Patch at The Strawberry Company has something for the everyone. This patch has a long season- September 22nd through November 6th. Admission is $6 per person and activities are individually priced.
The day starts with a hayride out to the far end of the farm where the pumpkins grow to impressive sizes. Be sure to check out the tall corn maze. It is one that you will definitely want to work together to accomplish. Once you return to the farm stand there are plenty of games and inflatables to delight the kids! Friday and Saturday nights the maze turns into a haunted house.
TIP: Consider making it a family fall getaway and book the Cassara Carlsbad, they have wonderful fall packages that includes admission to the pumpkin patch!
Amenities: There is free parking, portable restrooms, and onsite hand washing available.
1050 Cannon Rd, Carlsbad
8. Pumpkin Express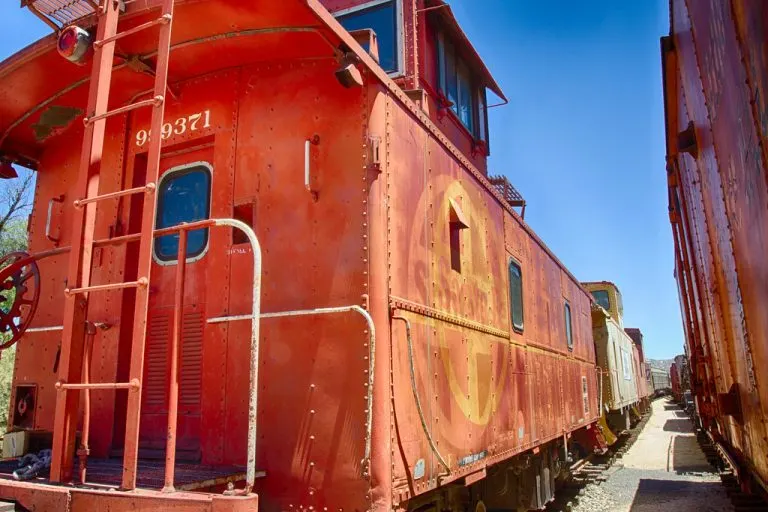 Next on the list of best pumpkin patches in San Diego is the Pumpkin Express located at the Pacific Southwest Railway Museum in Campo. This is the perfect pumpkin patch for your train enthusiasts.
Families will enjoy the the scenic railroad rides in the vintage train cars. The best part of the train ride is all toddler and children passes come with a free pumpkin!
Everyone is invited to arrive in costume to further enjoy the holiday. Be sure to check the website for the departure times of the train to make the most of your visit. Rides will take place October 7th-29th and tickets go on sale September 11th.
Visit the Pacific Southwest Railroad Museum all year round to explore the entire property. The foundation is looking to expand their location and offerings – each visit supports that
Amenities: Parking and full restrooms onsite. Gift shop and food available on property.
750 Depot Street, Campo

9. PB Pumpkins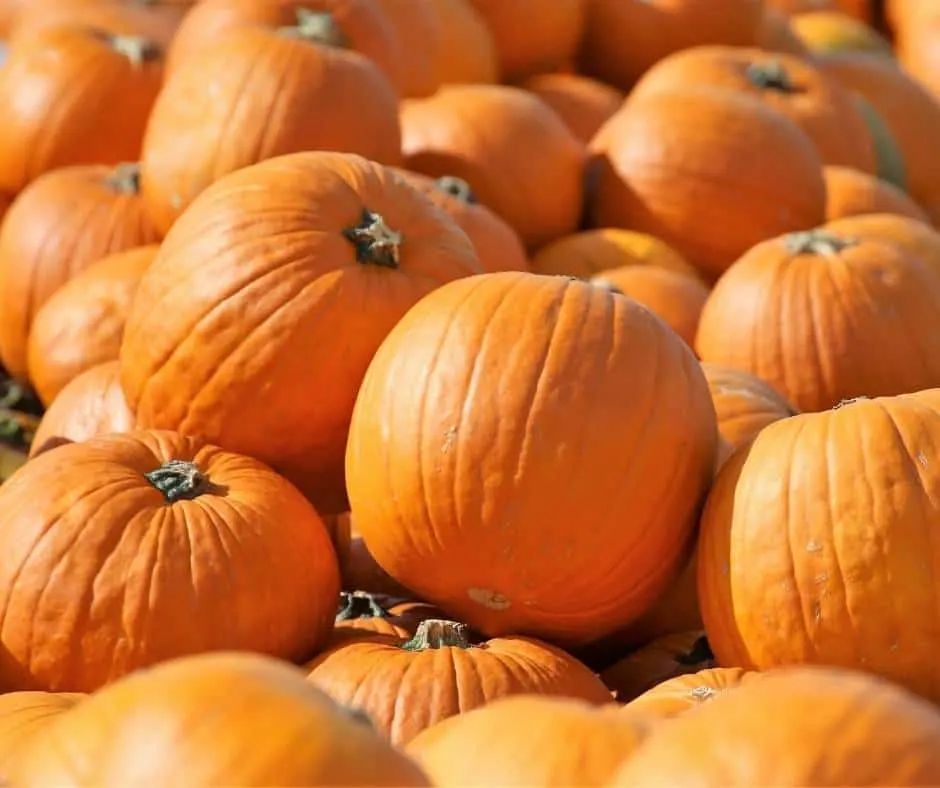 The PB Pumpkin Patch in Pacific Beach has some awesome selections of pumpkins that reach up to 100 pounds! The stand offers free apple cider and shave ice for the kids.
This is also a great location to pick up your craving supplies – they have everything from craving sets to craft kits to make any kind of Jack o' Lantern you might want! Be sure to visit their website for more details and discounts. It will be open daily during the month of October.
Amenities: Free parking available onsite.
870 Garnet Avenue, Pacific Beach
10. Rancho Bernardo Pumpkin Farm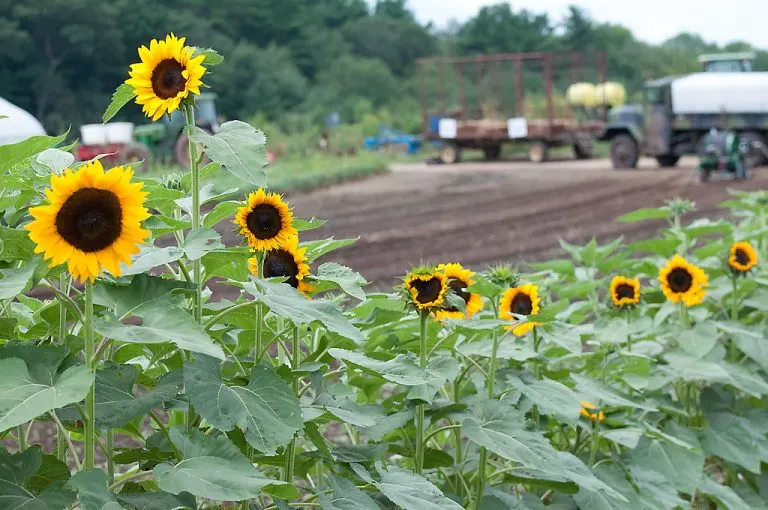 The Pumpkin Station located in Rancho Bernardo is a fun family option! The Rancho Bernardo pumpkin farm hosts a fun train, 8″ tall corn maze, petting zoo, and tractor rides.
The most unique activity at this pumpkin patch is the cut-your-own sunflower field. Be sure to visit early in the season in order to get your flowers because they make for a lovely back drop for family pictures.
This patch opens on September 29th and remains open daily during the month of October.
Amenities: Free parking and restrooms are available onsite.
13421 Highland Valley Rd, Escondido
11. Farm Stand West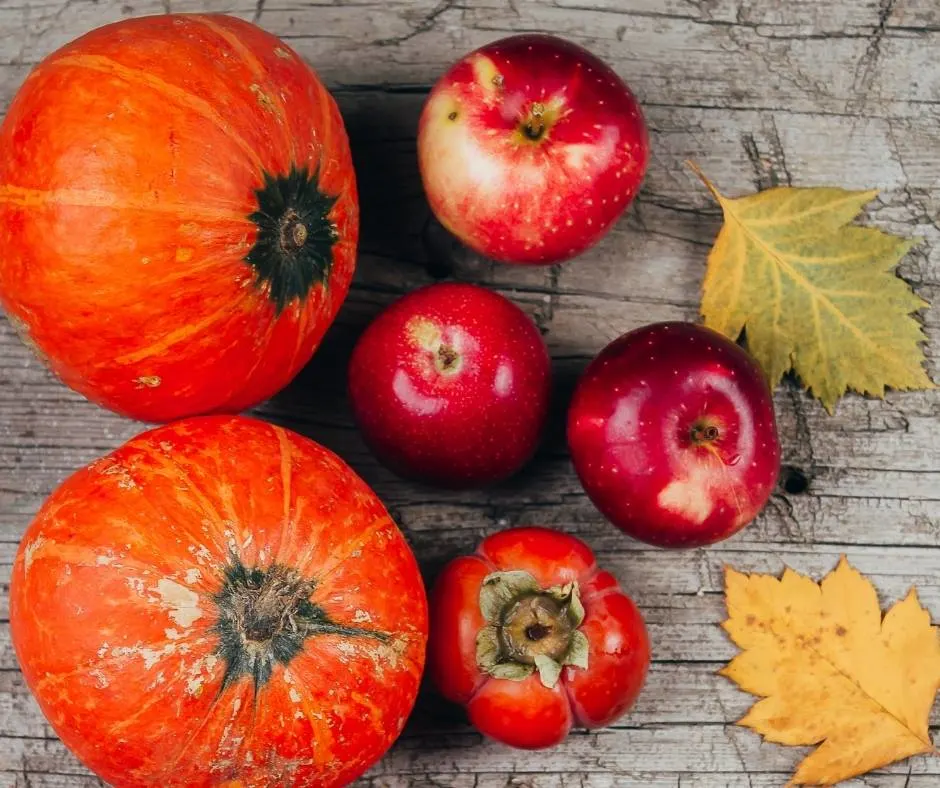 Looking for some amazing produce and excellent pumpkins then look no further than the Farm Stand West. This adorable stop in Escondido makes the list of best pumpkin patches in San Diego because of its fresh produce.
The family owned and operated stand is open on the weekends and is a great place to stop by and pick up a pumpkin and some fall fresh produce options like persimmons, carrots, oranges, and beets.
Amenities: Free parking available onsite.
2115 Miller Ave, Escondido
12. Summers Past Farms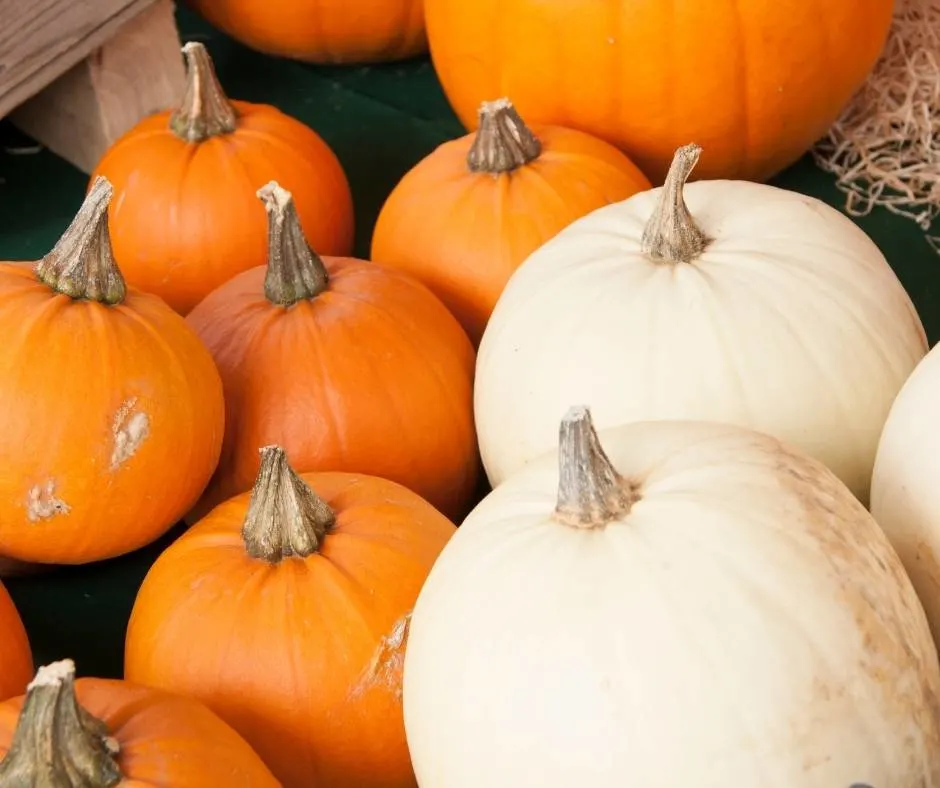 Summers Past Farms located in El Cajon offers a lovely country pumpkin patch to get you in the fall spirit. Come and fill your wheelbarrow full of the cutest pumpkins!
The farm has a small corn maze for the little ones and hay setup for pictures. Throughout the fall you can find handmade crafts and treats perfect to share with those you are thankful for this year. Check their website for specific dates on makers markets and craft fairs.
Amenities: Free parking and restrooms are available onsite. The farm store is open for business throughout the year.
The farm is open September 28th through October 29th. It is open Thursday through Sunday.
15602 Olde Highway 80, Flinn Springs
Find More Pumpkin Patches Near You!