Atlanta, GA, the "capital of the south" hosts over 16.5 million visitors a year. The myriad of things to do in Atlanta with kids are incredibly popular with locals and tourists alike.
Whether you are seeking a walk through history, animal encounters, or the best southern cuisine in Dixie, Atlanta delivers, dripping with southern hospitality and charm. Enjoy are favorite things to do in Atlanta for families, in addition to a few tips about where to eat, stay, and day trip recommendations.
Best Things to do in Atlanta with Kids
1. Top Things to do in Atlanta Include Visiting the Botanical Garden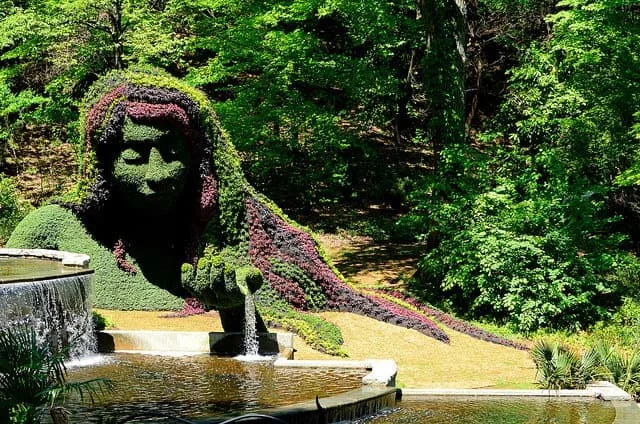 There is much to love at the Atlanta Botanical Gardens. See a large Chihuly sculpture glisten in the sun next to the rose beds or smell the vegetables in the Edible Garden.
Meander through the trees at the Canopy Walk or find your zen in the Japanese Gardens. Little ones will enjoy the two-acre Children's Garden, complete with a dino dig, sunflower fountain, bog garden with a waterfall kids can walk behind, a treehouse with slides and pockets to hide within, and more.
There are regularly scheduled family programs, drop-in adventures, and story times. Be sure to check the calendar before visiting.
2. Visit Stone Mountain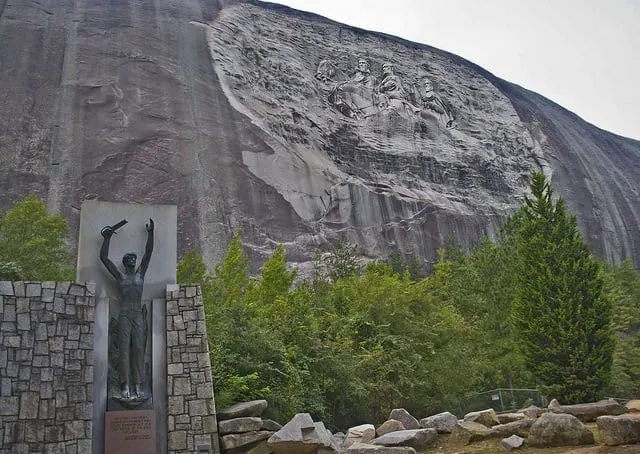 Stone Mountain sits 10 miles northeast of Atlanta and is an epicenter of fun for families. The park boasts 3,200 acres with six trails, featuring a path up the monstrous granite outcropping, over covered bridges, and around gristmill ruins.
Kids enjoy the world's largest laser show set against the rock while picnicking on the lawn. There are two championship golf courses, campgrounds, a Summit Skyride in a cable car, dining, shopping, rides, and festivals year-round.
3. Explore Downtown Atlanta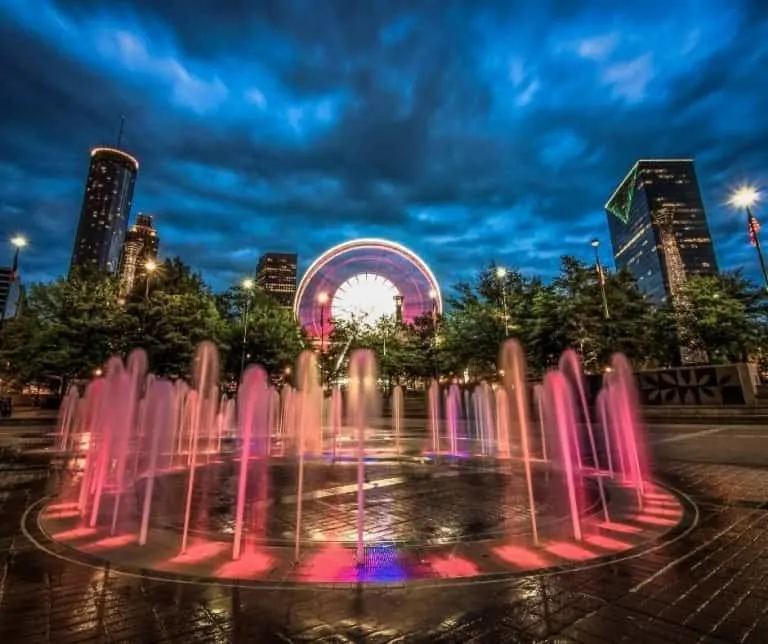 While Atlanta is known for its "sprawling" nature, the downtown area offers plenty of family fun within walking distance. Consider Centennial Olympic Park, the central attraction with green space, restaurants, and Olympic fountains to cool off on the warmest days.
Georgia Aquarium is to the north, across the street from World of Coca-Cola, where kids can taste over 90 Coke products from around the globe. On the east side of the park sits Imagine It!, the Children's Museum of Atlanta, and SkyView Ferris wheel, which soars at over 20 stories high above the city.
On the west side of the park, visit the CNN Center and take a tour of how the news is broadcast around the world. Finally, on the south side of the park, grab a bite at Googie Burger, with great burgers and outdoor seating that kids will enjoy. Also coming in June 2014 to this area, the National Center for Civil and Human Rights.
4. Visit the Southeastern Railway Museum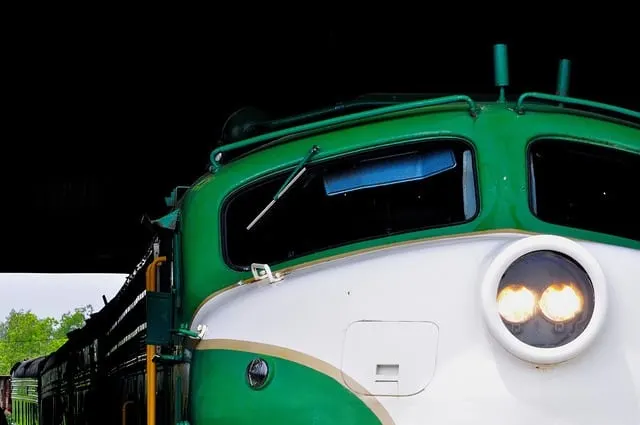 Imagine several hours of engineer excitement as the family climbs on, explores, touches, and crawls across 90+ pieces of rail equipment, spread over 35 acres at the Southeastern Railway Museum.
Pose with a historic Pullman car, imagine yourself commandeering a steam or diesel locomotive engine, or wave from the back of a little red caboose. Families can tour most rail cars including old-fashioned sleeper cabins, dining cars, or a mailroom on wheels.
A few extra dollars buys a ride across the museum grounds on a restored caboose and weekend visitors can hop aboard a miniature park train like those made famous in the 70s. After a visit, head a mile away to the historic square of Duluth, GA to play in the fountains or on the railroad-inspired playground.
Check for hotel availability in Atlanta. As a Booking.com affiliate Trekaroo is thrilled to offer its readers the lowest rates guaranteed!
5. Learn at the Fernbank Natural History Museum
Fernbank Natural History Museum is amass with scientific wonder. Walk among the dinosaurs, as towering giants greet visitors in the main hall. Watch the latest flick at the IMAX theater, or take "A Walk Through Time In Georgia," an exhibit which introduces visitors to the various flora and fauna the local region experienced over thousands of years.
Enjoy a tactile approach to learning with a hands-on science exhibit or feed your adventurous side in the naturalist center, which highlights ancient artifacts from DeSoto's trek through Georgia. Traipse through Fernbank Forest, or smell the 1300+ roses in the garden.
Whatever you do, don't miss NatureQuest: a child-friendly, highly interactive experiential learning exhibit with over 100 interactive encounters spanning six Georgia habitats.
The Fernbank Education team breathed life into this environment, in conjunction with a host of designers from the land of Mickey and Donald. It will amaze even the most judicious of little learners.
6. Get Wild at Zoo Atlanta
The Atlanta Zoo is most famous for the new panda cubs, but that is only the beginning. There are over 1,500 animals here, including the nation's largest collection of gorillas and orangutans.
Families can also experience feeding the giraffes or meeting the elephants and lemurs behind the scenes with the special VIP Pass.
Don't miss the wildlife shows, petting zoo, keeper talks, and training demos, or the Zoo's Clues program. Younger kids will love KidZone, featuring a playground, train ride, carousel, rock climbing wall, and the newest feature, Splash Fountain.
Trekaroo is a CityPass affiliate. Buy discount tickets for the most popular attractions for families in Atlanta, including Zoo Atlanta, Georgia Aquarium, and World of Coca-Cola.
7. Be a Creator at the Center for Puppetry Arts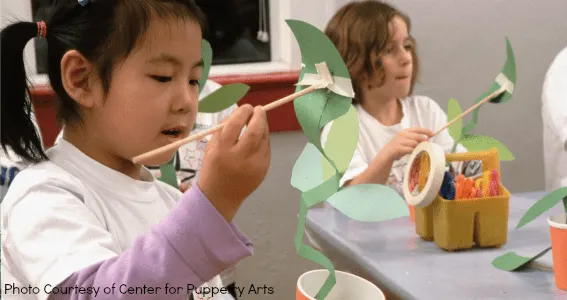 Using the art of puppetry, the Center for Puppetry Arts seeks to provide educational experiences for adults and kids of all ages. Regularly changing live shows delight audiences with expertly hand-crafted puppets.
After each show, kids can participate in Create-a-Puppet Workshops, where they become the puppet maker and the puppeteer. Visitors can also tour the on-site museum, featuring over 350 puppets from around the world.
8. Get Outside at the Chattahoochee Nature Center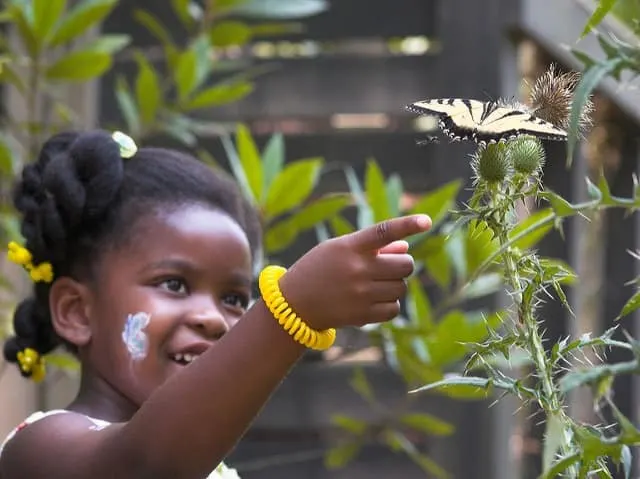 Get in touch with your outdoorsy side at the Chattahoochee Nature Center. Here families can see bald eagles, the resident beaver, and multiple falcons.
Six hiking trails meander through living wetlands, a butterfly garden, and a southern forest. You'll wind around two lakes and over the Chattahoochee River via the boardwalk.
The marshland buzzes with plant and animal life, and long views down the watershed are rewarded with glimpses of kayakers and fisherman. Inside the Discovery Center, kids can peer eye-to-eye with native fish, frogs, owls, and other critters, examine bugs and plants, or check out backpacks for in-depth exploring.
After a few hours of nature discovery, head a few miles down the road to Historic Roswell. Lunch at Fickle Pickle is a must-do, with fried pickles, an outdoor patio, and a kid-friendly menu.
Look for the best hotel prices in Atlanta.
9. Experience the Georgia Aquarium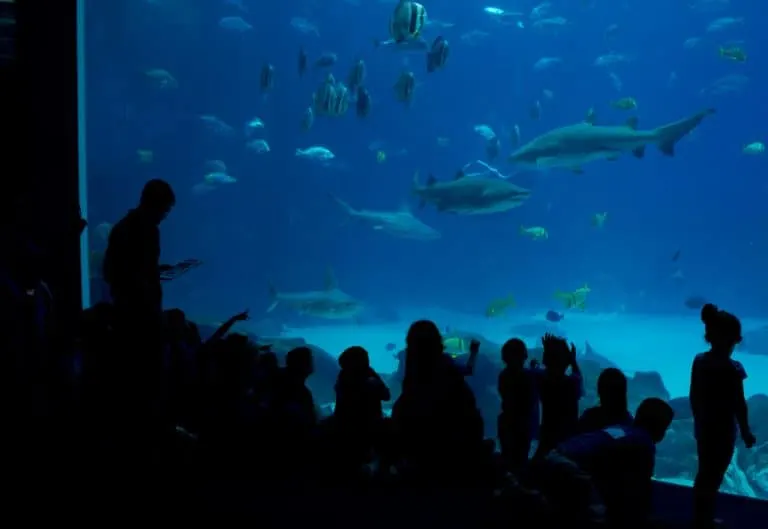 Over 100,000 animals in 10 million gallons of water greet visitors at this aquarium!
Our family's favorite gallery holds four whale sharks which dance and dart overhead as you ride a moving escalator through the tank. Georgia Aquarium is the only place outside of Asia with these gentle giants on display.
Other favorites include beluga whales, manta rays, and bottlenose dolphins, which wow the crowd with daily shows in the Dolphin Tales gallery. Check out this list of adventurous things to do at the Georgia Aquarium before visiting!
10. Enjoy the Atlanta History Center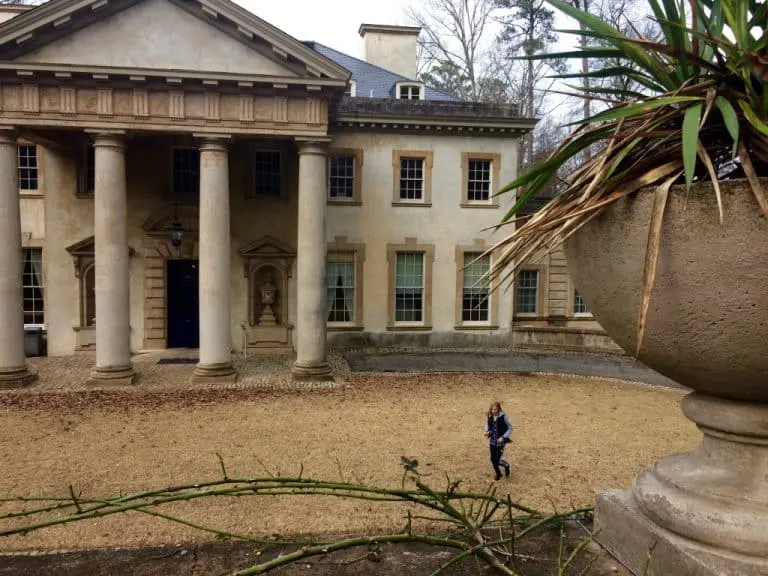 The Atlanta History Center brings Georgia history to life for the entire family with a museum, a farmhouse, a 1930s mansion, and extensive gardens.
The hands-on exhibits and family oriented programming engage even the youngest of children. My kids favor the Quarry Gardens, with statues, streams, bridges, and stairs.
We regularly trek the Connor Brown Trail through the property and enjoy the cast of characters teaching homesteading skills on the Smith Family Farmstead.
Make sure to check out these 50+ free things to do in Atlanta before you visit!
Where to Stay in Atlanta with Kids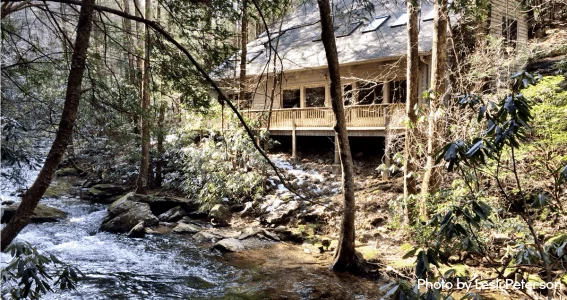 If you're staying in Downtown Atlanta, grab a bed at the Omni Hotel at CNN Center. The hotel is central to all that Atlanta as to offer, with kid-friendly dining and spectacular views. Here is a great list of the best hotels in Atlanta.
Visitors heading outside the city-proper will enjoy a stay at Stone Mountain's Evergreen Marriott within the Stone Mountain Park.
Embassy Suites Alpharetta provides snacks, breakfast, and family-friendly rooms.
For a unique alternative, consider a stay at one of the many cottages within the Georgia State Parks, like the new lakeside retreats at Don Carter State Park, or the luxurious cabins within the majesty of Smithgall Woods State Park
Find Hotel Deals in Atlanta. As a Booking.com affiliate, Trekaroo guarantees the lowest rates.
Need even more suggestions on what to do in Atlanta? Check out these 40+ fascinating Atlanta Museums your family will adore.
Where to Eat in Atlanta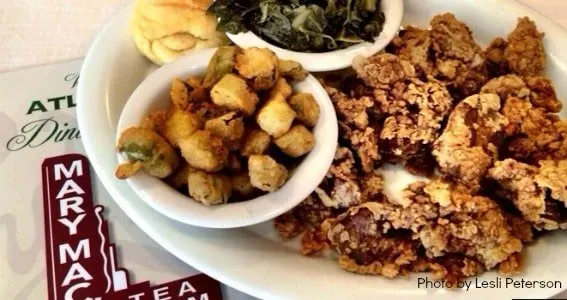 Every visitor to Atlanta (and every resident, for that matter) must visit Mary Mac's Tea Room, officially ordained by the Georgia House of Representatives.
Don't let the name fool you, this is no fine-china tea house. It's a "meat and two sides" hometown restaurant, with a fun atmosphere that welcomes kids with open arms. Southern dining at its best, with free parking and affordable kid's meals, make this my favorite restaurant in the city.
Also iconic to Atlanta, try the chili cheese dog at the largest drive-in fast food restaurant in the world, The Varsity.
Finally, if you're looking for more formal dining, take the glass elevator to the top floor of the Westin for a spin at The Sundial. The food is tasty and the view of the city is extraordinary!
Day Trips from Atlanta
Dunwoody, GA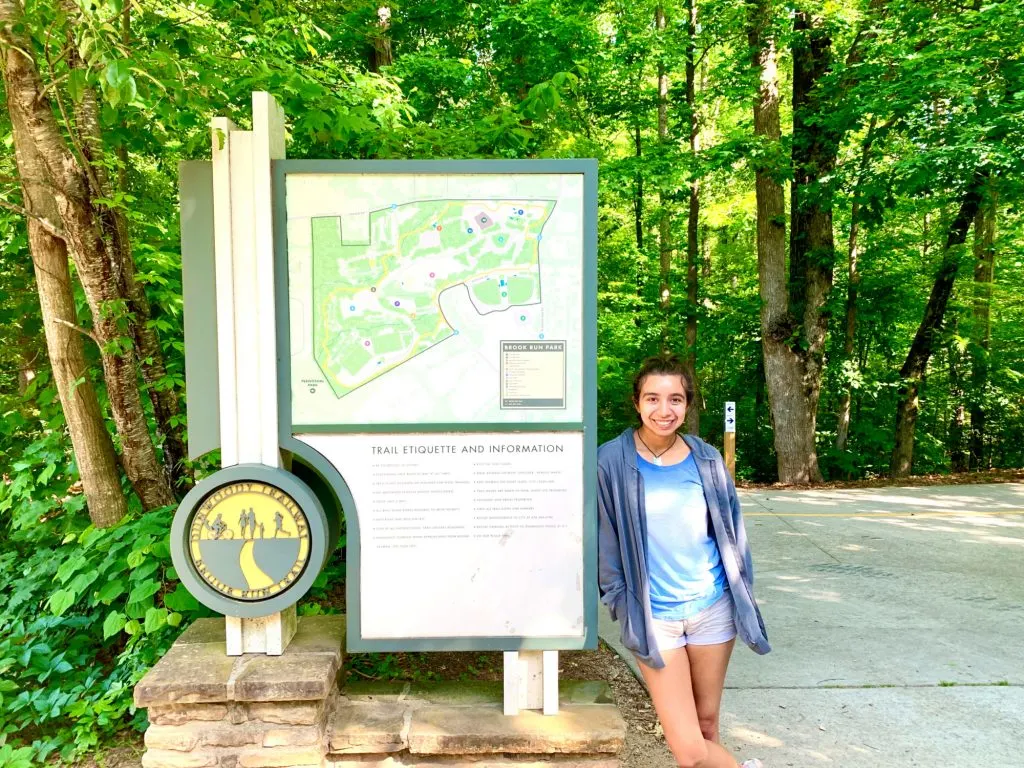 Dunwoody, GA, literally 25 minutes north from Atlanta proper, is an outdoor-lover's haven. If the kiddos love spending time outdoors, there are plenty of gorgeous green spaces ideal for exploring.
If I had to pick a favorite place, it's Dunwoody Nature Center. Offering gardens to walk through, hammocks in the woods to relax, and a giant playground, pack a snack or a meal and be prepared to spend hours enjoying the fresh air.
Next stop: Brook Run Park. Offering hiking and walking trails, a dog park, and even a Tree Top Quest canopy tour, the space is calm and makes for a great respite from the busy city.
Adjacent to the Crowne Plaza Atlanta Perimeter at Ravinia is Gorla Ravinia Park. Another gorgeous green space, it's filled with easy walking trails and pretty landmarks including water features and statues.
For tweens and teens, after your busy outdoor day head to Angela Michael Skincare Spa to relax and recharge. Walking inside, it's an instant feeling of calmness and serenity, ideal for mother-daughter time.
Rome, GA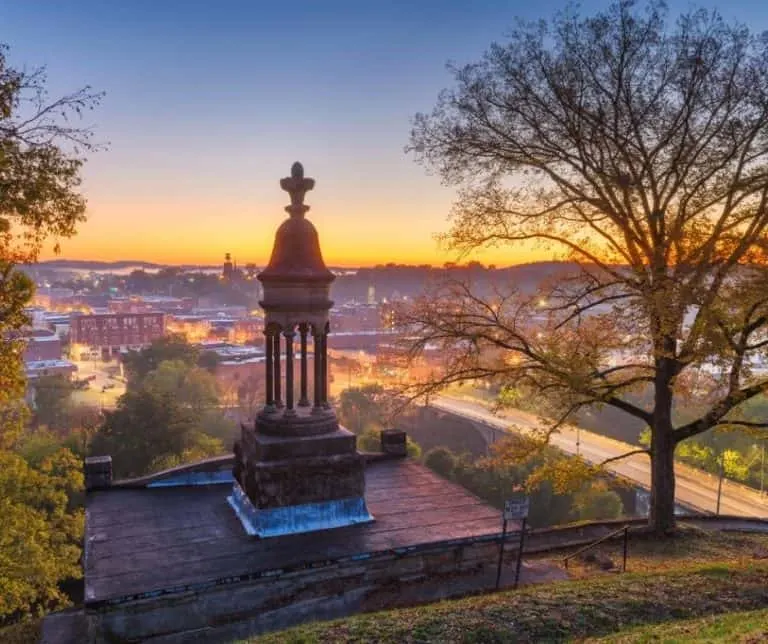 A little over an hour north of Atlanta is the town of Rome, GA. Don't skip this often overlooked haven for family fun. Three rivers and winding trails make Rome a wonderful place to explore the outdoors.
Visit animals at ECO River Education Center. Explore Berry College, with a rich history and wonderful hiking trails. Cave Spring is nearby and Rolater Park is a must stop for gorgeous scenery and picnicking.
Visit the Cheftains Museum or see a game of Minor League baseball with the Rome Braves.
Athens, GA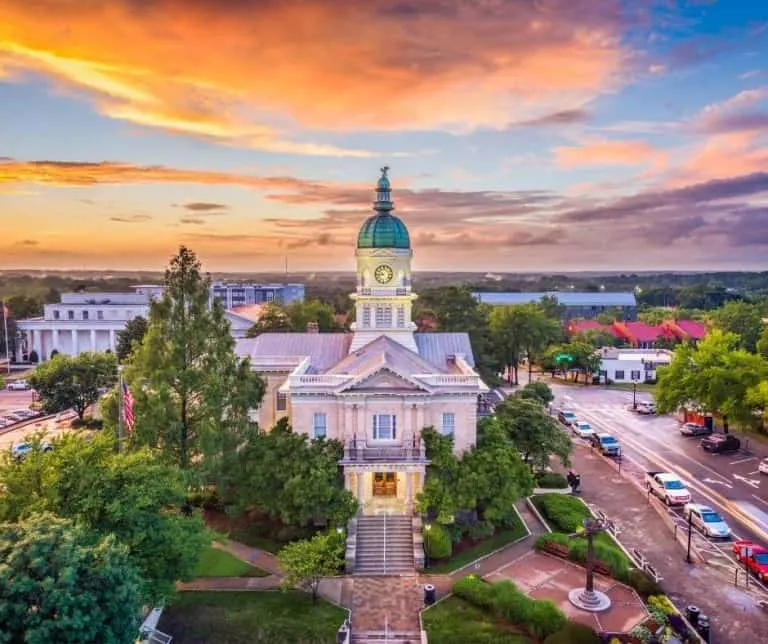 Athens, home of the University of Georgia, often conjures images of a southern college town, but it also beckons families to explore.
Foodies will love the myriad farm-to-table and organic restaurants, like Clocked or 5&10. Bear Hollow Zoo is a secluded (and free) respite with shady walks and animal encounters.
Sandy Creek Nature Center sprawls over 225 acres, with trails, wildlife, a long cabin, and family-friendly programs.
Older kids will love the Tony Hawk-designed skate park at The Skate Park of Athens, while younger kids can play at the World of Wonder, the largest volunteer-built playground in the state!
Locust Grove and Macon, GA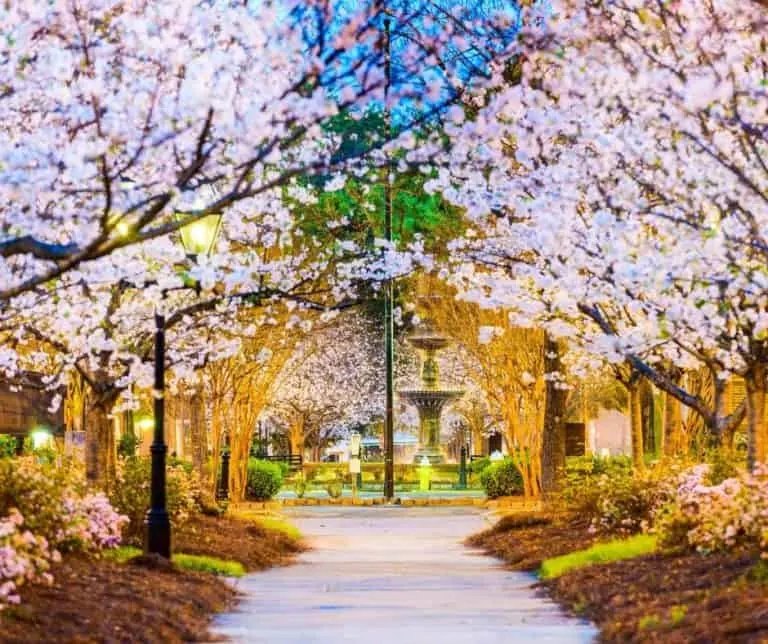 Venture south of the city of Atlanta for more family fun. In Locust Grove, GA, kids will enjoy Noah's Ark Animal Sanctuary. This free outdoor "zoo" is an animal rehabilitation center, and it houses the famous lion, tiger, and bear that live together as friends.
Another hour south and you're in Macon, GA. This area boasts the Warner Robbins Aviation Museum, with hundreds of planes, Dauset Trails, where kids can hike and learn, and the Macon Museum of Arts and Sciences with excellent exhibits for kids of all ages.
Macon also contains the state's largest collection of African-American history, art, and culture, including the Tubman African-American History Museum and a fun Otis Redding Statue. Finally, don't miss getting your Junior Ranger Badge at the Ocmulgee National Monument, with Native American earthworks over 1,000 years old.
Looking for even more day trip ideas from Atlanta? Check out these seven fabulous day trips from Atlanta, Georgia.
Special thanks to Karyn Locke for updating the day trip section of this article in 2021.