What is there to do in Georgia with kids? Whatever your family's flavor of fun, it is bound to be found among the peanuts, peaches, and charm of The South. There are so many fun things to do in Georgia! Mountains, coastline, lakes, and swamps beckon families to this destination in Dixie.
Use this guide put together by a true Georgia expert to plan your Georgia family vacation.Visit Atlanta, the metropolis of the South. Tour Rockefeller's vacation home on the coast, or canoe through a menace of alligators and Spanish moss.
Descend into muddy caves, or rise to the top of the largest granite outcropping. Ride through the mountains on an antique rail, or saunter the streets of The Walking Dead. But wait, there's more! Here are the top 10 fun things to do in Georgia with kids.
Fun Things to do in Georgia with Kids on a Family Vacation
1. See the Stomping Grounds of Stars in Ya'llywood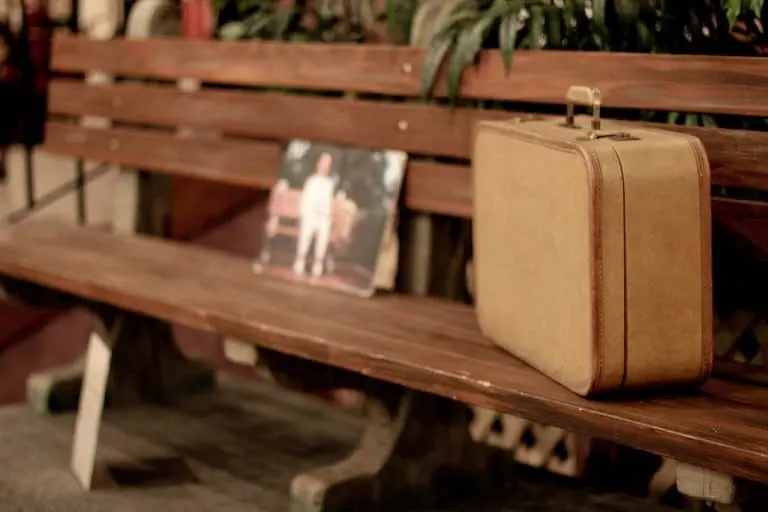 Did you know that over 700 movies have been filmed in Georgia since the 1970s? Georgia is quickly becoming the Hollywood of the South, with much more to offer than 1973's Deliverance.
Visit Savannah to sit on Forrest Gump's famous park bench, or tour grave-sites from Midnight in the Garden of Good and Evil. Senoia is home to The Walking Dead, Diving Miss Daisy, and Drop Dead Diva. See film locations new (Vampire Diaries) and old (Dukes of Hazzard and In the Heat of the Night) in Covington.
The Swan House, part of the Atlanta History Center, offers "Capitol Tours" for a glimpse at the sets and artifacts used in filming the instant classic, Catching Fire.
If you are looking for information about movies filmed in and around Atlanta, make a date with Atlanta Movie Tours. Enjoy an adventure hunting zombies or following Katniss; or take the Film Site Tour for a sampling of fun filming locations, including stops for such films as Gone With the Wind, The Walking Dead, and even Anchorman 2.
2. Experience the Southern Charm of Savannah and Tybee Island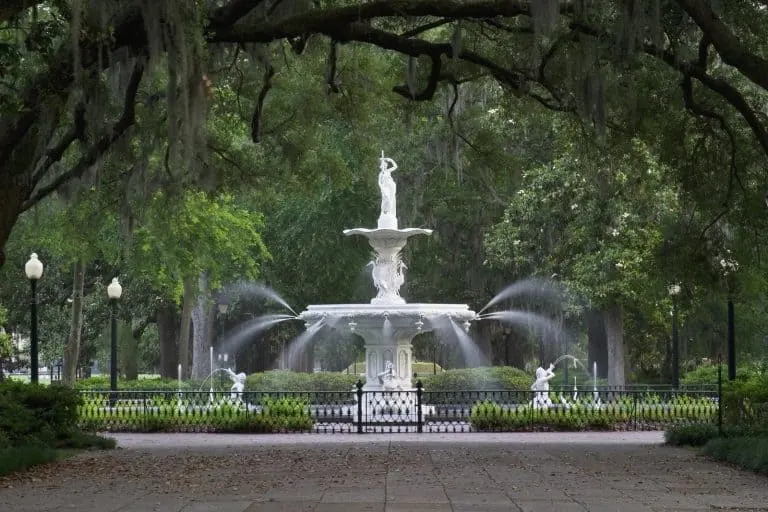 Savannah is Georgia's oldest city, and it holds the moniker "number one city for quality of life and visitor experience" by Travel + Leisure. Settle into this slow Southern town with a Dolphin Magic Tour. Or, visit land animals along the trails at Oatland Island Wildlife Center.
Take a stroll along Historic River Street, and plunge further into the historical significance of Savannah at Old Fort Jackson and Roundhouse Railroad Museum. Older kids will enjoy the guided tours, including those that investigate the paranormal in "America's Most Haunted City."
Take the younger children to Savannah Children's Museum, an outdoor one-acre opportunity for kids to engage in over a dozen educational exhibits. Traveling with a Girl Scout? Visit Juliett Gordon Low's birthplace. Check out this post about the history of Savannah before visiting.
Here is where to stay in Savannah's historic district.
A 30-minute drive southeast of Savannah is Tybee Island, also known as Savannah's beach. Three miles of uninterrupted beach make it a fun destination for the entire family. If you need a break from the sand and surf, try the Light Station and Museum. Marine Science Center is another educational stop.
Finally, don't miss a stop at the pier. Fishing and people watching are regular activities; check the calendar for live music and festivals also. Planning an extended stay on Tybee Island? Check out these 27 relaxing and fun things to do in Tybee Island on a family vacation.
Looking for a place to stay? Check out these kid-friendly hotels in Savannah.
Find deals on family-friendly hotels on Tybee Island.
3. Paddle Through a Swamp and Enjoy Georgia's Water Wonders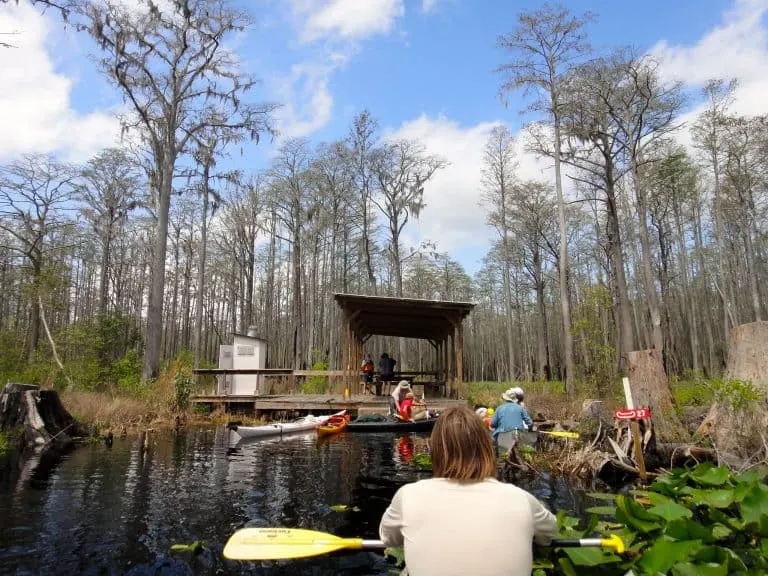 LanierWorld Water Park is a popular attraction in the summer, along with several other parks and beaches along almost 700 miles of Lake Lanier shoreline. Families establish camp at 12 different locations, ranging from luxurious lakeside to primitive back country sites.
Three trails on the south side near Buford Dam will keep your family busy for an afternoon. Cool off in one of 20 swimming locations, spend an afternoon fishing along the shore, or take in one of the seasonal festivities. Our family favorites are the Dragon Boat Festival, Rubber Duck Derby, and Magical Night of Lights.
Check for deals on family-friendly hotels near LanierWorld Water Park
Okefenokee National Wildlife Refuge protects the Okefenokee Swamp, one of the seven wonders of Georgia. Families can see the sites along Swamp Island Drive, including The Pond, Discovery Trail, and Chesser Island.
The adventure of a lifetime awaits families with older kids: a paddle trip through the swamp. Make it an overnight experience, roughing it at one of nine designated shelters in the swamp's interior. Aside from gators, you'll want to keep an eye out for the paranormal. Visitors to Okefenokee have reported UFO sightings, alien abductions, Big Foot sightings, and the South Georgia Pig Man.
Sapphire blue waters collect at Radium Springs, just south of downtown Albany, Ga. 70,000 gallons of water per minute flow into this spring, another of Georgia's Seven Wonders.
It was a popular swimming hole for generations with constant 68-degree water, 120 species of fish, and gorgeous color derived from hints of radium in the water. Today, visitors cannot swim here, but you'll still want to visit Radium Springs Gardens. Stroll the gardens and walkway, take in the beauty of the historic ruins, and glimpse the mineral waters thought to bring healing to many.
Kids will enjoy a visit to Flint Riverquarium, also in Albany, which is one of the only open-air aquariums in the world.
4. Experience Small Town Gems on Your Georgia Family Vacation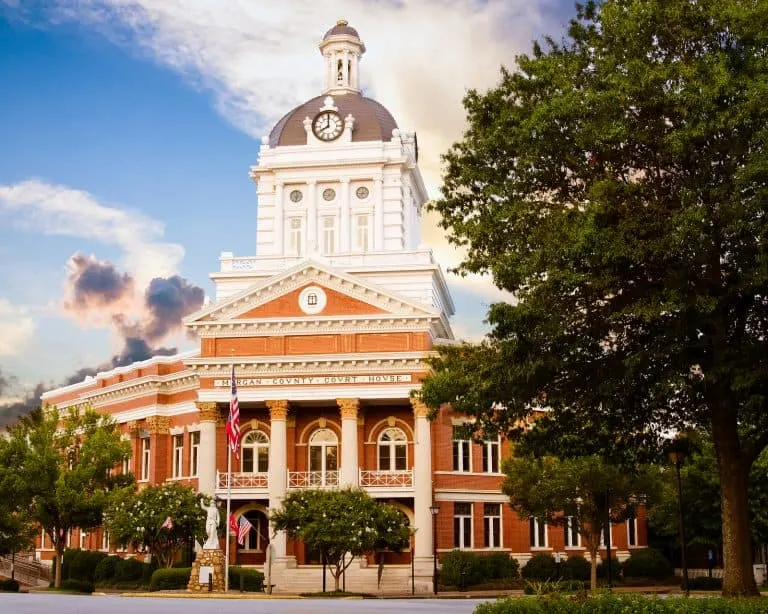 The south is packed with small town gems eager to be explored. Historic Roswell, GA is home to a number of delectable eateries where families are always welcome. After lunch, get some ice cream at Sweet!, and then make your way to Chattahoochee Nature Center for outdoor educational fun.
Warm Springs, GA is home to Roosevelt's Little White House. A few days each year kids six and older can swim in the warm springs. Explore history even further in Cartersville, GA. Stop at Booth Western Art Museum, Tellus Science Museum, and Etowah Indian Mounds.
Athens, GA is more than a college town- go Dawgs! Experience the animals at Bear Hollow Zoo, take a Friday night paddle around the lake at Sandy Creek Nature Center, or hit The Skate Park of Athens, designed by the legendary Tony Hawk.
Athens was recently named one of the "7 Best Cities for Organic Food". The best places to take the kids for this experience include 5&10 (white tablecloths, but kid-friendly), Clocked! for organic burgers, and Ted's Most Best for wood-fired pizzas.
Next, travel to Madison, GA, which Travel Holiday Magazine named the #1 Small Town in America and The Prettiest Small Town in America. It is no wonder, with nearly 100 carefully restored antebellum homes dotting the town.
5. Head up to Pine Mountain and Experience Callaway Gardens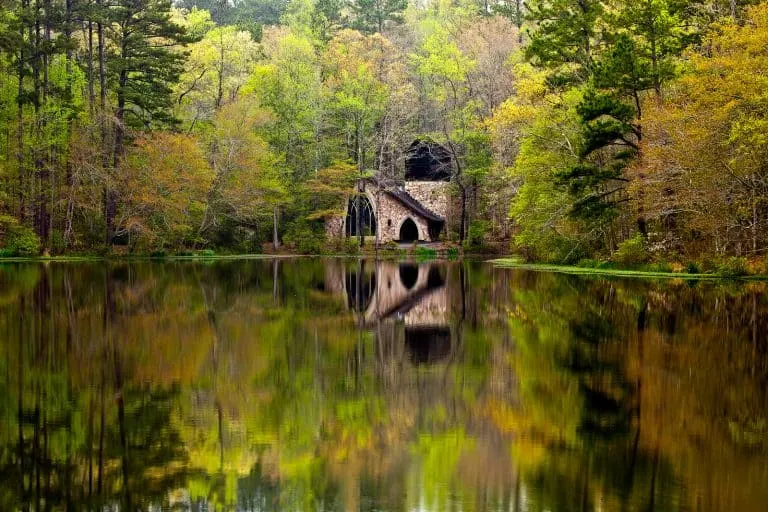 Callaway Gardens sits in the Appalachian foothills of Pine Mountain, Georgia. Escape the busyness of the city in this 14,000-acre garden, brimming with diverse plant and animal life.
A visit in spring necessitates riding bikes across the 10-mile Discovery Bike Trail, or flying through the air at Treetop Adventures. It features 10 zip lines and 34 suspended-surface challenges.
Summer brings excitement at Robin Lake Beach with water skiing, wakeboarding, and tubing. Visit the gardens and butterfly center, see the wildlife, stay at the inn, the cottages, or the lodge.
In winter, don't miss the eight-million light holiday extravaganza. Fantasy in Lights ranks as one of the best light shows in the world by National Geographic Traveler.
Minutes from Callaway Gardens, zebras, camels, and other exotic animals anxiously await your visit. Wild Animal Safari allows you to drive through the animal park for a personal appointment with their furry friends. Once your driving tour is complete, grab a bite to eat at the restaurant, tour the gift shop, and see more animals at the mini zoo.
Finally, don't leave without a hike on the Pine Mountain Trail. This 23-mile footpath is a connection of eight looping trails that weave you in an out of Franklin Delano Roosevelt State Park and near Callaway Gardens. Pass by streams, waterfalls, and rock outcroppings brimming with wildlife and wildflowers. Young children can enjoy several sections of the trail, including a hike to one of the falls.
Escape today! Book a hotel in Pine Mountain, GA
6. Visit Georgia's Islands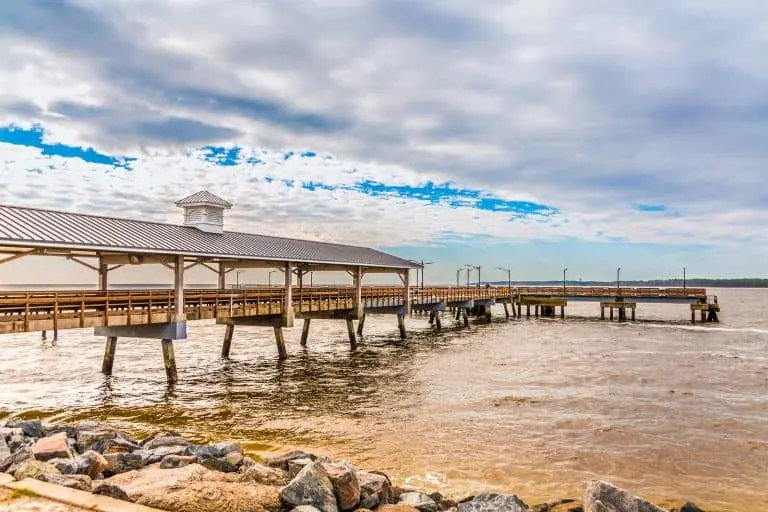 Escape to the four barrier islands on Georgia's coast for a week of beach fun. On Saint Simons Island, stroll Pier Village to watch the dolphins play in the water. Climb the lighthouse for a view of the Atlantic, and fly a kite on one of several public beach locations around the island.
Take the suspension bridge a few short miles to Jekyll Island for more beach play. Long ago, the Rockefeller family and other wealthy Americans regularly vacationed here. Today you can tour their homes. Visit the Georgia Sea Turtle Center where these gentle giants receive care and rehabilitation before being set free again. Tidelands Nature Center is an economical way to learn about the island's sea life.
Brunswick, GA is another of the islands, arguably named for being the home of Brunswick stew. Here you will want to perform your own BBQ taste-test, and take an outing on the Lady Jane Shrimp Boat Excursion.
Not far from the Golden Isles is Cumberland Island, named a 2014 "Top 10 US Travel Destination" by Lonely Planet. Imagine 17 miles of secluded, sandy beaches.
On this National Seashore, people may only visit without their cars or bikes; animals rule the island. Horses run free on the beach, and within the inland forest, you will find armadillo and alligator, as well as the remains of the Carnegie Estate.
Find Hotel Deals in the Barrier Islands: Jekyll Island | Saint Simons Island | Brunswick
7. Explore Georgia's Stone Mountain and Remarkable Canyons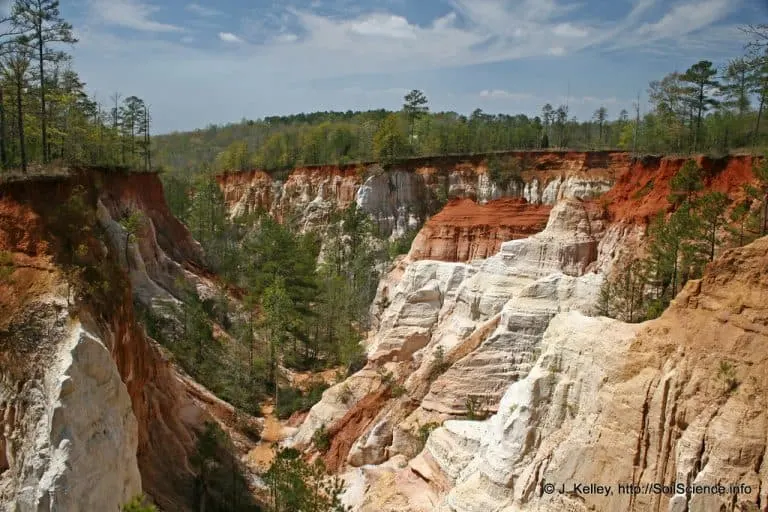 Marvel at 825 ft of monstrous granite from within Stone Mountain Park, Georgia's most popular attraction. Play in the water at Geyser Towers, make your way through the world's largest adventure course, or take a cable car to the top of the granite outcropping for a closer look at the carving.
See the sites on the scenic train that encircles the five-mile mountain base. Family festivals regularly dot the calendar, including the Yellow Daisy Festival or Stone Mountain Christmas. Make a weekend of the sites and events by staying at one of the on-site accommodations, or get back to nature at the Stone Mountain Campgrounds.
Providence Canyon State Outdoor Recreation Area, also known as Georgia's "Little Grand Canyon", testifies to the impact man has on Mother Nature. Gullies as deep as 150 feet uncover a rainbow of color in the earth, shining red, pink, orange, and purple like a painter's masterpiece.
Poor farming practices in the 19th century created the relief that hikers and campers now explore. A trip to the canyon's bottom rewards hikers with magnificent fossils in what used to be the ocean's floor.
Magnificent canyons call from northwest Georgia, as well, at Cloudland Canyon State Park. It hails as one of the most scenic state parks in Georgia. Expansive views of the canyon and gulch are visible only a short walk from the picnic area.
Explorers can trek several trails along the rim, or take the 600 steps to the floor to indulge in views of two waterfalls cascading over the shale into a pool below. My favorite part of Cloudland Canyon is Cave Tours with Georgia Girl Guides. Get wet and muddy on this guided, family-friendly wild cave tour.
8. Fall in Love With the Blue Ridge Mountains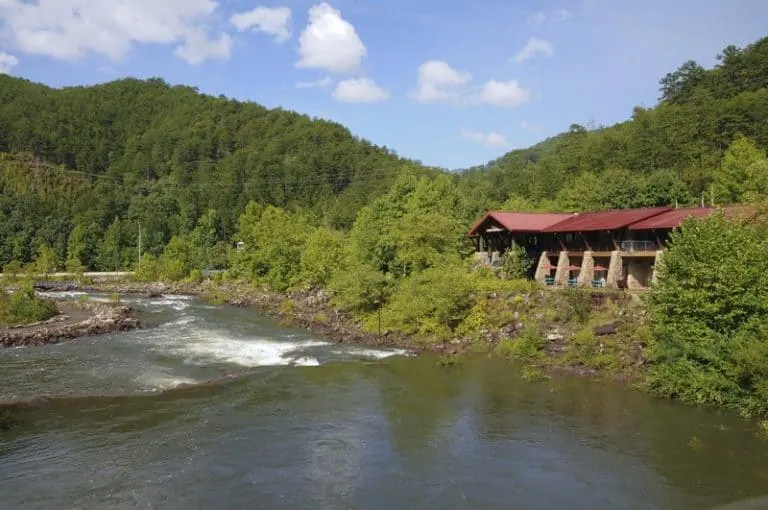 The southernmost 100 miles of the Blue Ridge Mountain range calls Georgia "home". Our favorite way to see the range is via the Blue Ridge Scenic Railway. The 45-minute excursion (each way) starts at the historic 1905 depot in Downtown.
Vintage climate controlled rail cars or open-air rail cars wind alongside the Toccoa River, with a stop in Copperhill/McCaysville – a town with two names because it is split by the GA/TN state line. Here visitors have a two-hour layover, with plenty of time to eat lunch, shop for unique crafts and antiques, snack on ice cream, or walk over the town's old bridge.
Mercier Orchards is a family run business that has been serving the Blue Ridge area for over 70 years. Most famous during the apple-picking season, you won't want to miss the farm for blueberry and strawberry pickings, fishing, bakery and deli goods, and the farm winery.
South of Mercier is the mountain town of Helen, GA. Seek out a souvenir from main street's many shops while German music on the outdoor speakers completes the mood. See the world's largest Alpine railroad museum, hear the roar at Black Forest Bear Park, play a round of adventure golf, and taste delicious homemade ice cream and other southern sweets.
There are myriad ways to explore the mountains in an outdoor adventure. Amicalola Falls State Park provides three entry points for hikes that ensure kids of all ages can see the highest cascading waterfall east of the Mississippi. Walk along their 12 inter-weaving trails, including portions of the Appalachian Trail.
Tallulah Gorge State Park features a canyon two miles long and nearly 1,200 feet deep. Hike the rim or the gorge floor, or walk the suspension bridge swaying 80 feet above the rocky bottom. A paved path makes an ideal hike for strollers or bicycles. If you're ready to get wet then take a whitewater ride on the Ocoee River, the venue for the 1996 Olympic whitewater events.
Guide: Family Fun in Blue Ridge Georgia with Kids
9. Take a Train Ride in Georgia with Kids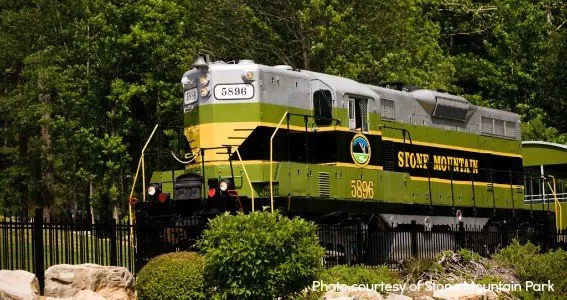 Railway construction began in Georgia in the 1830s. By 1850 Georgia had more rail miles than any Southern state, and continues to be a rail leader today.
Chug-a-chug-a-choo-choo on the SAM Shortline Train Ride. This rail adventure is part of the state parks department, with a number of excursions available including Archery Depot where you can see Jimmy Carter's birthplace, or Leslie, Ga, home of the Rural Telephone Museum.
Visit the Folkston Transportation Museum and Folkston Funnel where you can see a double track with trains heading into and out of Florida. Along the coast, visit Savannah Roundhouse Railroad Museum – the largest and most complete prewar railroad repair facility in the world. Diesel and Steam cab rides are available.
Closer to Atlanta, families can visit the Southeastern Railway Museum. Here visitors mingle among 90+ items of stock including Pullman cars and steam locomotives. Many train cars and other equipment pieces beckon you to walk about the inside. You will not want to miss a ride on the restored cabooses pulled by an antique diesel locomotive.
Blue Ridge Scenic Railway offers a more leisurely option: a four-hour round trip ride in the Blue Ridge Mountains, to the Tennessee border. Spectacular any time of year, this ride astounds visitors during the peak of fall color. Finally, visit Stone Mountain Park's scenic railroad. The half-hour trip hauls passengers on a 5-mile excursion around the mountain.
10. Spend the Weekend in Atlanta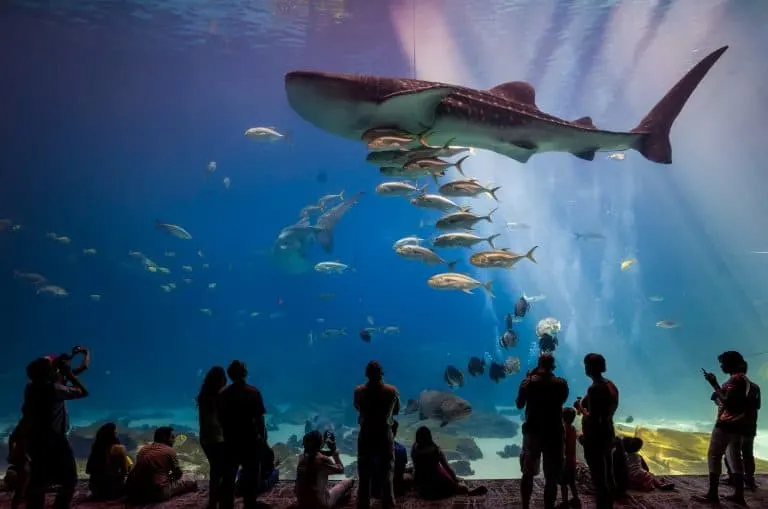 Atlanta is the unofficial capital of the South. Discover Atlanta's myriad attractions for the entire family, truly a city for all ages.
Visit Georgia Aquarium, the world's largest aquarium with over 8 million gallons of water. Don't skip Dolphin Tales, the live dolphin show.
The smiles continue across the street at World of Coca Cola. This sustainable green building showcases the legacy of Atlanta's signature drink with a 4D show, a visit to The Vault, a photo op with the Coke Polar Bear, and Coca-Cola Freestyle where you can taste coke products from around the world.
Trekaroo is a CityPass affiliate. Buy discount tickets for the most popular attractions for families in Atlanta, including Zoo Atlanta, Georgia Aquarium, and World of Coca-Cola.
Also in this area are the Children's Museum of Atlanta and Centennial Olympic Park where you can play in the dancing fountain, and enjoy a ride on Skyview Atlanta, a 20-story Ferris wheel with great views.
Outside the city-center, imaginations run free and science comes alive at Fernbank Museum of Natural History. At the Atlanta History Center, kids can hike the Connor Brown Discovery Trail, interact with historical figures in the Tullie Smith Farm or the Swan House, and participate in a number of kid's programs.
While Tellus Science Museum is north of the city by a few miles, you will not want to miss it. This science museum includes dinosaur exhibits, space artifacts, a dinosaur dig, mineral grubbing, a hands-on children's science center, and a planetarium with shows focused on kids. Finally, round out your adventure with a visit to the MLK Jr. National Historic Site, where kids can learn about the important Civil Rights stand taken in this historic city.
We've assembled our favorite Atlanta experiences for families: Top 10 Things to Do in Atlanta with kids.
Trekaroo has hundreds of guides for locations all over the United States and Canada.
Thank you to ExploreGeorgia.org for their assistance in the compiling of this article.