Last Updated on
Trekaroo generates revenue from purchases made through links to our partner brands.
With the current"Every Kid in a Park" initiative, which provides a pass to US national parks to 4th graders, and the Centennial celebration of the US National Park Service, most families are familiar with the 59 United States national parks. However, did you know that there are over 6,000 state parks across the United States? The waterfalls, mountains, forests, and beaches of many of these state parks rival that of our 59 national parks. In addition, most of these state parks are smaller and more accessible to families than the vast areas protected by the National Park Service. As we've taken road trips across the United States, Trekaroo families found the top 10 best state parks with spectacular scenery as well as kid-friendly beaches, trails, and lakes.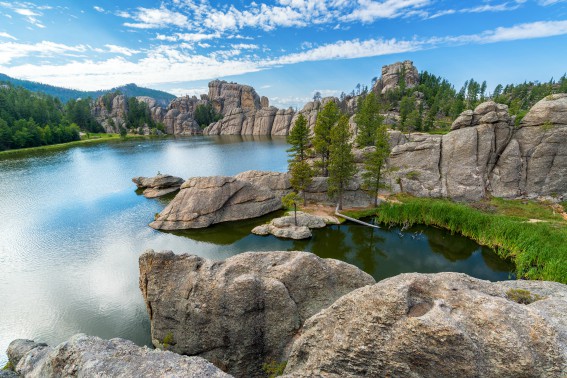 Top 10 Best State Parks in the USA for Families that Rival National Parks
Custer State Park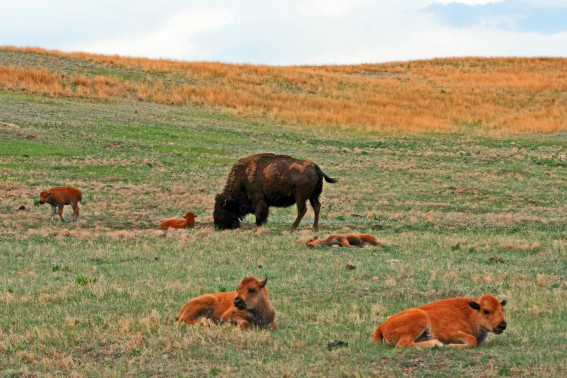 Photo by: Bigstock/htrnr
South Dakota's Custer State Park is nearly surrounded by some of the United States' most recognizable National Park sites, like Mount Rushmore National Memorial and Badlands National Park. Yet, its Wildlife Loop Road, roaming herds of bison, granite peaks and brand new visitor center opened in May 2016 easily rival the sights seen in the nearby national parks. Trekaroo families, who consistently give Custer State Park a five star rating, recommend starting early in the day, packing a picnic lunch, and stopping for a swim at Sylvan Lake when visiting this park in southwestern South Dakota's Black Hills.
Looking to include Custer State Park in An Epic Road Trip from Chicago to Yellowstone? Trekaroo has the perfect itinerary for you.
Itasca State Park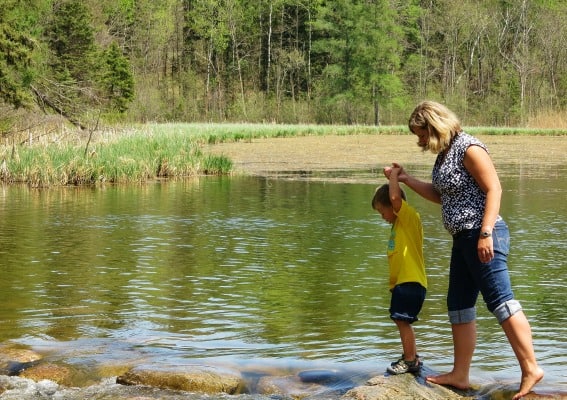 Photo by: Melissa Moore
Crossing the Mighty Mississippi River is a true highlight of any cross country road trip. But, did you know that you can actually walk across this natural landmark? Head north, way north, to Itasca State Park, Minnesota's oldest state park, where kids of all ages can hop across the rocks separating Lake Itasca from the entrance to the Mississippi River. There's a visitor center with a topographical map of the river reaching from Minnesota to Louisiana and plenty of opportunities to wade in the tiny river when it's no larger than your neighborhood creek.
Want to know what else to see while you're in Minnesota? Check out Trekaroo's Top 10 Things for Families to do in Minnesota.
Silver Falls State Park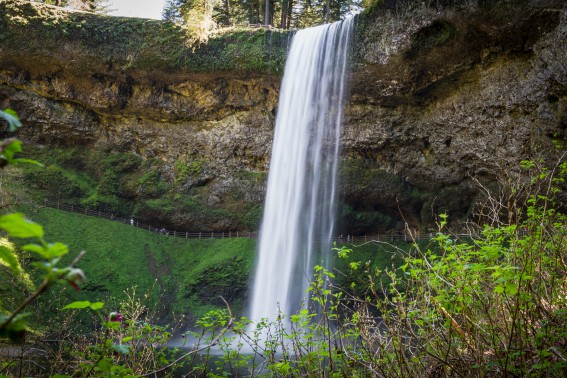 Photo by: Bigstock/wollertz
The Pacific Northwest is known for its evergreen forests, spectacular waterfalls, and idyllic campgrounds. So when Trekaroo editors and families recommend Oregon's Silver Falls State Park as one of their favorites for beautiful, accessible waterfalls and camping cabins along a creek, that's quite an endorsement! Silver Falls State Park, located just east of the state's capital in the foothills of the Cascades, is one of the state's largest and most popular parks, yet the 7.2 mile Trail of Ten Falls only seems to get crowded on the occasional weekend making it the perfect stop along your family's I-5 road trip.
Silver Falls State Park is one of Trekaroo's Top 10 Waterfalls for Families. Go check-out which other waterfalls made the cut.
Letchworth State Park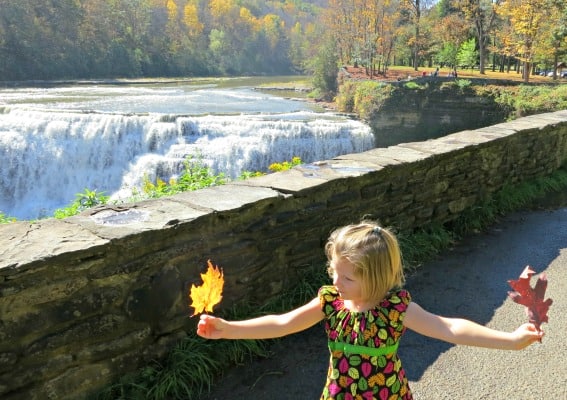 Photo by: Melissa Moore
Driving through the rolling farmland of Western New York between the vineyards of the Finger Lakes and the thundering Niagara Falls, you'd never imagine that you're only minutes from the gorge that is often referred to as the "Grand Canyon of the East." As the Genesee River flows north towards Rochester and Lake Ontario through the 17 miles of Letchworth State Park, it cascades over three spectacular falls. All of the trails are easily accessible by kid-friendly trails.
While I actually prefer the falls at Letchworth, you really should head up to Niagara if you're in Western New York. There's so much to do at Niagara Falls that you'll definitely want to read Trekaroo's Guide to Visiting Niagara Falls with Kids before crossing the border.
Goblin Valley State Park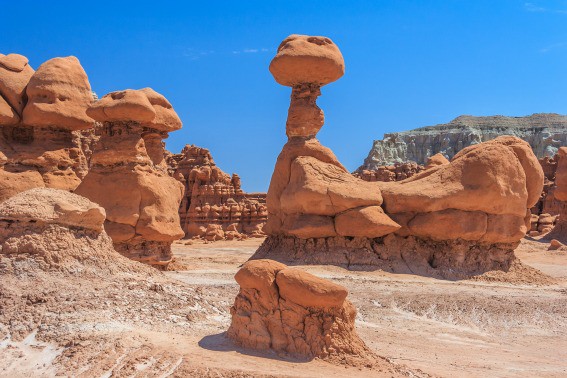 Photo by: Bigstock/amadeustx
Planning a family vacation through Utah? You'll quickly discover that Utah has a grand total of five national parks! Despite all the natural beauty that surrounds it, Goblin Valley State Park is a favorite for families because children can actually climb on the unique goblin-shaped rock formations. Kids love the trails that wind in a maze-like fashion through the rocks. If you're on the road discovering Utah's other parks, Goblin Valley State Park is conveniently located between Capital Reef National Park and Arches National Park.
Want to make a road trip out of your visit? Check out Trekaroo's Guide to Visiting Desert National Parks with Kids.
Caladesi Island State Park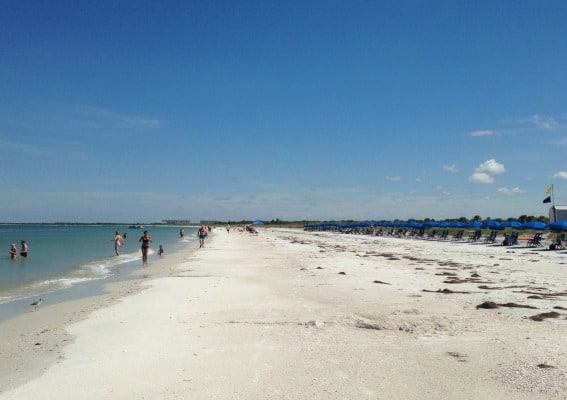 Photo by: Marisa Langford
A relaxing day at the beach is one of the best ways to spend a day outdoors with the family. The white sands and clear waters of Caladesi Island State Park easily rival those found at any of the the United States National Seashores coast to coast. This island state park is one of the few completely natural islands along Florida's Gulf Coast. While the island is most easily accessed by a quick ferry ride at the top of the hour from nearby Honeymoon Island State Park, it's only a 2-3 hours from Disney making a great place to to spend a beach day while visiting Mickey down in Florida.
Looking for a relaxing place to stay on your next Florida beach vacation? Trekaroo has a list of Secret Florida Hotels Families Will Love.
Calaveras Big Trees State Park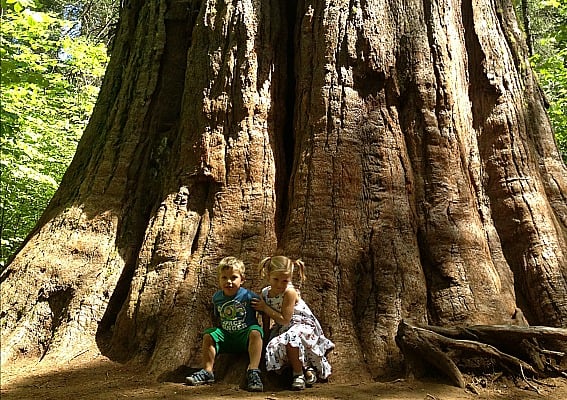 Photo by: Melissa Moore
Being a native Californian, I could easily list my top ten, or even twenty, favorite California state parks; there are a total of 280 parks across the state from the historic parks of the Gold Country to the beaches along the coast. Some of the parks are simply spectacular from the cliffs of Julia Pfeiffer Burns overlooking the Pacific Ocean at Big Sur to Angel Island sitting in the middle of the San Francisco Bay. However, in my opinion, Calaveras Big Trees State Park has it all — shockingly massive sequoia trees, a good bit of Gold Country history, and most importantly kid-friendly trails and campsites.
Interested in finding ways to make your Gold Country vacation more educational? Trekaroo's award-winning article, Road School: Take a California History Trip With Kids: Sacramento and Gold Country, is filled with inspirational ideas.
Valley of Fire State Park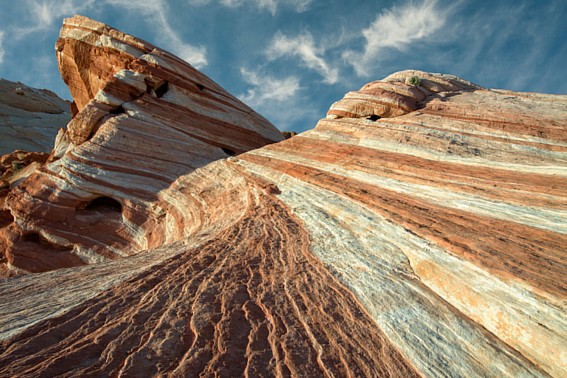 Photo by: Bigstock/raphoto
Looking for something kid-friendly to do less than an hour from Las Vegas? Trekaroo families recommend exploring one of the many kid-friendly hiking trails at Valley of Fire State Park, especially during the cooler months of the year. The red sandstone formations characteristic of Nevada's largest state park are the highlight of the .6 mile one-way Fire Wave Trail; like most trails in the park, there is no shade, so don't forget to pack plenty of water.
Don't just head back to The Strip! Take more Family Outdoor Adventures in Las Vegas.
Franconia Notch State Park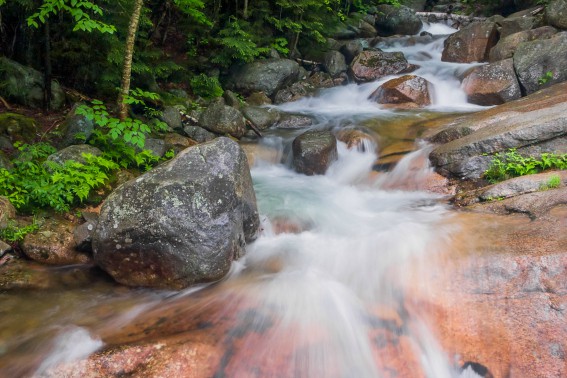 Photo by: Bigstock/KennethKeifer
Nestled in the White Mountains of New Hampshire, Franconia Notch State Park has it all: waterfalls, an aerial tramway up to the summit of Canon Mountain, winter-time ski slopes, a lake for summer-time swimming, mountain biking trails, and more. The Flume Gorge, this park's popular headline attraction, is a short kid-friendly hike through a natural gorge past flowers, ferns, and cascades. Within a few hours' drive of most of New England's cities, New Hampshire's Franconia Notch State Park is a favorite weekend getaway especially during the fall when the leaves turn brilliant red, orange, and yellow.
There's so much more to do in New Hampshire's White Mountains! Find out about it all by reading Trekaroo's Fall Family Fun in the White Mountains.
Cape Henlopen State Park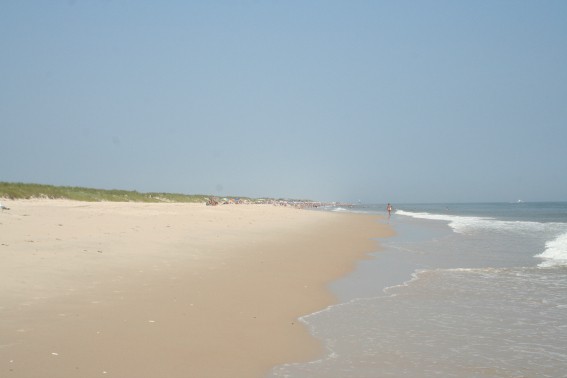 Photo by: Bigstock/mfarling
A long natural beach, lighthouses and a historic fort make Delaware's Cape Henlopen State Park a favorite beach destination for Mid-Atlantic families. The park has beaches on both an inland bay and the Atlantic Coast, so if the surfs up, there's still a place for little ones to wade. Families love the Gordon Pond hiking trail and the park's borrow-a-bike program that allows families to bike the parks fantastic trails without bringing their gear from home.
Looking for some more family-friendly beaches on the Eastern Shore? Read about Trekaroo's favorite Family-Friendly Eastern Shore Getaways in Maryland and Virginia.
Check out more State Park fun:
Featured photo by: Shutterstock