Did you know that Maine is bigger than all the other states in New England combined? A Maine road trip is a great way to get to the state.
A Maine family vacation is a classic New England experience that should be on every family's bucket list. New Englanders have been heading north annually for generations to enjoy small town charm, lovely beaches, and plenty of time outdoors.
So, what should you include on your summer Maine road trip itinerary? From the Portland Head Lighthouse on Cape Elizabeth to Acadia National Park and rafting the Kennebec River, we have the ultimate Maine vacation itinerary.
Read on and start planning on your own road trip to explore the northeastern reaches of the United States.
Our Ultimate 7 Day Maine Road Trip Itinerary
Maine Road Trip Day 1: Spend Time in York Beach or Ogunquit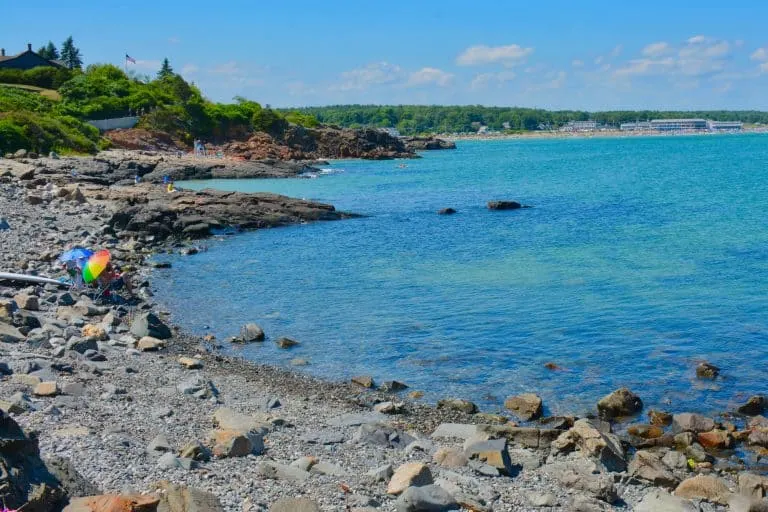 Every good Maine road trip needs a day (or weekend) at the beach. Maine's beaches have refreshing, clear water that is perfect for cooling off on a hot day.
Also, the extreme tides in this region tend to leave behind shallow pools of water that warm in the summer sun. These shallow pools are the great places for tots to splash around and play.
Where are the Best Beaches in Maine for a Family Vacation?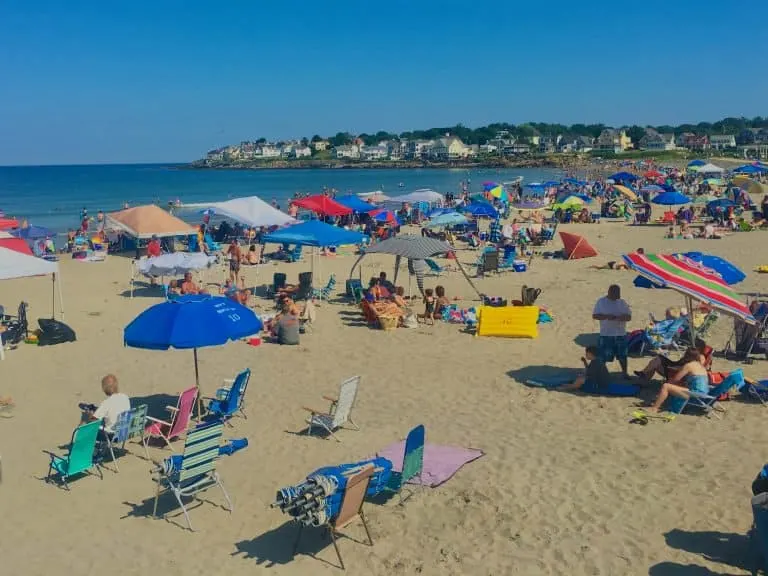 Driving up the coast from New Hampshire and Massachusetts, the sandy beaches in York are some of the first Maine beaches that you will discover on your Maine road trip.
York has a reputation for being one of the most family-friendly areas along the coast of Maine due to its classic beach arcade, Fun-o-Rama, just steps from the sand at Short Sands Beach.
Kids love taking a break from the sun and the waves to play a game of pinball. Parents are sure to feel nostalgic challenging their kids to a couple of rounds of Skee-Ball for only a quarter each round.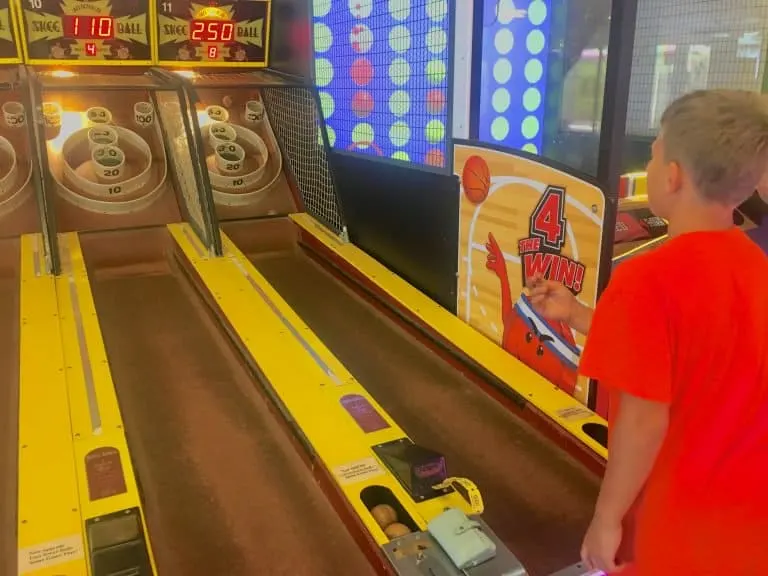 No trip to the beach is complete without a sweet treat. Continue to enjoy York Beach's nostalgic beach vibe by watching the taffy pull in the window of The Goldenrod.
The smell of molasses wafts through the air bringing you right back to your childhood trips to the beach. We simply couldn't resist buying a package.
This taffy is some of the chewiest saltwater taffy that I have ever enjoyed. Since you are in Maine, be sure to get some blueberry taffy, it's the best!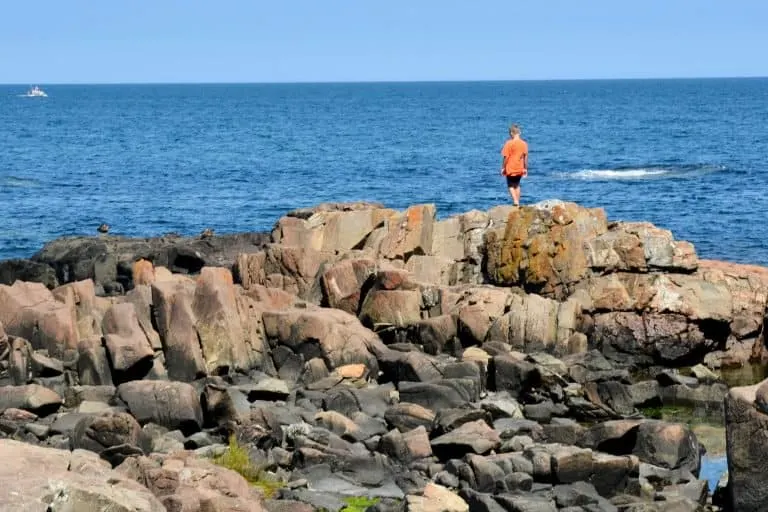 Another great beach option is Ogunquit. The more upscale village of Ogunquit is just a short 20-minute drive up Shore Road through Cape Neddick from York. There are many resorts in Ogunquit. It's a busy place in the summer months.
Even if you do not stay in Ogunquit, do make sure to take a walk at Marginal Way. It's of the best coastal walks in the entire state of Maine. There are several small coves along the Marginal Way where families can enjoy a swim.
What sweet treat should you be sure to enjoy in Ogunquit? Be sure to get a scoop or two of Rococo's Ice Cream at their shop in downtown Ogunquit.
Known for globally-inspired, handcrafted ice cream, foodies will not want to miss out on tasting a scoop of Rococo's Earl Grey, Rose Hip Jam and Pistachio ice cream or one of their unique blueberry flavors. Fourteen flavors are available in the shop each day.
Maine Road Trip Day 2: Drive 2 Hours to Portland Maine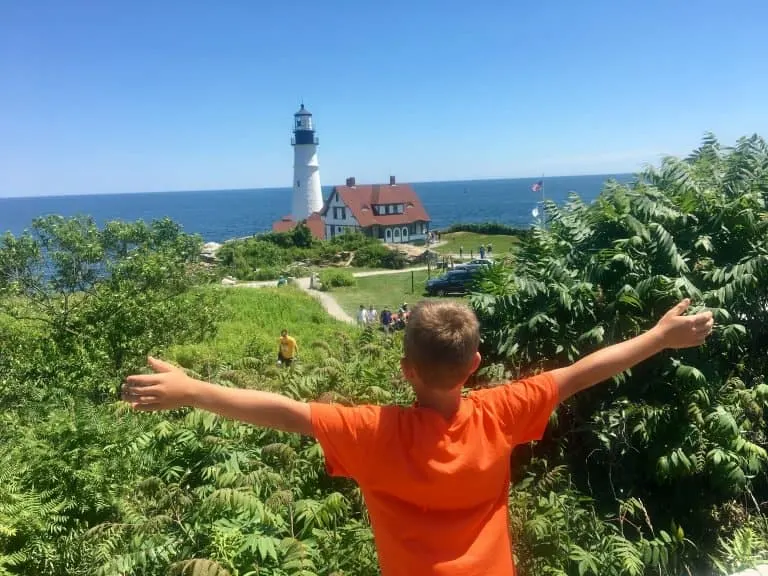 There are many coastal towns to visit when driving north on a Maine road trip. However, you'll certainly want to make a stop in Portland, about an hour from Ogunquit.
In Portland, you can eat lunch or pick up some food for a picnic. Portland is a foodie destination so you'll have your pick of restaurants from lobster shacks to pizzerias.
We kept it simple opting for a slice of pizza from the Micucci Grocery Store. The Micucci Grocery Store sells Sicilian pizza by the slice. These slices are huge! One is certainly enough for two children to share.
They also have a full assortment of sodas imported from Italy. We took our two huge slices to go and drove 20 minutes out to Cape Elizabeth to enjoy the view of the Portland Head Lighthouse as we ate our lunch.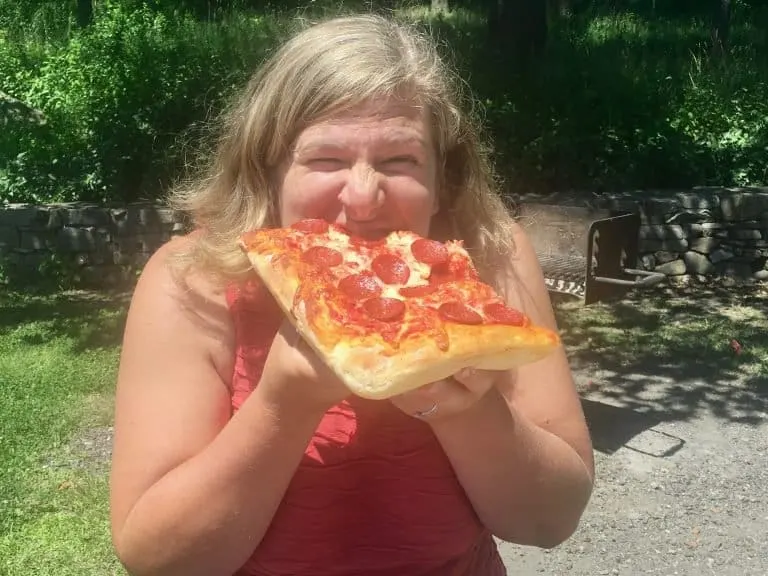 If there is one stop that you must make on a Maine road trip, it is at Fort Williams Park in Cape Elizabeth to photograph the Portland Head Lighthouse.
The lighthouse is still operational so visitors can't go inside. However, there are many paths for walking around the park to enjoy the views. Also, kids will love jumping around on the rocks just south of this iconic lighthouse.
What Should You do in Portland, Maine with Kids?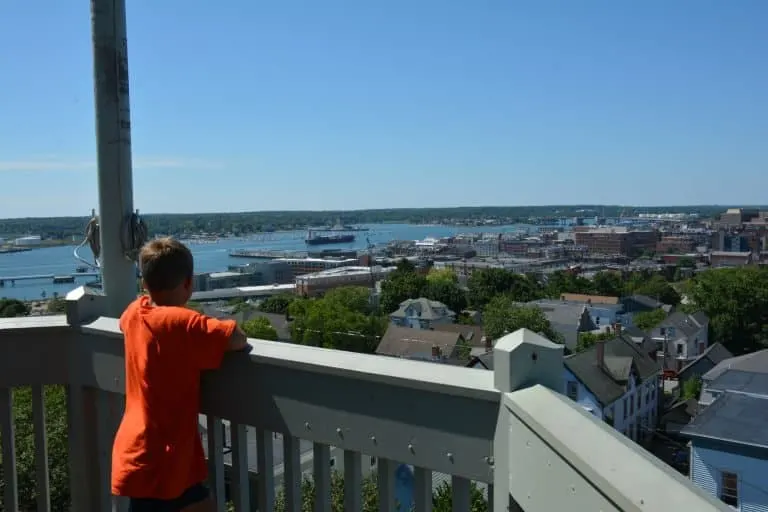 If you have more time to spend in Portland and want to experience a bit of the city's history, climb to the top of the Portland Observatory. From the Observatory, visitors can see in every direction.
The Observatory is not a lighthouse; rather than giving out a signal, it signaled which ships were entering and leaving the Portland Harbor.
From the Portland Observatory, take a stroll down Congress Street to the Eastern Promenade for more views. Don't forget to make a stop at Holy Donut to pick up a box of a half dozen handmade donuts before leaving town. They make the perfect road trip snack.
Capture incredible memories of your Maine family vacation with Flytographer. Flytographer has a network of incredible professional photographers ready to come to you and help your family create the ultimate souvenir of your special trip. Trekaroo is proud to be a Flytographer customer and affiliate.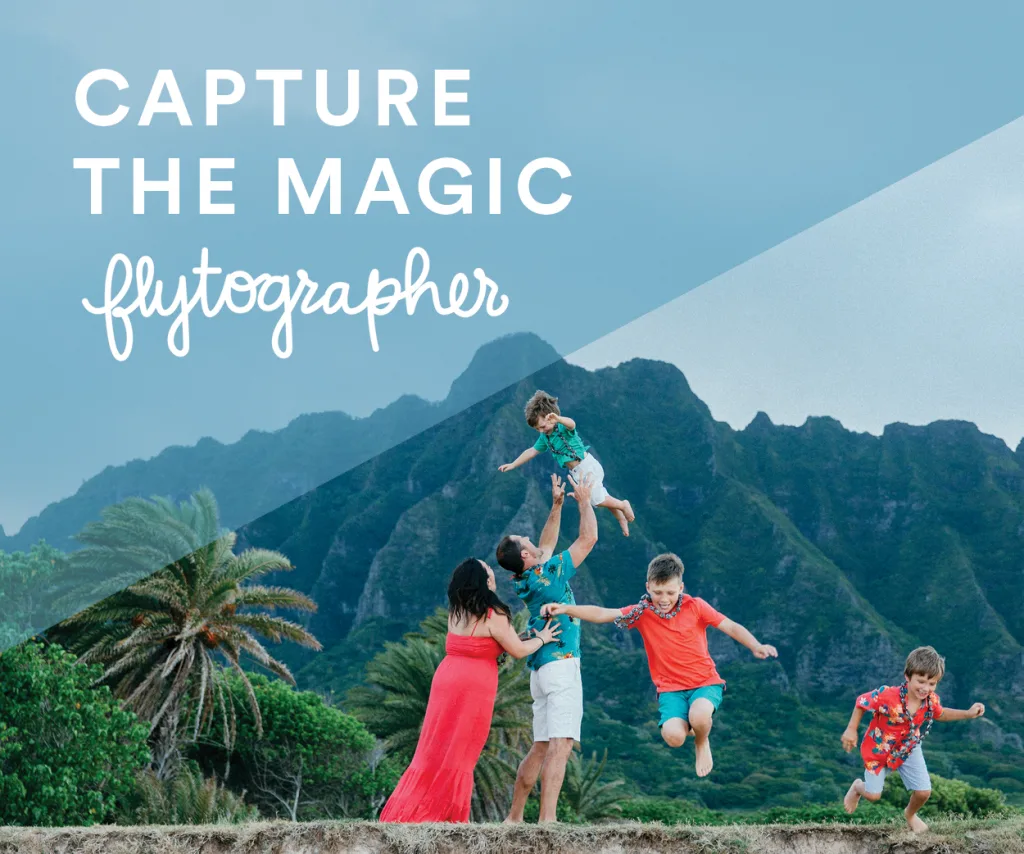 Don't Forget to Make a Pit Stop at the L.L. Bean Store in Freeport!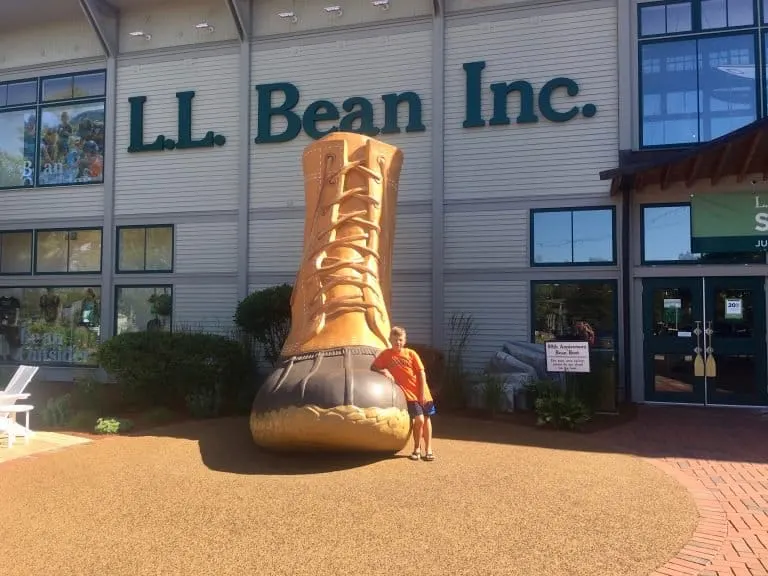 Between Portland and the Sebasco Harbor Resort, Freeport is home to the flagship L.L. Bean store, an obligatory stop on any Maine road trip.
There's a complex full of stores and activities, but at the very least you'll want to take a 10-minute detour off the highway for a photo op with the giant boot.
Looking for something outdoorsy to do with tweens and teens? Check out L.L. Bean's introductory classes. From archery to paddle boarding there's something for every family.
Looking for more things to do on your Maine family vacation? Check out Trekaroo's Top 10 Things to Do in Maine.
Maine Road Trip Day 3: Relax at Sebasco Harbor Resort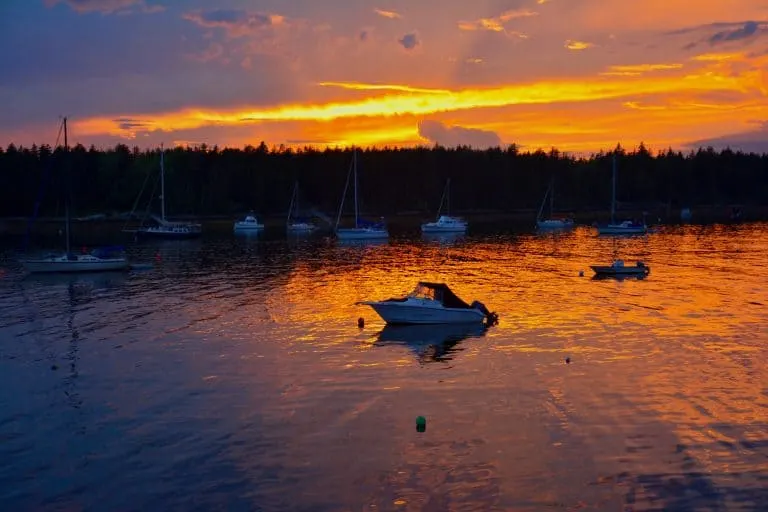 As much as I love traveling with my kids, finding a resort that offers a kids' camp is like winning the lottery. At Sebasco Harbor Resort, everyone in the family can enjoy their Maine vacation.
A couple days a week, Sebasco Harbor Resort offers a kid's camp for elementary-school-aged children. While my son was happily running around the resort on a scavenger hunt, I paddled out into Casco Bay and listening only to the water lap against the edges of my kayak as an osprey soared overhead.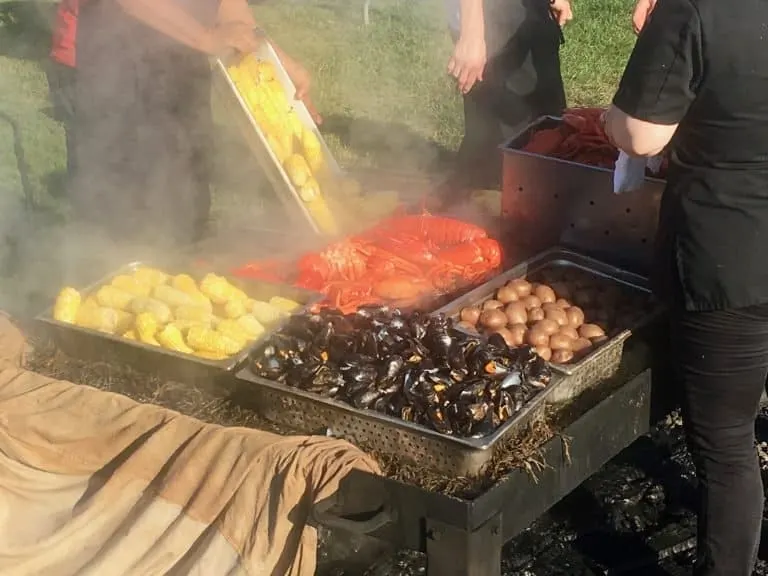 Sebasco Harbor Resort also offers meal plans, which is convenient because the nearest coastal town with a restaurant is about 15 minutes away by car. Typically, there is a buffet available at breakfast, and both the resorts restaurants are open for dinner.
The highlight of the week is the Thursday night Lobster Bake. Families eat outside with live fiddle music playing in the background. Guests even have an opportunity to dance after dinner is over.
Your children don't eat lobster? Mine neither! Kids can choose from burgers or hot dogs so everyone can enjoy the evening.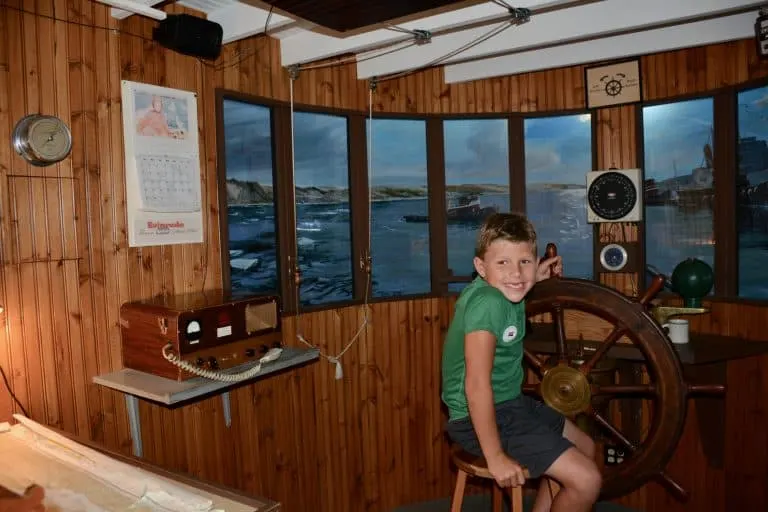 While you're at Sebasco Resort, be sure to take a day trip to the Maine Maritime Museum about 20 minutes away in Bath. The museum is located on the site of the shipyards where many of the final wooden sailing ships were constructed in the early 20th century.
There are demonstrations showing how these ships were launched, a fully refurbished sailing ship that was actually constructed on site for families to tour, and many modern, hands-on exhibits indoors for kids.
Another must-do day trip from Sebasco Harbor Resort is a visit to Popham Beach State Park where families can walk across a sand bar at low tide out to an island. The shallow waters at the beach warm up in the summer sun making this a great place for a day at the beach with little ones.
Maine Road Trip Days 4-5 Acadia National Park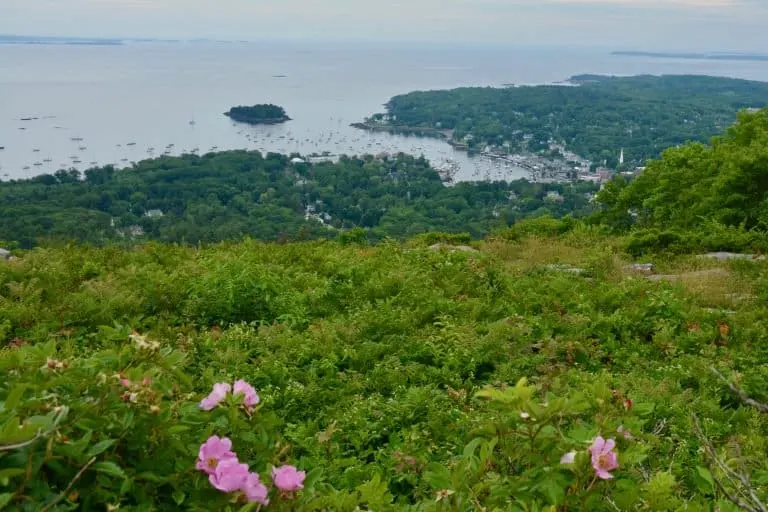 The drive from Sebasco Harbor Resort to Mount Desert Island takes about three hours on US-1. There are many state parks and beautiful stretches of coastline where you could stop to get lunch or enjoy the view.
The most charming town on this stretch of coastline is Camden. This small town offers shopping, restaurants, and ice cream. River Ducks Ice Cream has colorful picnic tables and a lovely location next to a creek.
Camden is just about the halfway point between Sebasco Harbor Resort and Bar Harbor. Mount Battie, located in Camden Hills State Park, overlooks the quaint town.
For a sweeping view of Penobscot Bay, pay a small fee to enter the state park and drive to the top of the mountain. Of course, there are many hiking trails to from which to choose if you need to stretch your legs.
Spend at Least Two Days Exploring Acadia – One of America's Most Popular National Parks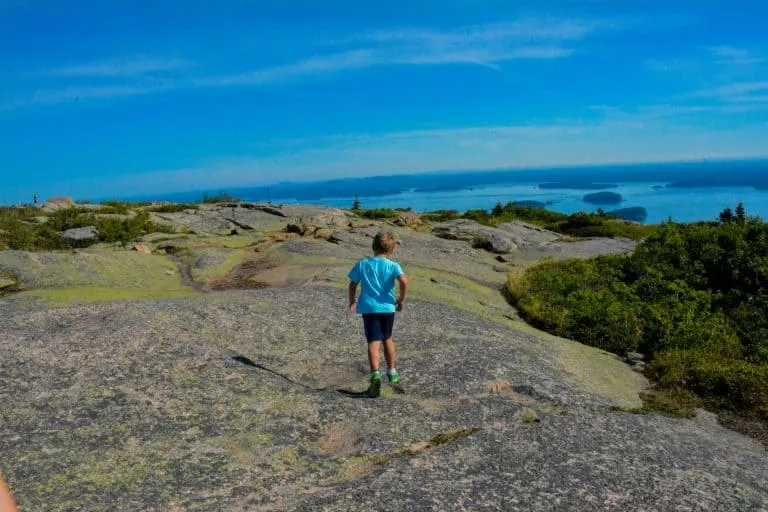 No Maine road trip is complete without a stop at Acadia National Park. Make Bar Harbor your family's home base for exploring Mount Desert Island and stay at the family-friendly Acadia Inn.
Here are 11 things to do in Bar Harbor, Maine.
Plan to stop at the national park visitor center to pick up a Junior Ranger booklet for the kids, as well as some recommendations for hiking trails that your family will enjoy. Some of the best hiking trails for families include the Great Head Trail overlooking Sand Beach and the short hike to Bubble Rock.
Be sure to make the time to eat well while in Bar Harbor. August is the best time of year to visit this area of Maine as many of the restaurants will feature wild blueberries. There are many lobster shacks in and around Bar Harbor where you can enjoy a fresh lobster roll.
For more recommendations on places to visit on to Acadia National Park, check out the Best Things to Do in Acadia National Park with Kids. And, if you want to explore beyond the park here are some great things to do near Acadia.
Maine Road Trip Day 6 & 7: Head Inland to The Forks and Raft the Kennebec River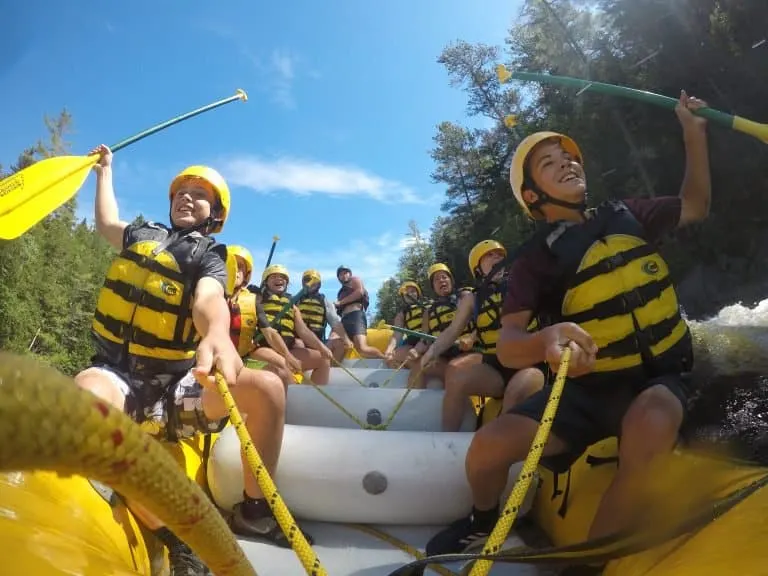 It is about three-hour drive from Acadia National Park to Northern Outdoors Resort in The Forks.
The most scenic part of this drive is the last hour or so driving north on US-201 from Solon. The road parallels the Kennebec River most of the way as it goes through several small towns.
It is part of the Old Canada Road National Scenic Byway, and there are a couple of scenic viewpoint with signs that tell the story of the history of the area.
It would be a shame to come all the way to Maine and spend all your time on the coast. Maine's Kennebec Valley is just as scenic as its coastline, it has only a fraction of the visitors, and has plenty of places for families to explore.
Don't know what adventure is right for your family? Northern Outdoors is a family-friendly adventure resort that can help you decide which Maine adventures are right for your group.
What Sort of Adventures are Available at Northern Outdoors?
While you'll see plenty of younger kids at Northern Outdoors enjoying the pool and games at the resort complex, rafting trips are generally best for ages 10 and up.
That's when kids are old enough to participate in the entire Kennebec River rafting trip. It is possible for younger children to join the trip halfway down the river to skip the Class IV rapids.
Looking to go whitewater rafting in the northeastern United States? There aren't too many options for families.
I have been whitewater rafting in New York and West Virginia, but the scenery of the Kennebec Valley on a rainy day was amazing. The trees were a brilliant shade of green and the walls of the gorge seemed to rise right out of the river.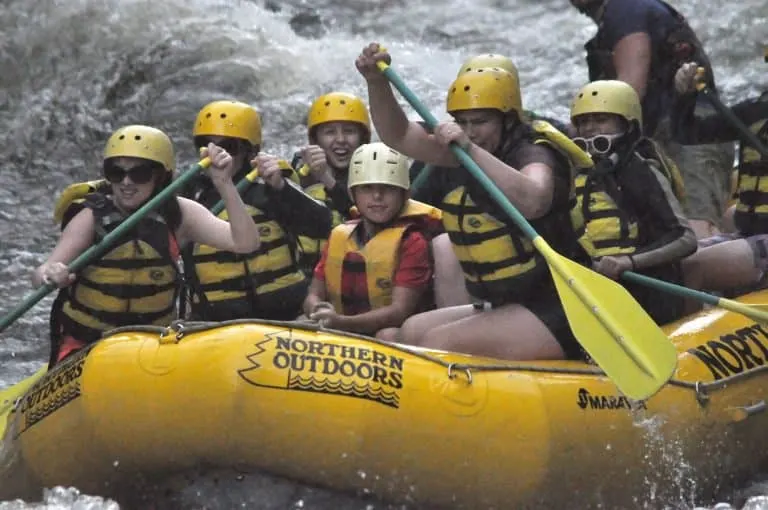 The class III-IV rapids were thrilling, totally soaking us up front in the raft. Due to the fact that the rapids along this stretch of the Kennebec are created by water being released at scheduled times daily from a dam, the flow of the river was safely controlled to give just the right amount of thrill.
The ride wasn't as bumpy as some I've experienced, and no one from our raft took an unintentional swim in the river. Our guide expertly took us down the most conservative paths since we had the youngest children in our raft.
Are There Other Things to Do around The Forks, Maine?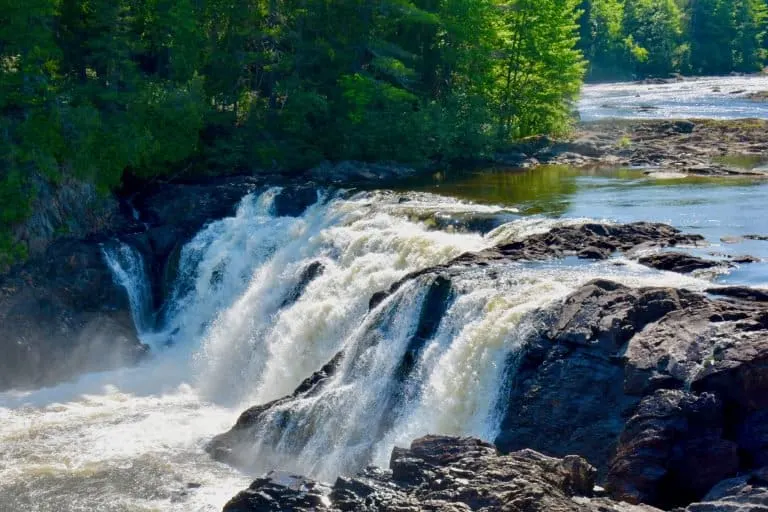 It would be easy to spend several days at Northern Outdoors Resort. It is the perfect place to end your Maine road trip.
Families should be sure to take time to hike to nearby Moxie Falls, one of the tallest falls in New England. Float trips on the Kennebec, moose safaris, and ATV rentals are also available in the area.
Moosehead Lake and Baxter State Park are within a couple hours drive if your family is looking for a more challenging hike.
What Sort of Food and Lodging are Available at Northern Outdoors Resort?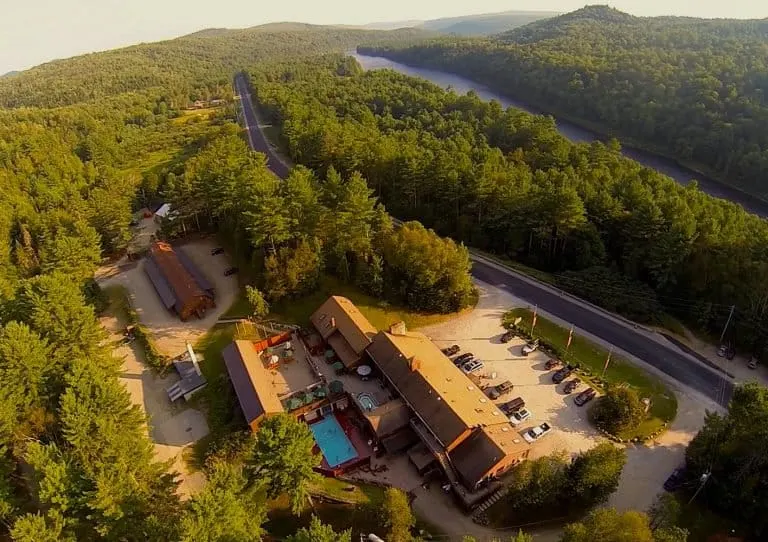 Northern Outdoors offers several different types of lodging from cabins to tents to hotel-style rooms.
I can highly recommend their logdominiums. There's room for three children or teens to sleep upstairs in the loft, a small kitchenette, large dining room table, living area with a futon, and an alcove with a queen bed.
The room has many hooks for drying clothing and towel as well as fan and window AC unit that keep things cool and dry. The room is not fancy, but it is remarkably functional for families enjoying outdoor adventures in this area.
Northern Outdoors has one restaurant on site that serves breakfast, lunch, and dinner. The portion sizes are hearty. I saved half of my Buffalo chicken macaroni and cheese for lunch the following day.
Each morning my son and I split an order of chocolate chip pancakes. You won't find too many other options for food in the area; it's a good thing that the food at Northern Outdoors is quite yummy. I could have eaten there for several days.
Lead Image by Melissa Moore.
Disclosure: The author and her son were hosted by Sebasco Harbor Resort and Northern Outdoors on a trip arranged by Visit Maine for the purposes of researching this article. All opinions are her own.