Tag Archives | State Parks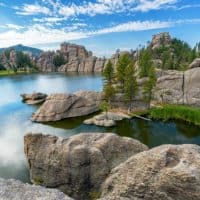 Trekaroo families found top family-friendly state parks that rival national parks with spectacular scenery and kid-friendly beaches, trails, and lakes.
By
Lesli Peterson
on
July 25, 2014
in
Camping, Camping, Explore United States destinations, Georgia, Hiking, Biking & Rafting, Hiking, Biking & Rafting, History and Culture, How do you travel? Explore opportunities by your travel interests, Road Trips, The South, We are active and adventurous, We are interested in blending travel & education, We are journeyers and love hitting the open road, We are outdoorsy tree-huggers
My resolution this year: I want the kids to play outside more often. I sincerely believe that the best way to get your kids outside is to be the example. In light of that resolution, my family took the challenge of staying at a Georgia State Park every month of 2014.