Last Updated on
Trekaroo generates revenue from purchases made through links to our partner brands.
Las Vegas. Noisy casinos, smoky hotel rooms, gambling tables, strip clubs, and excessive drinking, it doesn't exactly scream kid-friendly. But for many families a trip to Las Vegas, for work or otherwise, has become one that involves bringing the kids. And although Trekaroo doesn't consider Vegas a family travel mecca, we have discovered that there is still is quite a bit of family friendly fun to be offered while visiting Sin City. Here are the top 10 things to do with kids in Las Vegas!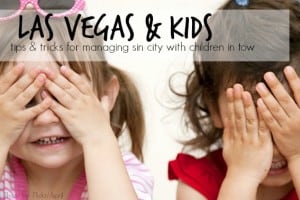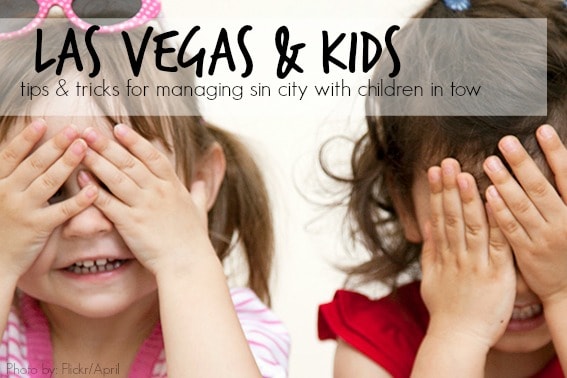 Ready to head out? Be sure to read our tips on keeping your kids safe and un-scarred on your next Las Vegas vacation getaway.
10. Las Vegas Chocolate Factory Tour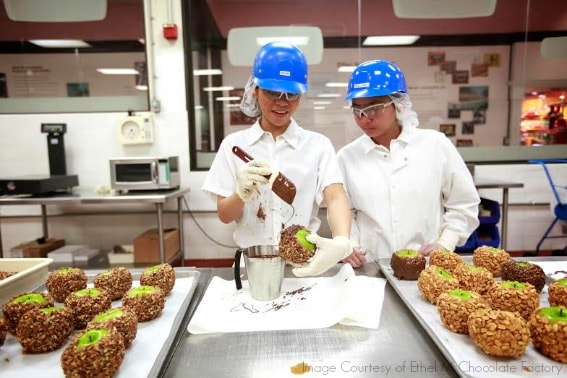 The Ethel M. Chocolate Factory Tour, located off the strip toward Henderson, Nevada, is one of the nation's few chocolate factories open for tour. And although the factory is not run by Oompa Loompas, kids will love watching the workers prepare Ethel M.'s recipes of chocolates, caramels, candied apples, and more. And samples. Who doesn't love chocolate samples? The self-guided tour includes a visit to their Botanical Cactus Garden, the largest collection of cacti in Nevada.
Look for current hotel deals in Las Vegas
9. Wet n' Wild Waterpark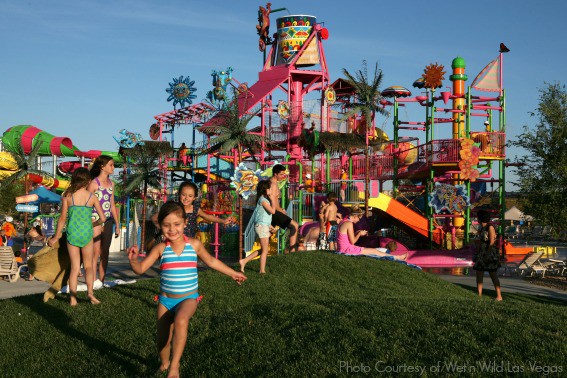 Las Vegas summers are hot. Families not staying on the strip in a mega-resort will love a visit to Wet N' Wild Las Vegas, the massive waterpark located southwest of the city near Desert Hills. The park features more than ten unique waterslide and thrilling rides for the older kids, coupled with kid slides and a massive Kiddie Cove area with slides, climbing fun, and splash pads. Daily twilight admission offers guests the chance to play on the slides in the evening for a discounted rate.
Note: Wet N' Wild Waterpark closes during winter.
8. Tournament of Kings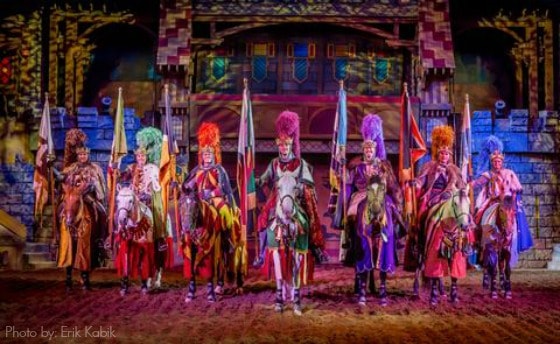 The Tournament of Kings dinner show combines the fun of a medieval jousting tournament, dancing maidens, live entertainment, great food, and plenty of crowd participation in one knock-your-forks-off dinner show event. Located inside the castle-shaped Excalibur Hotel (a personal favorite when I was a kid!), the show features the stunts and skills of numerous actors and over 30 horses working together to recreate the magic and pageantry of medieval events. Dinner, eaten with your hands only, includes a Cornish game hen, potatoes, rolls, soup, and dessert.
7. Bellagio Conservatory and Water Show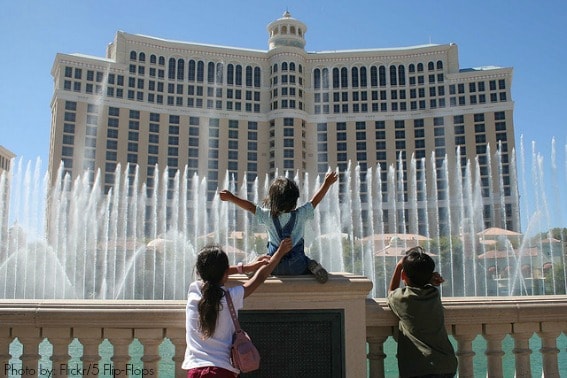 The Fountains of Bellagio have become one of Vegas' most iconic outdoor attractions. This breathtaking show masterfully weaves together water, music, and light as water features spout and spray their way through some of the world's most classic pieces of music, from classical works to Sinatra croons to patriotic favorites. Step inside the Bellagio Resort after your show to enjoy the Bellagio Conservatory. This indoor garden wonderland rotates seasonally with charming and whimsical nods to the seasons that you won't want to miss. We visit the Conservatory every time we head to Vegas and my kids never tire of the artistry displayed here. Best part of these Bellagio attractions? Both the show (which runs daily) and the Conservatory (open 24 hours) are free to visit.
Tip: Head around the corner from the Conservatory for a tasty snack or crepe at Jean Philippe Patisserie!
6. Shark Reef Aquarium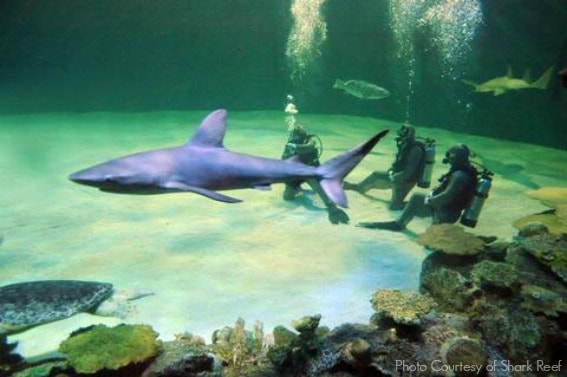 Tucked in the back of the Mandalay Bay Resort and Casino sits the Shark Reef Aquarium at Mandalay Bay. This beautifully designed aquarium features a hands-on ray touch tank that the kids will love, a jellyfish exhibit, giant octopus, and more sea animals, including the obvious draw: sharks. The main shark tank room, designed as if you are immersed inside a sunken ship under water is truly breathtaking with sharks swimming through the dark and blue lit waters around, above, and under you.
Check for hotel availabilities in Las Vegas
5. Venetian Gondolas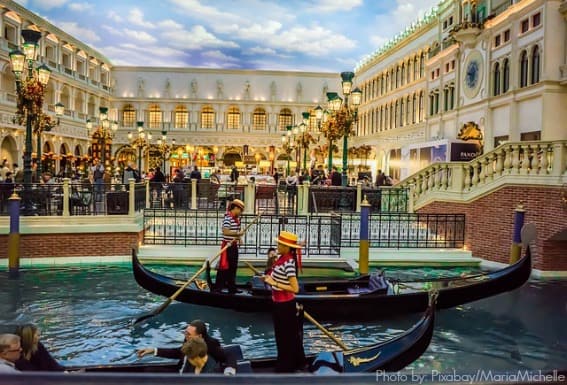 Take a ride with your family at the Gondolas at the Venetian Hotel & Resort. Designed with impeccable detail, visitors float on the canals indoors through the city of "Venice", which is actually the high-end shopping mall the Grand Canal Shoppes, before heading outdoors through with an incredible view of the Las Vegas Strip on the horizon. In true Italian fashion, the gondoliers sing Italian love songs for the most romantic yet family friendly fun on a boat in Vegas. After your ride, stroll through the shoppes to explore the real life, breathing statues throughout the square.
4. Blue Man Group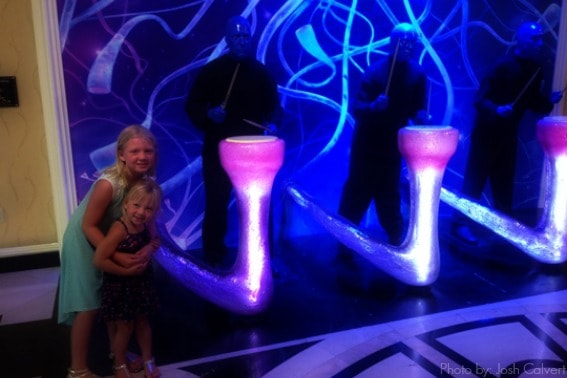 Although the majority of Las Vegas shows are far from family friendly, a few true gems can be found on the strip. The Blue Man Group, at the Venetian and Monte Carlo hotels, offer some of the best kid-friendly entertainment which parents will love as well. This feast for the senses of a show features the iconic blue men not only drumming on things, but also comedy, magic, visual stimulation, rockin' music, and a dance party filled with explosive and energetic fun from every direction. Stay afterward to take pictures with the cast; even timid kids will feel comfortable doing so after enjoying the non-stop excitement show.
3. Thrill Rides
Las Vegas has no shortage of thrill rides. For the most concentrated action, head to the Adventuredome Theme Park located behind the Circus Circus Casino. If you don't want to make a whole day of theme-park fun, consider a stop by one of the city's most thrilling single-entry rides including The Big Apple Coaster at the New York New York Hotel & Casino, as well as the four extreme rides on top of the Stratosphere hotel, starting their thrills atop the 1,149 foot high observation deck (and yes, that's the tallest observation deck in the United States). New to the Vegas scene is the High Roller, the world's tallest observation wheel. Standing 550 feet above the Las Vegas strip, the indoor cabins on this slow-moving ferris wheel hold up to 40 people per car with plenty of room to take in the views; the ride takes 30 minutes to circle back around.
2. Red Rock Canyon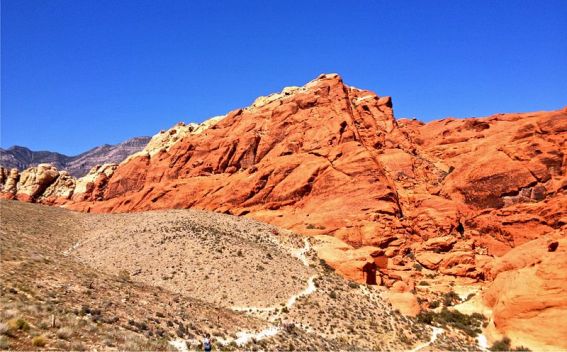 Just a few minutes from the urban wonderland that is the Las Vegas strip, Red Rock Canyon National Conservation Area stands as a striking juxtaposition of worlds. The red hued sandstone canyons and cliffs offer a variety of roads, trails, and adventure exploration to discover including the Keystone Thrust Fault, the Calico Hills, the pictographs at Willow Springs, and numerous species of wildlife. The visitor center offers information, trail access (there are 19 trails in the conservation area), and directions to follow the 13 mile scenic route for those wishing to stay mostly inside their cars. Adventure lovers can enjoy rock climbing and camping within the park.
Look for the best hotel prices in Las Vegas
1. Siegfried & Roy's Secret Garden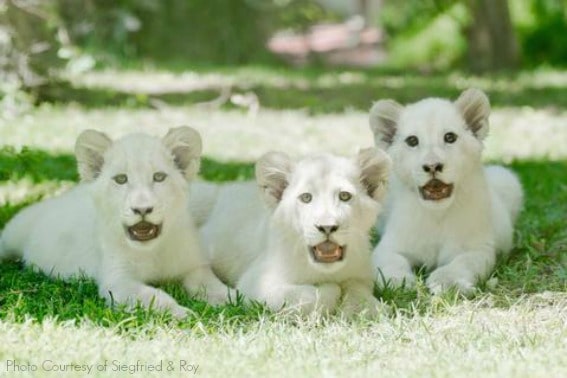 Families and animal lovers alike won't want to miss Siegfried and Roy's Secret Garden and Animal Habitat, a true family friendly gem inside Sin City. Located behind the Mirage Resort & Casino, the Secret Garden is home to the famous magical duo's big cats including white tigers, lions, panthers, and leopards, as well as a sprawling dolphin habitat home for more than 10 Atlantic Bottlenose dolphins. Although there is no "show" at the habitat, guests can watch or participate in enrichment and training programs, including the paint with the dolphins program that gets guests up-close-and-personal to these amazing mammals. Families visiting the Gardens can expect to learn about conservation efforts and animal ambassador opportunities to help sustain the future for animals of every species.
Stay Here
Las Vegas has no shortage of hotels. The city boasts more hotel rooms than any other in the US, but finding family friendly accommodation options can be a bit of a tricky business.
The Venetian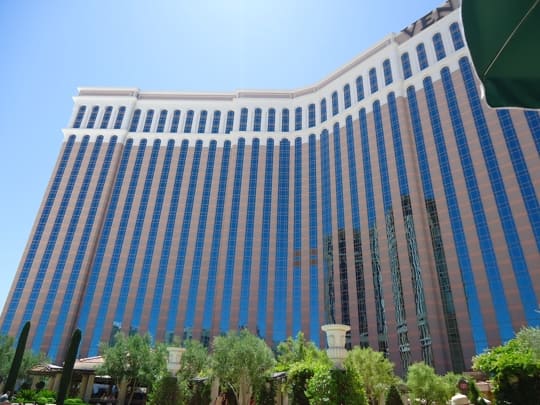 The Venetian (and its sister property The Palazzo) offer families a sophisticated night of sleep in five-diamond luxury. The all-suites Palazzo side offers families a bit more space to spread out than the typical hotel room and the numerous pools connecting the two properties vary in depth and size making them perfect for groups of small families and kids.
Stay here for: On property access to Blue Man Group & the Venetian Gondolas, and easy access to the Fashion Show Mall, and Siegfried & Roy's Secret Garden.
The Mandalay Bay
The Mandalay Bay on the southern end of the strip is one of the closest hotels to McCarran airport meaning easier drop off and pick up to your next destination. Their massive outdoor pool complex, filled with lazy river and giant wave pool, will save you money on both entertainment and recreation during your visit, and the onsite Shark Reef Aquarium (coupled with kid-friendly food court) can't be beat.
Stay here for: Destination worthy pool decks, the Shark Reef Aquarium, close proximity to the airport, and the free shuttle to Excalibur.
Bellagio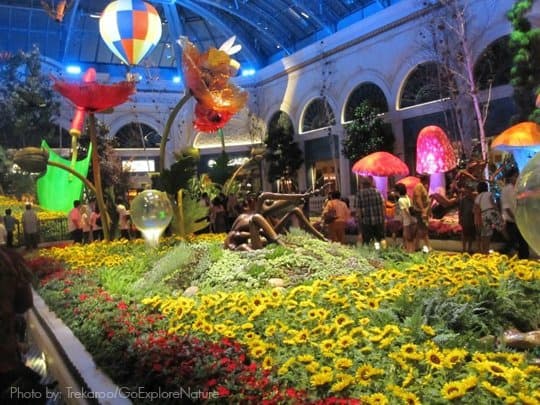 Although definitely not branded as a kid-centric Las Vegas hotel, the Bellagio does have its kid-friendly perks, not to mention it is an incredible hotel experience that parents will love. Onsite pools feature plenty of bouncing kiddos each day, an arcade room is available on site, and the location of the Bellagio is kept pristine and porn-free! Yup, no one is allowed to solicit pornography or prostitution in front of this property which means you can take a late night stroll to see the fountain show without worrying about what your kids will be exposed to. Oh, and the casino doesn't smell like horrific smoke, so that is a major bonus.
Stay here for: An upscale, classy location for kids coupled with plenty of dining options, the fountain show, conservatory, and CREPES!
JW Marriott Las Vegas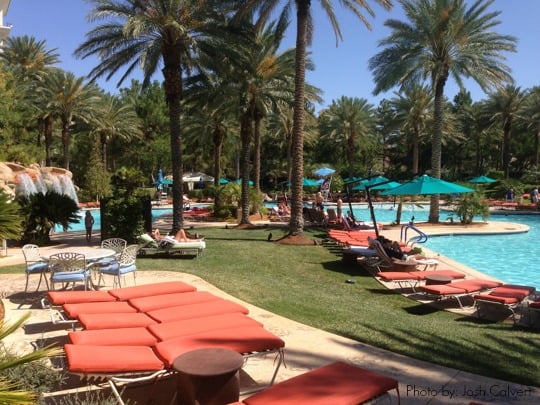 For a kid-friendly hotel that is off the strip and away from the not-so-kid-friendly stuff of Vegas, consider the JW Marriott Las Vegas. Located towards the hills of Red Rock Canyon, the Marriott boasts serene grounds, a massive pool complex with waterfalls and a separate hotel valet entry if you want to avoid the casino. Staff go out of their way to welcome and get to know guests, even the littlest ones.
Stay here for: A Las Vegas getaway that doesn't feel any of the sleeze, easy access to and from the action of the strip as wanted, and close proximity to Red Rock Canyon.
MGM Grand Hotel and The Signature at MGM Grand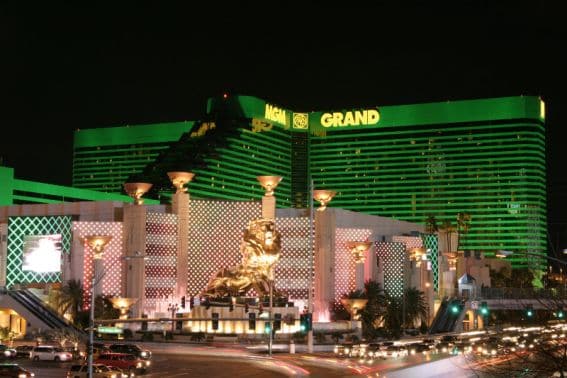 Families love the MGM Grand Hotel, although it has long since lost its lions and obvious Wizard of Oz charms it once beheld. The pool area is great for kids and the Rainforest Cafe, as overpriced and hyped as it may be, is located on property. Older kids will love the CSI crime scene attraction they can explore. If you prefer to stay in a suite-style, non-gaming property, The Signature at MGM Grand can't be beat. In addition to a truly smoke free atmosphere, this property also comes with access to MGM Grand's pools in amenities.
Stay here for: Easy access to M&M World outside, coupled with the NY, NY coaster across the street. The resort is sprawling, so room rates can be good.
Eat This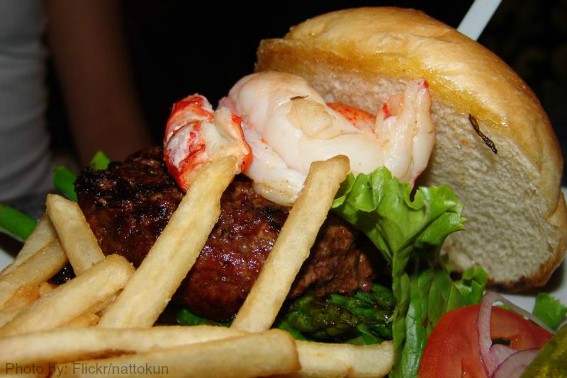 Las Vegas is famous for its buffets and although you'll be hard pressed to find a super cheap meal on the strip anymore, some of the buffets are worth the splurge. The Bellagio Buffet is an absolute favorite. The price tag is high but you'll be awarded with a quality meal for every single member of your family. Love seafood? They've got it. Kids want pizza? It's there. Sushi? You bet. Home-cooked favorites? Better than moms with zero clean up!
For an exceptional burger, be sure to visit Burger Bar located on the strip inside the Mandalay Bay hotel. These gourmet burgers are like none you've ever barbecued at home. Full of intense and unique flavors, craft beers, and a fun, hip vibe, the restaurant is super fun. Finish your meal with one of their must-try shakes.
Must-See Day Trips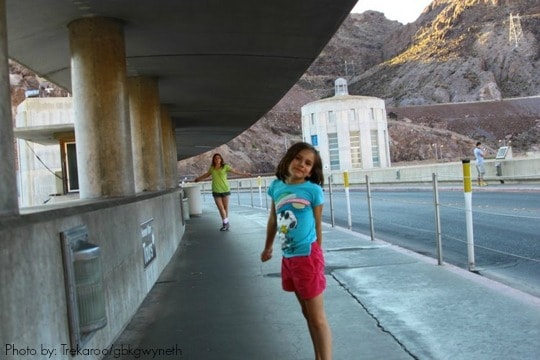 Hoover Dam
Just a short drive from downtown Las Vegas lies Hoover Dam, the architectural wonder that creates Lake Mead, the nation's largest water reservoir. Families love the guided tours that take you inside the passages and into the history behind the making of and purpose of the dam; currently three tours are offered with various lengths and focuses. Even if you can't score a tour, kids love crossing the dam and making this short trek into Arizona is well worth the effort.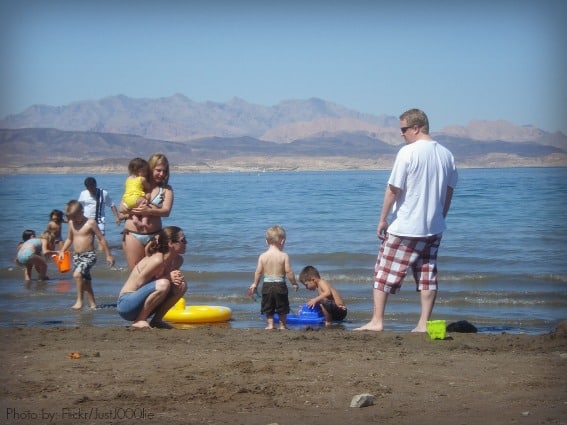 Lake Mead
Thanks to Hoover Dam, the Lake Mead National Recreation Area formed, creating a water-wonderland for active families. Boating opportunities abound on this massive lake including jet skis, pontoon boat rentals, and large houseboats for a multigenerational or multi-family getaway. The water temperature is pleasant most of the year, and families seeking adventure can camp and hike right on the shore.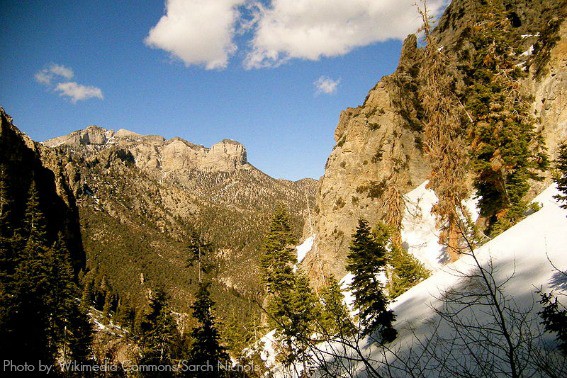 Mt. Charleston
Just 35 miles northwest of Las Vegas, Mt. Charleston's alpine climate and temperatures (typically 30-40 degrees cooler than the strip) offer a stark contrast to the sweltering heat and landscape of the arid desert. Over 50 miles of hiking trails meander through the region, taking you past pine trees, waterfalls, meadows, and beautiful forested canyons. Mary Jane Falls boasts a seasonal waterfall and cave, and kids can get to it and return in just about an hour on foot. Both campgrounds and full-service luxury hotels dot the area giving families the chance to stay and play for an entire weekend in the region.
Want more kid-friendly fun in Nevada? Check out our top ten things for families to do in Nevada!

Where do you want to visit next?
From coast to coast, we're determining the Top 10 Things to do with Kids in each state (and now major cities!) of our great nation. Head here to see what tops the list in your neck of the woods.