Where can you find natural water slides, prison ruins, and unspoiled caves? All in the vast and varied state of Arizona! There are 31 state parks to choose from but what are the best state parks in Arizona? We asked our local expert to share the scoop.
Arizona State Parks often get overshadowed by their national park counterparts (I'm looking at you, Grand Canyon). While they may not be in the spotlight, they pulse with history and beauty that can only be found in Arizona.
Each of the 31 state parks offers breathtaking trails, unique plants and wildlife, or glimpses of American history. You should definitely visit them all. But for now, start with the 10 Best State Parks in Arizona.
Arizona State Parks each offer a Junior Ranger program, complete with an Arizona Junior Ranger badge. So be sure to stop by the visitor center to pick up a workbook when traveling with little ones!
Explore more of the state. Here are the Top 10 Things to Do in Arizona with kids.
Best State Parks in Arizona
Boyce Thompson Arboretum State Park in Superior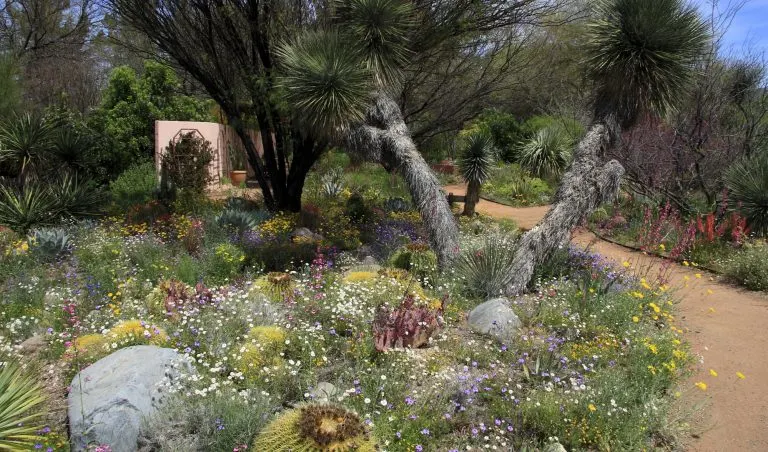 Discover the vast array of plants that span the Sonoran Desert in this 323-acre botanical garden. Boyce Thompson Arboretum attempts to instill an appreciation of plants in its visitors.
While here, explore three miles of trails through gardens showcasing native Arizona flora as well as collections from Asia, the Mediterranean, Australia, Africa, the Middle East, as well as North and South America.
Families especially enjoy the Hummingbird-Butterfly Garden and Children's Garden. Be sure to check current tour and workshop offerings when you visit.
Where to Stay Near This Arizona State Park
The neighboring town of Superior hosts Copper Mountain Motel, only five minutes from Boyce Thompson Arboretum. Expect friendly service in a quaint small-town setting.
Ideal camping lies seven miles east of the park. Oak Flats Campground in the Tonto National Forest's only amenity is vault toilets, but the stunning views of the Gila-Pinal Scenic Route make up for any lack of creature comforts.
Catalina State Park in Tucson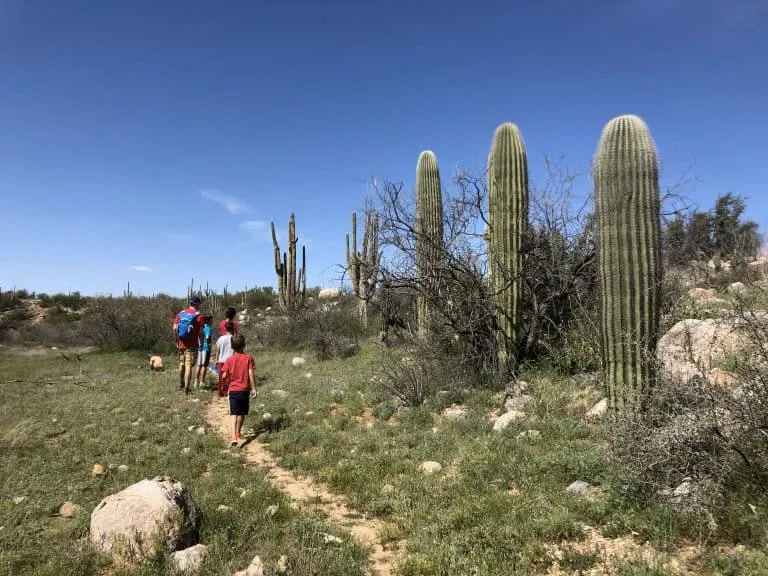 The desert never felt as alive as it did during our visit to Catalina State Park. Seasonal wildflowers, towering Saguaros, and desert wildlife all reside in the shadow of the Santa Catalina Mountains, making it one of the best state parks in Arizona.
Start with a family-friendly hike on the Canyon Loop Trail where you'll enjoy picturesque mountain views and seasonal stream crossings. From here you can continue on to one of the other seven trails or find a ranger program to experience.
To make exploring extra fun for the family, hunt for some of the many geocaches hidden in this park. If you choose to camp here, don't be surprised if you hear the coyotes call each other on their nightly hunt.
Where to Stay Near This State Park
Catalina State Park offers 120 sites for tents and RVs with electricity and water. Each site also has a picnic table and BBQ pit. Campgrounds contain modern flush toilets and hot showers for campers wanting to feel clean.
For a more luxurious stay, try El Conquistador Tucson, a Hilton Resort located just 2.2 miles from the park entrance. The pools and water slide are heaven after a hot day exploring the park.
Here are all our picks for the best Tucson hotels for families. You also might what to check out our picks for the best things to do in Tucson with kids.
Lake Havasu State Park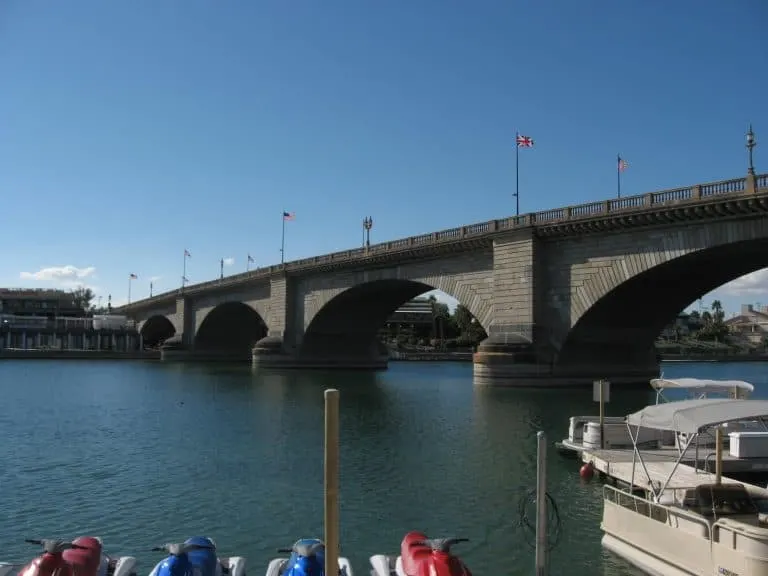 This is the Arizona State Park for families who love water sports. Swim, fish, or boat in Lake Havasu beneath the famous London Bridge. Wet Monkey Powersport Rentals provides onsite motorized boat rentals for those who didn't bring their own.
Although you'll want to spend most of your time on the water, the Mohave Sunset Trail and Arroyo-Camino Interpretive Garden showcase more of the lowland desert beauty.
Where to Stay Near this Arizona State Park
47 campsites for tents and RV's are available at this park. Each site contains a fire pit, picnic table, 50 amp electrical hook-ups and access to potable water.
Take a break from the lake at the amazing London Bridge Resort. This all-suite hotel includes a splash pad, water slide, and 9-hole golf course. Boats, canoes, and more are available to rent on-site.
Dead Horse Ranch State Park in Cottonwood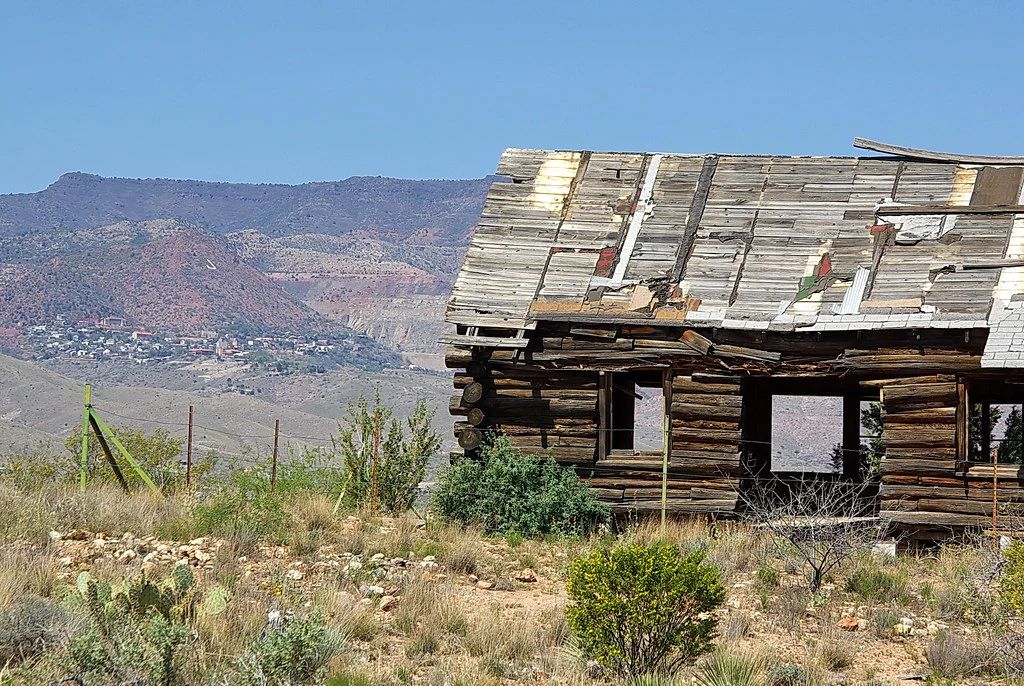 Although a dead horse may not sound inviting, Dead Horse Ranch State Park definitely is. This recreational park offers fishing lagoons, multi-use trails, river access, and lots of space to play.
Whether you choose to kayak down the Verde River or spot wildlife from the shore, families are sure to have a great adventure. And because no ranch visit is complete without getting on a horse, Trailhorse Adventures located inside the park offers led trail rides.
Where to Stay Near This Arizona State Park
A visit to Dead Horse Ranch State Park really requires a stay at one of the best state parks in Arizona. Over 100 sites are available to reserve for tents or RVs. Not into camping? 8-onsite cabins complete with beds and air conditioning provide a glamping experience your family will love.
If you prefer to stay at a hotel, check out these great options in Cottonwood, Arizona.
Less than 10 miles from Dead Horse Ranch, you'll find the ghost town of Jerome, AZ. Learn more about Jerome and the 10 Best Ghost Towns in Arizona.
Yuma Territorial Prison State Park in Yuma
Hear whispers from the past as you stand in the original strap irons cells of Yuma Territorial Prison State Park. This prison housed over 3,000 convicts during its 33-year lifetime. Through modern technology, visitors experience their words and stories as they stroll through the grounds.
In addition to the grounds, the interactive visitor center teaches about the prisoners who were held here and what life was like for them. Children enjoy dressing like prisoners for a mugshot photo.
Arizona's first prison also offers spectacular views of the once raging Colorado River and California, but only outside the high prison yard walls. Sad for those former inmates, but at least we get to enjoy it.
Where to Stay Near This Arizona State Park
Stay on the Colorado River at the Hilton Garden Inn. In addition to the comfortable accommodations, this hotel sits within walking distance the Pivot Point Interpretive Plaza outdoor museum and Yuma Crossing Historic Park.
Coronado Motor Hotel also offers a peek into Yuma history. The Yuma Landing, which serves free breakfast for hotel guest, is also a mini-museum and the site of the first airplane landing in Arizona. This hotel also has 2 pools and spacious guest rooms.
Keep the fun going by finding all the great Things to do in Yuma, Arizona.
Lost Dutchman State Park in Apache Junction
In the shadow of the iconic Superstition Mountains lies Lost Dutchman State Park. Experience the Sonoran Desert by taking a trail into the Superstition Wilderness.
Legend has it that there is a lost gold mine somewhere in these parts. Maybe your family will be the ones to uncover it!
For families with low to moderate hiking skills, try the 2.4 mile Treasure Loop trail. This Arizona State Parks' trail offers just enough elevation gain to be fun and plenty of boulders to climb along the trail. Keep a lookout for unique cactus and desert wildlife.
Where to Stay Near Lost Dutchman State Park
Get a feel for desert living by staying in the campsites or cabins of Lost Dutchman State Park. 134 campsites make a great base camp with fire pits, picnic tables, and water and electric hookups available. For those summer visitors with heat aversions, opt to stay in one of 5 cabins-complete with air-conditioning and ceiling fans.
This park is located just 40 miles from Phoenix. Consider staying at The Arizona Grand to enjoy the water park after a hike in the desert.
Can't get enough of this desert beauty? Use our guide, Best Hikes in Phoenix for Kids to find more great places to explore.
Red Rock State Park in Sedona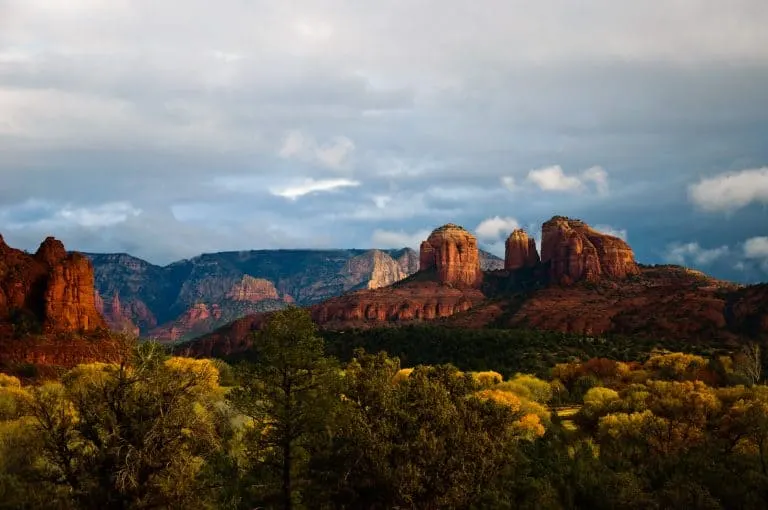 The iconic red rocks of Red Rock State Park are only part of the wonders this park offers. Red Rock State Park is a 286-acre nature preserve. 5-miles of interconnecting trails lead visitors on horseback, on foot, or on bikes through green meadows, lush riverbanks, and red hills.
Eagle's Nest Loop gives a stunning view of the surrounding area. Or try the popular Apache Fire Loop and Coyote Ridge Trails for more desert beauty. Don't forget to stop by the visitor center for informational videos and exhibits about the area.
Where to Stay Near This Arizona State Park
Stay close and in comfort at Courtyard by Marriott Sedona, less than three miles from Red Rock State Park.
The closest campground, Chavez Crossing Campground, is almost 12 miles away, but offers amazing views of Sedona's famous red rock formations.
Want more red rock adventures? Discover Things to do in Sedona with Kids on our blog.
Slide Rock State Park in Sedona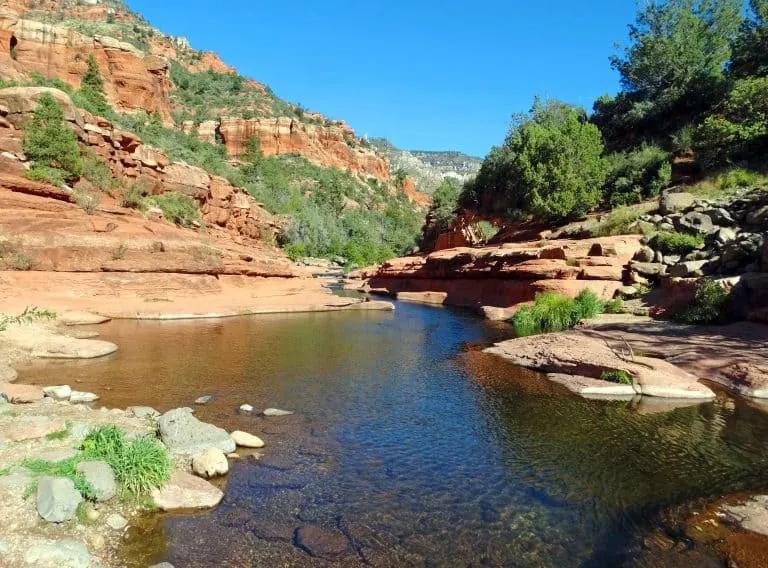 Slip, slide, and swim in nature's water park, otherwise known as Slide Rock State Park. Oak Creek flows over an 80-foot long chute of sandstone and algae, creating the perfect water slide. Areas for wading or swimming sit above and below the slide as well.
Additionally, this Arizona State Park is a historic, and still functioning commercial apple farm. A short hike down the Pendley Homestead Trail gives visitors a glimpse of the apple orchards and original packing shed, still in use today.
Where to Stay Near This Arizona State Park
Although camping is not available in the park, there are plenty of campgrounds in the surrounding Coconino National Forest. For tent camping, stay at Manzanita Campground, just 2 minutes from the park entrance. RV campers should head to Pine Flat Campground, just down the road. Both campgrounds fill up in the busy seasons so reserve your spot in advance.
If you are looking for some luxury near Slide Rock State Park, check out the Enchantment Resort.
Kartchner Caverns State Park in Benson
Trek into the depth of Kartchner Caverns to discover an underground paradise. On your tour you'll see amazing formations such as the world's longest soda straw and the massive "Khuba Khan" column. Be sure to book tickets in advance as tours do fill up.
Before your cave tour, take some time to explore the amazing Discovery Center. Kids and adults love seeing the fossils, watching the videos, and being able to touch everything. After exploring the cave, experience the beauty above ground. Hike options range from an easy stroll to moderately difficult.
Where to Stay Near This Arizona State Park
Spacious campsites at Kartchner Caverns accommodate RV's as big a 60 feet, plus room for pull-outs. Each campsite includes a table, hose bib and power post. Four camping cabins provide a mini-fridge and microwave, heat and air-conditioning, and beds for up to 6 people.
Comfort Inn near Kartchner Caverns in offers free breakfast, free WiFi, and a fun outdoor pool to splash around in. Otherwise, your best bet is to make Tucson your home base at one of these Tucson resorts for families.
Tonto Natural Bridge State Park Near Payson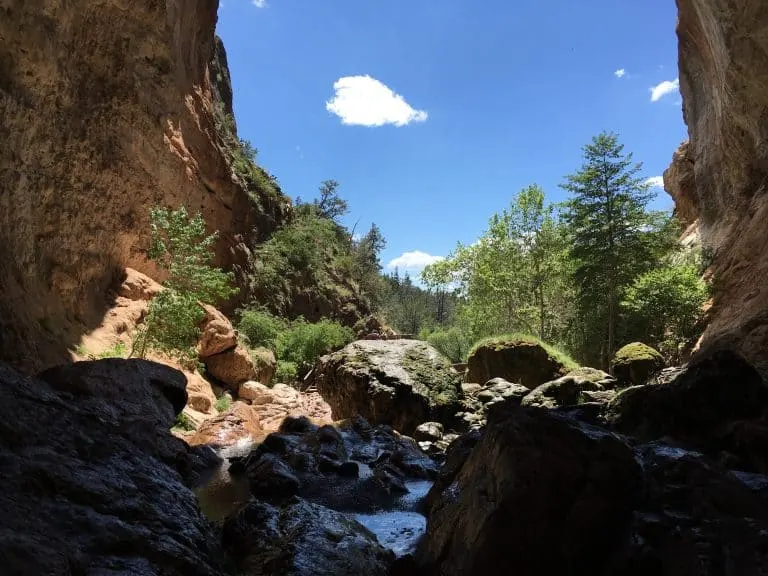 At this Arizona State Park, the world's largest natural travertine bridge towers 183 feet over Pine Creek, creating a 400-foot long tunnel beneath. Add to this landmark the picturesque pine forest and you have the glorious Tonto Natural Bridge State Park.
Start your visit with a view from above at one of four parking lot view points. Then choose a trail and head down to Pine Creek for a view of the waterfall and the underside of the bridge. My favorite route starts at the Gowan Trail, then continues under the bridge and across the river to Pine Creek Trail.
As your family meanders along with the stream, they'll enjoy exploring the tunnel, scrambling over boulders, and finding the perfect walking sticks. Finish off your day with a picnic on the grass or under the shaded picnic tables.
Where to Stay Near this Arizona State Park
The Tonto National Forest boasts numerous maintained and primitive campgrounds. Houston Mesa is the nearest campground with flush toilets and coin-operated showers.
The small town of Payson offers quite a few hotel options, including the lovely Majestic Mountain Inn.
Want to try out camping but nervous to take the kids? Check out Trekaroo's Ultimate Guide to Camping with Kids.
This post contains affiliate links which help to keep Trekaroo free.