We are reader-supported. When you buy through links on our site, we may earn an affiliate commission.
Photo by: Bigstock/raphoto
Does Las Vegas have outdoor activities for families? Usually, the first thing to come to mind when one thinks of Las Vegas is The Strip. It is what helped give Vegas the nickname "Sin City" after all. One weekend in winter, my family headed out to discover Vegas out from under the fluorescent lights; a trip dedicated to southern Nevada's outdoors. And, boy, did we hit the jackpot.
Valley of Fire State Park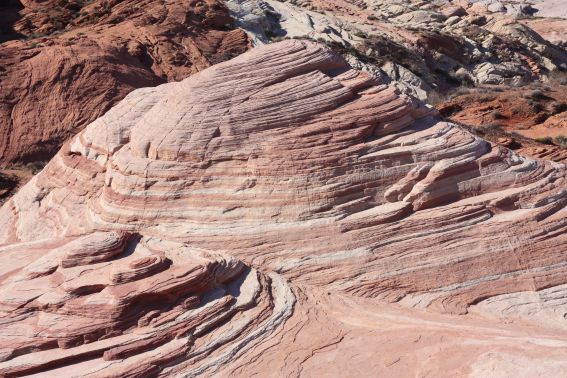 Photo by: Heather Erquiaga
Located 45 minutes northeast of Las Vegas is the mecca of red rock, aptly named, Valley of Fire. With multiple child-friendly hikes a mile or less, petroglyphs, well-marked trails, and wildlife, we were in desert heaven. For those traveling with toddlers, I recommend these trails: Petroglyph Canyon, Elephant Rock, and Fire Wave. Check out the Visitor's Center for a quick overview of the area's history and topography, use the flush toilets, and get recommendations for hiking. (Plus, get your Nevada State Parks Passport stamped.) Families who want to make a trek out to Valley of Fire into a scenic drive may want to drive north on Highway 15 and then loop back south-east through Lake Mead National Recreation Area in order to see more of the rugged natural landscape that makes up Southern Nevada.
Tip: Pack a picnic lunch and stay awhile at Seven Sisters or Petroglyph Canyon.
Lake Mead National Recreation Area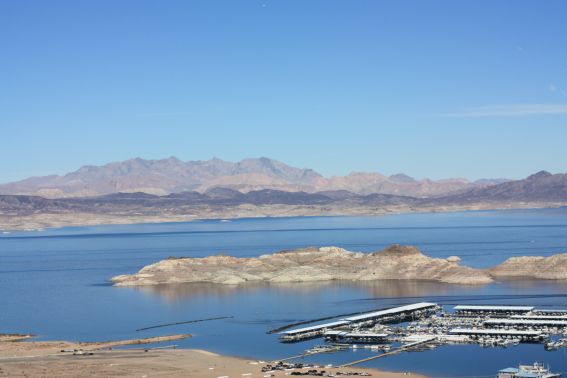 Photo by: Heather Erquiaga
Lake Mead, the reservoir that holds the water for multiple states and municipalities is also a haven for boating enthusiasts and hikers. With meandering roads and ecology, red rocks and views of the Muddy Mountains, a drive through Lake Mead National Recreation Area makes for a beautiful, scenic day. There were multiple places to stop for a picnic or to rest along the road. Know that Lake Mead is large, multiple dozens of miles long, and the road does not go right along the banks, so those who plan on fishing or boating should know that it is a drive into any of the bays. Head out for a boat tour of the lake or have a beach day along the shore. Families will definitely appreciate the Alan Bible Visitor's Center, located on the way to the Hoover Dam near Boulder City. The visitor's center has a small, but jam-packed interactive museum with animals and history of the area that provided lots of information about how Lake Mead came to be. After touring the visitor's center, I cannot recommend taking the Historic Railroad Trail enough. This multi-use, gravel trail offers hikers and cyclists the opportunity to travel the same path as the supplies used to build the Hoover Dam. Kids will love hiking through the tunnels blasted into the side of the mountain to make way for the train. Adults will enjoy the sweeping views of Lake Mead and the low incline of the trail. While I wouldn't say the trail was completely accessible, I had no trouble pushing my jogging stroller on it.
Tip: Print out the Junior Ranger Packet at home so that as you explore, you can fill in the pages before hitting up the Visitor's Center.
Hoover Dam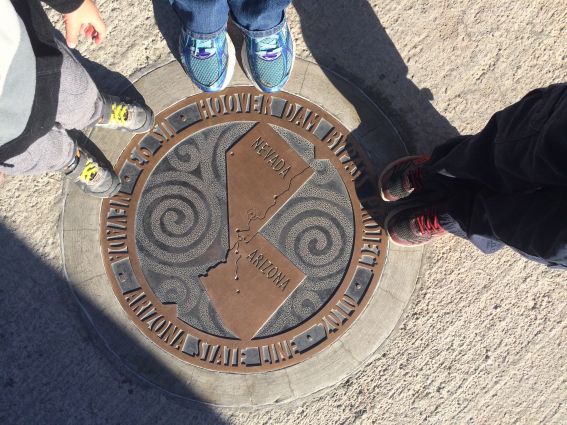 Photo by: Heather Erquiaga
Just 30 minutes from Las Vegas, Hoover Dam is a must-see. This feat of engineering and architecture astonished me, especially given the time period in which it was built. While we weren't able to catch a tour this time, Trekaroo families recommend both the Powerplant Tour and the Visitor's Center tour. If you only have a short time to spend in the area, my kids and I suggest parking at the bypass bridge and walking across it. The pedestrian section is closed off from the cars, and I felt safe enough to allow my kids to walk/run along the path. There were several displays explaining how the bridge and the dam were built. And, what really made my kids' day was the ability to stand in two states at once as the state line between Nevada and Arizona is located in the middle of the bridge.
Clark County Wetlands Park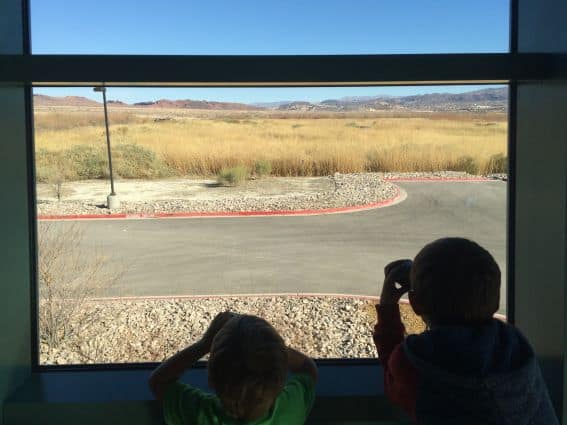 Photo by: Heather Erquiaga
I've been calling this park Las Vegas's best kept secret for families who love the outdoors. From the top-of-the-line nature center with multiple interactive displays that captivate kids and adults to the well-marked and laid out trails and pocketbook-friendly FREE entry, we were big fans. In fact, of all the hikes and places we visited, this was my 2-year-old's favorite. Trekaroo families agree! Plan to spend at least half a day at Clark Count Wetlands Park in order to fully discover all that it offers. Chances are your kids won't want to leave.
Springs Preserve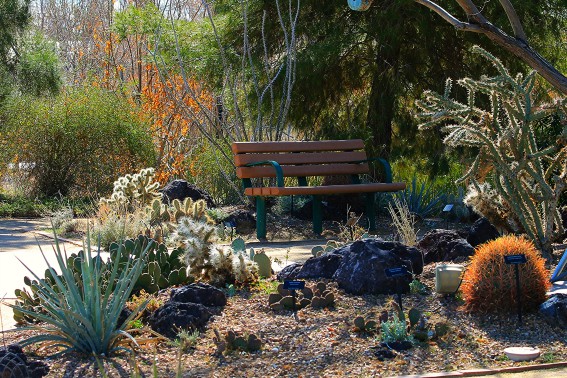 Photo by: Flickr/Renee Grayson
Trekaroo families rave about the Springs Preserve. The immaculate grounds and trail system, as well as the indoor interactive museum were noted as the top attractions. With events year-round including weekend workshops, live animal displays, and camps for kids during school breaks, the preserve is a hit for families. Check out the Nature Exchange where visitors can bring in natural treasures they find while exploring to exchange them for points and treasures discovered by other visitors.
Red Rock National Conservation Area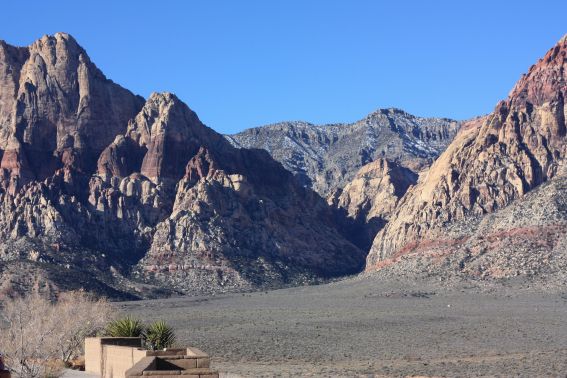 Photo by: Heather Erquiaga
A mere 30 minutes west of Las Vegas, visitors can be swept away into another world at Red Rock National Conservation Area. With hikes for all ages, areas for rock climbing, a magnificent outdoor visitor's center, and fantastic Junior Ranger packet, Red Rock was a crowd pleaser. Take the 13 mile one-way scenic drive from the Visitor's Center and pull over at any spot that looks appealing. While I had one plan, my kids had another, and we spent awhile watching the climbers get ready and climb at Calico, which was a great idea. Families will find a sweet spot at the Willow Springs and Lost Creek area. The Children's Discovery Trail offered a mix of ecosystem, taking hikers from the creek bed up through the red rocks and back down through the springs and riparian area as well as cultural spots with a Native American preserved kitchen and camping spot. The Willow Springs trails were full of pictographs and other remnants of years past. While hiking, be on the lookout for the threatened Desert Tortoise, which can usually be found in burrows except during times of temperate weather.
Spring Mountain Ranch State Park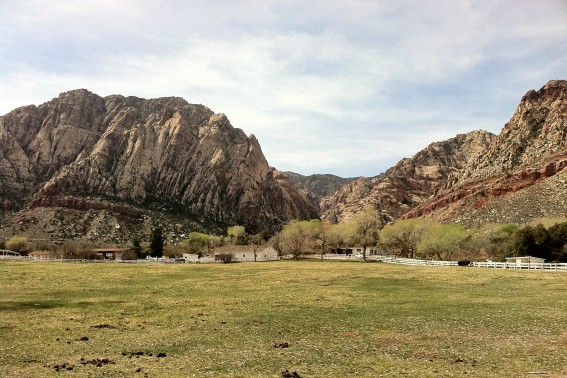 Photo by: Flickr/Regina Rioux
For history of a different era, head south along Highway 159 from Red Rock National Conservation Area's scenic drive to Spring Mountain Ranch. This state park shows guests what life was like for the pioneers and early settlers of the area and offers living history events as well as a large variety of native plants. Trekaroo families recommend having a picnic in the day use area and letting the kids roam the lovely grounds. Families with older kids will enjoy a tour of the main ranch house to learn a bit more about the ranch's place in history.
Weather Alert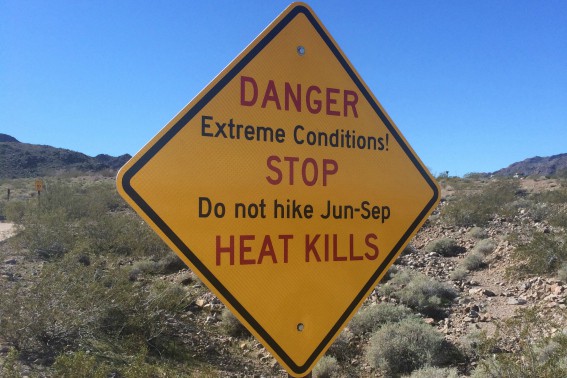 Photo by: Heather Erquiaga
As is to be expected, these adventures are best suited for three-seasons. Summer in Southern Nevada can be brutal with temperatures easily inching up past 100 degrees. This sign was located in Lake Mead National Recreation Area. It is highly recommended that families bring more water than they think they will need on all hikes and outdoor adventures as well as food. Bring hats, slather everyone with sunscreen, and wear cool, wicking layers if possible. Even during our visit in the middle of winter, the sun was bright and temperatures hovered in the seventies.
Planning a road trip through Nevada? Check out our Top 10 Things for Families to do in Nevada.
Those wanting to incorporate a little more of the culture of Las Vegas will enjoy our Top 10 Things for Families to do in Nevada, Best Kid-Friendly Hotels in Las Vegas as well as our tips for managing Las Vegas with kids.