Waterfalls have always been a favorite destination of families, and anyone who has watched a river suddenly take a drop into a canyon hundreds of feet below can understand why; they are just plain gorgeous! But where are the best waterfalls in the US? Trekaroo has the answer!
Some waterfalls are easier to access than others. Many require a long, strenuous hike while others require nothing more than a simple walk from a parking lot. Here are waterfalls that are easily accessible while still being incredibly impressive. Your family will want to add them all to your bucket list.
Where to Find the Best Waterfalls in the USA
1. Yosemite Falls in California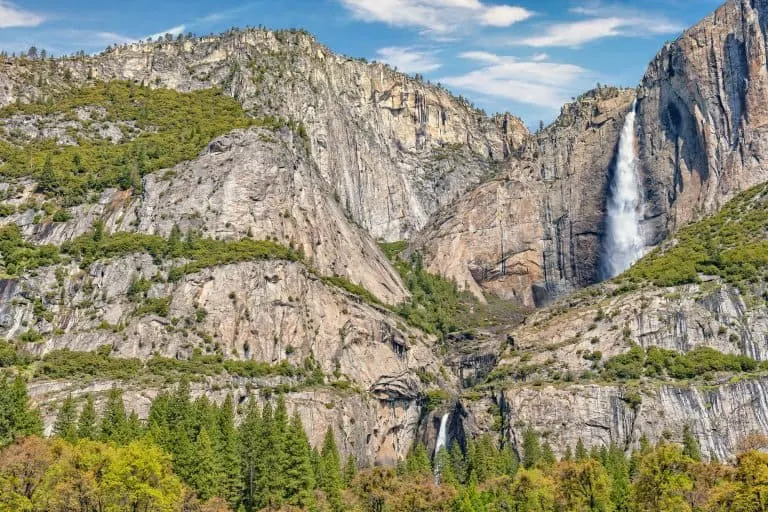 The tallest waterfall in North America is also one of the most stunning on the planet. Yosemite Falls is located in the show-stopping Yosemite Valley.
You can see Yosemite Falls from several spots in Yosemite Valley, and some lovely photos can be snagged with a tranquil meadow and the Merced River in the foreground. If you want to get close, it's an easy (and stroller friendly) walk from the shuttle stop to the base of the lower falls.
Older kids who love to hike can make the 2600 foot climb (7.6 miles round trip) to the very top of the upper falls. Its an incredible view that will be etched into their minds forever.
When is the best time to see Yosemite Falls? Peak flow is in late spring and early summer. It will likely be nothing more than a trickle in the early fall. 2023 was a record year for snowfall in the Sierra so these falls are sure to be extra impressive.
While you are in Yosemite be sure to check out Bridalveil, Vernal, and Nevada Falls as well. They are all guaranteed to make your jaw drop.
Check out our picks for the Top 10 Things to do in Yosemite National Park with Kids.
Want more water fun? Don't miss these Yosemite swimming holes.
2. Niagara Falls in New York
While the Niagara Falls are not the tallest, they are certainly some of the most impressive falls your family will ever see. They straddle the international border with Canada and have been a popular vacation destination for decades.
Families can throw on a poncho and hop on board the Maid of the Mist to get a close up view of the falls, or wander through the tunnels behind the falls to get a very different (but equally as wet) view.
At night the falls are lit up with multi-color lights, but I think they look much more beautiful during the day when they are able to show their much more stunning natural colors.
Looking for more fun in Niagara? Here is a guide highlighting several things to do in Niagara Falls with kids.
Trying to decide between the Canada side and the New York Side. This article breaks down Niagara Falls New York vs Canada.
3. Yellowstone Falls in Wyoming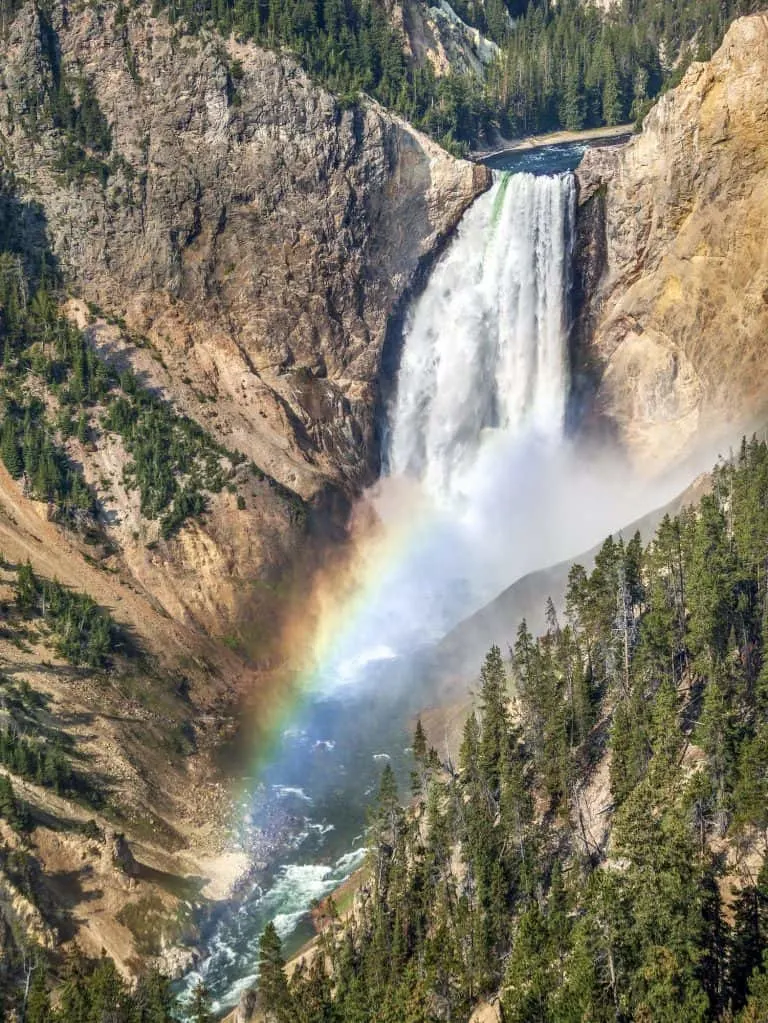 Yellowstone is probably best known for being a geothermal wonderland, but it also has some of the most spectacular waterfalls in the country. Upper and Lower Yellowstone Falls plunge with tremendous force down deep into the Grand Canyon of Yellowstone, creating incredible vistas along the way.
There are a number of different spots to view the falls including Artist's Point, but I think one of the most unique vantage points is taking the trail down to the brink of the Lower Falls. Watching thousands of gallons per second pour over the brink is spellbinding.
See more of the park. Here is our comprehensive guide to the best things to do in Yellowstone with kids.
4. Akaka Falls in Hawaii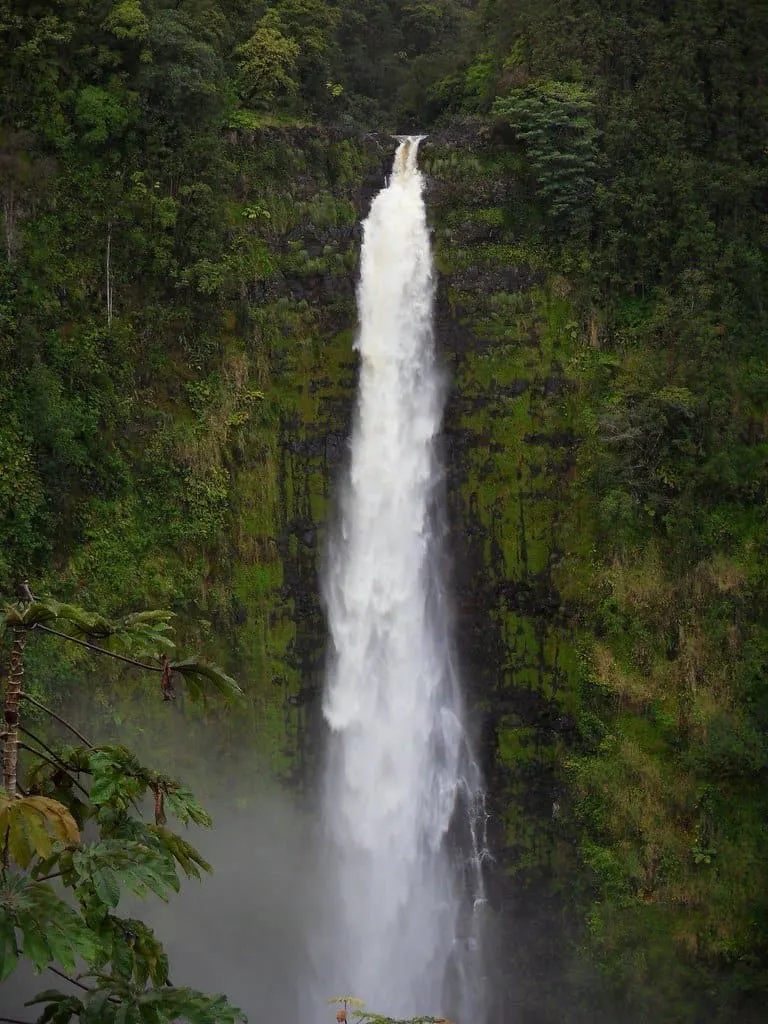 There are so many amazing waterfalls plunging deep down into the tropical forests of the Hawaiian Islands, but Akaka Falls on the Big Island made our list because of its dramatic beauty and family-friendly accessibility.
A short walk leads visitors to water plunging 442 feet into the spring-carved gorge. If standing within view of Akaka Falls doesn't make you want to build a grass hut and take up permanent residence in the jungle, nothing will.
Here are 10 Fun Things to do on the Big Island with Kids.
5. Snoqualmie Falls in Washington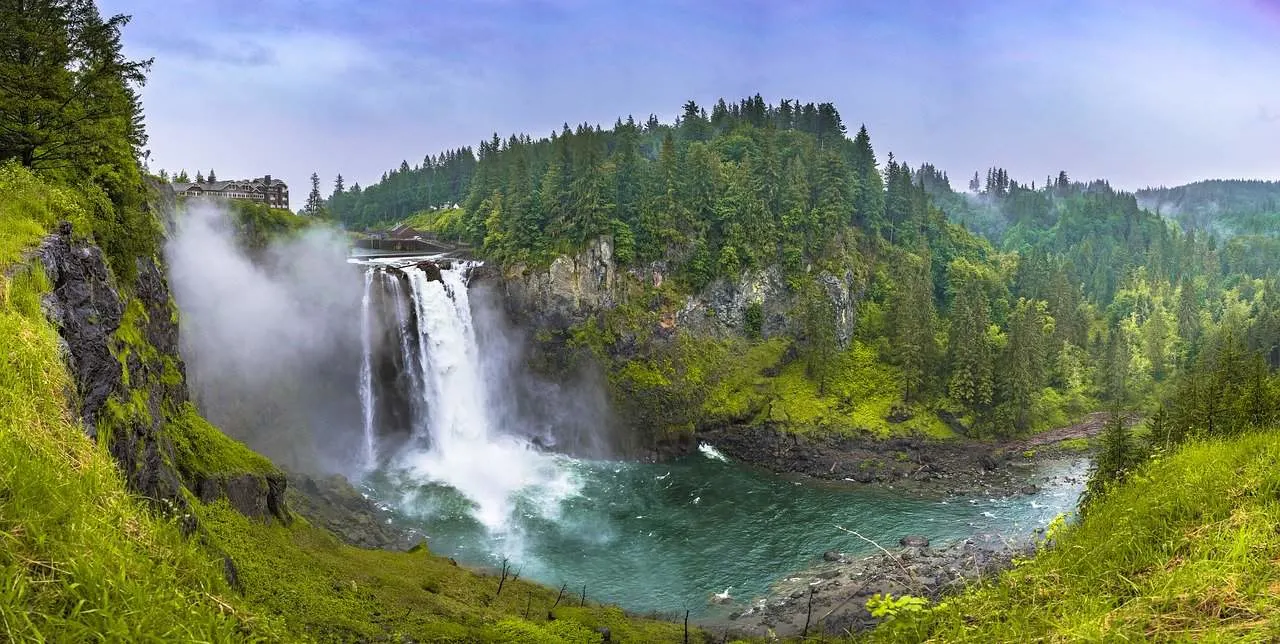 Just outside of Seattle are Snoqualmie Falls, one of Washington's most popular natural attractions. 1.5 million visitors come every year to watch the Snoqualmie River plunge 268 feet, creating a white curtain of water.
There are observation points at the top and bottom of the falls and plenty of nice hiking trails in the area. If you simply can't get enough of the falls then consider staying at the Salish Lodge and Spa which is just perched near the brink, and enjoy a piece of Northwestern luxury.
If you are spending time in Seattle, here are the 10 best things to do in Seattle with kids. Ready to explore more of the state? Here are the 10 best things to do in Washington State with kids.
6. Shoshone Falls in Idaho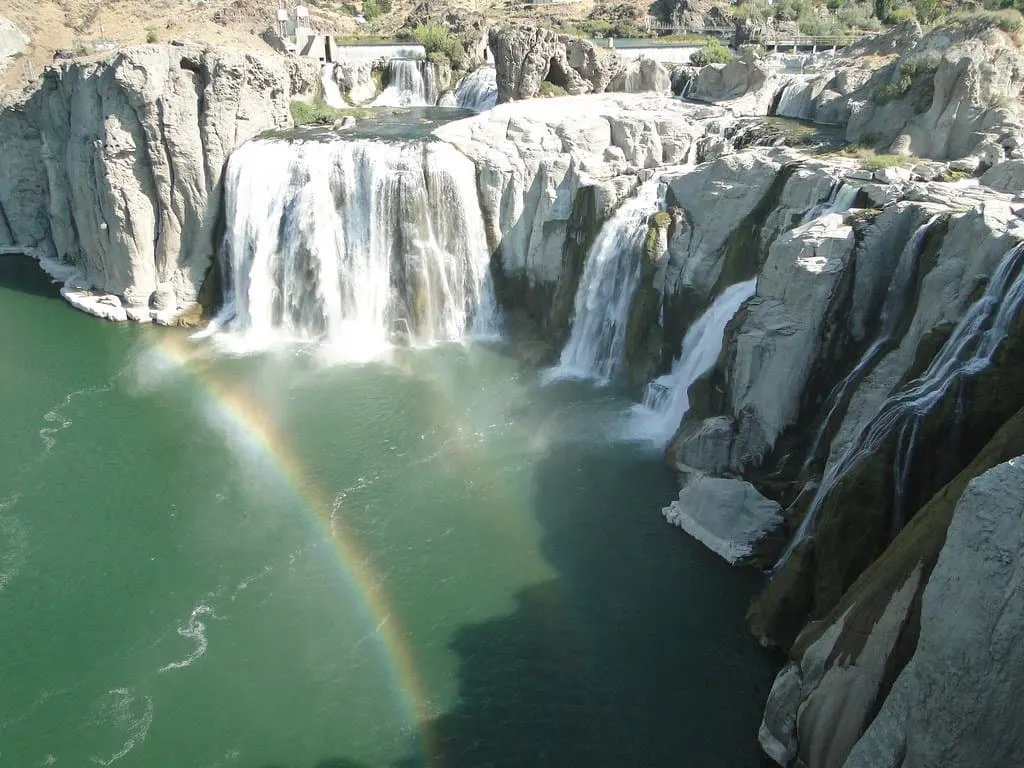 Near the city of Twin Falls, ID, the Snake River decides to ditch the whole "winding through the countryside" routine and do something a bit more exciting. It plunges 212 feet creating a dramatic spray and a beautiful spectacle!
Shoshone Falls is best viewed in the spring as irrigation diversions can reduce the flow quite a bit in the summer and fall. There is a nice picnic area near the parking lot with an incredible view, so don't forget to pack a lunch!
There is so much more to see in Idaho. Here are 10 fun things to do in Idaho with kids.
7. Multnomah Falls in Oregon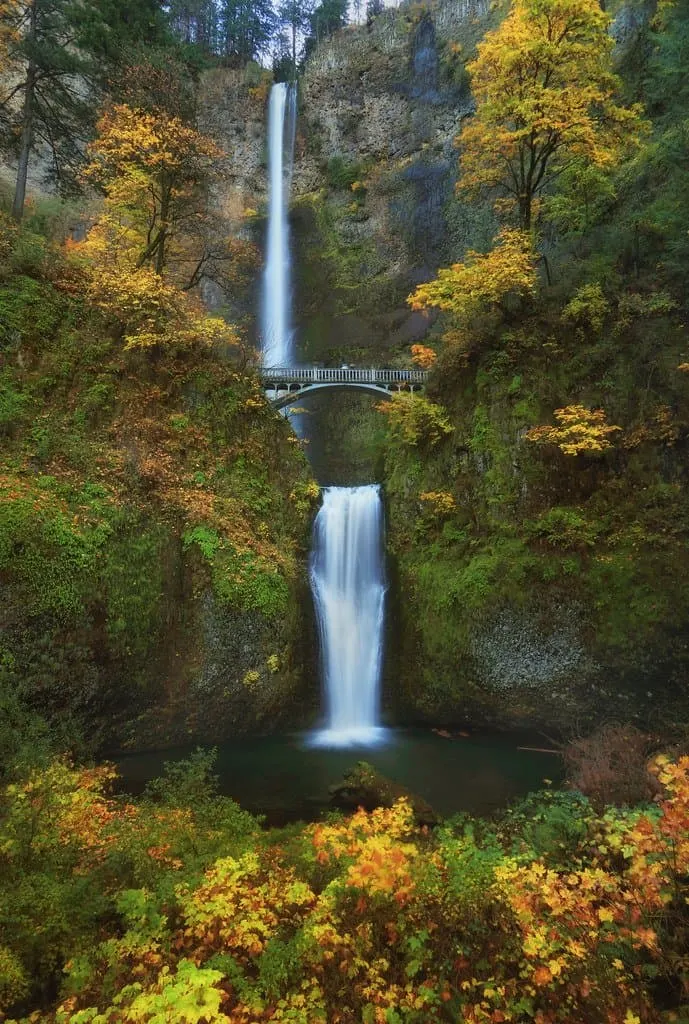 Multnomah Falls in the Columbia River Gorge is hard to miss while traveling along Interstate 84. Don't just give it a drive by, take time to stop and enjoy these beautiful falls, as well as several other easily-accessed falls along the same road.
Multnomah Falls drop 620 feet, and it's an easy walk from the parking lot through a tunnel under the highway to a viewing area near the base. If you are looking for a real adventure, take the steep hike up multiple switchbacks to the top of the falls. The view will be worth the burn in your thighs.
Here are 10 cool things to do in Portland with kids.
8. Silver Falls State Park in Oregon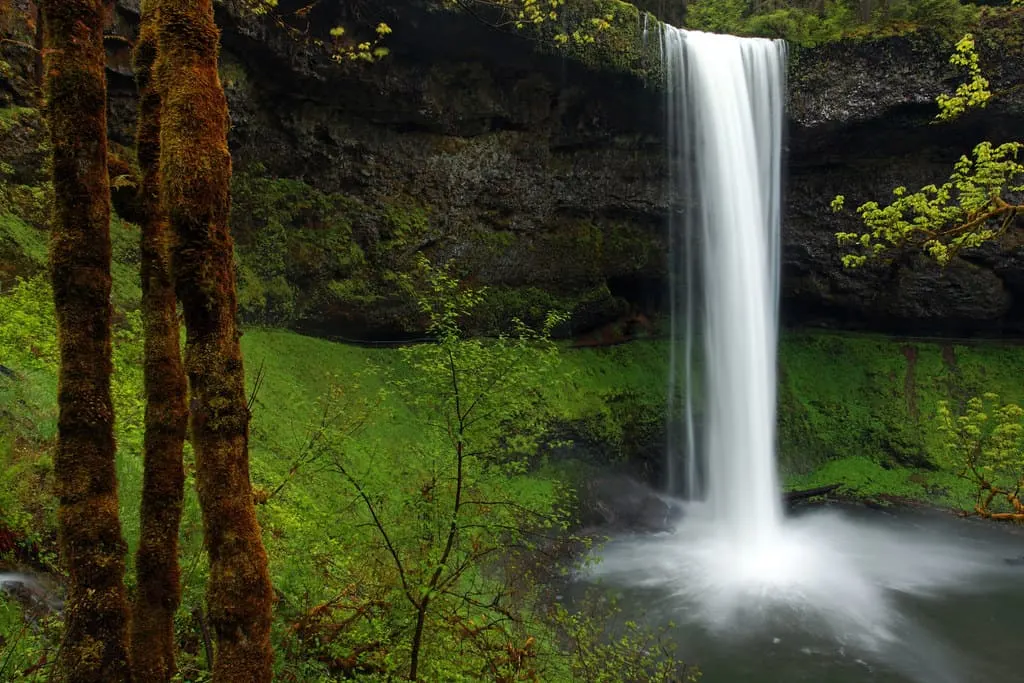 Why see one waterfall when you can see 10? Silver Falls State Park is a forested park just east of Salem, Oregon, and is a waterfall lover's dream. Some of the most best waterfalls in the US can be found here.
An 8.7 mile trail takes hikers past 10 waterfalls along Silver Creek. If you aren't up for hiking the trail, you can park close to several of the falls and walk to their viewpoints.
Whether you only have time to visit the easily viewed 177-foot South Falls or an entire day to follow the trail and see them all, you are guaranteed at least one "wow" to escape under your breath.
Discover the 10 amazing things to do in Oregon with kids.
9. Upper Whitewater Falls in North Carolina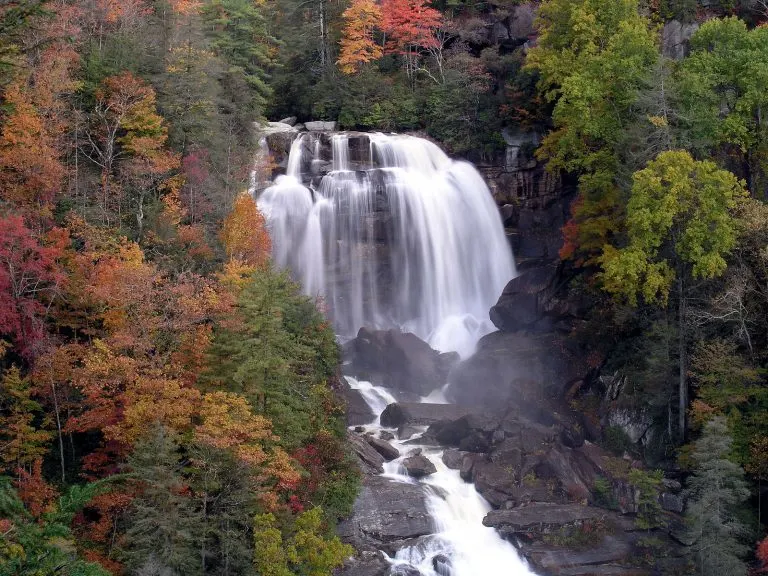 Located 60 miles from Asheville, North Carolina in the Jocassee Gorge, this stunner is the tallest waterfall east of the Rockies. Its just a short, stroller-friendly walk from the parking lot to the upper viewing platform.
For an even better view, head down 154 steps to the lower viewing platform and take it all in. While in the area, be sure to check out Gorges State Park for more wonderful waterfall-filled goodness.
Here are 10 more great things to do in North Carolina with kids.
10. Glacier National Park in Montana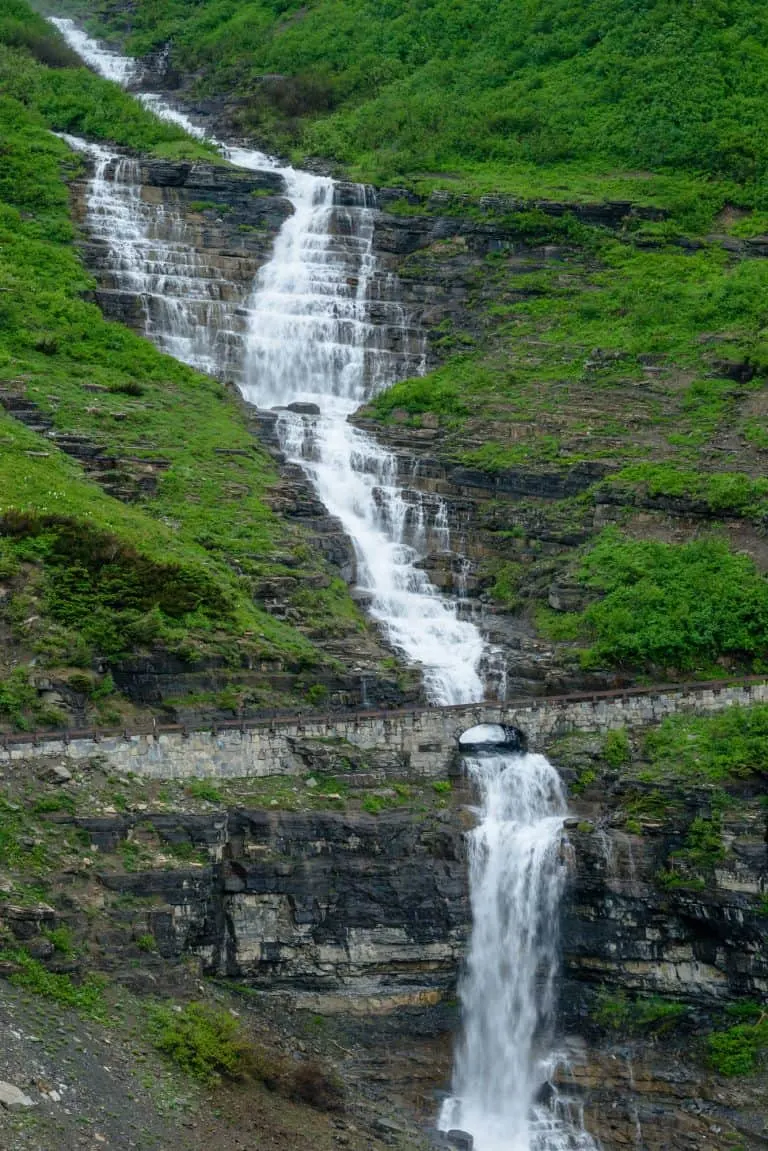 I know, I know, Glacier National Park isn't a waterfall. But come mid-summer, a drive down Going to the Sun Road will place you in a waterfall lover's paradise.
Snow melt cascades over cliff edges, down steep mountainsides, and even on to the road itself, creating drama that only Mother Nature can dish out.
This may be the only place on the planet where I was actually happy to be stuck in road construction traffic. The delays allowed us to slow down and enjoy parts of the park (waterfalls included) that we might have otherwise missed.
Beyond the waterfalls witnessed on Going to the Sun Road, there are several other waterfalls within the park that must be seen. Virginia Falls and St. Mary Falls are probably the most popular, for good reason.
The hike to 50-foot Virginia Falls is 3.7 miles, and includes a stop at St. Mary Falls as well as two other unnamed falls along the way.
See more of Glacier National Park. Here is our guide to visiting Glacier National Park with kids.