Headed to the Keystone State but don't know what to do in Pennsylvania? Luckily we have the inside scoop and know there are lots of great things to do in Pennsylvania with kids!
There are so many great attractions in Pennsylvania for families like big city attractions and museums in Pittsburgh and Philadelphia, history lessons at Gettysburg National Military Park, and the best skiing in the Mid-Atlantic in the Pocono Mountains.
There are also many Pennsylvania attractions that are fun and thrilling, from train rides to amusement parks.
Here are our top picks for fun things to do in Pennsylvania with kids. From the shores of Lake Erie to Independence Hall, we have you covered.
Fun Things to do in Pennsylvania with Kids in 2023
Explore Pennsylvania Dutch Country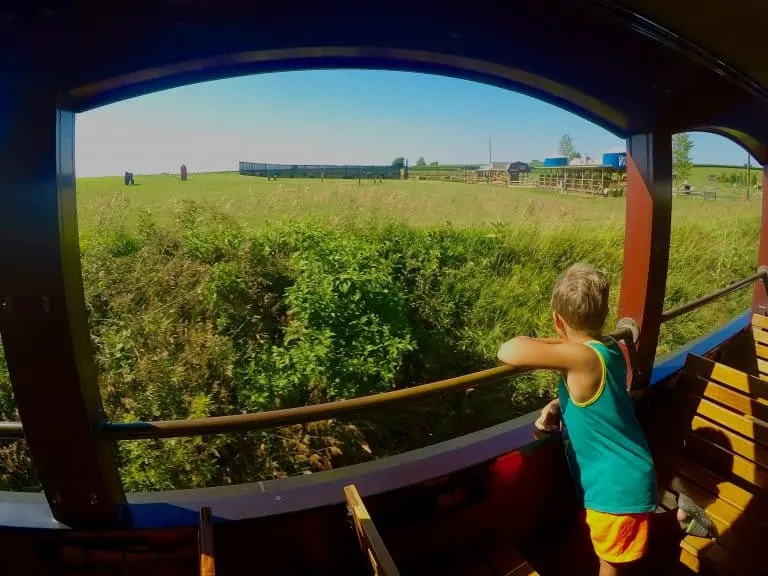 A drive through Pennsylvania quickly reveals that this state has a wealth of farmland. There is no better place to experience the bounty of this harvest than in Lancaster's Pennsylvania Dutch Country. In the summer months there are roadside markets selling fresh fruit, pies, and breads.
For the full experience visit a smorgasbord, like the Hershey Farm Restuarant or Miller's Smorgasbord, to eat the most filling meal of a lifetime. Kids love being able to choose from at least a dozen pie and dessert options after finishing their fried chicken. Ever wanted to try shoofly pie? Here's your chance!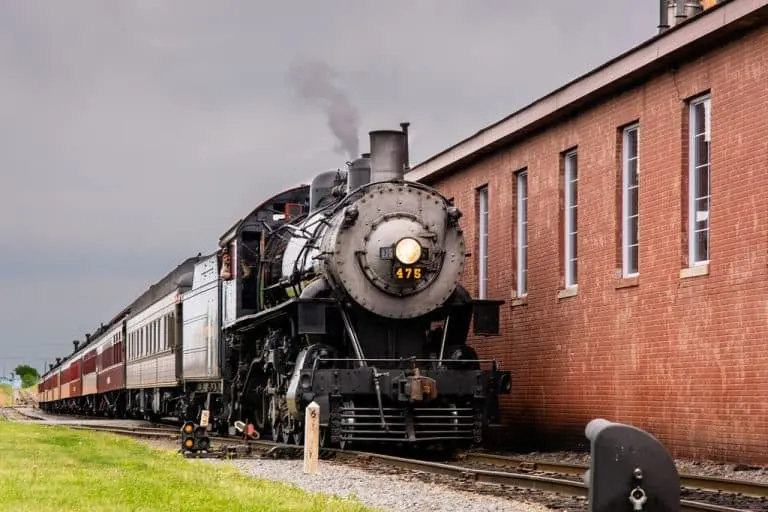 While eating is certainly the best way to enjoy the farmland of Lancaster County, it's not the only way. Hop on a steam train at the Strasburg Railroad and watch the countryside go by.
On early summer visits to PA Dutch Country, we've spotted the Amish men plowing their fields using traditional teams of draft horses.
For even more fun things to do in Pennsylvania with kids, leave the train behind at Cherry Crest Adventure Farm to enjoy their play areas, bouncing pillows, and seasonal corn maze.
Looking for more fun things to do in Lancaster County? Check out Visit Lancaster, Pennsylvania's Dutch Country, for Family Fun on the Farm.
Appreciate the Charm of Bucolic Bucks County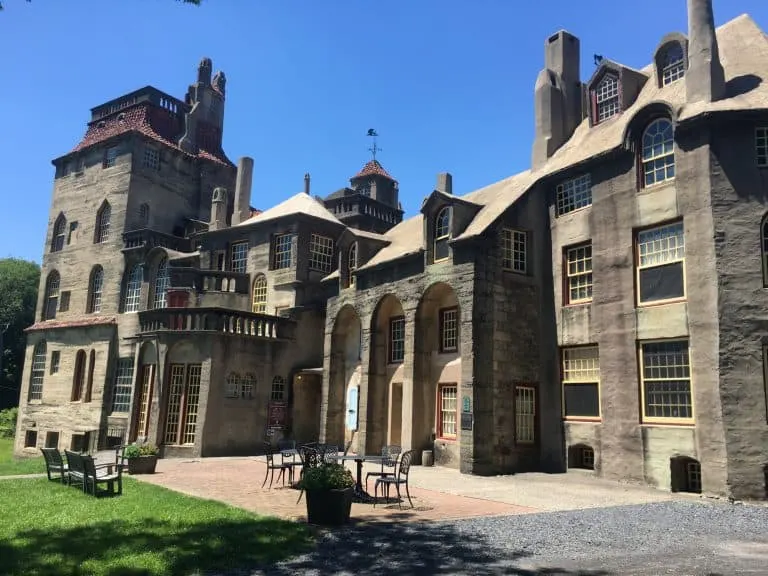 Along the Delaware River opposite the state of New Jersey lies Bucks County, a favorite weekend getaway destination for many Pennsylvania and New Jersey families. The rolling hillsides and quaint villages could not feel further from big city of Philadelphia, which in reality, is just an hour away.
In Doylestown, there is a curious group of castles housing a unique collection of tools and other items from the 19th Century pre-industrial age. Around the turn of the 20th century, Henry Mercer devoted his life to curating this collection.
Now there are nearly 50,000 items housed in the Mercer Museum, a six-story concrete castle dreamt up by Mercer himself. Be sure to pick up a scavenger hunt! They have several that are specifically designed for different age groups.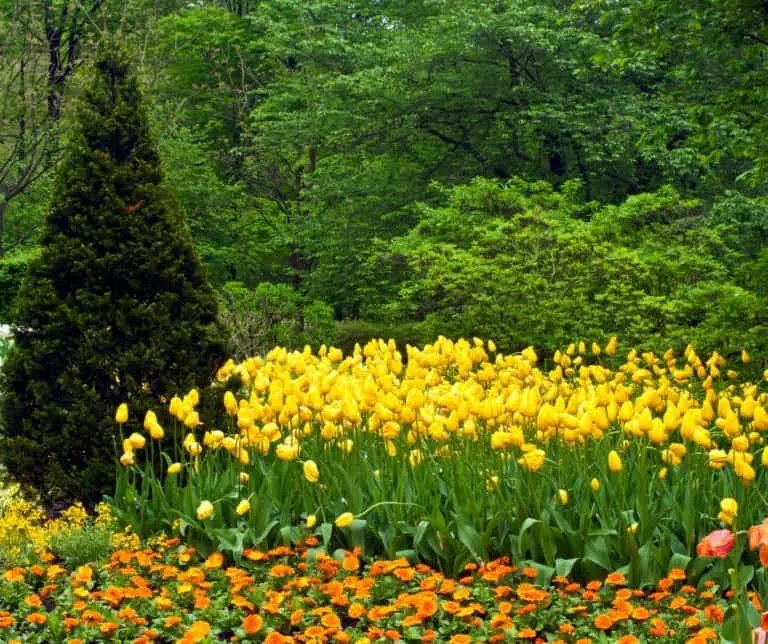 To the south of Philadelphia in the Brandywine Valley, Longwood Gardens is simply one of the most stunning gardens in the world. In the summer, the main fountains put on a show with lights, music, and over 1500 jets of water aiming skywards.
In the winter, the gardens are lit up for the season with millions of lights. The children's garden inside the conservatory building delights little ones with water fountains, labyrinths, and secret stairways year round.
Find family-friendly lodging near Longwood Gardens. As a Booking.com affiliate, Trekaroo is thrilled to be able to offer our readers the lowest rates.
Get Outside and Enjoy Pennsylvania's Lakes and Mountains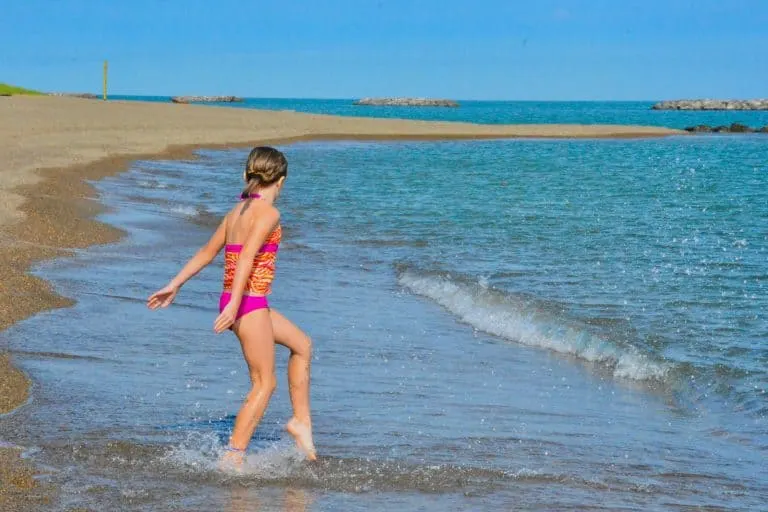 Did you know that Pennsylvania has it's own beach? On the shores of Lake Erie, Presque Isle State Park has more than 10 beaches for families to enjoy in the summer months.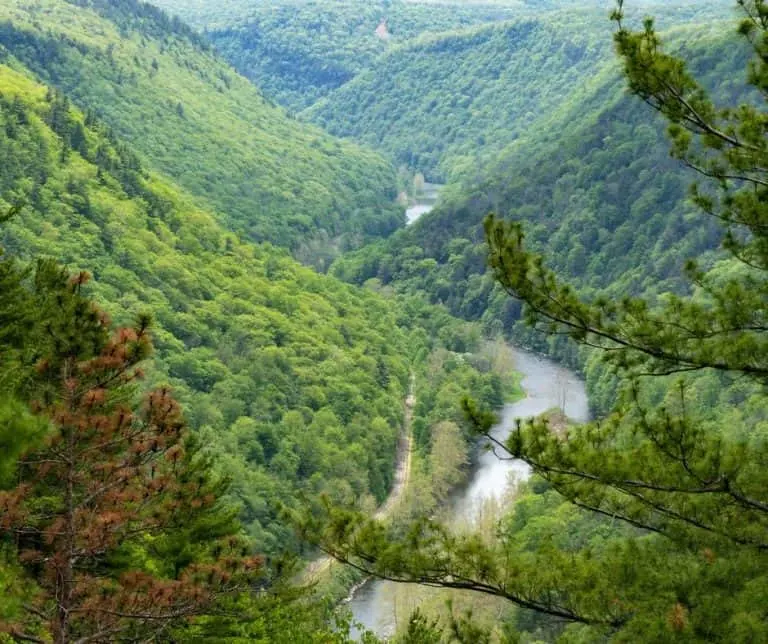 The state has its own grand canyon too! The Grand Canyon of Pennsylvania, aka: Pine Creek Gorge, stretches for over 45 miles in the northern part of the state. Northern Pennsylvania is even home to a large herd of free-roaming elk.
Many families head to Pennsylvania's mountains to relax and reconnect. There are countless mountain lakes, protected forests, and state parks that provide camping and cabins for families.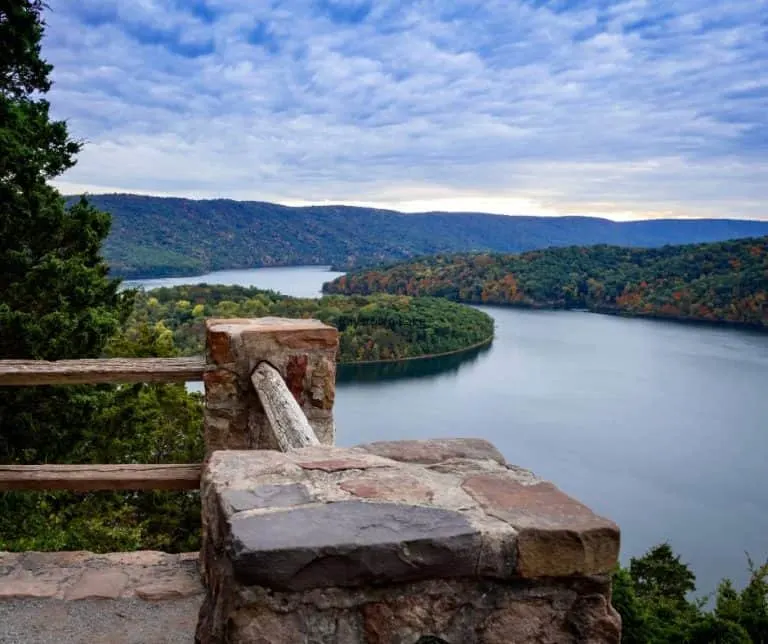 A Trekaroo favorite is the Raystown Lake Region in the picturesque Allegheny Mountains. It offers tranquil forests, mountain biking, scenic overlooks, and outfitters that provide everything a family needs out on the lake.
Looking for more things to do when you visit Erie, PA with kids? Check out Summer Family Fun on the Lake in Erie, Pennsylvania.
Take A Steam Train Ride Back to the Age of Coal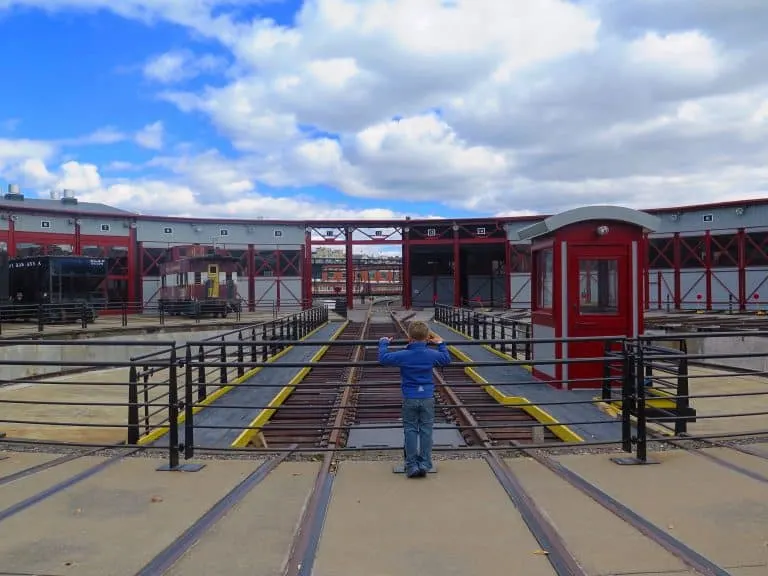 From a train that takes families into the Lackawanna Coal Mine in Scranton to Strasburg Railroad's coal burning steam train, the train rides of PA are fun reminders of the state's industrial past.
The heritage of the industrial age of coal and steel in Pennsylvania has left dozens of train rides in Pennsylvania for families to enjoy.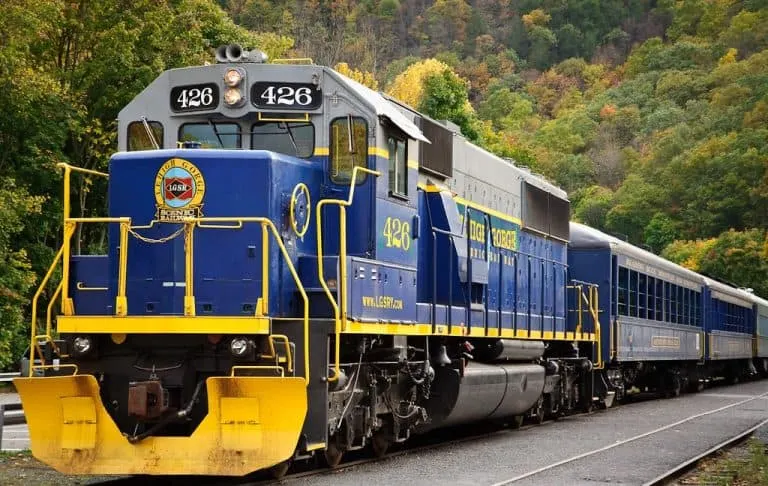 These trains are fun for everyone from "choo choo" obsessed tots who can ride Pittsburgh's retired trolleys at the Pennsylvania Trolley Museum to parents who wish to soak in the state's beautiful fall foliage abroad the scenic Lehigh Gorge Scenic Railway.
Go Skiing or Tubing in the Poconos Mountains
Kids from all over the Mid-Atlantic states grow-up learning to ski in Pennsylvania. Why? Ski PA has a Snowpass program where fourth and fifth graders can ski for free at Pennsylvania Ski Resorts. Due to the Pocono Mountains' convenient location, many kids from this region learn to ski on these mountains.
The Pocono Mountains are beautiful in any season, and they boast more than five ski areas and resorts.
Two of Trekaroo's favorite slopes are the Blue Mountain Ski Area and Camelback Mountain Ski Resort, which both also offer tubing. Camelback actually offers an amazing 42 lanes of tubing fun! It's one of the best things to do in Pennsylvania with kids.
The family fun in the Pocono Mountains does not end on the mountaintops. There are also indoor and outdoor water parks where families can play.
Camelback Resort offers a 13-slide Aquatopia Indoor Waterpark at its Camelback Lodge, in addition to its legendary Camelbeach Mountain WaterPark.
No matter the season, you wouldn't want to spend your entire Pocono Mountains vacation inside at a water park. Get outdoors and enjoy the kid-friendly hiking trails at Bushkill Falls or Hickory Run State Park!
Ready for a getaway from the kids? Check out these romantic hotels in Pennsylvania.
Explore Pittsburgh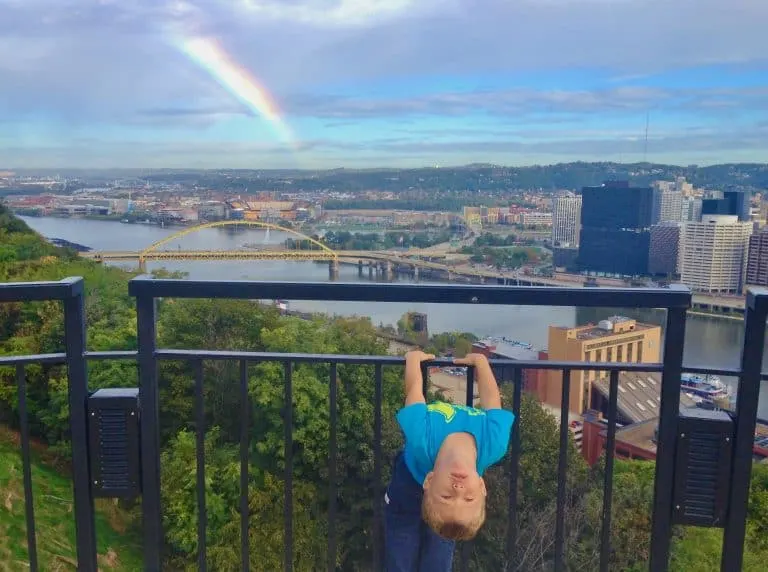 Famously sitting at the confluence of three rivers, Pittsburgh has one of the most distinctive skylines in all of the eastern United States. The castle-like PPG Place rising above the Allegheny River and golden Fort Duquesne Bridge.
There is no better view of the city than from Mount Washington. It is easily reached by the Duquesne Incline or Monongahela Incline from Station Square on the South Shore of the Monongahela. From the top of either incline, Pittsburgh locals will proudly point out Heinz Field where their Steelers play football.
Fortunately, there's so much more to Pittsburgh than football. Pittsburgh is home to a fantastic collection of museums due in part to the legacy of Carnegie and the city's steel empire.
The Children's Museum of Pittsburgh is perfect for both grown-up Mister Rogers Neighborhood fans and little Daniel Tiger's Neighborhood viewers featuring puppets from the original show. It also has a full complement of high quality, interactive science and art activities.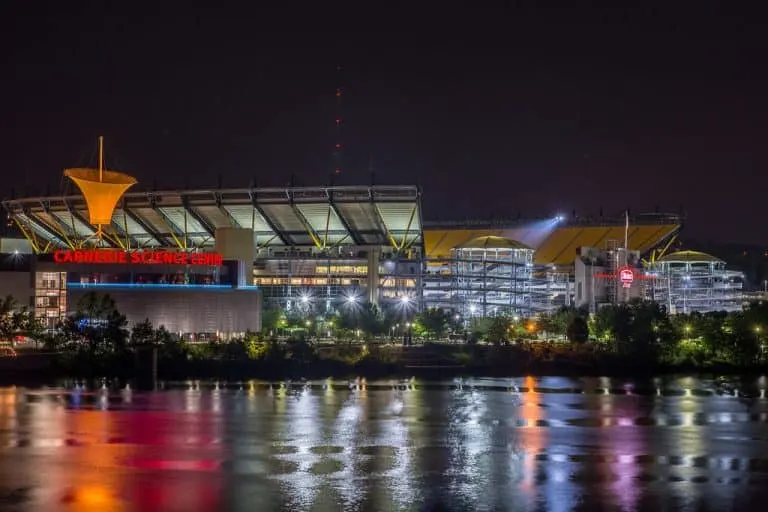 The nearby Carnegie Science Center also has a plenty of unique exhibits from a retired military submarine to a large model train exhibit highlighting the local landscape.
And, there's so much more in Pittsburgh including: the historic Point State Park, the enormous Phipps Conservatory Botanical Gardens, the Carnegie Museum of Natural History, and the iconic Strip District.
Before you head to Pittsburgh be sure to read our comphrensive guide to the Top 10 Things to do with Kids in Pittsburgh. It is filled with great recommendations for families.
Made in Pennsylvania: Hershey's Chocolate, Crayola Crayons, & More!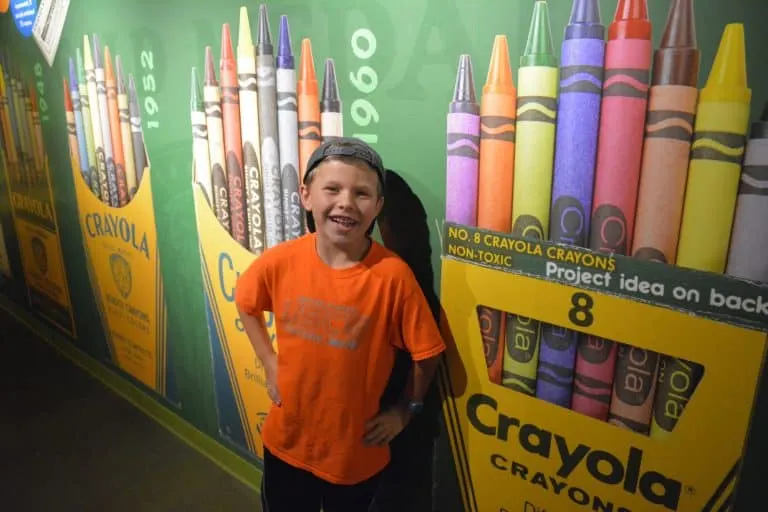 Pennsylvania celebrates the products that it produces like no other state. There are factory tours where families can see pretzels being produced. There are also hands on experiences that teach children how Crayola crayons are made.
At the Crayola Experience in Easton, my children named crayons for several of their friends and gave them out as gifts.
In Hershey there is even a theme park with rides named after Hershey's candies. Oh yes, it's clever marketing, but it's also so much fun.
Also, I am doubtful that my children will ever forget the catchy song that accompanies the ride at Hershey's Chocolate World. The Disney-like animated characters demonstrate how Hershey's chocolate is made during the free educational ride.
For a more traditional factory tour experience, head to central Pennsylvania. The Julius Sturgis Pretzel Tour is a Trekaroo favorite, but you're sure to find one that's just right for your family in Trekaroo's Family Friendly Factory Tours in Pennsylvania.
Visit a Pennsylvania Theme Park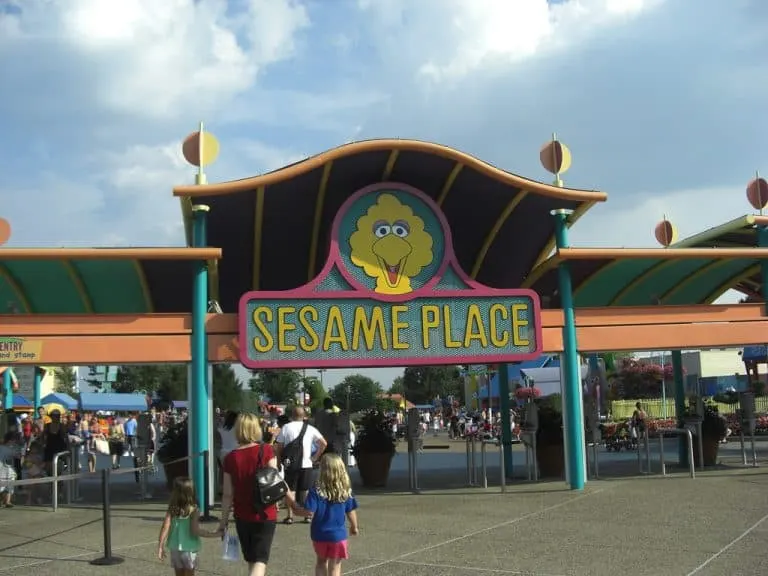 The joy of a young child bravely riding a roller coaster for the first time or giving a high-five to a character they recognize from television is a priceless memory.
Trekaroo families with preschoolers love Sesame Place where tots can join a parade with their favorite Sesame Street characters and later cool off on water rides just their size.
On the western side of the state Idlewild, too, is home to a familiar PBS character — Daniel Tiger from Daniel Tiger's Neighborhood.
Rounding out the assortment of amusement parks in PA that are just the right size for younger children is Dutch Wonderland in Lancaster County.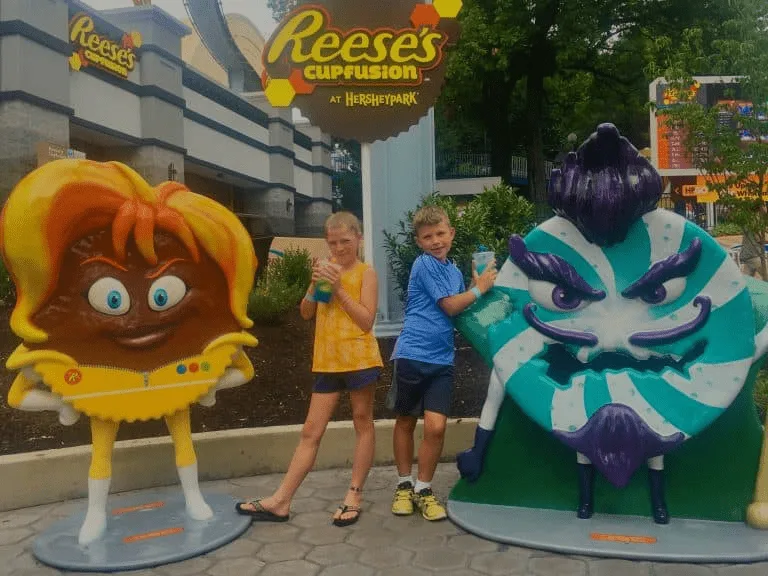 Amusement parks in Pennsylvania offer some thrilling roller coasters as well. Hersheypark certainly offers the most thrills in the state. It has over a dozen roller coasters that appeal to children of all ages from tiny tots to teens. Hershey's SooperDooperLooper was the first looping coaster on the East Coast!
Reese's CupFusion is sure to be a favorite with the entire family as everyone works together to protect the Reese's Central by blasting "Mint the Merciless." Be sure to bring your bathing suits to cool off at the Boardwalk in the afternoon.
Along the shores of Lake Erie, Waldameer World is home to the Ravine Flyer II. If you don't blink, you can even spot the sun setting over nearby Presque Isle State Park from the coaster.
Just outside of Philadelphia, Dorney Park's Hydra turns riders upside down a total of seven times – wow!
Visit Gettyburg to Remember the Legendary Battel and Lincoln's Famous Address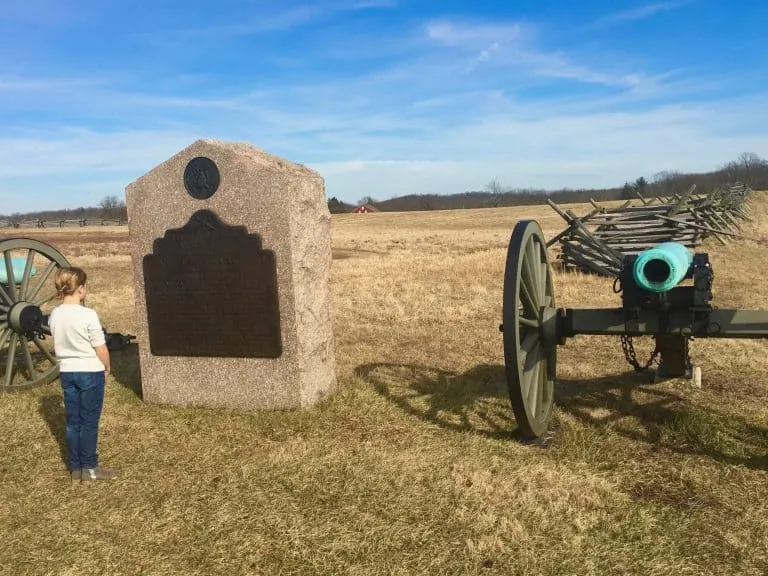 In President Lincoln's words, the world " can never forget what they did here." Simply put, that's the reason why families must visit Gettysburg National Military Park — so that they will always remember the cost of the American Civil War.
As families tour the extensive battlefields they can walk through the cemetery where Lincoln spoke those very words. Reading the monuments the history lesson of Gettysburg becomes so much more vivid than words in a history book.
For assistance in planning your family's memorable visit to Gettysburg, check out Trekaroo's How To Visit Gettysburg with Kids.
Learn About the Foundations of American Independence in Historic Philadelphia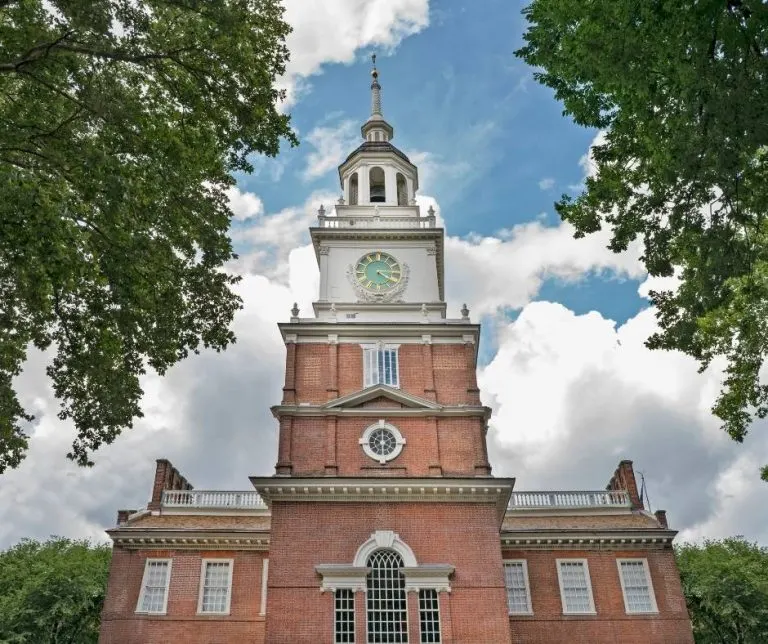 Every school child in the United States studies the Declaration of Independence and United States Constitution.
These are two of the most important documents in our nation's history. Visiting Independence Hall and imagining what it must have been like to be among Thomas Jefferson and Benjamin Franklin debating the future of our nation, is an essential lesson in American history.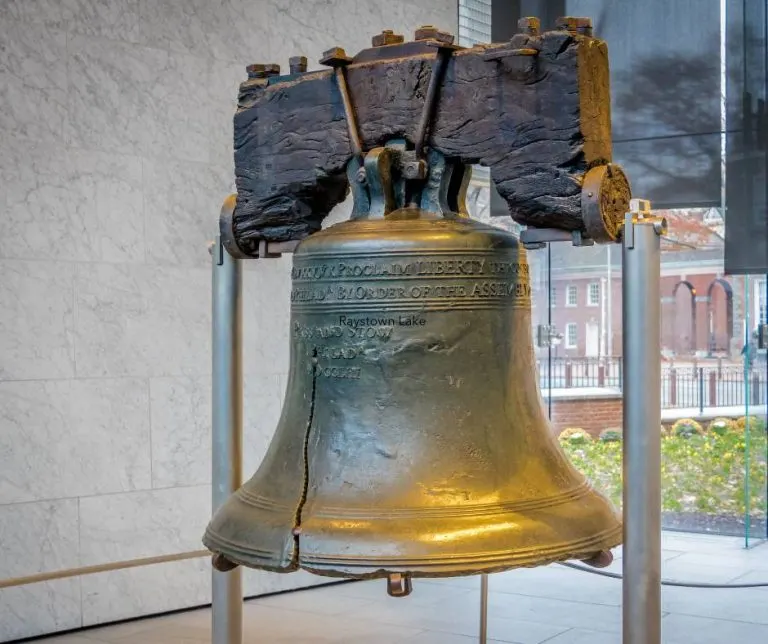 While viewing the Liberty Bell at Independence National Historical Park, children have the opportunity to ponder the Preamble of the Constitution. They can reflect on what it means when it states that the purpose of the US Constitution is to "secure the Blessings of Liberty to ourselves and our Posterity." What an invaluable lesson!
In addition to the historic sites run by the National Parks Service, there are also a couple of Pennsylvania attractions, the National Constitution Center and the Museum of The American Revolution. These museums provide background information for your family's visit to historic Philadelphia.
This historic section of Philadelphia is only a small part of the city itself. It is also home to some of the best Pennsylvania attractions and museums, from the hands-on science at the Franklin Institute to the Please Touch Museum. For a local's perspective on top Pennsylvania attractions for kids in Philadelphia, check out the Top 10 Things for Families to Do in Philadelphia.

Find Things to do with Kids Near You!
From coast to coast, we're determining the Top 10 Things to do with Kids in each state and dozens of cities in our great nation.