Last Updated on
Trekaroo generates revenue from purchases made through links to our partner brands.
When most people think about Minnesota, snow, hotdish, and nice folks come to mind. Though I believe we are nice and I love my own Top Secret Cheesy Wild Rice Hotdish, I am proud to report that we have much more for families. Minnesota is full of pristine lakes, full-service resorts, historically significant people and places, and lots of wild space. Sadly, this is not a top 100 list–because believe me, we could fill it! Here are the top ten things to do in Minnesota as a family.
Top 10 Things to do in Minnesota with Kids
10. Have a Ball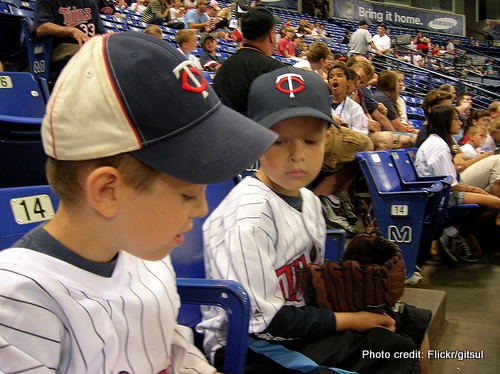 You can have a ball or also chuck a puck —'cuz we love our hockey! Minnesota is home to some professional greats. The Twins (call 'em "Twinkies" if you want to sound like a local), the Minnesota Wild, the Timberwolves or the Lynx, and the Vikings all call Minnesota home. Are you a LaCrosse fan? The Minnesota Swarm dominate Treasure Island Field in the Xcel Energy Center and will please those young fans in the family! You can even let your kiddos run the bases at Target Field. Although the Minnesota Vikings became famous in the Metrodome, they are in the midst of getting a new stadium. Keep checking back for the latest on the new venue! Our collegiate teams in Minnesota rival the rest of the country — watch the Golden Gophers or the Bulldogs as they take on foes! If you want to partake in some extreme or obscure sports, participate in either the Freeze Ur Gizzard Blizzard Run or a Polar Plunge—both are popular winter events here in Paul Bunyan's backyard.
Look for current hotel deals in Minnesota
What's your favorite Minnesotan team to root for? Tell us about your team.
Explore Minnesota's North Shore with our #9 Pick. Click Next.