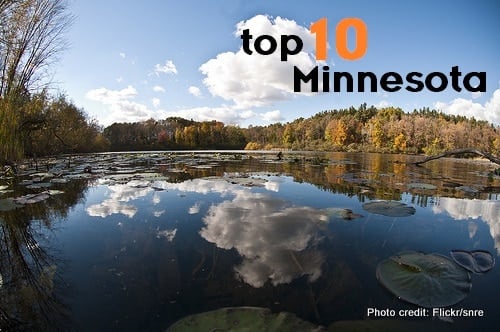 When most people think about Minnesota, snow, hotdish, and nice folks come to mind. Though I believe we are nice and I love my own Top Secret Cheesy Wild Rice Hotdish, I am proud to report that we have much more for families. Minnesota is full of pristine lakes, full-service resorts, historically significant people and places, and lots of wild space. Sadly, this is not a top 100 list–because believe me, we could fill it! Here are the top ten things for families to do in Minnesota.
10. Have a Ball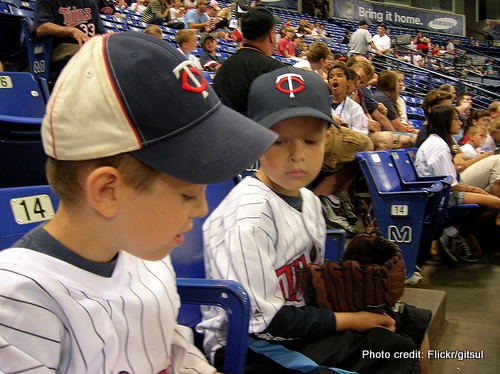 You can have a ball or also chuck a puck —'cuz we love our hockey! Minnesota is home to some professional greats. The Twins (call 'em "Twinkies" if you want to sound like a local), the Minnesota Wild, the Timberwolves or the Lynx, and the Vikings all call Minnesota home. Are you a LaCrosse fan? The Minnesota Swarm dominate Treasure Island Field in the Xcel Energy Center and will please those young fans in the family! You can even let your kiddos run the bases at Target Field. Although the Minnesota Vikings became famous in the Metrodome, they are in the midst of getting a new stadium. Keep checking back for the latest on the new venue! Our collegiate teams in Minnesota rival the rest of the country — watch the Golden Gophers or the Bulldogs as they take on foes! If you want to partake in some extreme or obscure sports, participate in either the Freeze Ur Gizzard Blizzard Run or a Polar Plunge—both are popular winter events here in Paul Bunyan's backyard.
What's your favorite Minnesotan team to root for? Tell us about your team. 
9. Hit the Road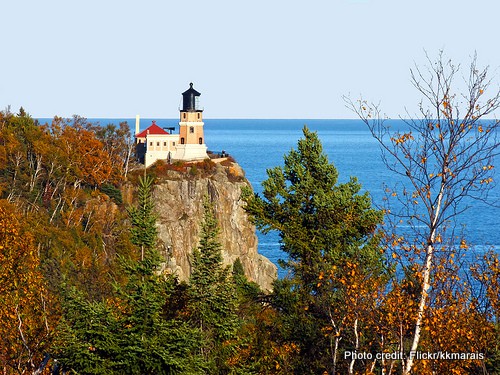 The "North Shore" of Lake Superior is a destination of its own. But, don't forget the rest of Highway 61, which winds its way through some great Minnesota towns along the Mississippi River. This stretch of road is packed with family fun. See the historic Naniboujou Lodge and have a fancy brunch or hike through time on the Grand Portage! There is no shortage of waterfalls, including the infamous Gooseberry Falls and High Falls of Grand Portage State Park. Duluth is always a fun afternoon stop; the maritime influence like the William A. Irvin, the beacon of Splitrock Lighthouse, and the Lake Superior Maritime Visitors Center are fun ways to learn and play. 
To truly appreciate the vastness of Lake Superior, you need to drive its shoreline! This epic road trip was made famous by Bob Dylan and is the namesake of it's own summer festival outside of Duluth–it's that good! Stop along the way to hike on some of the best trails Minnesota has to offer, including several State Park "hiker's club" routes and the Superior Hiking Trail (which even National Geographic Adventure magazine gets excited about). The National Eagle Center in Wabasha offers kids a glimpse of the American Bald Eagle (more likely a glimpse of several) along the banks of the river. From the bluff country and Winona to the shores of a Great Lake, this is more of a quest than a vacation. What will your family find when you embark upon the tarred trail?
If you want to test your sea lake legs, take a ride on a Vista Fleet Cruise! 
8. Visit a Little House on a Big Prairie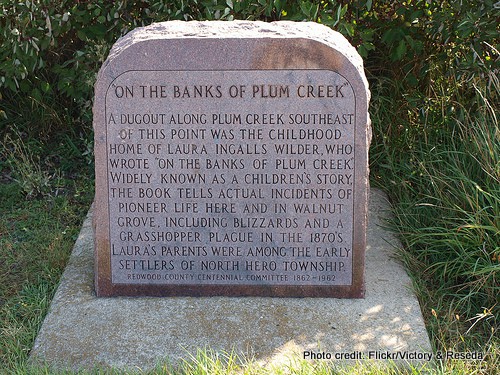 Who doesn't have a soft spot for Laura, Mary, Pa and the rest of the Ingalls? I grew up reading the books and watching the adventures of Laura and Nellie when Little House on the Prairie became a TV series. At the Dugout site, visitors can walk along Plum Creek and imagine themselves living in the frontier days. The Laura Ingalls Wilder Museum includes Ingalls family artifacts, items from the television series, and getting into character with hands-on opportunities. In July, the town of Walnut Grove has a Family Festival with pioneer demonstrations, hand crafts, and a outdoor drama based on Laura Ingalls Wilder. If you want to see some sod houses, similar to what families like the Ingalls would have lived in, head to Sod House on the Prairie in Sanborn, MN.
7. Embrace Midwestern Culture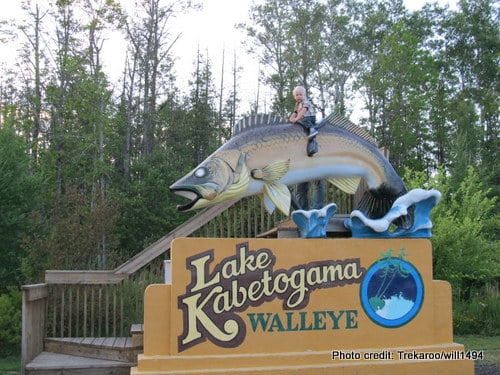 Minnesota culture is a unique blend of food, the quirky, and history. We love our potlucks, lefse, and some of us even love Lutefisk. Our family loves to grab pizza at Sven & Oles. While it is not particularly culturally significant it's IS very tasty and it's an interesting place paying homage to the famed duo! If the off-color is more your style (and this one is sure to make kids laugh), be a spectator at an Outhouse Race! Make sure you take the time to embrace all the different aspect of the past that shaped the culture of Minnesota today! Maybe you'd like to check off some obscure sites and odd attractions? Who knows what you'll find out traveling through the Minnesota pines while researching your family tree? Minnesota has 26 managed historical sites that provide a great time while still being educational. Learn about lumberjacks or Native American history and the fur trade era. You can also opt to simply see a little bit of everything at the Minnesota History Center! Those interested in Scandinavian culture might venture westward to the Hjemkomst Center in Moorhead, while The Runestone Museum is a good choice for those interested in Norsk history. You can find Caribbean Cuisine on Minnesota's Iron Range at the Whistling Bird and after a belly full of grub, explore the vast immigrant history for which we can credit the melting pot of Minnesota natives today!
6. Double the Fun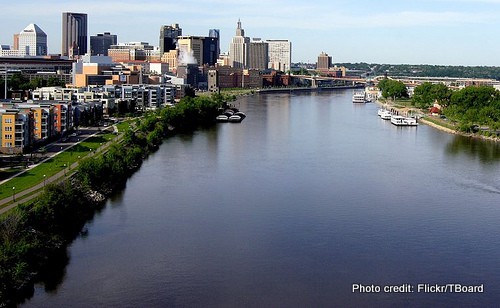 The Twin Cities (Minneapolis and St. Paul) are two very different experiences, offering a family days and days of entertainment and adventure. What else to say than it's double the fun? Some of the best museums, art and music scenes, and family fun adventures can be found within just a few minutes of the area. Take in a game, see a show or a concert, shop 'til you drop, swim and splash and slide, hike, and bike. (In 2010, Minneapolis was voted the #1 most Bike-Friendly City by Bicycling magazine, only dropping slightly to #2 in 2012.) Take the city by storm on a bike, since nearly everything is accessible from the seat of a bike rented from Nice Ride. (Kiosks which can be found in many parts of the metro during the warmer months.) Stay at the Depot Renaissance Minneapolis Hotel where you can skate and swim while getting rest in a hotel that is as cozy as home! Simply sit back and indulge in some fine cuisine and relax as you take in the big city life.
Check out these fun ideas for itineraries in both Minneapolis and St. Paul for your next family adventure! 
5. Get Away From it All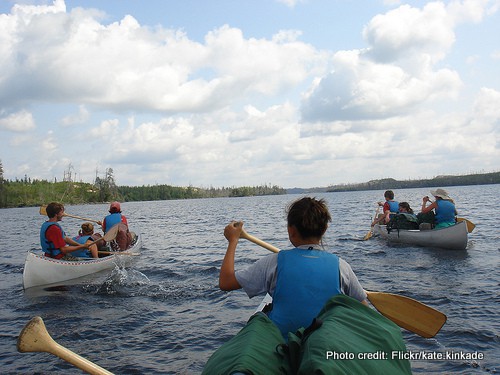 The Boundary Waters Canoe Area Wilderness (BWCAW) is an epic adventure. It's not for the faint of heart, so get tough! If paddling and portaging, camping under the stars, and outsmarting the bears, without showers (or cell phones in most areas), is your kind of fun, welcome to our playground for the outdoorsy family! There are a few fun towns that serve as jumping off points: Grand Marais is on the shore of Lake Superior while Ely is in-land. My suggestion? Take in both of them! The towns in and around the wilderness grant you access to Minnesota's crown jewel (the lake) and have some pretty great adventures of their own! Check out the "the Rootbeer Lady" and then be on the lookout for bears, wolves, and wild things. 
Maybe the deep wilderness isn't your thing, but you still want to be one with nature? Try Voyageurs National Park or the family friendly programming and trails of the Minnesota state parks. Some of the finest outdoor adventures can be had at one of many Environmental Learning Centers located statewide. Family hiking trails criss-cross the land like spaghetti, so if you want to get out and "hoof it," you've come to the right place. Travel across our four unique biomes and witness the amazing diversity of this gorgeous landscape! No matter your level of interest and experience, Minnesota can quench your thirst for adventure.
For a true family challenge and adventure, build a boat at the North House Folk School.
4. Mall of America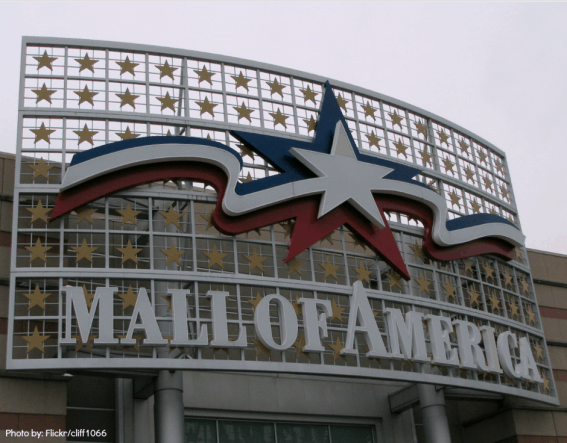 Enjoy the Mall of America, the most visited shopping mall in the world, located conveniently near the Twin Cities metro area. This isn't a trip to the local shopping mall; this is a mall experience that will surely have something to suit everyone's interests. Have you ever eaten in a rainforest? Here you can without applying for a passport! The Rainforest Cafe is a big hit with the kids, and a lot of the time parents can even enjoy the meal too. There is so much to see and hear (ambient frog choruses, bird vocalizations, and the giggles of other kids having fun), that your kiddo will give you time to eat and maybe even savor your meal for once! MOA offers unique fun within the confines of the mall walls, including the Minnesota SEAlife Aquarium, the LEGO Store, and Nickelodeon Universe! Feeling like all the fun has worn you out? Find a great place to lay your head (and have BIG fun) at the Radisson Bloomington-Waterpark of America—the largest indoor waterpark in the country. Conveniently located across the road from the mall, the Radisson offers visitors shuttle rides to and from MOA. If being across the street is too far away, you can stay right on site in the newly opened Radisson Blu – Mall of America hotel. Since it's right across the interstate from the Minneapolis-St. Paul International Airport, it's a great stop for a long layover too!
3. Four Season Fun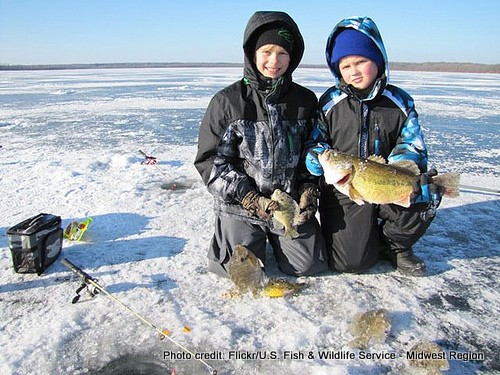 Minnesota is not just a state for summer frolics; visit Minnesota during the winter and try ice fishing,
dogsledding
,or winter camping. (Just remember to pack your long underwear!) Since we have snow and cold weather for many months each year, there is always a winter-themed event to partake in. You will find that we have a lot of Christmas and holiday cheer as well. The fall color around here is nothing to ignore—there are many auto tours to take in the changing of the seasons. There are several places to enjoy hauntingly fun events, pick apples, and enjoy other harvest-time fun. Spring means shoving off-shore for fishing. Every May, mothers across the state can either celebrate Mother's Day 
with the family
or send the family to the State Fishing Opener (which usually occurs the same day), leaving mom at home in the peace and quiet. During the 
summer, head to the lake
. Farmers markets and a plethora of summer festivals and fairs take advantage of every day of warm weather that our state sees.  No matter when you come or where in Minnesota you find yourself, rest assured your family will find festivities to incite fun! 
2. Fair Thee Well!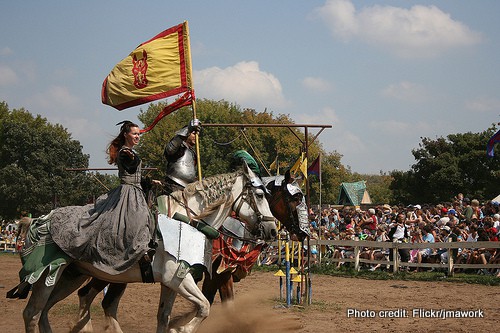 What better way to have a blast than to just declare an all out festival or fair? Have you ever been heckled by a jester? Have you met Twig? If not, The Renaissance Festival is where you need to go. Who doesn't get excited when someone says "live armored jousting?" Join in by donning a period costume. Have a hankering for foods that are deep-fried and served on a stick? The Great Minnesota Get Together, also known as the Minnesota State Fair, is a good place to start. Enjoy concerts, animals, and fair food: in my opinion, a perfect trifecta. Take a ride on the Wild Thing at ValleyFair. ValleyFair becomes ValleyScare around Halloween and is perfect for the tweens and older kids! Minnesotans also devote wickedly wonderful celebrations to Bob Dylan, Ladyslippers, Lumberjacks, Blueberries, Grumpy Old Men (yes, the Grumpy Old Men), Catfish, Harvests, Hobos, and more.
1. Make a Splash…or Just Reflect.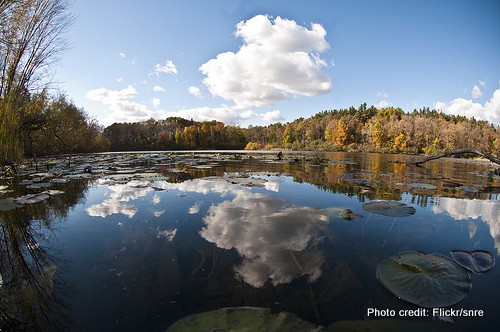 The Land of 10,000 Lakes should have a category just for the lakes. They are the wonderful places where all the memories are made! After all, you can find food in them, catch a "lunker," thaw out during the summer months, walk on the water during the winter months, and pose for holiday photos in front of the perfect scenic backdrop. All this time on the beach is sure to send positive ripples of happiness through each member of the family! Consider taking in the water skiers on a warm Thursday night in Minneapolis on the banks of the Mighty Mississippi. Part of the appeal of Minnesota is that we do have a lot of wild areas that are along the water so there are ample opportunities to just sit with your kids, roast marshmallows over a beach bonfire, and watch them play. The recipe to make family fun and fond memories unfold is simple…just add water!
Stay at a lakeside family friendly resort that provides the best in watersports, fishing, and family fun.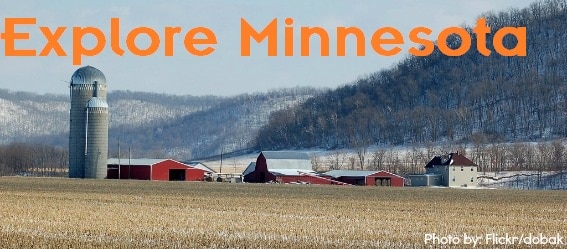 What state do you want to visit next?
From coast to coast, we're determining the Top 10 Things to do with Kids in each state of our great nation.   Headhere to see what tops the list in your favorite state.
Comments
comments