My family of five was itching to take a major road trip. We had always been intrigued about heading west, specifically from Chicago to Yellowstone.
When the opportunity presented itself, we jumped on the chance for a little adventure. So off we went – two adults, a 5-year-old, 3-year-old, and 1-year-old – on the most epic road trip from Chicago to Yellowstone. Read on, be inspired, and get ready to hit the road for your very own adventure!
Chicago to Yellowstone Road Trip Itinerary
Start in Chicago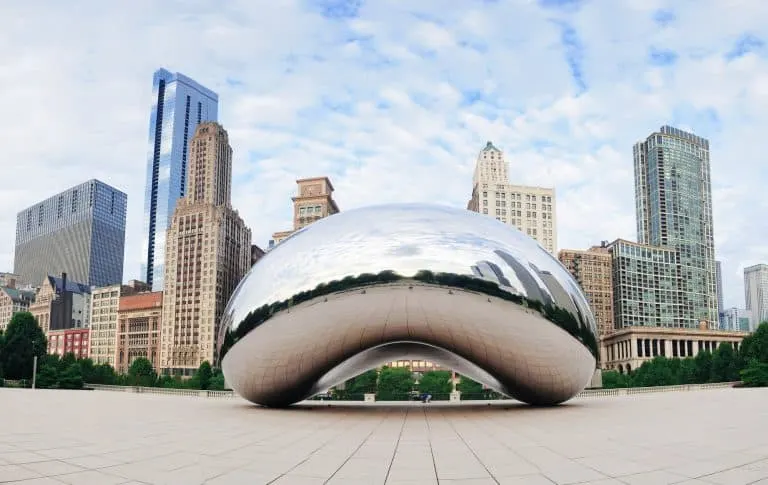 Chicago, my hometown, offers non-stop fun for families. If you haven't spent time here before, get acquainted with the city and start at the popular Navy Pier where kiddos will love the hands-on fun at the Chicago Children's Museum.
After, take an architecture tour for amazing skyline views with a bit of history. If you'd rather explore the city on foot, start at Millennium Park. Take pictures at the "Bean," then make your way to the new Maggie Daley Park, the ultimate playground for kids.
Museum-lovers can spend a full day at the largest science center in the western hemisphere, Museum of Science and Industry.
The Museum Campus, home to the Shedd Aquarium, Field Museum, and Adler Planetarium, is another great place to explore.
Shop 'til you drop on the Magnificent Mile. See the city from above a double-decker bus, or better yet high above from the John Hancock Center or Willis Tower.
Before you visit Chicago, read up on Top Ten Things to Do in Chicago with Kids.
Where to Stay in Chicago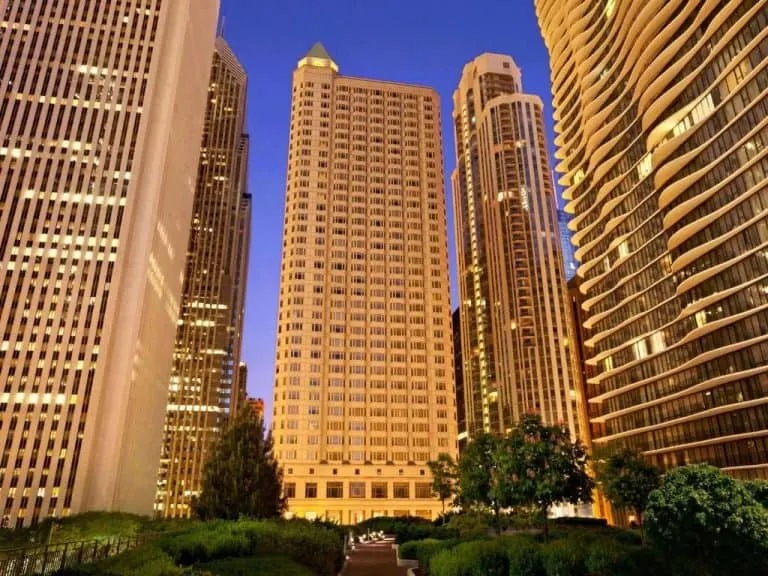 There are plenty of lodging options available in Chicago, depending on your budget. Stay at the Fairmont Chicago, a short walk from Millenium Park and Maggie Daley Park.
For kiddie-themed rooms, a stay at the triangular-shaped hotel Swissotel Chicago will not disappoint. For a splurge, stay at the fancy-yet-family-friendly The Langham Chicago.
Road Trip from Chicago to Yellowstone Leg 1: Chicago to Des Moines
Pit stop on I80 in Iowa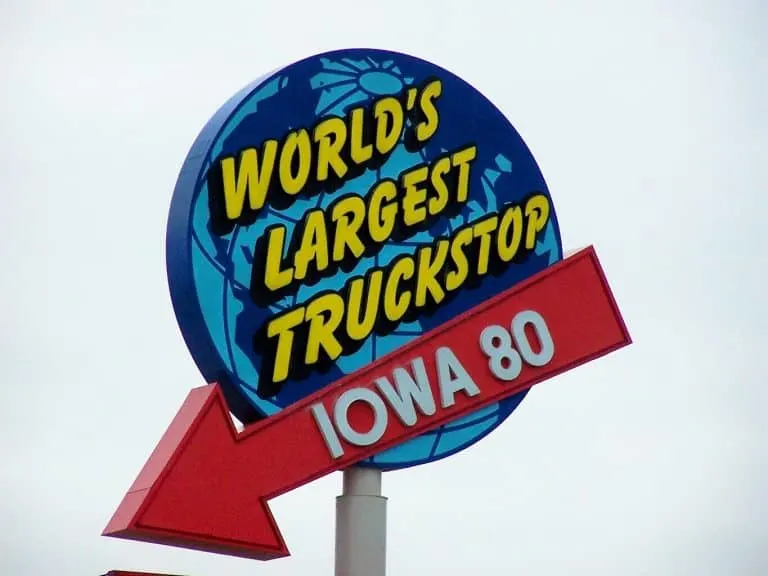 With a threshold of only three hours for our three crazy kids, the World's Largest Truck Stop provided a much needed stop right off I-80 in Iowa (exit 284). The diverse fast food options along with coffee, a truck store, souvenirs, and a free truck museum, were a great diversion for everyone!
Des Moines, Iowa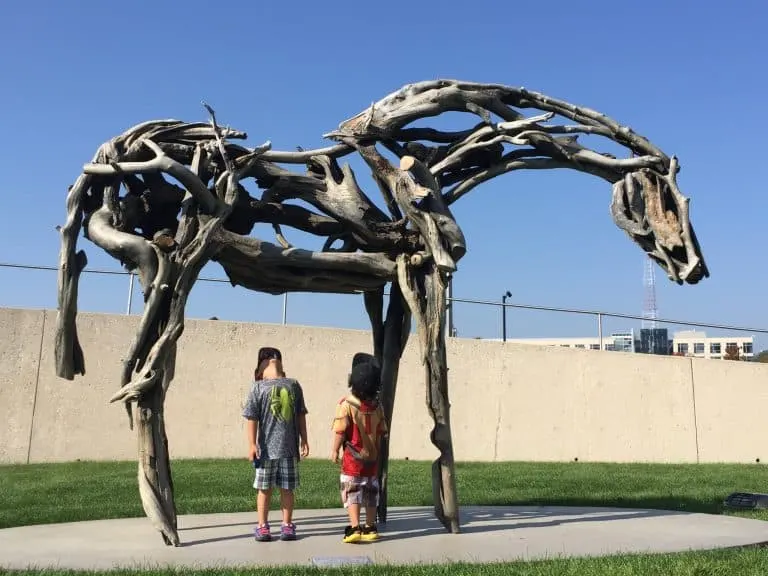 From Chicago head west along I-80 to Iowa's state capital, Des Moines. For a nice short stroll with ample photo-taking opportunities, head to the John and Mary Pappajohn Sculpture Park .
Take a spin at the Heritage Carousel of Des Moines where rides are only fifty cents.
For indoor fun coupled with a few experiments, families will enjoy the Science Center of Iowa. Parents will love the retro, family-friendly bar/lounge complete with shaggy brown carpets at High Life Lounge next to the Science Center. Not easily frightened? Try Zombie Burger for delicious burgers enjoyed with the un-dead.
Have more time? Catch free art at the Des Moines Art Center or explore the rest of greater Des Moines' six hundred miles of bike trails.
Where to Stay in Des Moines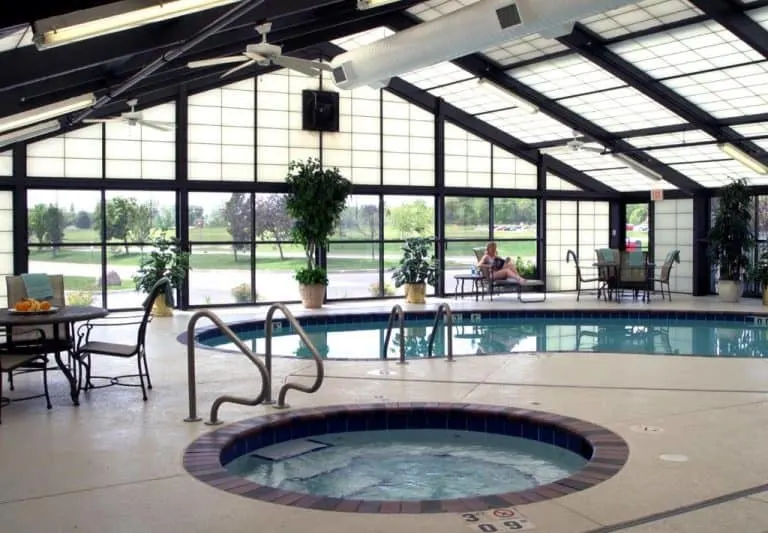 Located minutes away from Des Moines city center, the Springhill Suites West Des Moines provides a comfortable stay in large, nicely appointed suites with mini fridge, microwave, sitting area, and free breakfast. Plus, there's an indoor pool.
Road Trip from Chicago to Yellowstone Leg 2: Des Moines to Souix Falls
Pit stops in Elk Horn and Le Mars, Iowa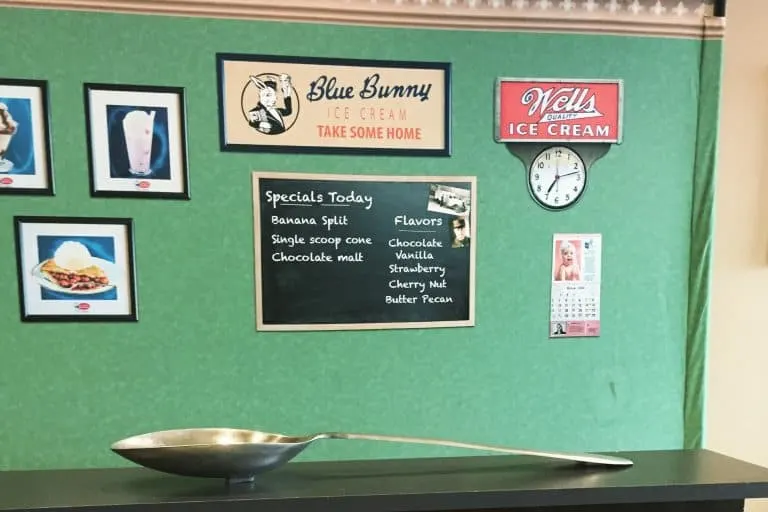 See an authentic Danish working windmill in Elk Horn, Iowa.
Then, head two hours north and stop at Le Mars, Iowa, deemed the ice cream capital of the world. Before (or after) digging into ice cream, grab lunch at local favorite Bob's Drive-Inn, known for hot dogs topped with loose meat.
Drive down a few blocks to the Blue Bunny Ice Cream Parlor taking note of all the ice cream sculptures located throughout town.
See more of Iowa! Here are the10 best things to do in Iowa with kids.
Sioux Falls, South Dakota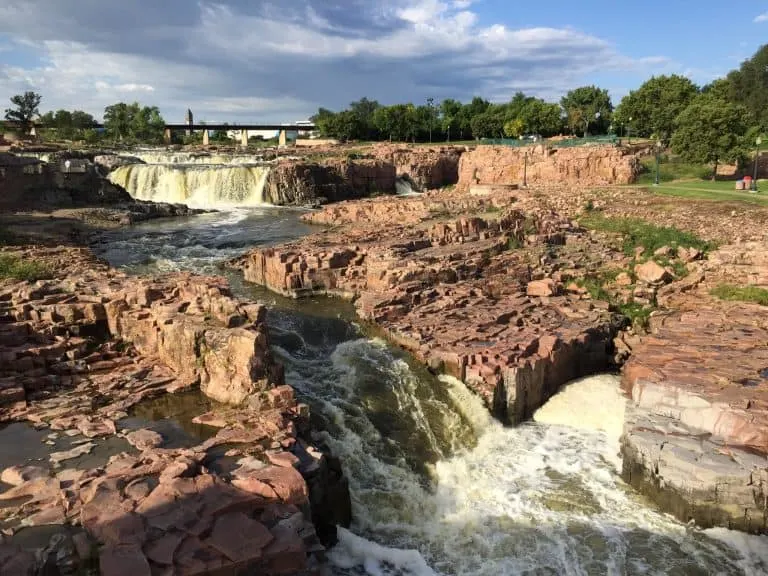 Located near the South Dakota/Iowa border, Sioux Falls offers a lot of fun for families.
As the city's namesake, Falls Park is a must see to view Souix Falls splashing down over 100 feet. For outstanding panoramic views, visit the five-story visitor center.
Take a stroll down the SculptureWalk to see sculptures on display and vote for your favorite piece to be added to the city's permanent collection.
For hours of hands-on fun for both kids and adults, the Kirby Discovery Center at Washington Pavilion won't disappoint. Don't forget to say hi to Stan, the T-rex, or catch a flick at the Cinema Dome. This former high school is also home to a performing arts center, theater, and visual arts center.
Have more time? Spend time getting to know more than 1,000 animals like anteaters and rhinos at the Great Plains Zoo. Save time to visit the Delbridge Museum of Natural History included with the zoo admission.
Where to Stay in Souix Falls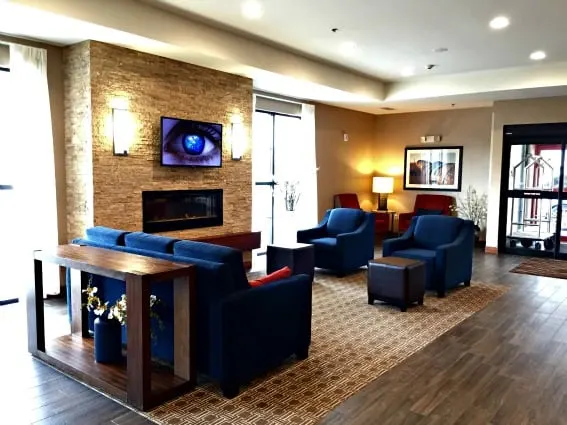 The Comfort Inn & Suites in Sioux Falls provided a great place to relax after a day of traveling. It was clean, comfortable, and offered free breakfast. One of the best Comfort Inns we've ever had the pleasure of visiting.
Road Trip from Chicago to Yellowstone Leg 3: Souix Falls to Rapid City
Pit Stops En Route to Rapid City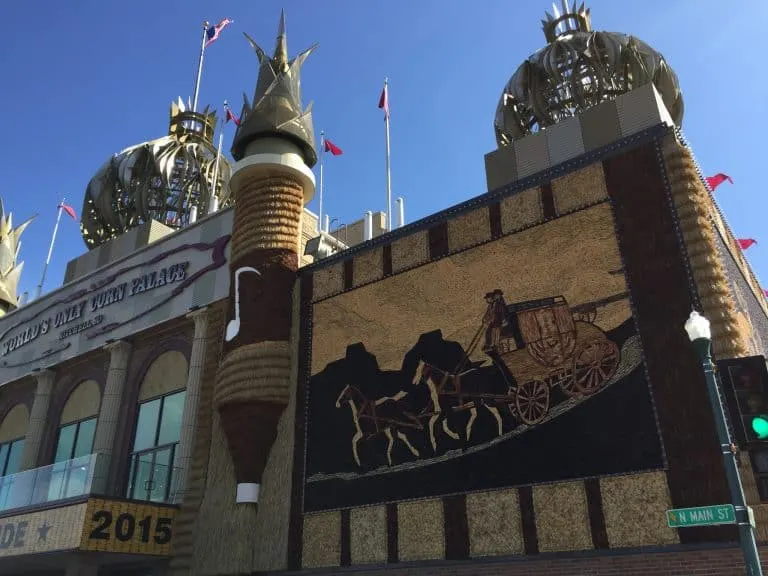 This leg of our Chicago to Yellowstone road trip takes us from Sioux Falls to Rapid City, and has plenty of fun road trip stops.
Your first stop is the world's only corn palace in Mitchell. Check out the sides of the building which are covered with murals made with ears of corns and other grains.
Al's Oasis is also a nice pit stop with everything you need – a grocery store, general store for great souvenirs, clean restrooms, plus a great place to grab food like a bison burger, five cent coffee, or a delicious strawberry pie.
After seeing mile after mile of prairie land on I-90, the stark contrast of the rugged peaks of the Badlands National Park was a welcome sight. It was easily one of our favorite pit stops of our road trip.
Stop by the Ben Reifel Visitor Center for a potty break and learn more about the animals and plants native to the park. One of the highlights of the 51-mile loop was taking the unpaved path on Sage Creek Rim Road to see prairie dogs, buffalo roaming freely, and other wildlife.
Follow the loop back to the town of Wall and see what all the fuss is about at the unique Wall Drug.
Rapid City, South Dakota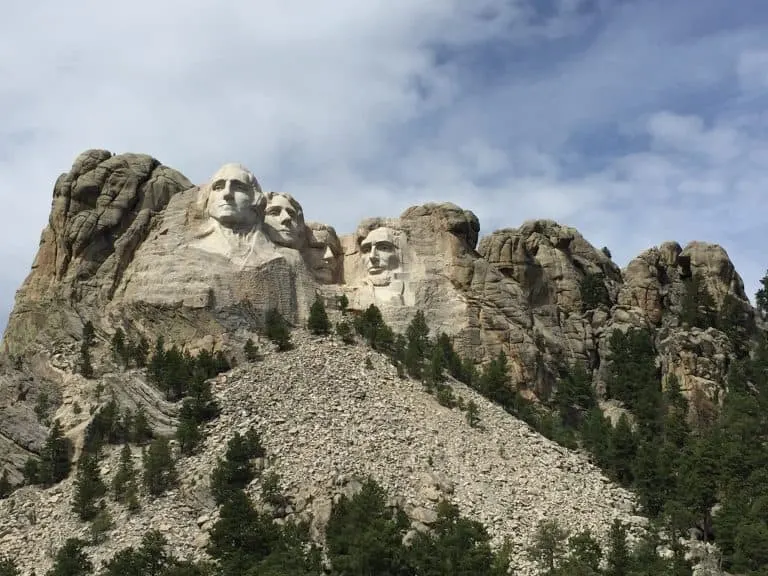 Rapid City is a wonderful base camp to explore the Black Hills, Badlands, and Custer State Park.
No visit to the area is complete without seeing Mt. Rushmore, but don't you dare forget to grab a vanilla ice cream from the Jefferson Memorial Ice Cream shop located on site. Word is they use Jefferson's first vanilla ice cream recipe!
Ready for a fantastic drive? Follow the loop through Custer State Park where you will more than likely encounter burros, prairie dogs, and buffalo.
If time allows, drive through Needles Loop to experience hair pin turns and oh-so narrow tunnels.
Stop by Crazy Horse Memorial, not far from the Needles loop, to see the progress being made on an important memorial which will dwarf Mount Rushmore once completed.
Want to see bears? Our visit to Bear Country USA was quite honestly one of the most memorable parts of our trip.
This drive-through park wows visitors with up-close views of animals such as arctic wolves, big horn sheep, and mountain goats that call the park their home.
After driving through parts of the 200-acre park, get out on your own two feet to see baby bears, baby wolves, and other baby animals. End the day at Fort Hays Chuckwagon for toe tapping music, raunchy skits, and food served on tin plates.
Fuel up with coffee at Alternative Fuel, then get ready to spend the day exploring Rapid City. Find sculptures of presidents hanging out at each corner, then veer off between 6th street and 7th street to scope out awesome art at Art Alley.
Dinosaur Park has been luring travelers and dino lovers since the 70s with their life size dinosaur sculptures. End the day trying regional food like elk ravioli and one of the best bison prime rib you'll ever have tasted at Dakotah Steakhouse.
Have more time? For another blast from the past that kids will adore, visit the whimsical Storybook Park in Rapid City or see the world's largest collection of reptiles at Reptile Garden.
But wait, there's more! Discover 26 Fun Things to do in the Black Hills of South Dakota.
Where to Stay in Rapid City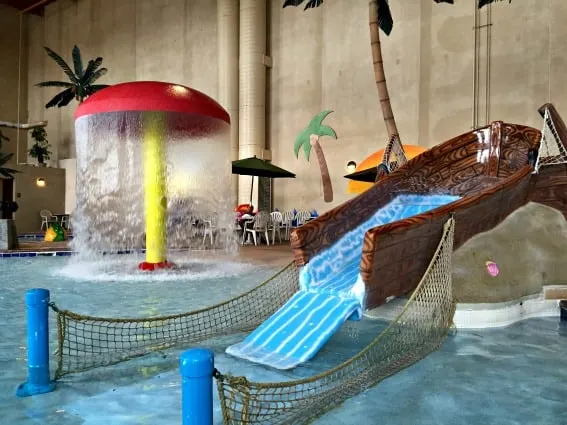 A stay at the western themed Best Western Ramkota managed to be one of my kids' favorites for our entire road trip primarily due to the splash-tastic waterpark attached to the hotel.
My young kiddos enjoyed exploring the pirate ship and water play toys, sliding down the boats, and splashing around the zero depth area. Older kids and adults seemed to enjoy taking a plunge down the huge water slides located a few stories high.
Road Trip from Chicago to Yellowstone Leg 4: Rapid City to Billings
Pit Stops on the Road Through Wyoming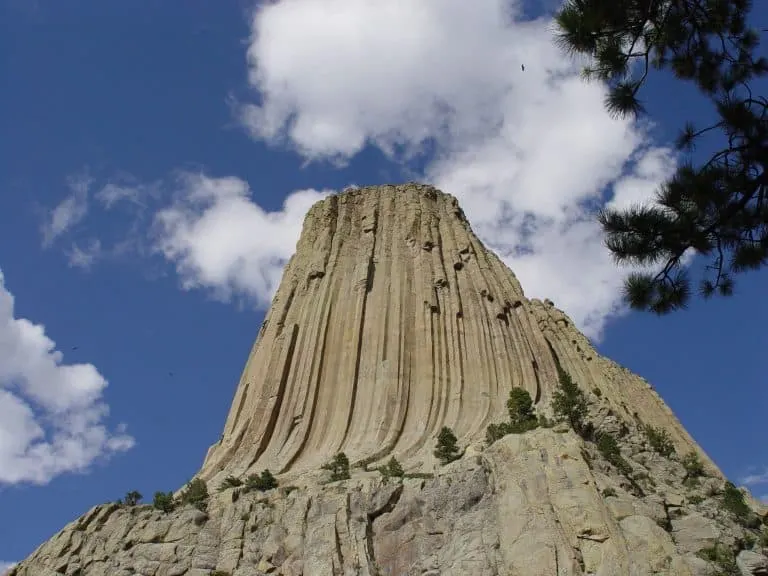 If time allows, before you leave South Dakota stopa in the infamous town of Deadwood, which beckons with its rich Wild West history. Take a quick detour to Mt. Moriah Cemetery and see the graves of Calamity Jane and "Wild Bill" Hicock.
Then, head west for another worthwhile stop at Devil's Tower National Monument in Wyoming. This flat top volcanic formation is considered a sacred place to many.
Kendrick Park in Sheridan, Wyoming, is a great place to stretch the legs and also grab an ice cream treat.
Billings, Montana
Time didn't allow us to explore the area fully, but if we had time we would have loved to explore the Pictograph Cave State Park with drawings that date back to more than 4500 years ago.
Animals native and not native to the area call ZooMontana their home. Miles of user-friendly trails are waiting to be explored from hiking to biking on Montana's Trailhead.
Where to Stay in Billings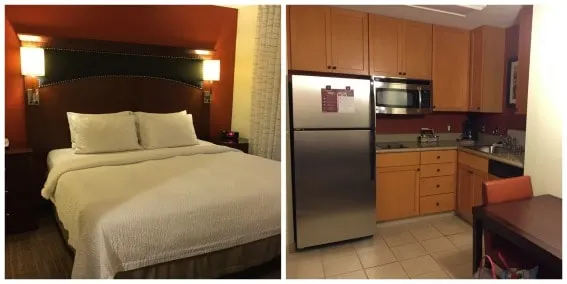 The Billings Residence Inn has everything a family would want – a clean suite, a kitchen with full fridge, oven, dishwasher, great sitting area, and a much needed laundry room.
It even had a basketball court and fire pit. The friendly staff and great amenities made this subtle Western-themed hotel one of our favorites!
Road Trip from Chicago to Yellowstone Leg 5: Billings to Yellowstone
Pit stops in Bozeman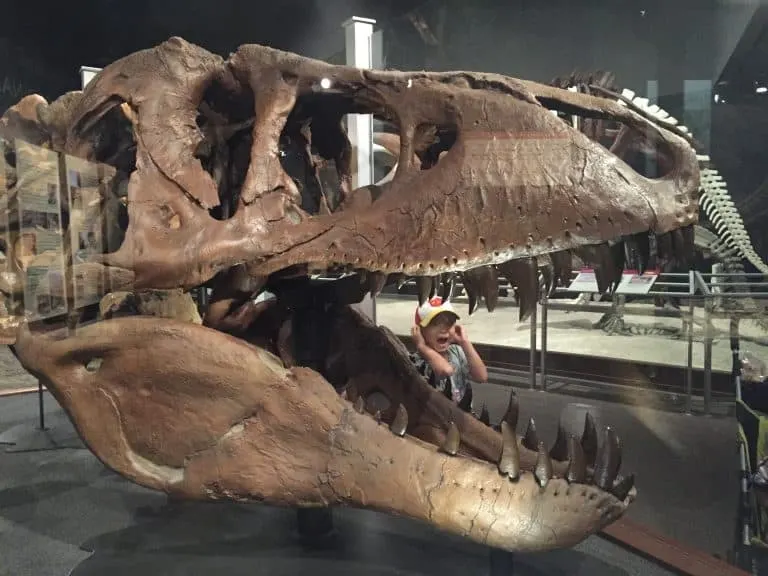 Head southwest to the town of Bozeman, the home of Montana State University. Take a stroll through downtown Bozeman to find tons of cute eateries and shops.
With two dino-lovin' sons, we couldn't leave without stopping by the Museum of the Rockies. Not only did the dinosaur exhibit and lab rule, but the kids had a blast learning all about Yellowstone in their kids section, the Discovery Center.
Spend more time in Montana. Here are the best things to do in Montana with kids.
Yellowstone National Park, Wyoming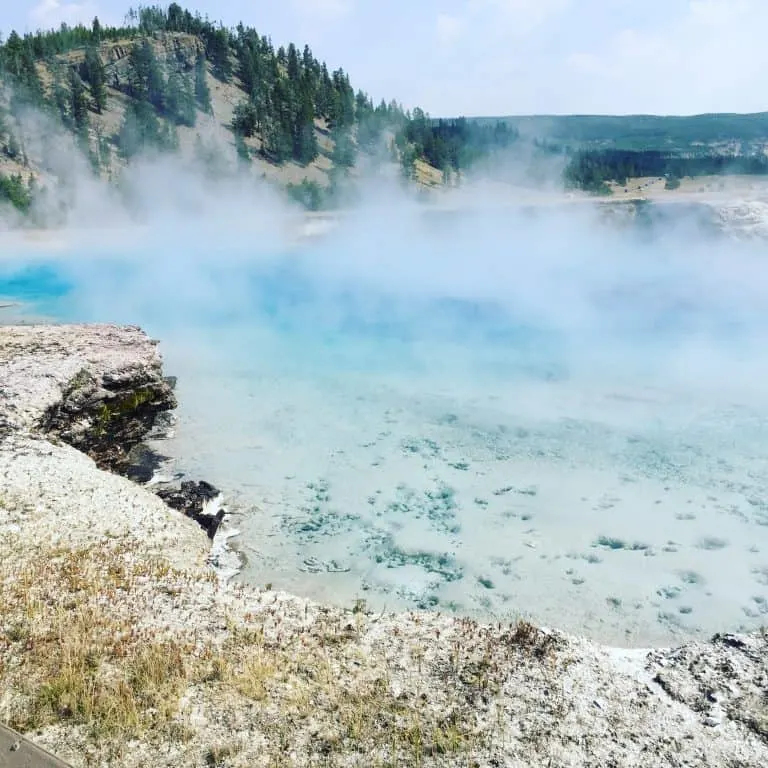 Yay! You made it! To do Yellowstone justice, more than two days should be dedicated to exploring America's first national park.
The lower "loop" with its geysers, bubbling mud pots, and springs was a sight not to be missed. Don't forget to see the most iconic of them all, Old Faithful Geyser. Of course, you will also want to make time to explore the Mammoth Hot Springs area in the northwest corner of the park as well.
Travel through the rest of the park to see rivers, waterfalls, canyons while spotting some wildlife. Here is our complete guide to exploring Yellowstone with kids.
There is so much more to explore on your Yellowstone vacation.
Where to Stay in Yellowstone
45 minutes from the West Yellowstone entrance, Big Sky Resort in Big Sky, Montana, was an ideal base camp for our adventure to Yellowstone. The resort offers plenty of activities to keep young kiddos busy, like a bungee jump and gem stone mining.
Feeling more adventurous? Fly through the forest on the zip lines or challenge yourself with a high ropes course. Our family's favorite activity included the Lone Peak Expedition where we got on a ski lift, rode on a jeep, and finally was whisked away on a tram to reach the summit for magnificent and breathtaking views from above 11,000 feet high.
If you prefer to camp, definitely check out our comprehensive guide to camping in Yellowstone. It is filled with plenty of tips on how and when to score that perfect campsite.
If you want to stay inside the park, we recommend the Lake Yellowstone Hotel for its central location and terrific history. We also like the Mammoth Hot Springs cabins for a more budget-friendly option.
If you love to stay in Airbnbs, here is an article highlighting 21 great Airbnbs near Yellowstone.
Road Trip from Yellowstone to Chicago Leg 1: Yellowstoen to Cheyenne
Pit stops from Thermopolis to Cheyenne, Wyoming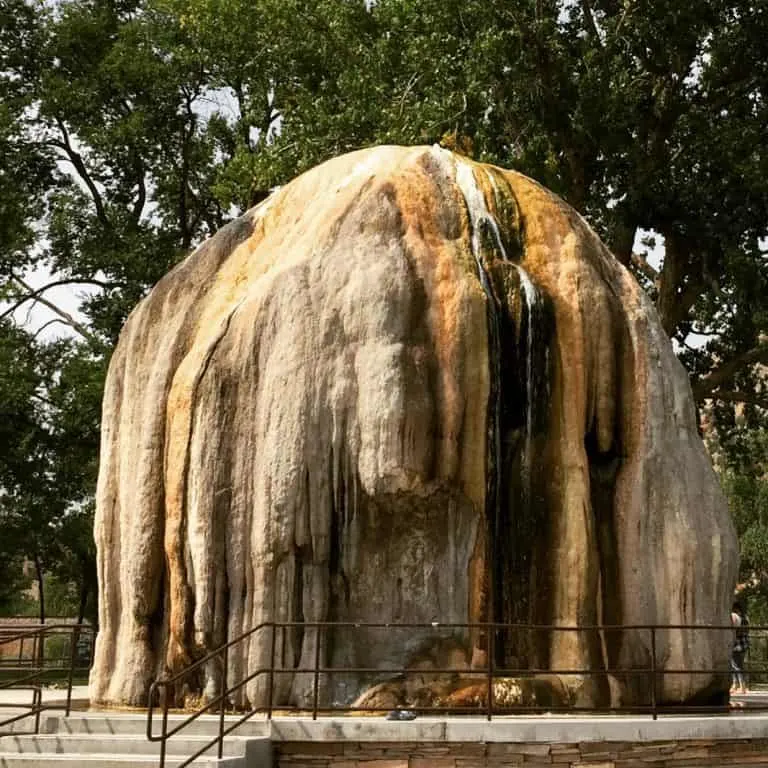 Our Wyoming itinerary didn't originally include Thermopolis, but boy were we glad to have stopped. Deemed the hot springs capital of the world, these hot springs have healing powers so a dip is a must.
Afterwards dig for dinosaurs at the Wyoming Dinosaur Center and come face to face with a Supersaurus. The ride from Thermopolis to Cheyenne through Wind River Canyon may have been one of the most beautiful drives our entire trip, with beautiful vistas and turn offs to take everything in.
Cheyenne, Wyoming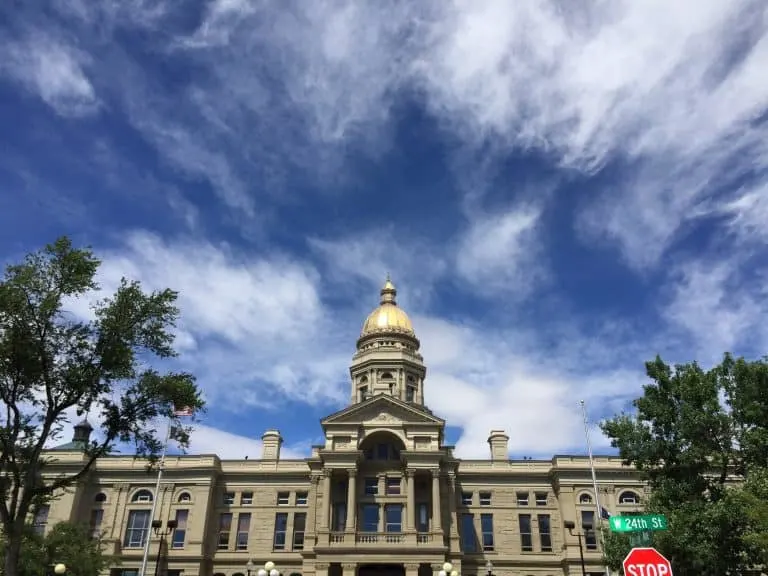 Our next stop was Wyoming's state capital of Cheyenne. We could only squeeze in a couple of attractions in this Western town, so we thought it would be best to stick to exploring the downtown area.
We visited the former train depot turned visitor center/museum and took a few photos of the boot sculptures.
Looking for western wear? The Wrangler down the block from the depot will fit your needs, from cute cowboy boots to fancy cowboy hats. Grab bubble tea from Paramount Café, housed in a former theater. Then, head to Holiday Park where the retired Big Boy Steam Engine calls home.
Where to Stay in Cheyenne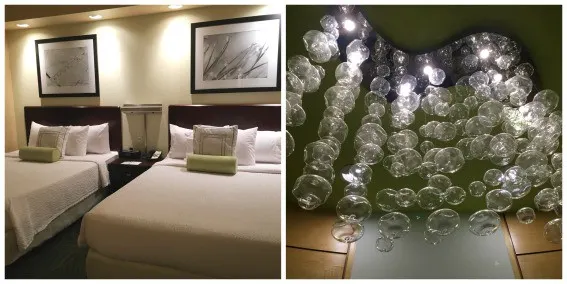 The Springhill Suites Cheyenne was exactly what we needed after a day of driving. Located right off the highway, the stylish all-suite hotel was clean and comfortable, with a spacious sitting area for the kids to run around.
Here are our picks for the Top 10 Things to do in Wyoming with Kids.
Road Trip from Yellowstone to Chicago Leg 2: Cheyenne to Council Bluffs/Omaha
Pitstops in Fort Cody Nebraska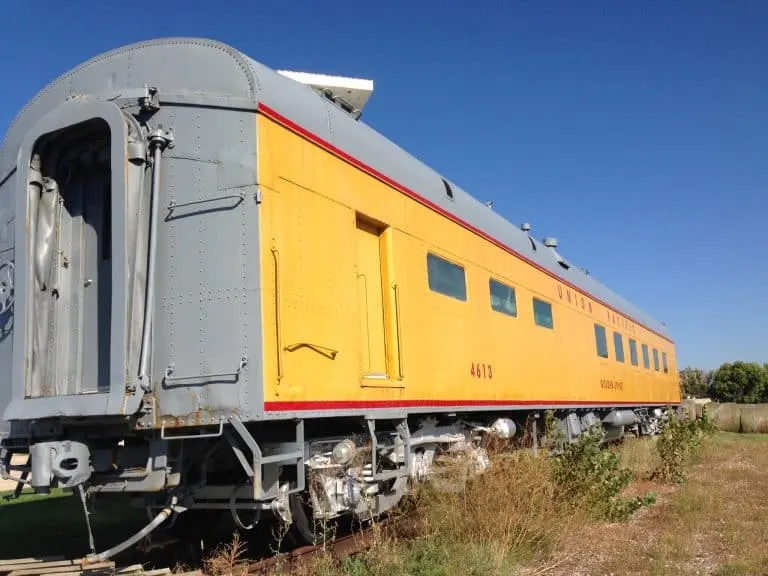 Fort Cody in North Platte, Nebraska provided a very interesting stop that included Buffalo Bill's Miniature Wild West Show, a mini-exhibit that took 12 years to create, a two-headed calf, and all the souvenirs you could ever want.
Train fans should stop by the Cody Park Railroad Museum or Golden Spike Tower overlooking the world's largest rail yard. Try a runza, Nebraska's local take on fast food.
Council Bluffs, Iowa/Omaha, Nebraska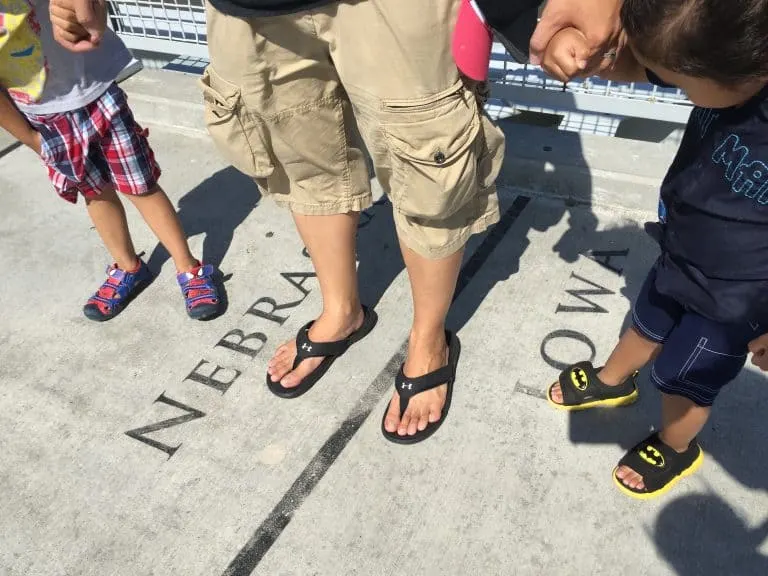 How cool would it be to be in two states at once? Head out onto the Bob Kerrey Pedestrian Bridge, the longest pedestrian bridge to link two states, you can have one foot on Iowa and another in Nebraska.
The Lewis and Clark Visitor Center on the Omaha side is worth the stop to learn about the famous duo's trail.
Have more time? In Omaha, spend the entire day at the highly-rated Henry Doorly Zoo, rated one of the best zoos in the USA by Trekaroo.
Or admire a few works of art at the Joslyn Art Museum. On the Council Bluffs side, attractions like the Union Pacific Railroad Museum or Railswest Railroad Museum will appease your train fan.
Check out the unique Rotary Cell Jail and save room for dessert at Christy Creme for an ice cream treat.
Read about the 10 best things to do in Nebraska with kids.
Where to Stay in Council Buffs or Omaha

Stay at the all-suite hotel Springhill Suites Council Bluffs located right off the highway.
If you'd like to stay on the Omaha side, don't miss a stay at the newwer Home2 Suites Omaha. Aimed at stylish and thrifty travelers, we definitely found a home away from home that was perfect for our family.
Road Trip Yellowstone to Chicago Leg 3: Council Bluffs/Omaha to Chicago
Pit Stop in Tiffin, Iowa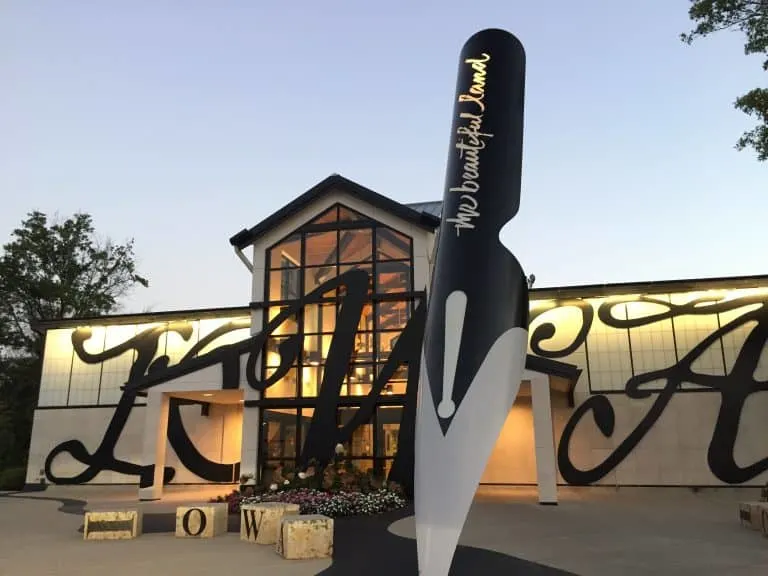 Congratulations! You've reached the tail end of the trip. For one of the coolest rest stops throughout Iowa (and our entire trip), visit the rest area before exit #73/Tiffin to see Iowa written in cursive across the building.
Make the Quad Cities your final stop for fun at the fabulous Family Museum and Lagomarcino's for a hot fudge sundae served with a small pitcher of hot fudge on the side. A nice way to end the most epic vacation ever.
Disclosure: Many thanks to Visit Sioux Falls, Visit Rapid City, Big Sky Resort, and Kinseth Hospitality who hosted us for the purpose of writing this article at several hotels and attractions. I was not required to provide any specific review and all opinions are my own.