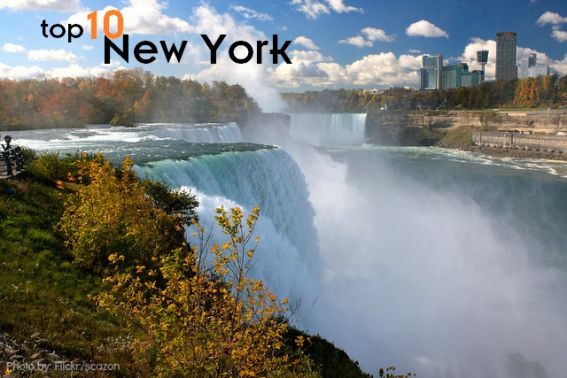 The beating heart of modern business and culture may be rooted in New York City, but the rest of the state cradles the Big Apple's metropolitan onslaught with classic Americana. Sweeping beauty, majestic mountains, Olympic spirit, and early American history is painstakingly and lovingly preserved in the Empire State for all to enjoy. Living up to the reasoning behind the state's nickname, New York's top ten list highlights the variety of sites and resources in this region.
Stay at these Family Friendly Hotels in New York
10. Embrace History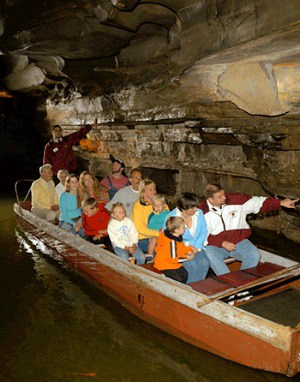 The Catskills are home to Howe Caverns, New York's second most popular year-round destination. Discovered in 1842, regular tours take visitors deep underground. Adventurous families can enjoy the experience the way cavern discoverer Lester Howe did: in the dark. Adults are issued flashlights and children are outfitted with headlamps to make their way through passageways and extensive limestone formations.
The above-ground attractions in this part of the state offer a plethora of outdoor activity. The Catskill Forest Preserve has 300 miles of trials suitable for hiking, horseback riding, and biking during the summer as well as snowmobiling and cross-country skiing in the winter. If rugged nature isn't your family's thing, you can take in a toned down version of it at Stony Kill Environmental Center, a working 756-acre farm with trails, ponds, and guided nature programs.
The tranquil beauty of the area has attracted many over the years including former U.S. President Franklin D. Roosevelt and his wife Eleanor. At the Eleanor Roosevelt National Historic Site, you can visit the modest home she called, "Val-Kill" (Dutch for valley stream). The only national historic site dedicated to a first lady, Mrs. Roosevelt welcomed many guests here. During the summer months a free shuttle will cart visitors to other Roosevelt sites in the area including FDR's Top Cottage, the retreat he built in 1938, and the Presidential Library and Museum.
The nation's first publicly owned historic site is also located nearby. It was from the rooms at Washington's Headquarters State Historic Park, that General George Washington rejected the notion that he should be king, stopped the Newbury conspiracy thereby preventing military control of the government, and circulated a letter to State Governors that influenced the writing of the Constitution, among other tremendous acts that shaped our country's beginnings.
Exploring sure can make a family hungry! Here are a few places to grab some grub!
9. Go Play!
Located in Rochester, the Strong Museum of Play is devoted to the study and exploration of play, even logging comprehensive research on the topic. The National Toy Hall of Fame is housed here as well. While you're getting closure with a hall of fame inductee, all your kids will care about is that this museum has 150,000 square feet of interactive exhibit space where kids can leap into the worlds of comic book heroes, step into life-sized story books, take a train ride, spin on a carousel, or spend time in the garden.
Another location keeping play alive and well is also an easy day trip from Rochester. The National Baseball Hall of Fame and Museum houses an extensive collection of baseball artifacts including hats, gloves, and trading cards. Don't miss exhibits on the women's league and how African Americans contributed to our national pastime.
Moving on to objects that don't mix well with baseballs, the
Corning Museum of Glass
holds more than 35,000 priceless, breakable objects in its galleries. So, why take your kids there? So you can watch them get creative as they make their own glass art pieces and let them take part in scavenger and gallery hunts. There's also a glass breaking demonstration where audience volunteers help shatter the stuff and all sorts of hands on activities including glass blowing. All of these come at the best price for kiddos — visitors 19 and under are free!
You look tired! Find a place to rest your head in Rochester.
8. Take on Science, Then Peek in on Government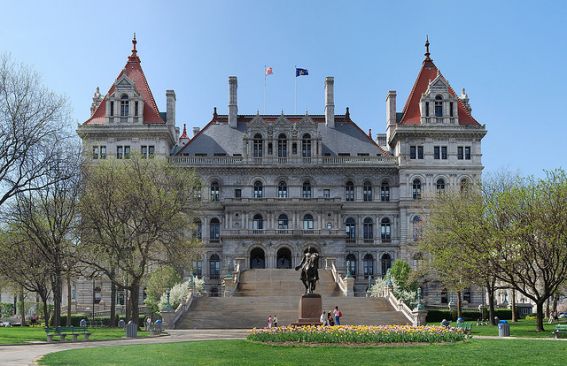 Photo credit: Flickr/wadester16
Albany is not only Empire State's capital city; it is home to rare gem in science education. The Children's Museum of Science is designed specifically for kids and parents to enjoy science together. Whether you're exploring nanotech or living domains, science is a family affair. This museum even offers Molecularium shows, a cool first-of-its-kind presentation that teaches young kids about science at a molecular level.
A visit to the state capital would not be complete without a tour of the building where state business is conducted. Considered a magnificent example of 19th century architecture, the New York State Capitol building took decades to complete and has served as the seat of government since the 1880s. Unless a legislative session is taking place, you can go on a one-hour free tour that includes the Assembly Chamber. Not to be missed are the 25 murals in the Governor's Reception Room. These depict state history that includes scenes like Henry Hudson's first contact with Native Americans and New York troops serving during WWI.
If touring the capitol winds up wetting your whistle for state history, then you should check out the New York State Museum. The nation's largest and oldest state history museum. It is not only loaded with artifacts and exhibits, there are lots of hands on activities and games for kids to enjoy. It all comes at the best price–free!
Have you been to New York's State Capitol? Share your scoop.
7. Visit New York's Largest Park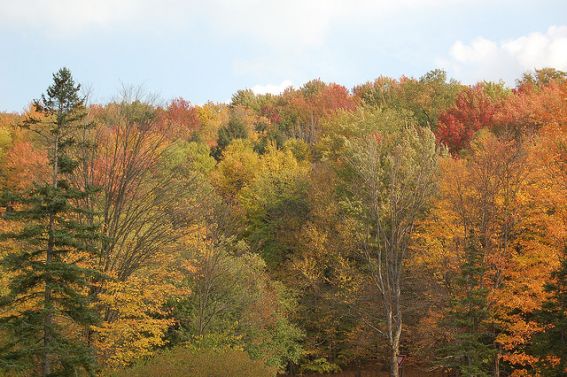 Photo credit: Flickr/GeordieMac Pics
With more than 65,000 acres of forests, over 70 miles of hiking trails, a nature trail, and scenic drives complete with opportunities for wildlife viewing, Allegany State Park has ample outdoorsy experiences for visitors. The Quaker Area of the park is known for its two lakes and great boating. Many of the trails here also allow hikers to check out naturally formed caves. If camping doesn't interest your clan, rent a vacation cottage. While there are 230 of them in the area, the seven Fancher cottages not only have a bathroom with shower, refrigerator, range and microwave, they come furnished with pillows, bedding, cooking utensils, dishes and coffee makers.
Do you have any tips for enjoying the great outdoors with young kids? Please share them!
Stay at these Family Friendly Hotels in New York
6. Channel the Olympic Spirit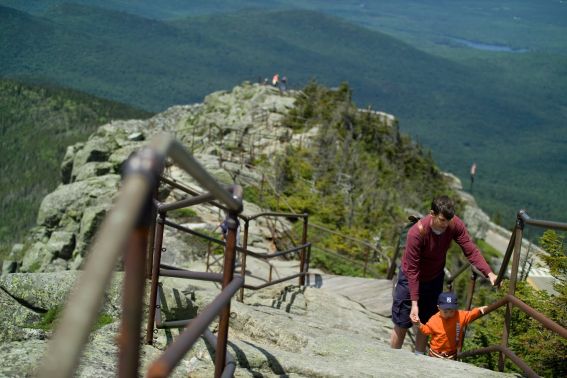 You don't need to go to London to get into the Olympic spirit. Lake Placid hosted not just one, but two Winter Olympics. There's plenty around here to inspire visitors. Here are some suggestions:
Olympic lore aside, there's lots of beauty to behold in this area. Here are some ideas for doing just that:
Are you planning to visit? Check availability at these hotels.
5. Go Island Hopping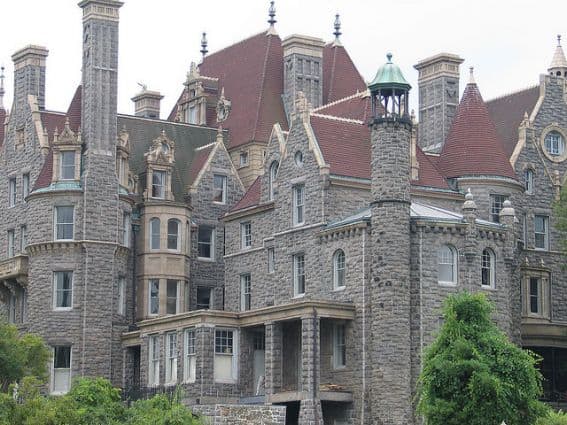 Photo credit: Flickr/Quasimime
The Thousand Islands or Seaways are a collection of over 2,000 islands that can be explored via boat. Whether you bring your own or rent a vessel for the day, here are a couple of places your young lords and ladies may be interested in checking out:
Beware! You may spot pirates during your visit. They take over for 10 swashing buckling days during Bill Johnston's Pirate Days. The event commemorates the exploits of Bill Johnston, a wanted man who hid among the islands, hunted by U.S. and Canadian authorities. Don't be alarmed if you see brave villagers trying to fend off invading ships and marauders. All of the musket fire and cannon smoke is for show. You will get your shot at being a pirate just after the Mayor turns over the keys to the intruders.
If you're looking for something a little more subdued, Wellesley Island State Park boasts the largest camping complex in the region. The coveted secluded wilderness sites along the banks of the St. Lawrence River are only accessible by foot or boat. The park offers a full service marina as well as a sandy beach for swimming and sunbathing. Another main park attraction here is the Minna Anthony Common Nature Center. Sitting on 600 acres of peninsula, it has 8 miles of hiking trails and 7 miles of cross-country ski routes that reveal magnificent views of the Thousand Islands.
Are you visiting the area during July? Don't miss the colorful French Festival or the extravaganza known as Harborfest!
4. Hit the Beach!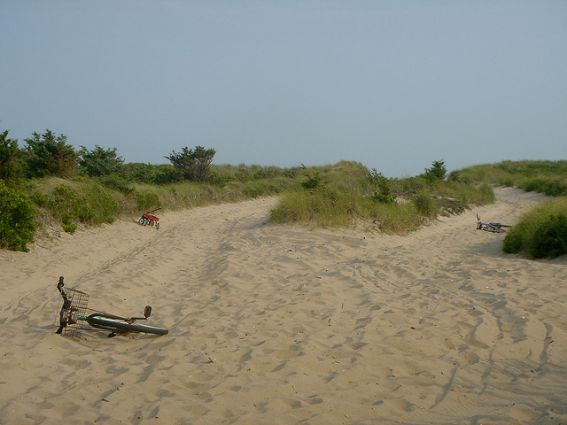 Photo credit: Flickr/MsAnthea
While the Hamptons conjure up notions of swanky beach getaways for the rich and famous, there's no reason your family shouldn't be among them. Pack a gourmet picnic and head to lovely Main Beach near the charming town of East Hampton. Please keep in mind that the parking permits required at most beaches in this area can be quite spendy. It is highly recommended that you get there by foot or bicycle.
If you'd prefer something more low key and casual, the surfer's haven of Montauk is just twelve miles up the road. Perched on the furthest point in the Hamptons and surrounded by water on three sides, Montauk has six seaside state parks, a quaint village, and the historic Montauk Lighthouse to put visitors in a laid back state of mind in no time!
For a more immersive nature experience, venture over to Fire Island National Seashore. The park staff runs a variety of programs to help kids and their families learn more about the park. Whether you sign up for a ranger-guided canoe trip, join in a seaside crafts and stories session, or go for your Junior Ranger badge, there's a lot to explore in this park.
Are you ready to shake the sand from your shoes? Learn some colorful area history on the Long Island Heritage Trail or pay a visit to Theodore Roosevelt's Victorian home, Sagamore Hill.
3. Be in Awe of Nature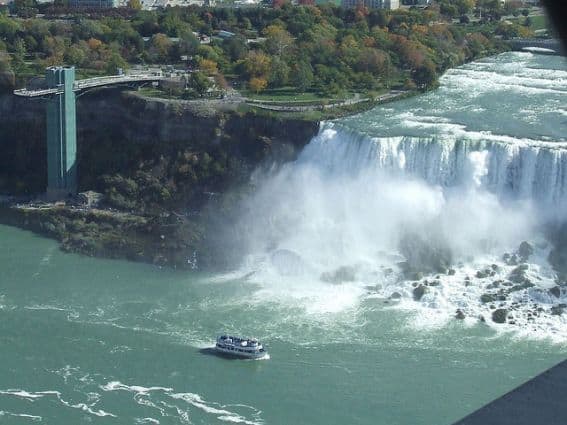 Photo credit: Flickr/rattler97
Honeymooners, barrel riders, and daredevil tightrope walkers may be the first things you hear about in conversations centering on Niagara Falls but there's so much more to the daring draw of this force of nature. Get up close and personal with a Maid of the Midst Boat Tour. Operating since 1846, this boat tour was originally a ferry service between Canada and the States. The service rebounded as a tourist attraction after losing riders to the more convenient (and drier) Niagara Falls Suspension Bridge. Operating from late April/early May to October each year, a boat leaves every 30 minutes, traveling the Niagara River near Rainbow Bridge, past American and Bridal Veil Falls before disappearing into the dense mist of spray inside the curve of Horseshoe Falls, then emerging to bring patrons back to their starting points.
If you're more of a land lover, don't worry you can still experience the falls. The Cave of Winds Tour is an exhilarating walk into the mist zone where visitors navigate wooden walkways along the Niagara River to the Hurricane Deck where tropical storm-like conditions are created by the rush of the falls.
When family is ready to dry off, venture over to Devil's Hole. Named for a geological formation resembling a semicircular notch, not only does Devil's Hole State Park have hiking and nature trails, it has walkways that offer views of the gorge's rapids. Downstream, the water calms enough to allow jet-skis and fishing that is so spectacular, major fishing journals and television shows have declared it one of the best freshwater fishing areas in the country.
See what adventures other Trekaroo families have found in Niagara Falls.
2. Take in Some of the Most Amazing Museums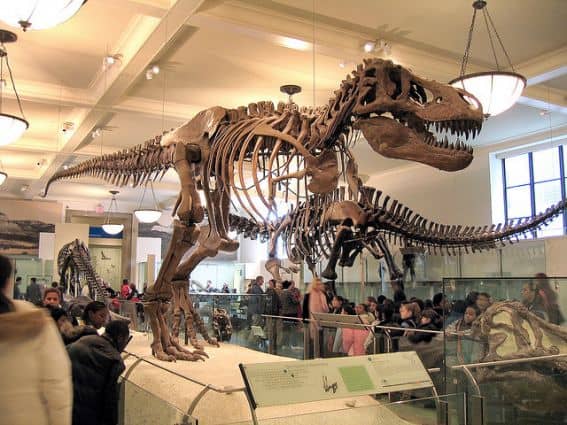 Photo credit: Flickr/Tomas Fano
New York City's amazing collection of museums offer visitors exposure to art, science, nature, history, and more. They document the highs, the lows, and the challenges of this major metropolitan area that many refer to as Gotham. Here are a few museums to enjoy with your little travelers:
Need to refuel before the next museum stop? Here are some restaurant suggestions.
Stay at these Family Friendly Hotels in New York
1. Take a Bite Out of the Big Apple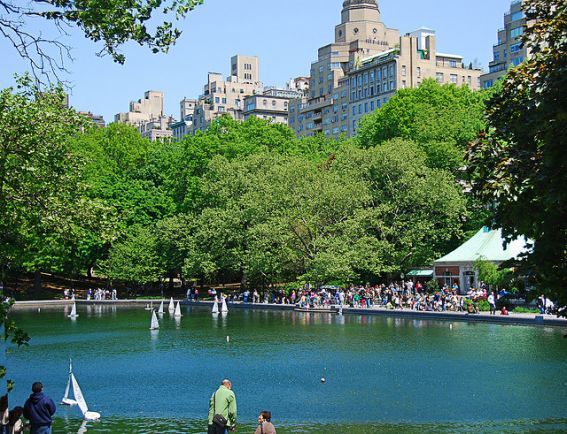 Photo credit: Flickr/john weiss
No trip to New York City is complete without a visit to some of its most iconic points of interest. From classic locations like Central Park and Wall Street to the Statue of Liberty and Ellis Island, Gotham's history still influences current day. Whether visitors gaze at the altered city skyline from the Empire State Building or recapture summer fun and innocence at Coney Island, New York City represents constant motion, noise, and change. One thing that doesn't change is that the Yankees are the best baseball team ever! Don't believe it? Then take in a game or tour Yankee Stadium.
Despite all of their modern bravado, New Yorkers still hold the loss of our nation's tragedy close to their hearts. It is evident in the loving remembrances and reflections at the 9/11 Memorial. So go, pay your respects, talk to your kids about what happened that terrible day, and then do what many who of those lost wish was afforded them one more time. Hold your kids close.
RELATED: Explore our Top 10 Things to do with kids in New York City.
What state do you want to visit next?
From coast to coast, we're determining the Top 10 Things to do with Kids in each state of our great nation. Head here to see what tops the list in your favorite state.
Comments
comments