My favorite family vacation memory is hiking in the Swiss Alps. I've traveled extensively across Europe but our Switzerland family vacation still ranks at the top off my list.
We used the Swiss Travel Pass to travel by train on our Switzerland vacation. Exploring Switzerland with kids is the best! There are fun alpine playgrounds perfect for picnics of fresh berries, meat, cheese, and chocolate.
For thrills, kids can zoom downhill on summer toboggan runs with breathtaking views of the mountains all around. Here is our 8-day Switzerland itinerary.
Switzerland Family Vacation Tips
Tips for a Budget-Friendly Switzerland Itinerary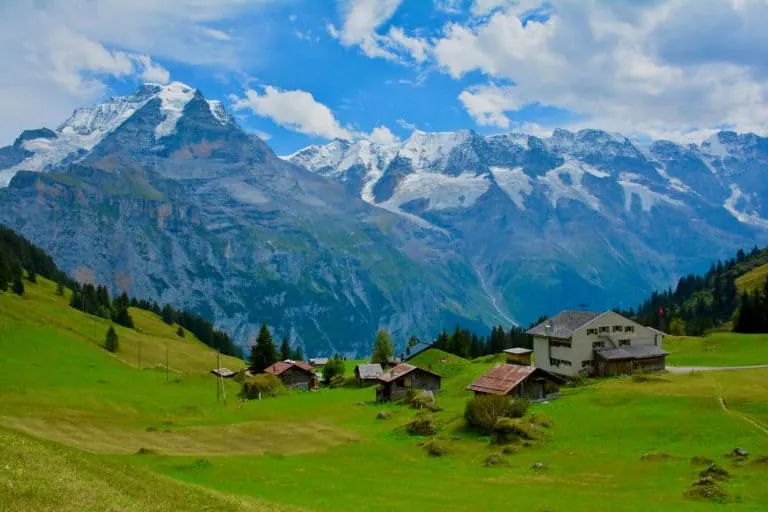 Food and lodging expenses in Switzerland are high. If you're looking to make Switzerland travel with more affordable for your family, packing lunches is a good way to save money.
Also, finding simple, well-located budget accommodations that include a hearty breakfast is helpful. Affordable food and lodging will maximize how far your dollar or franc, in this case, will go.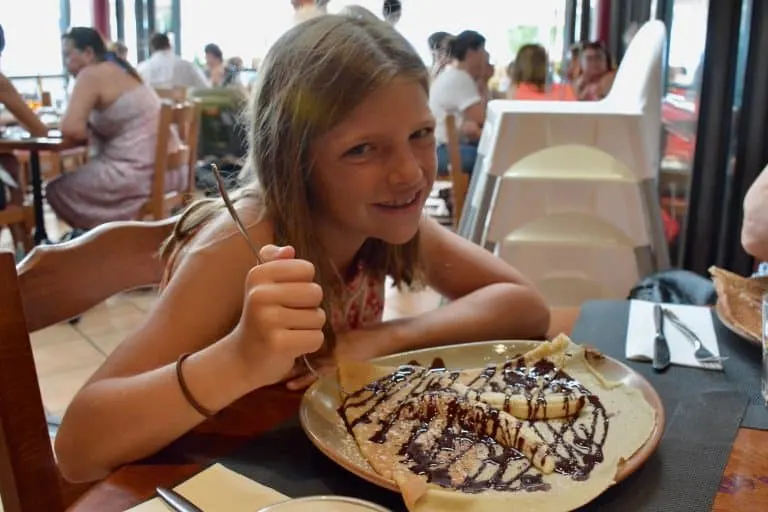 Swiss Travel Pass- Travel Switzerland by Train and Save Money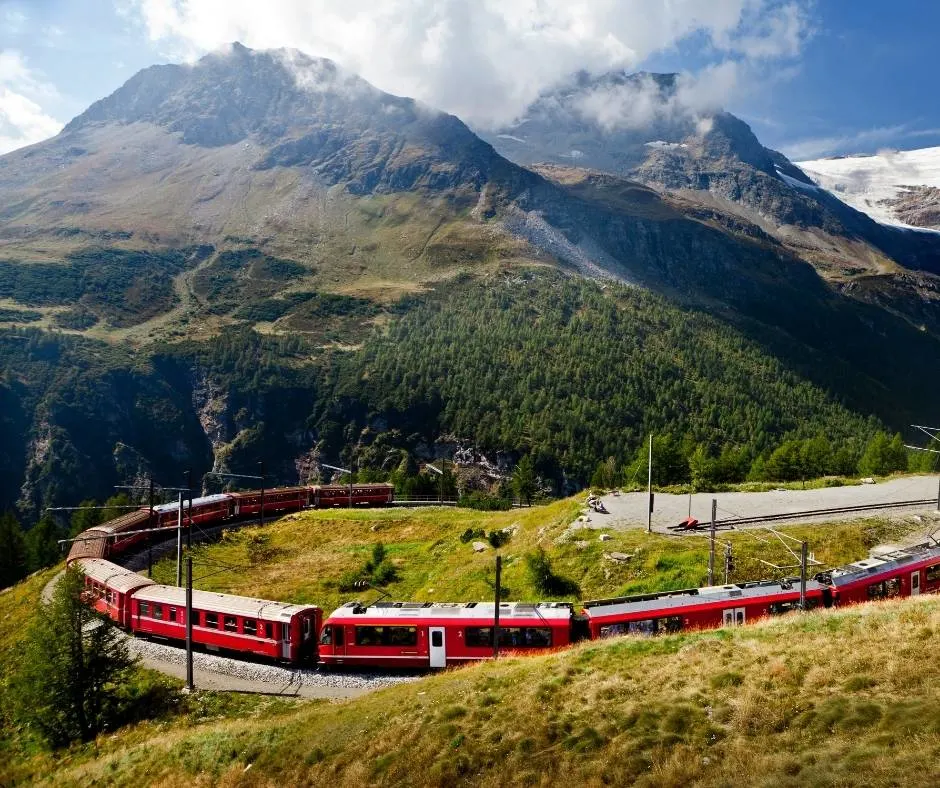 The other big expense that you'll have on a Switzerland family vacation is transportation. My family used an 8-day Swiss Travel Pass.
We traveled up Switzerland's mountains and across its lakes to all sorts of kid-friendly alpine adventures.
We found our Swiss Travel Pass easy to use on Switzerland's trains. It greatly simplified our Switzerland train travel because we did not need to purchase additional point to point train tickets in most cases.
In addition to the Swiss Travel Passes that I purchased for myself and my mother, we also obtained a free Family Card which provides free travel to children ages 6-15 traveling with a parent who has a valid Swiss Travel Pass.
That's right, the kids travel free on Switzerland's trains! Occasionally, they had to pay a significantly discounted rate on mountain railways. However, their transportation cost were actually quite cheap.
Benefits of the Swiss Travel Pass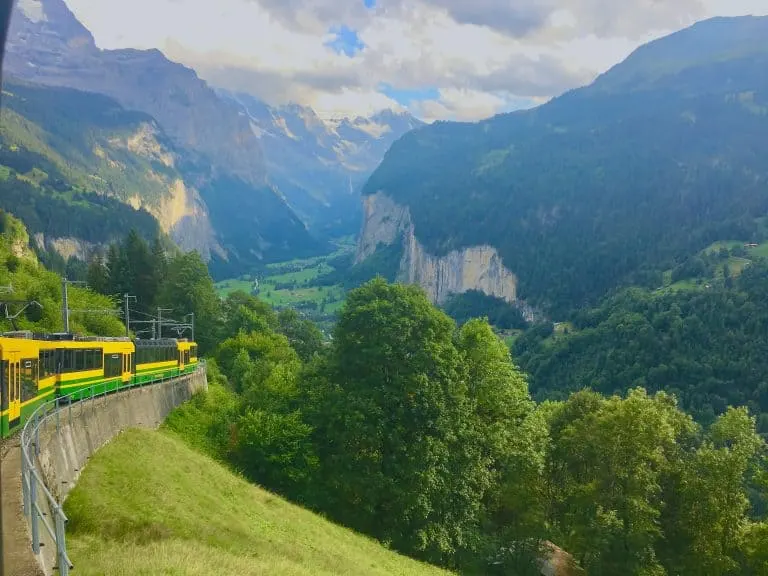 Our Swiss Travel Pass covered city public transport like buses, boat travel on Lake Lucerne, Switzerland train travel, select mountain railways like those on Mount Rigi, and even the Olympic Museum in Lausanne.
Nearly every mountain railway, cable car, or funicular offered either a 50% or 25% discount. None of the trains that we traveled on in the Swiss Travel system required a seat reservation.
Virtually every expense that we had in Switzerland, aside from food, lodging, and summer toboggan runs, was discounted in some way with the Swiss Travel Pass.
While I would love to plan a road trip to Switzerland someday, I sincerely believe that using the trains, buses, and boats across the country is cheaper.
The Swiss Travel Pass offers unlimited travel on most train routes, and it's likely the best deal to be found on a Switzerland family vacation with kids.
Our 8 Day Switzerland Family Vacation Itinerary
Swiss Travel Pass Itinerary Day 1- An Afternoon in the Mountains Above Lugano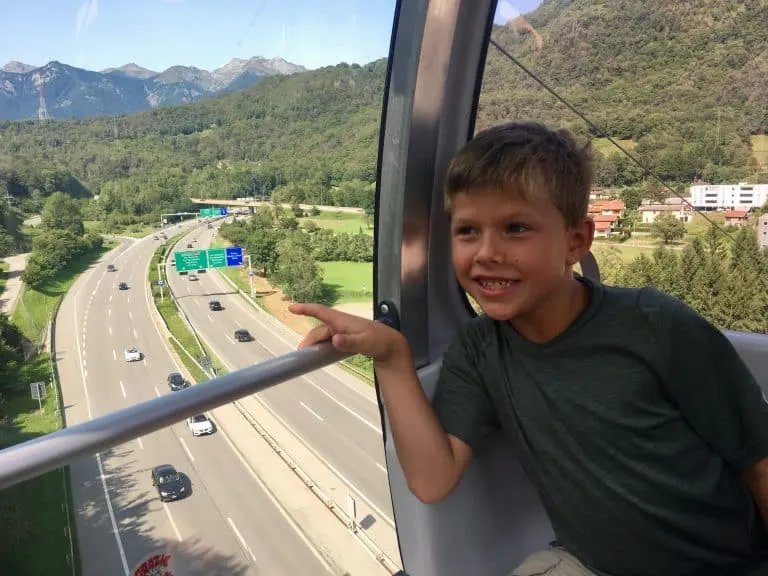 We arrived in Lugano on a Sunday afternoon to closed shops and a beautiful, but rather lifeless, city. Our hotel room was not ready yet. So, we headed for the mountains to begin our Switzerland vacation.
The short funicular in Lugano joining the higher area of town by the train station to the lower area of town by the lake is included in the Swiss Travel Pass.
After a short 25-minute train ride out of the city (STP) we arrived at the Rivera-Bironico train station. From the train station, we walked about 10 minutes to a cable car station. The cable way is discounted 50% for holders of the Swiss Travel Pass.
Visiting Monte Tamaro in Switzerland with Kids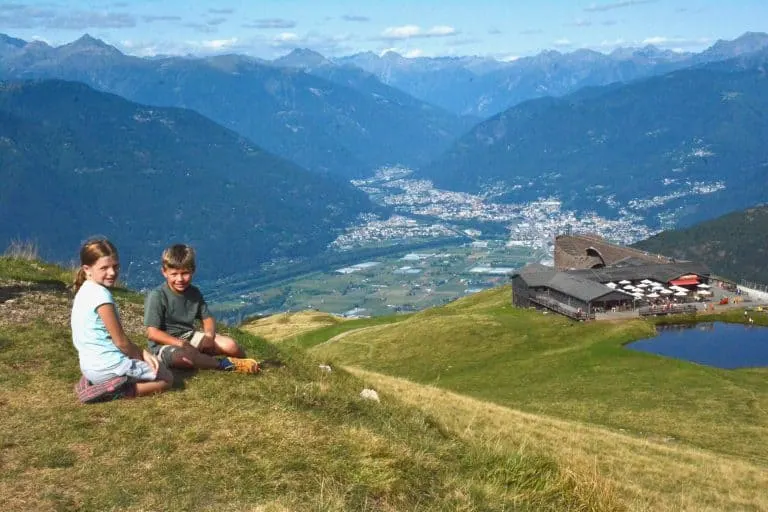 Monte Tamaro overlooks the valleys below. On a clear day, the city of Bellinzona is clearly visible in the distance.
There are mountain peaks all around framing the landscape, though these peaks aren't as rugged as the ones in the interior of Switzerland. There's no glaciers or snow to be seen in August on these mountains so come earlier in the season if you are searching for the white stuff.
A visit to this mountaintop adventure park is the perfect day trip. Adventures can last anywhere from a couple of hours to a full day. The attraction offers lots of add-ons, like a zip line and aerial adventure park, for families that want to make a full day of it on their Switzerland family vacation.
Families visiting Monte Tamaro should wear their hiking boots. The trails leading up from the playground and restaurant provide a much nicer view of the Alps to the north and west.
Like anywhere in Switzerland, you could easily spend a full day hiking here being rewarded with new alpine views around every turn.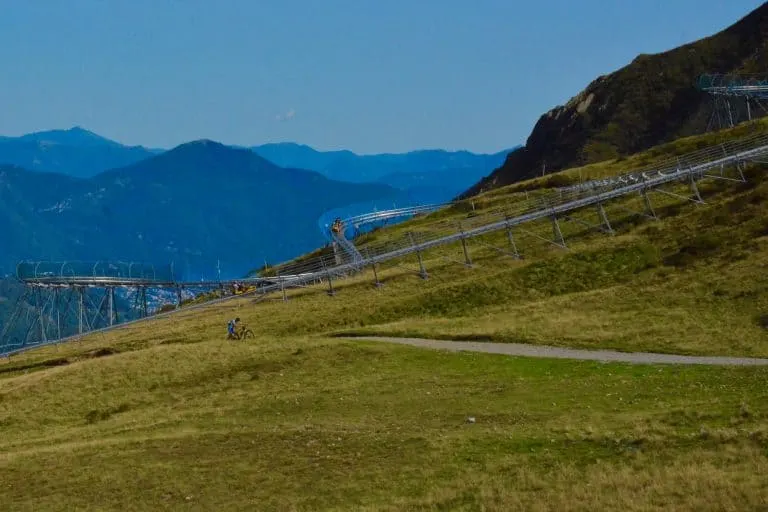 My children and I agree that Monte Tamaro has one of the best mountain coasters in the Swiss Alps. Of the five or so mountain toboggan runs and coasters that we experienced, this one was our favorite.
Rather than sliding on metal, this coaster is on rails. Each curve appears to have the illusion of taking the riders over the side of a cliff.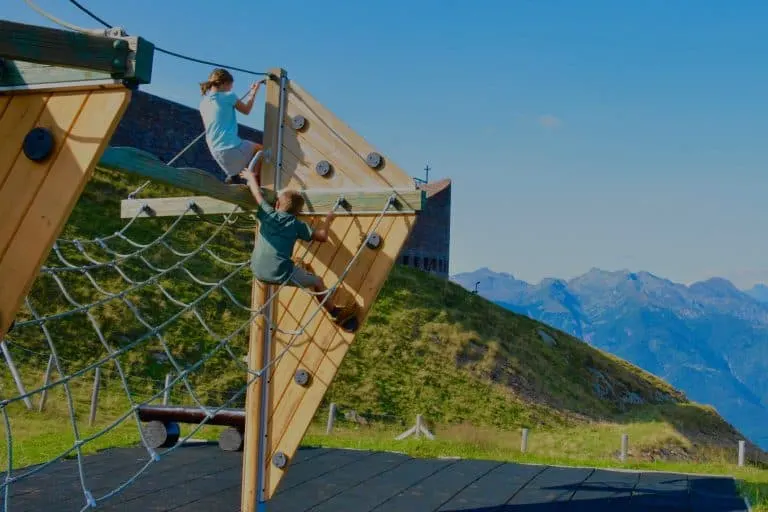 Finally, there is an awesome playground up at the top of Mount Tamaro. The long slide was a bit slow for my children's taste. However, the climbing walls and playground structures had some of the best views of our entire trip in Switzerland with kids.
Visiting Lugano, Switzerland with Kids
Upon returning to Lugano, we strolled along the waterfront while eating gelato. Yes, Lugano is as beautiful as all the pictures that you've seen. Lugano is pure luxury from the views to the stores to the prices.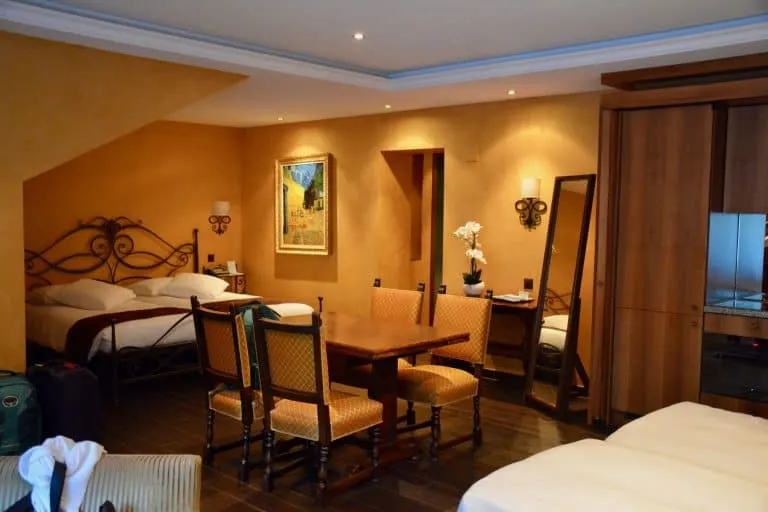 We splurged a bit and stayed one night in the family suite at International au Lac Historic Lakeside Hotel. As lovely as Lugano is, once we saw our suite out in the garden by the pool, we didn't leave the hotel again until morning.
The family suite is one spacious room with two large beds, but it's the courtyard and gardens outside that really impressed us. There were tricycles in the courtyard and my children rode round and round.
Later we went to the pool directly above our room in the middle of the terraced garden; it was cool, but we swam happily until the sun set fully behind the mountains. It was a great way to end our first day of our family vacation in Switzerland with kids.
Switzerland Family Vacation Itinerary Day 2- Lugano to Engelberg via Mt Rigi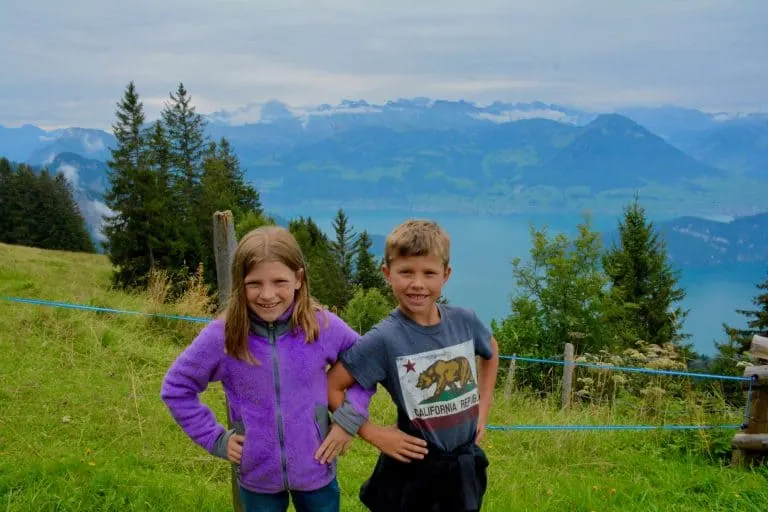 On our first full day in Switzerland, we left Hotel International au Lac, and took a 90-minute train ride to Arth-Goldau, the location of one of the base stations for the Rigi Cog Railway. We chose to leave our luggage there in a locker during our day's excursion to the Rigi Mountain.
For a scenic Switzerland train ride, we took the Rigi Cog Railway (STP) up to the Rigi Klösterli stop, opting not to go up to the top as it was a cloudy day.
Honestly, we should have stayed on the train a bit longer because the uphill hike from Rigi Klösterli to Rigi First was a steep climb with little scenic reward. However, the stretch of trail from Rigi First Kaltbad-First was nice, flat, and scenic.
Mountain Rigi – A Switzerland Train Adventure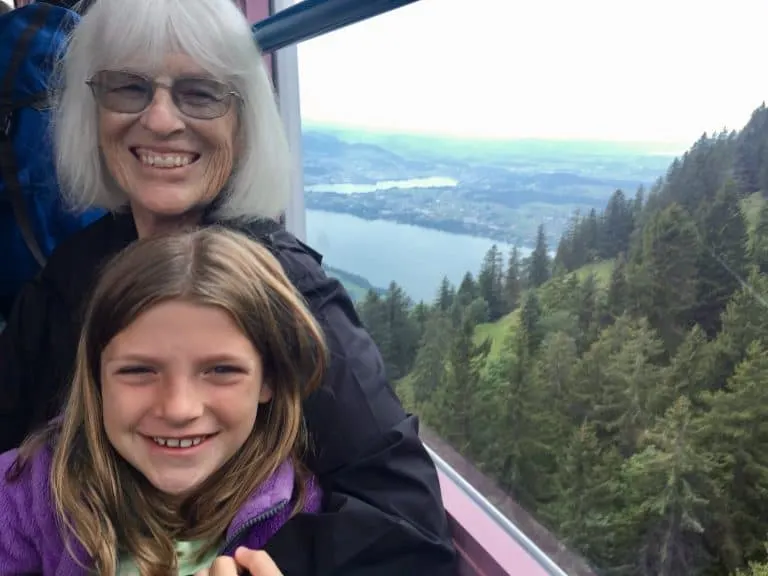 In Rigi Kaltbad we first we picked up some meat and cheese at a small grocery store for a picnic at the nearby playground. Then we checked the transportation schedules and chose to head down the mountain via the cable car to Weggis (STP) From Weggis, we took the ferry-boat to Brunnen (STP.)
From Brunnen, we hopped on a train to Arth-Goldau (STP), picked up our luggage, took another train to Lucerne where we caught a connecting train to Engelberg (STP).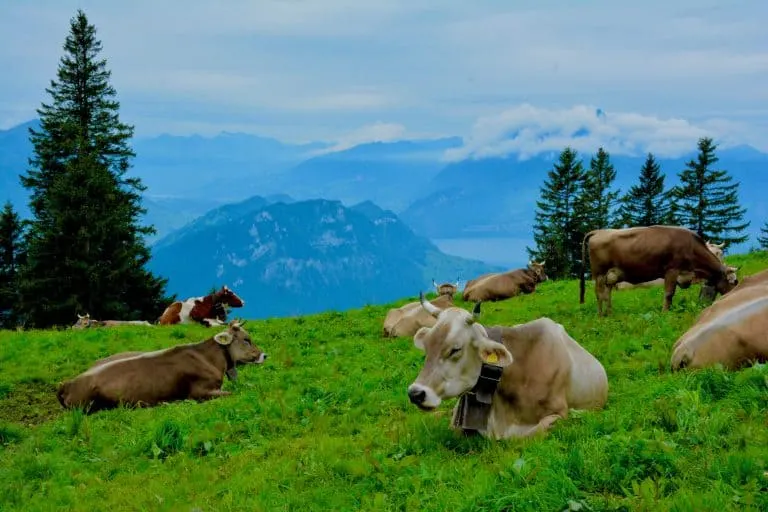 The cog railway at Rigi has been climbing the mountains just outside of Lucerne now for almost 150 years. Now there are several ways to get up this expansive mountain ridge overlooking Lake Lucerne. Railways, trails, and even cable cars criss-cross this alpine hiking paradise.
Simply looking at a map of the trains in Switzerland, it's difficult to decide which way to go. I admit that I should have probably asked around a bit about our itinerary before boldly setting off for the mountains. But, all the trails are clearly marked on the maps readily available at the stations so it is difficult to really get lost.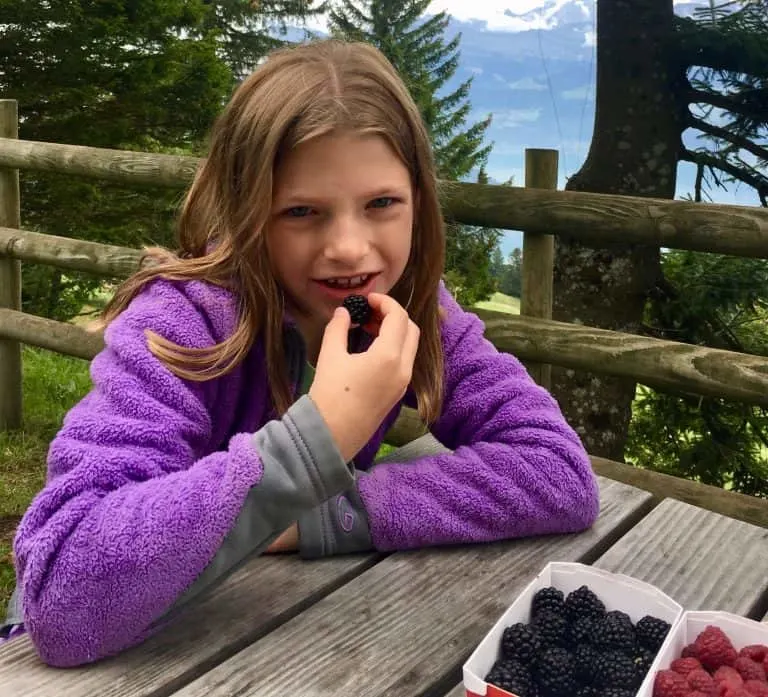 There are hotels and guesthouses up top of the mountain. However, most tourists make their visit as part of a day trip from one of the surrounding lakeside cities.
There are also plenty of mountain huts serving food. We had difficulty figuring out which ones were actually open the day of our hike.
The tiny grocery at Rigi Kaltbad-First is a great place to pick up some food. There's a mountaintop playground nearby so it's a great place for a picnic.
Rigi is the type of place that families can visit over and over again and always seem to discover something new on their Switzerland vacation.
Boat Ride on Lake Lucerne, Switzerland with Kids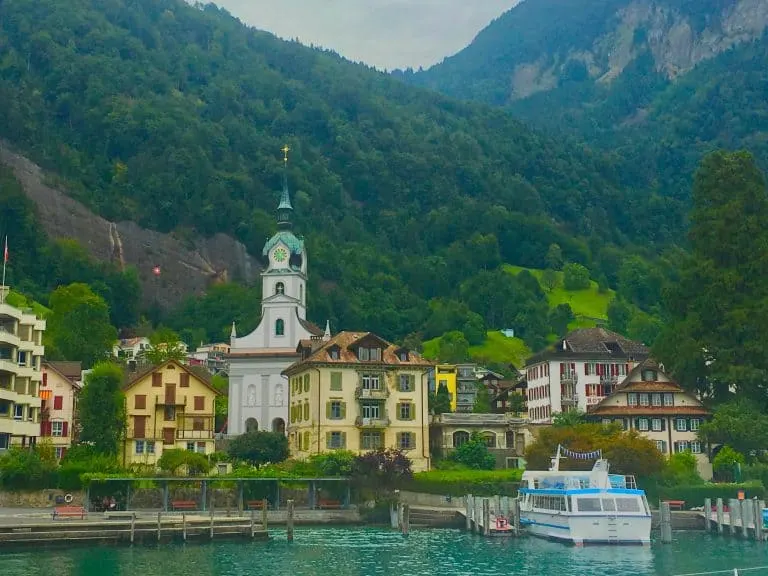 When visiting Lake Lucerne, don't miss the view of the lake from the water. The beauty of the surrounding mountains provides a spectacular 360-degree panorama with peaks in every direction.
Our entire family was disappointed that we didn't have any time left to explore the city of Lucerne as we passed by on our way to Engelberg.
My children had read about the iconic, wooden Kapellbrücke footbridge, Chapel Bridge. They both just had to see it before setting out again for the mountains. I obliged by popping up out of the train station just long enough to spot a glimpse of the bridge and its colorful flowers.
Don't make the same mistake as us when traveling in Switzerland with kids! Leave enough time to stroll across the Kapellbrücke bridge and enjoy the lake in Lucerne on your Switzerland family vacation.
Capture incredible memories of your Swiss family vacation with Flytographer. Flytographer has a network of incredible professional photographers ready to come to you and help your family create the ultimate souvenir of your special trip. Trekaroo is proud to be a Flytographer customer and affiliate.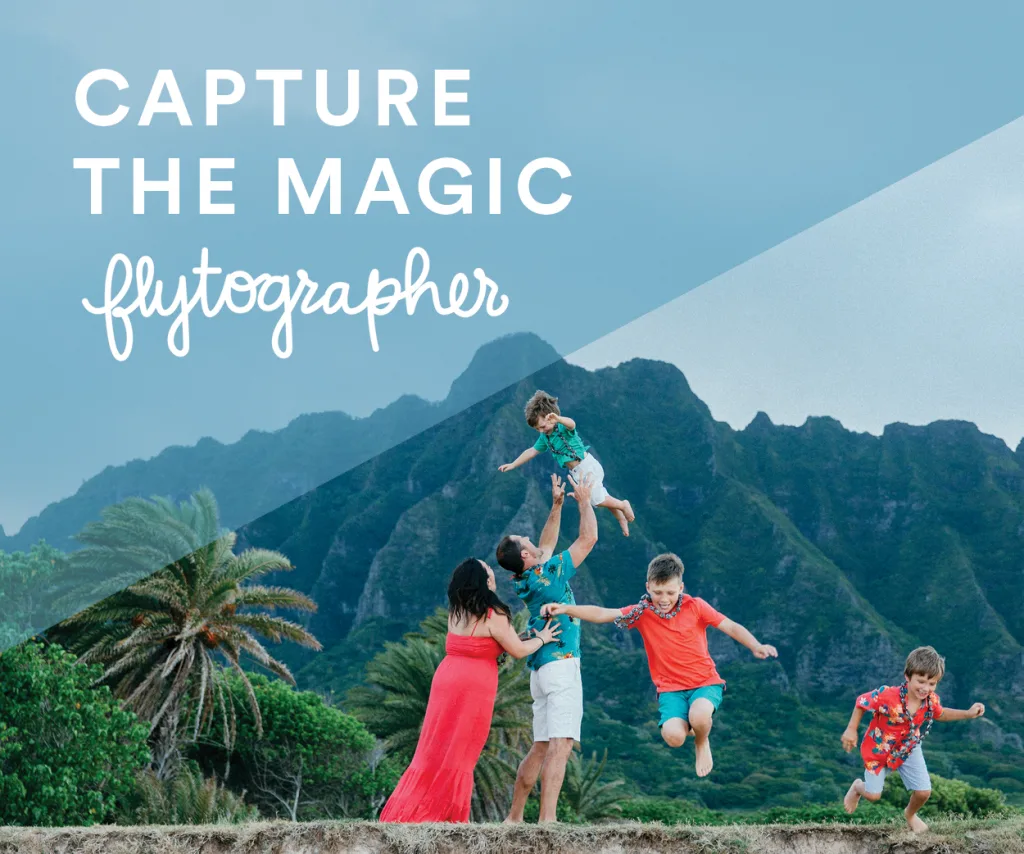 Switzerland Family Vacation Day 3- A Day in Engelberg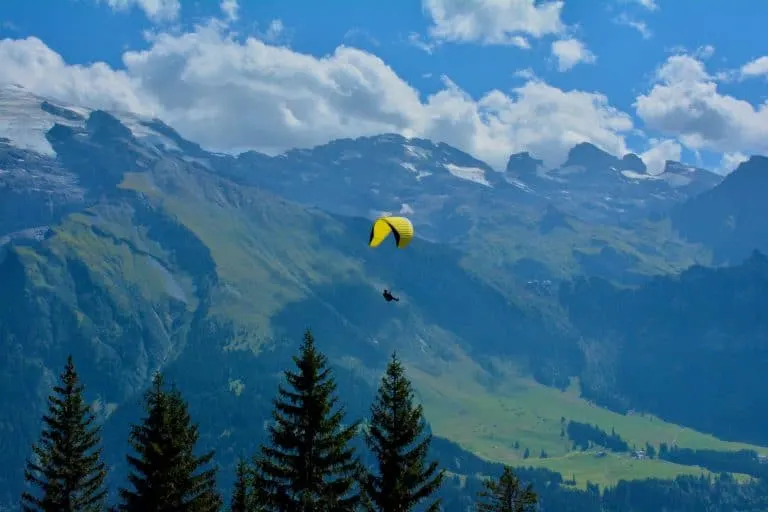 Fortunately, we had the entire day to spend in Engelberg. I found family-style accommodations much cheaper and easier to come by in this small ski resort village than in Lucerne an hour down the mountain.
So, after laying a load of hand-washed laundry out on our balcony to dry, we walked about a mile from our hotel, Hotel Belmont, to the cable car station for Brunni on the opposite side of town. In the summer of 2017, kids were free on the Brunni cable car. Our Swiss Travel Pass gave adults a 50% discount.
The most famous mountain railway excursion out of the small alpine town of Engelberg is the multiple stage ride up to the top of Mt Titlis to the snow-capped glacier. It involves a large revolving cable car and opportunities for playing in the snow through much of the year.
Having experienced this attraction a decade earlier on a Switzerland vacation, I had envisioned taking my kids up to the top Mt Titilis on this visit to Switzerland.
However, once I read about the adventures available for children at the Globi-themed playground at Brunni, I decided that Brunni was a much better fit for visiting Switzerland with kids, and I was right.
A Switzerland Train Adventure with Kids – Brunni in Engelberg, Switzerland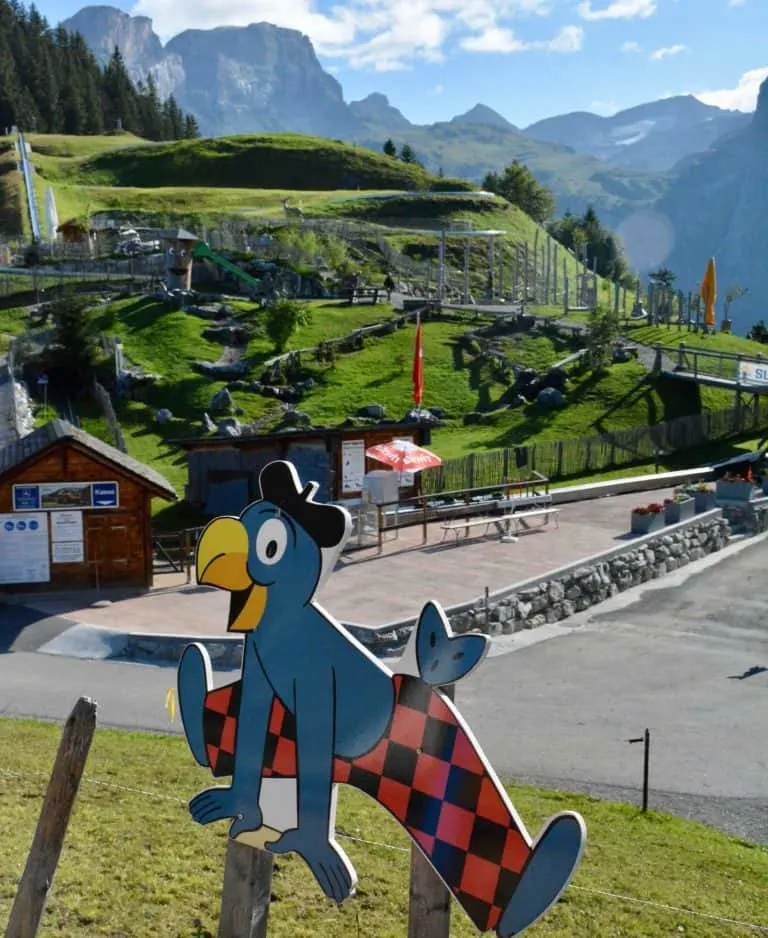 During our day at Brunni, the kids instantly became fans of the cartoon character, Globi, and we purchased all the English language books available (there are dozens of books in German, but only three available in English at the time of our visit).
We found Globi theming on the massive playground at the Ristis cable car station, throughout a treasure hunt on the trail between Ristis and Brunnihütte, on the children's menu at the restaurant at Ristis and even on a children's ice cream that we purchased at a mountain hut. Globi is everywhere at Brunni!
Of the eight mountaintop playground areas that we experienced, this one was by far the most fun for the kids.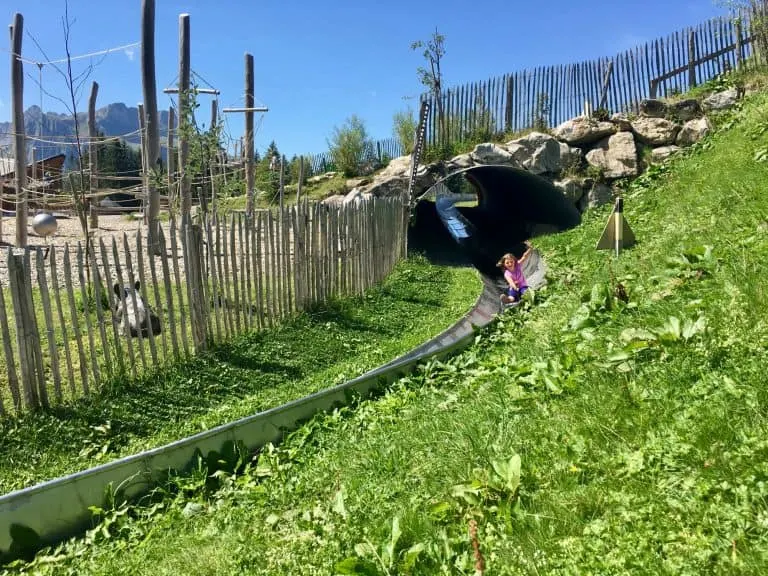 Between each adventure on the mountaintop, we kept coming back to the playground to play; the climbing structures, typical of Switzerland, are fantastic.
Amidst the playground equipment is a summer toboggan run. I've found it most economical for our family to purchase a five-run card for my children and me to share. They each got two chances to sled down the hill and then I took the remaining ride. There was also a trampoline that my children simply loved.
Globi's Treasure Hunt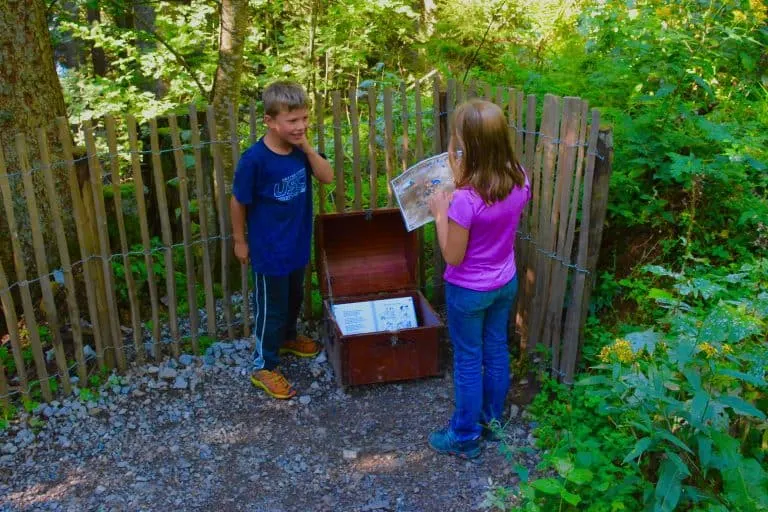 We purchased our laminated map for Globi's Treasure Hunt at the Ristis station. While some of the instructions on the map were translated into English, the answers needed to be recorded in German. But, this didn't stop us from enjoying our adventure!
After families have completed the activity, they bring the laminated map back to the hut and receive a prize for their efforts. Our prize was a German-language Globi book.
We completed the treasure hunt by hiking up the mountain (with 200-meter elevation change) from Ristis to Brunnihütte. Then we took the chairlift down the mountain as was recommended to us.
I recommend that other lazy American families might want to consider taking the chairlift up the mountain instead. Then complete the Globi's Treasure Hunt while hiking down the mountain. We wish that we had.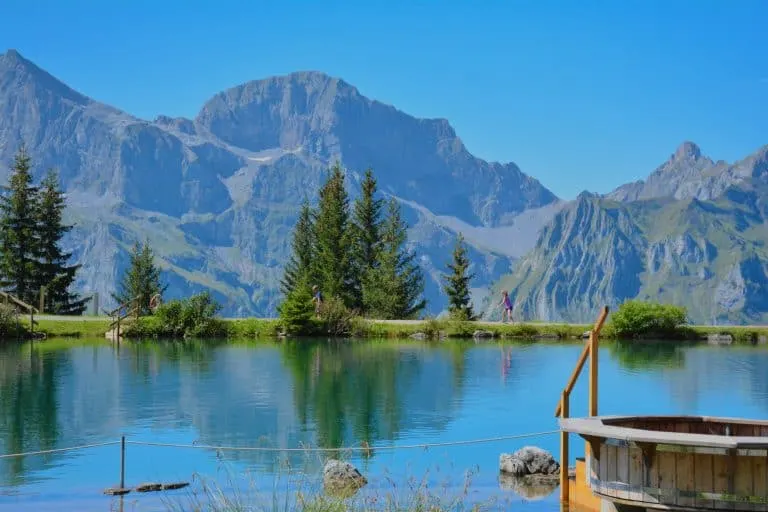 Up at the top of the chairlift at Brunnihütte, there is a uniquely Swiss outdoor experience for hikers: the "tickle path". Hikers walk around the lake barefoot across rocks, wood chips, and even different textures of mud — if you're brave enough.
According to the Brunni brochure, "Walking barefeet is not only a tingling experience but also a boost for body, mind, and soul." While walking through the icy mountain water and different textures of gravel certainly was a "tingling experience", I'm not really sure that it gave me a mental boost.
My biggest regret from our entire trip was not trying out one of the kid-friendly via ferrratas up at the Brunnihütte station.
These mountain hiking challenges require hikers to rent climbing equipment and wear sturdy boots. My kids would have loved this. However, I was simply not brave enough to manage two kids alone up on the mountain while completing my first via ferrata.
Switzerland Family Vacation- Arriving in Lauterbrunnen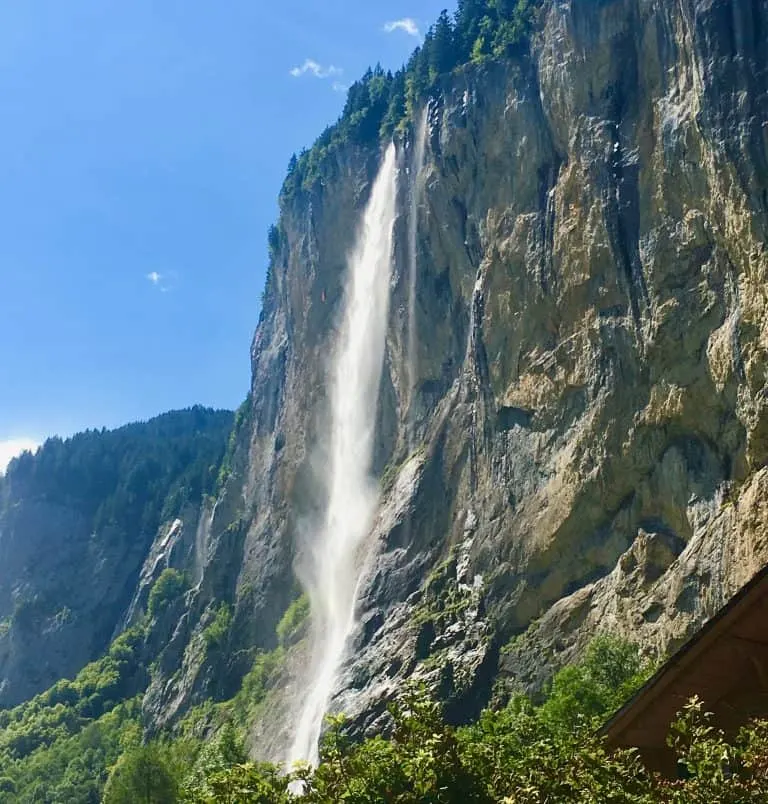 On our fourth day using our Swiss Travel Pass, we traveled by train from Engelberg to Lauterbrunnen via Lucerne and Interlaken (STP.) Upon arriving in Lauterbrunnen, we checked into Hotel Staubbach where we would stay for three nights.
With a lovely weather forecast and clear blue skies, we immediately set out for the mountains taking the train up to Wengen. This is part of the Jungfrau route; the cog railway up to Wengen and back to Lauterbrunnen is included in the Swiss Travel Pass, but from Wengen to Kleine Sheidegg and further up the Jungrau, it is only discounted 25%.
At Wengen, we got off the train and took the cable car (% STP) up to Männlichen where we played at the playground and ate a hearty mountain lunch. After enjoying the cow-themed playground at Männlichen, we hiked to Kleine Sheidegg and caught the mountain railway back to Lauterbrunnen (% STP.)
Children's Programs on Switzerland's Trains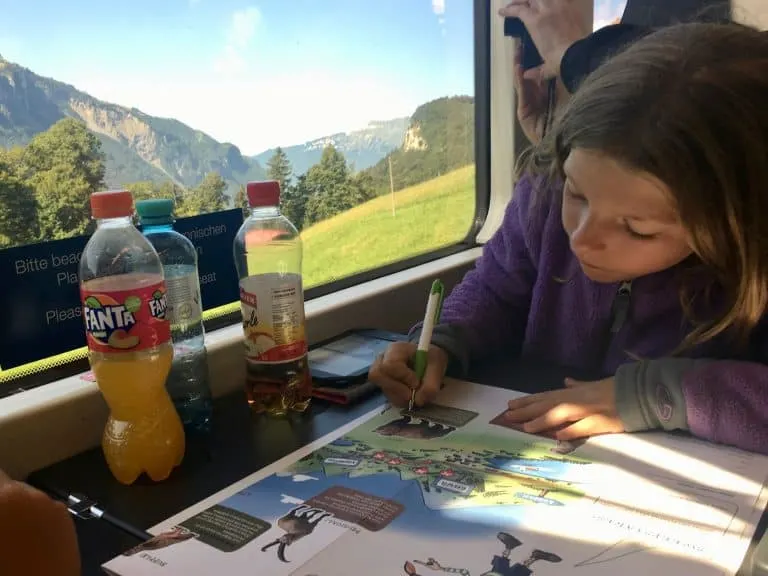 The Bernese Oberland is a true treat for families. Even traveling to the mountains is a fun experience. Both our train ride from Engelberg to Lucerne and Lucerne to Interlaken had a special scavenger hunt to entertain the kids.
Most of the trains shuttling families from Lucerne to Engelberg and back have a designated Globi Express children's car that has Globi books (in German) and a scavenger hunt where children look for various signs featuring Globi at every train station and tunnel.
There is also a scavenger hunt along the Golden Pass Route from Lucerne to Interlaken over the Brünig Pass; children in our train car from all around the world were working together to spot the native Swiss animals strategically placed along the route and check them off on their maps.
We didn't know about the Golden Pass scavenger hunt prior to boarding. However, after seeing some other children working on the scavenger hunt, I asked a train conductor about it and he was able to get us a couple of maps.
Lesson learned: Always ask about special children's programs when traveling with children on a family vacation!
Visiting Männlichen, Switzerland with Kids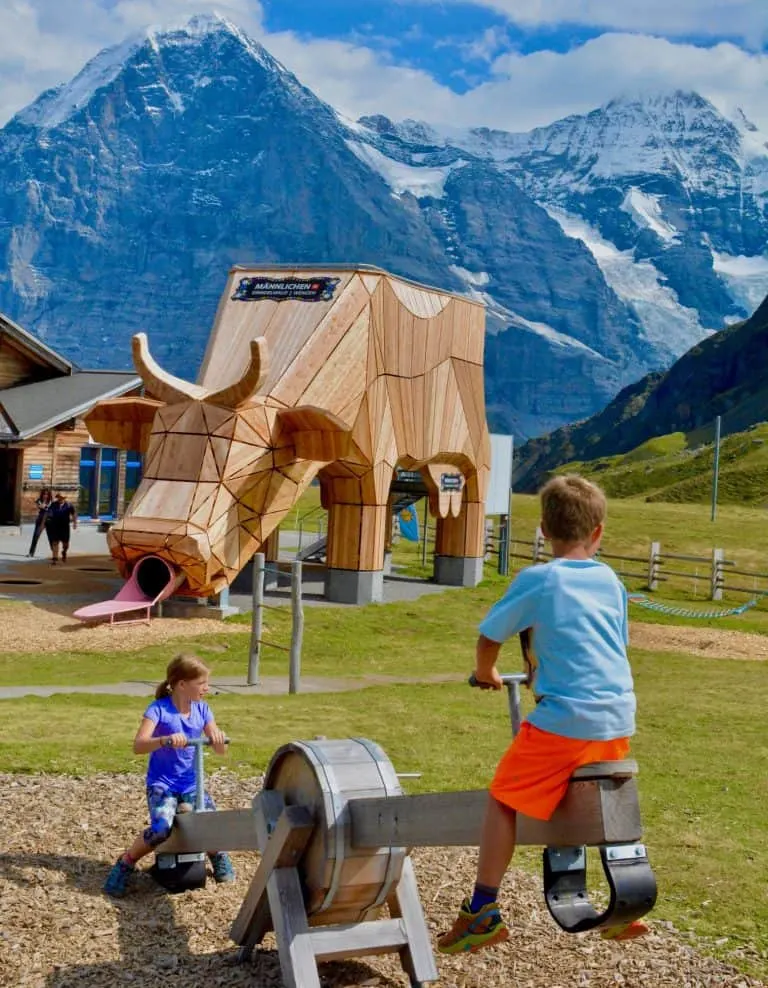 In the shadow of the Eiger, Monch, and Jungfrau, the views from Männlichen are some of the most picturesque of the Alps.
Not surprisingly, there's also plenty of alpine fun for the kids. There are themed trails and mountaintop playgrounds. Männlichen is accessible via both the Grindlewald and Lauterbrunnen valley. It sits right in between them affording sweeping views of both.
Lieselotte, a familiar German children's book character, welcomes the youngest visitors. On the mountaintop, children are delighted by a cow-themed playground. There is a Lieselotte-themed walking trail back down the mountain towards Grindlewald.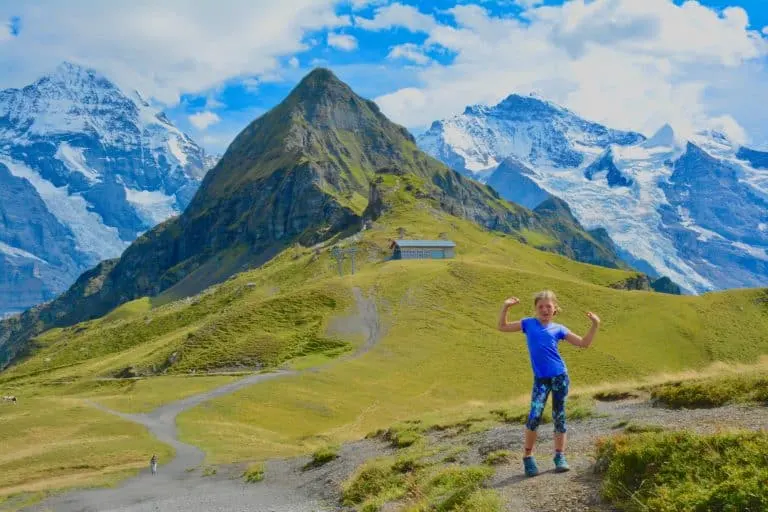 The Panorama Trail from Männlichen to Kleine Scheidegg is one of the most popular in the region. The 1.5-hour trail with a gentle downhill grade is family-friendly and even possible with a rugged jogging stroller.
As the trail winds along the mountainside towards the Jungfrau, views of the mountains continue to change. We couldn't stop taking pictures of the beautiful landscape.
Of course, there are also plenty of cows to see along the way so there is an ever-present jingle of cowbells. As the trail approaches Kleine Scheidegg, there are restaurants with playgrounds serving typical mountain food. While the first one has the better view, the second one has a trampoline.
Switzerland Family Vacation Day 5- To the Top of the Schilthorn and Bond World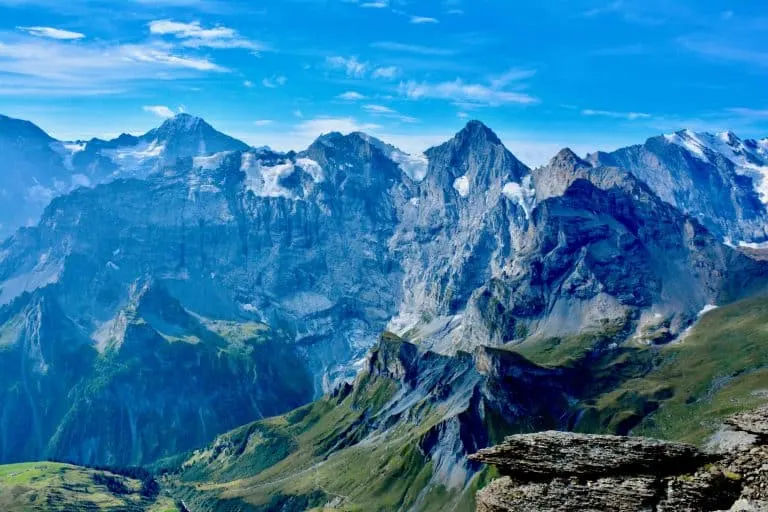 On our second day in Lauterbrunnen, we started out early taking the bus further into the valley to Stechelberg (STP.) From Stechelberg, we boarded a packed cable car with lots of tourists up to Gimmelwald. Then we continued on to Mürren (STP) towards the popular Schilthorn mountain peak.
From Mürren, we continued up again via Birg to the top of the Schilthorn and Plz Gloria at 9744ft (%STP.) At the top of the Schilthorn we spent 30-45 minutes enjoying the views and the modern, interactive James Bond Museum before heading down to Birg to do the cliff walk there.
Finally, arriving back in Mürren, we took the funicular up to Allmendhubel (STP) where there is a beautiful playground and mountain hut serving lunch.
From Allmendhubel, we took the Children's Adventure Trail back down the mountain to Mürren where we took the cable car back down to Stechelberg (STP.) On our bus ride through the valley back to Lauterbrunnen (STP), we stopped at Trummelbach Falls.
The Schilthorn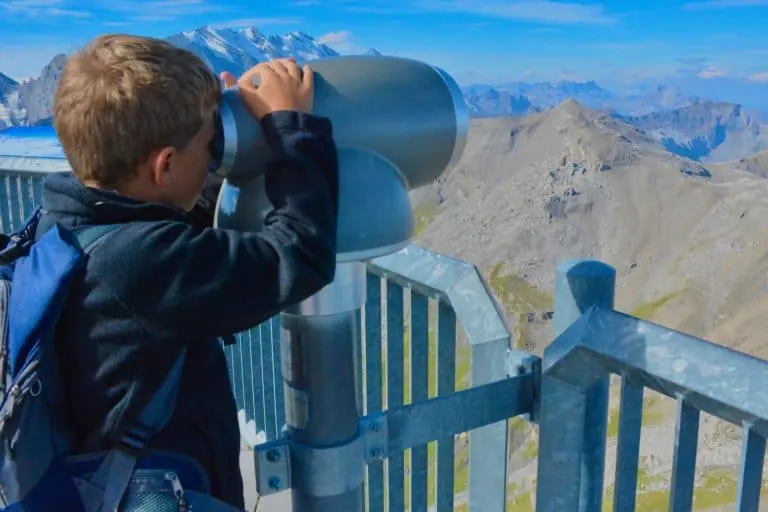 At 9,744 feet above sea level, towering over the Lauterbrunnen Valley, the 360-degree views from the top of the Schilthorn are unmatched.
It's no mystery why this travel destination was chosen for a thrilling scene in an early James Bond film. With interactive displays for kids across the mountaintop and a modern kid-friendly Bond World museum, there's more to do at the top of the Schilthorn than simply marvel at the view and take selfies.
At the free, indoor Bond World Museum, families can even get an aerial view of the mountain as they fly a helicopter over the peaks James Bond style. My seven-year-old repeated the adventure over and over again until another family showed up for their turn.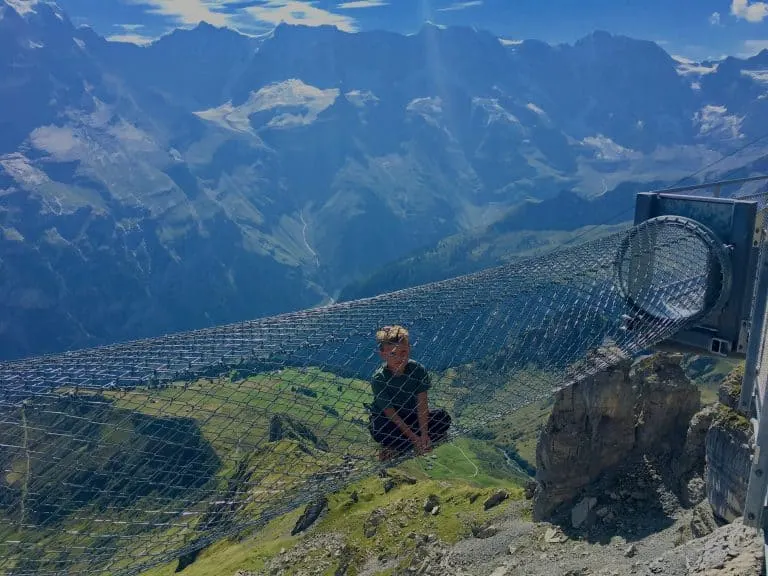 Just about 1000 feet down the mountain at the Birg station, the Thrill Walk offers several unique cliffside perspectives.
There is a crawl through wire tunnel suspended above the rocky cliff and a glass bottom path skirting the mountainside. It's just right for families that want a bit of adventure, but find the reality of climbing high mountain peaks too dangerous.
Allmendhubel Flower Playground and Children's Adventure Trail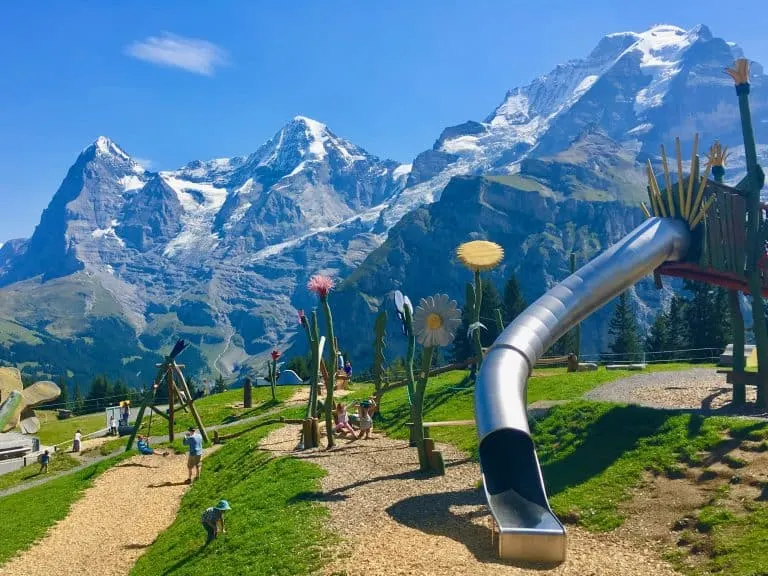 After a morning up at the Schilthorn, the Allmendhubel Flower Park playground is the perfect place to let the kids play.
The wooden flowers, slides, zip line, and marmot-themed tunnels are all within sight of the patio of a restaurant serving up traditional mountain fare like melted raclette cheese and potatoes.
This playground and restaurant are no secret. The tables at the restaurant were nearly full on an August afternoon. We met more English-speaking families at this alpine playground than any other we visited on our Switzerland family vacation.
Children's Adventure Trail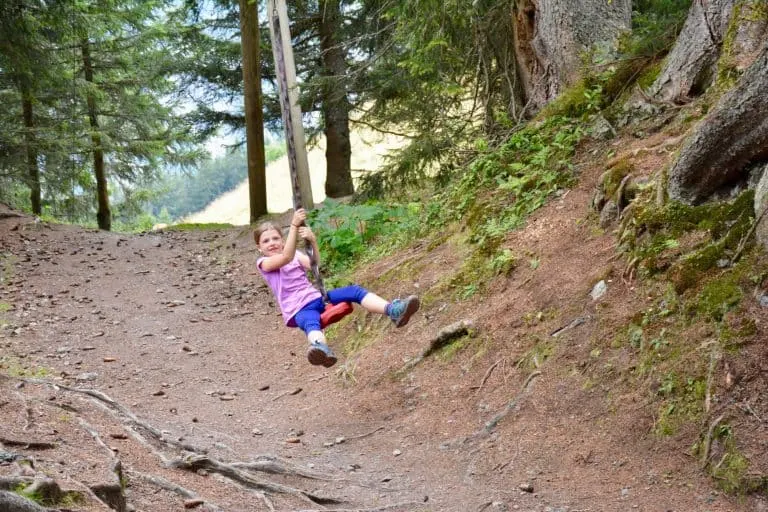 I admit that it was difficult to pull my children away from this fanciful, colorful play area. However, the promise of a hike along the Children's Adventure Trail helped.
As we hiked back down to Mürren along the marked Children's Adventure Trail, the views did not diminish. It was a bit tricky to find the "adventure" part of the trail (the maps in Swiss Family Fun's blog article are quite helpful).
There is a full playground hidden in the forest off to the left-hand side of the trail as it winds down the mountain.
It is a bit curious to spot a slide and then a zip line partially hidden in the forest. However, the kids were keen to explore and found plenty more adventures in the woods. The adventure continues with another small play area with a whimsical rainbow-colored slide just outside of Mürren.
Visiting Trümmelbach Falls in Switzerland with Kids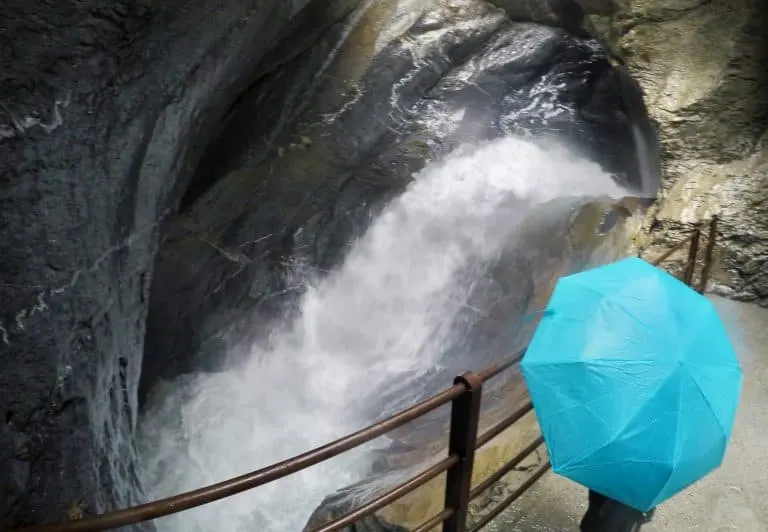 Trümmelbach Falls is an easy stop along the bus route between Lauterbrunnen and Stechelberg. If you're faced with a rainy or cloudy afternoon in Lauterbrunnen, Trümmelbach Falls is the place to go.
It's not indoors and you will be exposed to the elements. However, the experience of the falls will not be diminished in any way by overcast skies and raindrops.
Trümmelbach Falls is composed of several viewpoints of a waterfall that has cut through a rock formation in the cliffside; the sheer force of the water is impressive. It's one of those places that is simply impossible to capture in a photograph.
Switzerland Family Vacation Itinerary Day 6- Adventures in Grindelwald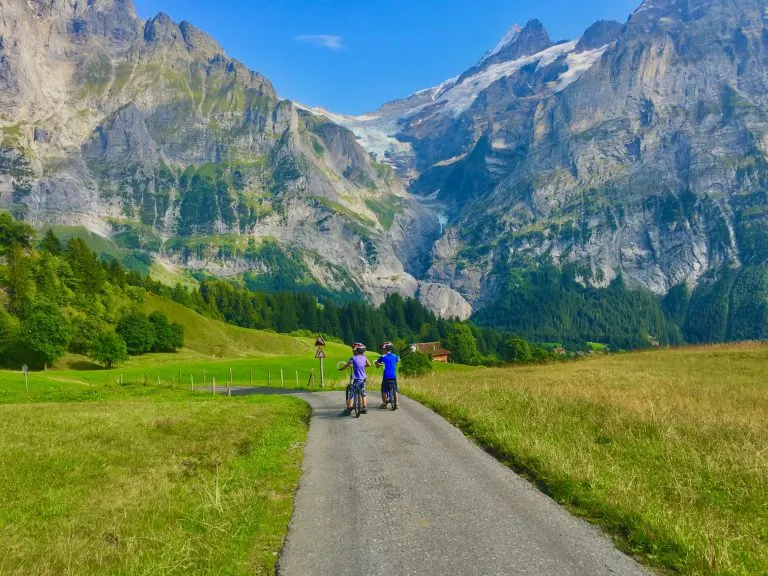 Our final day in Lauterbrunnen, we took a train ride over to the neighboring valley of Grindelwald (STP.) Arriving early in a busy Grindelwald train station, we quickly took the bus out to the Pfingstegg cable car base station and took the cable car up the mountain (% STP.)
At the top of the mountain, we enjoyed a children's playground with a bouncy castle and zip line. We also took a few runs on the mountain toboggan run before setting off on a hike down the mountain towards a mountain hut for lunch.
After lunch, we went to the Glacier Gorge (Gletscherschlucht), where we caught the bus back to Grindelwald (Swiss Travel Pass.) Back in Grindelwald, we took the cable car up to Grindelwald-Bort (% STP) to enjoy the views at the playground and then ride Trotti bikes back down the mountain.
Pfingstegg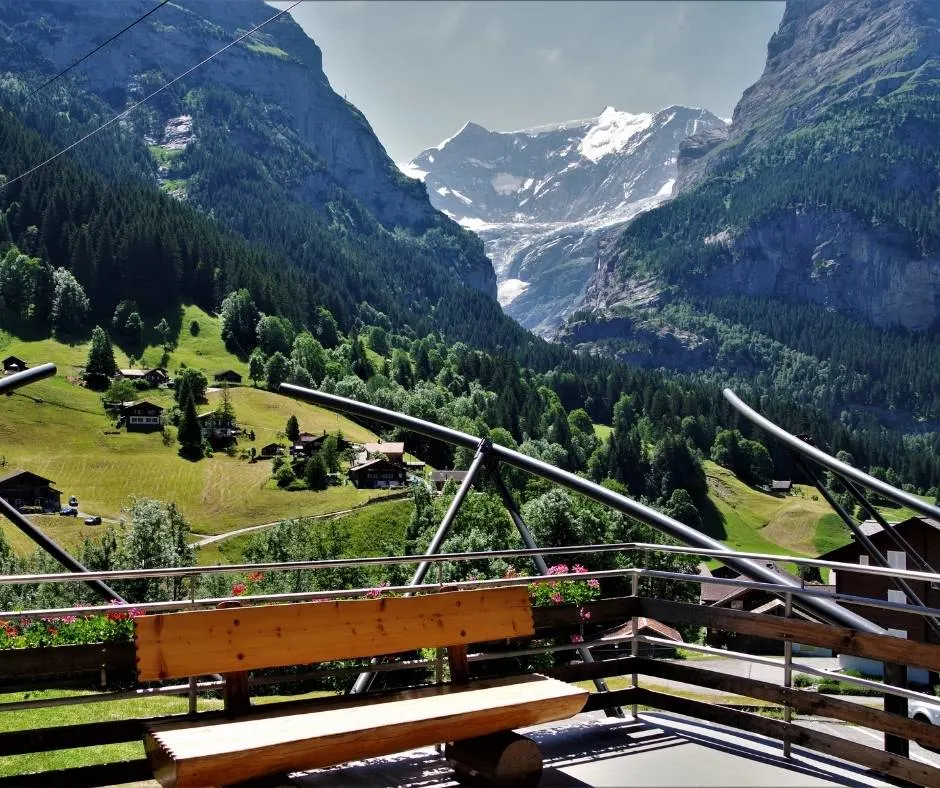 The cable car to Pfingstegg is tucked away in a corner of the valley just outside of Grindelwald. The cable car takes visitors up to an area with a small playground with a zip line, restaurant, and summer toboggan run. The area overlooks the Grindelwald Valley.
It is the starting point for a couple of day hikes out towards the Lower Grindelwald Glacier. Most of these hikes are suitable for families with older children and teens.
Instead of heading up towards the glaciers and mountaintops, we hiked down towards the Restaurant Marmorbruch. At the restaurant, we enjoyed a memorable lunch topped off with meringues and cream. Just a bit further down the trail, we reached the Glacier Gorge.
Glacier Gorge (Gletscherschlucht)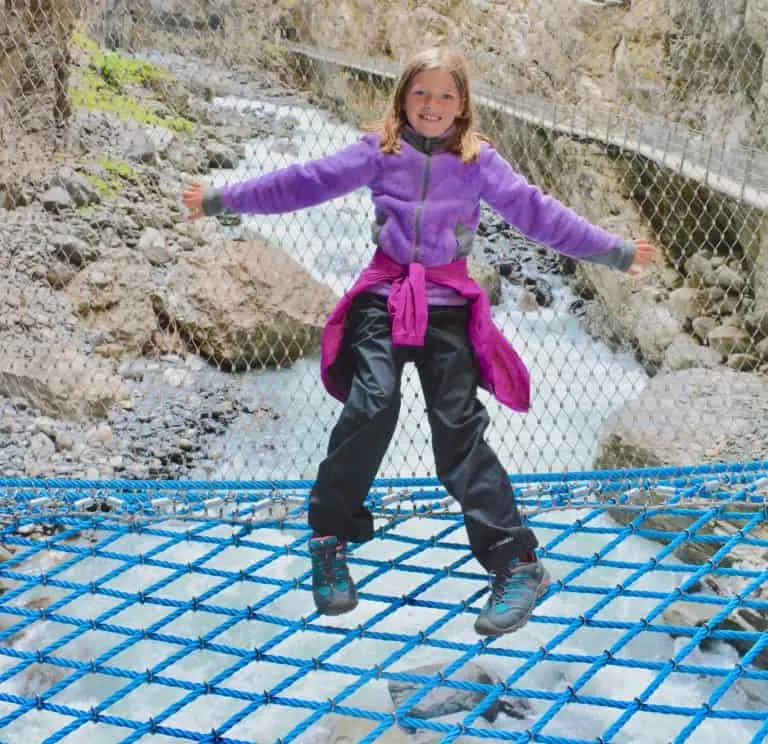 The Glacier Gorge is accessible from Grindelwald via bus or by hiking down from Pfingstegg. In a place where experiences and views cost so little to enjoy, I felt the entrance fee to the Glacier Gorge was a bit steep. However, it is a fun outing — especially for adventurous kids who like a thrill.
The highlight at Glacier Gorge is a large net that stretches across the gorge and the rushing glacial river beneath. Families can climb across the net, even bounce up and down a bit; the water of the river roars beneath.
It takes an hour or so to hike to the end of the trail and back. It is quite a remarkable trail running along the cliffside hugging the gorge. On a hot day in the mountains, the cool air of the gorge is refreshing, if not downright chilly.
Visiting Grindelwald-Bort on a Switzerland Itinerary with Kids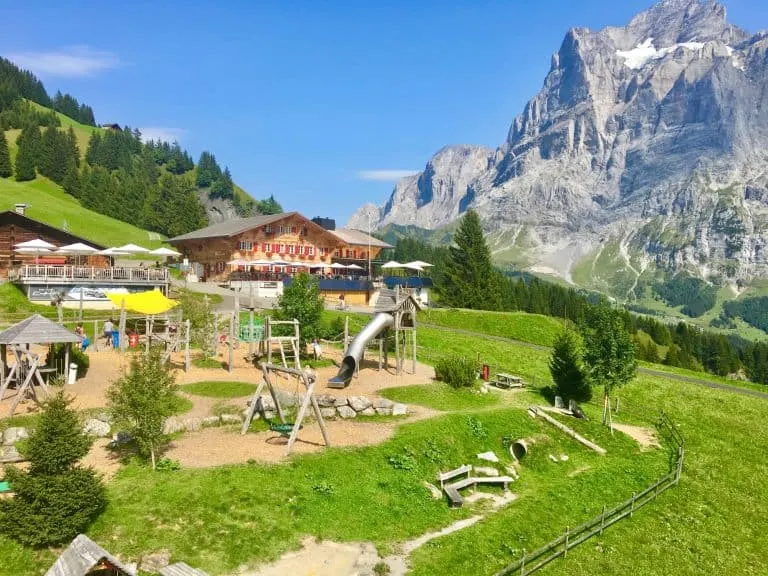 Located centrally in the town of Grindelwald, a popular series of cable cars take visitors up to the alpine heights to Bort and then on to Schreckfeld and First.
Families could certainly spend a full day exploring this kid-friendly area, but seeing as we only had a couple of hours, we only went as far as Bort. At the top in First, there is a cliff walk and a zip line for the adventurous, as well a tot-friendly hiking trail to Bachalpsee for those looking for a calmer way to enjoy the alpine scenery.
Between First and Bort at the Schreckfeld station, families with children over 135 cm (about 10-12 years old) can rent mountain carts to ride downhill to Bort.
At Bort, there is a marmot-themed alpine playground for family fun. My kids only played a short time because they were so excited to ride Trotti scooters downhill to Grindelwald.
Riding a Trotti scooter downhill is quite a thrill! Children are required to be at least 125 cm (about 50 inches); at ages 7 and 8, my children barely made the cut.
My son was ready to fly down the road the second he got his scooter. However, my daughter took a little time figuring out the brakes. Ultimately, they both beat me down to the town of Grindelwald. I was so distracted by the awesome views.
Switzerland Family Vacation Itinerary Day 7- Exploring the City of Bern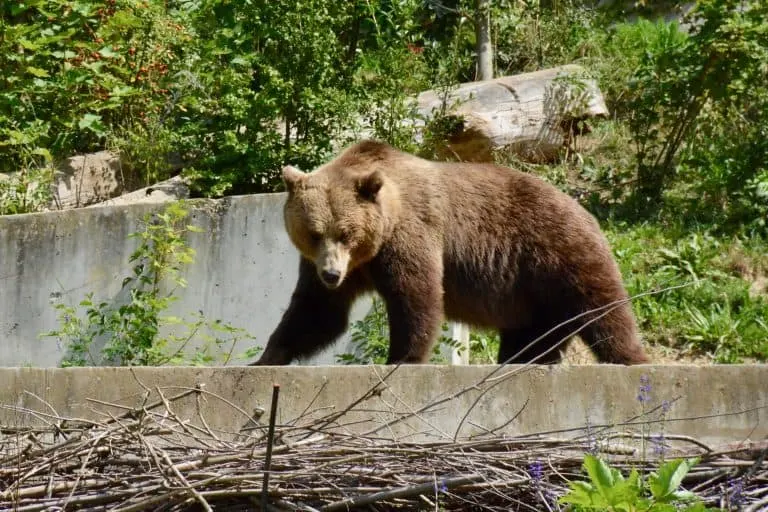 On our seventh day in Switzerland with kids, we packed up and left the mountains for the city of Bern. Having traveled to Switzerland twice previously, Bern has always been one of my favorite Swiss cities.
We took the train from Lauterbrunnen to Bern via Interlaken (Swiss Travel Pass). Once in Bern, we used the city tram (Swiss Travel Pass) to get to our hotel, Hotel Alpenblick.
Upon arriving at our hotel and settling into our marvelous family room just steps from a fun library and sitting room area, we set off on foot to explore the city.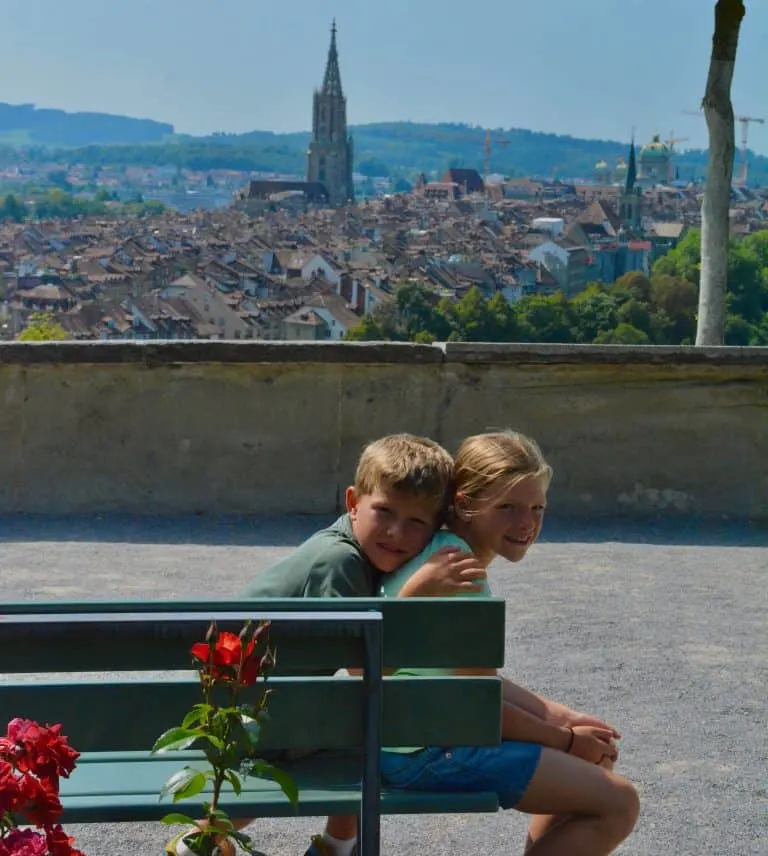 Bern is a lovely city for families to explore. It is also a convenient city stopover after a visit to the mountains in Switzerland with kids.
Bern's museums, especially the Einstein Museum and Paul Klee Center, are fun for children and teens. I'm always so charmed by the city itself, the historic city center, the brilliantly blue Aare River, and the cute rose garden with views of the city, that I feel no need to go indoors.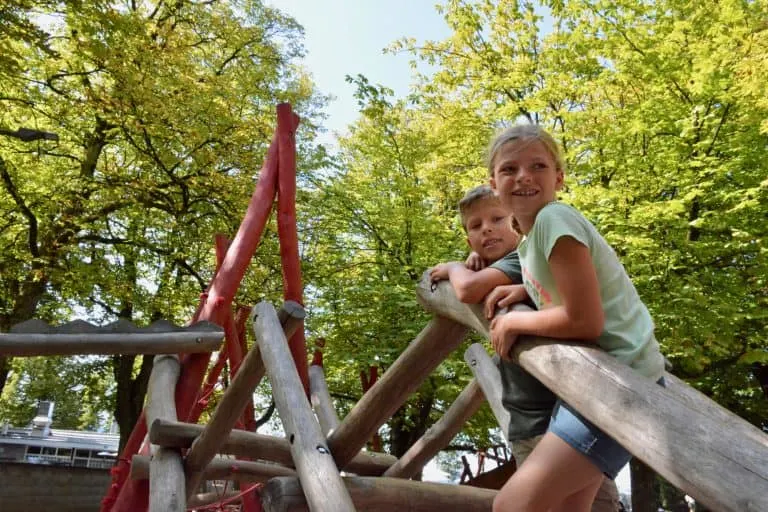 Walking around Bern on a Switzerland Vacation with Kids
On this visit to Bern, my family enjoyed a leisurely lunch at the restaurant adjacent to the rose garden. We followed up lunch with playtime at the super fun, shaded playground just steps away.
The famous rose garden was only a 10 -15 minute walk from our hotel. Our hotel was in one of Bern's neighborhoods bustling with local children playing on the sidewalks.
Playtime at Bern's playgrounds, a stroll along the Aare River, and a visit to Bern's bears are the highlights of a laid-back family afternoon in Switzerland's capital city.
We capped off our city adventure with a gelato and a walk through the city's historic center. Then we found a restaurant and another playground back in the neighborhood near our hotel.
Switzerland Family Vacation Day 8- From Bern to Geneva via Lausanne Along Lake Geneva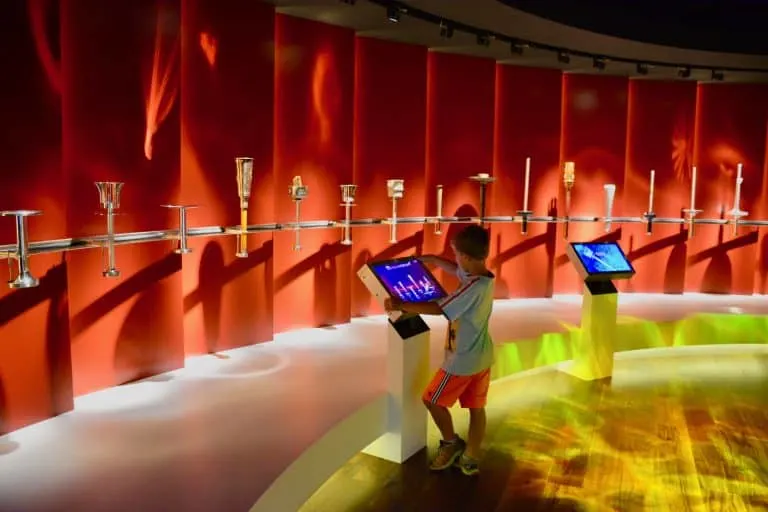 In the final leg of our journey through Switzerland by train, we traveled from Bern to Geneva via Lausanne (Swiss Travel Pass). We rode public transportation in all three Swiss cities we visited. The pass even gave us free entry to the Olympic Museum in Lausanne.
In Geneva, we stayed at the Holiday Inn Express out by the airport for easy access the following morning.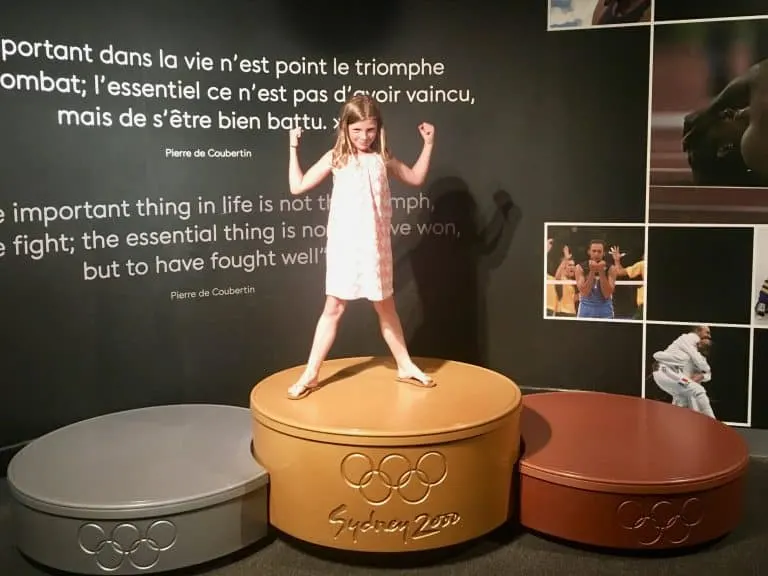 During our month in Europe, we had visited cities from Krakow to Venice to Munich. Thus, I was not particularly inspired to spend much time in Swiss cities. It turned out that a quick afternoon visit to the Olympic Museum in Lausanne was a surprise highlight for us on our Switzerland itinerary.
Looking to visit more Swiss cities on your trip to Switzerland with kids? Check out Trekaroo's Top 10 Things to Do in Zurich with Kids.
Visiting the Olympic Museum in Lausanne, Switzerland with Kids
The Olympic Museum has a variety of exhibits on multiple floors. Highlights of the museum include the torches used at all the Olympic Games. There is also a moving video featuring moments from various Olympic Opening Ceremonies.
I've always loved the Olympics. It was really special to be able to introduce my children to past Olympic memories. A highlight for the entire family are uniforms from various sports worn by legends of the Games; of course, my daughter couldn't get enough of the figure skating dresses.
Kids will also love a small interactive area where visitors can test their reaction time and other athletic skills.
Want to learn a new language before heading to Europe? Check out this review to using Rosetta Stone as a family.