Where can you start in a verdant mountain valley and end in a mesmerizing sandstone desert? Only on this Utah road trip itinerary! In just seven days families will experience scenic byways, sandstone cliffs, and three national parks. Our Utah road trip itinerary takes you from Salt Lake City to Zion National Park – with lots of adventure in between.
Utah Road Trip Itinerary
Utah Road Trip Day 1: Begin in Salt Lake City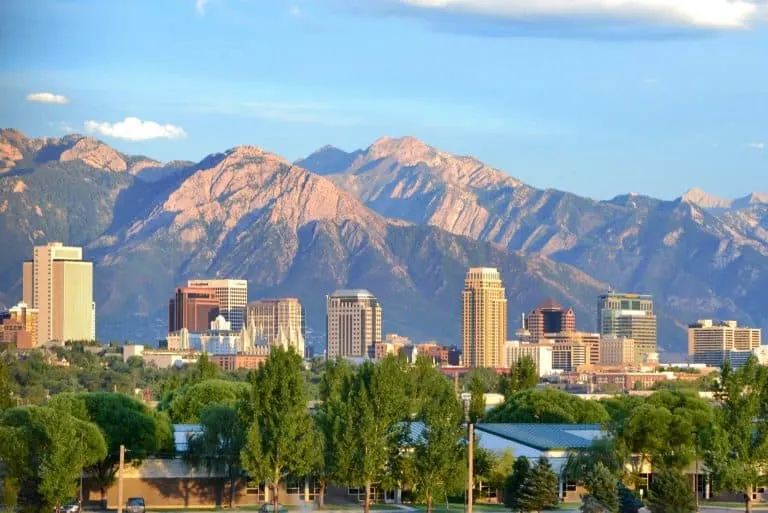 Start your Utah adventure with some easy living in Utah's largest city. A great place to begin exploring is at Temple Square for a history lesson on the area's pioneering families. Then spend the afternoon at one of the many family-friendly museums, such as Discovery Gateway, The Leonardo Museum, or Clark Planetarium.
Where to Stay in Salt Lake City
Homewood Suites by Hilton Salt Lake City Downtown-Homewood Suites are always a great choice for families. We love their full kitchens, hearty breakfasts and weeknight receptions.
Grand America Hotel-This luxury hotel provides comfort, beauty, and on-site activities.
Utah Road Trip Day 2: Park City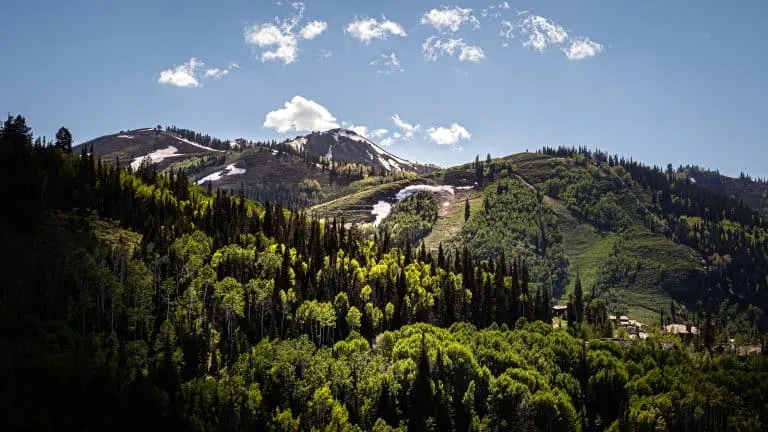 Just 32 miles southeast of Salt Lake lies Park City. Park City, Utah is an iconic ski town in winter, which transforms to an outdoor adventure playground in summer. Grab a bite to eat and take a window-shopping stroll through the quaint downtown section of the town before setting off on an adventure.
Utah Olympic Park, home to the 2002 Winter Olympics, now acts as a training ground for future Olympians. After touring the museum, put your athletic skills to the test on one of the daring ropes courses. They even have an entry-level course available to kids as young as seven.
Of course if you happen to be taking a Utah road trip in the winter, you'll want to hit the slopes at Park City Mountain Resort. But in the lush spring and summer, try hiking the Blood's Lake Trail or taking a bike ride along Beaver Creek Trail in the Wasatch Mountains.
Where to Stay in Park City
Condos at Canyons Resort by White Pines– Sits at the base of The Canyons ski resort, and boasts an indoor-outdoor pool and hot tub complex, tennis courts, basketball courts, a full children's program, and outdoor fun.
Marriott's Summit Watch– Located on Main street near shopping and dining. Parents love the sofa beds, refrigerator & microwaves in each room. Kids love the game rooms and ping pong tables.
Utah Road Trip Day 3-4: Moab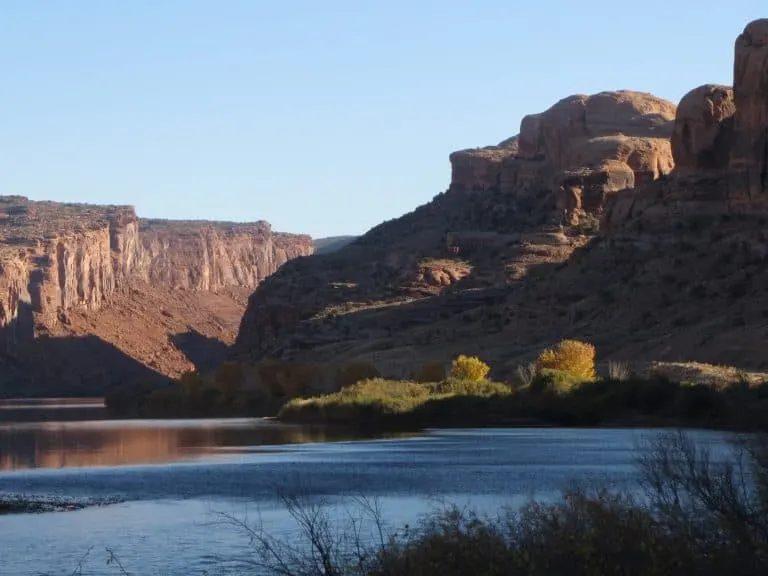 Moab is a great homebase for visiting the nearby state and national parks on your Utah road trip. If you are in a hurry, you could spend as little as half a day each at Canyonlands and Arches. But this area is full of unique rock formations and colorful trails, so I'd plan to stay at least two nights.
Moab is known for adventure. If you didn't bring your own, consider taking a Jeep tour or renting an ATV for a day. There are also tour companies that offer rafting down the Colorado River to Lake Powell, mountain biking slickrock trails, and milder sightseeing tours.
Have a dinosaur lover in the group? Take some time in town to find dinosaur tracks at Bull Canyon Overlook, or visit the Museum of Moab to see dinosaur bones.
Here are all of our favorite things to do in Moab with kids.
Arches National Park (5 Miles from Moab)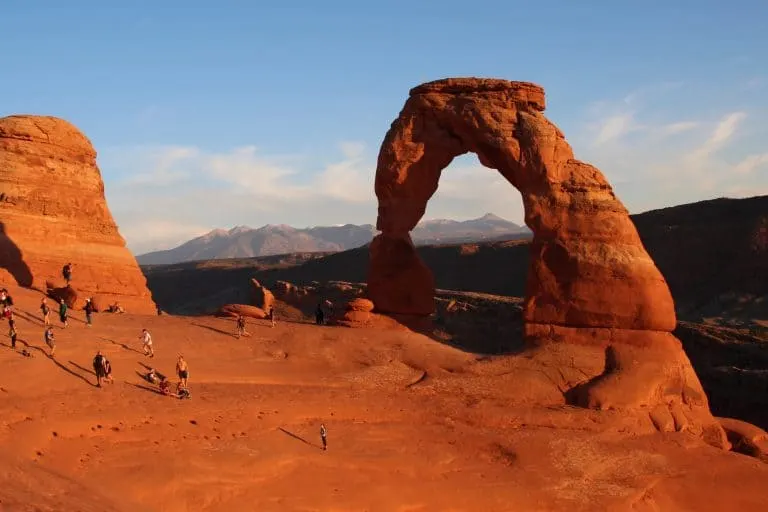 A scenic drive along the 18-mile road through Arches National Park offers glimpses of gravity defying rock formations. But to find the real gems, you'll need to take to the trail.
Double Arch Trail and Windows Trail provide big rewards for not a lot of work. But the famous Delicate Arch requires a bit more work. This three-mile trail is rated as strenuous due to drop offs and a few steep climbs, but Trekaroo parents say it is doable with tough toddlers.
We have a great guide dedicated to exploring Arches National Park. We also have a list of the best hiking trails in Arches National Park for families to get help your family plan your time inside the park.
Canyonlands National Park (30 miles from Moab)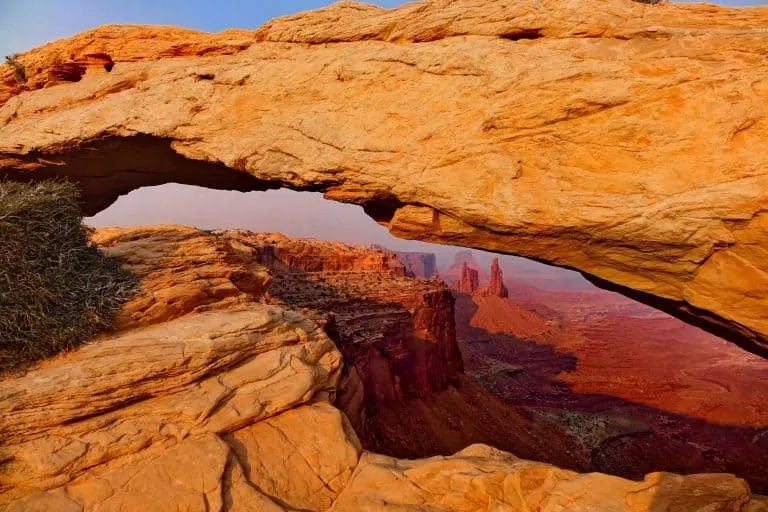 For a one-day visit, start with a short, sunrise hike to Mesa Arch. Then head to Grand View Point Trail for a two-mile hike to the tip of Islands in the Sky mesa. Ranger programs at Grand View Point are a fun way to learn about the geology of the area.
Finish it off with a climb up Whale Rock for an amazing view of Upheaval Dome. The climb is easy enough for athletic seniors and energetic toddlers to complete.
Dead Horse Point State Park (32 miles from Moab)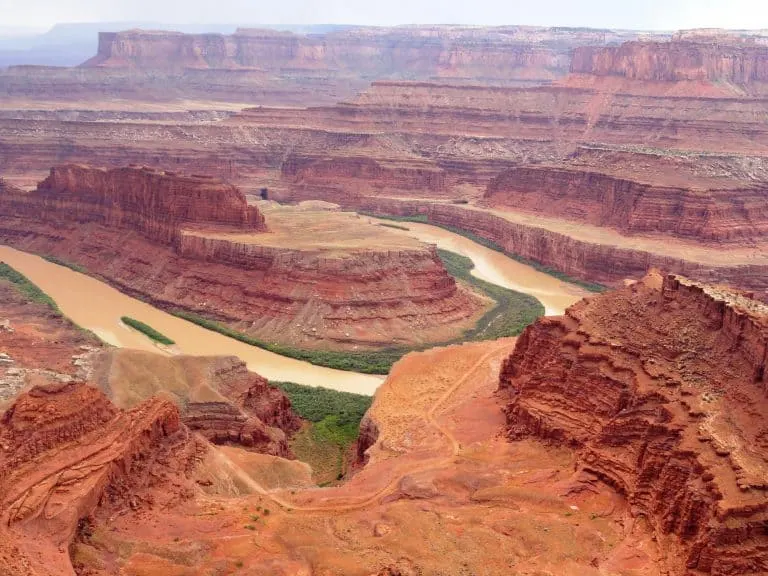 Just down the road from Canyonlands National Park is Deadhorse Point State Park. It is easy to visit both in the same day.
Seven miles of hiking trails lead to viewpoints overlooking the Colorado River, La Sal Mountains, and Shafer Canyon. Combine the East and West Rim Trails to see the best of Dead Horse Point State Park in about two hours.
If you are simply looking for a quick stop on the way to Canyonlands, just drive to Dead Horse Point Overlook, which offers panoramic views of Canyonland's unique mesas and buttes.
Where to Stay in Moab
Moab Springs Ranch– Cozy cabins in a picturesque location. Just 2 miles from Arches National Park.
Red Cliffs Lodge– Located 14 miles out of town. Each suite offers views of the creek or river.
Under Canvas Moab– This is glamping at its finest. Have a camping experience without having to pack for one or sleep on the ground.
Utah Road Trip Day 5: Goblin Valley State Park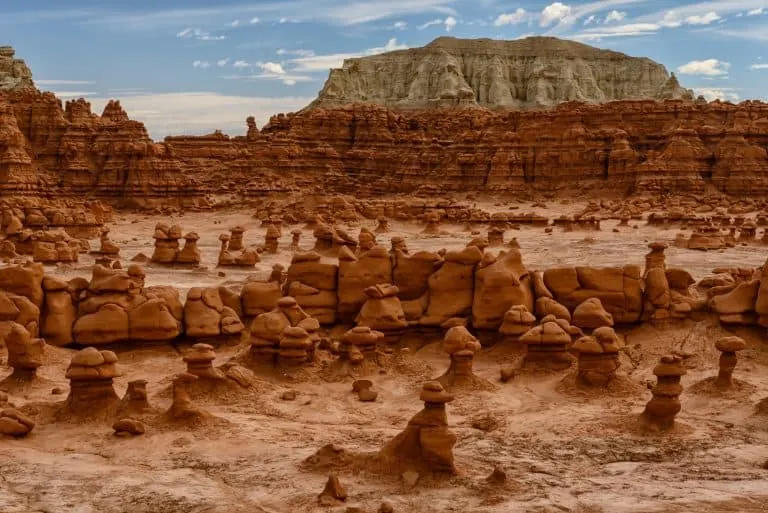 Backtrack a bit north, then head east to arrive at Goblin Valley State Park. The best part of this park is that everything is climbable, perfect for those antsy kids who've been sitting in the car!
The sandstone rock formations, called goblins, are said to resemble Mars. Maze-like trails twist through narrow slot canyons and cliff-faces. But three-miles of park, known as The Valley of the Goblins, lets guests roam wherever they desire.
After meandering through the valley, take the trail to the Goblin's Lair. This strenuous 1.5-mile hike leads to a beautiful slot canyon, which due to a rock fall is now more of a cave. For the most adventurous visitors, the visitor center offers permits to rappel into the Goblin's Lair.
Where to Stay Near Goblin Valley State Park:
Camp in Goblin Valley State Park– This is the best option as there are no hotels nearby. Two yurts are available to rent for families looking for more comfort.
OYO Hotel– This no-frills hotel is located halfway between Goblin Valley State Park and your next stop, Capitol Reef National Park.
Utah Road Trip Day 6: Capitol Reef National Park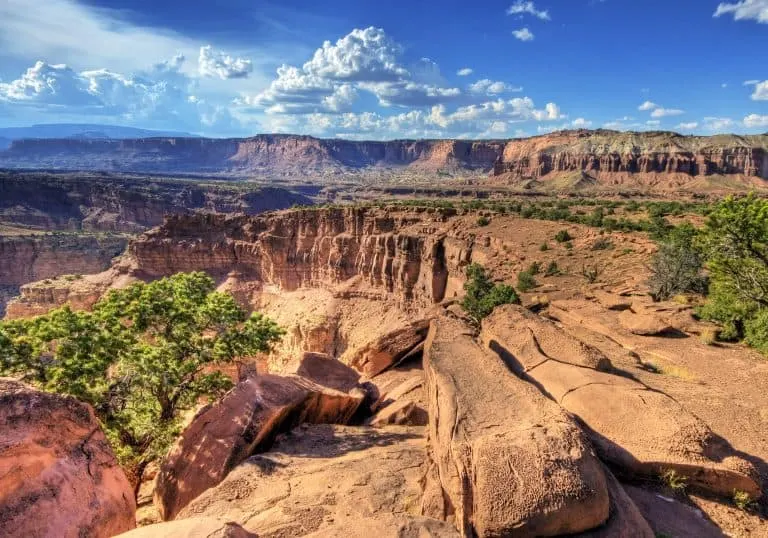 This underrated national park offers empty hiking trails and fun geological features.
Start your visit in the Fruita district where you can pick and eat in-season fruit from the historic orchards for free! Kids love the Ripple Rock Nature Center where they can participate in a Junior Ranger Geology talk and earn Junior Ranger Geology Patch. Make sure to save time for homemade pie at the Gifford House.
Next, take the Capitol Reef Scenic Drive, stopping to enjoy some hikes along the route. The Grand Wash Trail leads into a narrowing canyon with fun sandstone cliffs to climb.
For more of a challenge, try Cassidy Arch. Rewards include a sprawling view of the region and of course, Cassidy Arch.
The scenic drive ends at the Capitol Gorge Trail, where petroglyphs and pioneer graffiti line canyon walls.
Don't miss the amazing stops along Highway 24. Panorama Point offers great views of Chimney Rock. And kids love playing at the Fruita Schoolhouse.
A quick stop at Petroglyph Pullout gives you another chance to see ancient petroglyphs. Finally, save time for the hike to HIckman Bridge.
For more details about visiting Capitol Reef National Park, read our article, Things to do in Capitol Reef National Park.
Where to Stay Near Capitol Reef National Park Where to Stay Near Capitol Reef National Park
Capitol Reef Resort– Stay in a covered wagon, teepee, or traditional room. Kids love the pool and fire pits for roasting marshmallows.
Broken Spur Inn & Steakhouse– The seasonal indoor pool and hot tub is a nice way to relax after a day of hiking in the sun.
The Noor Hotel– Great location with a microwave and refrigerator in each room.
Utah Road Trip Day 7: Grand Staircase-Escalante National Monument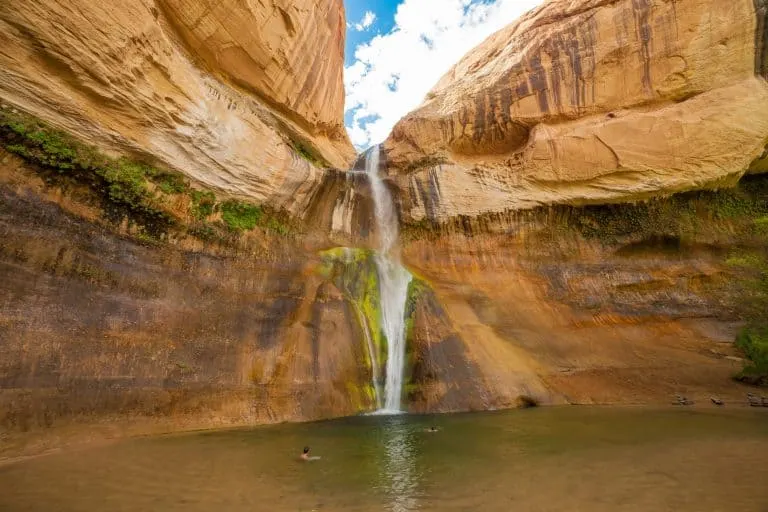 Drive along Utah's Highway 12 and you'll see this 1.7-million acre national monument. This is a great place to explore slot canyons and even more arches.
Try Peek-a-boo Gulch combined with Spooky Gulch for a fun, 3.5-mile loop through two slot canyons. Or find some water by hiking the almost six miles to the Lower Calf Creek Falls, where a 130-foot waterfall tumbles into an inviting swimming hole.
A unique, Utah hike to try in the area is Escalante Natural Bridge. This 4.4 mile trail crosses the river multiple times. In addition to the natural bridge, hikers see petroglyphs and a cool arch. Here are 14 things to do in Grand Staircase Escalante.
The drive along Highway 12 is amazing any time of year but is especially colorful in the fall. Here are 10 Great Places to See Utah Fall Colors– many are along your road trip route!
Where to Stay Near Grand Staircase Escalante National Park
Ponderosa Inn– Convenient location close to Highway 12 with family rooms available.
Escalante Yurts – Fun, unique accommodations in a beautiful location. Units include kitchenette and private bathrooms.
Utah Road Trip Day 8: Bryce Canyon National Park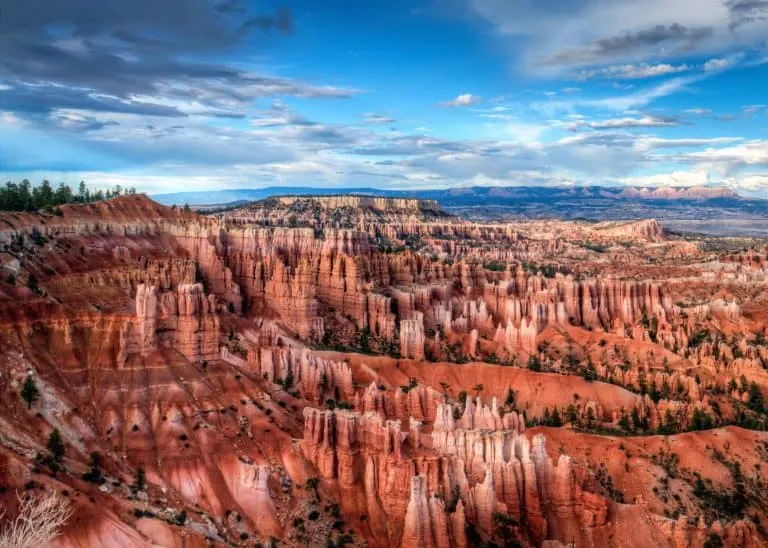 Stunning red rock hoodoos (or rock pillars) fill grand amphitheaters in Bryce Canyon National Park.
Park near Bryce Canyon Lodge before walking to nearby viewpoints including Inspiration Point, Sunrise Point, and Sunset Point. Then start hiking down the Wall Street side of Navajo Loop, surrounded by towering hoodoos. At the bottom of the amphitheater, follow the signs toward Queens Garden and man-made, mini-hoodoos. After your hike, enjoy a scenic drive through the park.
Where to Stay at Bryce Canyon
Bryce Canyon Lodge– The only lodging available inside the park. Great view overlooking the canyon and easy access to the trails.
Ruby's Inn– Great location just a mile from Bryce Canyon with a full buffet breakfast.
Bryce Canyon Grand Hotel– Luxurious accommodations with a great customer rating.
Utah Road Trip Days 9-10: Zion National Park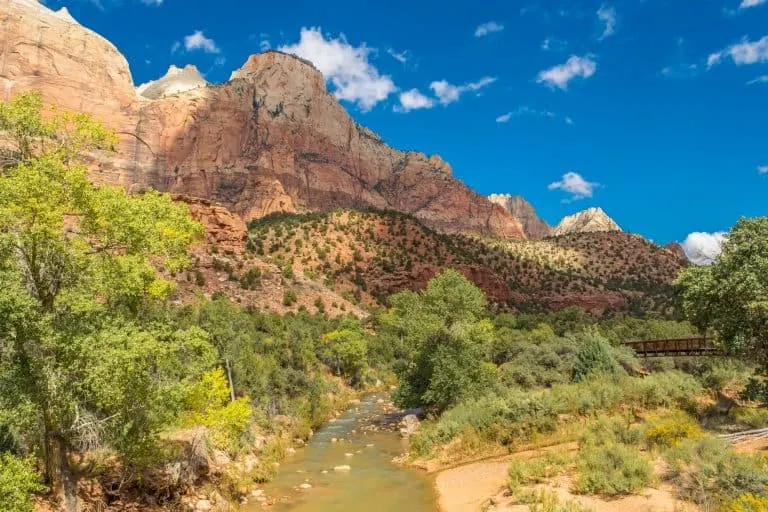 A visit to Zion starts with parking your car at the visitor center, then hopping on a free shuttle bus to one of the many family-friendly trails. One of my favorites is the Emerald Pool Trail combined with the Kayenta Trail. Or if you are feeling brave, the popular Angel's Landing rewards hikers with magnificent views.
Read our full guide filled with 15 Amazing Things to do in Zion with Kids.
Of course, the most unique hike is The Narrows. The "trail" winds through the Virgin River in the narrowest section of Zion Canyon. The cool water brings welcome relief in the heat of the summer. Be sure to check weather conditions before attempting this hike. Flash floods are possible, especially during the summer.
Check out our guide for the Best Zion National Park Trails for Families.
Where to Stay Near Zion National Park
Zion Mountain Ranch– Just 5 minutes from the entrance to Zion National Park. Cute, fully furnished cabins provide remote luxury.
Zion Ponderosa Ranch Resort– Rental homes with free wi-fi and full kitchens.
Zion Lodge– The only in-park accommodations available at Zion National Park.
Continue Your Utah Road Trip with These Bonus Stops
Thank you Amy Whitley who wrote the original version of this article.