Howdy y'all!! Have you heard the moniker, "everything's bigger in Texas?" Well, it's true. When I think of Texas, I think big! Biggest continental state, big scenery, big art galleries, big belt buckles, and big fun for families! From Big Tex to big canyons, Texas is a mecca for family fun in a BIG way. Here are Trekaroo's top 10 things for families to do in Texas.
Top Family Friendly Hotels all-over Texas!
10. Texas State Fair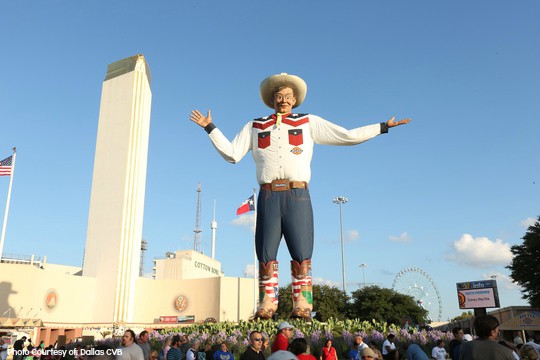 You'll know you're at the Texas State Fair when you can hear the "Yee Haws" being shouted from a mile away! That, and the jangling of spurs, Texas-shaped chips, blinged out belt buckles, and a gigantic display of unusual foods – fried bubblegum anyone?! At the Texas State Fair you can watch the backyard circus, feed the exotic and domestic animals, say hello to the "Picasso of Pumpkin Carvers", watch the Mapapa African Acrobats, catch a concert, and of course, tumble upside-down on the rides. At night, watch streams of water light up and dance to music at Illumination Sensation and sit as the Starlight Parade with sparkly floats and giant puppets passes you by. You haven't been? Don't let another year pass you by! It's so big, the fair is held for an entire month, from the end of September to the end of October. Get to the fair, grab a fried snickers, and don't forget to wave hello to Big Tex. (Seriously, you can't miss him.)
Have you or your family ever had your picture taken with Big Tex (the 52 foot statue) in the background? If so, I want to see it! Go here, write a few lines about your experience, and post your picture!
9. Cowboy Culture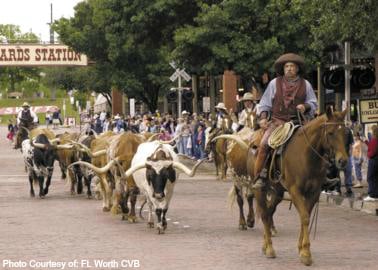 Do you want to introduce your kids to an authentic cowboy experience? Picture this: riding horses, wrangling cattle, eating out of a chuckwagon, camping under the stars, and listening to coyotes howl in the distance. Sounds heavenly, right? Or maybe you're not completely sold on the camping overnight bit and want to venture out for the day and watch a longhorn cattle drive, help feed livestock, or just enjoy a chuckwagon feast. Texas has excellent opportunities to bring out the hidden cowpoke in you and your family and experience a tradition that shaped American culture in so many ways. The Sugar and Spice Guest Ranch, creates a unique experience for moms and daughters to bond over horses and riding. Kids even get to take ownership of a horse of their own for a week! Farm Stays U.S. offers farm-style accommodations like that of Greer Farm. Families will find working cattle operations, sustainable agriculture, and many other small animals. They also offer cooking classes, berry picking, and good old-fashioned fun on the farm.
If a day excursion is more your style, the Fort Worth Herd in the Ft. Worth Stockyards will be a hit! You can watch real cowboys and cowgirls lead a long-horn cattle drive down the old-fashioned brick streets. They also have rodeos, a kid maze, an old-fashioned steam train, and some unique shopping opportunities. At Enchanted Springs Ranch, an old west theme park, families can go on horseback rides, find wild and exotic animals, watch a pistol show, eat out of a chuckwagon, and learn about the charm and history of cowboy culture.
Here's a list of more places for families to experience cowboy culture in Texas.
8. San Antonio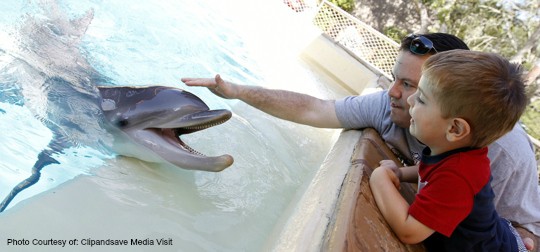 San Antonio is a melting pot of flavor, history, and entertainment. At SeaWorld families can experience up-close animal encounters with whales, dolphins, penguins, and more. They have a children's play area, rides, and a water park. For thrill-seeking families, check out the Superman: Krypton Coaster at Six Flags Fiesta Texas. Families who have kids with special needs/disabilities will find that the rides accommodate them as well. For history buffs, head on over to the Institute for Texan Cultures, an educational museum with artifacts, great information on the early settlers of Texas, and even a log house, school, barn, and fort from the 1800's. If you want to experience Texas culture, the Riverwalk is a paved 15-mile path along the San Antonio River from the downtown area, past the museum district, and ending at the Alamo. It features restaurants, hotels, an IMAX theater, markets, and more. You can even hop in a canal boat and cruise the river with Rio Taxi. My absolute favorite time at the Riverwalk is Christmastime, when everything is lit up with lights!
Book your hotel in San Antonio!
Here's a great list of San Antonio's top attractions for families..
7. Dallas/Ft. Worth Metroplex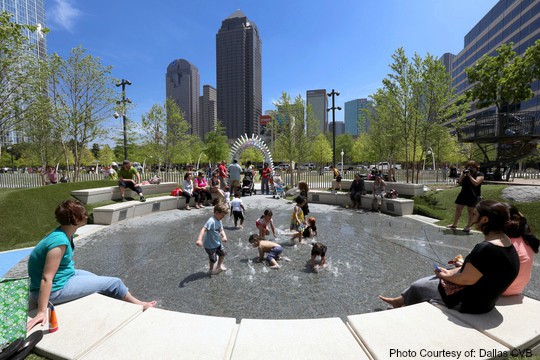 My husband grew up in the DFW Metroplex, so when he asked this born and bred California girl if we could move there, I was nervous. Texas is just desert, right? WRONG! The very first thing I noticed in the Dallas/Ft. Worth Metroplex were the giant lakes, literally everywhere. The Grapevine Mills Mall (with LEGOLAND and the Sea Life Aquarium), is next to a lake. The Dallas Arboretum is next to a different one. There are at least 7 big lakes in the Metroplex alone! But that's not the only thing I love about this area.
It is an extremely family-friendly place with great art galleries, zoos, nature and science museums, and a few wild animal refuges. The Dallas Museum of Art allows families to explore art together with hands on activities! You'll find a planetarium, IMAX theater, prehistoric creatures, and more at the Museum of Nature and Science. The Ft. Worth Zoo is a favorite, with a clean, easy-to-navigate layout and well-cared for animals. Wednesdays are half-off days, so you might want to consider that when making your plans! For an underwater experience, the Dallas World Aquarium has an underwater tunnel where you can see sharks swim over your head! There's a rainforest feel when you first walk into the building and a plethora of incredible creatures. You'll love it here!
Click the link to fine the best family fun in Dallas/Ft. Worth or check the inside scoop on Dallas with kids from local parents!
If you're in the area, you Trekaroo has reviews of family-friendly lodging in Texas.
6. Houston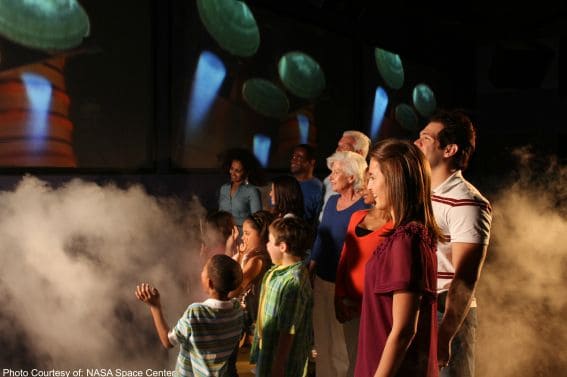 When I think Houston, I think NASA. Since NASA's a little out of this world, the Space Center next door, is perfect! At the Space Center you can see how astronauts live on the International Space Station, dine with a live astronaut, check out real space shuttles, relax as your kiddos play on the giant space-themed play structure, or watch a science show. If your family contains Star Trek junkies, "The Galileo Seven" is a life-size replica of the films' ship, and is on permanent display.
Even though the Space Station is a major attraction, there are several other family-friendly ways to explore Houston. The Cockrell Butterfly Center lets you marvel at butterflies gracefully floating around your head and maybe even landing on you! Also, you don't want to miss the Schlitterbahn Galveston Island Waterpark or Moody Gardens!
Do you have a favorite spot in Houston? What did you like or not like? Write a review of kid-friendly attractions in Houston!
Here what one family's favorite kid-friendly attractions in Houston.
5. Beaches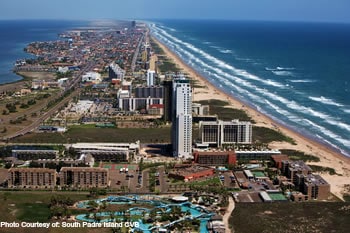 I love beaches! Flat, white sandy shores blending with the salty sea in a dramatically distinct expanse of blue and white hues. What's not to love? Well, maybe the humidity, but at least the ocean is there to cool you down! South Padre Island is a National Seashore so it's well maintained with an education facility, snack bar, sandy dunes, clean restrooms, and wildlife too. Another great beach is I B Magee. The beach is free and clean, perfect for making sand castles while watching dolphins play along the ship's channels!
We can't mention beaches without boardwalks! The Kemah Boardwalk is filled with roller coasters, a train, dancing fountains, and a live stingray touch pool! For an underwater dining experience, the Aquarium Restaurant has a 50,000 gallon, floor to ceiling aquarium allowing every table a unique view of its creatures. At Galveston's Pleasure Pier you can actually ride a roller coaster out over the Gulf of Mexico! There's also midway games, shops, and excellent dining, like the Rainforest Café, Fishtales, and the Bubba Gump Shrimp Company.
4. Austin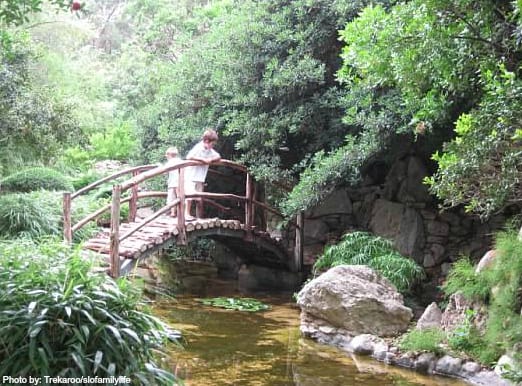 Austin is incredible! My family and I were blessed to be able to spend a few days here on vacation and loved it. Zilker Park has a bunch of free family-friendly activities! The Botanical Gardens has a children's garden with butterfly benches; a Japanese Garden with ponds, little koi fish, and water snakes; and an aromatic rose garden (to name a few). At the Nature and Science Center kids can view objects under the microscopes, uncover a dinosaur fossil or drive trucks in the giant sand pit, and play with puppets and other stuffed animals in the indoor cave. Ladybird Lake has easy hiking trails, a playground area, and large expanses of green grass for kiddos to fly kites or expend some pent-up energy. Barton Springs Pool (an underground spring) is open year-round and is famous for its past celebrity crowds as well as locals and tourists. If you're near Zilker Park, you have to check out the Congress Bridge Bats! Then, there's also the Texas State Capitol Building where you can invoke a little learning into your day by peeking in on a session of the Senate or visiting the IMAX Theater in the Bullock Texas State History Museum.
Best hotel deals in Austin!
For more, visit my list of must see family attractions in Austin, TX! Think you're an expert on Austin? Log in and make your own list!
3. Sports Fans Unite!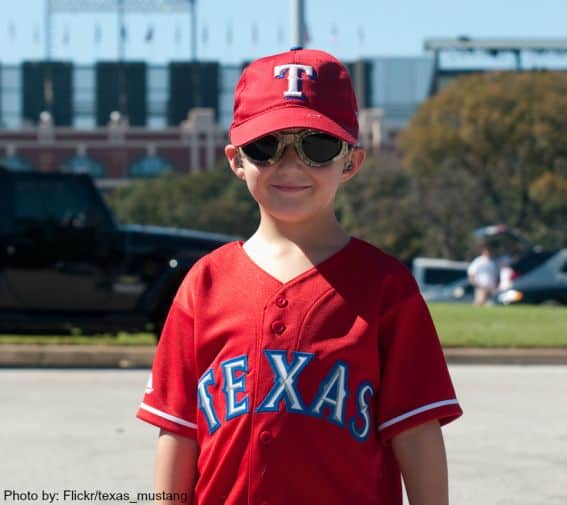 I'm not quite sure why every time I think of sports, I hear the iconic song, "Take Me Out to the Ballgame" humming merrily in my mind. I picture hotdogs, peanuts, chanting for the Texas Rangers, or a child being lifted up by his dad while catching his first 'outta the park' hit. I picture the Dallas Cowboys or the Texas Longhorns with black smudges under their eyes, chasing after and protecting their coveted pig skin ball while painted college kids cheer from the sidelines. I picture the Dallas Stars sliding effortlessly over a sheet of thick ice and the Houston Rockets bouncing a bright orange ball down the wooden court and dunking it into a net suspended in mid-air. No matter the sport, Texas has a full gamut of teams enthusiastically ready to entertain and amaze with their dynamic team spirit and family-friendly venues.
Here's a list of even more favorite family-friendly sports venues in Texas for families.
2. The Great Big Outdoors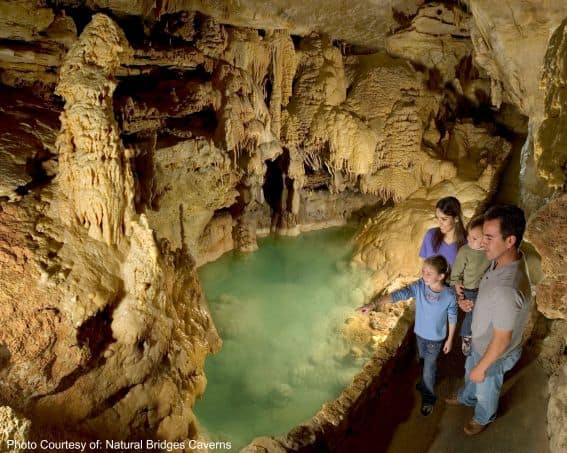 Have you ever gone on a hunt for dinosaur tracks, taken an African-style safari, or rafted through igneous rock cutouts? Texas has a gamut of outdoor recreation activities your kiddos will be excited to participate in! At Dinosaur Valley State Park in Glen Rose, TX families can track preserved prehistoric tracks from an Apatosaurus and a T-Rex! There are also Junior Ranger Explorer Packs kids can check out for free that include binoculars, a magnifying glass, an animal tracking key, a sketchbook, flower and animal guides, and more! If an African-style Safari is more your thing, then check out Natural Bridge Wildlife Ranch a 400-acre drive-through ranch where guests can observe giraffe, ostrich, zebras, rhinos, and wildebeest, all from the safety of their own vehicles. Palo Duro Canyon is known to be the second largest canyon in America! Guests can camp in a basic cabin overlooking the canyon, hike on one of the many trails, or arrange a tour via Jeep or horseback. And last, but not least, Big Bend National Park is one of the largest and most unspoiled National Parks in America. Families can hike along trails used by Indians or early settlers, visit hot springs, raft through the Colorado Canyon, and participate in the Junior Ranger Program.
1. Extreme Adventures, Texas-Style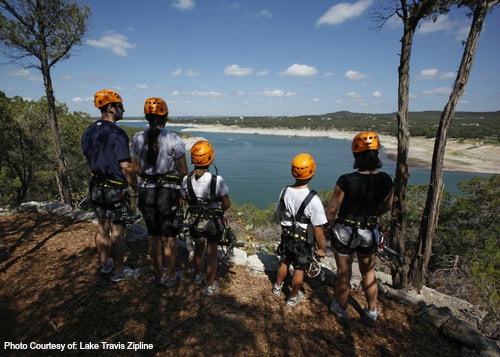 I love adventures, especially when there's a buildup of adrenaline followed by a heart-dropping thrill! From race car driving to explosions, Texas has a range of family activities that are sure to delight even the most hardcore thrill-seekers. Sportations allows you to choose your own adventure, including feeling weightlessness in a zero gravity experience. A specially modified Boeing 727 will soar above the earth performing parabolic arcs while you float, spin, and flip just like astronauts in space! A few of the other adventures include: skydiving, hang gliding, and hot air balloon rides. Rusty Wallace's Racing Experience allows children as young as 14 to ride with an experienced driver in a real NASCAR Sprint Cup Car! Adults can even drive the cars themselves! With Lake Travis Zipline Adventures, families with children over 70 pounds can zipline across the lakes' inlets on the largest zipline in Texas! Parents with children over the age of 18 can even participate in Night Flight, a night-time zip with headlamps and glowsticks. Sharks have always garnered my children's attention. They are fascinated with these ocean-dwelling creatures. Kids can meet these large creatures up close and personal at the end of their fishing hook with Galveston Shark Fishing! How about explosions? Families visiting Stunt Ranch have the opportunity to learn about physics and engineering while watching explosions, experiencing a zero shock airbag, special effects from movies, and making snow, rain, steam, and smoke! They make learning fun! Be sure to make a reservation before heading to any of these events, but definitely don't miss them.
As you can see, Texas is not just the "Lonestar State". It is a BIG state filled with fun and unique family adventures perfect for your family. From its BIG cities to its BIG culture, Texas is a state you don't want to miss.
Lead image by: Shutterstock.com
Thanks for checking out the top 10 things for families to do in Texas! What state do you want to visit next?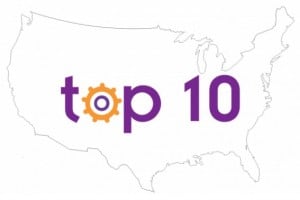 From coast to coast, we're determining the Top 10 Things to do with Kids in each state of our great nation. Head here to see what tops the list in your favorite state.