Enjoy a great road trip? Love our nation's national parks? Well then we have a California National Parks road trip itinerary for you!
Much of California's eastern spine is dominated by some of the most incredible mountain scenery that our country has to offer.
Sequoia, Kings Canyon, Yosemite National Park, and Lassen Volcanic National Park are all located in California's mountains. A road trip through these national parks should definitely be on your family's vacation list.
Trekaroo has put together a 10-day road trip itinerary with suggestions on what to do and where to stay during your epic summer road trip. So block out your calendars, make reservations, and start getting excited about your summer adventure!
The Ultimate California National Parks Road Trip
California National Parks Road Trip Days 1-2: Sequoia National Park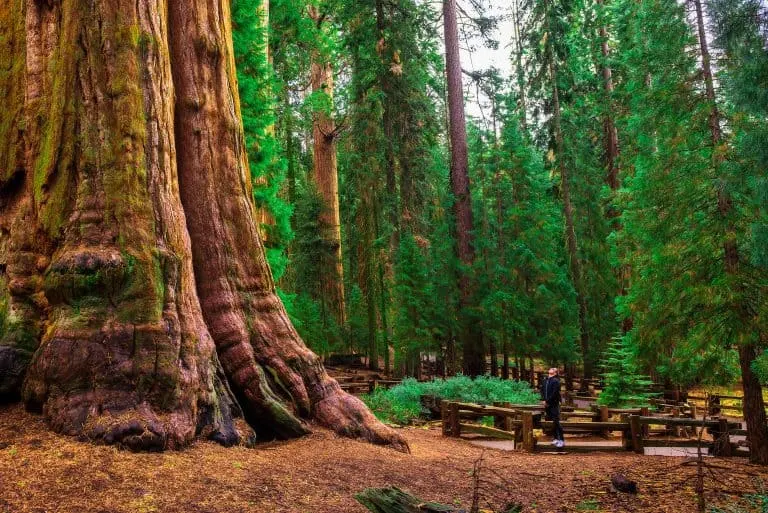 Our first stop on our California National Parks road trip is Sequoia National Park. People come to Sequoia for one massive reason- to see the largest trees on the planet.
Once they arrive, they discover that this park has much more to offer than just big trees (which are 100% worth the trek alone). This park is a wonderland of Sierra Nevada scenery with grand peaks and granite monoliths.
"Can't Miss" Highlights at Sequoia National Park: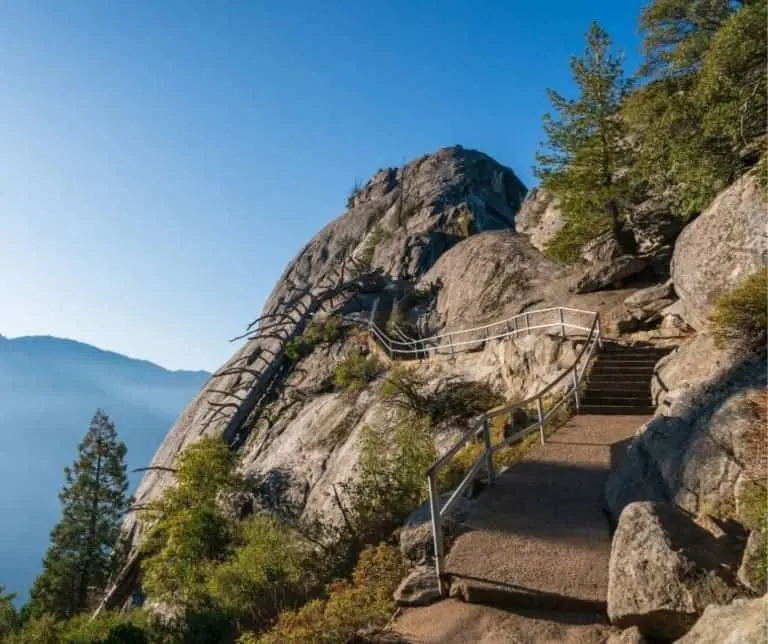 Visit the General Sherman Tree, the largest living thing, and hike around the Giant Forest on the Congress Trail of Giants and the Big Trees Trail.
Climb to the top of Moro Rock and take in views of the Central Valley and high peaks of the Sierra Nevada.
Hike from Crescent Meadow to Tharp's Log which is a fallen Sequoia tree that had been turned into a homestead by a settler. Make sure to drive through the fallen Sequoia on your way to or from the meadow. Your kids will get a kick out of it!
Follow the Kawaeah River to Tokopah Falls. Make time to wade a bit in the icy-cold river, which runs along much of the trail.
Head underground and explore Crystal Cave. Be sure to purchase your tickets at a park visitor center- Foothills or Lodgepole-before heading down the winding road to the caves.
Enjoy unique storytelling and an outdoor BBQ buffet at Wolverton BBQ.
Explore more of the park! Here are the 8 Best Hikes in Sequoia and Kings Canyon National Parks.
Just passing through Sequoia? Here's what you can do in Sequoia in just one day.
Sequoia National Park Lodging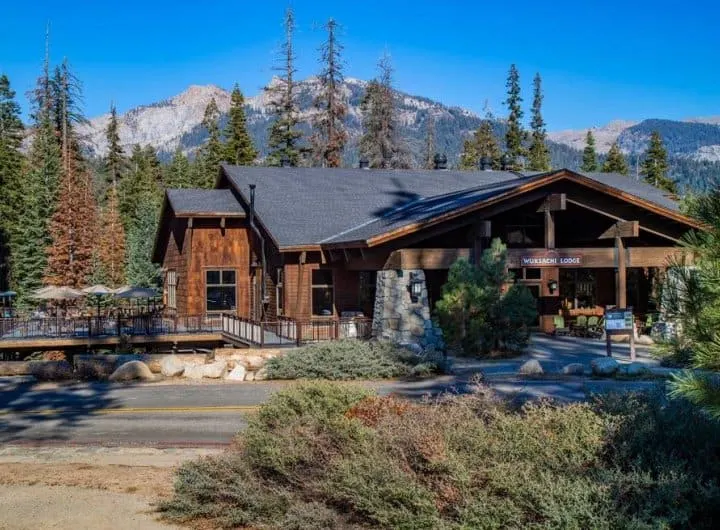 Wuksachi Lodge, the park's signature hotel, is centrally located. It is just a short drive from several of the park's giant Sequoia groves, including the General Sherman Tree.
Rooms are comfortable and contemporary, and suites are available, making it an ideal fit for families. Peaks Restaurant, which is located on site, serves up three meals a day, including a breakfast buffet.
Camp here: Lodgepole Campground is located conveniently located near the visitor center, camp store, ice cream shop, laundromat, and showers. It also sits at the base of the hike to lovely Tokopah Falls.
Explore more of the state! Here are the best things to do in California with kids.
California National Parks Road Trip Days 3-4: Kings Canyon National Park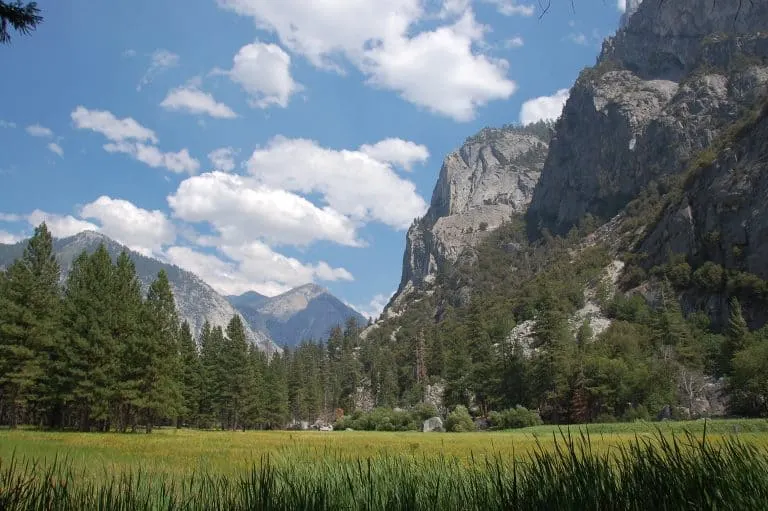 The second stop on our California National Parks road trip is Kings Canyon National Park. Located adjacent to Sequoia National Park, Kings Canyon has its own famous grove of tall trees as well as its namesake canyon to explore.
The road to the bottom of Kings Canyon is long and winding (definitely not for RVs), but the rewards are of visiting this remote and spectacular spot are plentiful.
See which parks made our guide to the Best National Parks in California.
"Can't Miss" Highlights at Kings Canyon National Park:
Explore Grant Grove which is home to the enormous General Grant Tree and as well as some hollowed-out fallen trees which are great fun to walk and scramble through.
Head to Redwood Canyon and visit the world's largest Sequoia Grove. This is an excellent place for your family's first backpacking trip.
Make the drive down into Kings Canyon, stopping at Kings Canyons Overlook and Boyden Caverns along the way.
Go for a horseback ride along the Kings River via the Cedar Grove Stables. Opt for a morning ride before temperatures get too warm.
Take the short walks to Grizzly Falls and Roaring River Falls.
Visit magnificent Zumwalt Meadows near road's end. Besides having a nice family-friendly hike and plenty of stunning scenery, it is also a nice place to play in the river.
Kings Canyon Lodging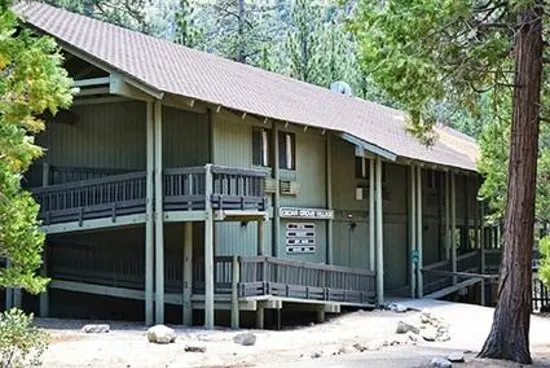 The only lodging down in Kings Canyon is the small, motel-style Cedar Grove Lodge. It is located above the Cedar Grove Snack Bar and a general store, alongside the Kings River. Rooms are basic, but they do the job just fine.
Camp here: All of the campsites in Kings Canyon are first-come, first-served. Sheep Creek Campground is a favorite for its central but quiet location in Cedar Grove. Sheep Creek provides hours of entertainment for the kids.
Up in Grant Grove, the Grant Grove Cabins are a fun alternative to tent camping. The cabins are essentially four walls and a couple of cots, but they are a nice option for people looking to dip their toes in the camping waters without committing to a tent.
California National Parks Road Trip Days 5, 6, & 7: Yosemite National Park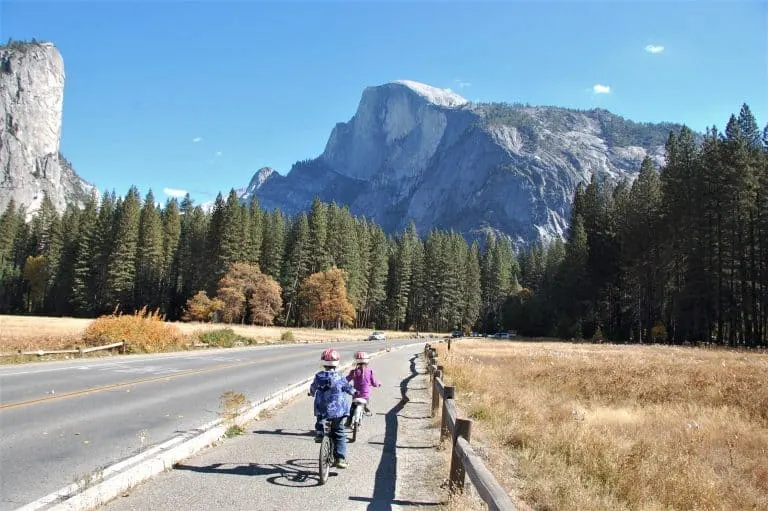 The third stop on our California National Parks road trip is Yosemite. The superstar of California's National Parks, Yosemite National Park really does live up to all the hype.
From the jaw-dropping beauty of Yosemite Valley to the granite-dominated landscape of the High Country, it is easy to spend weeks exploring this large park.
For the purpose of this road trip, we suggest dedicating three nights to the park. It is a 3 1/2 hour drive from Grant Grove in Kings Canyon to Curry Village in the heart of the Yosemite Valley.
"Can't Miss" Highlights at Yosemite National Park: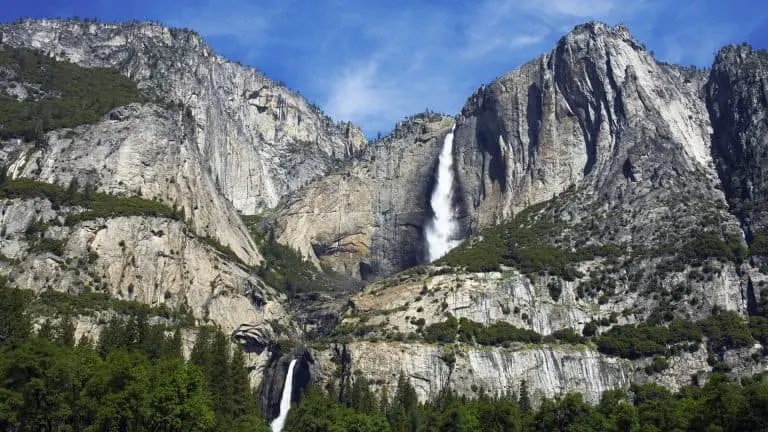 Haven't gotten your fill of Sequoias yet? Coming in from South Yosemite, stop at the Mariposa Grove of Giant Sequoias for a nice hike.
Stop at Tunnel View for postcard-perfect views of Yosemite Valley. Once in the Valley, pull over and take the leisurely walk up to Bridalveil Fall.
Get to know the history of Yosemite at the Yosemite Museum and Indian Village.
Driving around Yosemite Valley and trying to park can be very difficult. While there is a free shuttle which does take you to major attractions, I recommend renting bikes from the Yosemite Lodge Bike Stand and peddling around the Valley. Experiencing the area by bike allows you to see more than you would from the road but cover more ground than you could by walking.
Visit Yosemite Falls, the tallest in North America. Active families with older children will love the challenging hike to the top of Upper Yosemite Falls.
Hike up the Mist Trail to Vernal Falls and Nevada Falls. This hike is steep but rewarding. It is best attempted by elementary-aged children and older.
Take a day trip up to the Glacier Point area where you can visit Glacier Point. Or, skip the big crowds and take the easy 1-mile hike to Sentinel Dome. Both offer magical views of the Valley, Half Dome, distant waterfalls, and the High Country.
If the weather is warm, take a float down the Merced River which winds through the Yosemite Valley.
Explore more! Here are the Best Things to do in Yosemite National Park with kids. And don't miss 7 Easy Hikes in Yosemite. We also have a guide to the best time to visit Yosemite.
Yosemite National Park Lodging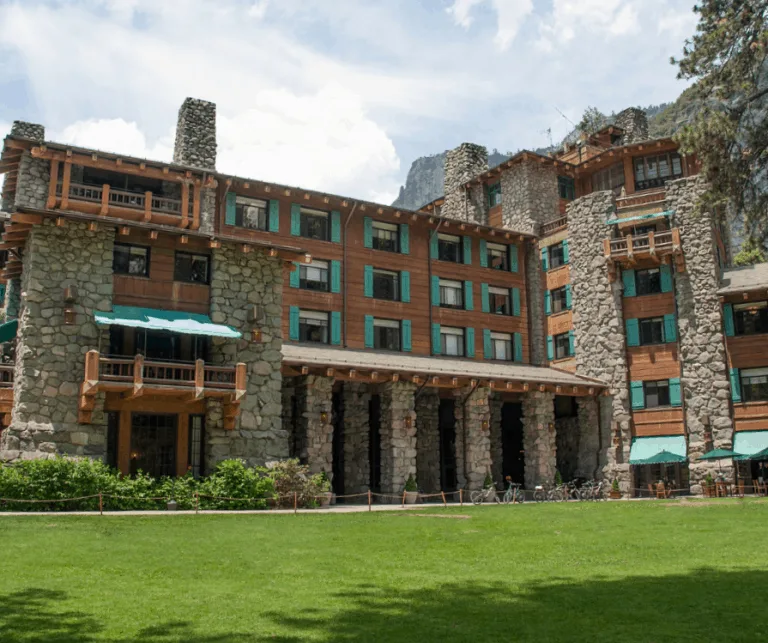 The crown jewel of national park lodges is Yosemite's Ahwahnee Hotel, a masterpiece of art, architecture, and history. Rooms begin at $400 per night, making this lodge a splurge for most. If you can't afford the stay at least make the effort to enjoy a meal in the window-walled dining room or take a walking tour of the property.
Yosemite Valley Lodge is a less expensive and centrally-located alternative.
Camp here: If you want to be in the heart of things, Upper Pines Campground is set right in the midst of the grandeur of Yosemite Valley.
Curry Village tent cabins are a nice compromise for families looking for a compromise between staying in a motel and tent camping.
California National Parks Road Trip Days 8-10: Lassen Volcanic National Park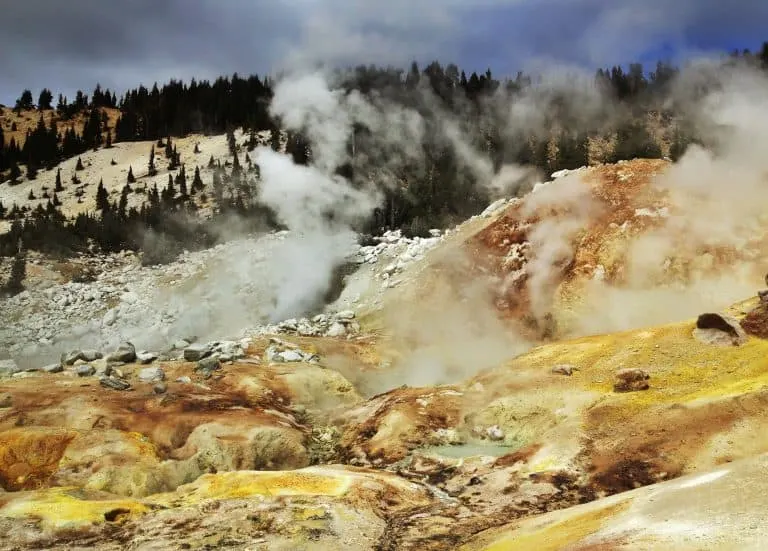 Did you know California has its very own active volcano? The last stop of our California National Parks road trip is Lassen Volcanic National Park.
Though Lassen Peak hasn't erupted since 1917, this volcano is very much alive, complete with bubbling mud and steaming sulfurous streams.
The drive from Yosemite Valley to Lassen Volcanic National Park is a little over six hours in length. Here are some ideas on how to enjoy your time in the park.
"Can't Miss" Highlights at Lassen Volcanic National Park: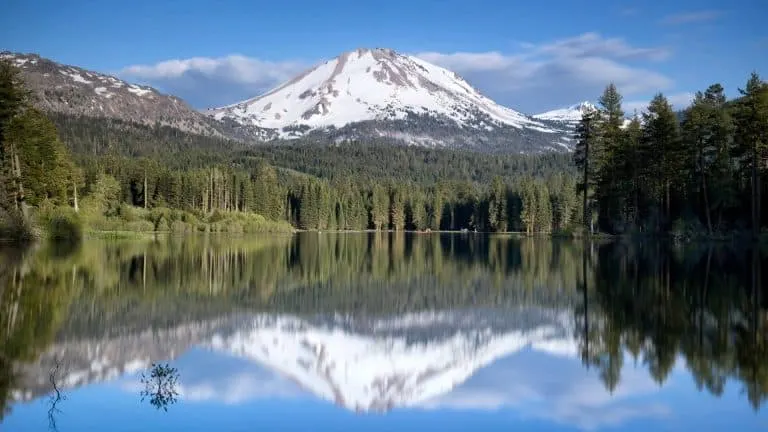 Hike over the ridge and into Bumpass Hell, a little valley filled with geothermal features.
Enjoy Manzanita Lake which affords great views of Mt. Lassen which reflects on its waters, begging to be photographed. Families will enjoy kayaking, trout fishing, and hiking around the lake on a 1.5 mile trail. The nearby Loomis Museum is filled with exhibits and features films about the park.
Kings Creek Falls is reached via a three-mile-round-trip hike through forest and wildflower-filled meadows to the lovely 40-foot waterfall.
Those looking for a challenge should hike to the top of Lassen Peak. The trail gains 2,000 feet in elevation over 2.5 miles, topping out at 10,457 feet. The trail offers expansive views of the area devastated by the 1915 eruption.
Visit the Subway Cave lava tube which was formed by an ancient volcanic eruption. It sits a few miles outside the park border and is fun to explore with flashlights.
Lassen Volcanic National Park Lodging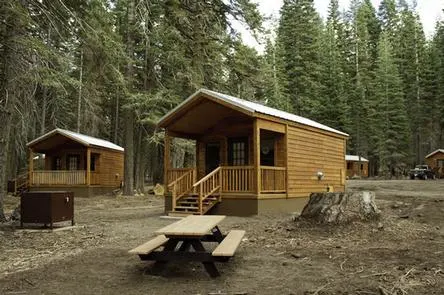 Motels and lodges are nonexistent in this park but the Manzanita Cabins do offer four walls, a bed, and a table and chairs.
Camp here: Manzanita Lake Campground has 179 sites, hot showers, a camp store, and amazing views. What's not to like?
Extend the Trip with a Stop at Lava Beds National Monument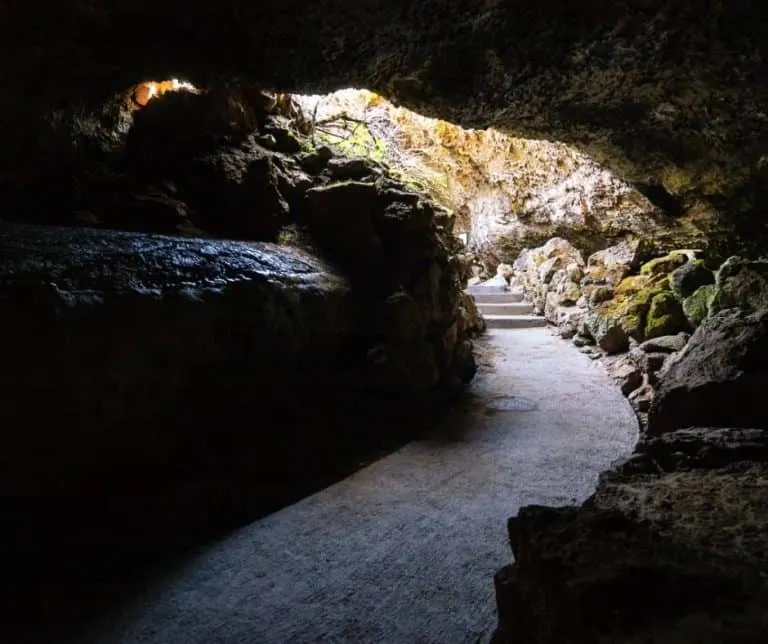 Head up near the California/Oregon border to Lava Beds National Monument and explore the largest concentration of lava tubes in North America. Many of the tubes form caves which are open for exploration!
Kids will enjoy the ice floor of Skull Cave, the ease of exploring beautiful Valentine Cave, and the life growing inside of Sunshine Cave, among several others.
Be sure to bring flashlights and sweatshirts because even though the weather can be warm on the surface, things cool off quite a bit below ground.
There is a campground at Lava Beds National Monument. The closest hotels can be found north in Klamath Falls, Oregon.
Trekaroo has dozens of articles, guides, and reviews of national parks across the country.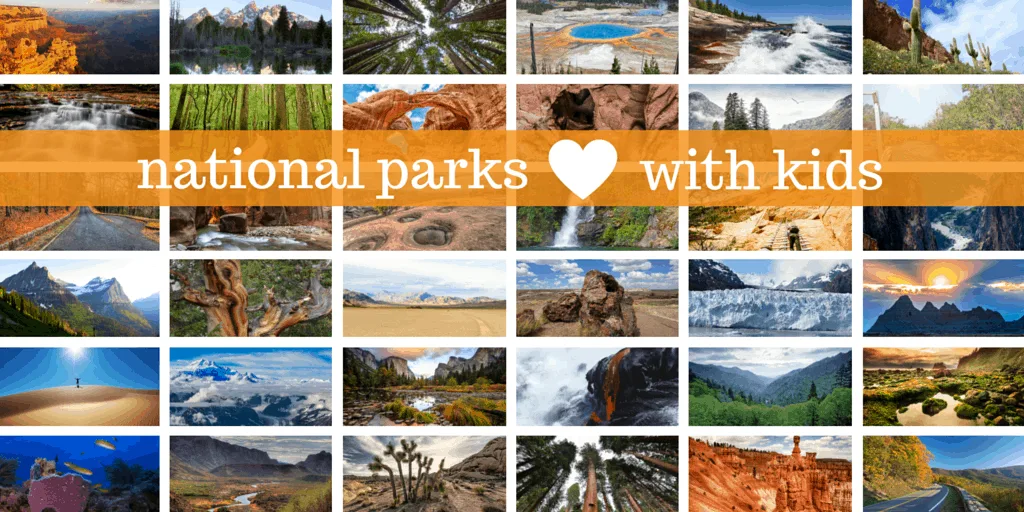 Featured photo by: Shutterstock