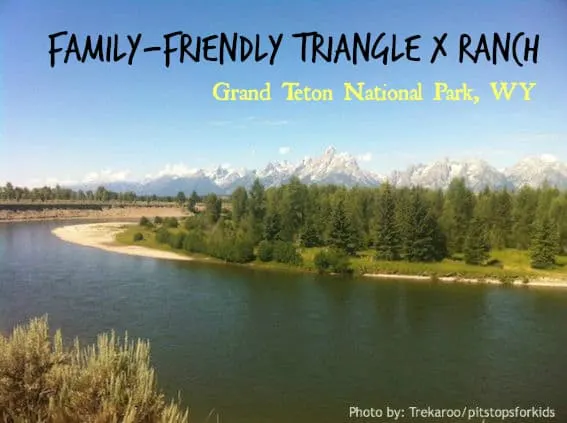 The minute we drove through the gates of Triangle X Ranch in Moose, Wyoming, and took in our surroundings including the dramatic Grand Teton mountains, rustic cabins, and horseback riding trails, I knew we'd picked the right dude ranch vacation for us. This was lucky, as dude ranch vacation properties vary drastically, ranging from luxury resorts with an emphasis on wellness and golf, to what we experienced: a ranch that focuses unapologetically on the reason you came…horseback riding.
The key to finding the right ranch for you? Do your research. Check out Trekaroo's dude ranch round-up for a starting point, and if you think an intimate, all-inclusive, and riding-focused ranch is right for you, read on to learn more about Triangle X.
Triangle X Ranch
Triangle X, located inside Grand Teton National Park boundaries, is, without doubt, a special place. During the summer week we visited, our fellow guests contributed to a 75% return rate, with the majority of families visiting every year for 5, 10, and even 20 years running. That's loyalty! When I asked these families why they chose to spend their precious vacation time and dollars at Triangle X year after year, their answers consisted of variations on a theme: "It's a tradition," one said. "Our kids and grandkids have grown up riding here," said another. "We never want to go anywhere else."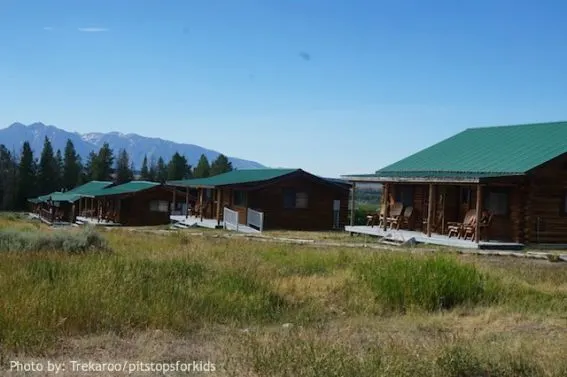 Triangle X isn't anything fancy, though it boasts a million dollar view of the Tetons. Families can book 1-3 bedroom rustic cabins, which have heat, electricity, bathrooms with showers, and mini-fridges. The porches are comfortable, and the decor is quaint, but kids won't find TVs or WiFi. Instead, teens gather in the 'Main House' sitting room, where they teach each other card games, and kids play on the spacious grounds, enjoying games of soccer or hide-and-seek. Adults socialize on the porches and in the dining room, over cups of coffee or beer. Sounds old-fashioned? It is…and it's wonderful.
Families arrive on Sunday to Triangle X, and stay through the entire week. On our first evening, I'll admit we felt like fish out of water: most families seemed to already know one another; happy reunions were taking place all around us. However, every veteran of Triangle X we encountered was welcoming and warm, and we quickly got to know everyone, including the other newcomers. At meals, adults rotate tables casually, and kids and teens sit together in their own sections. Note: Keep this arrangement in mind if you're not comfortable having your kids away from you most of the day. At Triangle X, dining and riding is segregated. Our kids were in heaven, but for me, the system took some getting used to.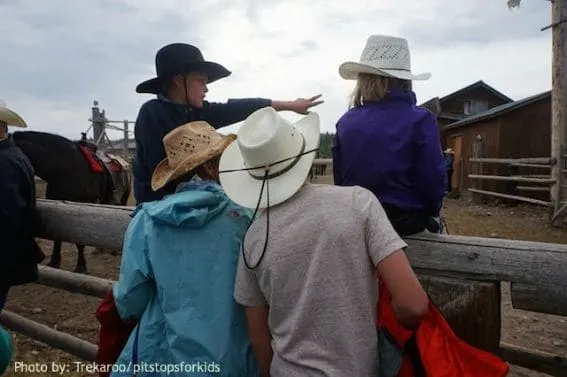 First thing Monday morning, Triangle X guests meet their wranglers and are assigned their horses. Much care goes into the pairing of each horse with each guest; families can expect a visit from head wrangler Megan on Sunday night to talk over preferences and riding ability. This is an exciting time; we loved meeting our horses and learning about the many rides offered all week.
Riding at Triangle X
While families can certainly take days or half-days off to hike, raft, or relax, the primary focus of Triangle X is definitely horseback riding. It's a dude ranch in the traditional sense: two rides per day are scheduled, with multiple options for all riding levels. Each wrangler takes a different ride level per week, allowing guests to 'progress' or 'stay put' as desired.
A note about riding and safety: though every riding level is accommodated at the ranch, it's ultimately up to each guest to determine his or her own ability level, and choose a ride accordingly
. There is no 'ride test' or other means of gauging ability (except trial and error). If you're not very certain of your riding level, start with one of the lesson rides to get some instruction. The other rides—scenic walk, medium, or fast—will not include instruction. Teens and kids start out all together, but their wranglers note riding ability on Day 1 and rearrange groups accordingly. Still, expect teens to learn fast…they have a great time, but the riding does get more intense throughout the stay.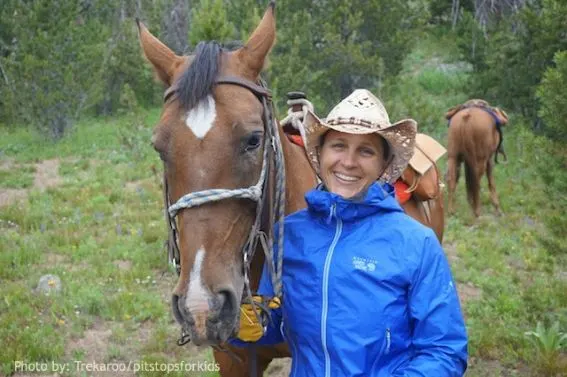 Daily rides start from the ranch, and follow one of many trails in the national park boundary. My favorites meandered along the banks of the Snake River, but I never went on the same route twice! Depending on the ride you select, the group may be loping long distances, forging streams, or navigating narrow trails. Rides depart at 9 am and 2 pm, and last a few hours each. On select days, additional or different rides are offered, such as a sunset cookout ride, an all-day ride high into the mountains, and a family ride. Guests can, of course, opt out of any scheduled ride, and do something else instead.
Kids and Teens
The high degree of separation between kids, teens, and adults can, of course, can be viewed as a positive or a negative. While we usually experience vacations as a family, I have to say my kids loved their uninterrupted friend time on the ranch. The kid and teen program is not as structured as a 'resort program', where kids are checked in and out and multiple activities are offered; rather, it's an organic experience that seems to hold together like glue (think 'camp', not 'resort childcare'). Expect wranglers to be supervising during rides, but not during time around the ranch. At times, adult rides or activities would be scheduled during kid free time; you'll want one adult to be on-hand to check in on your 'free range' kids. Children share cabins with their families, of course, and in the evenings and between rides, can opt for family time or friend time (they have the run of the ranch).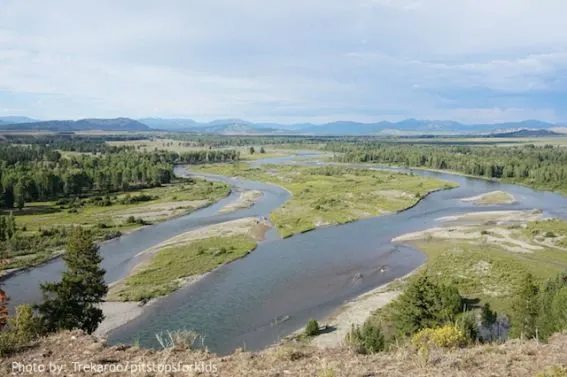 Lodging
As noted above, lodging is rustic, but comfortable and relaxing. Without TVs in our rooms, we enjoyed more play time and reading time. If you really need WiFi, the park lodges and service areas (approximately 15 minutes' drive in each direction) has it available. Maid service is available, or families can opt for fresh towels only. Most cabins have views of the Tetons, with the exception of the few at the far end of the first row. These have wooded views, which I found just as charming.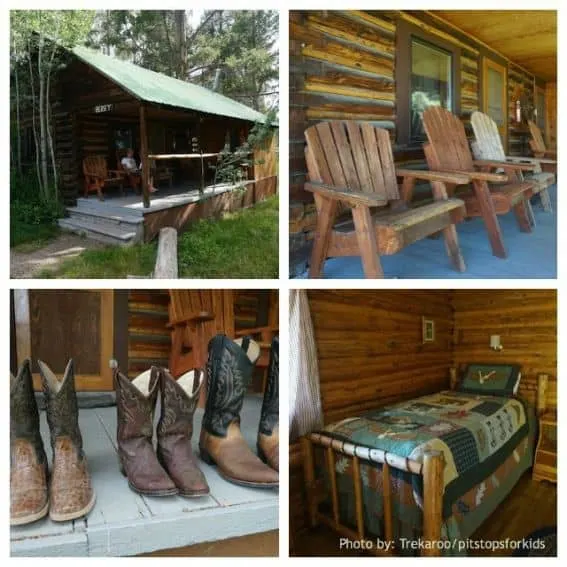 Dining
Expect 'camp' or 'ranch' fare, and you'll go home happy. We were completely satisfied with the dining service, but foodies should note: it is not gourmet. Breakfast, lunch, and dinner are all served communally in the lovely dining room, with coffee, tea, hot chocolate, and water available at all times. Beer and wine are BYO, and can be brought to the table. When away from the ranch, sack lunches can be requested (the night before). We were never hungry, but we were also never wowed. Since we hadn't expected to be, we were perfectly content. All food is kid-friendly, and allergies or special preferences are accommodated.
Other Activities
If (or rather, when) you need a break from riding, Triangle X also offers guided fishing trips and float trips. The Turner family knows their stuff, so you're in good hands. The ranch is also only 10 minutes from excellent hiking, swimming, and kayaking in Grand Tetons, and approximately 45 minutes from Yellowstone National Park. Jackson Hole is 30 minutes away, where most families plan to attend the weekly rodeo.
During our stay, we hiked in the Tetons (try Phelps Lake), drove to Jackson Lake and String Lake in Grand Teton, and enjoyed Jackson. It's entirely possible to go into Yellowstone National Park, too. On one day of the week, the teens head to town for a movie, and on another, the kids enjoy their own float trip down the Snake.
We'd love to hear from you. Have you experienced a Dude Ranch? Do you know what level of horse back rider you'd be? How do you feel about a vacation where you're not with your children all the time? Tell us in the comments.
Disclosure: We were invited to Triangle X as guests of the ranch, for the purpose of review. This hospitality came with no expectation of a positive review.