What are the best things to do in Alabama with kids? Alabama is a state rich in historic sites; sites which document the trials and triumphs of our nation's past, and offer an unparalleled look at some of the momentous events that have defined this great country.
Historic adventure awaits across the Heart of Dixie, from the Native American tribes and Civil War battlefields to the Civil Rights Movement and the birthplace of Helen Keller.
Read this guide as you plan your family vacation in Alabama and decide if you're cheering for Alabama's Crimson Tide or rooting for the Auburn Tigers. Football is a religion in Alabama.
Fun Things To Do In Alabama with Kids

on a Family Vacation
Live Out Your Space Camp Dreams at the US Space & Rocket Center
As a kid, I longed to go to Space Camp. I still vividly remember wistfully staring at the posters of Space Camp which were taped around my elementary school. At night, I prayed to attend Space Camp even more than I prayed for a date with Ricky Schroder!
So, as you can imagine, when I first learned that Space Camp is still in existence and offered at The U.S. Space & Rocket Center in Huntsville, I just about flipped my Alabama biscuit!
Family Space Camp houses parents and children together includes on-site meals and gives parents a chance to fulfill childhood dreams of space camp's past. One small step for mom; one giant leap for momkind.
Other science-minded museums in Huntsville include Early Works Children's History Museum and Sci-Quest Hands-on Science Center.
Learn Courage & Conviction at the Rosa Parks Museum
At Rosa Parks Museum Children's Wing, kids go back in time on the Cleveland Avenue Time Machine to discover that things just don't happen – people make things happen.
Children come to realize that they too can make a difference just as Rosa Parks did on that monumental day in 1955. Parks' bravery teaches kids to stand up for what they believe in and not to let anyone make them feel inferior.
Additional nearby learning opportunities await at First White House of the Confederacy, the Montgomery Zoo, The MOOseum, and the Tuskegee Airman National Historic Site.
If you're able, be sure to catch Alabama's National Fair in October. Do not miss these incredible learning experiences when choosing what things to do in Alabama with kids.
Life's a Beach at the Gulf Shore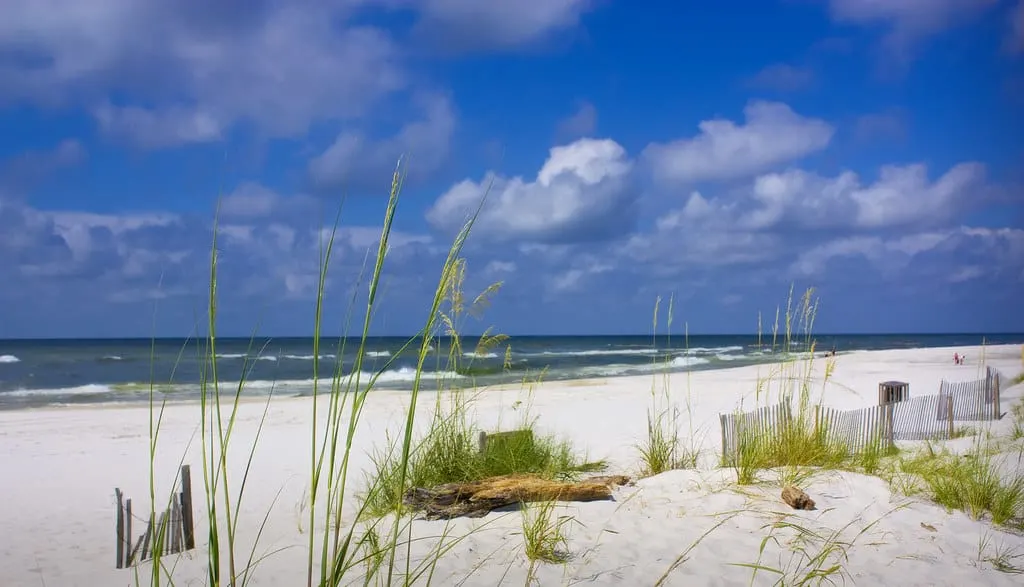 The beaches of the gulf are what an Alabama family vacation is made of. Escape to family-friendly Dauphin Island. Its campground provides walking trails into the beautiful Audubon Bird Sanctuary, paths to secluded beaches, and is only a short walk to top attractions such as Historic Fort Gaines, and Sea Lab Estuarium.
Nearby, Gulf State Park boasts over 3.5 miles of sparkling turquoise waters and gleaming white sand beaches. Gulf Shores Beach area can be accessed from via a beach pavilion with private showers, a snack bar, plenty of shady spots to sit and eat, and a huge fireplace perfect for warming up on chilly days.
Read our full guides to visiting Gulf Shores with kids and things to do in Orange Beach, two awesome beach vacation destinations in Alabama.
Explore & Discover at Gulf Area Attractions and Museums
At Gulf Coast Exploreum Science Center, young adventurers of all ages can design their own thrilling roller coaster, hold a holographic heart in their hand, and strum and tune a laser harp.
Afterward, head over to Bellingrath Gardens and enjoy its 65 acres of beauty and floral luxuriousness. Every inch of Bellingrath is exquisite and stunning. Kids will love the butterfly garden where flowers have been planted to attract all kinds of colorful, fluttering beauties.
The ultimate Bellingrath experience comes at Christmas when more than three million twinkling lights turn the gardens into an experience that will always be remembered.
More fun in Mobile and Gulf Shores can be had at Alabama's Pecan Festival, Hank Aaron's Childhood Home and Museum, The Environmental Studies Center, and the Alabama Gulf Coast Zoo. Trekaroo readers agree the U.S.S Alabama is also not to be missed!
Retrace Historic Roadways in Tannehill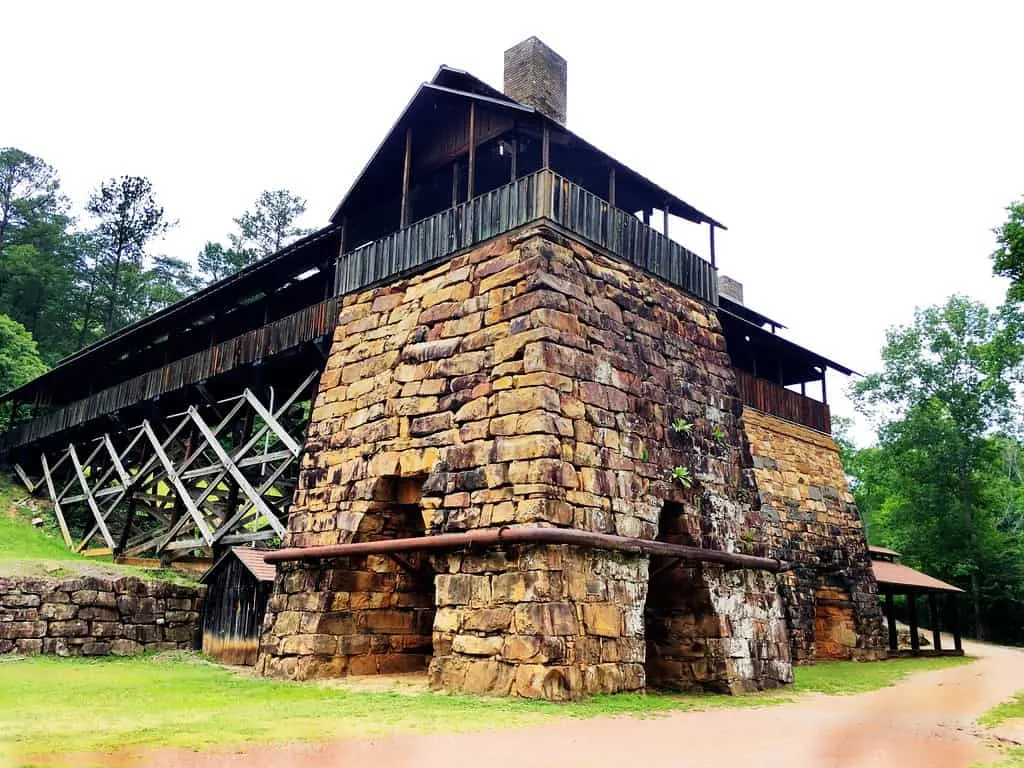 Tannehill Ironworks Historical State Park has more than 1,500 acres set aside for camping, hiking, and outdoor leisure. Tannehill is an awe-inspiring place where you and your children can enjoy being outside while learning about the history of Alabama.
Hike trails that retrace historic roadways, browse shops that occupy restored pioneer cabins, and visit dozens of other historic buildings dating back to the 1800s.
Tannehill's Iron and Steel Museum displays artifacts of Alabama's 19th-century iron industry and explains the park's massive stone furnaces. Children will love the miniature train chugging through the pines.
After a few hours at Tannehill, delight in nearby Birmingham Zoo, McWane Science Center, and Birmingham Botanical Gardens.
Follow in the Footsteps of Helen Keller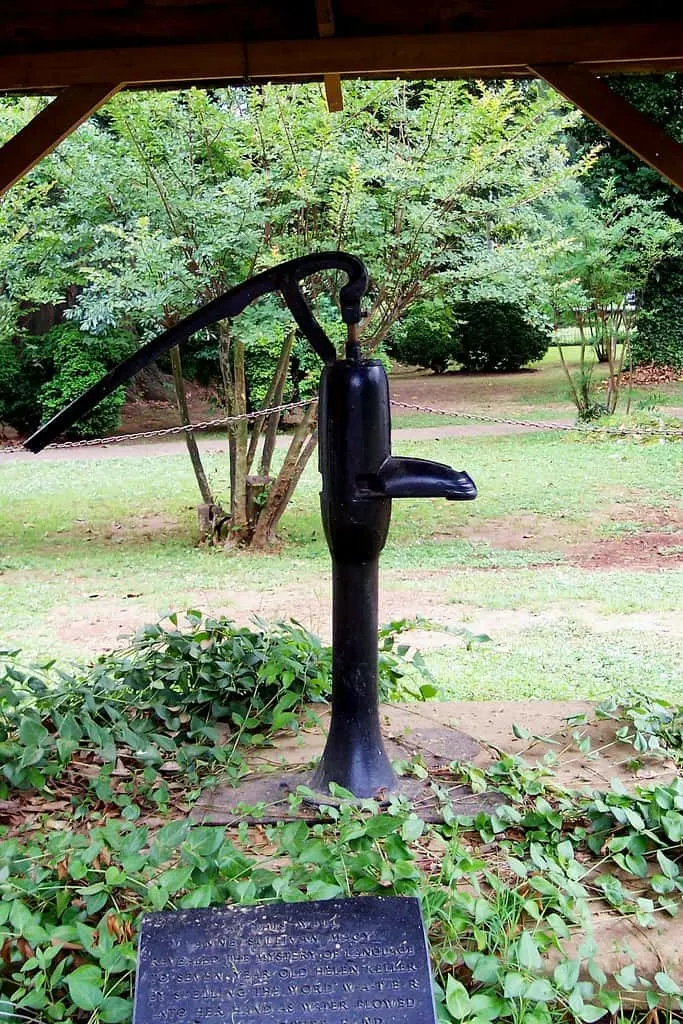 The celebrated life and times of Helen Keller are preserved at her birthplace and childhood home, Ivy Green. Built in 1820, her home and cottage are available to tour and give children the opportunity to learn about the everyday life of persons who are hearing impaired and/or blind.
Tuscumbia's historic Spring Park is the location of the annual Helen Keller Festival, where children can watch a play depicting the early life of Helen Keller.
Spring Park features the world's largest man-made natural stone waterfall with 51 jets all choreographed to lights and music. A water show delights spectators each Friday, Saturday and Sunday night at dusk.
Children love Spring Park's train, carousel, Python roller coaster, splash pad, and playground.
Explore Alabama's Scenic State Parks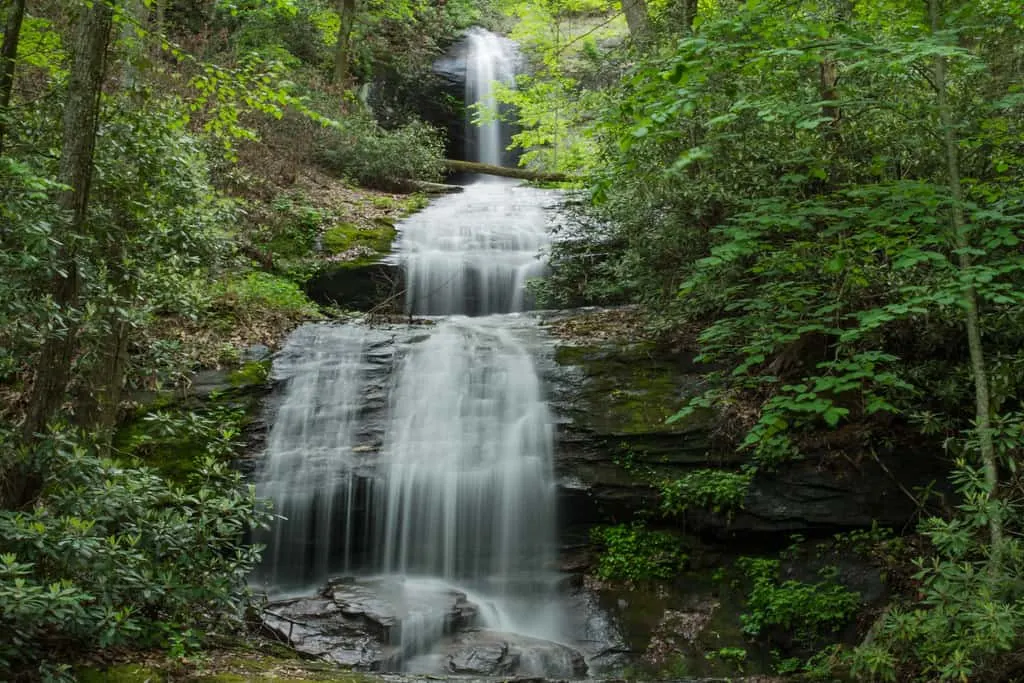 Alabama offers six state park resorts, a nature lover's perfect destination. Across the state, these resorts provide comfortable accommodations and vacation style amenities coupled with the beauty of the great outdoors.
Desoto State Park Resort showcases DeSoto Falls, a beautiful 92-foot waterfall plunging into a canyon. Nearby, an 11-mile scenic drive allows visitors to view the splendor of Little River Canyon National Preserve from a series of overlooks.
The shores of Lake Guntersville State Park are some of the most pristine in the entire state and its hiking trails were used 200 years ago by Cherokee Indians. Nearby Buck's Pocket State Park's panoramic vistas are a must see!
Play in Grandma's Attic in Tuscaloosa
At the Children's Hands-On Museum of Tuscaloosa, kids can play dress-up in 19th-century clothes found in Grandmother's Attic, visit the Lil' Sprouts Farmer's Market, put on a puppet show, or climb into a beaver lodge and slide out the other end.
You will also want to make time to see the Hodges meteorite (the only meteorite known to have struck a human); view Alabama's State Fossil, Basilosaurus cetoides; and experience the natural diversity of Alabama through exhibits at Alabama's Museum Of Natural History.
Discover Alabama's Caves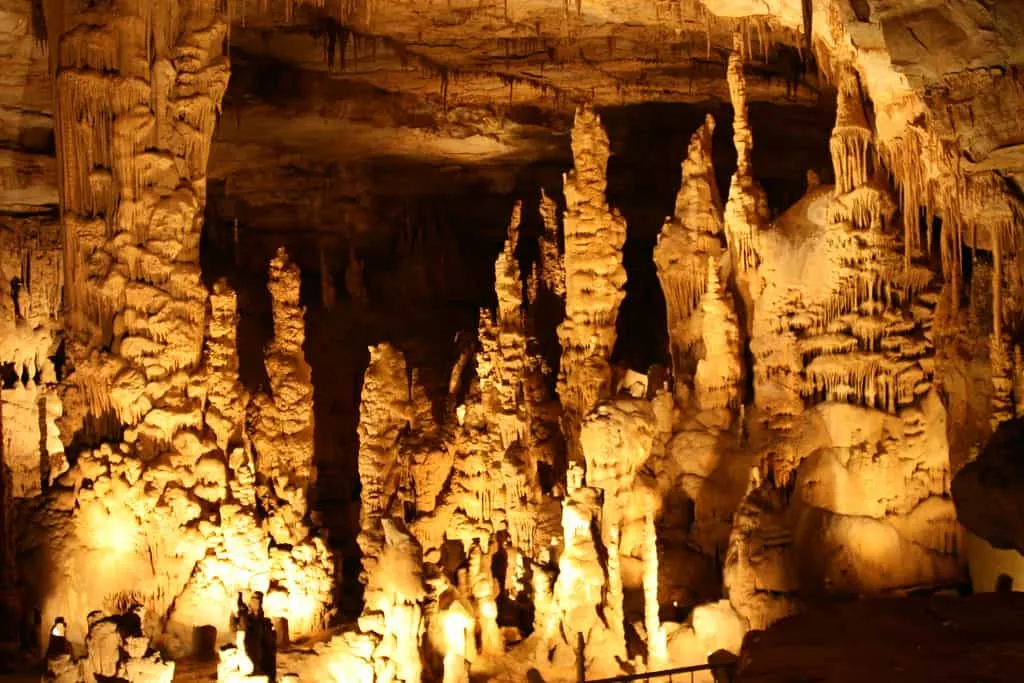 Alabama is home to a wealth of caves. In the late nineteenth century, Shelta Cave in Huntsville was the site of parties and underground boating.
In the 1930s during prohibition, Blount County was home to an infamous speakeasy in Bangor Cave, where wealthy patrons flocked to enjoy music, drinks, and gambling.
Alabama is so rich with caves that the National Speleological Society, relocated its headquarters to Huntsville in 1971, giving the state a central role in the study of cave environments. More than 4,200 caves have been discovered in Alabama.
Some of these discoveries such as Cathedral Caverns are open to the public and provide access to and education about the wonders and beauty of the subterranean world.
Desoto Caverns, a fun and touristy theme park designed around a cave is geared towards children. Plan at least half the day for this beloved park.
Learn About Important Civil Rights History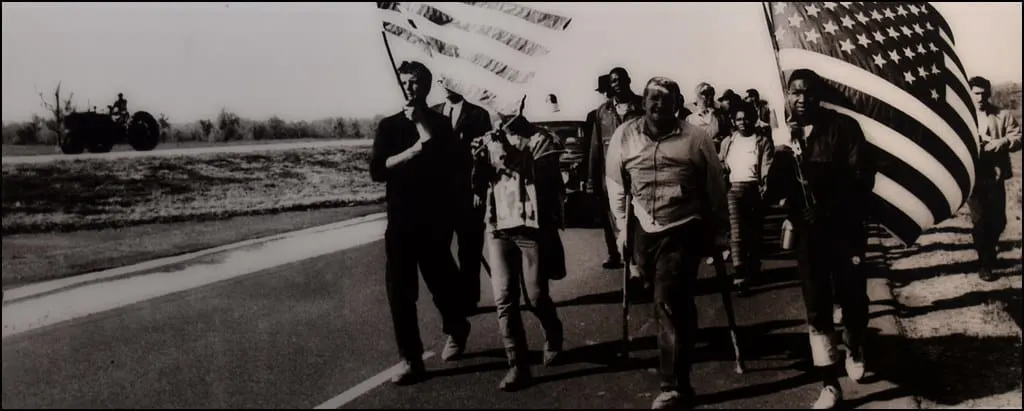 The Selma to Montgomery National Historic Trail was established by Congress to commemorate the 54-mile route of voting rights marchers from Selma, Alabama to the State Capitol in Montgomery.
Throughout your journey, your family will visit such places as the Selma Interpretive Center, National Voting Rights Museum, and the Lowndes County Interpretative Center.
The Voting Rights Act of 1965 achieved the legal right to vote for all Americans and forever changed the political life of the South and the United States as a whole. The Selma to Montgomery March remains one of the most significant civil rights protests in American history.
Experiencing this trail and educating your children on the history of inequality in the United States is definitely the most important thing to do in Alabama with kids.