Last Updated on
The words "smiling places and beautiful places" emblazon South Carolina license plates. This tagline aptly describes South Carolina, a state that is deeply rooted in tradition, American history, southern charm, hospitality, and beautiful scenery. Visit the stunning coastlines, marvel at the Great Blue Hills of God, walk the cobblestone streets that represent our nation's history, savor the soulful food of the south, and smile as you meet people that are the salt of the Earth. Slow down and come visit South Carolina to soak in the rich history that has made this state a perfect vacation destination for families. These are the top 10 things to do in South Carolina during your family vacation full of smiling places and beautiful places.
Look for current hotel deals in South Carolina
10. Charleston, South Carolina: New York of the South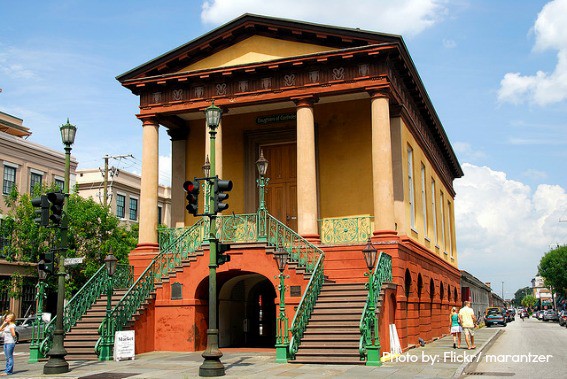 Coastal South Carolina's history is rich with tradition and much of it begins in Charleston. Known for it's blend of vibrant cultures, Charleston offers unique art, music, cuisine, and a fashion scene that sets it apart from other cities. Explore this city by foot by starting downtown. Take a ghost tour to learn why Charleston is called the Holy City. Shop at the City Market, one of the oldest public markets in the nation, and then stop for a little history lesson at The Battery & White Point Gardens. Here you'll see a spectacular view of Fort Sumter and Charleston Harbor, the place where the Ashley and Cooper Rivers empty into the Atlantic Ocean. If American history is what you are craving, get your hands dirty at Charles Towne Landing's active archaeology dig 
site, the first permanent English settlement in South Carolina. Sail the harbour and unwind on an evening sunset cruise around the city's historic landmarks. Marvel at the city from Charleston's Harbour aboard a cruise as you float around historic forts such as Fort Sumter and Fort Moultrie, the Morris Island, and Sullivan's Island lighthouses. During the day, have fun exploring this kid friendly city with the Charleston Explorers Club as your guide! Embark on an adventure with the kids around the city to participating attractions such as South Carolina Aquarium, The Children's Museum, and Boone Hall Plantation, where you will collect a souvenir stamp which may be redeemed for prize-winning vacations. Relax, unwind, and slow down because you're in the South, and a beautiful southern night in Charleston is memorable.
9. Sunday Suppers Around the Table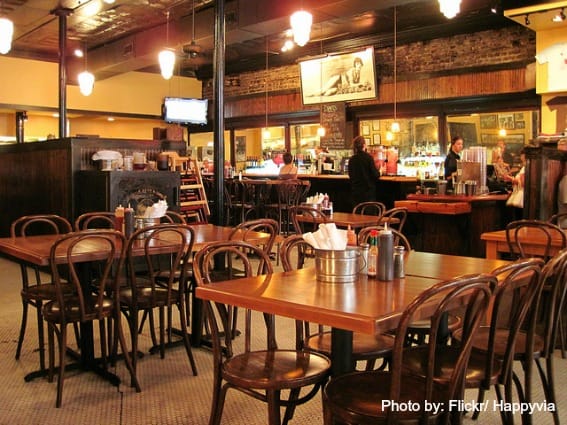 South Carolina is known as The Birthplace of BBQ offering visitors plenty of places to indulge in traditional Southern cuisine. From family owned diners, roadside pit stops, and farm-to-table cuisine, you will find no other state with such unique dining opportunities. This state is known for its culinary pioneers who know how to explore the roots of Southern cuisine in their own unique ways. If you want the best BBQ, head to McCabe's Bar-B-Que, in Manning, South Carolina. People have claimed they'd drive for a 100 miles to indulge in food like theirs. Comfort food at it's finest, diners are scattered throughout this state like diamonds in the rough. If you happen to come upon one, you must stop and worship. Harold's Reasturant and Judy's at the Market in West Columbia, are a few diners that serve southern hospitality all day long! And if you are a self proclaimed foodie searching for the next great eats, head to Charleston where the city's independent restaurant scene is raising the bar on fresh, local, and well-sourced ingredients giving this city a label of the premier dining destination.
8. Emerald Green Means as Golfers Paradise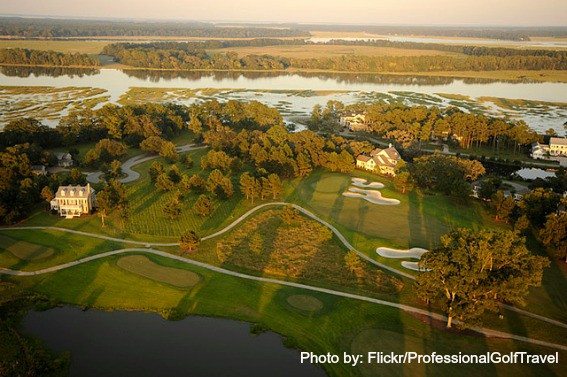 With more than 360 golf courses that are interlaced between the rich country side and ocean sides, this state is a golfers paradise. Pack your clubs when heading to South Carolina as you'll find some of the best courses in the country here. Many family friendly resorts throughout South Carolina sit upon nationally acclaimed PGA Tour golf courses, where you will be able to challenge yourself and your inner golfer. Let the kids take lessons from the pros and expose them to this wonderful sport. Hilton Head will be your first stop on your South Carolina golf tour. Named a world class golf resort by Golf Digest readers, these public and private courses were designed by notable golf architects including Robert Trent Jones Sr., Pete Dye, and Jack Nicklaus. Stay at Wild Dunes Resort and play on one of the three top courses in the nation. The Sanctuary at
 Kiawah Island Golf Resort near Charleston is another top rated golf course that offers five championship award-winning golf courses for all levels of play. Located along the pristine shores of Kiawah Island, this exquisitely designed ocean front hotel captures the spirit, history, and charm of the South. One last stop, The Dunes Golf and Beach Club in Myrtle Beach was recognized by the Myrtle Beach Area Golf Owners Association as course of the year in 2012.
7. See The Great Blue Hills of God
The Upcountry of South Carolina offers a place for outdoor loving families to hike, camp, fish, and enjoy the wilderness. Families will especially love experiencing the vivid fall foliage from mid to late October. Plan ahead as hotel and motel rooms start to fill up and the roads get crowded with visitors reveling in the colorful views and majestic mountains. Be sure to pack the camera and take lots of pictures because this beautiful scene is indescribable.
Check for hotel availabilities in South Carolina
6. Something For Everyone at Myrtle Beach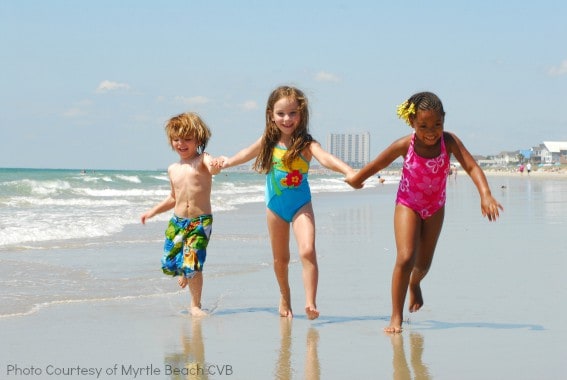 Head to the South Carolina coast and the Grand Strand's 60 miles of stunning sugar sand beach which offers plenty of family attractions. Myrtle Beach is one of the most family-friendly cities in America. Choose from many of the countless Oceanside hotels to set up camp so you can be in the epic center for this vacation to remember. Stop at the Boardwalk for some good old-fashioned fun as the nostalgic sights and sounds will transport you to the beaches of yesteryear. Don't leave without riding the iconic Skywheel that rises over 200 feet above Ocean Boulevard! Test your putting skills on one of the 50 miniature golf courses that are sprinkled throughout this city that proclaims itself to be the miniature golf capital of the world. If you're looking for adventure thrills, head to Myrtle Waves Water Park, the state's largest water park and cool down for an afternoon of fun in the sun during summer. For more family-friendly activities, check out these 16 fun things to do in Myrtle Beach!
5. State Parks of South Carolina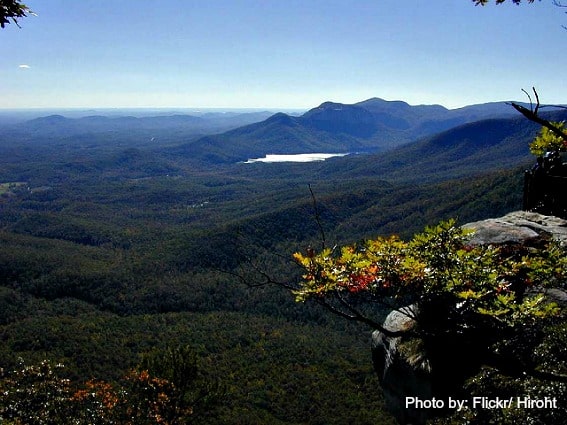 Outdoor enthusiasts love to visit the great state of South Carolina to take advantage of its 47 State Parks that preserve natural forests, battlefields, wildlife habitats, and precious coastline. With State Parks that line the beaches of the Atlantic Ocean to the foothills of the Blue Ridge Mountains, these 80,000 acres are a delight to experience at various times and seasons year-round. Roughly 10,000 acres make up the Mountain Bridge Wilderness Area, which is anchored by Jones Gap State Park in the valley and Caesars Head State Park in the mountains. Myrtle Beach State Park and Huntington Beach State Park offer everything from hiking trails to picnic areas and fishing piers. Staying near Columbia? Congaree National Park offers bird watching, hiking, picnic areas, camping, canoeing, and kayaking.
4. Speed

The South is famous for fast cars and NASCAR on Sundays. Take a pitstop in Darlington to visit the famous NASCAR Darlington Raceway. Set up a once in a lifetime driving or ride-along experience through the Richard Petty Driving Experience. Feel what it is like to be inside an actual NASCAR race car driving at speeds up to 165mph. If you happen to be passing through in April, you might be able to see NASCAR in full force with the NASCAR Nationwide Series 200. Your family definitely won't forget this pit stop, even if they aren't racing fans!
3. Columbia- The Capital of Southern Hospitality (and also South Carolina)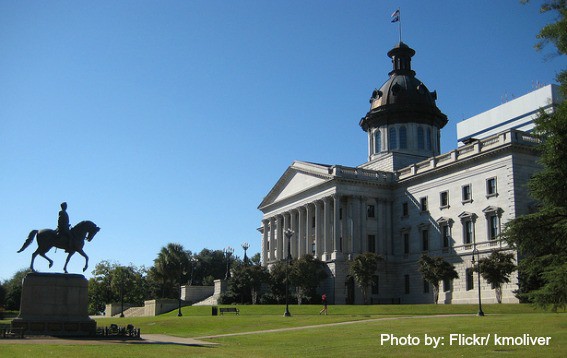 Columbia is home to the University of South Carolina Gamecocks and is a beautiful city to explore. Take your pick of outdoor activities, museums, and historic landmarks, or stop at the Riverbanks Zoo and Garden to see thousands of animals and lush and inspiring botanical gardens. If you're craving culture, visit the arts centered district in downtown Columbia, known as The Congaree Vista, then head to the South Carolina State Museum, one of the largest museums in the Southeast which tells a 14,000 year history of South Carolina and the South. Let your little ones explore freely and learn with the hands on exhibits featured at the EdVenture Children's Museum, located near the South Carolina State Museum. Take advantage of the COOLPASS to save on admission to these attractions.
2. Greenville, South Carolina: So Much More Than You'd Expect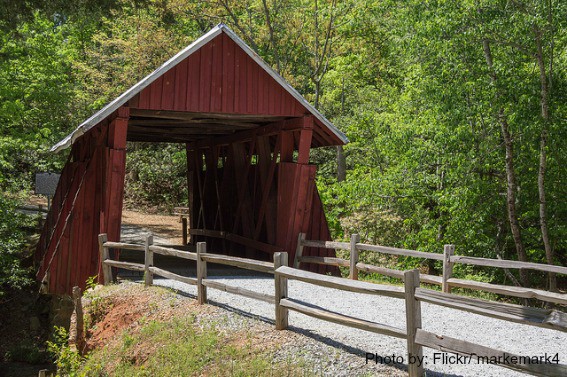 Drive into the heart of South Carolina where you'll find a city that rivals any big city in America. Hop on a trolly, a bike, or take the scenic route and enjoy Greenville's Main Street, dubbed the coolest Main Street in America. Kids will enjoy finding the 9 mice of Mice on Main, a self-guided tour along Main Street that starts at the downtown Hyatt Regency and goes for a 9 block stretch. Catch a Greenville Drive ballgame at Fluor Field where you'll see a miniature green monster. Munch on some boiled peanuts (a tasty Southern treat), or sit on picnic tables and enjoy the game. Stroll through Falls Park and marvel at Liberty Bridge. Or experience some much needed R & R while driving the scenic route up Highway 11, where you'll find the oldest bridge in South Carolina, Campbell's Covered Bridge, the last covered bridge remaining in the state.
Look for the best hotel prices in South Carolina
1. Island Hopping in South Carolina's Lowcountry
The Barrier Islands, off the coast of South Carolina, make up some of the most beautiful, majestic, and ideal places to take a family vacation. Islands have a way of inviting you into their way of life with tranquil ocean breezes, and each island will take you on their own adventure. Most of the islands have a rich history that will only add to the charm when one visits. Hilton Head, the second largest Barrier Island in the United States (after Long island), is a popular vacation destination with luxury resorts including Disney's Vacation Club Resort, 12 miles of unspoiled beaches, and plenty of local attractions. Visit the Coastal Discovery Museum or climb up the iconic Harbour Town Lighthouse to see the majestic views of the Calibogue Sound and the Atlantic Ocean.
Featured photo by: Shutterstock
What state do you want to visit next?
From coast to coast, we're determining the Top 10 Things to do with Kids in each state of our great nation. Head here to see what tops the list in your favorite state.